Produknya bukan reject kok, guys!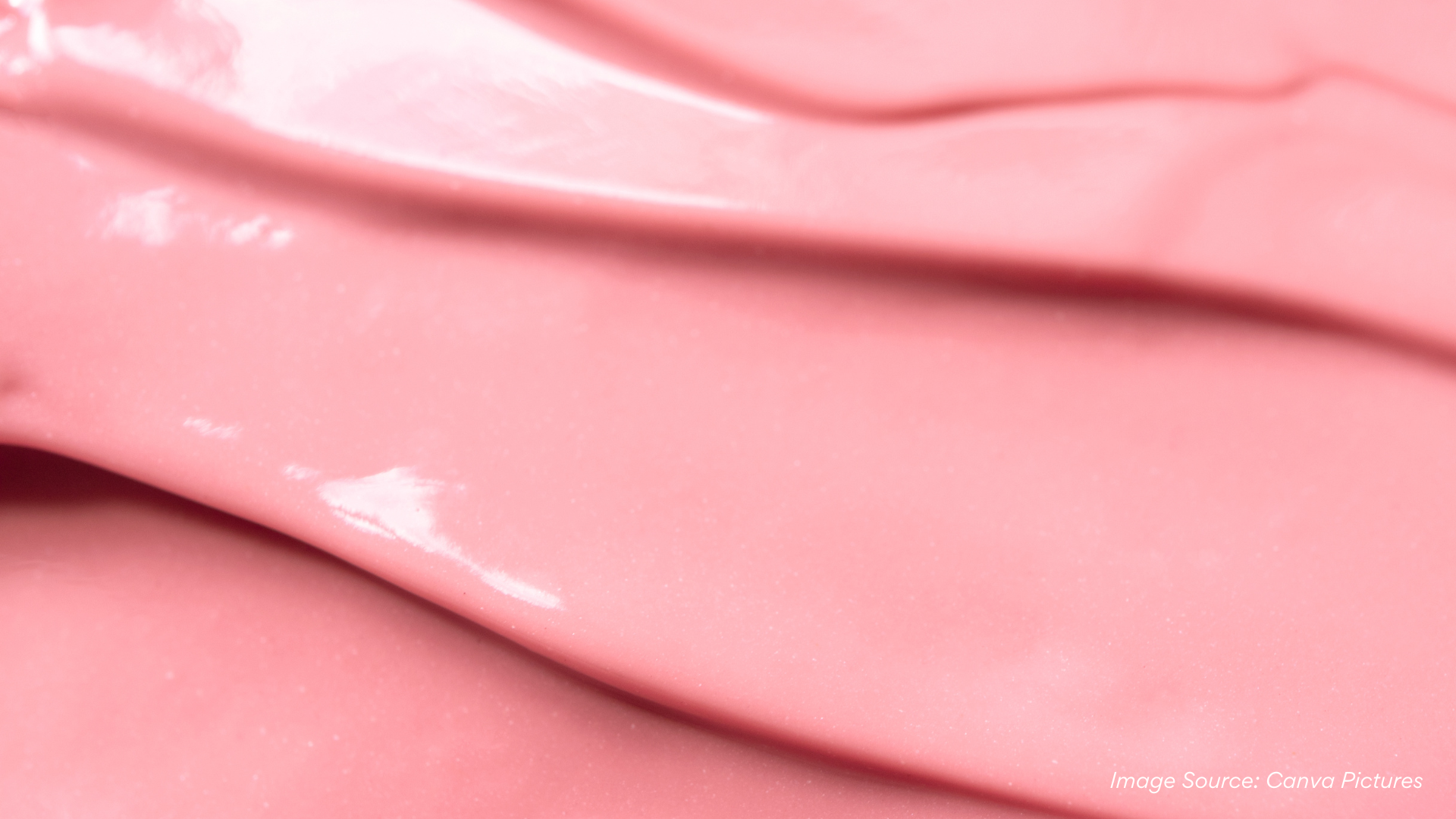 Let's take a moment to flash back a little bit. Pernah enggak kamu beli dua produk dari brand dan seri lip cream yang sama, hanya saja berbeda shades? Misalnya, kamu beli "Matte Lip Cream dari A Cosmetics in Shade 1 dan Shade 2". Begitu kamu cobain produknya di rumah, ternyata kedua shades tersebut mempunyai tekstur yang berbeda: yang satu lebih encer, dan yang satunya lagi lebih creamy, lantas kamu beranggapan bahwa salah satu shade adalah produk reject.
Tenang, guys. Adanya perbedaan pada tekstur bukan berarti salah satu produk tersebut adalah barang reject. Sekarang, aku mau diskusikan dan ajak kamu untuk mempelajari apa yang bisa mempengaruhi perbedaan tekstur dan apakah hal tersebut wajar atau enggak.
Ingredients List
The key is in the ingredients list. Sebelum kita lanjut, kita pelajari dulu cara membaca ingredients list ya, karena, cara penulisan ingredients list oleh sebuah brand bukan sekedar hanya "menulis"; ada rumusannya, lho [1].
Produk yang muncul pertama adalah produk yang paling banyak volume-nya, lalu sebaliknya, produk yang muncul terakhir adalah produk yang paling sedikit. Contohnya seperti ingredients list di bawah ini:
Berdasarkan contoh di atas, kandungan yang paling banyak adalah Coconut Oil, paling banyak kedua adalah Beeswax, lalu, kandungan yang paling sedikit adalah Tocopheryl Acetate. It's in the descending order based on volume.
Okay, now that you understand how to read an ingredients list, ayo kita jawab pertanyaan ini: kenapa bisa terdapat perbedaan tekstur antara dua shades yang berbeda, padahal merek dan serinya sama persis?
Beda shades doang padahal, kok beda tekstur?
Biasanya, kasusnya adalah: Shade yang lebih terang terasa lebih encer dibandingkan shade yang lebih gelap. 
Hal di atas biasanya terjadi karena terdapat perbedaan pada kandungan oil. Shade yang lebih terang mengandung oil yang lebih sedikit dibandingkan shade yang lebih gelap. Kenapa bisa begitu?
Ada sebuah kemungkinan:
Kandungan oil mampu memberikan color payoff yang lebih baik, so, biasanya, shades dengan hasil warna yang lebih gelap itu mengandung oil yang lebih banyak dibandingkan shades dengan hasil warna yang lebih terang. The more pigmented it is, the more oil is needed [2]. Surprise surprise, oil adalah kandungan yang mampu meningkatkan viskositas sebuah produk. 
Kita langsung lihat saja contoh real-nya and let's use our new ingredient reading skill: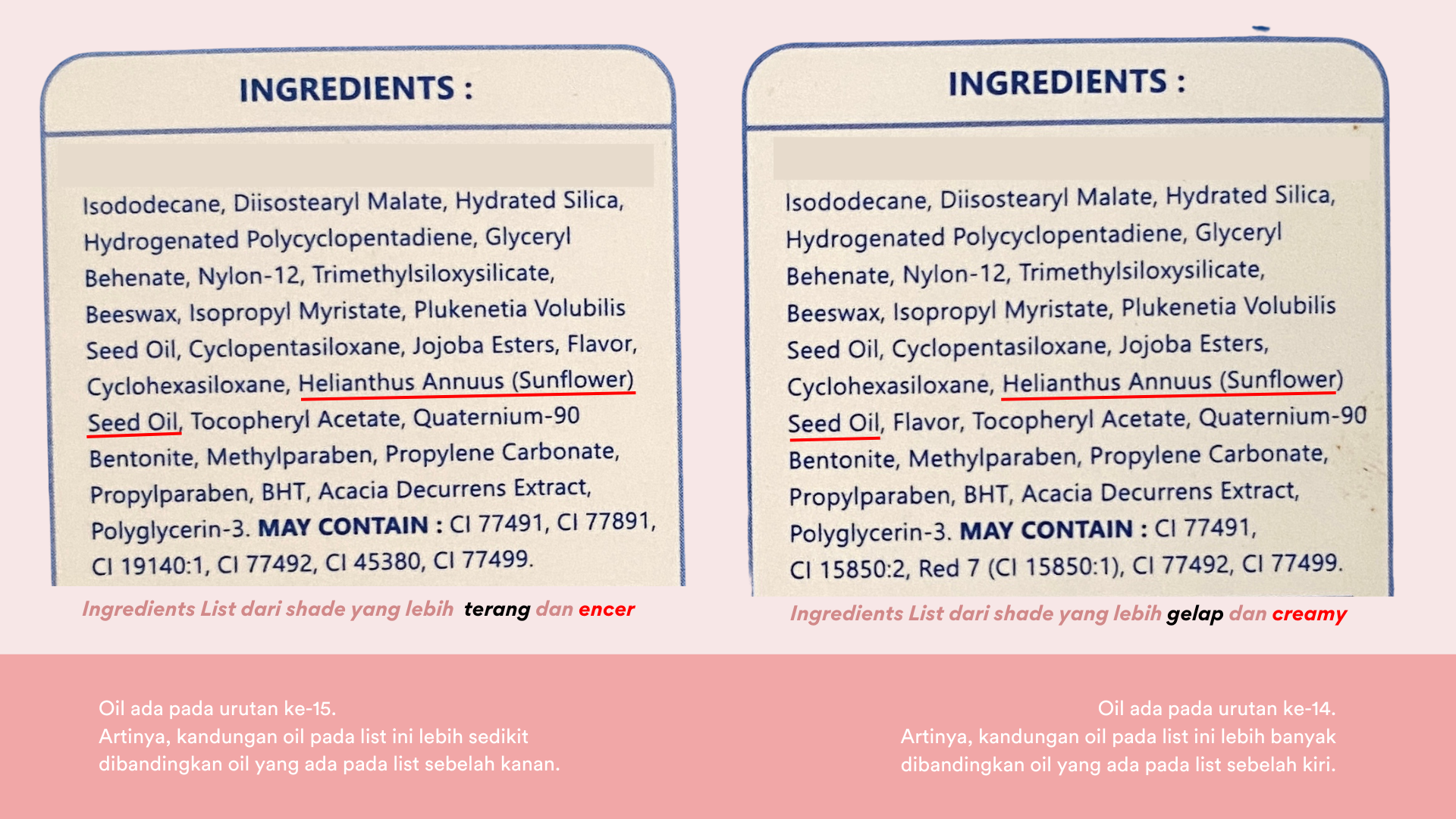 Ingredients list di gambar atas aku dapatkan dari produk real. Merek dan serinya sama, hanya saja berbeda shades dan terdapat perbedaan pada tekstur juga. Yang satu lebih encer, yang satunya lagi lebih creamy. Why? Again, jawabannya ada di ingredients list.
Seperti yang sudah aku jelaskan sebelumnya, ternyata ada perbedaan pada posisi kandungan Helianthus Annuus (Sunflower) Seed Oil. Posisi oil tersebut lebih rendah pada shade yang terang (ke-15) dan lebih tinggi pada shade yang gelap (ke-14), which means, kandungan oil lebih banyak terdapat pada shade yang gelap. Masih ingat hubungan antara pigmen dan oil? Masuk akal sekarang yaa?
Jadi, produk reject bukan nih?
Nah, kejujuran sebuah brand pada penulisan ingredients seperti contoh di atas memberikan kita sebuah jawaban atas pertanyaan "kok bisa beda tekstur?!" dan menghilangkan prasangka "pasti barang gagal nih". That's the important part. Selama masih bisa dijawab dengan ingredients list, maka produk tersebut bukanlah produk reject, because it was intended to be made as it is!
Kalau ingredients list nya enggak sesuai kenyataan kondisi produknya, gimana nih? This is where a problem exists. Enggak semua brand menuliskan ingredients list secara benar dan jujur, lho. Kalau kamu menemukan ketidakcocokan antara list dan kondisi nyata sebuah produk, lari jauh-jauh, karena ada dua kemungkinan mengapa itu bisa terjadi:
Produk tersebut adalah barang reject

There's something the brand is not telling you
Either way, you don't want to risk putting your lips in danger.
Ingat, kalau kamu menemukan keanehan pada sebuah produk, cari jawabannya pada ingredients list! Kalau terjawab, bagus, kalau enggak, leave it. Kalau kamu bingung dan enggak tahu cara research lebih detail tentang fungsi masing-masing kandungan, jangan takut untuk bertanya.
Source(s)
[1] Decode your skincare ingredients. (n.d.). INCIDecoder. Retrieved November 24, 2022, from https://incidecoder.com/ingredient-lists
[2] Lam, L. (2022, July 22). Formulating On Trend: Lip Oil. Cosmetics & Toiletries. Retrieved November 24, 2022, from https://www.cosmeticsandtoiletries.com/formulas-products/color-cosmetics/article/22353150/formulating-on-trend-lip-oil