Well, seperti yang kamu ketahui kalau Indonesia sekarang udah punya banyak banget beauty brands baru yang kualitasnya gak kalah sama merk-merk luar. Bahkan, banyak brands dari negara kita ini ramai likers dan commenters di Instagram aku.
Ris, udah coba ini?

Ris, swatch semua shades brand 'itu' dong!
Hihihi… I will never get tired to follow all those excitements, dan aku sebisa mungkin memenuhi permintaan kalian! 😉
Dan buat kali ini… Gilirannya Cascara Cosmetics yang bakal aku review. Brand Cascara Cosmetics ini bisa dibilang baru. Maka dari itu, di review kali ini aku bakal review secara menyeluruh tentang brand ini. Yuk disimak! 😉
✨ First Impression
Pas pertama dapet, kesan pertama aku pas liat packagingnya: cute. Warna standar para pecinta shabby chic: minty green dgn aksen bunga-bunga watercolor. Aku tau ini karena kebanyakan klien yang datang ke aku selalu punya preferensi sama: "pengen desain vintage shabby chic mbak." so yes, I know it like a lot. Tapi untuk selera pribadi, aku kurang suka dengan packaging atau desain apapun yang berbau pastel colors, I like my design style to be more crisp, clean, and modern. Jadii buat para pecinta shabby chic atau warna-warna pastel, faktor ini bisa jadi bahan penimbang buat kamu beli lip cream-nya Cascara (ya karena kita semua tau kalau kita banci packaging hahaha).
Pindah ke tube-nya: mirip sama tube merk sebelah (if you know what I mean). Dari bentuk tube, bentuk applicator wand hingga warna tube, I don't see any differences in them. But again… It's not illegal, though. Merk-merk luar pun banyak yg punya packaging sama. It's in some ways like you wouldn't mind to buy one Kylie Cosmetics over 5 Colourpops karena kamu suka presentasi produknya dan juga warna dari lipsticknya. This is however the main reason why people collect so many lipsticks, right?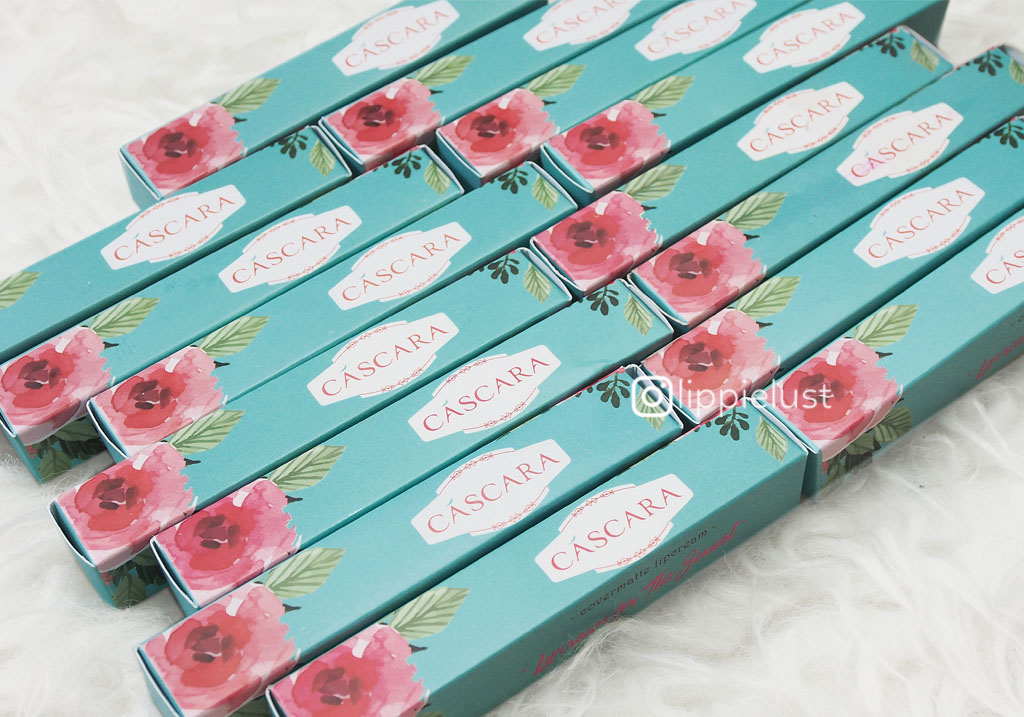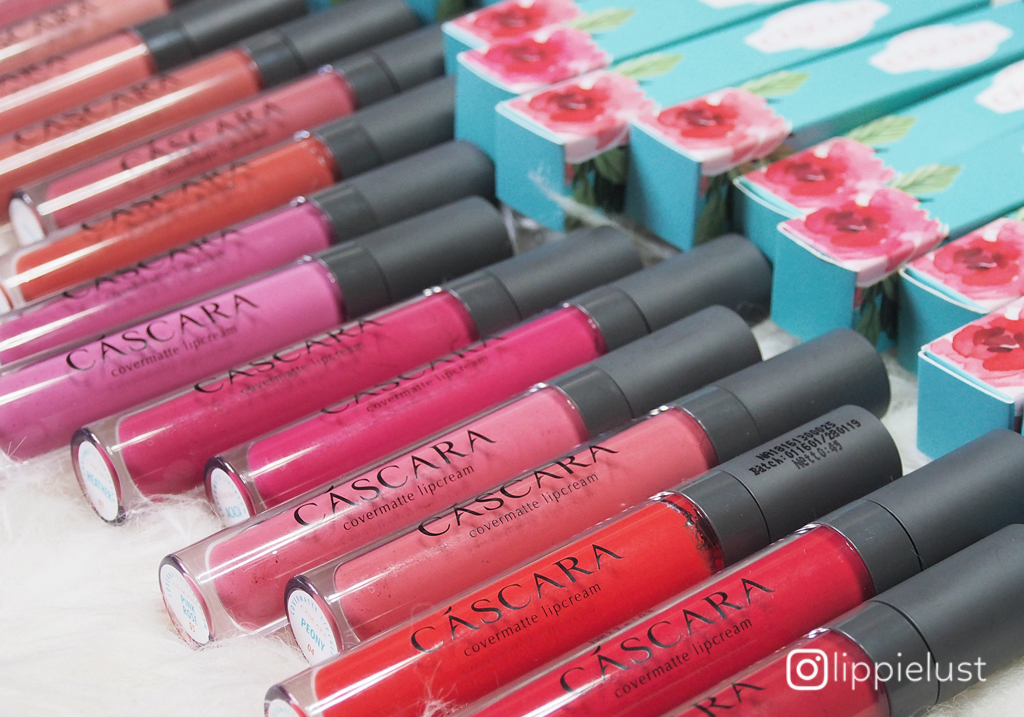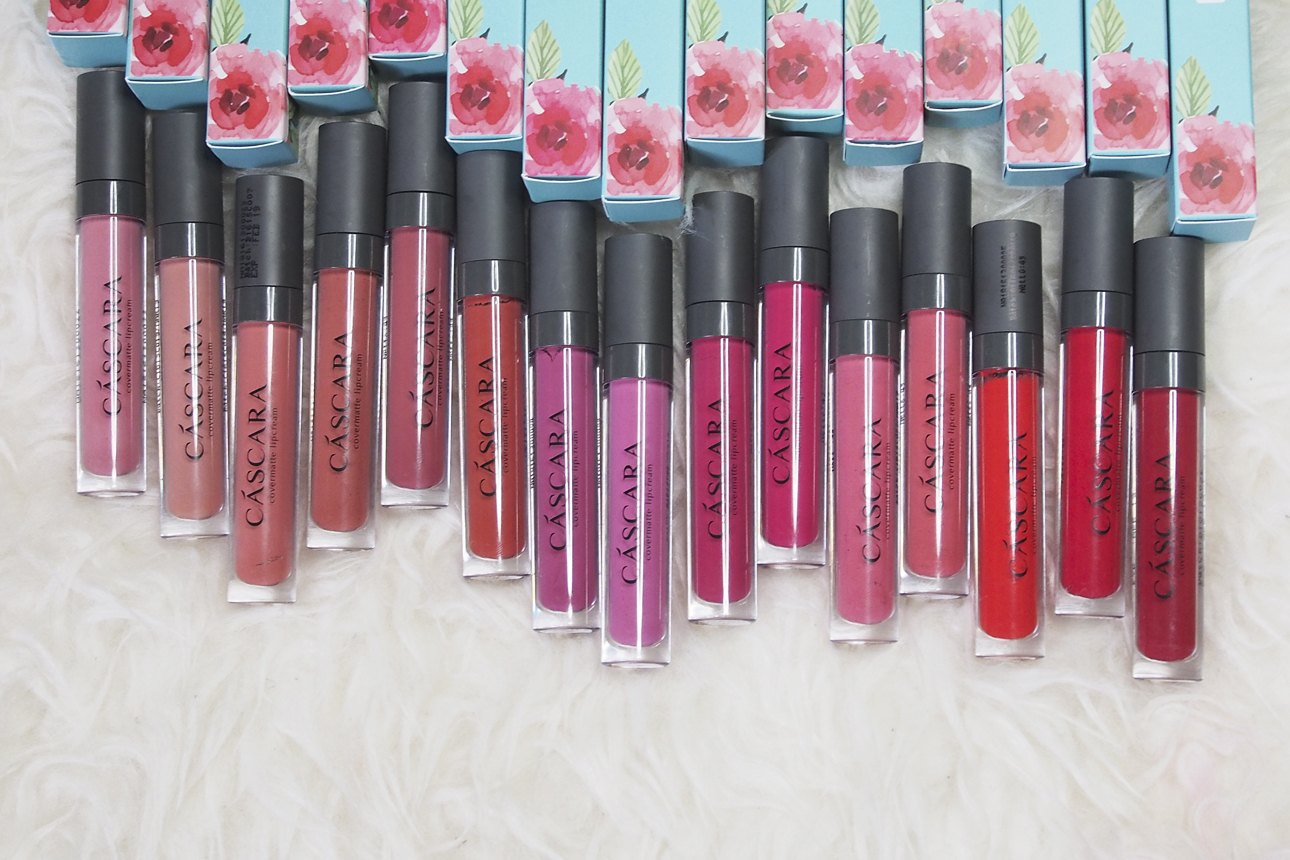 ✨ Formula, Pigmentation, Color, Finish
Ada 12 shade yang punya formula runny liquid / encer, sisanya 3 shade yang punya formula lebih thick – creamy – moussey seperti OFRA: Honeysuckle, Daisy, dan Edelweiss. Dan seperti yang udah kamu perkirakan, aku lebih suka formula yang kedua. Selain bikin warna lebih opaque ketika diaplikasikan, formula creamy – moussey juga lebih tahan lama buat stay di bibir. Untuk warna, Cascara Lip Cream punya pilihan warna yg banyak tapi terlalu banyak di kelas nude, tiga warna seperti Vinca, Pink Rose, dan Cherry Blossom akan terlihat pucat di kulit sawo matang. Warna-warnanya juga menurutku sangat warm-friendly. Warm friendly = warna sekunder / tersier yang dicampur warna2 nature seperti dari hitam, coklat, etc. Makanya bakal cocok buat jenis kulit Asia kayak kita. Please keep in mind kalau 'warm undertones' bukan berarti harus medium to tan, yang punya kulit fair pun ada yang warm. Klasifikasinya seperti itu. Soal finish, kesemua shade Cascara Covermatte sets to matte within seconds, walaupun masih ada minimal transfer dan sangat mudah untuk dibersihkan pakai makeup remover.

✨

Longevity

Ketahanan lip cream Cascara setelah kering di bibir adalah sekita 4-5 jam, dan bisa lebih mudah memudar kalau kamu makan.
✨

My Fave Shades

Quince, Peony, Heather, Honeysuckle, Daisy
✨

Pro Tip

Sebelum beli lipstik, kamu harus 'kenal' baik jenis dan tone kulitmu. Warna merupakan satu hal yang kompleks dan tidak memiliki standar 'sama' untuk setiap orang, baik untuk yang kalian pakai maupun yang kalian lihat. Intinya, yang bagus di orang lain belum tentu bagus di kamu, begitupun sebaliknya. 🙂
✨

Where to Buy

Head over to Cascara Cosmetics instagram: @cascaracosmetics untuk info lebih lanjut

See you in another post, lippielusters!
✨

Swatches

[masterslider alias="cascara"]