✨ First Impression
Pertama kali dapet produknya sekitar hampir sebulan yang lalu, dan akhirnya berkesempatan buat coba satu shade di minggu berikutnya (Burnt Cinnamon), aku langsung suka sama lipstik ini. Oke, mungkin menurut temen-temen aku terlalu cepet menyimpulkan so I'll break it down here:
I know bentuk tube-nya mirip dengan brand-brand Indonesia lainnya, bahkan dalam segi warna ada satu brand yang beneran mirip sama lipstik ini. Dari situ aku pikir, "oh, okay so this is just another liquid lipstick.". But.. Satu hal yang membedakan (dari segi packaging -dus & tube-) kalau BLP Beauty Lip Coat lebih 'well-designed' sampai temenku yang dari Texas compliments how pretty the tube is (dan selanjutnya dia minta aku kirim beberapa shades ke Texas sana). I couldn't agree more. BLP Beauty cenderung lebih advance dalam segi konsep desain dan pemilihan warna untuk brand-nya. Satu hal lagi yang membedakan, tube BLP Beauty Lip Coat memakai material frosty glass, bukan clear glass seperti brand-brand lainnya yang memiliki bentuk packaging sama. Pemilihan warna putih untuk tube pun menurutku berpengaruh, warna-warna di dalam tube-nya akan terlihat lebih 'popping' karena di dalam desain, warna putih memang berfungsi untuk menetralkan warna. Tapi warna putih yang dikelilingi warna lainnya bisa jadi gak keliatan kalau pemilihan font / tulisan di badan tube terlalu ramping. That's why kamu lihat logo BLP gede-gede di badan tube, and that compliments warna lipstiknya sendiri. So I guess I'll give the Lip Coat by BLP Beauty a straight A for the packaging only.
✨

Curated Colors and Formula by the Artist Herself

I mean, Lizzie Parra herself. Walaupun tube-nya kembaran dengan brand-brand lain, I give Lizzie four thumbs up karena dia bisa menciptakan hal yang 'beda' untuk produknya. Yang pertama soal packaging, dan yang kedua soal warna. Gak ada satupun warna dari Lip Coats yang aku gak suka, dan aku yakin banyak dari temen-temen disinipun berpendapat sama. Well I guess this is the result of a hard work.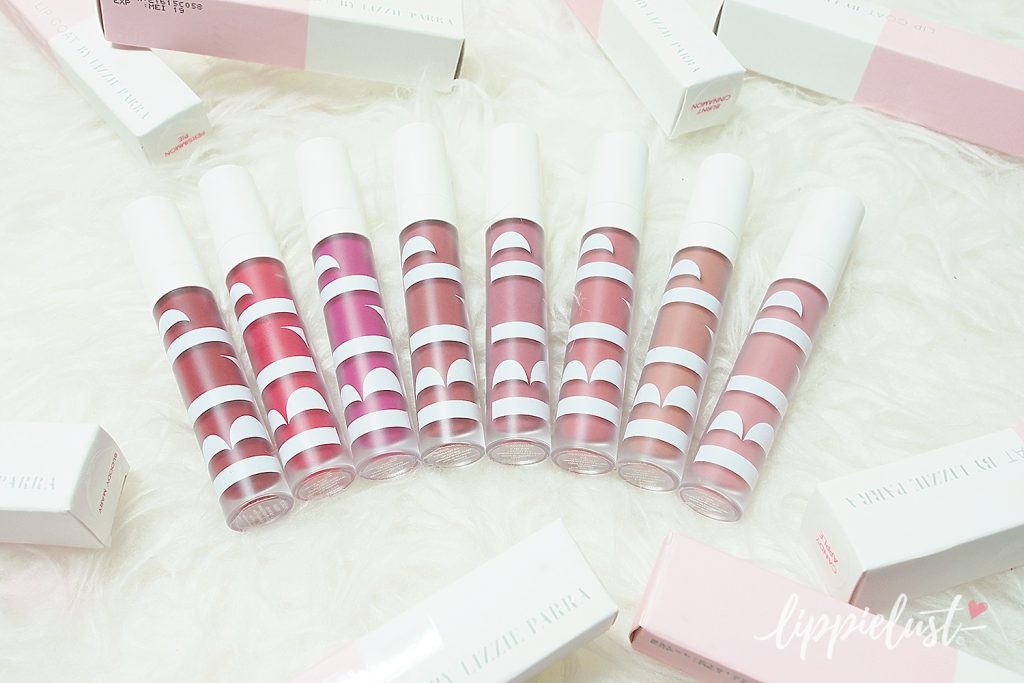 Pemilihan warna lipstiknya nggak asal, seperti melalui pertimbangan kalau warna-warna inilah yang bakalan cocok di kulit Asia kayak kita. Aku pribadi lihat Lizzie sebagai 'artist', which is she's in the standard of MUA world, very eligible to be called as an 'artist' in every way. Very well-curated lip coat colors are not the only example of her 'expertise' in colors. She's good in photography, too. So it does make sense why she could create such gorgeous shades for her own brand.
✨

 Yummy Bubblegum Scent in Creamy Formula

Formulanya creamy, sets to matte finish walaupun memang transferable tapi nggak parah. No bleeding, very opaque bahkan untuk shade-shade light, and true to color (what you see is what you get). Wanginya juga enak banget, semacam fruity bubblegum gitu. Gak menyengat, dan bakal ilang setelah beberapa menit applied on lips.
✨

Staying Power

This Lip Coat doesn't offer long lasting, but comfortability in wearing lippies. Just how I like all my fave lippies are. Walaupun begitu, lipstik ini stay sekitar 4-5 jam di bibir dan mulai memudar di bagian tengah bibir. Lip Coat ini juga lebih mudah untuk dibersihkan.
✨

Price

129,000 each. A very good deal for well-designed product lovers and the quality itself.
✨

Swatches