I can't count how many times I've been using 'because it looks good on her! Or her! Or her!' as my excuse to buy lipsticks. It's not only once when this intuition lead me to a wrong place — it went wrong.
But who cares anyway, I love my impulsiveness in hoarding new lipsticks. This, however, applied on Anastasia Beverly Hills Summer Lip Gloss Set. I found THE ENTIRE shades of this collection looked so good on my fellow swatcher, @fayjoenoes. And I thought, "Okay, Rissa. This is definitely your first time thinking to buy a lip gloss set. Are you sure?" and seconds later, I called Ginnie from @padusee, asked her if she got any, she said yes, and that was it. I. Finally. Bought. It. Yay (?)
About two days later, the package arrived safely in my home and I, trembled to death. Do I really need a set of lip glosses? I knew for sure that I couldn't send this back to Ginnie but I wish I wasn't this reckless. What if this goes disastrous on me, unlike on others? I screamed a little bit, really!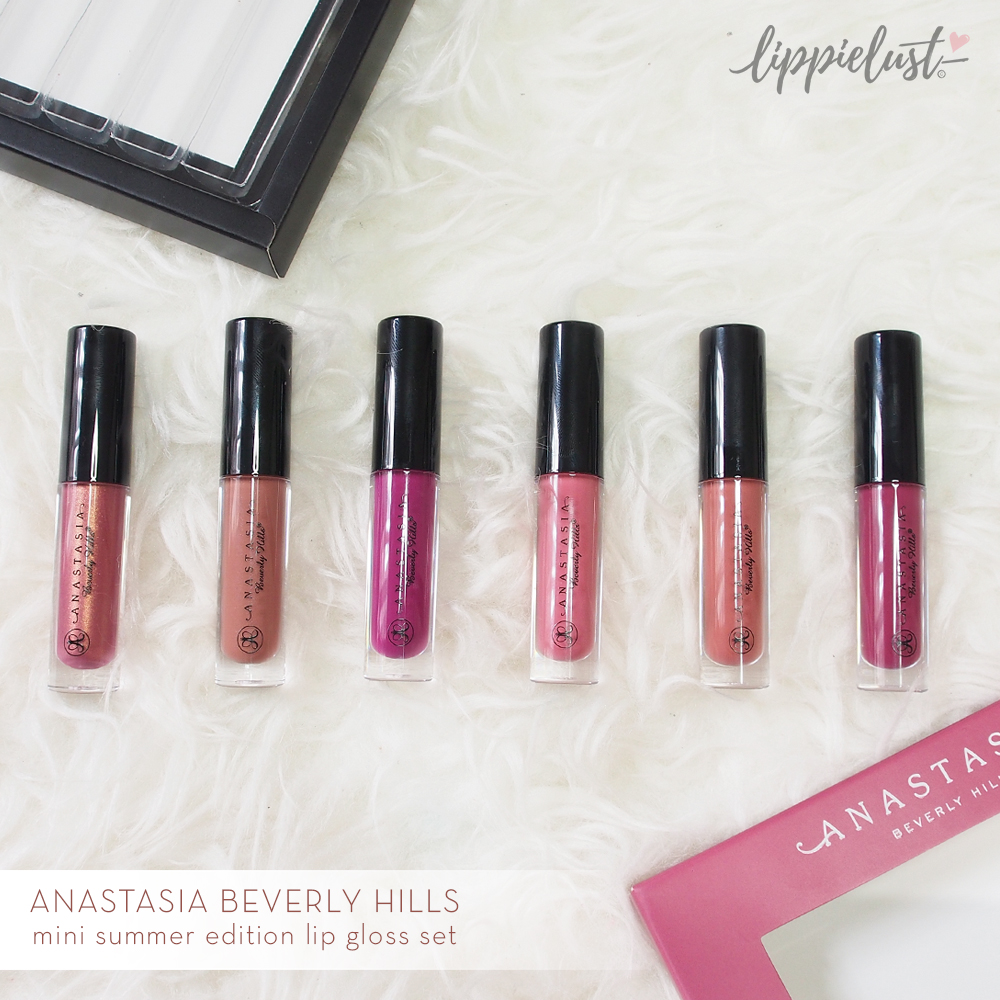 Finally I found out the answer right after I swatched every shades on my arms. I cried. My arms cried, too. We both happy that this set is truly, really, worth every penny. I never tried Anastasia Beverly Hills Lipglosses before so please bear with my stupidity. Every shade is gorgeous and wearable on me. Even Blushing!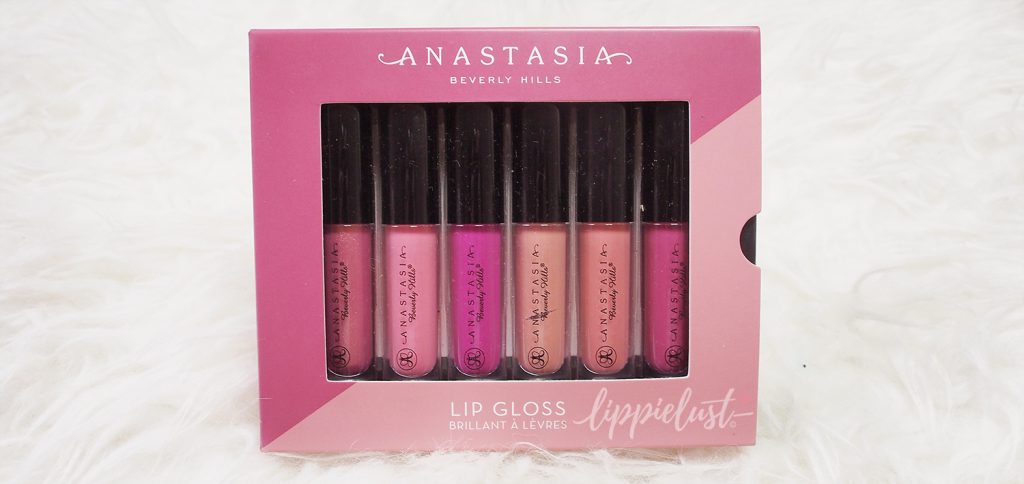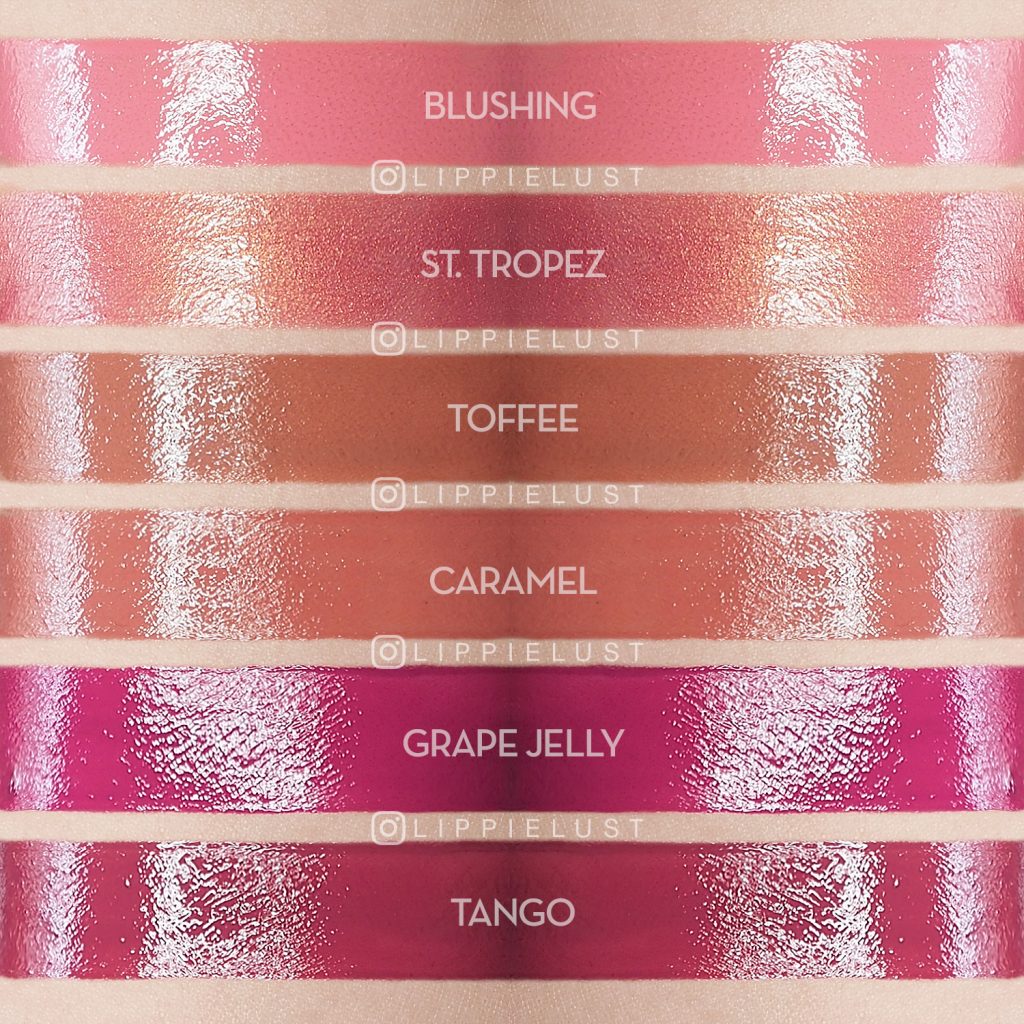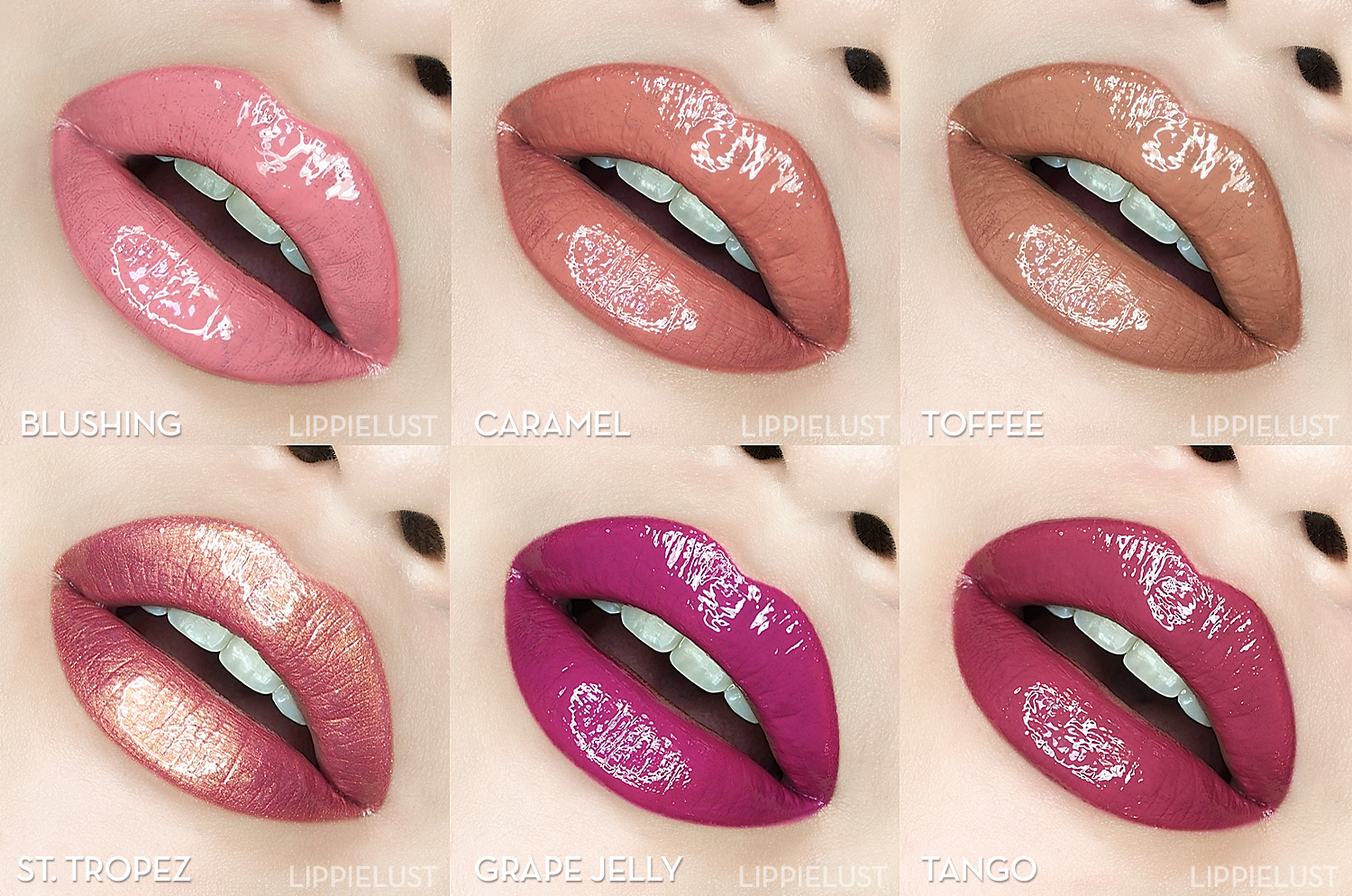 You can see it by yourself that these are too gorgeous to pass on.
Well I know that you need a review for this, so here's my two cents about ABH Summer Lip Gloss Set.
✨ First Impression
The 'mini' summer lip glosses from ABH are about the same size with NYX Butter Lip Gloss. I couldn't compare it side by side but I think the size is pretty similar. Maybe you can add this up? I honestly didn't expect the ABH Summer Lip Gloss minis are this good, because as you knew, I didn't like how dry the liquid lipsticks are (Anybody in the same voice with me about this?).Talking about the box, I didn't understand why it isn't covered with plastic (?), only paper-based box with a hole in the center, so it has a chance the content would be so prone to dust and get rubbed by other things? And yes, the tubes got rubbed a little bit when I had to get out of the city (and took the entire set complete with the box lol).
✨ Formula, Pigmentation, Color, Texture

The formula is buttery, thick, but unexpectedly non-sticky on lips. It has glass-like shine, and stays put, no bleeding around the lips – note that I didn't use lip liner on my swatches pics. If you asked why my lips looked like I used one, that's because my lips are just like that. The pigmentation is also good, as usual: one application for more natural finish, twice or more for more fuller looks lips, glossy finish. One shade is less pigmented: blushing. That's not a strange thing really, since light shades of most lipsticks also have this kind of problem. It took two times of application for me to finally set Blushing evenly. One good thing about lip glosses, everything would be even in the end because the lump will cover up the 'uneven' parts.
✨ Longevity
Not too long until everything gone, except the stain. Yes it does stain, every one of them. Probably it takes 3-4 hours, without taking meals… but a cup of coffee is alright.
✨ Price
USD 28 at Anastasia Beverly Hills Website or IDR 560,000 at @padusee
✨ OVERALL TAKES

PIGMENTATION ❤❤❤❤
FORMULA ❤❤❤❤
LONGEVITY ❤❤❤
COMFORTABILITY ❤❤❤❤
PACKAGING ❤❤❤
SHADES ❤❤❤❤
WOULD RECOMMEND? Yes
WOULD REPURCHASE? No, one set is enough for me
✨ SWATCHES
[masterslider id="5″]