After several attempts in posting this review on the blog, finally Milani Cosmetics Amore Matte Lip Crème review is ready for you to read. I blame the brash internet connection, and the ability for keeping in my mind that "you need to save drafts every few minutes". *deep sigh*

So, I planned to review this product since a few months ago. Because one thing and another, the review was postponed until finally laid off in the end. One of the reasons, Milani Matte Amore was a promise from me to a friend (she's an online shop's owner) who passed away a few months ago because of complications when she gave birth to a second child. She wants to sell it on half price for me, and in return, I promised a review for her. At that time, I was so busy with my wedding ceremony, and had so many lipsticks to swatch, then I told her that I had to delay the Amore Matte Lip Creme's swatches. Actually I felt guilty because when I tried to call her, she was hospitalized. *another deep sigh*

Okay so I think enough for the prologue. Now let's move on to the review!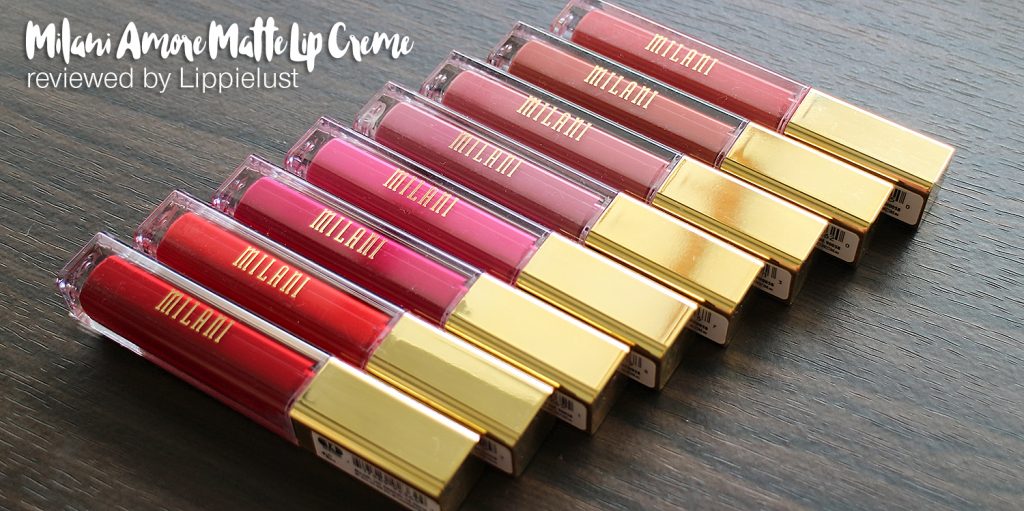 ✨

ABOUT THE BRAND

Milani Amore Matte Lip Cremè is one of most-favored and sought after by liquid lipsticks connoisseurs. The reason is pretty simple: it's affordable and it has good quality, even exceeding the quality of high-end products from infamous brands.

I ended up using my spare time to do a little research on this brand. And yes, as I suspected before, Milani and Jordana Cosmetics are run by the same company (they are different company but owned by the same owners). In fact, Jordana Cosmetics came first rather than Milani. Jordana Cosmetics was founded by Solomon Bijou and Milani Cosmetics was founded later by his children. The owners of both giant beauty companies are brother and sister, Laurie Minc and Ralph Bijou.

I personally liked both of them, aesthetically. Their product design, website design, and also user-friendly websites is admirable.
✨

MY FIRST IMPRESSION

Company claim:
It's time to put your lipsticks on notice. The Amore Matte Lip Crème has arrived. This revolutionary, highly saturated liquid-to-matte formula dries to a soft, velvety finish for fuller-looking lips. Its double-sided, flexible plush applicator hugs the contours of lips, working to lock in bold, opaque color. Non-sticky, smooth and ready for all-night wear (up to 16 hours!) our Amore Matte Lip Crème is the ultimate transfer resistant kiss-me-matte.
At the first time I got this product from @gurlbeaute, I got three boxes (similar to LA Girl Cosmetics Matte Pigment Gloss' boxes) containing three items on every box. One good thing that you can get from Milani Cosmetics, they wrap products with plastic sealing so that the cleanliness and quality of the product are well preserved.
Milani Amore Matte Lip Crème has a lot more product when compared to some popular products in the low-end drugstore lineup. As a comparison:
? Milani Cosmetics Amore Matte Lip Crème: 6 g for USD 8.99
? Jordana Cosmetics Sweet Cream Liquid Lip Color Matte: 3 g for USD 4.99
? LA Girl Matte Finish Flat Pigment Gloss: 5 g for USD 6
? Colourpop Ultra Matte Liquid Lipstick: 3.2 g for USD 6
The tube is made from glass, but the lid is from gold-painted acrylic material. The scent of this lipstick? Hmm.. It's a lot like Jordana Cosmetics Sweet Cream Liquid Lip Color Matte. They are identical. Not only the scent that's identical, they also have similar formula, except…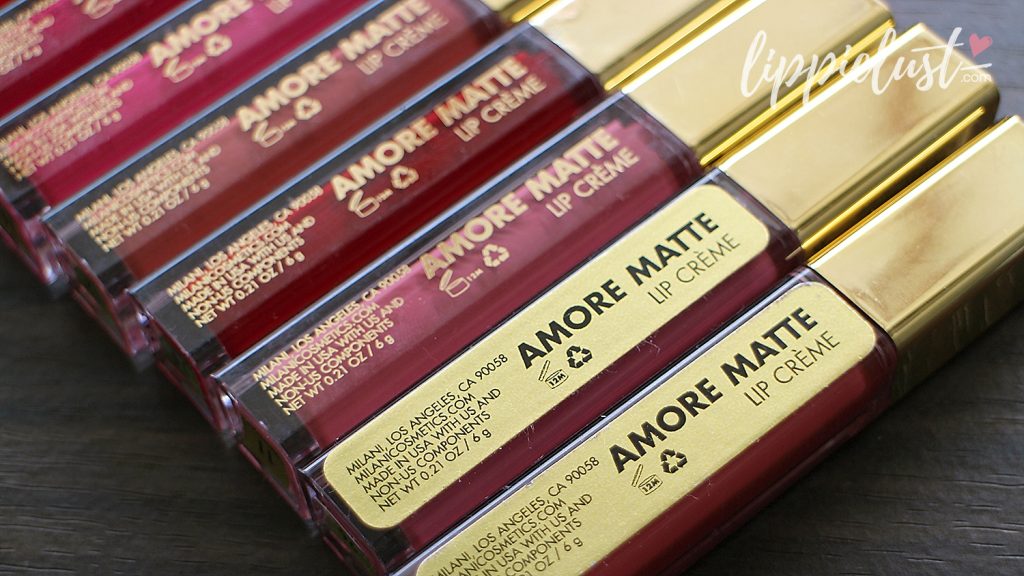 ✨

OVERALL

… except the finish of the bolder shades: Amore, Sweetheart, Gorgeous, and Devotion. I'm quite confused because some people said that every shades have the same result: smooth, totally flat, and there is no tendency to cracking. I, personally, experienced the opposite.

Four nudes shades I have: Precious, Loved, Allure, Fling, have impressive staying power and performance. They are so smooth on lips and dry to matte perfectly within seconds. More importantly, they do not crack even though I wear them for hours. The bolder shades however acted the opposite. They feel so heavy on lips, and I am pretty sure that I feel my lips tightened and stiff – even I only applied it once. The drying-to-matte process was also weird, especially for the shade 'Sweetheart', when you can see which part that finally dried and which part that was still wet. lol.

I also surfed on reddit to see how it's like on others, that's because I was afraid that I got the 'bad batch' products. And I found out that some redditor experienced the same thing! BUT, again, that's totally personal and I'm pretty sure that if you love a product so you're going to love it no matter what. So to prove my point (because it's essential, of course) I made two tryouts and I will only show you guys the second tryout since they basically have the same results.
As you can see, I compared the product with its sister, Jordana Cosmetics Sweet Cream Matte Liquid Lip Color. It's just because they came from the same company, and as I said before that they have similar formula. I only tested their bolder shades because I only experienced the cracking with them.
It turned out that Milani Cosmetics is more prone to cracking. I wore long-sleeved shirt for two hours, and they wore off easily. Meaning, the formula is drier than Jordana (Pomegranate Pie, Mixed Berry Souffle, and Cherry Cobbler). At the third hour, I tried to gently rub the swatches with my finger, and the lip color fell out easily for (again) Milani. Jordana also experienced the fall out but it's way better than Milani.
Thank you for a pretty lady (my instagram follower) who reminded me about the applicator review. I personally feel comfortable using Milani Amore matte Lip Crème applicator, it's flat yet flexible, it can actually help you reach out narrow corners of your lips.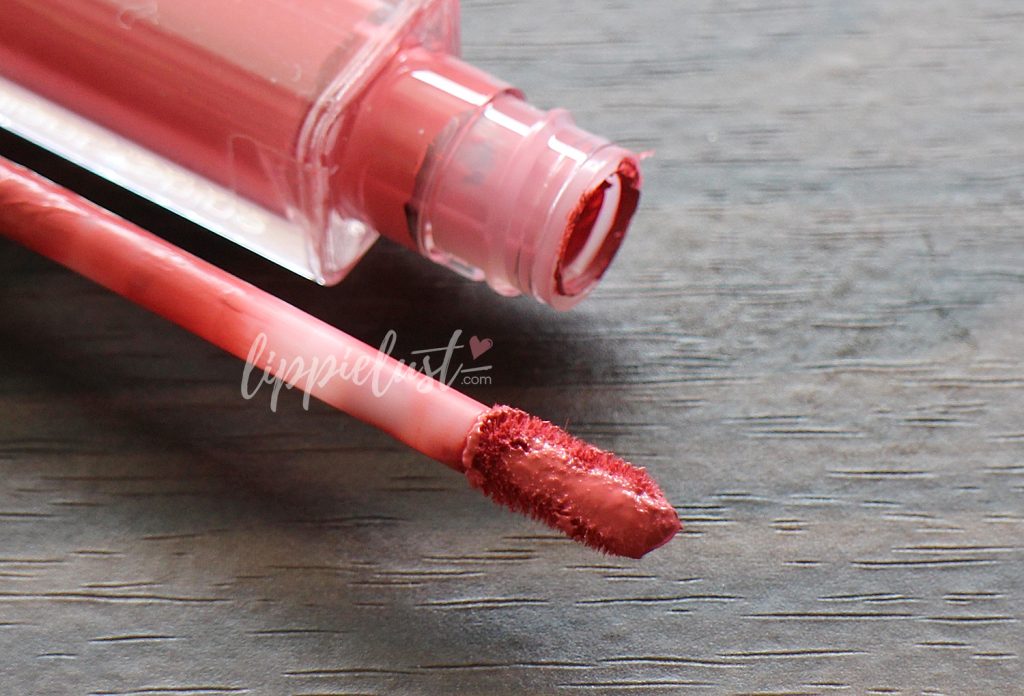 As a conclusion (if you don't have enough time to read the whole thing lol):
✨
FORMULA & TEXTURE
It has creamy thick formula that sets to flat matte finish. Nude colors have better formula than the bolder shades. The scent can be too overpowering for those who are sensitive. It is also buildable for up to 3 thin layers. Don't apply more than 3 layers or it's going to crack and crumble.
✨
LONGEVITY
4-5 hours of wearing. Touch up is needed, but reapply is more preferable for me.
✨
FINISH
Dry to matte, waterproof finish.
✨
CRUELTY FREE?

Yes, Milani Cosmetics are Cruelty Free. Recertified on June 2014 by PETA.
✨
VEGAN FRIENDLY?

Unfortunately some shades are not vegan friendly. Head to the website to find out more.
✨
INGREDIENTS LIST

Isododecane, Trimethylsiloxysilicate, Cyclopentasiloxane, Dimethicone, Kaolin, Flavor (Aroma), Hydrogenated Polyisobutene, Synthetic Beeswax, Silica Dimethyl Silylate, Ethylhexyl Methoxycinnamate, Phenoxyethanol, Caprylyl Glycol, Hexylene Glycol, Tocopheryl Acetate. +/- May Contain: , Red 30 Lake (CI 73360), Titanium Dioxide (CI 77891), Red 6 Lake (CI 15859), Red 7 Lake (CI 15850), Yellow 5 Lake (CI 19140), Manganese Violet (CI 77742), Red 27 Lake (CI 45410), Red 28 (CI 45410), Iron Oxide (CI 77491, CI 77492, CI 77499).
✨
WHERE TO BUY?

INDONESIA: @gurlbeaute (instagram). [button title="Follow This Link To Shop" url="instagram.com/gurlbeaute" color="readmore" size="" icon="" icon_align="left" rotate=" " target="_blank"/]
OVERSEAS: Milani Cosmetics website.
✨
SWATCHES
(you can save my swatches without editing & collaging my photos without my consent)
[masterslider id="13″]