How could I put off a very important thing to do – for more than four days? *sigh* well guys, sometimes sh._t happens. I've even dropped out of sight for more than two weeks, just to simply out of the crowded, to sleep more, and do nothing. Okay it looks like this is inappropriate to be used as the opening sentence on today's review but I want to apologize about the late review. Sometimes I just pray that God may prolong the time in a day so all my work can be done on the same day, that being said, I don't bring all burden of thoughts to sleep at night.
Anyhow, I can't believe that now I have more than 50,000 followers friends on Instagram! I was nobody then and am still nobody today, without you all. I am improving my skills (like, everything – content quality, photography, editing (psstt.. now I have an assistant! hehe) and will always be, though. Thank you so much for your support and love! *virtual mega group hugs*
And today, as I promised, I will bring Caked.Co Lip Fondant review for you! I've been following Caked Cosmetics (Caked.Co on Instagram) for a while now and craving their lippies since then! Thank you @makeupuccino for sending me ALL 9 SHADES of them (yes I couldn't be happier than this).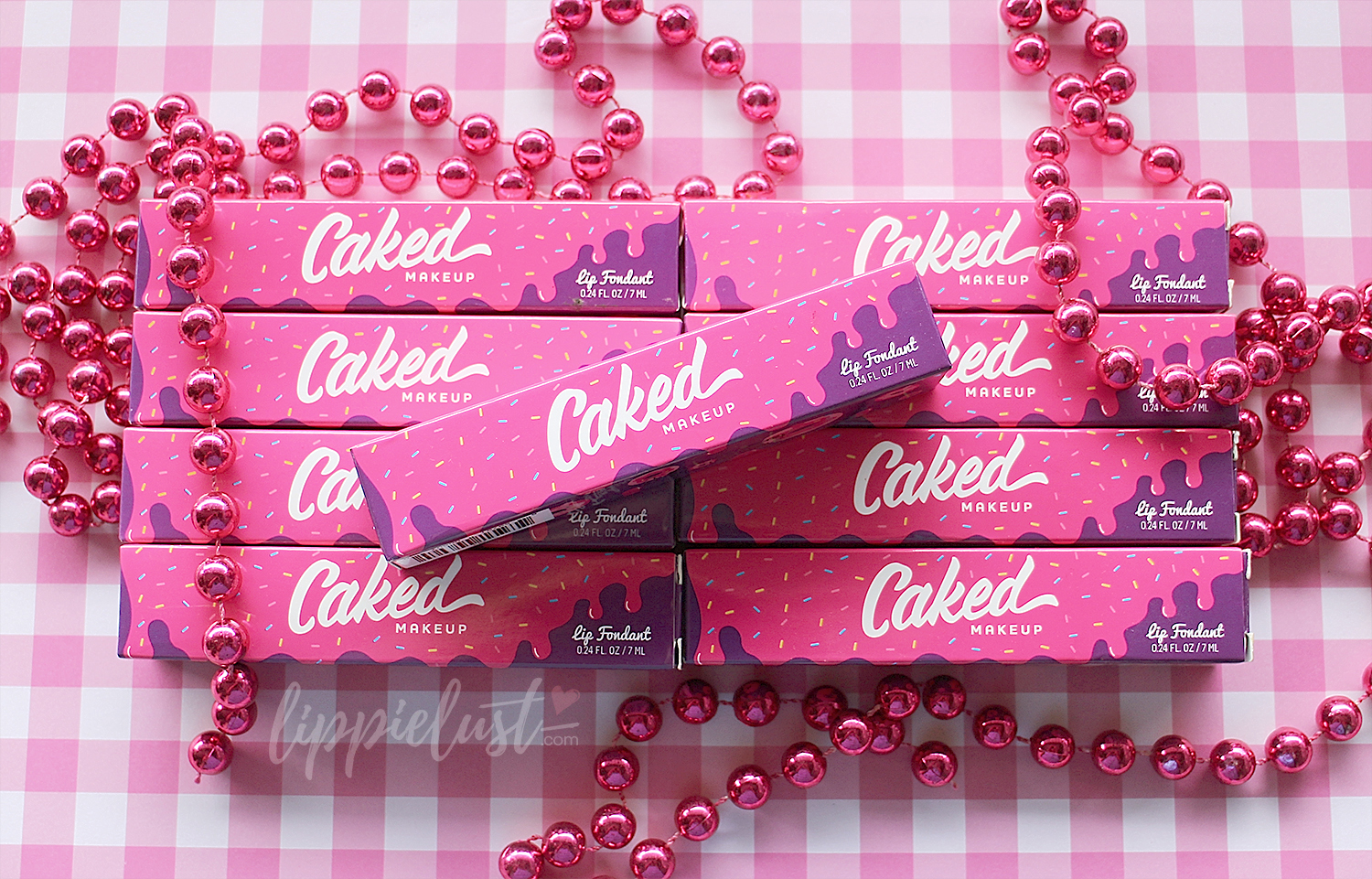 *Don't bother thinking where did I get that pearls accessories, it kinda happened!* hahaha
So, where should I start? Ok of course I'll give you some information about the brand.
✨

ABOUT THE BRAND
We're an indie, streetwear inspired makeup company that blends urban culture & everything sweet into one. Our goal at Caked Makeup is to serve you on-trend, wearable & fun beauty products that will make you feel some type of way.

Located in Tampa, Florida, Caked Makeup was launched on the sweetest day of the year, Valentine's Day, 2016.  We can't get enough of the glamorous and ever-evolving makeup world, and hope you love everything we dream up for you.
Caked Cosmetics, LLC a company based in Tampa, Florida is the 'distributor' of Lip Fondants, meaning, although they are the owner of this brand, they don't produce the products themselves. Unfortunately, I didn't find any info about what company is the producer. But don't worry guys, as stated in Caked Co. website, they are 100% vegan and cruelty free. You may of course check the ingredients list down below for proving it yourself.
✨

INGREDIENTS

Ozokerite, Xanthan Gum, Jojoba Oil, Titanium Dioxide, Manganese Violet /MICA, Iron Oxide, Silica Dimethyl Silylate flavor, Polybutene, Propylene Carbonate, Trimethylsiloxysilicate, Diisostearyl Malate, Glyceryl Behenate, Disteardimonium Hectorite, Kaolin, Microcrystalline Wax, Silica, Cyclopentasiloxane, Vitamin E, Dehydroacetic Acid*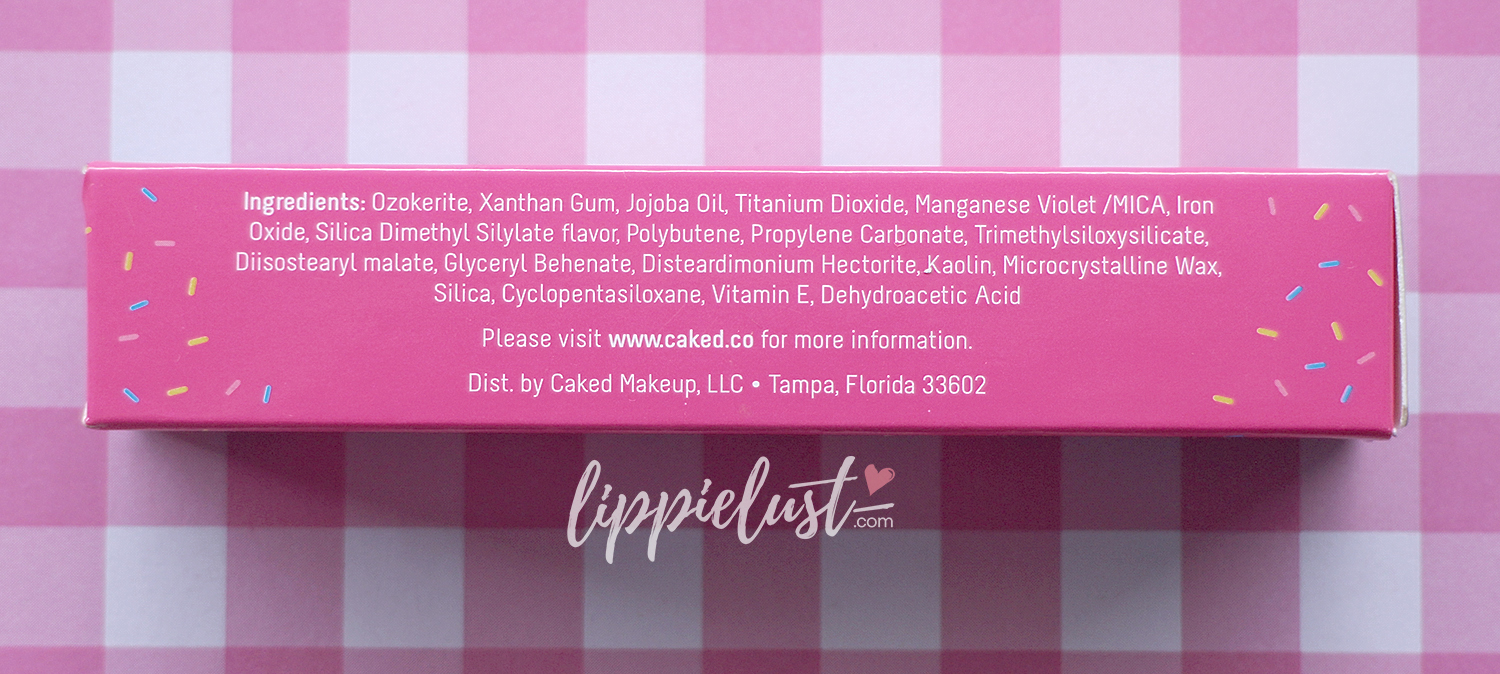 ✨

PACKAGING

Can we take a moment to say, 'Thank You Caked Co, I haven't lost my faith in good concept of an indie brand!' Yes, because even though it's an indie brand, it doesn't mean that everything has to be Indie-ish. I mean, Caked Cosmetics has done a very well concept for their first product line, including the packaging.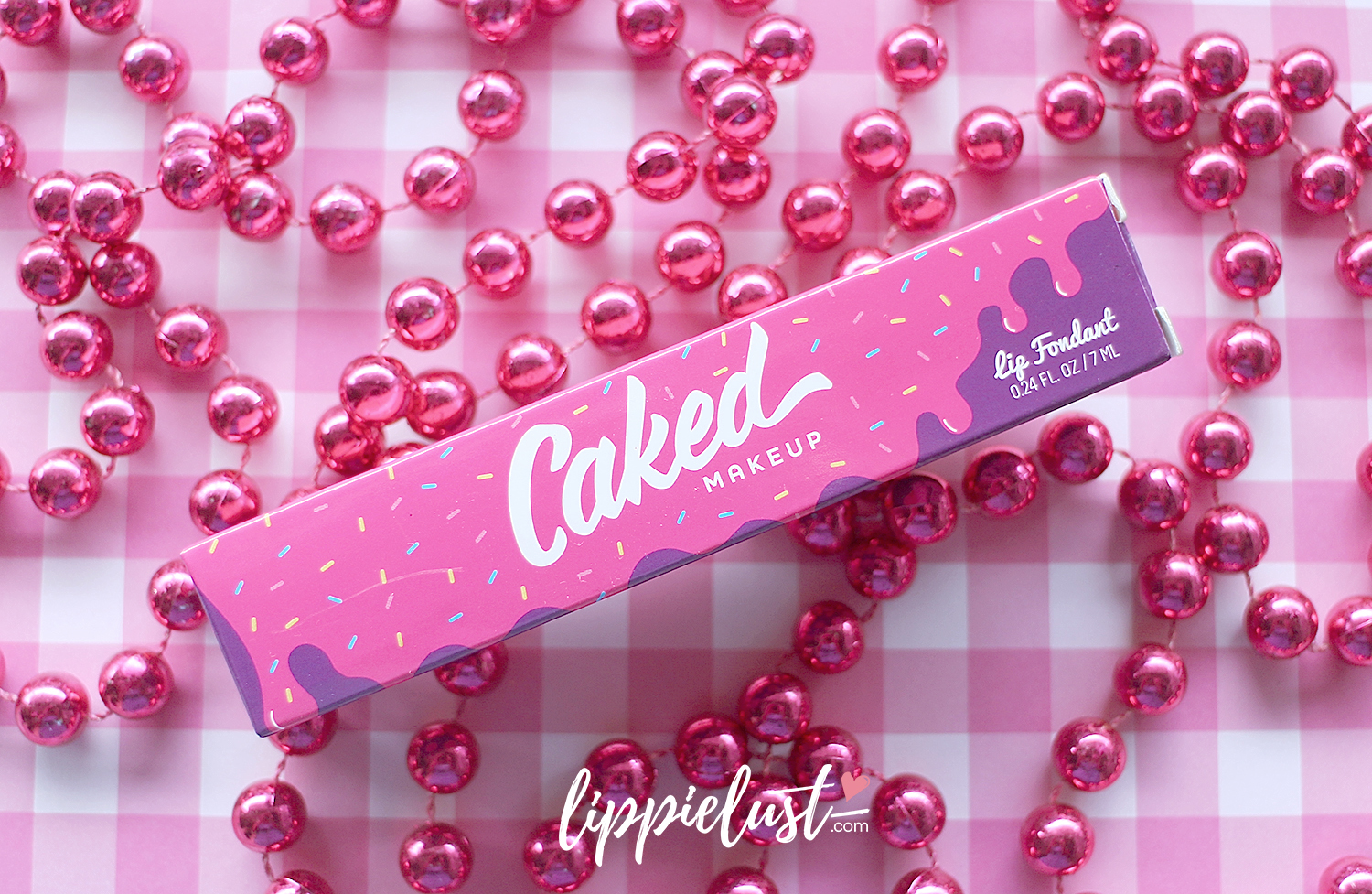 Talking about the packaging:
The cardboard box has three main colors: bright pink, purple, and white. I never thought that purple will look good with pink, but indeed I was wrong. With melting cake icing-like graphic all over the box, (and also the sprinkles!) the box is definitely on point. The box also has little donuts on the right and left sides, with barcode and shade name (on the newer release), aaaaand also, sprinkles again! On top of the box you can see the biten donut which resembles the alphabet 'C' for 'Caked'. You can also see the manufacture and expiry date on the box, too. Don't forget about the ingredients list which is also written on the side of the box. What a complete information in a single product, don't you think?
The acrylic tube is pretty durable, meaning although it looks like glass, it isn't. The sturdiness and weight is similar to glass, I think. The tube lid has bright pink color with the logo on it: 'Caked', and also the biten donut 'C' on top. Again, melting icing and sprinkles similar to its box. On the bottom of the tube, you can see the shade name, too. With a little heart <3 on O, making this product has the sweetest yet pretty design of a lip cream ever.
P.S: You'll crave for a dozen of sweet donuts after buying this.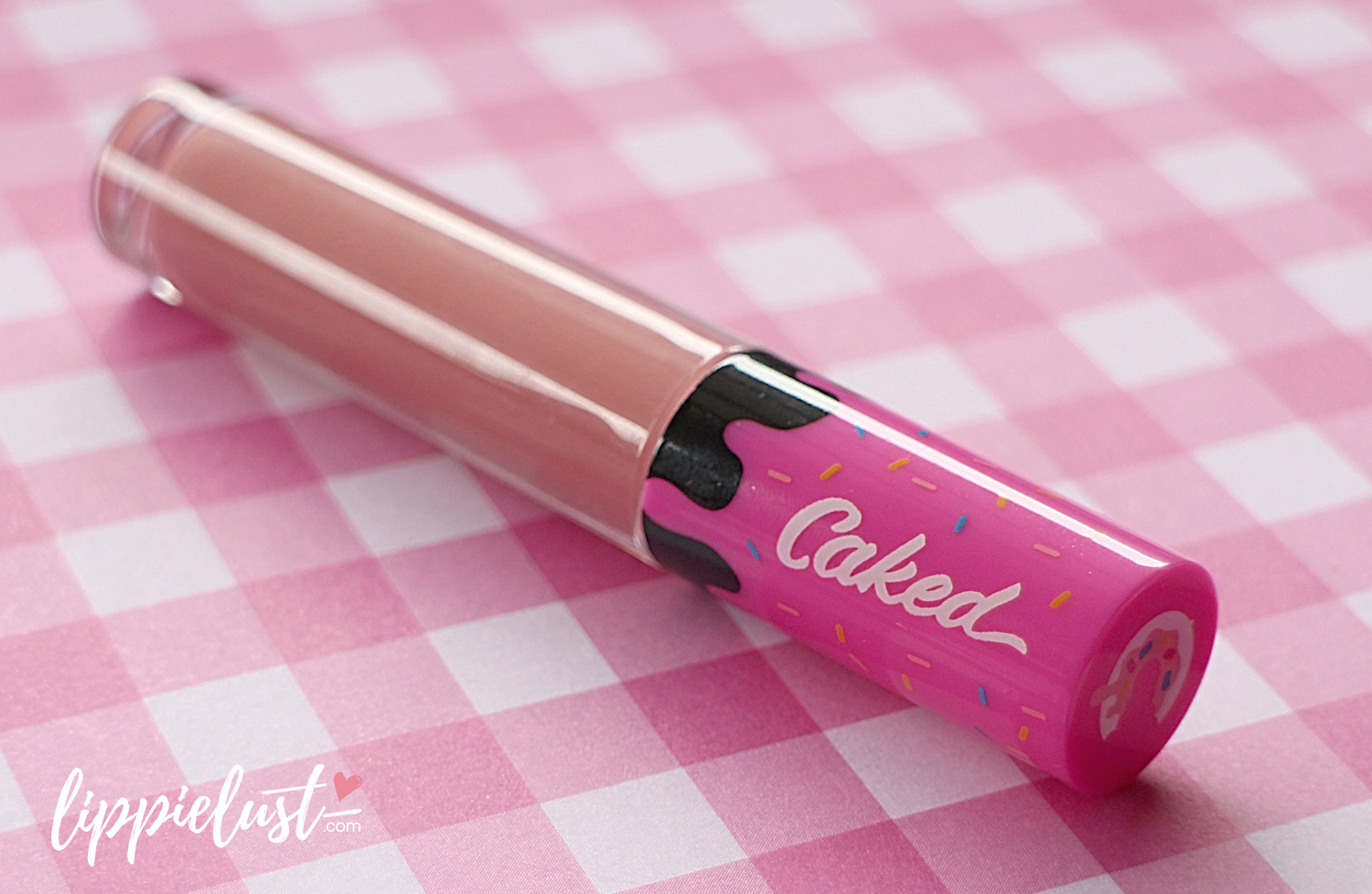 I know very well that doesn't matter how good the packaging of a product is, it has to carry good quality too, right? So let's move on to our next subject: formula.
✨

FORMULA

First thing first, this product is the most comfortable transferproof, waterproof, smudgeproof, kissproof, non-sticky lip cream fondant I've ever tried. You need to know that first before further explanation.

This lip fondant dries to dead matte very quickly, so you have to rush yourself out when applying it on your lips. I mean, you will need more than one dip for a full-coverage application, no thanks to almost dry, mousse-y like formula. It will dry within seconds, will be a little tightening effect but after you get accustomed to move your lips, this effect will be gone.

It is very recommended to apply on your lower lips first, or whatever side of your lips that has bigger area (mine is the lower). If your lower lips is successfully covered in maybe two-three dips, then apply the remaining lip color on top of your lips without dipping it again on the tube (because you'll get more of a product on the applicator and you don't want the application too thick)

The Lip Fondants has vanilla / cake-like scent, which can be too overpowering to some, even it's somehow will wear off for about one to two minutes after application.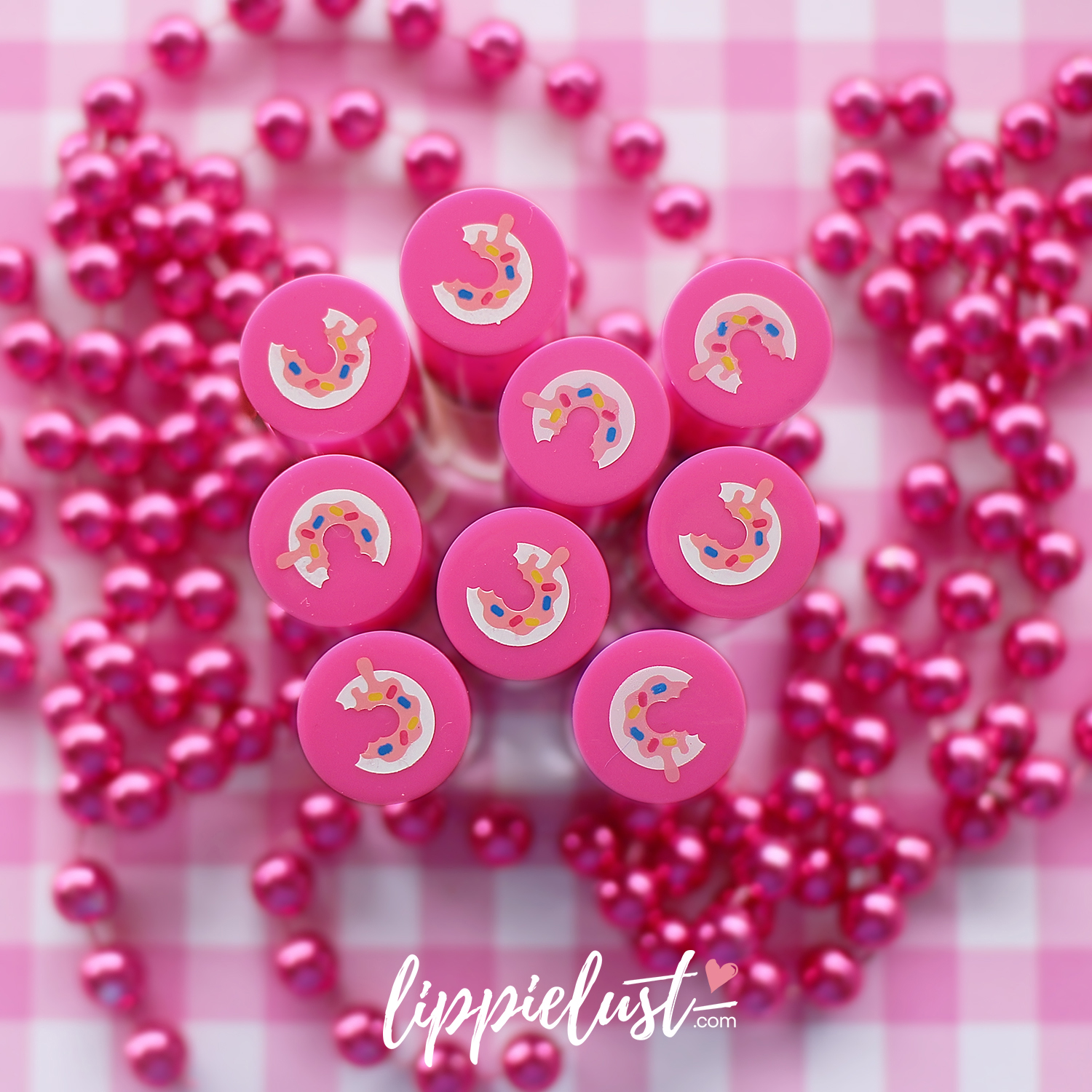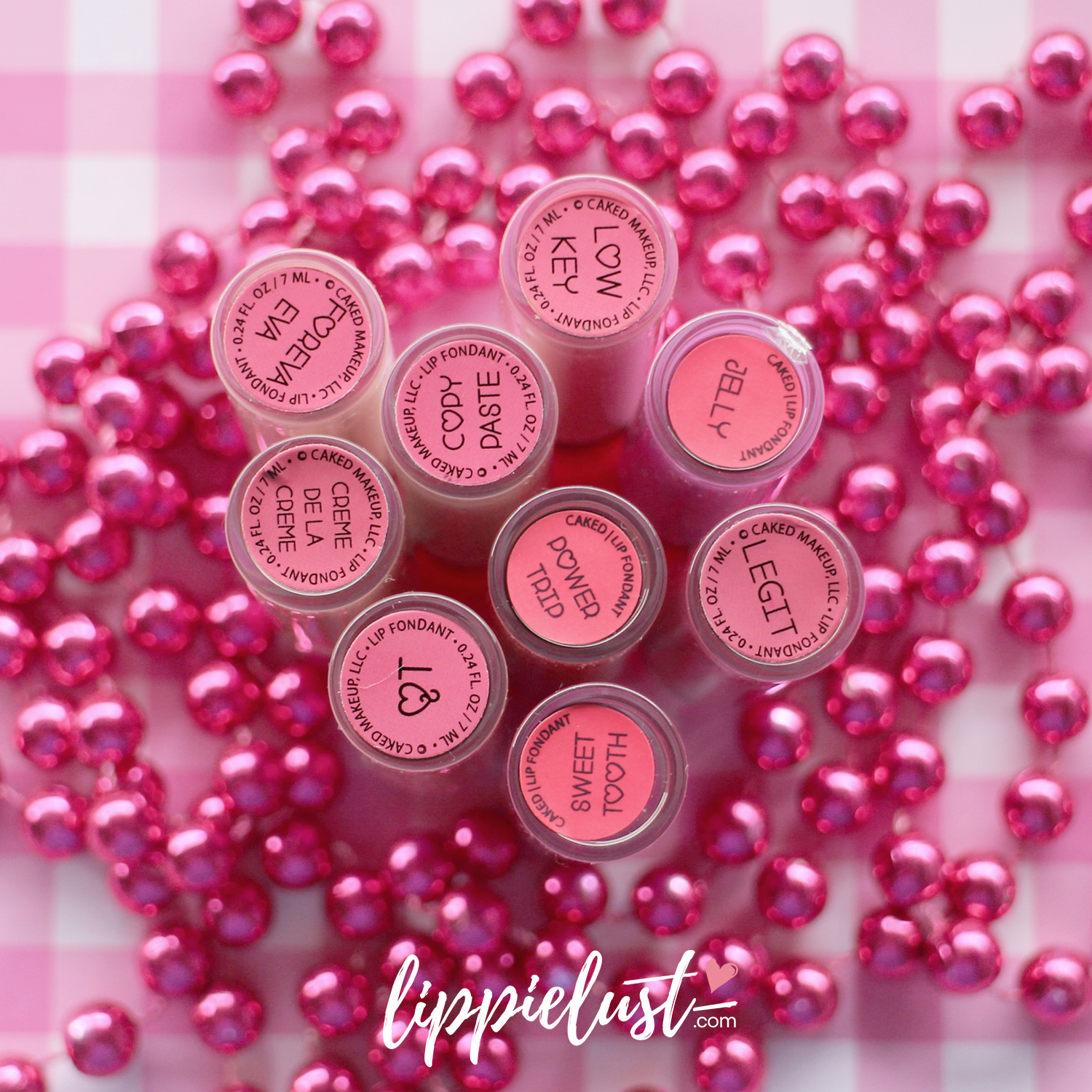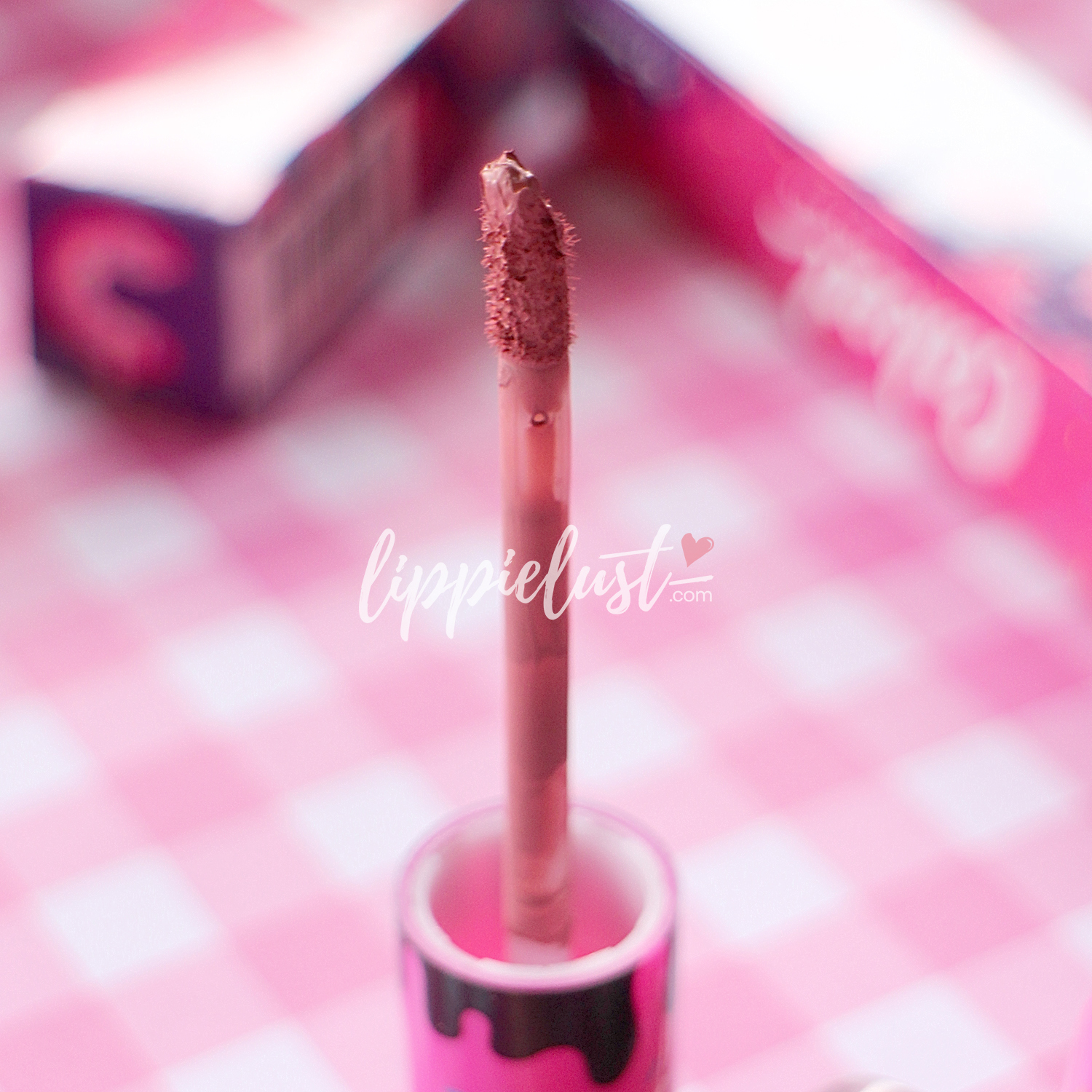 Because of its nature (dry-to-dead-matte finish nature), these lip fondants can be too dry for some. If you overly build them up, unfortunately they are prone to cracking and flaking. So keep it as thin as possible. Also, Jelly, Creme de la Creme, and Power Trip have slightly uneven pigmentation compared to the other shades.
My advice is, ALWAYS exfoliate and hydrate your lips fist before applying EVERY dry-to-dead-matte lippies on your lips.
✨

LONGEVITY

A few days ago I swatched them on my inner arms and guess what, this won't wear off by only rubbing them with fingers. I didn't go anywhere that day so I took my time proving that they are really smudgeproof all day – and it's proved they are. On lips, however, these do stay all day, as long as you want them to. My second important advice, if your lips starting to feel like your favorite chips, it is your time to HYDRATE your body. Wipe the lipstick off and apply it again. So you won't hurt your lips at all.
✨

PRICE

You can get these Lip Fondants from the Caked Cosmetics' Website here, or for Indonesians, @makeupuccino / www.makeupuccino.com sells it in very affordable price as low as IDR 199,000 (no marketing click bait here, just hit them up!)

Caked Cosmetics also offers wholesale for resellers!
✨

SWATCHES

RULES / CARA SAVE FOTO SWATCH

Swatches Caked Co Lip Fondants is exclusively made by Lippielust for Makeupuccino. Please do not save / repost without our permission.

[masterslider id="19″]