Hi loves!
So 2017 has already begun, and I'm thrillingly exxxxxcited for this year (yeah since 7 is my lucky number! Hehehe). I spent my NYE curled up in my bed binge-watching me and my husband's favorite Netflix's series with him. Luckily our home is literally in the busiest area of the city, there are few huge hotels, two malls, and also the biggest jogging track near our home (this place is the centre of fireworks party). We had the best view to see fireworks, and that's enough for me. Well, it was the best feeling ever. No more than two hours later we fell asleep with fireworks sounds in the background. Lol. I hope whatever you guys did on the NYE, was the best thing you did on the first day of 2017!
Well, today I am about to review a brand from our sister country, Malaysia! This brand actually has been around for quite some time, and I wanted to try them when Coma Makeup Singapore carrying them since last year but I've been catching up with everything, until Fiska from Makeup Modellare offered me to swatched them! Makeup Modellare is also the only official retailer of Velvet Vanity in Indonesia! How cool is that?!
Okay guys let's start with the brand introduction first to get to know our new friend!
✨ About the Brand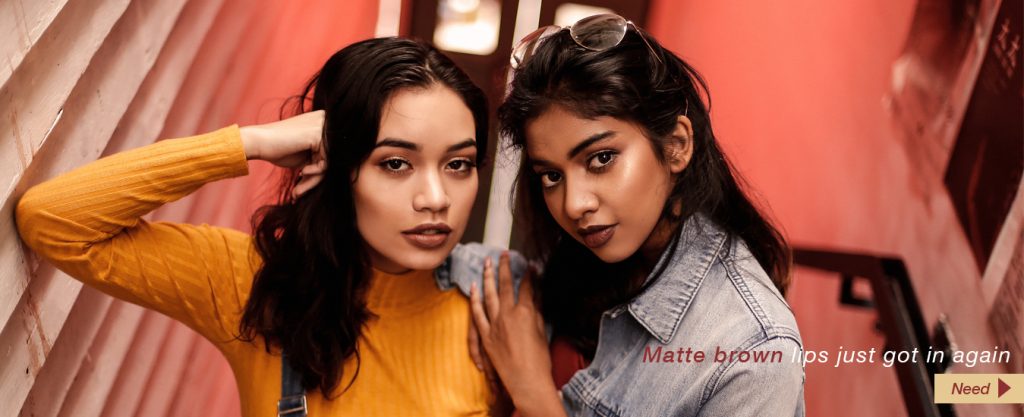 Velvet Vanity Cosmetics is an indie brand based in Kuala Lumpur, Malaysia. Founded in 2016, this brand carries Matte Liquid lipstick as their first (and remain the only one) product. Velvet Vanity has distinctive style which I love, they just time-travel backward and see the beauty of brown lipsticks. I mean, they just don't go basic with all fancy dusty rose kinda shade and prefer being bold and unique with 90's vibe instead.
I remember when Rollover Reaction released their #TheClique collection, which you can literally travel back in time to the golden age of brown lipsticks, I was so happy with the colors! Velvet Vanity, however, seems making brown lipsticks as their signature from the beginning with their 'Libra Baby' shade (discontinued), other two shades 'Blood Wasted' (still available, in old packaging), and 'Slamberry'.
✨ About the Product
So the Liquid Matte Lipstick collection is their first and also the only product they carry, well I hope that there will be more shades, curated shades of course! I wonder how cool it will be if they start producing shadow pots matching with their lipsticks, and I will definitely be sold!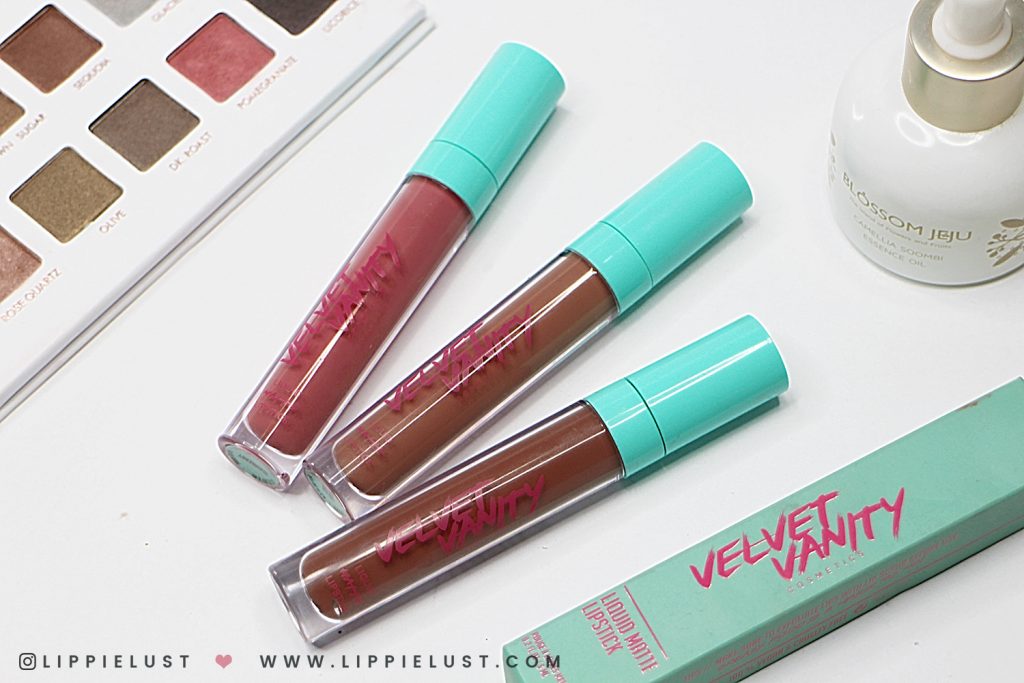 The product has this green-blue (Tiffany Blue) color on the tube's cap & box, close to Tiffany & Co's (New York City jewelry company) signature color. Although it looks similar but I think the color on Velvet Vanity is brighter on tube's cap and more muted on the box. Okay sorry for the long explanation about this but this needs to be addressed since Tiffany Blue is trademarked by Tiffany & Co for their bags and boxes.
✨ Ingredients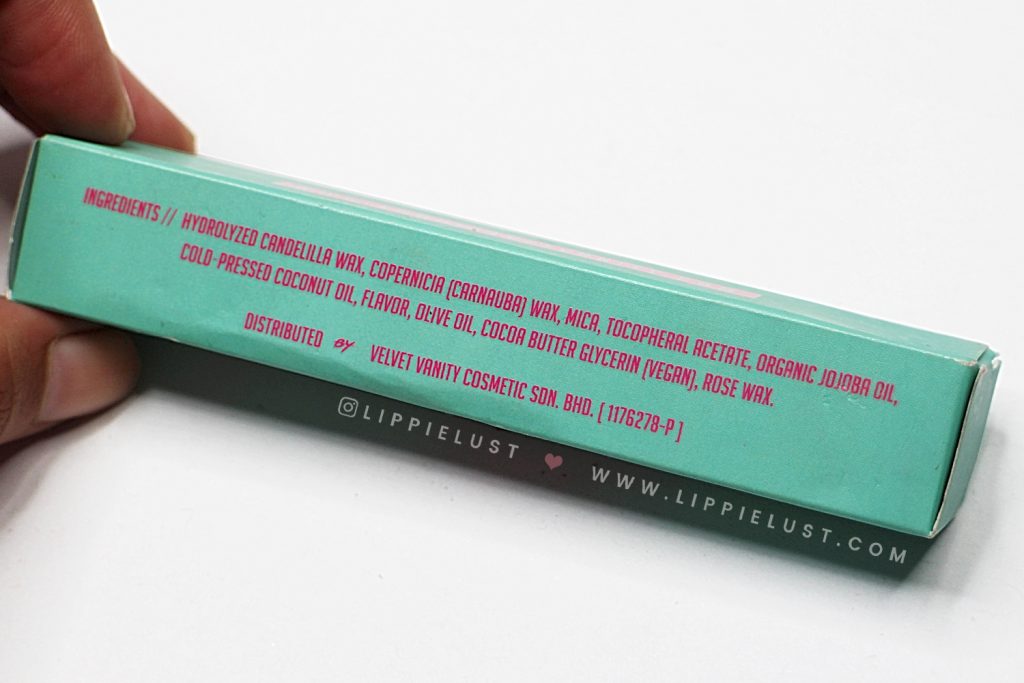 INGREDIENTS:
Hydrolyzed Candelilla Wax, Copernicia Cerifera (Carnauba) Wax, Mica, Tocopheral Acetate, Organic Jojoba Oil, Cool-Pressed Coconut Oil, Flavor, Olive Oil, Cocoa Butter Glycerin (Vegan), Rose Wax.
Yep as you can see, Velvet Vanity is 100& VEGAN, 100% HALAL, and also, 100% CRUELTY FREE.
✨ Packaging
The packaging is similar to several Indonesian brands' liquid lipsticks, such as Zoya Lip Paint, Mineral Botanica Soft Matte Lip Cream, aaaaand there's too many so I wouldn't write them down here one by one. The only thing I don't like on its packaging is the fuchsia-pink logo print on the body, which doesn't go along with the color inside. It will be better if they just print on the same color as the tube's cap, so the logo can be seen in contrast with the lipstick color. That's only my point of view as a graphic designer and they don't need to listen to my blabber. Hahahaha.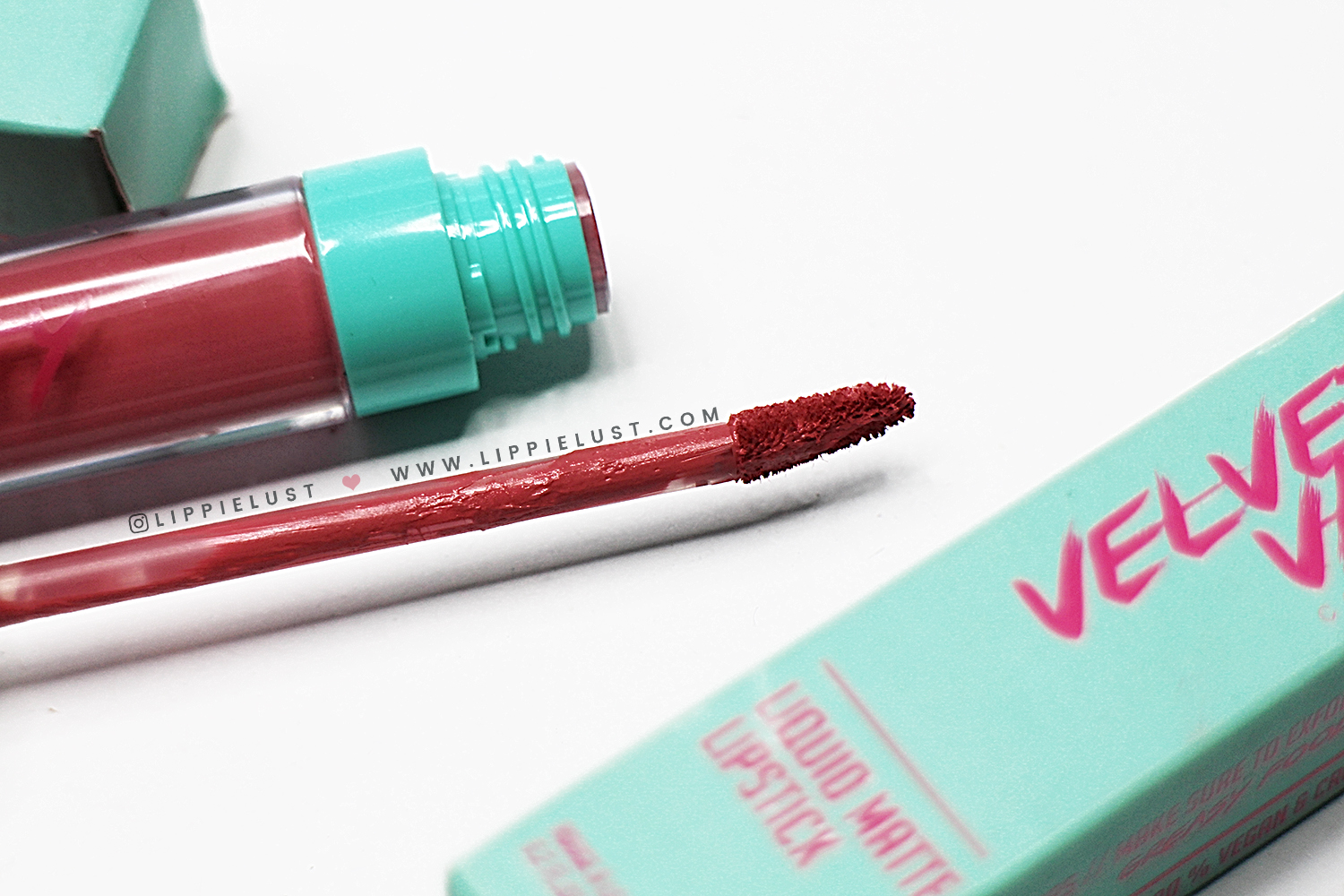 I love the applicator! It's flat, long, and sharpened on the edge, making it easy to reach out narrow corners on my lips. The applicator is more tilted and less stringy on one side, so this can make us easier to set up the lipstick on lips.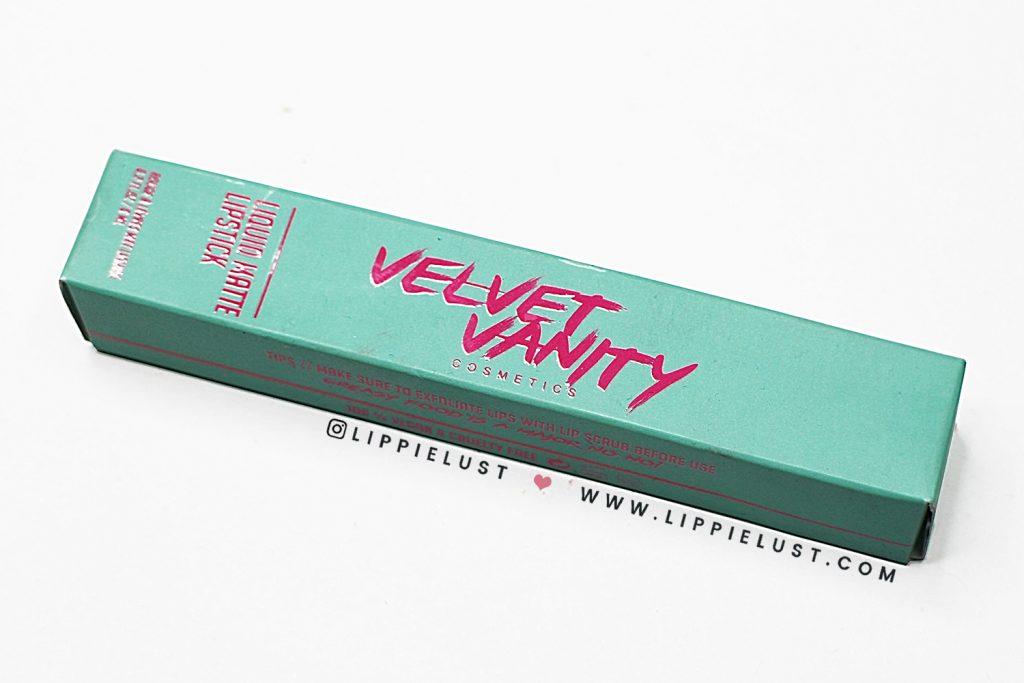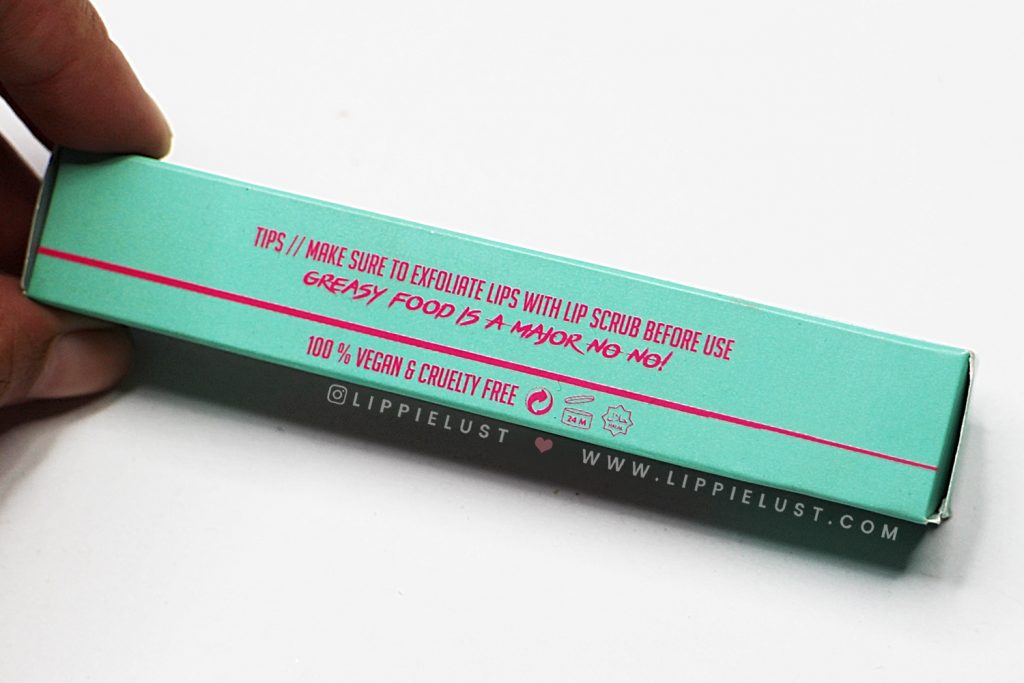 ✨ Formula
The formula of this one is the WINNER. I mean, if you are looking for more comfy MATTE liquid lipstick, Velvet Vanity is one of those lipsticks that can be your best friend. The texture is creamy liquid, super soft and pigmented, although it takes some time to fully dry to matte. Slamberry is the creamiest, almost moussy, and takes shorter time to fully dry to matte while two others take about 5-10 minutes to dry.
Their final result will be semi-transferproof finish but surprisingly can stay all day. The pigmentation of the color is the main reason behind this. So even you eat something that day, it will stay nicely on your lips, and need no retouch if you don't eat greasy foods.
Another best thing from this product is, it has 24 months Period After Opening – or POA, unlike many other liquid lipsticks that can only be stored up to 12 months.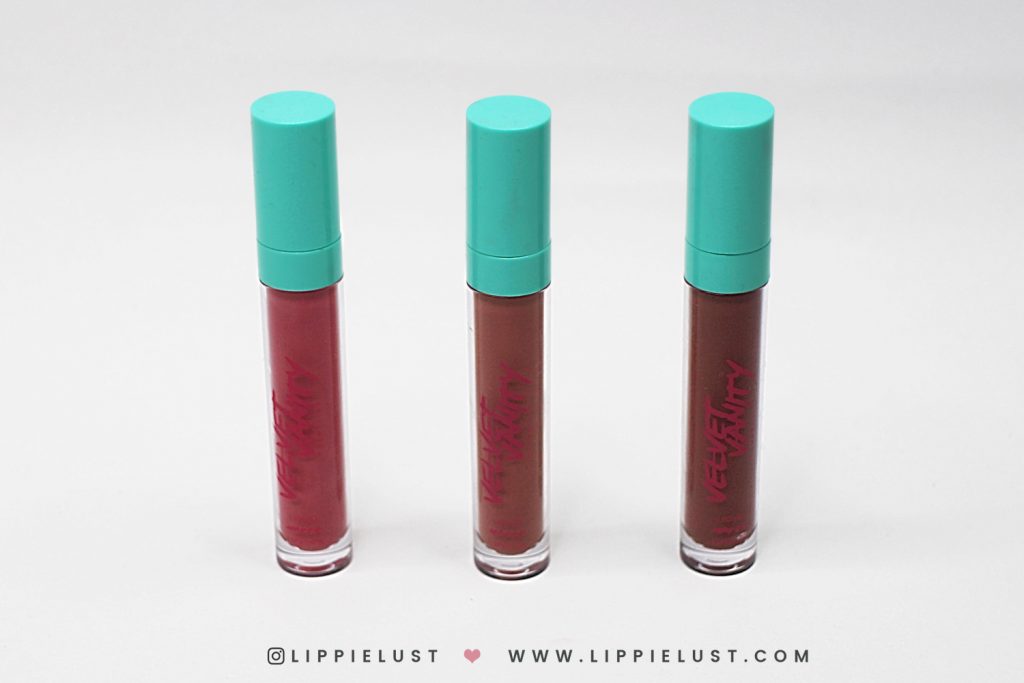 So what's the thing I don't like from this product?
The scent. Hehehe. I don't know how to explain this, but this is the first time I smell this kind of scent on a lipstick (or everywhere) and it's just overwhelming. I mean, the scent isn't strong but it's weird. I'm sorry I can't describe further about this because I just don't know how! Hahaha. But the scent will be disappear once when the product settles down. So donut worry, if you are anti-strange-scents like me it won't bother you for long time.
✨ Staying Power
6 hours is the best time I could get from this product, whether I need to clean up or I just need to retouch because of foods. 6 hours is enough for you, though. I mean, who doesn't love applying lipstick? lol.
✨ Where to Get It
You can buy it from @makeupmodellare, an official distributor / retailer of Velvet Vanity Cosmetics liquid matte lipsticks in Indonesia for 199,000 / shade.
✨ Do I Recommend This Product?
BIG YES for its comfortability and staying power!
✨ Swatches
[masterslider id="29″]