It's been too long since I uploaded my Kamelia Cosmetics' Mermaid Matte Lip Cream swatches on my instagram account. I initially didn't want to take a brief hiatus between swatches and review but in the very last minutes I think I would do another giveaway with Kamelia Cosmetics. The perfect time to make it is the last days of January, so the winner will get the present right before Valentine's Day! How's that sound? Does it tempting enough for you? 🙂
Now before the giveaway will be officially launched, I will review the products first, this way you can contemplate whether you'll buy this product or not.
✨

 Kamelia Cosmetics Mermaid Matte Lip Cream

Let me just quote:
Kamelia Cosmetics is a cosmetics company inspired by the fearlessness, femininity and fantastical nature of mermaids. Kamelia Cosmetics believes in delivering quality ingredients, superior formulas and cruelty-free beauty at an affordable price – because every woman deserves to have the ability to enhance their beauty and feel empowered with first-class make-up.
So that's why. Kamelia Cosmetics is really inspired by mermaids. Kamelia was established in Malaysia in 2016, and co-owned by a genial, super talented girl named Kamelia Nisha. That's where the name 'Kamelia' came up. Well if you didn't know, Kamelia was once a model and now with the power of passion, she turned to businesswoman.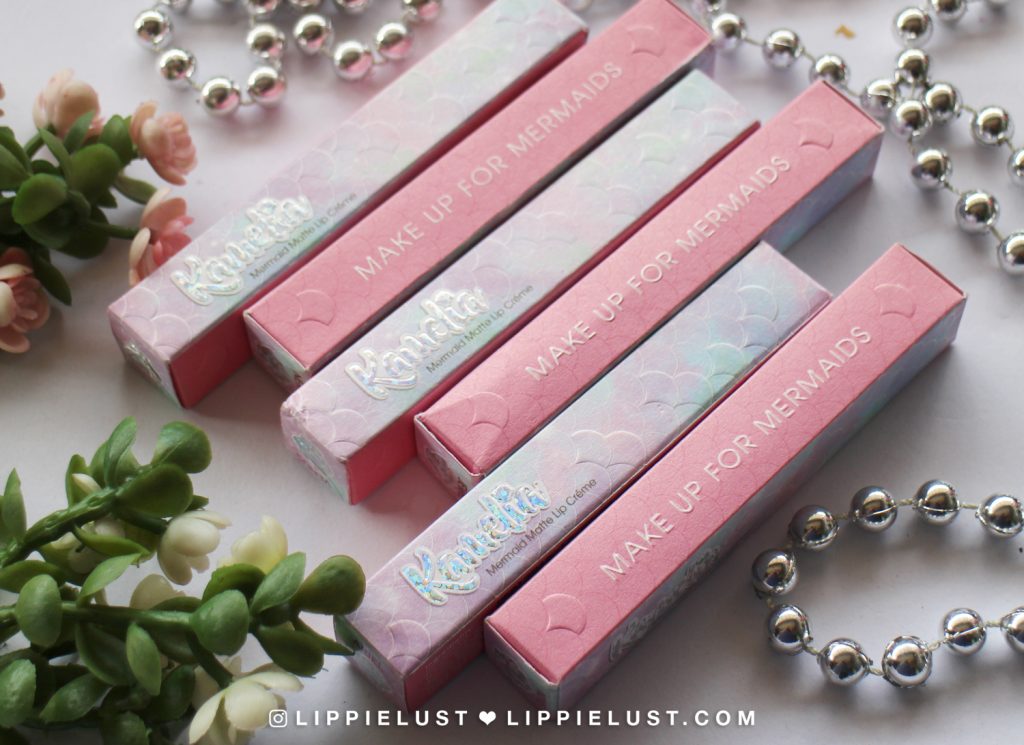 I see Kamelia Cosmetics as a one-pack of passionate brand, where everything is neatly designed. The six shades of Kamelia Cosmetics are attractive as the character of the brand itself. Not to mention how pretty is the packaging! Kamelia uses pastel multi-colored fish-shells embossed paper material and holographic (also, embossed) kamelia logo, and  holographic shells design on top and the bottom for the packaging itself. So much effort to represent how 'mermaid' is the product!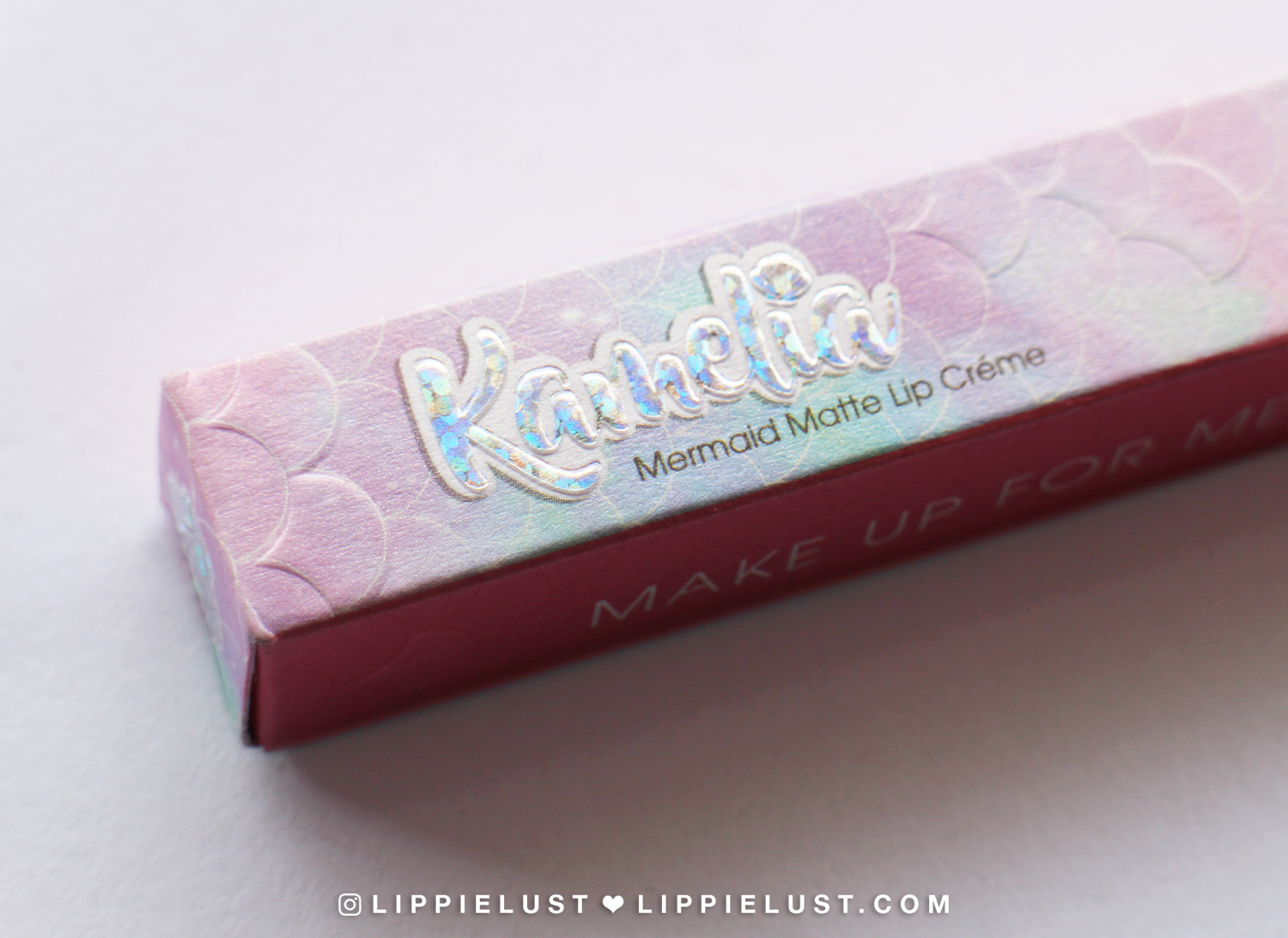 Don't worry, every shade has its own 'home' All the shades name is put on top of the paper packaging.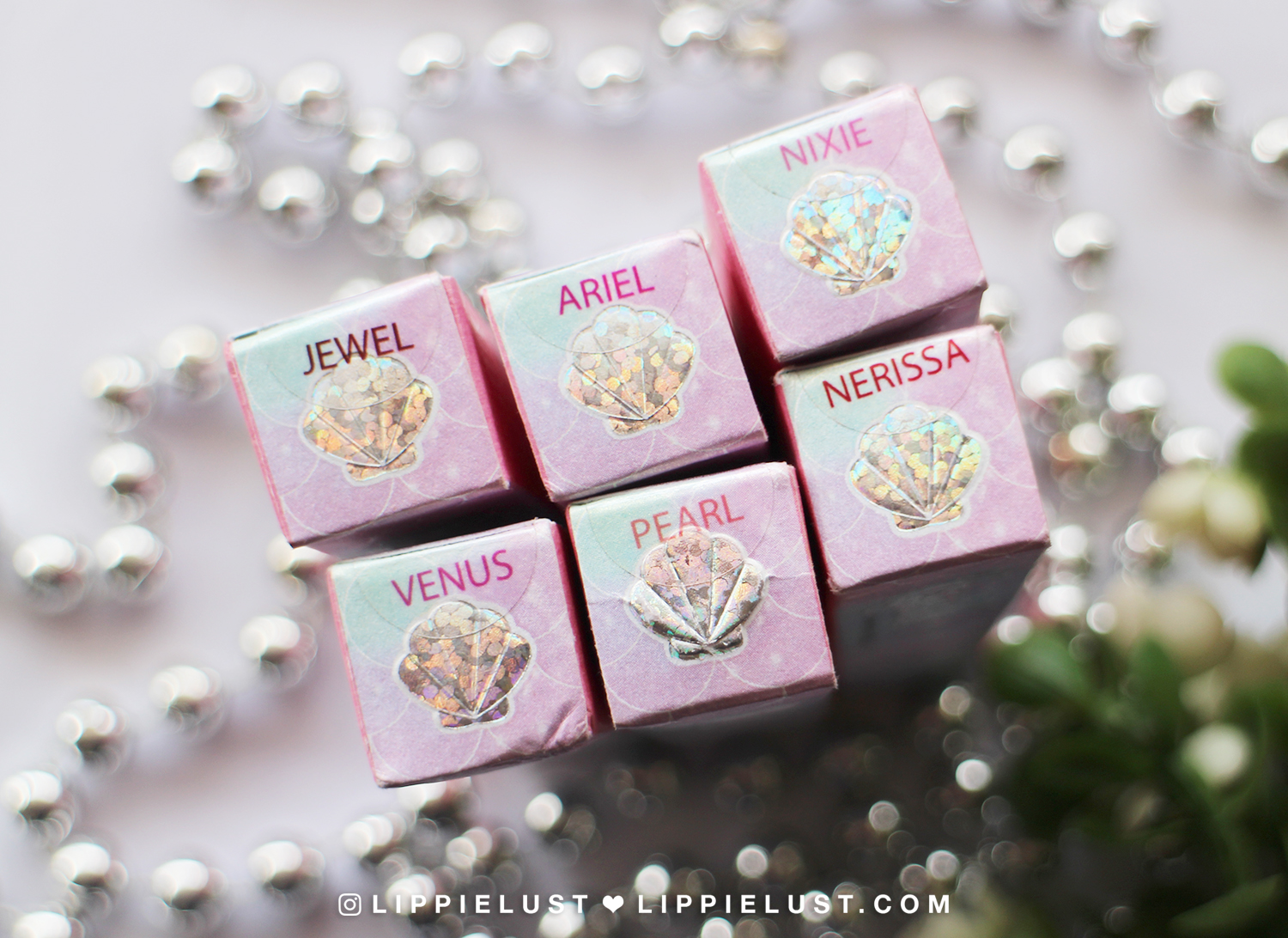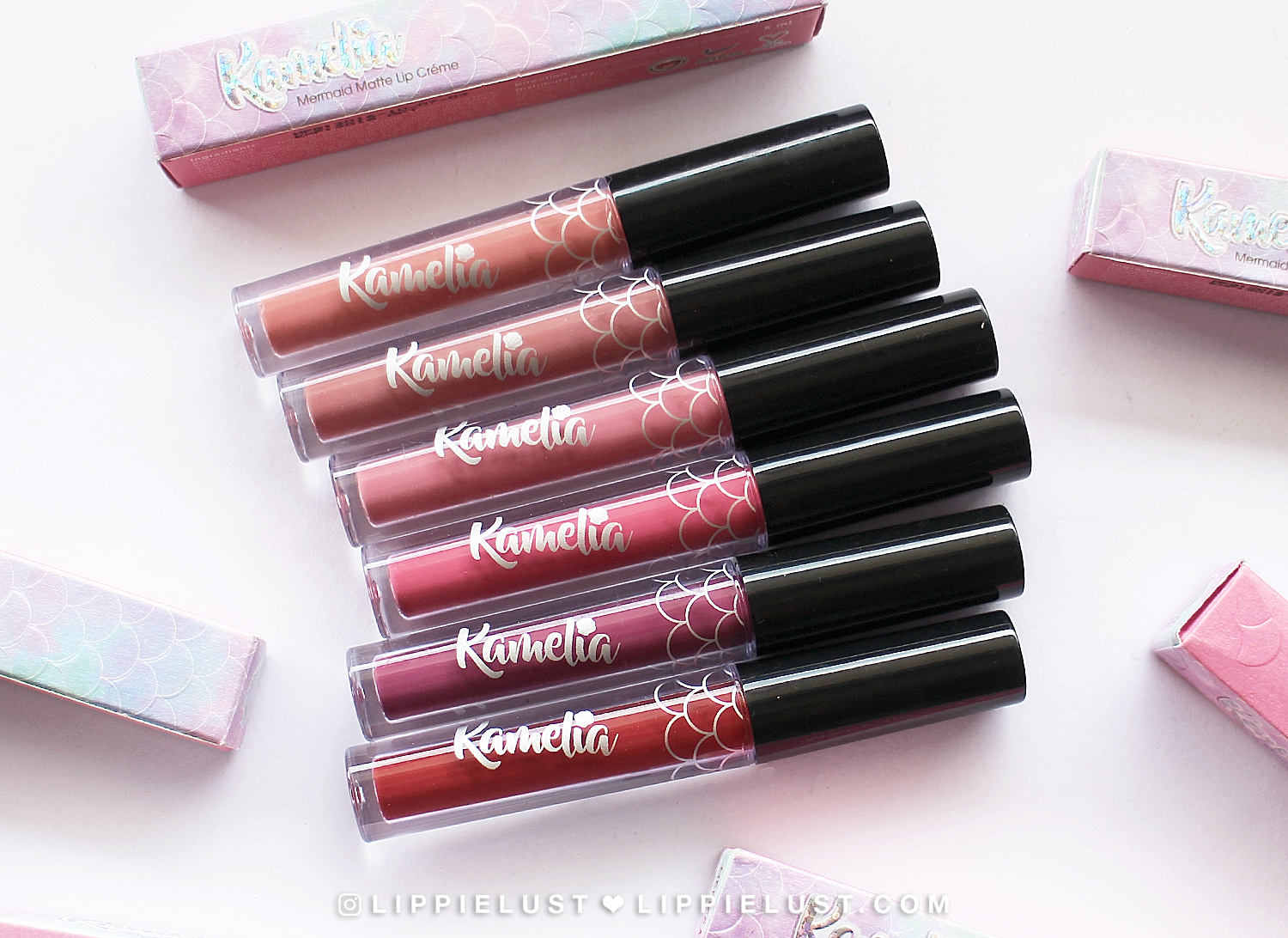 Mermaid Matte lip cream's tube is however similar to many other brands: clear acrylic tube with black plastic cap. The only thing to differ is Kamelia once again put shells pattern on the center of the tube, near the tube's neck. And don't forget about the logo!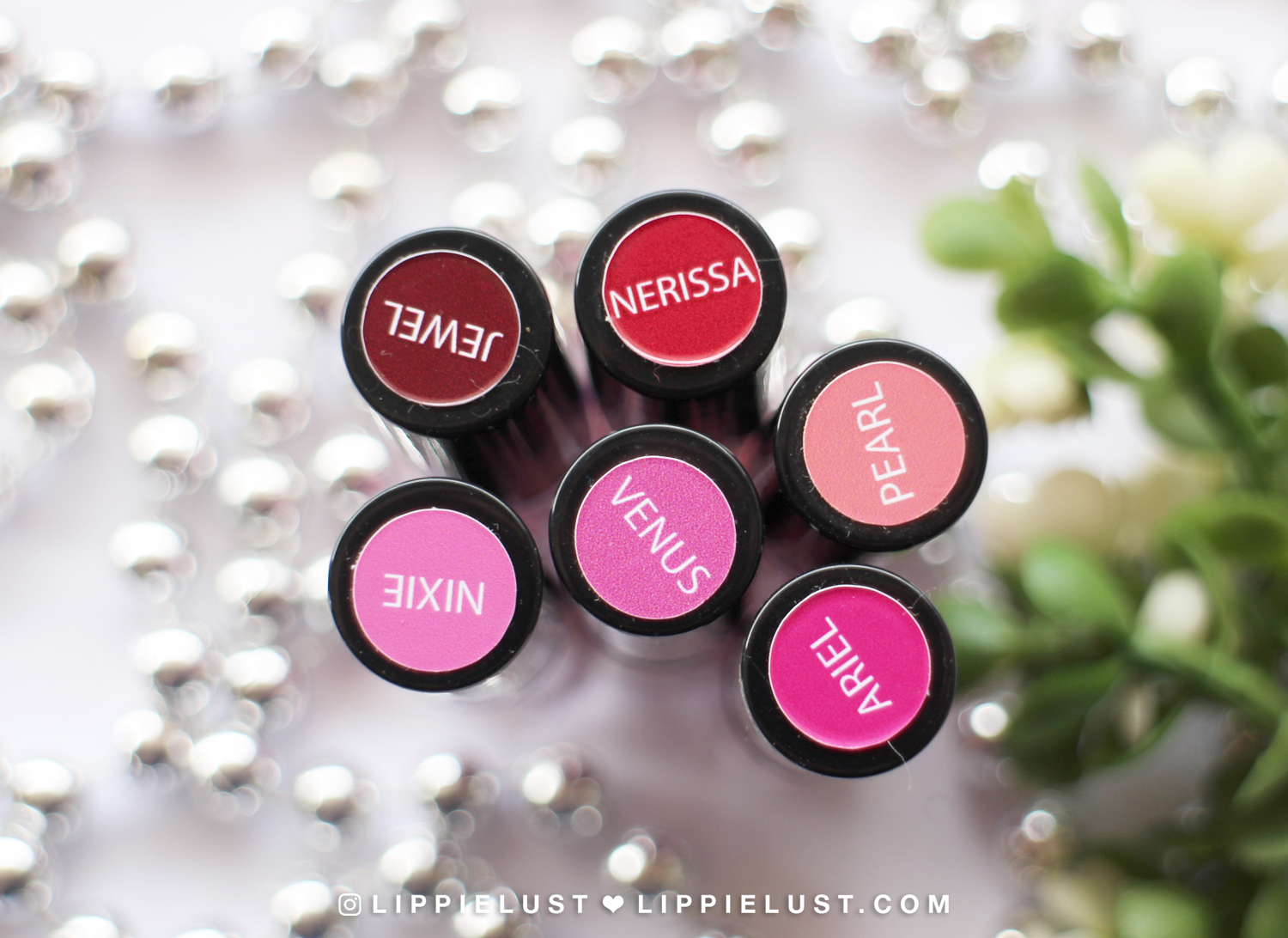 Unlike many other brands, Kamelia put the shades' name on top of the tube instead of the bottom. It makes us easier to pick it from the storage and by this, we don't have to store it upside down.
✨

 Ingredients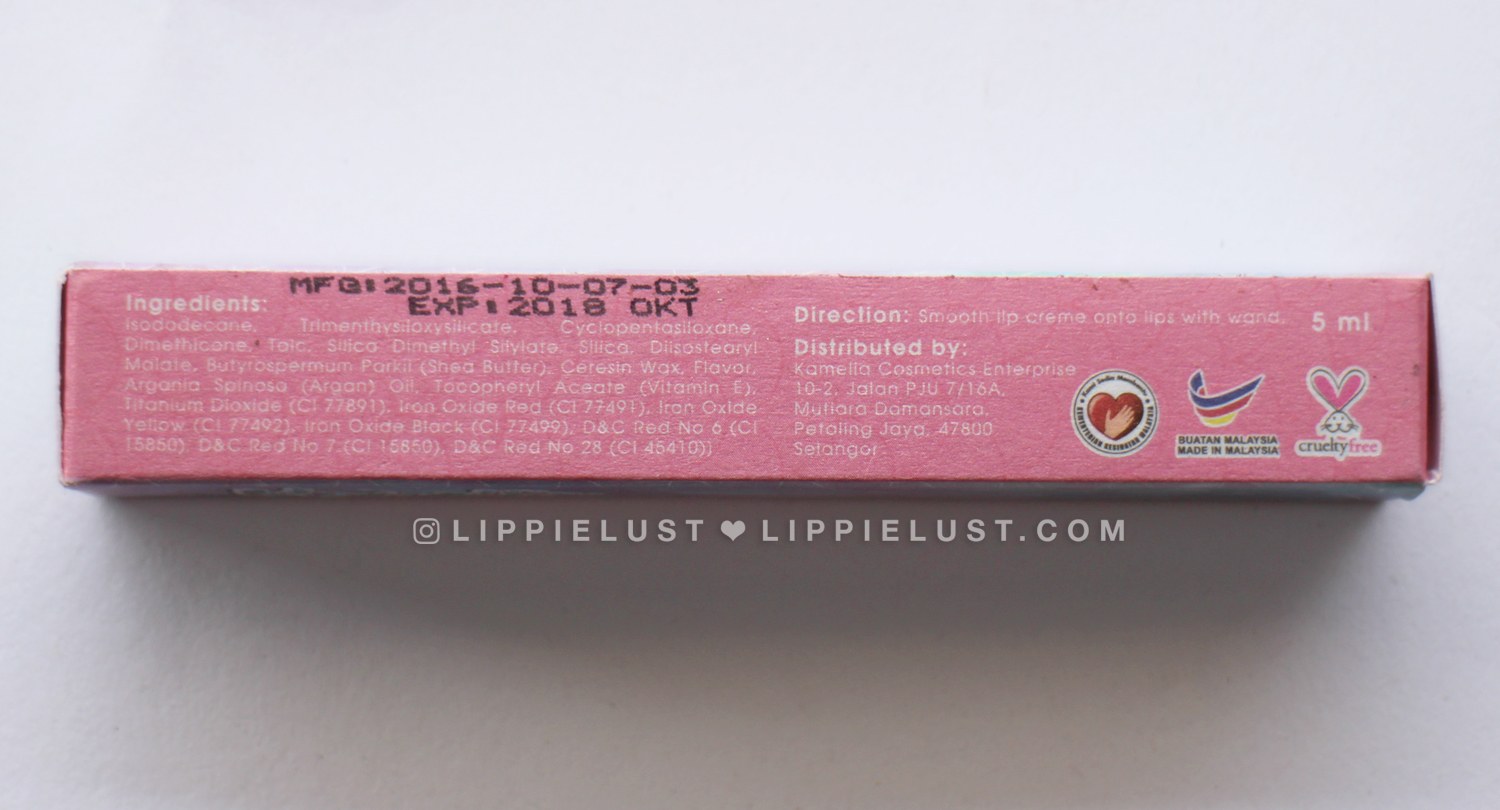 Can you spot the luxury inside the ingredients list?
Yep, Mermaid Matte Lip Cream is infused with Argania spinosa, or simply we called it as the luxurious Argan Oil. That is not the only thing who takes part in the goodness of Kamelia Mermaid Matte: it's infused with Shea Butter and Vitamin E too, so it will keep your lips well-moisturized instead of drying.
Mermaid Matte Lip Cream by Kamelia is also KKM approved (Kementrian Kesehatan Malaysia – similar to BPOM in Indonesia), Halal, Wudhu-friendly (means that the formula is breathable), and 100% Cruelty Free! Well you don't want to hurt any mermaid while you take them as your representatives, right?
Mermaid Matte lip cream also has long expiration date, about 2 years after manufactured.
✨

 Formula

Okay, so you need to know first that I actually bought Kamelia Mermaid Matte Lip Cream athough later, Kamelia herself offered me to try some of the shades. I got the all-six shades from their agent for Indonesia, @lisalfons (on IG). For the total 780,000 IDR (130,000 / piece), the price is like buying one Colourpop Ultra matte / satin. Pretty affordable, huh?

After days of trying, I found that the lip creams are comfortable to wear. I did minimal touch up after meals, but nothing major! The formula dries to matte fast, but it didn't form uneven dry clumps if I applied it more than once. First application may not cover my lips very well, but building it up actually makes it even better. The important thing to do however, is always make the first layer as thin as possible. And also, if you want to apply another layer, don't wait until the first layer dry or else the pigment would clump.

These Mermaid mattes dry to transferproof matte finish. I once wore it when I eat heavy meals and the product stayed on lips very nicely with minor fades.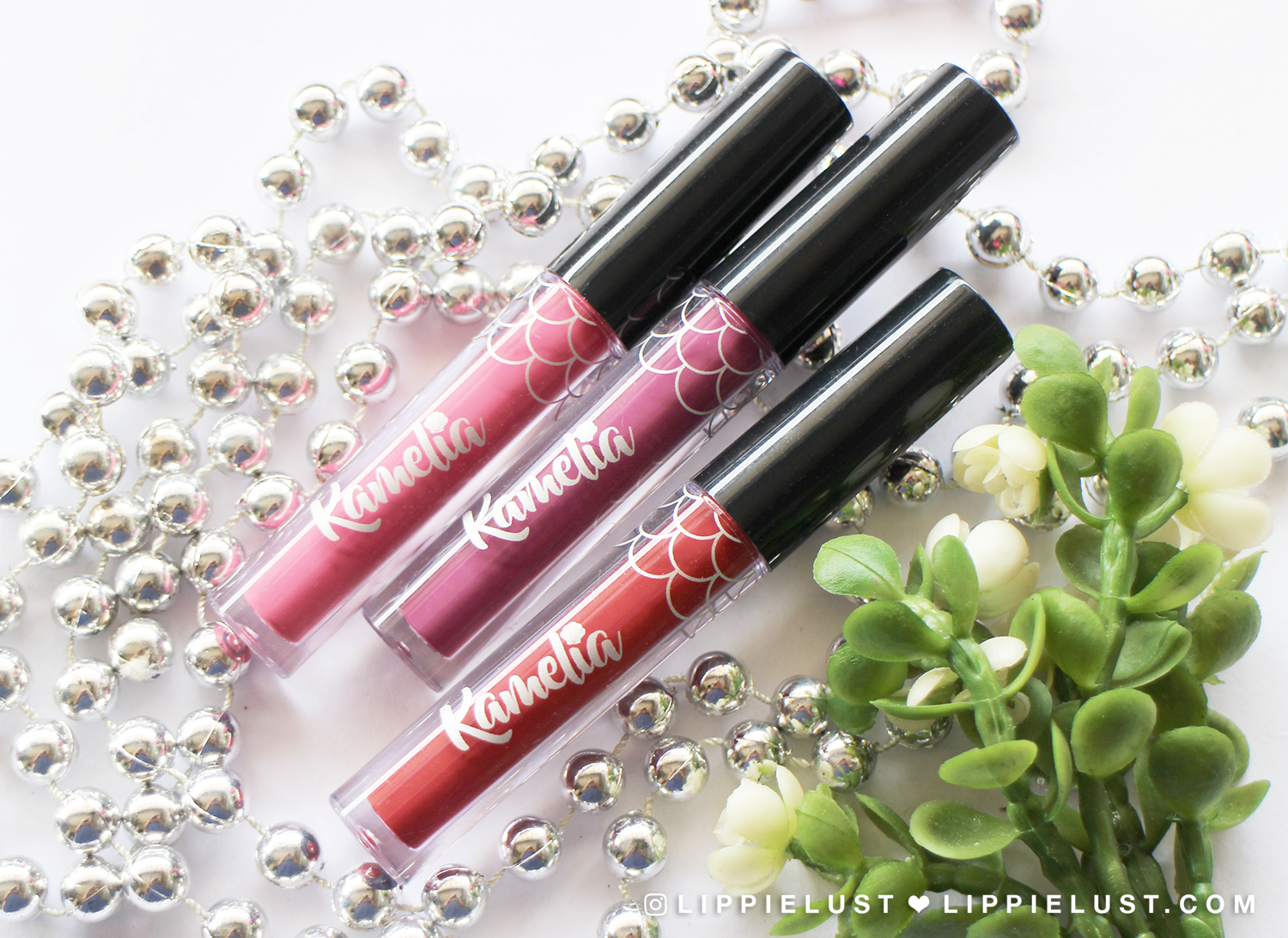 Another thing I like, these fresh vanilla-scented lip creams are pretty flexible. Meaning, it doesn't have the weird lip-tightening effect and won't make your lip lines wrinkled if you laugh too wide haha! The worst part of wrinkled lips is the product can be easily crumbling, and whoever loves matte liquid lipsticks, hate that. Fading lip color is one thing but crumbling lip color is another thing and it's disastrous.
Talking about the colors, all I see is fun yet bold, vivid colors. With a punch of rich pigments and good formula, there's nothing can hold me back to purchase more colors! I officially love mermaid mattes!
✨

 Staying Power

It can stay nicely on my lips for good 4-5 hours with light meals in between. Minor touch up is needed and no, it won't feel thick on lips. 😉
✨

 Price

IDR 130,000 / shade at @lisalfons (official Indonesia distributor) or RM 39 / shade at @kameliacosmetics official global IG account for Kamelia Cosmetics.
✨

 Swatches

swatches is coming soon! for now you can check the swatches on my instagram account.