Hiii loves!
Finally we meet again in another review: Silky Girl Matte Junkie. I was sent the entire shades of this product range by Silky Girl Cosmetics Indonesia few weeks ago. This product was released  at the end of last year, they were on my radar since I tested two shades of them at a beauty bazaar in CiWalk Bandung.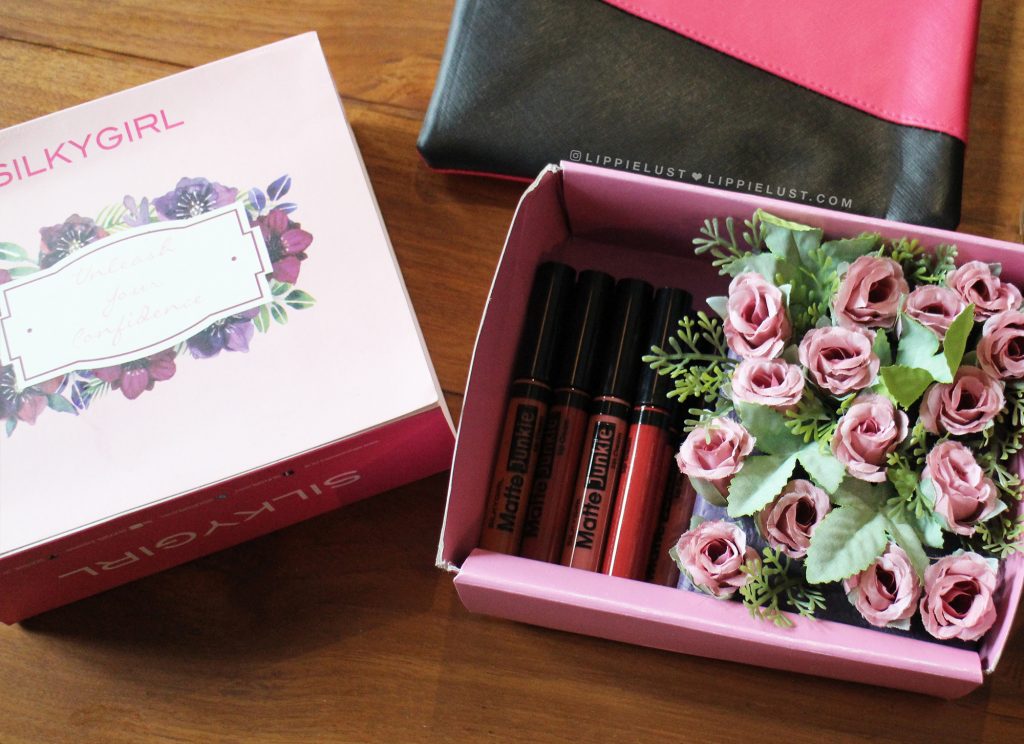 Look at the artificial flowers inside the box!
✨

 ABOUT THE BRAND

So many people mistakenly thought that Silky Girl Cosmetics is originated from Indonesia, proved by many who asked me to review the Silky Girl Matte Junkie for the next #GoLocalLippie (special days for local brands review at Lippielust). I knew from the start that Silky Girl Cosmetics is a Malaysian brand, and this needs to be addressed on this review. And, so that's why I use English for it.

Here's a little bit information about the company (taken from the official website of Silky Girl Cosmetics Malaysia):
The Alliance Cosmetics Group is a leading distributor of cosmetics, hair color and personal care products. Brand portfolio includes SILKYGIRL cosmetics, fragrances, hair color, SG Men fragrances, Silky Lips lipcare, Silky White face products, Silky Care feminine hygiene wash, and Eau Thermale Avène skincare.

The Alliance Cosmetic Group launched SILKYGIRL in June 2005, adding new excitement to the landscape of color cosmetics in the mass retail market. SILKYGIRL offers a complete range of high quality color cosmetics that will meet the needs of discerning consumers in both the urban and suburban markets. SILKYGIRL's brand personality is fun, young, colorful and exudes confidence. The core promise of the brand is delivered through the latest color trend and high quality specifications of the products.

SILKYGIRL is now marketed at over 5,000 cosmetics counters in Malaysia, Singapore, Brunei, Indonesia and Jakarta. In Malaysia, SILKYGIRL is available at all major pharmacies, personal care stores, departmental stores and hypermarkets. Following the success of SILKYGIRL color cosmetics, the Alliance Group launched its fragrance line in July 2006.

Apart from introducing the SILKYGIRL women's fragrances, the Alliance Cosmetic Group also introduced the SG Men fragrances.
Well, Jakarta is indeed, in Indonesia. It's our capital city. Hahaha.. Same as Bali, it's also in Indonesia.
Ok, movin' on.
Silky Girl is a brand from a big player in Malaysian cosmetics industry: the Alliance Cosmetics Group. This company has various brands, including Eau Thermale Avène (sounds familiar to you?) and many other brands / products under Silky Cosmetics, including fragrances, feminine hygiene, etc.
The SILKYGIRL Cosmetics, however, is targeted for young-adult women with fun, young, colorful personality. As a comparison, Emina Cosmetics from Indonesia and Silky Girl Cosmetics are likely on the same track, don't you think?
✨

 ABOUT THE PRODUCT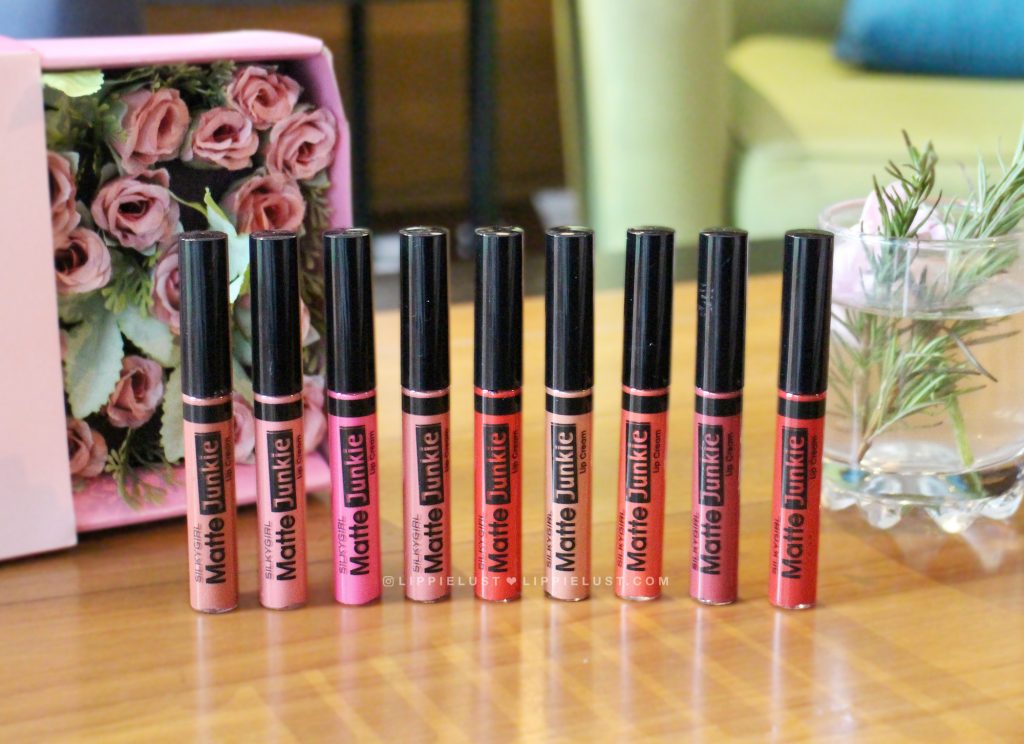 Here's what I got from the official sites (Malaysia & Indonesia):
This kissproof and transfer resistant lipcolor applies like a liquid lipstick that dries to a matte finish. It stays on your lips through day and night activities requiring minimal touch-ups.  Available in 5 rich and highly pigmented shades; 01 Retro, 02 Glamour, 03 Rebel, 04 Vintage and 05 Vixen. Introducing 4 new shades; 06 Darling, 07 Dolly, 08 Artsy and 09 Rouge to complete your matte looks!

Lightweight
Fragrance Free
Carmine-Free
Paraben-Free
Not Tested on Animals (Cruelty-Free)

INDONESIA:

Lip cream yang memiliki pigmentasi maksimal pada bibir untuk memberikan hasil akhir matte. Lip cream ini memberikan fitur kiss-proof yang tahan apabila bibir bersentuhan dengan materi luar, sehingga memberi ketahanan maksimal untuk aktifitas sehari-hari.

4 NOs formula – no fragrance, no carmine, no paraben, and no animal testing
Sounds realistic, except one point: 'highly pigmented shades' / 'pigmentasi maksimal'. For those who are wondering, carmine is simply, an ingredients from crushed bugs (cochineal bugs), often used for deep red coloring for lipstick. Totally un-vegan.
They are not pigmented enough to my taste — well I mean, I don't know if it's enough for you but I think the product can hardly cover my original lips color. On the bright side, they DO stay long throughout the day and super comfortable to wear.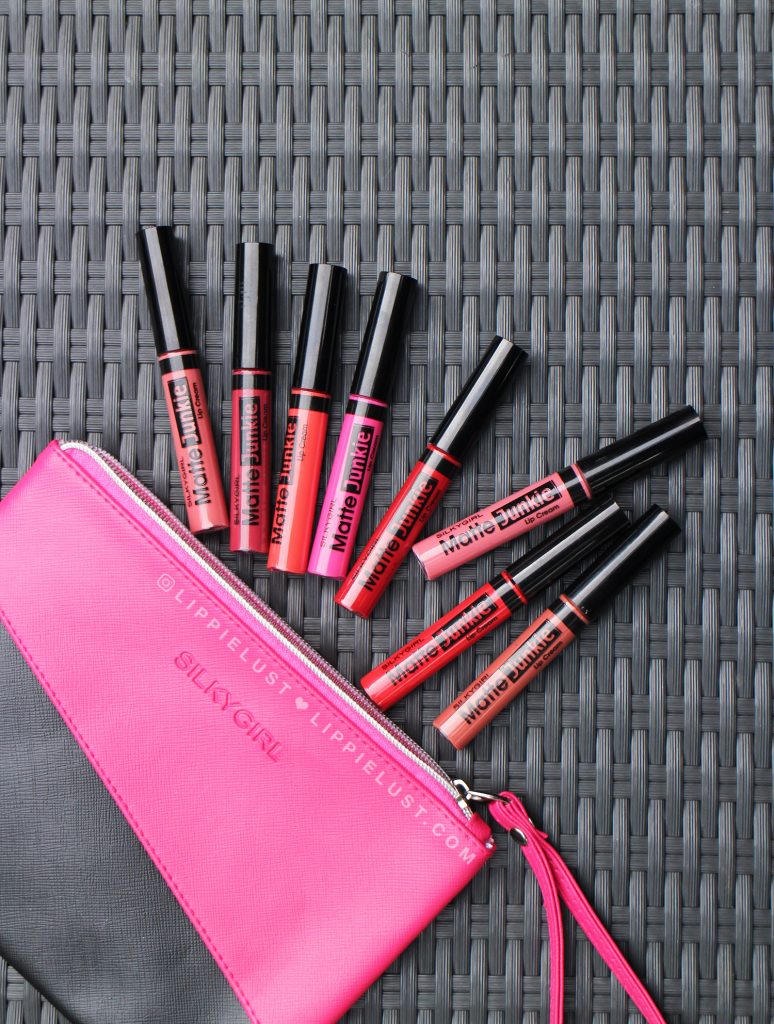 ✨

 FORMULA

The formula is creamy, lightweight, and non-sticky. Enough evidence for you to grab these stuffs. The problem is that they accentuate lip lines, make your lips look really dry even in real life, they really don't. Another problem is that they are streaky and a little bit tricky to even out the lip color on my lips. They are also not buildable since layering up makes the application looks cracky on lips and to me it will no longer be lightweight. Well in the end, you get what you pay for. hehehe..

As I aforementioned, they aren't really 'highly' pigmented unlike how it's claimed. As a pigment-slvt, I love my lips powered with high pigmentation. Well this product has good pigmentation but not that great, I mean if you want your lips to look simply colored, so there you have it.

The good thing about this product: it's affordable! You can grab a shade in only 59,500 IDR. That has lower my expectation, though. Remembering how comfortable they are on my lips, I wouldn't mind about the pigmentation.

It doesn't have any disturbing scent, similar to Emina Cosmetics Creamatte. It's another plus point for those who have very sensitive sense of smell like me.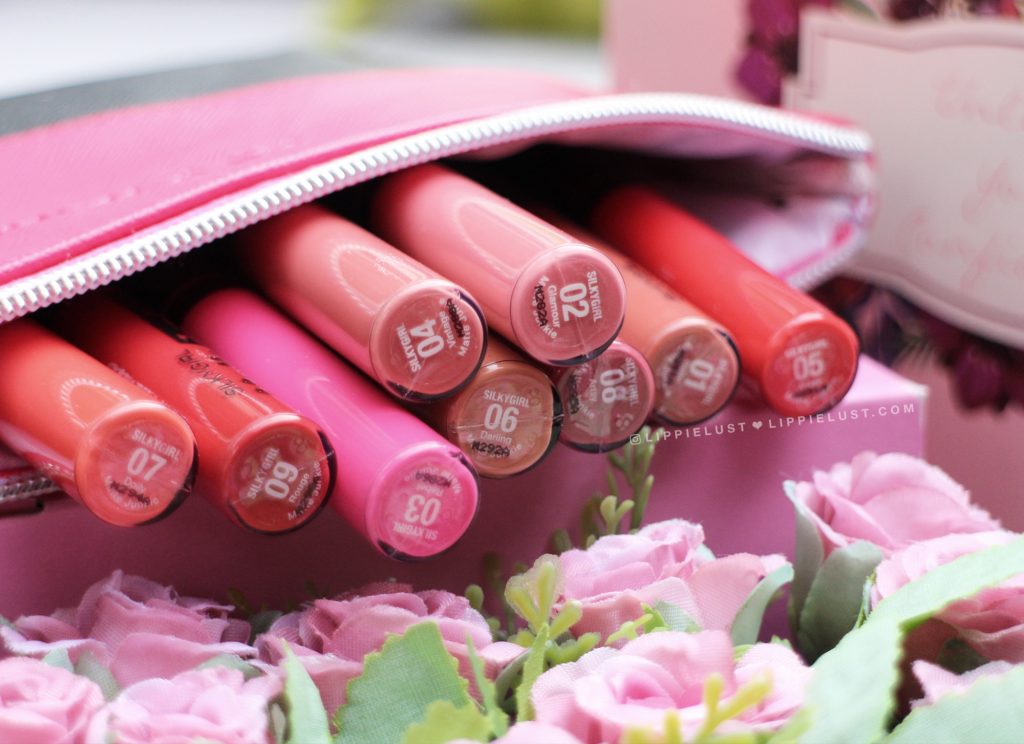 The closer look of the wand: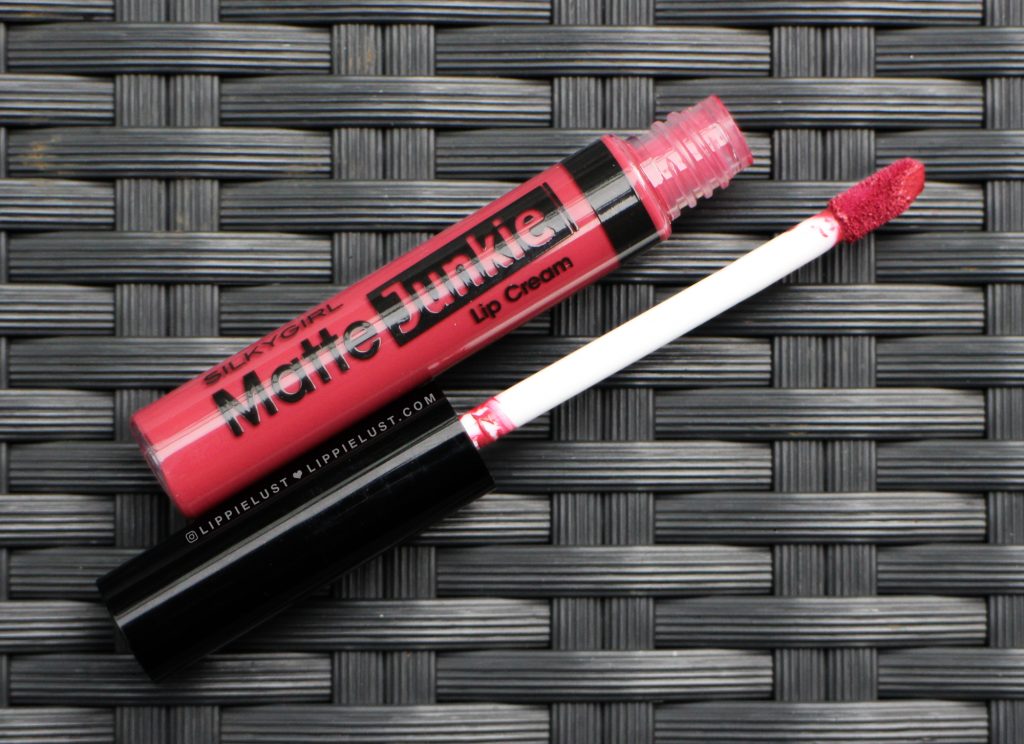 The applicator is comfortable and powerful enough for the lipstick application but it takes a few amount of product so you need to dip it in again and again.
✨

 LONGEVITY

Up to 6 amazing hours with light meal in between. I initially couldn't believe the hype but when I tried it myself, I fully understand why. They dry to matte fast but not too fast. You will get a time to fix the lip color on your lips until it finally dries. They are also transferproof and kiss proof.
✨

 PRICE

59,500 IDR
SO MUCH YES
Easy to snatch. You can get it even from local pharmacies and department stores (if you're not really into online shopping)
Affordable. 59,500 / shade really won't make you broke.
Comfortable. It isn't sticky, doesn't dry up lips, doesn't crack.
Longlasting. Up to 6 hours according to my own experience with minimum touchup.
Wearable colors. Literally all colors are wearable, no trendy / edgy colors.
UM, NO.
Not really pigmented
Difficult to set (evening out the lip color on my lips)
Streaky application
Accentuates lip lines
Gives drying looks on lips (although in real life it doesn't)
Comes with no boxes, only plastic sealant. *packaging-wh0re detected*
The ingredients list and other product information is placed on the plastic seal
Boring tube design (sorry not sorry)
So truly sorry I can't review about the ingredients list since I already opened all of them and dumped the plastic (like I said, the ingredients list is on the plastic seal).
✨

 SWATCHES

[masterslider id="35″]