Hey Love!
I know I didn't update my instagram for more than 5 days! A lot of things happened in those five days actually, phew! Anyhoo.. I will do a review for Zhuco Cosmetics Lippie Matte Cream, a product made in Malaysia by a malaysian indie brand, Zhuco Cosmetics. Have you heard this brand?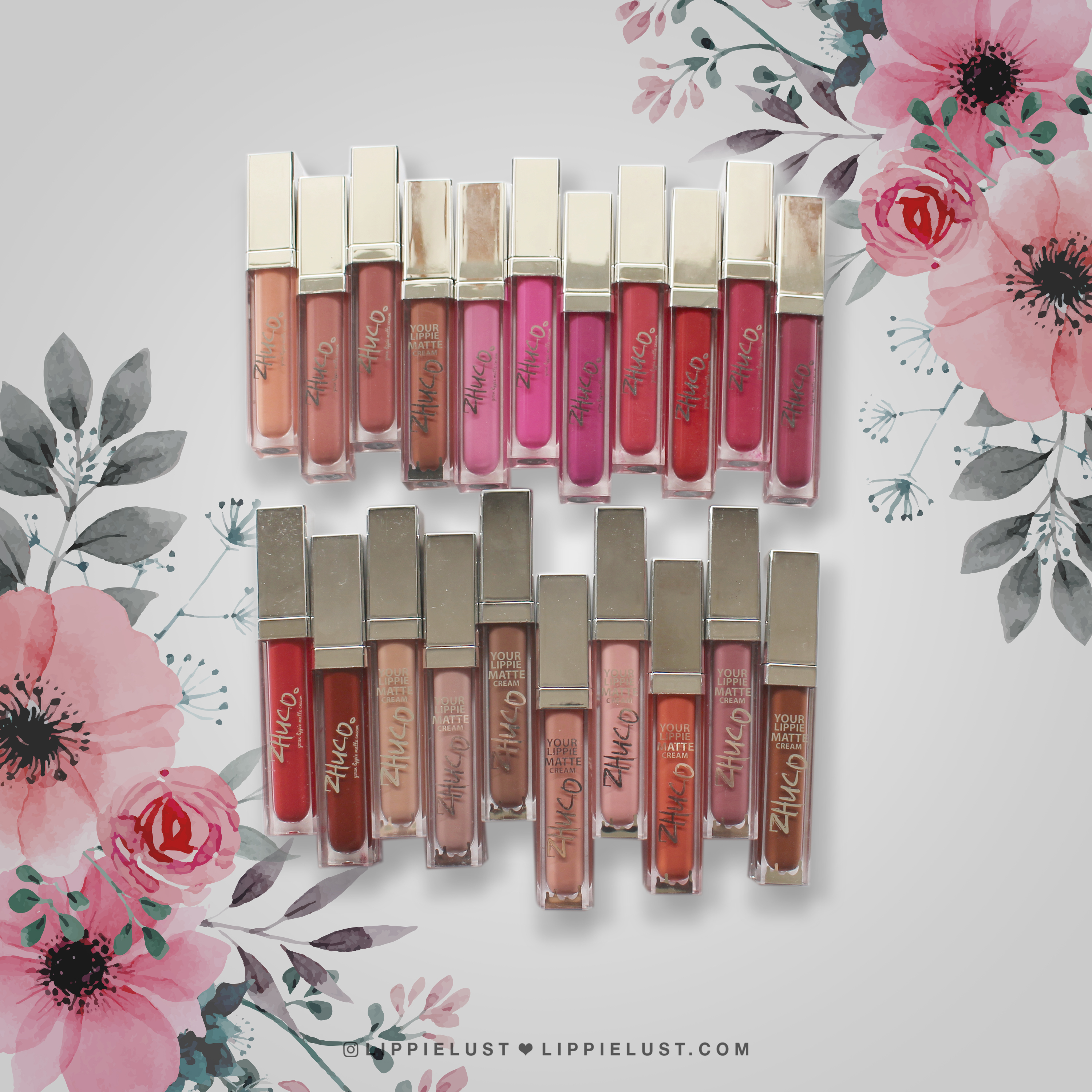 I'm so thrilled to announce that I am Zhuco Cosmetics' official lip swatcher for their Lippie Matte Cream catalogue. So if you found my pics unwatermarked on their website & social media accounts, that's okay because I gave my swatches' copyright to Zhuco Cosmetics.
Anyways, Zhuco Cosmetics Lippie Matte Cream actually has 23 different shades, sorry if I only pictured it 21 of them. I had a hard time searching where's the rest, because you know… my lippies are scattered everywhere. 🙁
So, Let's moving on to the review.
✨

ABOUT THE BRAND
We are from Borneo, Malaysia! Zhuco Cosmetics® started from a deep passion and dream to make a perfection of a beauty by making the best lippie matte cream ever! Our lippie matte cream is made up from a very high quality ingredients, never tested on animals and follows the FDA standard. It feels light on your lips, very pigmented, soft, hydrates your lips and has a nice sweet vanilla scent.
As you read from the official statement, yes guys Zhuco Cosmetics is from the Eastern side of Malaysia (Borneo). Not the only brand who focuses on only matte lip products, Zhuco also carries lip cream as their main and the only product they sell. The owner, Zura Anwar, is the brain behind this brand. Although I never met her, I knew that she's so passionate about Zhuco Cosmetics. This was my first reason why I want to do a review about this brand.
✨

ABOUT THE PRODUCT

Zhuco has their own 'rainbow'. Well, to be exact, they have 23 different colors to suit everybody without exception. Ranged from light to dark shades, you can literally pick at least one for you.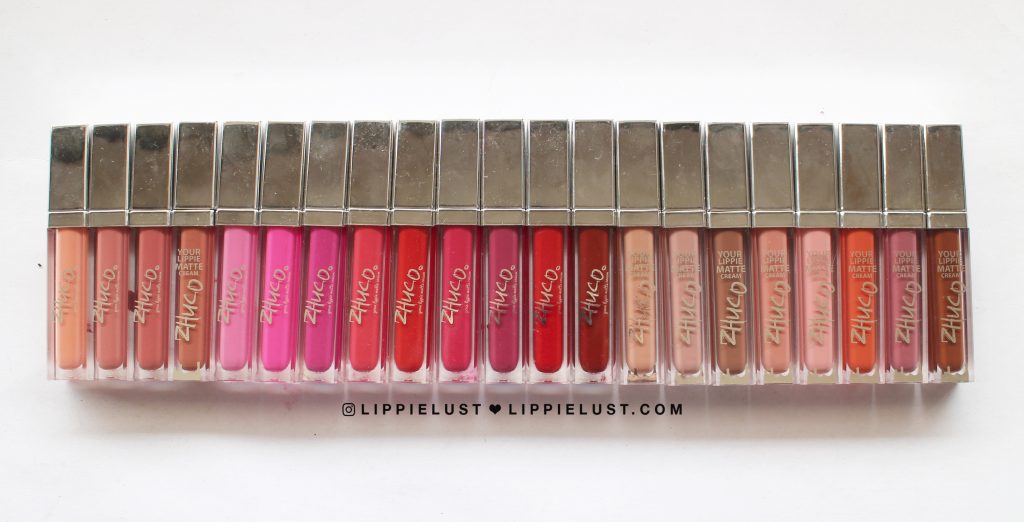 Honestly guys… 'The More The Merrier' is not so me since I like a well-curated, short-ranged shades product. To me, 23 shades of a product line is too much, especially when the color is too close one to another. Zhuco Lippie Matte Cream literally only has four main colors: orange, pink, red, and brown (nude to deep). I was expecting more unique and trendy colors, but well who doesn't love nude colors of lipsticks? So that's why, maybe you'll see there's lots of nude colors in Zhuco Cosmetics Lippie Matte Cream.
The other thing I don't really fancy is the inconsistency of the formula. The lighter shades tend to be more drying and patchy during the wear, but the darker shades work real fine. When it comes to comfortability, I prefer the darker shades of course.
I do love the scent! I feel like smelling fresh-baked vanilla cake, and it's not overpowering at all.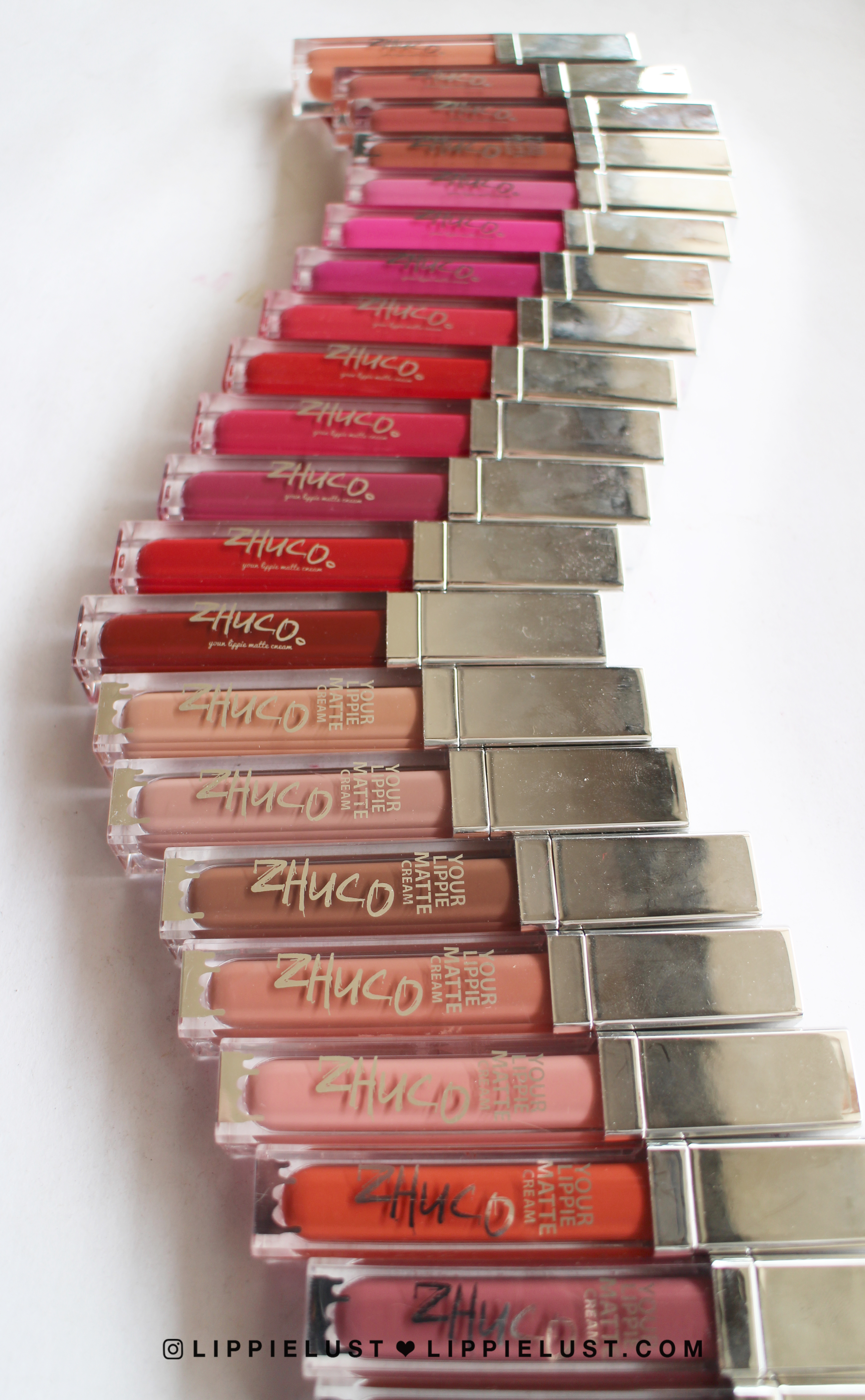 ✨

FORMULA

Talking about the formula is similar to questioning what is our purpose on Earth! Hahaha.. The formula is the key point for everything. No matter how good the design and affordable the price of a product is, the desire to buy a product is always because of the formula.

As I mentioned earlier, the formula is inconsistent. You may find the lighter shades is less creamy and easier to get into your fine lines, accentuate it, patchy, and more drying especially the lightest shade on me: No. 1 (Autumn). This shade is really hard to set and also personally too cool-toned to my taste.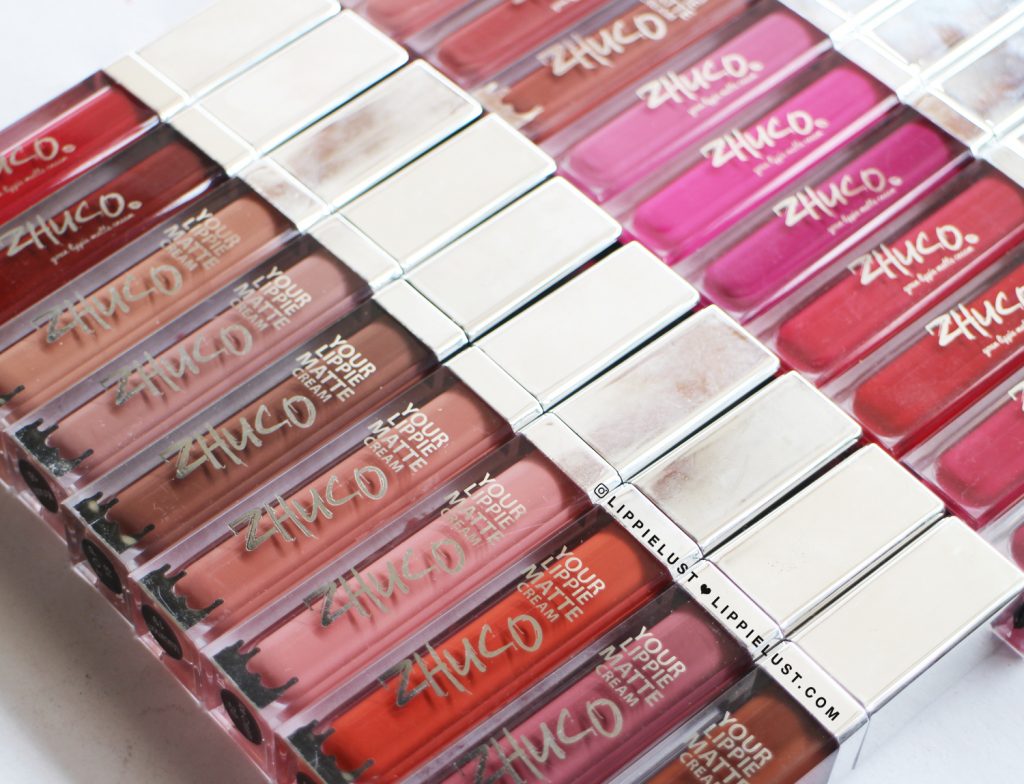 The best colors from this collection is the reds and deep browns, especially Caramel, Diva, and red-fuchsia shade called 'Urban'. I also like Coffee, Move On, and T.O.P! Also as I stated it before, the lighter shades are my least favorite especially Waffle, Krush, (these two are a little bit sticky), Ice Cream, Autumn, and Lollipop.
The texture and finish is dead matte, smudgeproof and waterproof. It's not so lightweight nor as heavy as creamy matte lipsticks, just in between.
✨

LONGEVITY

Apart from formula, Zhuco Lippie Matte Cream does stay long on my lips. Whether it is time to wipe off or reapply, the color stays on lips as long as I want to. The longest time I get from the darker shades is around 5-6 hours, while it takes shorter time for the lighter shades (because you know, as I said, they tend to be more drying and I can stand of drying lips especially when they are mine. haha)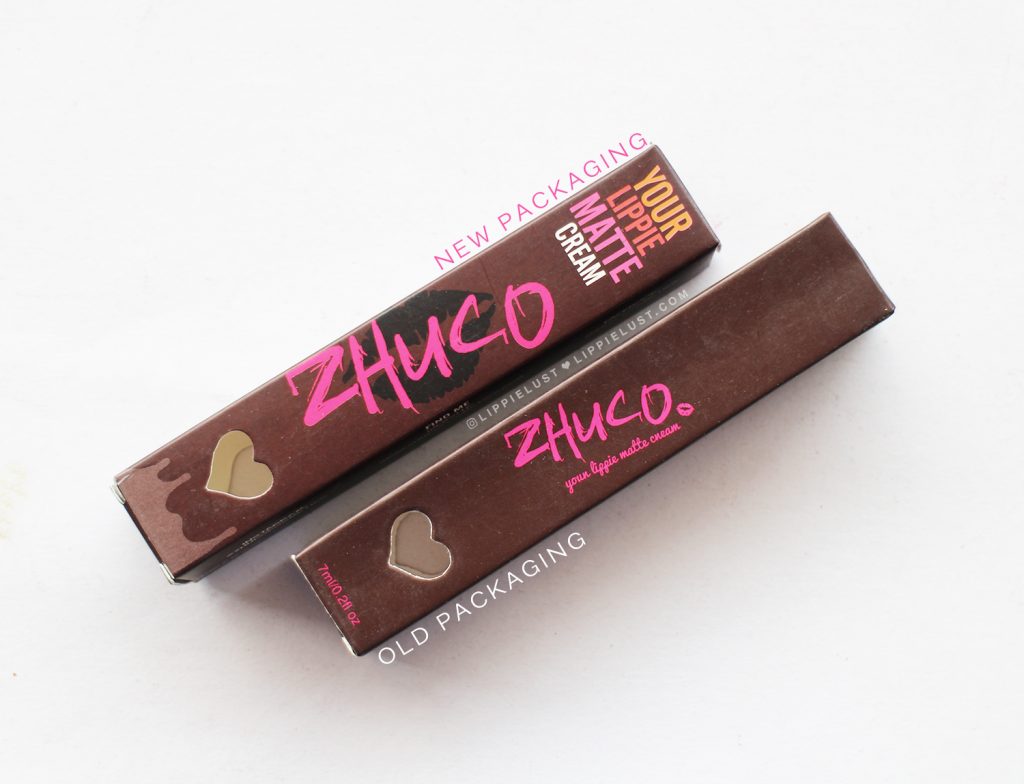 Don't get confused with different graphics on these two packaging. The newest packaging is cuter than the old one, imho. The writing 'Your Lippie Matte Cream' is also written on the tube. The newest box and tube is already out a couple months back if I'm not mistaken, so maybe if you purchase it today you'll get the newest one.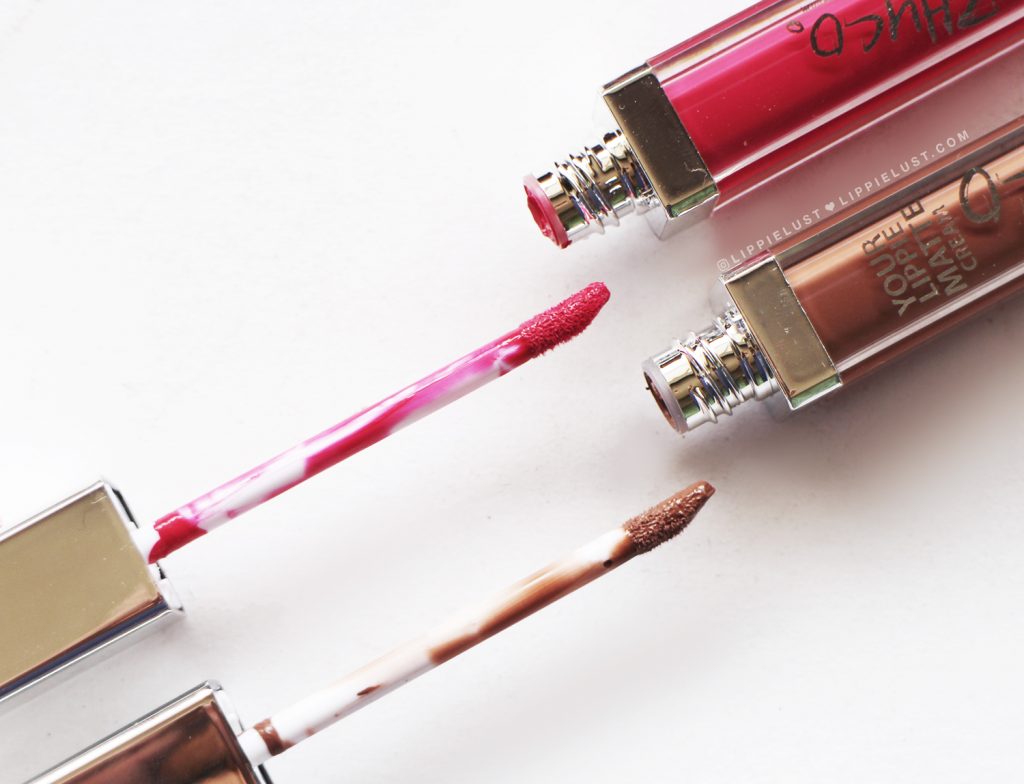 Well if you are a fan of doe-foot applicator so you'll love this product! The old and new tube has similar applicator, and to me this applicator works best with this kind of formula. So well done Zhuco!
✨

FINAL WORDS

In conclusion, Zhuco Lippie Matte Cream has wide range of color selection. The problem with this is to make all of the colors have the same, exact formula which unfortunately they don't. If you find that the color really helps you so much in choosing the best shades for you and you have no problem with the formula, so go ahead. It's just a matter of personal taste.

The best thing you can get from Zhuco Lippie Matte Cream is… they have 23 shades and probably will add more! Also, they are affordable. Each product costs only 35 RM (around 100,000 IDR). Compared to other Malaysian lip cream products, Zhuco by far sells the cheapest lip cream I know.

Unfortunately, I don't know if Zhuco Cosmetics has authorized resellers in Indonesia. I would like to know, if you sell it please comment down below. But if you would like to buy it directly from Zhuco Cosmetics, just visit Zhuco's official website on www.zhucocosmetics.com / Instagram account: @zhucocosmetics. Psssttt.. Indonesian resellers are on their radar too! Hit them up if you are interested.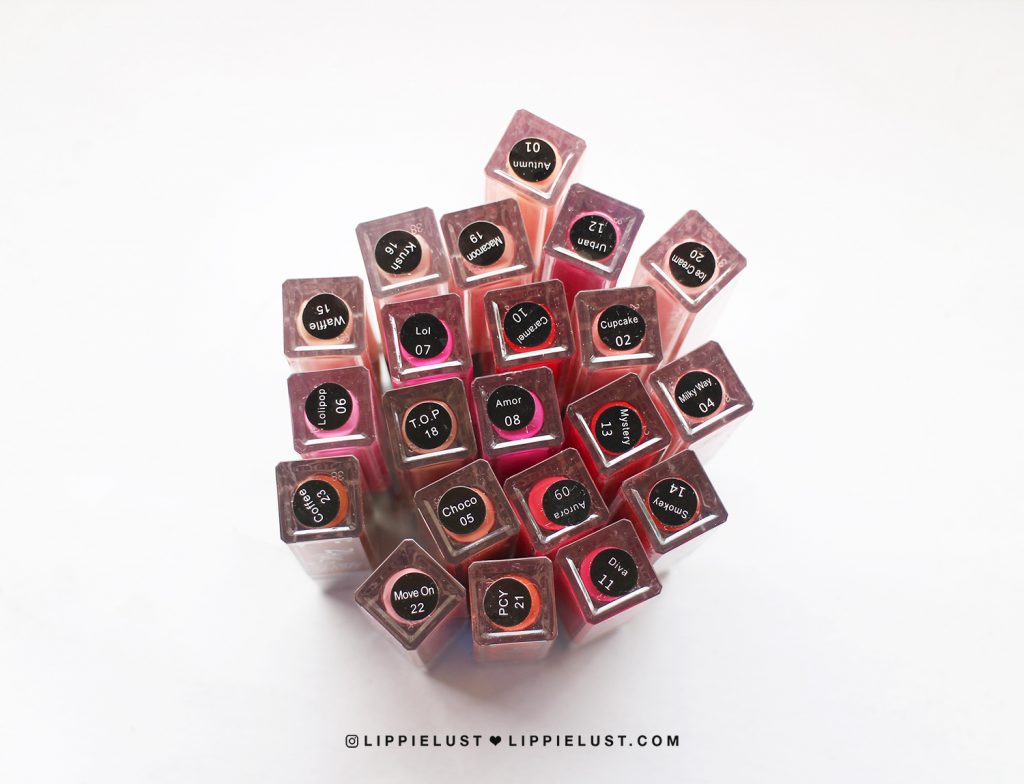 ✨

SWATCHES

See more on Zhucocosmetics.com to see the other swatches.