Hi!
I'm back with non-local product review. It's been a long time! Special note, this brand is also not from the U.S as we all know where the magical matte liquid lipstick era begins.
NABLA Cosmetics is an indie brand based in Rome, Italy, a brand that goes beyond my expectation. I know, I know it's not very convincing since I talked a lot about how I love their Dreamy Matte Liquid Lipstick from the very first time I got the package — which is fine to me, nobody will force you to believe in what I say.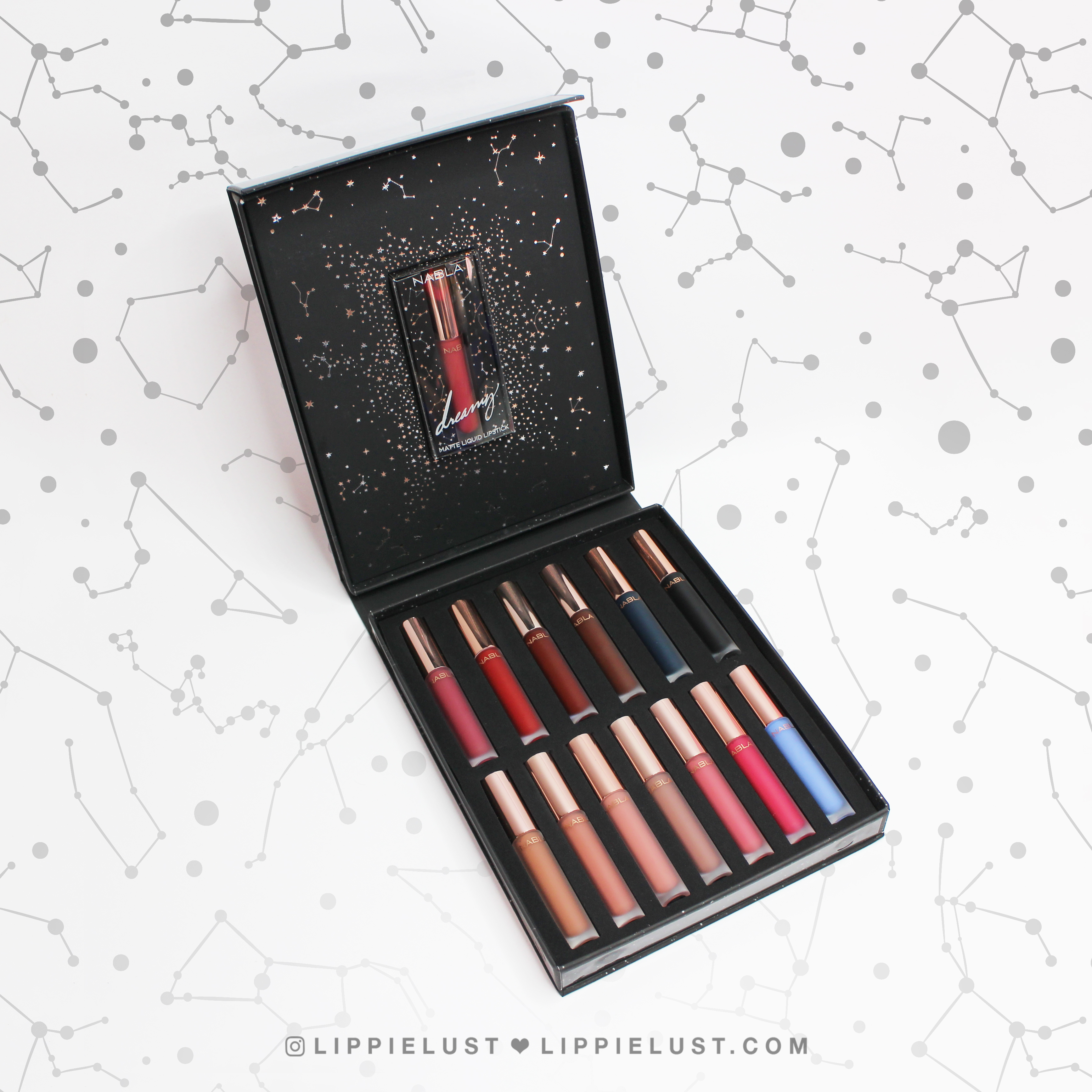 But here's the thing:
NABLA really is an art-inspired and customer-oriented brand. They love to tease their customers (me included) with their cutting-edge product design and quality, two major requirements that I need to find from a brand. I mean, they seem to know how to develop a beauty product which is not a new thing — to be something else, something more powerful, artistic, and creative.
As the official statement says:
NABLA is not an imaginary name! NABLA is a symbol that is used in physics to describe Nature and all its shades in a more clear and direct way.
This is how we chose to create our cosmetics, with the same attitude, firstly examining Nature and finding step by step a more effective and adequate way to exploit its potential and to bring its beauty into our products!
And with the same rapidity we strive to reach you, deleting all the barriers that may divide us and any form of mediation of third parties.
But we cannot stress enough the fact that makeup is firstly and most importantly: Art! And thus also means NABLA.
The name derives from the harp that in mythology was always represented together with the God of all the Arts, Apollo, to the point of becoming its own distinct symbol. Therefore the intimate meaning of NABLA withholds the universal inspiration of creativity and therefore conceiving makeup as an artistic power, holding in itself both Science and Aesthetics.
Our NABLA was born from the minds of a Physicist, an Artist and an Osteopath.

Welcome to this brave new world.
The more you look into the brand, the more you understand. NABLA is one of the brands who are eager to be professional, conceptual, and strive to be as good as non-indie brands without leaving the 'indie' mark behind. They are ready to beat up those overpriced product with average quality on the market for sure, and I believe they will. Not to mention, one of their biggest weapon: Dreamy Matte Liquid Lipstick. We all know that Matte liquid lipstick is nothing new, it's more than FOUR years old since it hits the big league of beauty industry.
Dreamy Matte Liquid Lipstick is a product of concept. There's nothing special on the tube which reminds me a lot of Gerard Matte Liquid Lipstick, which they use frosty glass as the lipstick container. NABLA has taller tube with rose gold cap while Gerard has gold cap and NABLA printed their logo on the tube's body, not the cap unlike Gerard's.
But what really caught my attention is how they made stars / constellation as their main concept of Dreamy Matte Liquid Lipstick. Regardless of what I'm very fond of (you know, stars, universe, and stuffs), you can easily see it from the box (the one that's attached on the upper side of the foldable bundle box.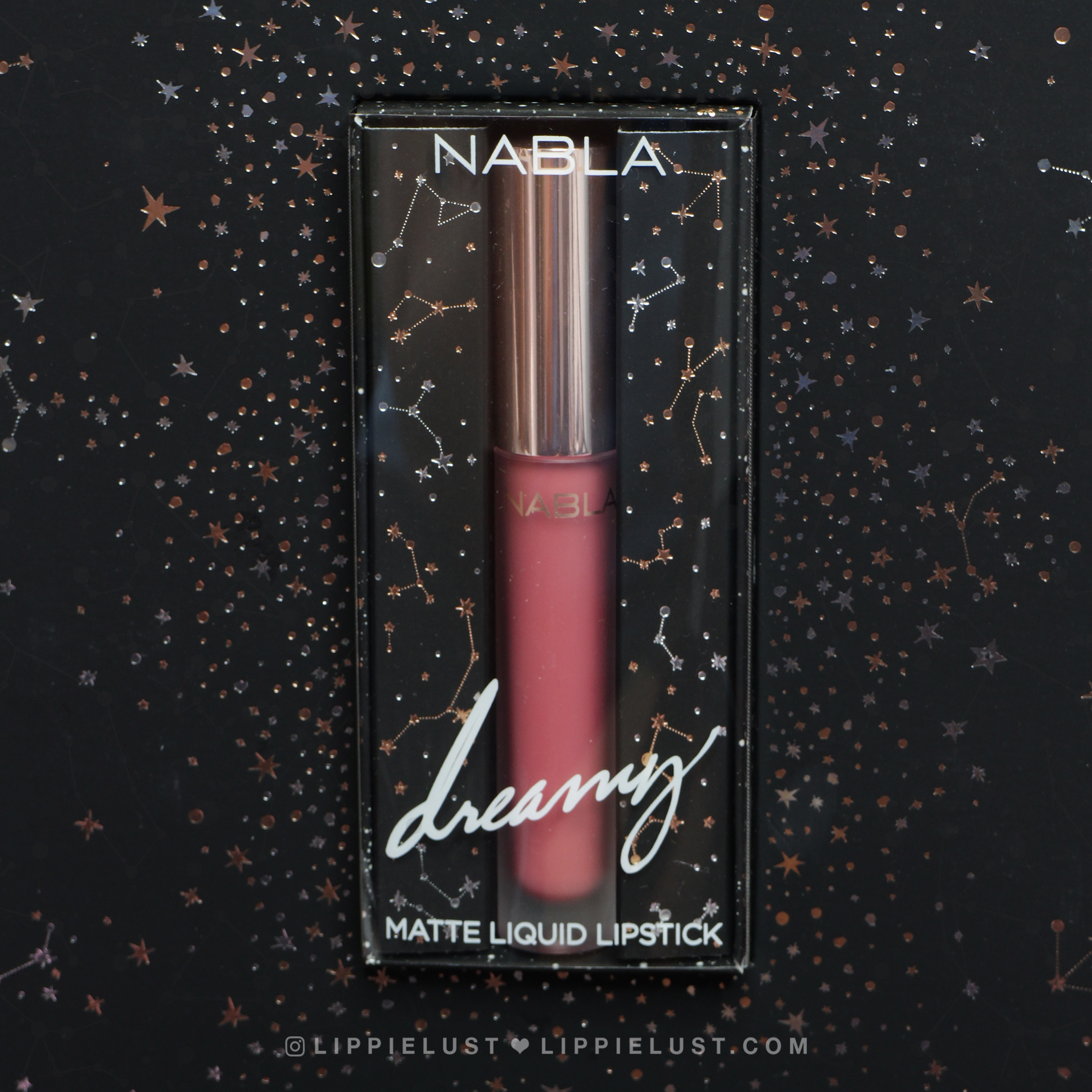 The box is simply gorgeous.
So, the product I got is the Dreamy Liquid Lipstick Bundle. "A limited-edition lipstick vault containing all the 14 shades of the Dreamy Matte Liquid Lipstick', as the official description says.
This product currently has 16 shades, fully-pigmented, dry to matte liquid lipsticks. 2 of them are brand new, released along with their newest 'Freedomination' collection this month (which I will swatch them later — yep I also got them!) — so I'll review the shades on the bundle box first and the other two later.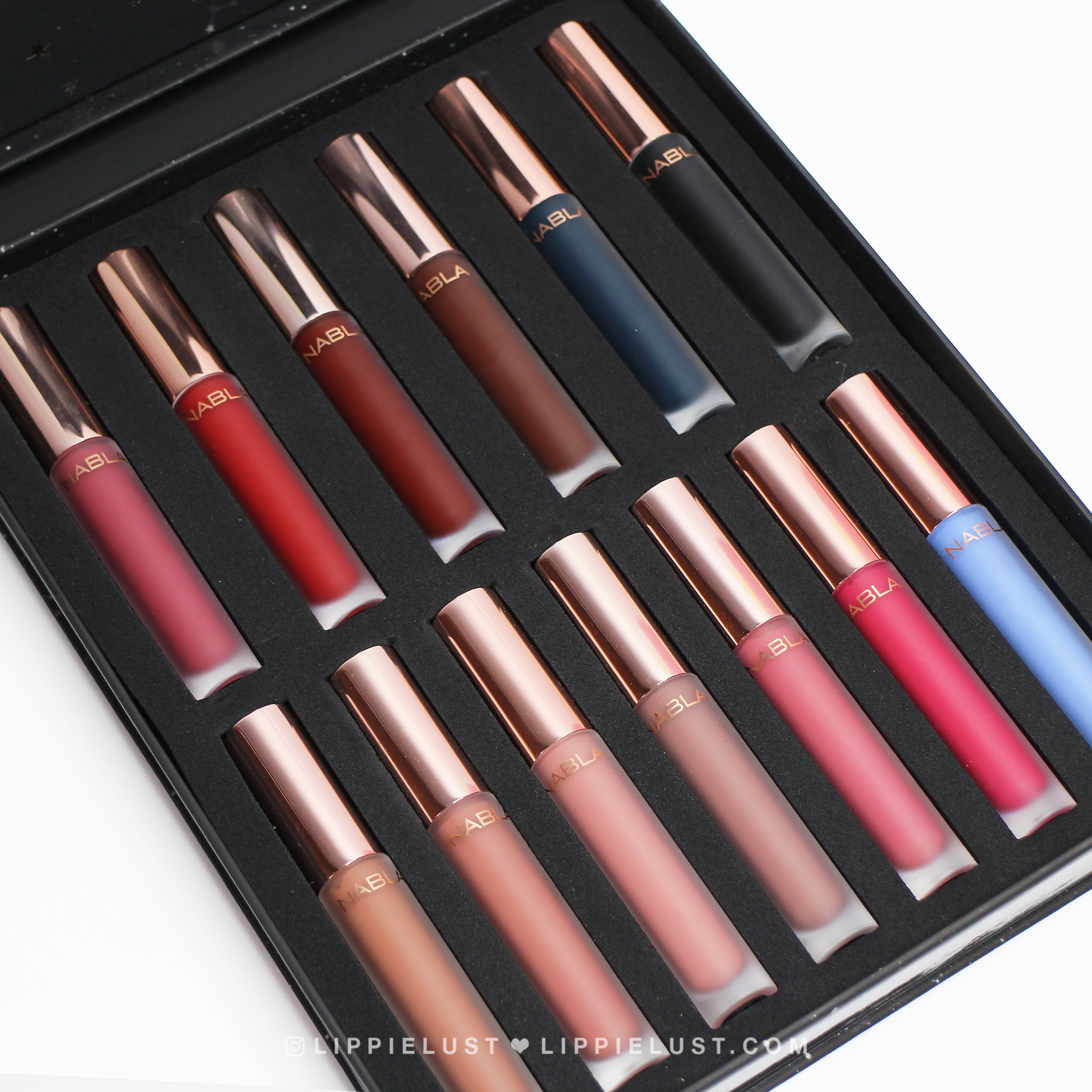 ✨

FORMULA

NABLA Dreamy Matte Liquid Lipstick has thin creamy formula and is highly pigmented. High pigmentation is not a big thing for neutral shades but NABLA also has done a good job for for their darker shades to be fully pigmented — and they are. They are so opaque, I love it! This also applies on Black Champagne, Narcotic, Coco, Rumors, Unspoken, Kernel. You will only need one application for a full coverage. Apply product from the first dip, spread evenly, and you're good to go.
The only shade that's a bit patchy is Cotton, the light blue shade. You can't see it from the arm swatch, it'll be more visible on lips though.
They take longer time to fully dry to matte compared to most-popular matte liquid lipsticks such as Anastasia Beverly Hills or even Kylie's. NABLA Dreamy Matte Liquid Lipstick sets to transferproof finish with impressive staying power on my lips. More importantly, this product carries Shea Butter for hydration, which is noticeable when it feels on my lips. It glides so smoothly on my lips, super smooth I really mean it. But when it's finally dry to matte, you'll notice that it'll slightly sticky on lips. I won't mind it at all because I think this means that Shea Butter works its magic.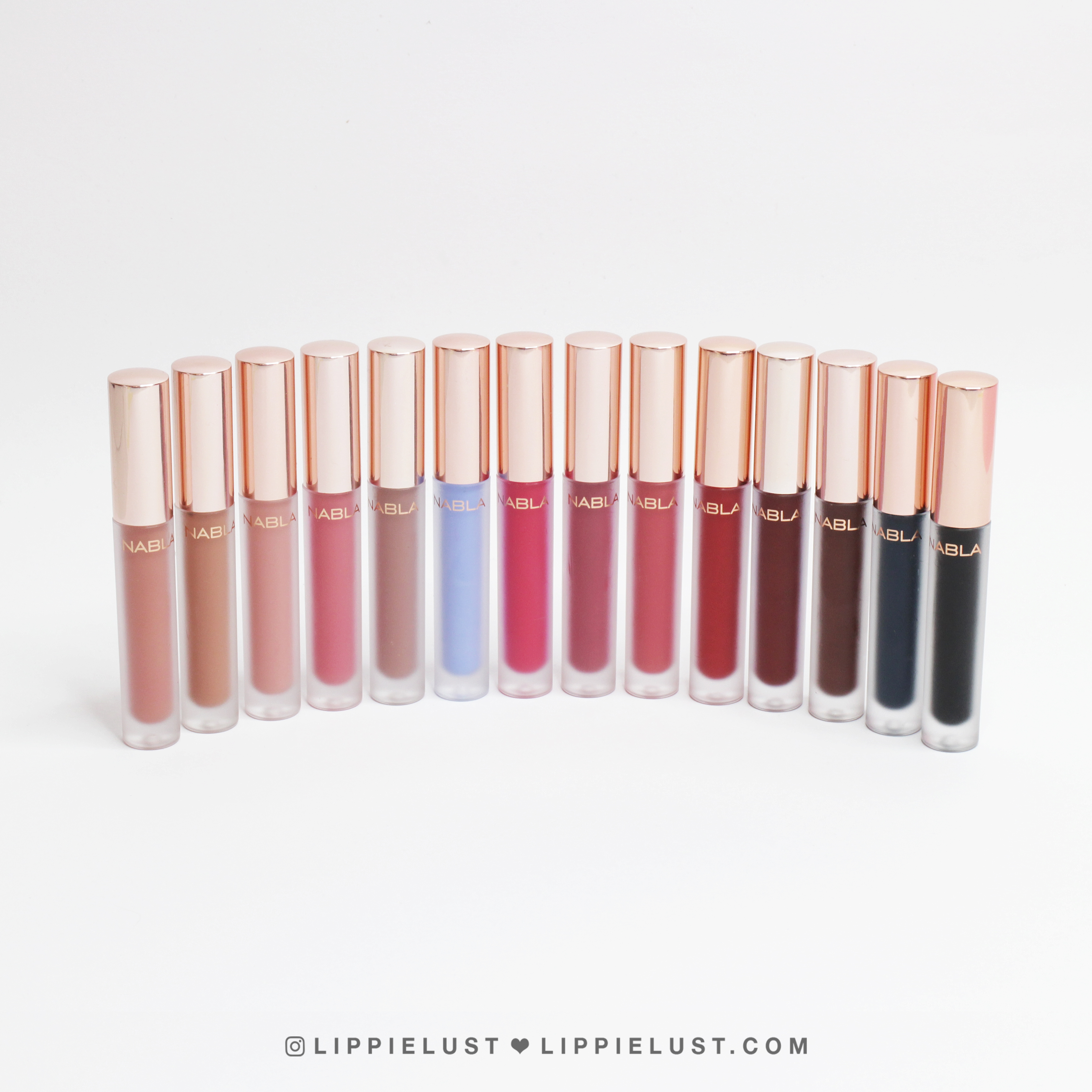 Did I mention that NABLA Dreamy Matte is also 100% Vegan and Cruelty free? Another thing you need to write down on little note of yours, you know, just in case.
This product also smells nice. I can say it's vanilla (?). The scent does smell really nice but not too overpowering, the kind of scent I won't mind to sniff. It will fade once the product 100% dries on lips, though.
What I like from the product, is how it sits on my lips without making it stiff. I can move my lips freely, laugh as hard as I can, or making ugly duck face without ruining the lipstick because the flexibility is AH-MA-ZING! No patches, no crumbles.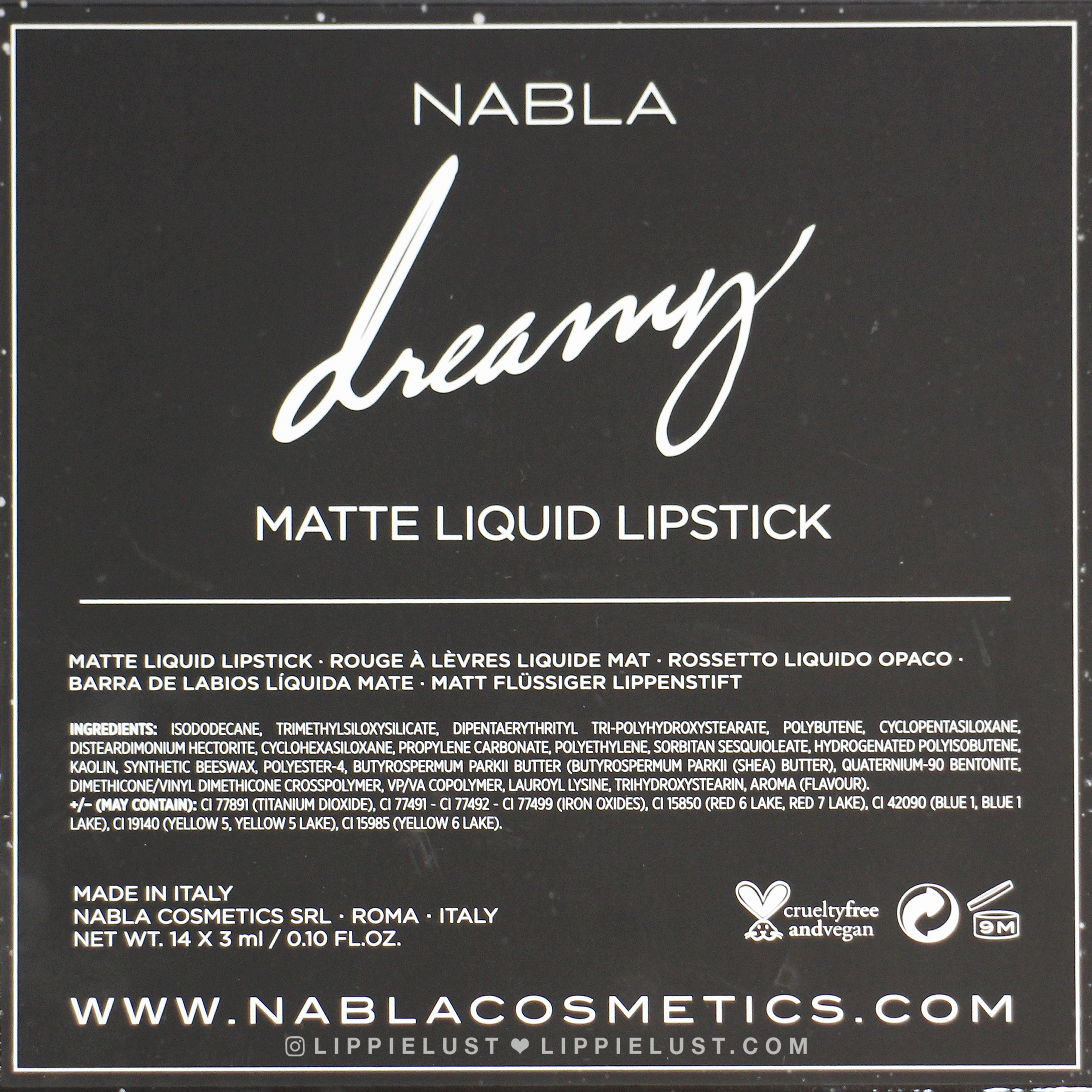 I would recommend you to buy a few, or maybe all of them. But if you're into nudes / neutral shades, you definitely won't regret it, as long as you like this kind of formula. Roses, Grande Amore, Kernel, Vanilla Queen, Coco, Rumors, Five O'Clock and Sweet Gravity (well I almost mention all of them) are the shades I like. But if you're looking for more unique shades, you need to pick Narcotic. It's the best blue I know for a liquid lipstick (and I heard that this shade is a dupe for Peacock by Lime Crime).
The Black Champagne is also the winner of my heart. Black is the trickiest color of a liquid lipstick because not every black looks good on lips (of course for the black lips lover) but the Black Champagne is definitely the black you want to get. It's so opaque and pretty! (How pretty is black? Only black lovers know this sh*t) Hahaha..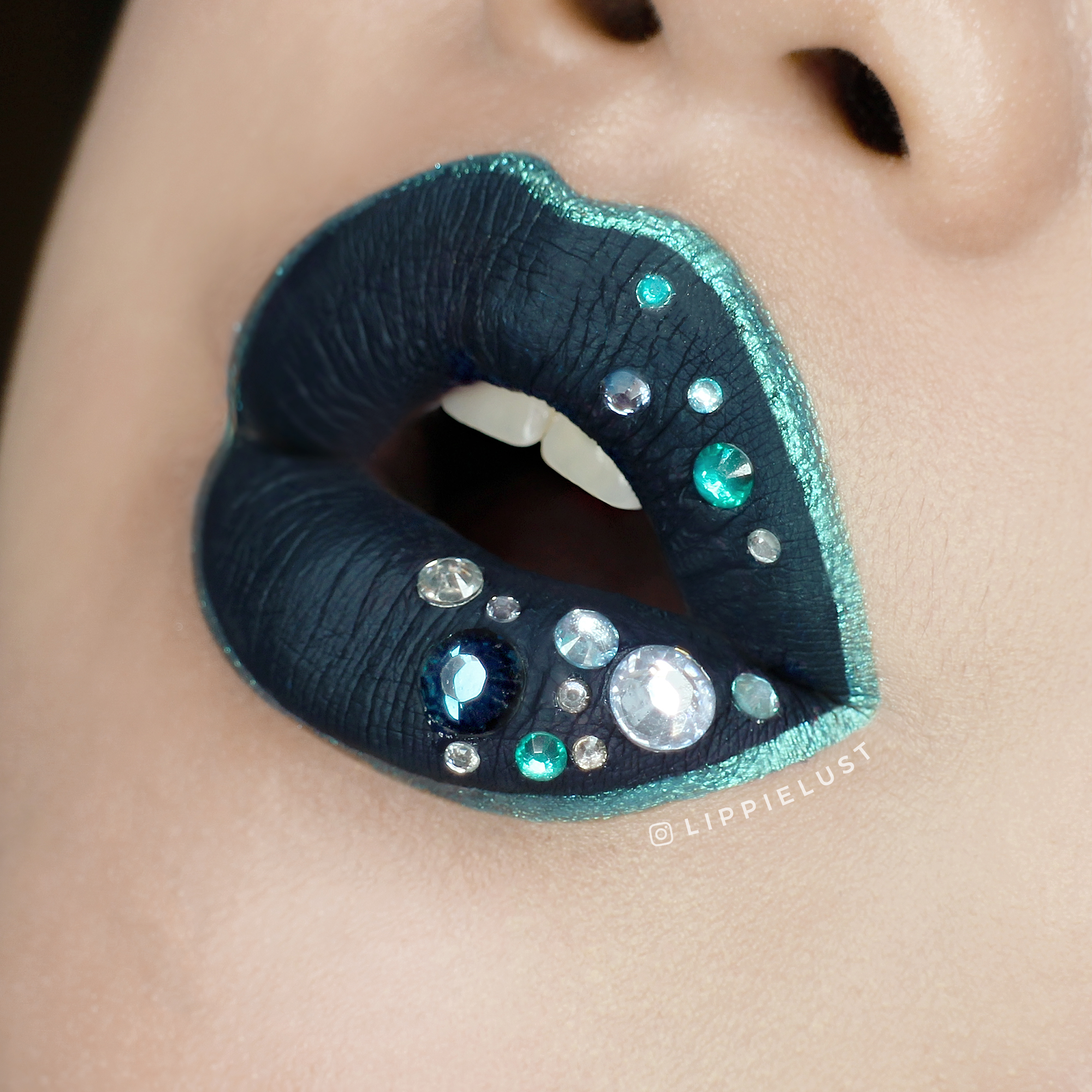 A lip art made by me using NARCOTIC Dreamy Matte Liquid Lipstick and CRYSTAL Dazzle Liner by NABLA Cosmetics. I will review the Dazzle Liners (that are included in FREEDOMINATION Collection later)
✨

LONGEVITY

I must say that I'm pretty impressed with how it performs. Most of the Dreamy Matte Liquid Lipstick stays nicely on my lips for good 6-7 hours with coffee time in between, and light snacks. When you decide to eat, you need to know that it'll fade especially on the inner lips. This won't be too visible for neutral / light shades, but this is a big problem if you're wearing the darker shades. So my suggestion is.. you need to clean it off before taking meals, especially the greasy ones.
✨

PRICE

The price is 14.90 EURO (240,000 IDR). They currently don't ship to Indonesia so you need to buy it by preordering it from your favorite PO sellers.

You can get the product on their official website since they currently don't have third-party shops anywhere.
✨

SWATCHES

You are free to save / repost, but don't forget to link back to this blog. Do NOT edit my swatches.

[masterslider id="51″]