| | |
| --- | --- |
| Nama Produk | EMINA CREAMY TINT |
| Diproduksi oleh | PT. Paragon Technology & Innovation |
| Berat Bersih | 3,6 gr |
| Harga | Rp. 44,000,- |
| Jumlah Warna | 5 Warna |
| Pembelian | Tersedia di SHOPEE, LAZADA, TOKOPEDIA, dan WATSONS. |
Yang follow awal-awal Lippielust ada, pasti udah tau kalau Emina Cosmetics adalah satu dari sedikit sekali produk lokal  yang pertama kali di-review di Instagram. Saat itu, aku me-review Creme De La Creme lipstick yang dibeli dari Emina Playground Cihampelas Walk. Lima tahun berlalu yaitu tahun ini, 2020, Lippielust akhirnya menjadi Official Swatcher-nya Emina Cosmetics. What a journey, ya?
Walaupun udah ada beberapa produk yang di-swatch Lippielust di Instagram dan reviewnya di blog, Lippielust akan swatch produk-produk yang belum sempat di-swatch, dan juga akan mere-swatch produk-produk yang udah di-swatch sebelumnya.
All in all, we're happy doing this project but when it comes to review, we're still us: always thorough and deliver it as honest as possible. ❤️ Now let's start the review!
✨

About the Product

Emina Creamy Tint punya nama yang cukup tricky: Creamy and Tint? Tapi sebenarnya, tren lip tint dunia sedang mengalami perluasan yang cukup masif. Lip tint saat ini gak selalu water / gel based, ada juga yang cream atau mousse. Lip tint klasik seperti Emina Magic Potion, misalnya, masih berupa water-based. Lalu apa bedanya?
We must admit lip tint punya banyak banget penggemar. Seperti halnya lip cream yang saat ini udah banyak variasinya, produsen lip tint pun perlu terus berinovasi agar gak bikin bosen dan tren ini gak cepat menghilang. Maka dari itu di Korea sana, negara yang jadi birthplace tren lip tint, diciptakanlah lip tint dengan formula creamy yang memiliki intensitas warna sebaik lip cream namun warnanya masih bisa 'tinggal' di bibir dengan baik. Tren inilah yang diadopsi dengan baik oleh Emina Cosmetics dengan produk Creamy Tint–nya.
✨

Packaging & Ingredients

Emina Creamy Tint dikemas dalam botol pendek bulat. Bantalan aplikatornya berbentuk teardrop yang miring dan cukup fleksibel, serta memiliki lubang reservoir di tengahnya untuk menampung produk. Aku suka sama aplikatornya karena menurutku aplikator ini memang cocok untuk formula Creamy Tint. Let's talk about the formula later!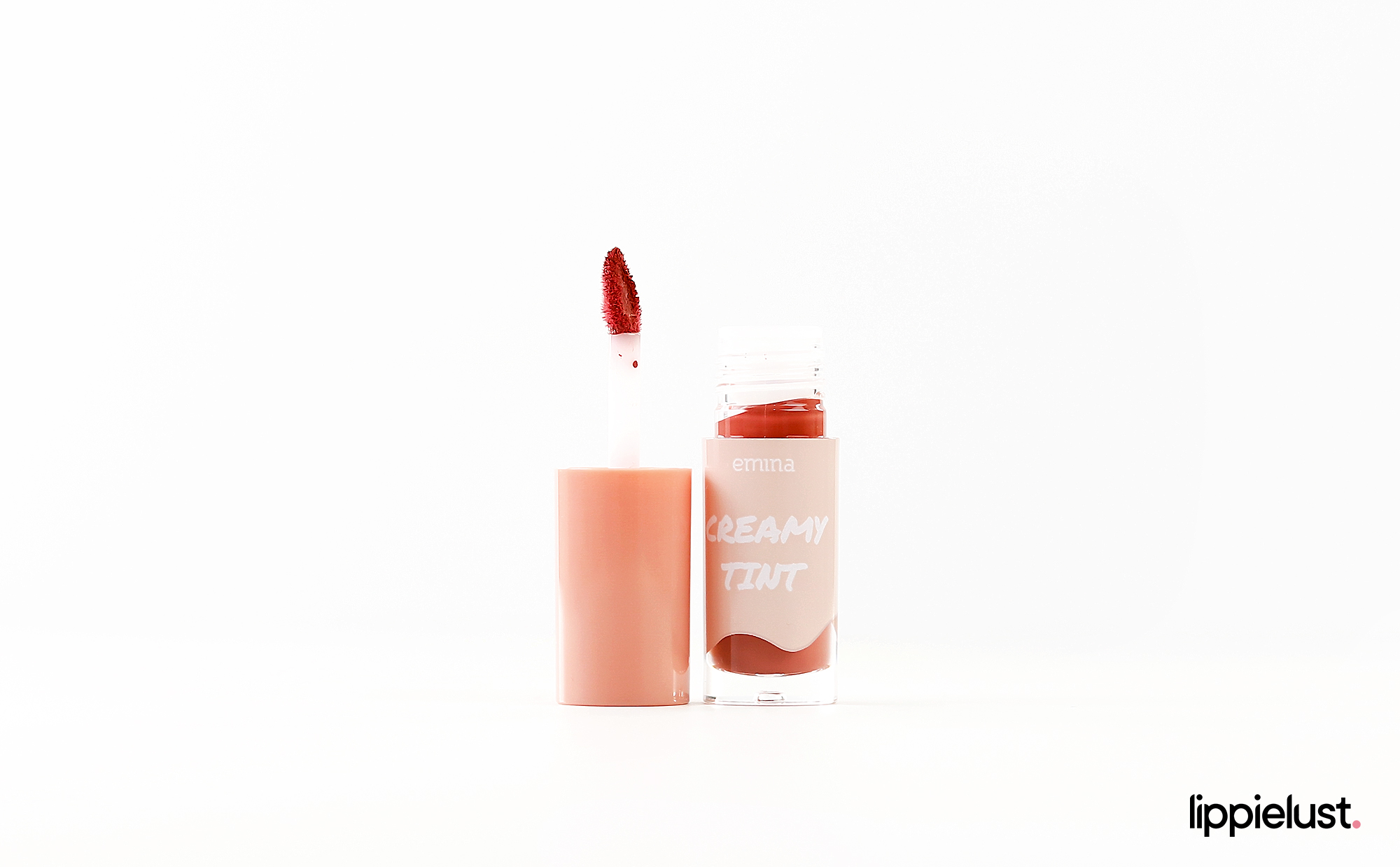 Kekurangannya, batang aplikatornya terlalu pendek jadi seringkali tutupnya yang bulat dan lebar bersentuhan dengan bibir bawah sehingga tutup botol menjadi kotor dan tampilan lipstik pun jadi berantakan.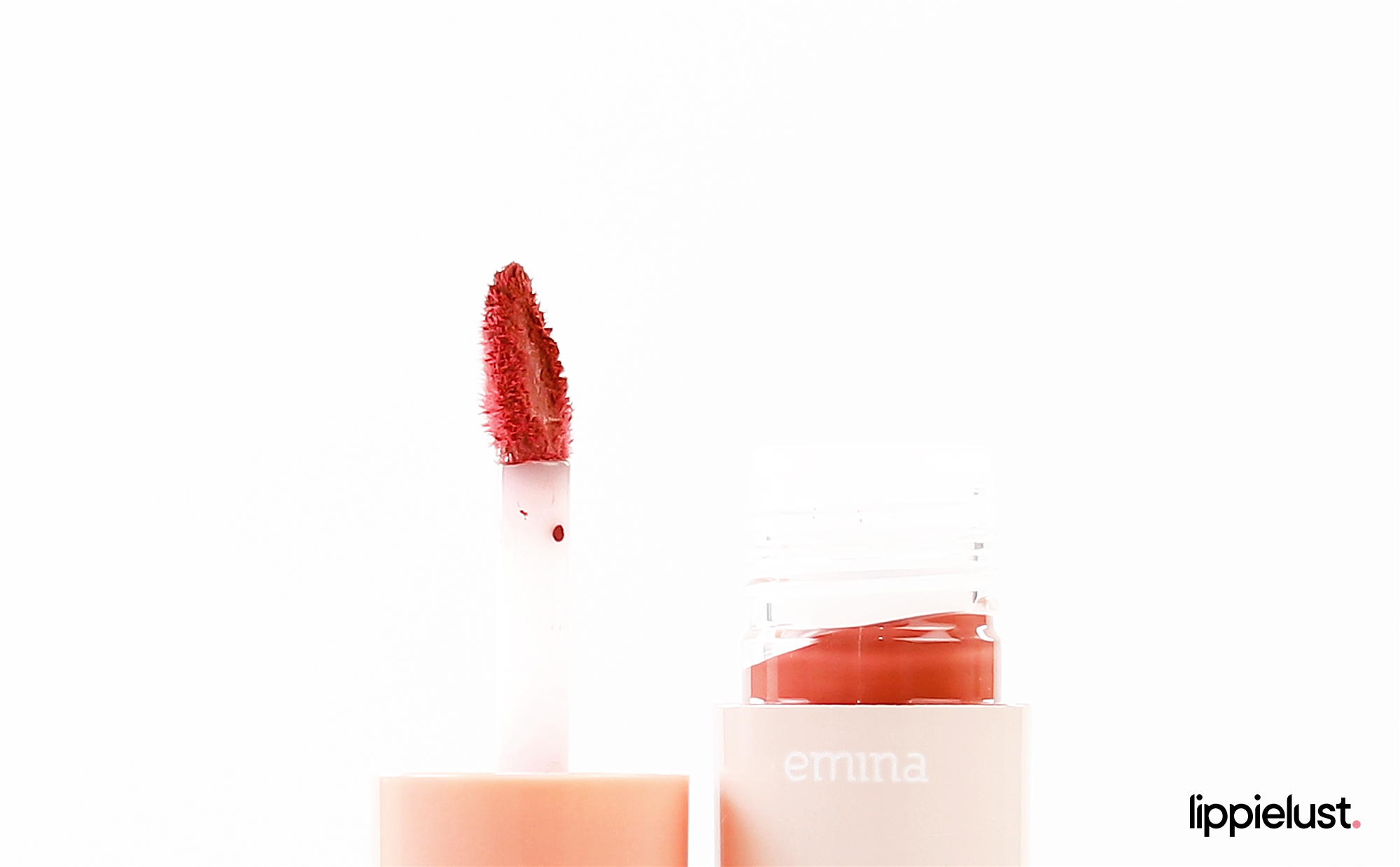 Creamy Tint memiliki box yang fun, cocok dengan image-nya yang memang khas anak muda. Warna-warna box disesuaikan dengan warna di dalamnya. Box dilengkapi dengan logotype Emina dengan logo Creamy Tint, nama-nama shades, juga grafis-grafis khas Emina yang merepresentasikan nama-nama warna produk ini seperti misalnya gambar bata / brick (omg, kepikiran ya gambar bata! hahaha), buah ceri, sampai matahari.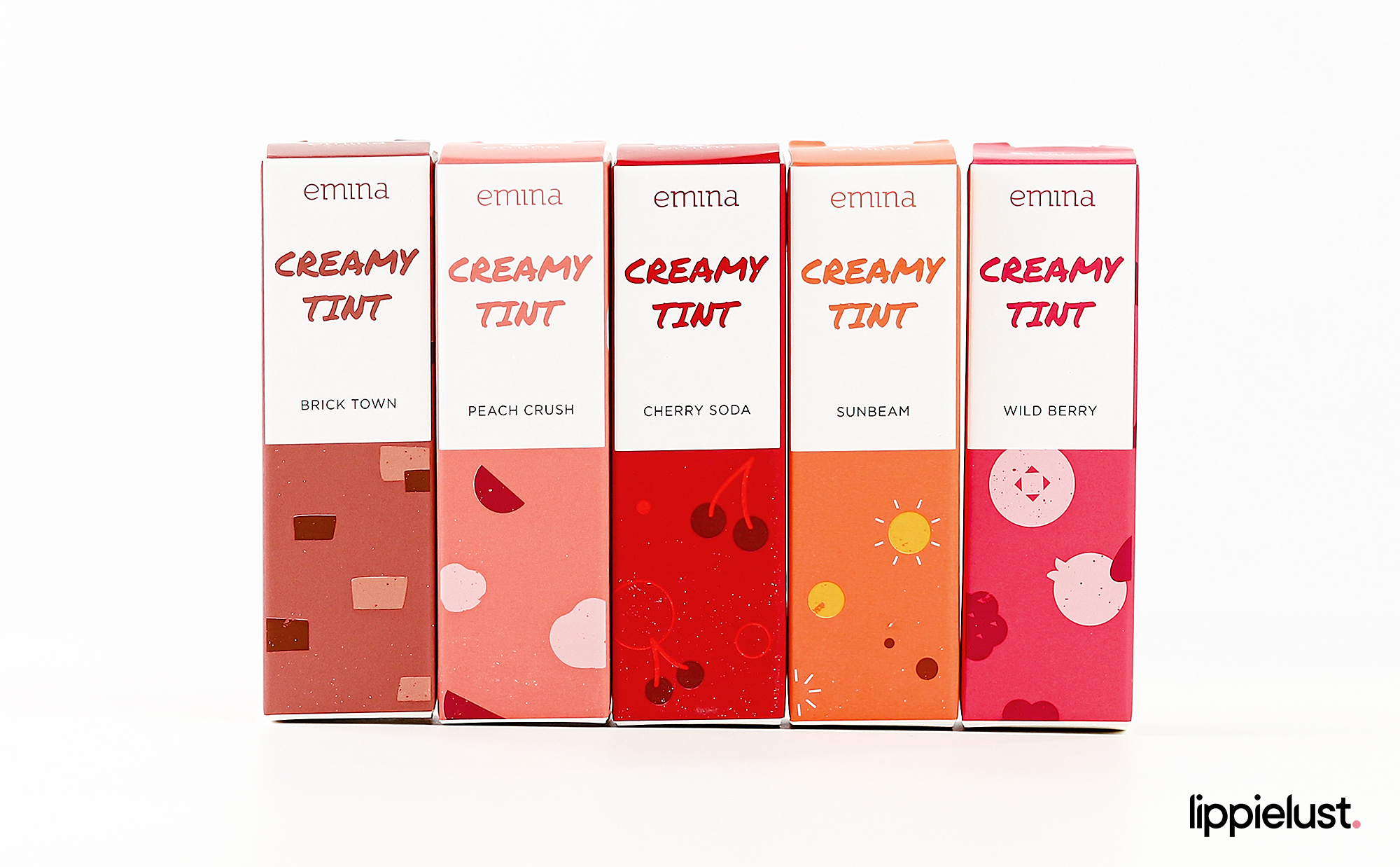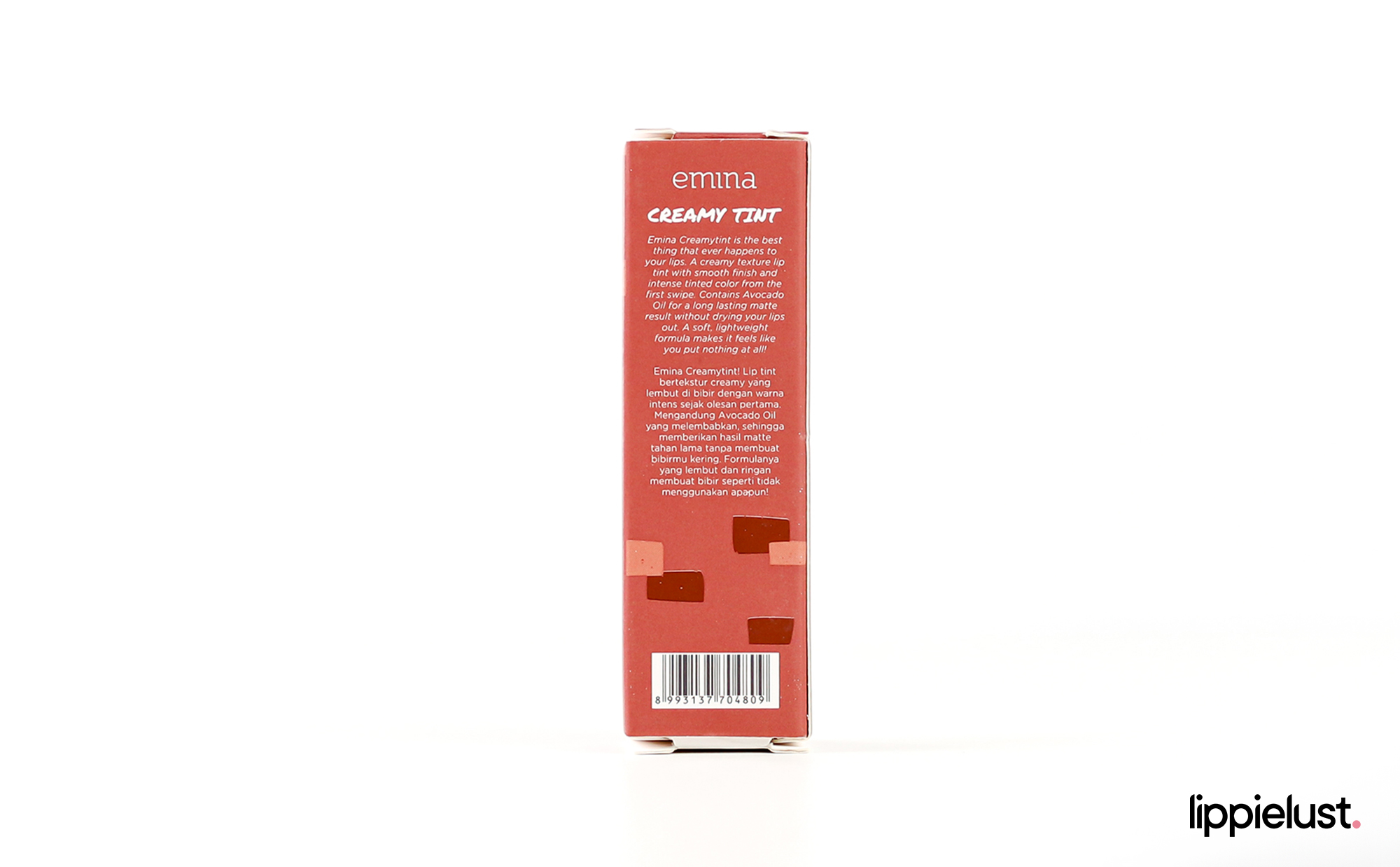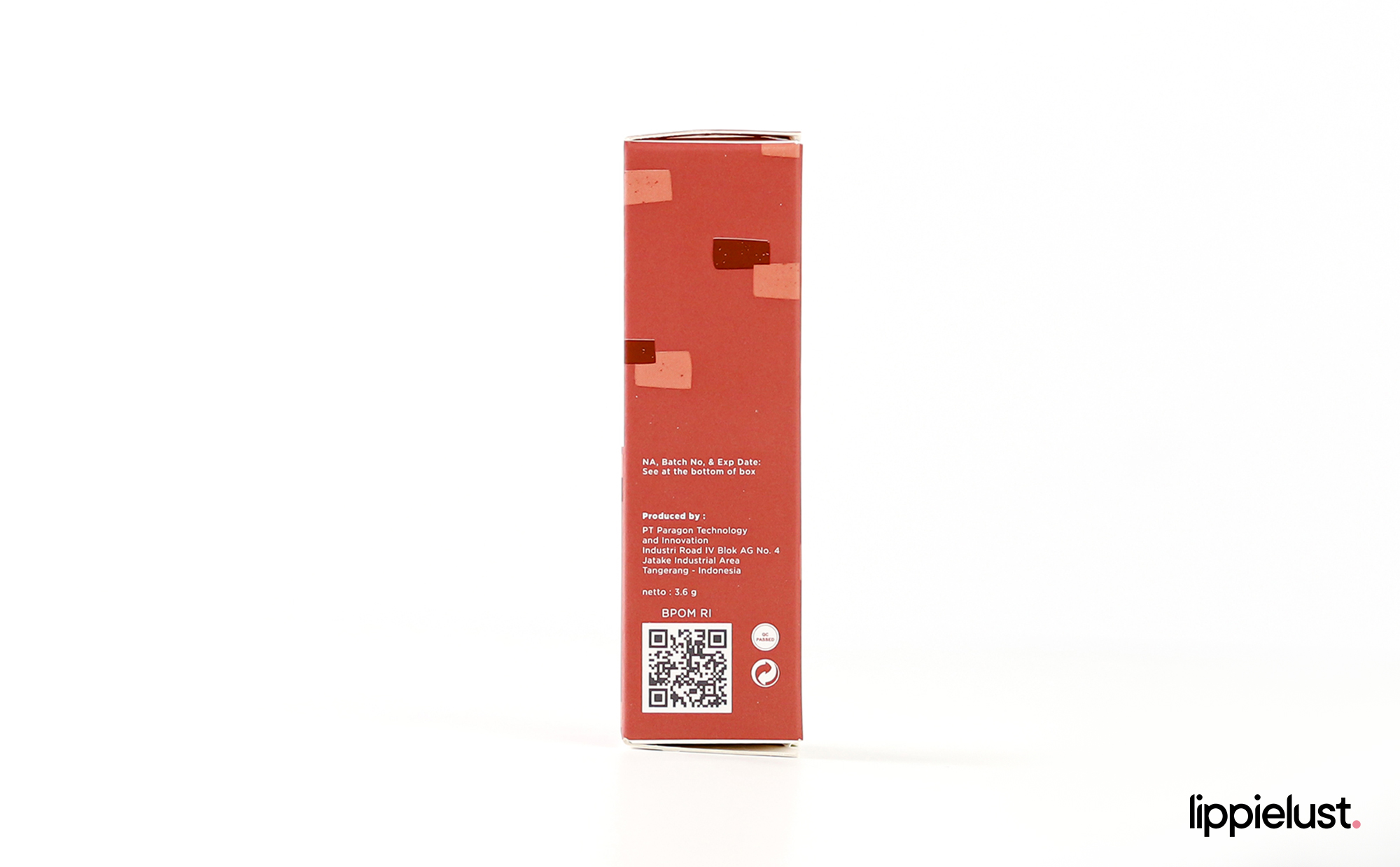 Hero Ingredients:
Alpha Bisabolol (brightening)
Helianthus Annuus (Sunflower) Seed Extract (hydrating + antioxidant)
Simmondsia Chinensis (Jojoba) Seed Oil (skin healing + damage control)
Persea Gratissima (Avocado) Oil (moisturizing – Vitamin E + collagen)
Acacia Decurrens Flower Wax (skin healing + moisturizing)
Macadamia Ternifolia Seed Oil (softening)
Honey Extract (moisturizing, skin healing and regeneration)
Glycine Soja (Soybean) Oil (Vitamin E + Anti aging)
Calendula Officinalis Flower Extract (collagen + antioxidant)
Chamomilla Recutita (Matricaria) Flower Extract (soothing + moisturizing + antioxidant)
Fucus Vesiculosus Extract (skin elasticity and smoothness + anti-aging)
Triticum Vulgare (Wheat) Bran Extract (

softening + moisturizing + soothing + nourishing + smoothing)

Tocopherol (Vitamin E)
Emina Creamy Tint comes with 13 Hero Ingredients?! Wow just wow. Kayaknya ini Hero Ingredients terbanyak yang pernah aku temukan dalam produk lipstik.
Emina Creamy Tint is:
Paraben-Free
Alcohol-Free
BPOM certified
✨

Formula, Texture, Finish

Emina Creamy Tint memiliki tekstur mousse-like cream yang kental. Emina Creamy Tint punya intensitas warna yang sangat baik, highly pigmented, dan coverage-nya 100% mampu menutupi warna asli bibir. Oh ya, formulanya ini ngingetin aku sama formula Mamonde Creamy Tint Squeeze Lip yang pernah aku swatch + review di Instagram tahun lalu. Bedanya, Mamonde Creamy Tint Squeeze Lip lebih terasa seperti butter di bibir.
Pertanyaannya, kalau rasanya seperti lip cream, apa bedanya dengan lip cream biasa yang sebenernya bisa staining juga?
IMHO produk ini gak segmented khusus untuk para pecinta lip tint aja. Untuk yang lebih menyukai lip cream dibandingkan lip tint,  produk ini cocok untuk kamu. Perbedaannya, Emina Creamy Tint memiliki warna-warna yang vivid dan vibrant untuk mendukung fungsinya sebagai lip tint yang warnanya masih bisa staining di bibir.
Produk ini memang didesain untuk tidak seperti 100% water / gel based lip tint yang bisa stain lama. Layer creamy-nya berperan seperti lip cream biasa yang berpigmentasi tinggi namun ketika luntur, warnanya akan meninggalkan stain halus di bibir. Kalau dibandingkan dengan Magic Potion-nya Emina (yang sampe 3 hari bekas swatches di tanganku gak hilang 100%), ya jelaslah stain-nya gak sebaik itu. Hehehe..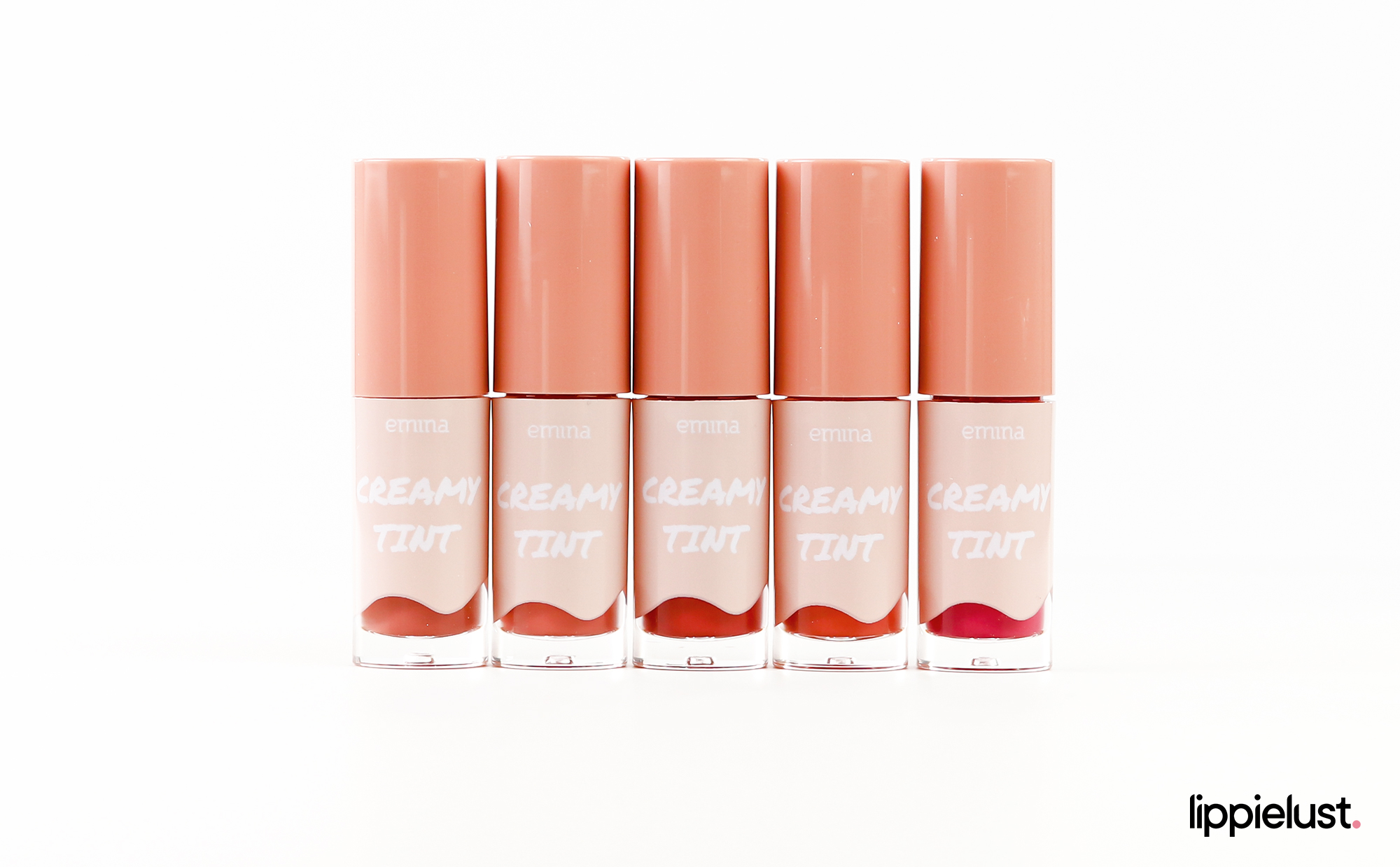 Untuk hasil akhirnya, Creamy Tint memiliki hasil akhir semi-transferproof matte, artinya warna akan tetap bisa transfer tapi gak banyak. Bingung gak sih? Formulanya sangat kental, creamy, pigmentasinya bagus, warnanya intens, tapi ketika nge-set jadi matte, teksturnya jadi sangat halus dan tipis di bibir.

What I really like about this product is it's sooo comfortable and moisturizing! Rasanya lembut, nyaman, dan ringan banget di bibir tanpa bikin bibir kering. However kalo bibir kamu lagi kering dan pecah-pecah, produk ini bisa mengaksentuasi bagian pecah-pecah bibir kamu. So better scrub it off first!
✨

Staying Power & Performance
Emina Creamy Tint punya daya tahan baik, sekitar 7-9 jam. Kalau dibawa makan, warnanya akan luntur sedikit demi sedikit tapi masih ada warna yang tersisa di bibir. Ketika luntur, produk ini akan meninggalkan stain halus di bibir, semacam 'tribute' pada warnanya aja kayak "hey, a part of me is still here!". Hahaha..
Anyways, semakin vivid warna yang kamu pakai, maka stain-nya akan semakin terlihat. Basic knowledge of lipstick colors: semakin kuat pigmennya, maka warna akan tinggal lebih lama (walaupun udah gak sesempurna awal). Remember, stain-nya gak akan sekuat water / gel based lip tint. So if you want powerful, more staining lip tints, this one is not for you.
Warna-warna kayak 03 Sunbeam, 04 Wild Berry, dan 05 Cherry Soda bisa staining lebih baik karena ketiga warna ini adalah warna-warna vivid, dan 02 Peach Crush adalah warna andalan para pecinta warna-warna peach yang lembut dan warm. sedangkan nomor 01 Brick Town ini semacam warna penggoda bagi para pecinta lip cream dengan warna warm, reddish brown, untuk ngelirik produk ini. ? It works, though. Brick Town adalah salah satu warna favoritku.
✨

Shades

01 BRICK TOWN (warm reddish brown) ❤️

02 PEACH CRUSH (peachy orange)

03 SUNBEAM (bright orange)

04 WILD BERRY (bright fuchsia pink)

05 CHERRY SODA (red with a hint of brown) ❤️

Warna favoritku adalah 01 Brick Town, 02 Peach Crush, dan 05 Cherry Soda.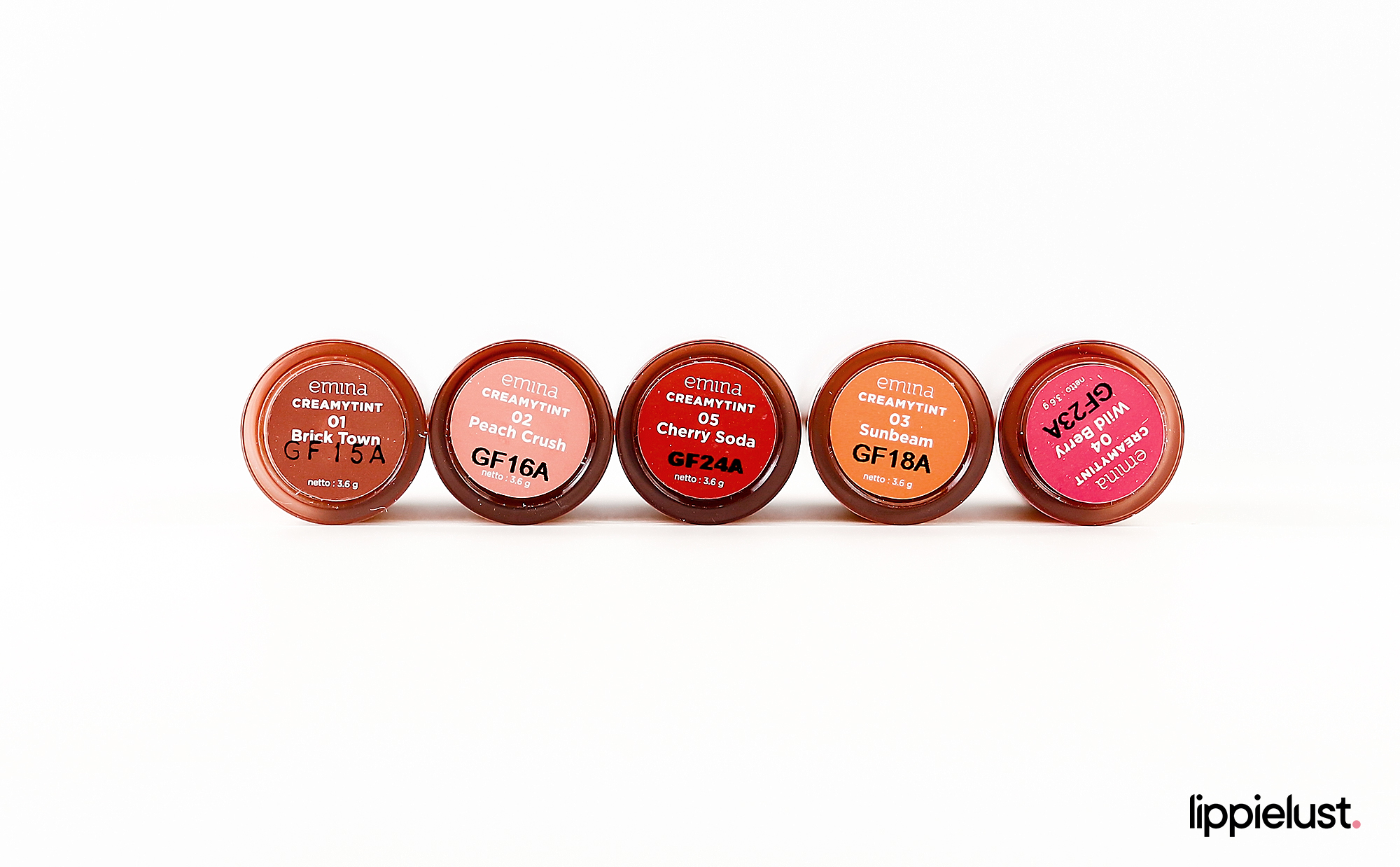 Recommended Colors for Fair-Light Skintone:
Recommended Color for Medium-Dark Skintone:
01 BRICK TOWN
02 PEACH CRUSH
05 CHERRY SODA
Color Combo for Ombré:
02 PEACH CRUSH + 05 CHERRY SODA
✨

Swatches
View this post on Instagram
✨

Price & Where to Buy

Harga: IDR 44,000,-, untuk berat bersih 3,6gr. Tersedia di SHOPEE, LAZADA, TOKOPEDIA, dan WATSONS.
✨

Conclusion
Classic lip tint lovers, don't put your hopes up too high! Emina Creamy Stain ini menurutku 80% Lip Cream, 20% Stain, menjadikan produk ini enggak segmented / khusus untuk para pecinta lip tint aja tapi juga untuk para pecinta lip cream. Walau stain-nya tidak sekuat water/gel based lip tint, produk ini meninggalkan stain halus di bibir yang masih cukup terlihat. Jika kamu inginkan produk yang benar-benar menghasilkan stain kuat, maka menurutku lebih baik pilih produk yang memang water/ gel-based seperti produk Emina lainnya: Magic Potion atau Glossy Stain.
Dengan harga yang cukup terjangkau, Emina Creamy Tint punya segudang hero ingredients atau bahan baku yang baik untuk kulit bibir – juga penting untuk stabilitas formulanya: sangat ringan, lembut di bibir, gak bikin kering, dan tahan lama.
✨

Lippierating
[penci_review]