Udah setahun lebih dari terakhir kali Luxcrime merilis warna-warna baru dari reformulated Ultra Lipmatte. Aku termasuk ke tim yang suka banget sama formula barunya itu, karena terasa jauh lebih nyaman dan moist di bibir. Menurutku Luxcrime termasuk ke dalam salah satu brand yang konsisten dalam pengembangan produk. Alasannya?
Luxcrime listens to their customers. Di tahun 2017 dimana transferproof matte lip cream lokal lagi nge-tren banget, Luxcrime merilis Ultra Lipmatte generasi pertama. People loved it! Di tahun 2018, dimana transferproof matte lip cream udah mulai meredup karena orang-orang mulai tercuri perhatiannya sama more comfortable, non-transferproof lip cream, Luxcrime mereformulasi Ultra Lipmatte menjadi lebih creamy, moist, dan nyaman dipakai. Well, people loved it too. Perubahan terbesar dari kedua produk tersebut adalah perbedaan finish dimana Ultra Lipmatte generasi pertama memiliki hasil akhir transferproof sedangkan generasi kedua memiliki hasil akhir semi-matte, non-transferproof. Aku mereview perbedaan formulanya ini di Instagram.
Tapi sekarang kita akan bahas produk lain — produk terbaru yang jadi jagoannya Luxcrime di tahun 2020 ini: Airy Lip Mousse!
✨

TENTANG LUXCRIME AIRY LIP MOUSSE

Aku cukup beruntung karena Lippielust jadi official swatcher-nya Luxcrime, jadi aku udah cobain produk ini dari sebulan yang lalu. Aku sangat excited karena Luxcrime kali ini mengadopsi warna hijau-nya Luxcrime Stay Last Setting Spray dan Slim Triangle Brow Pencil yang aku suka banget!
Luxcrime airy lip mousse is a lip product that smells, tastes, and feels like ACTUAL DESSERT as if you're eating chocolate mousse while applying.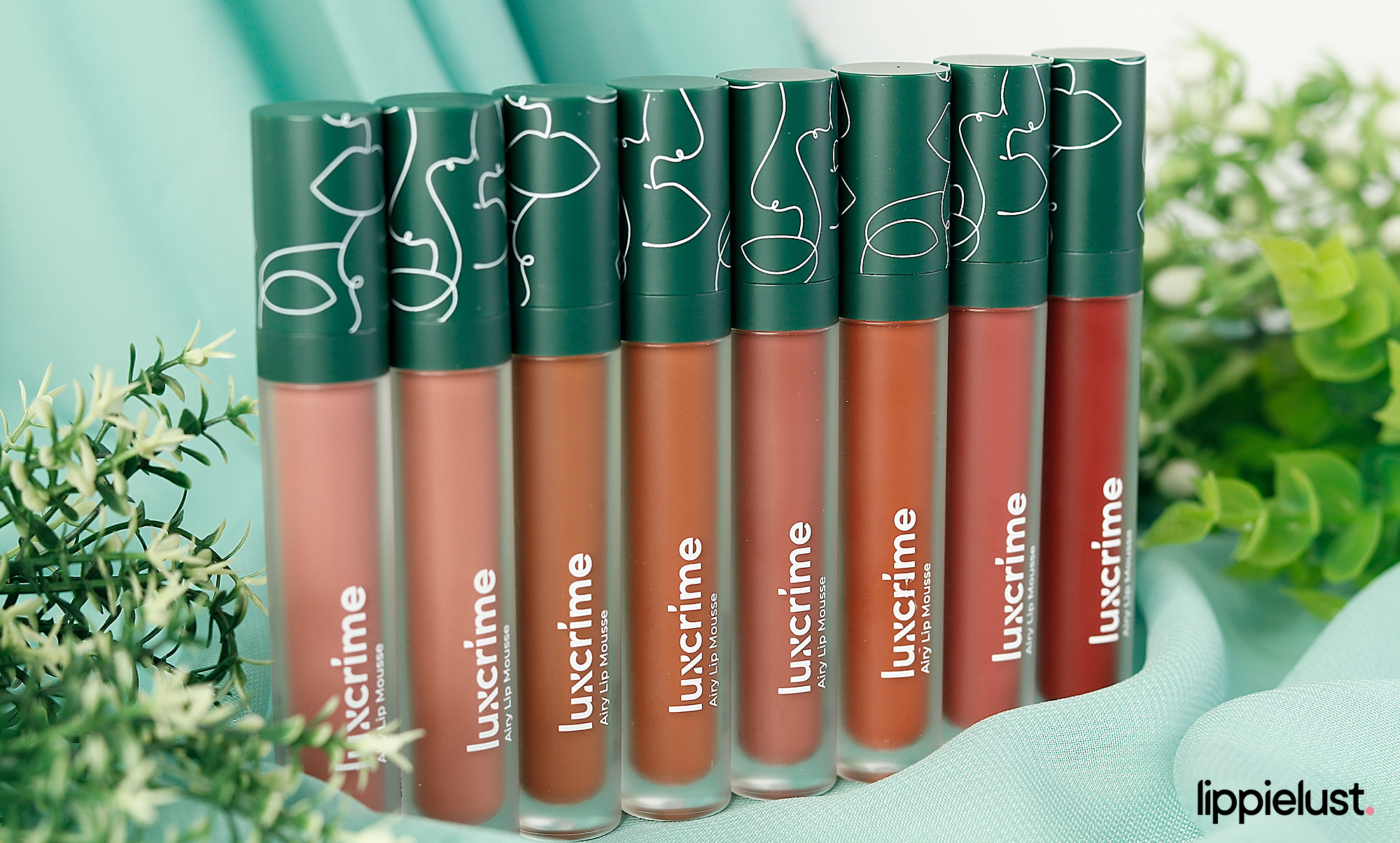 Luxcrime Airy Lip Mousse punya tema coklat. I mean, this product smells-tastes-feels like real chocolate mousse. Wangi coklatnya memang gak baru, karena Luxcrime Ultra Lipmatte-pun pakai wangi coklat juga. Bedanya, Airy Lip Mousse ini feel-nya lebih kental seperti mousse.
Selain dijual satuan, Airy Lip Mousse memiliki dua jenis bundle dengan nama 'Morning Coffee' dan 'Afternoon Tea', masing-masing bundle memiliki isi yang berbeda. I'll show you later!
✨

PACKAGING & INGREDIENTS LIST

Luxcrime Airy Lip Mousse mengadopsi warna hijau pine / forest green yang cukup gelap dan dipasangkan dengan warna light bubblegum yang segar untuk warna utama dari packaging-nya. Selain itu, Luxcrime juga menambahkan aksen abstract line art berbentuk wajah & bibir manusia sebagai grafis pemanis di boxnya.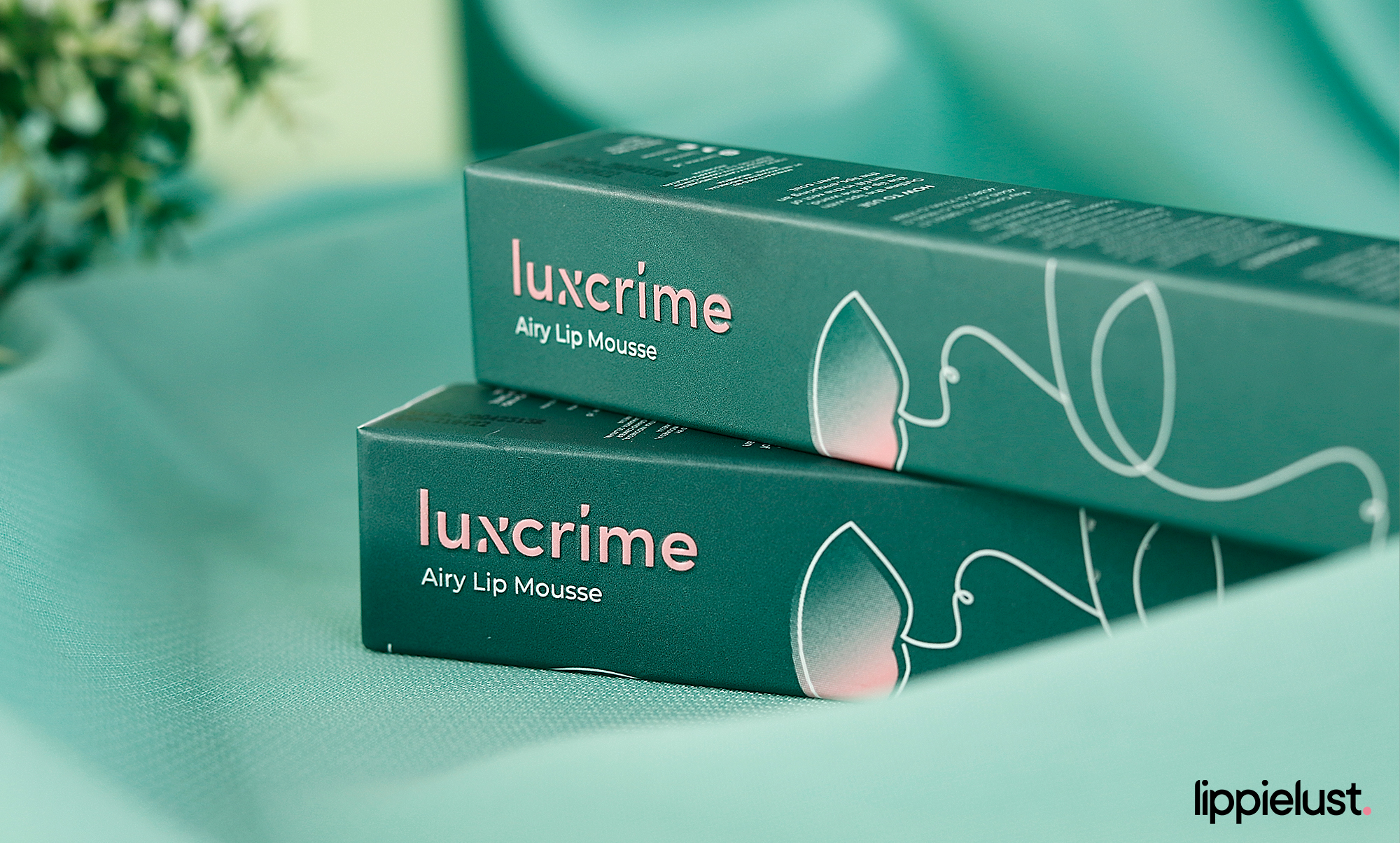 Di bagian box belakang ada tulisan:
Couture for your lips. Drench your lips with the luxurious, dream-like formula of this Airy Lip Mousse, which melts on lips for smooth, seamless application, and dries to a comfy, soft-matte finish.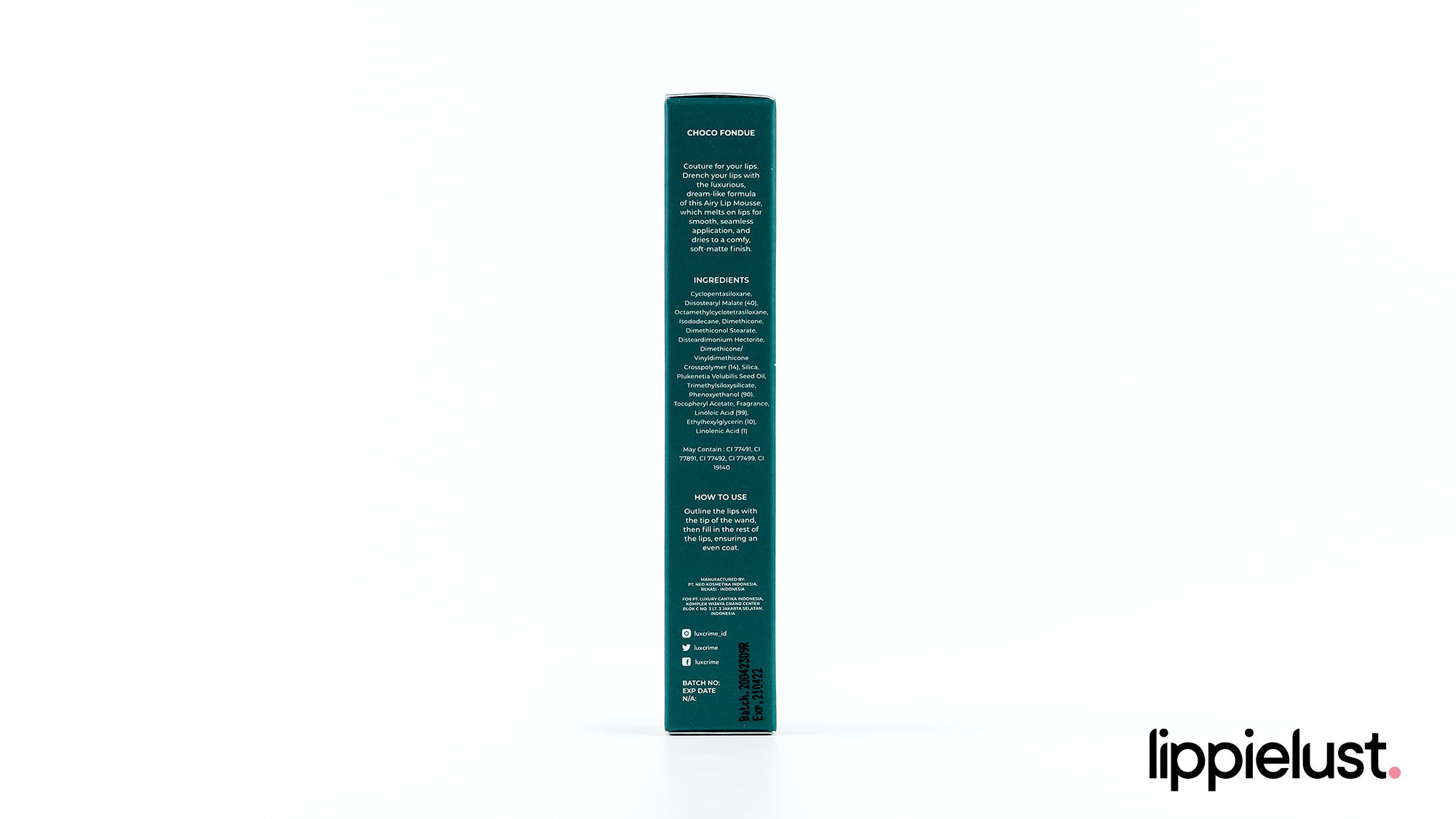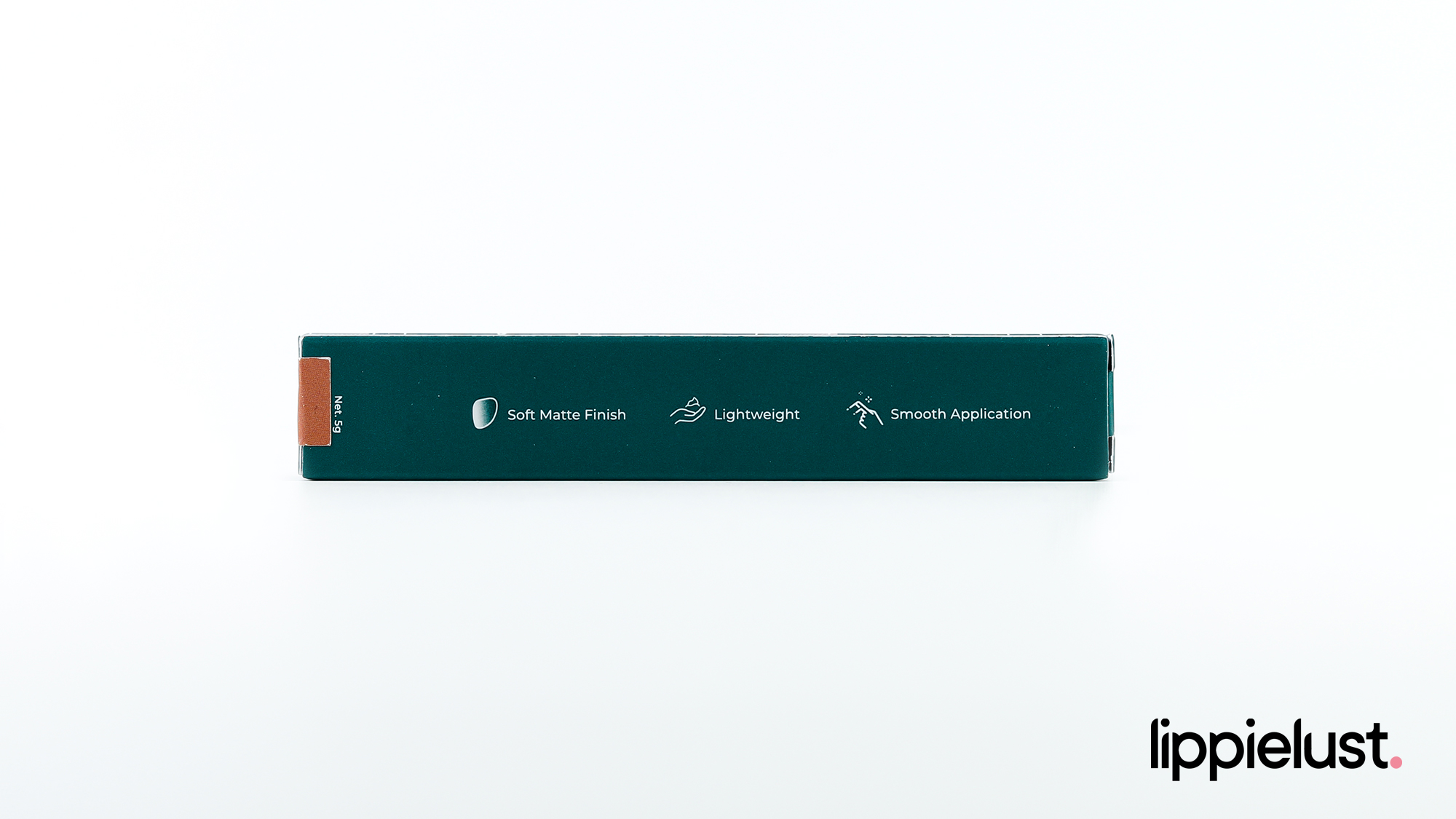 Luxcrime kembali menggunakan warna forest / pine green di bagian tutup dan leher botol, dengan aksen abstract line art yang sama berwarna putih. Produk ini memiliki bentuk yang sama dengan produk Ultra Lipmatte, yang membedakan adalah Airy Lip Mousse terasa lebih 'dewasa' dan to be honest, desainnya terlihat lebih sleek dan modern. Also have I informed you about the brand new Luxcrime logo? Girls, their new logo looks bomb!
Untuk aplikatornya, Luxcrime tetap menggunakan aplikator doe-foot yang berserabut dan miring di satu sisi.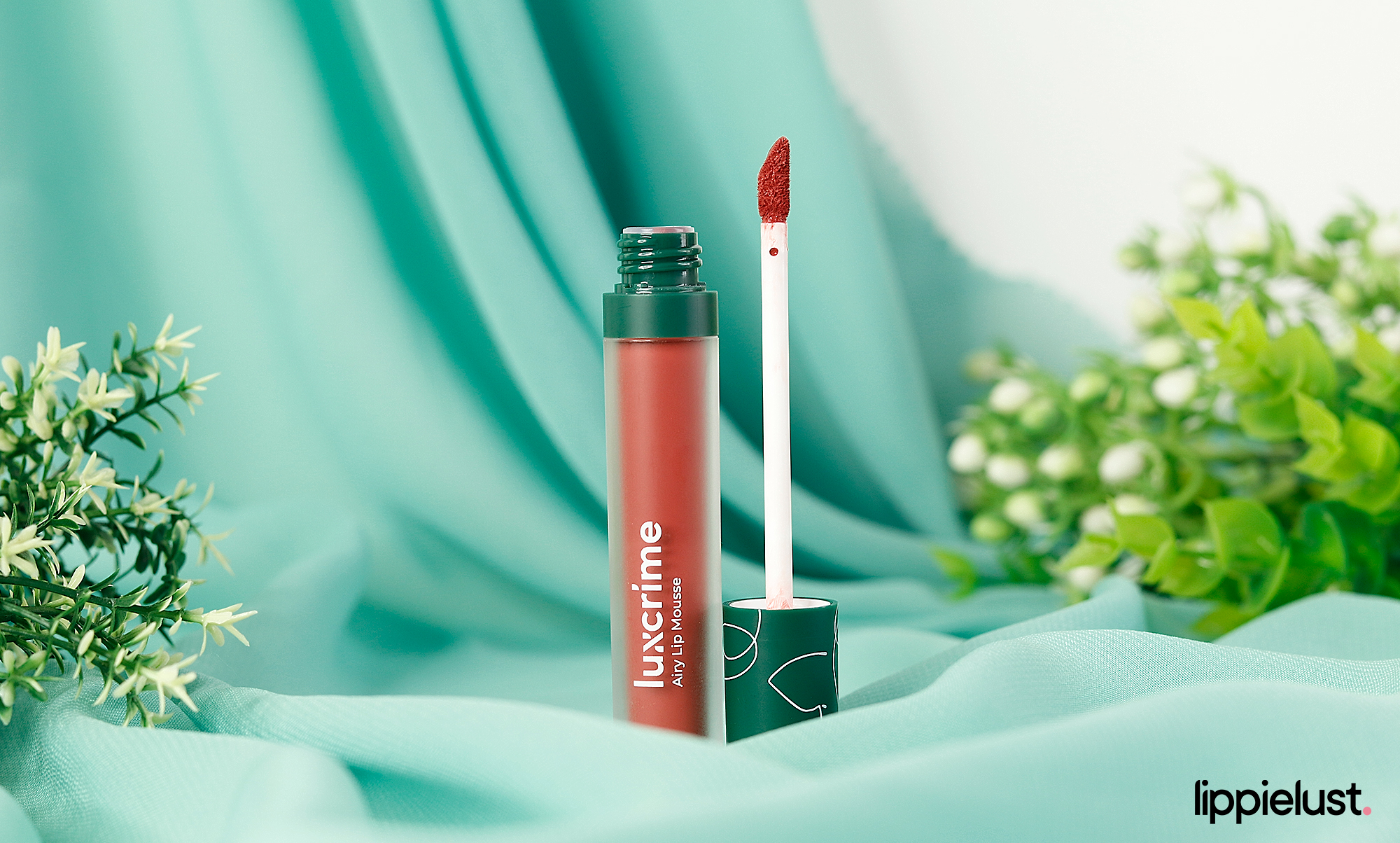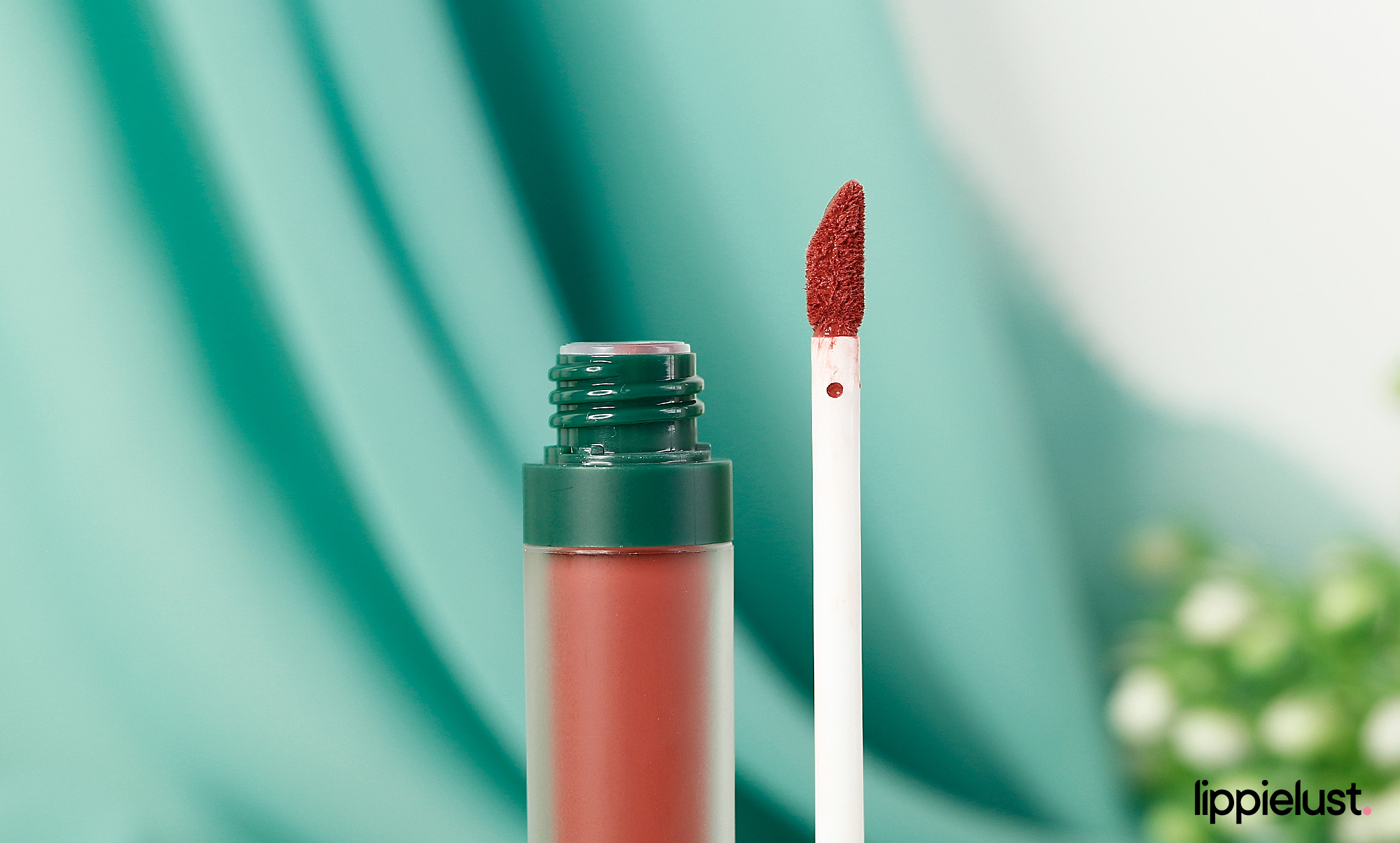 Lalu seperti apa Ingredients-nya?
Luxcrime Airy Lip Mousse: Paraben-Free, Alcohol-Free, BPOM Registered.
Luxcrime Airy Lip Mousse mengandung Inca Peanut (Plukenetia Volubilis (Inca Inchi) Seed Oil), native dari hutan hujan di pegunungan Andes. Benefit yang diberikan dari oil ini adalah perawatan optimal untuk kulit kering dan rusak, membantu meregenerasi sel kulit dengan cepat, dan meningkatkan metabolisme juga elastisitas kulit.
Selain itu, Luxcrime Airy Lip Mousse mengandung UV Protection dan juga Vitamin E (Tocopheryl Acetate) sebagai nutrisi tambahan di dalamnya.
✨

FORMULA, TEXTURE, FINISH

The first locally made product with hydrating formulas and featherweight textures that you'll barely feel even after 5 layers/coats as it dries to a comfy, soft-matte finish.
Luxcrime memiliki formula thick creamy mousse yang warna-warnanya terasa dan terlihat sangat intens. Luxcrime sendiri mengklaim bahwa kita akan tetap dapetin lightweight feel-nya walaupun diaplikasikan sebanyak 5 layer. Cukup masuk akal sih menurutku, karena memang gak perlu banyak-banyak, hanya 1x celup aja untuk 1x aplikasi full lips untuk dapetin full coverage. Dalam 1x aplikasi tersebut, permukaan bibir udah bisa tertutup sempurna.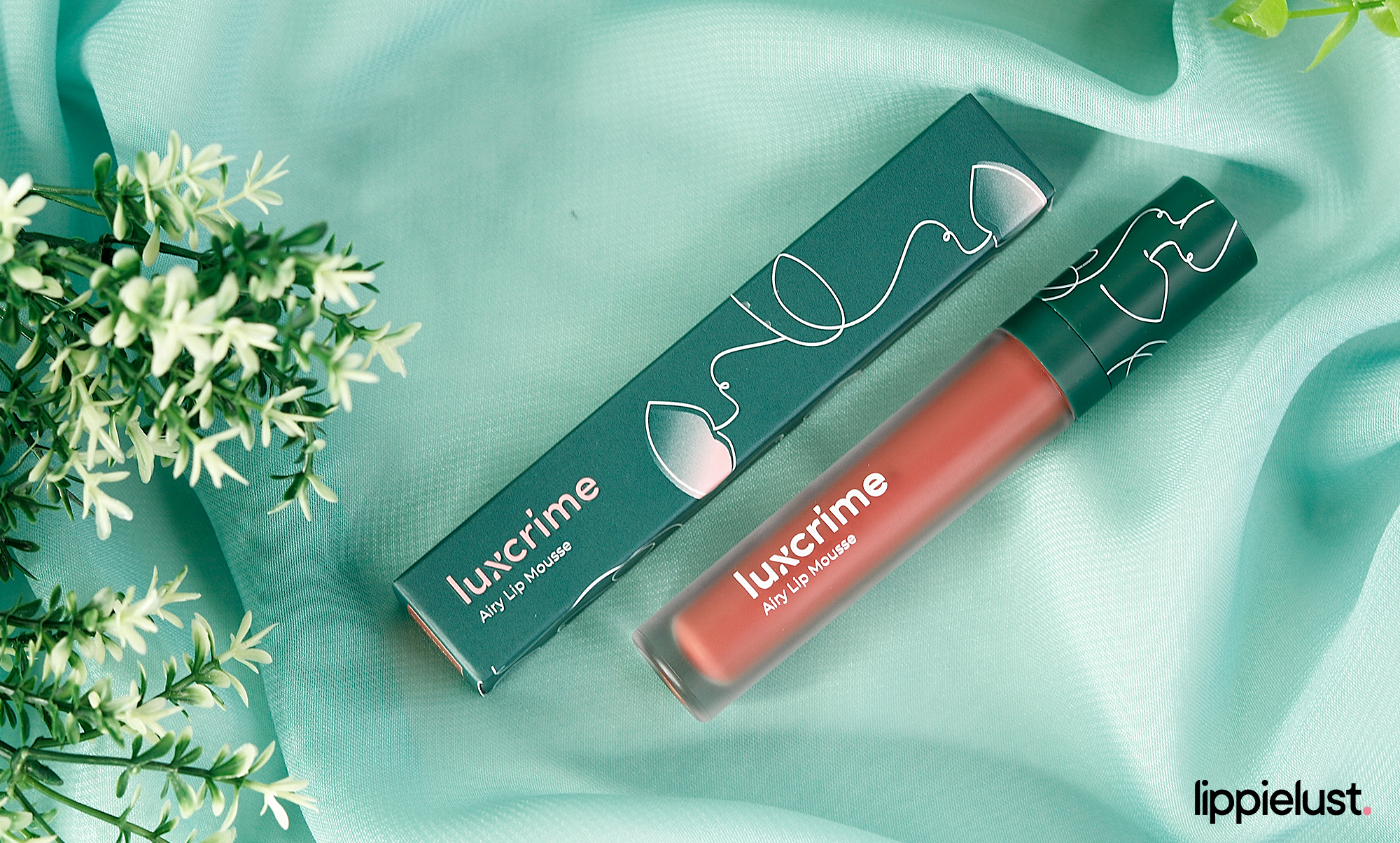 Produk ini terasa tipis dan ringan banget di bibir, tapi tetep punya pigmentasi yang juara! Semua warnanya, bahkan untuk warna paling muda sekalipun, bisa menutupi warna bibir asli dengan baik. Gak terlihat patchy sama sekali, gak terlihat menggumpal, gak lengket, gak terasa atau terlihat 'basah'. Walaupun produk ini punya hasil akhir yang gak transferproof, produk tetap stay in place, nge-set jadi soft matte dalam hitungan menit.
✨

DAYA TAHAN & PERFORMA

Luxcrime Airy Lip Mousse bisa bertahan dengan baik sampai sekitar 6-8 jam, tanpa makan. Produk ini sama sekali gak terasa kering dan gak terlihat pecah setelah dipakai berjam-jam.
Setelah mengering jadi soft matte, Airy Lip Mousse tidak akan mengaksentuasi garis-garis halus di bibir dan juga bagian bibir yang kering. Ketika luntur, warna yang akan luntur duluan adalah warna dari bagian dalam bibir, karena bagian inilah yang paling rentan basah karena liur.
✨

VARIASI WARNA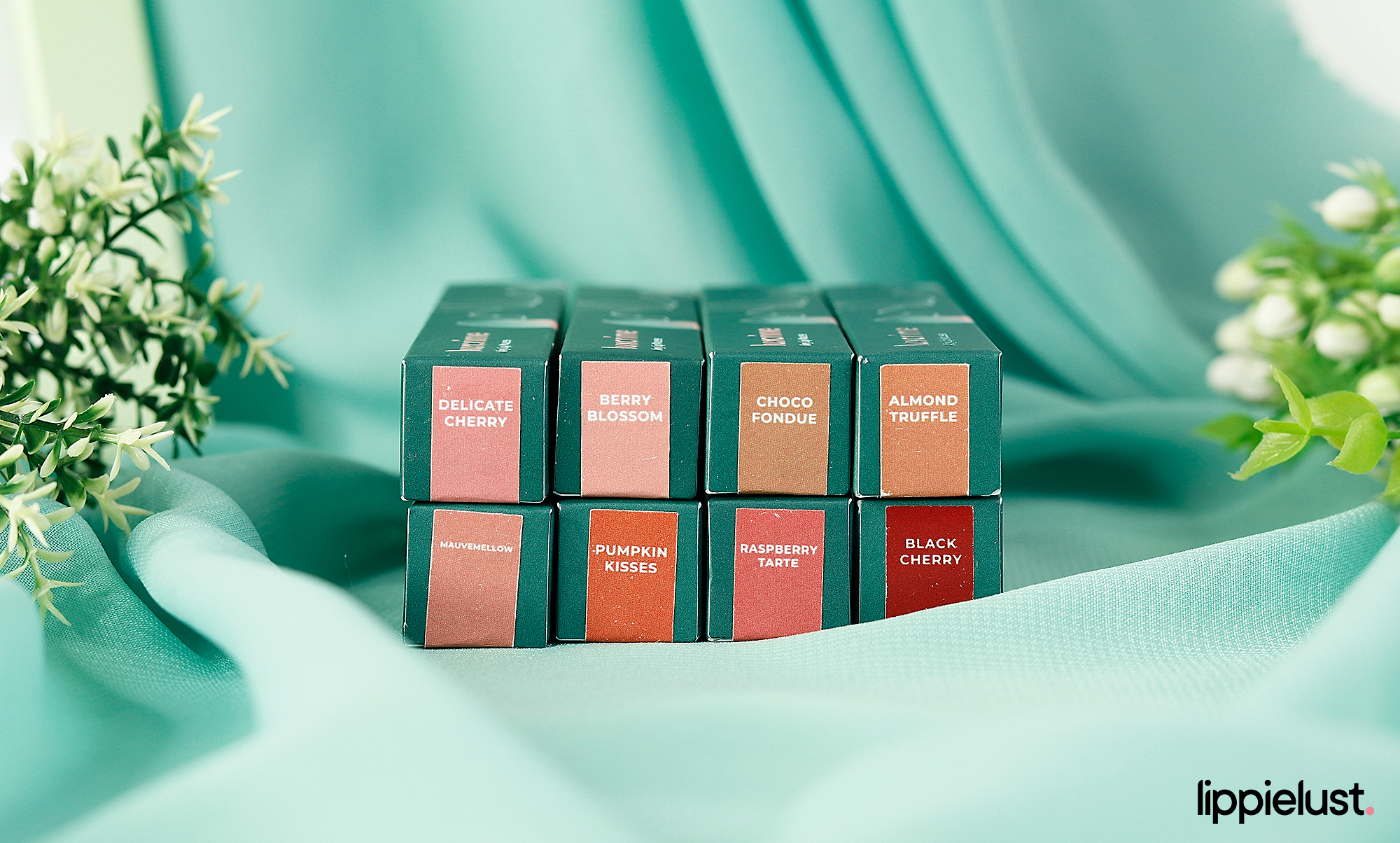 🍒 BLACK CHERRY – deep bold cherry red (warna paling tua, warna yang cocok untuk ombré) ❤️
🎃 PUMPKIN KISSES – bright brick brown (Lebih gelap dan lebih orange dari Almond Truffle) ❤️
🍒 DELICATE CHERRY – soft nude pink (Satu tone dengan Berry Blossom, tapi lebih terlihat pink)
🥧 RASPBERRY TARTE – deep pinkish mauve  (Lebih gelap dan lebih warm dari Delicate Cherry) ❤️
🌰 ALMOND TRUFFLE – warm brown nude (memiliki nuansa sedikit peach-orange)
🍫 CHOCO FONDUE – light chocolate brown (lebih terlihat cool-toned dibandingkan Almond Truffle)
🌄 MAUVEMELLOW – Rosy mauve (Satu tone dengan Raspberry Tarte tapi lebih terlihat kecoklatan & keunguan) ❤️

🍓 BERRY BLOSSOM – rosy peach pink (satu tone dengan Delicate Cherry tapi lebih terlihat peachy)

MORNING COFFEE BUNDLE:
Almond Truffle, Black Cherry, Mauvemellow, Pumpkin Kisses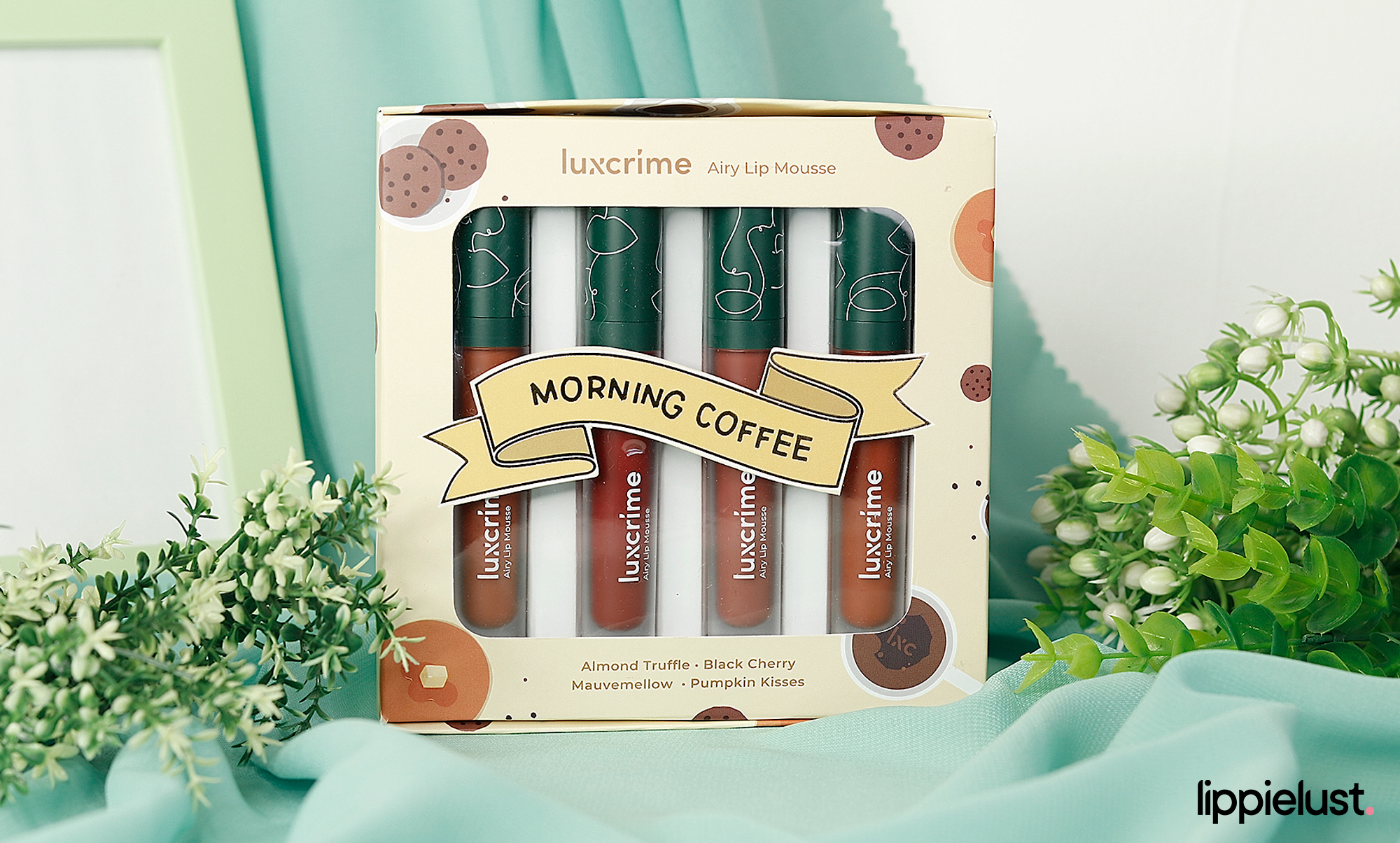 AFTERNOON TEA BUNDLE:
Choco Fondue, Berry Blossom, Delicate Cherry, Raspberry Tarte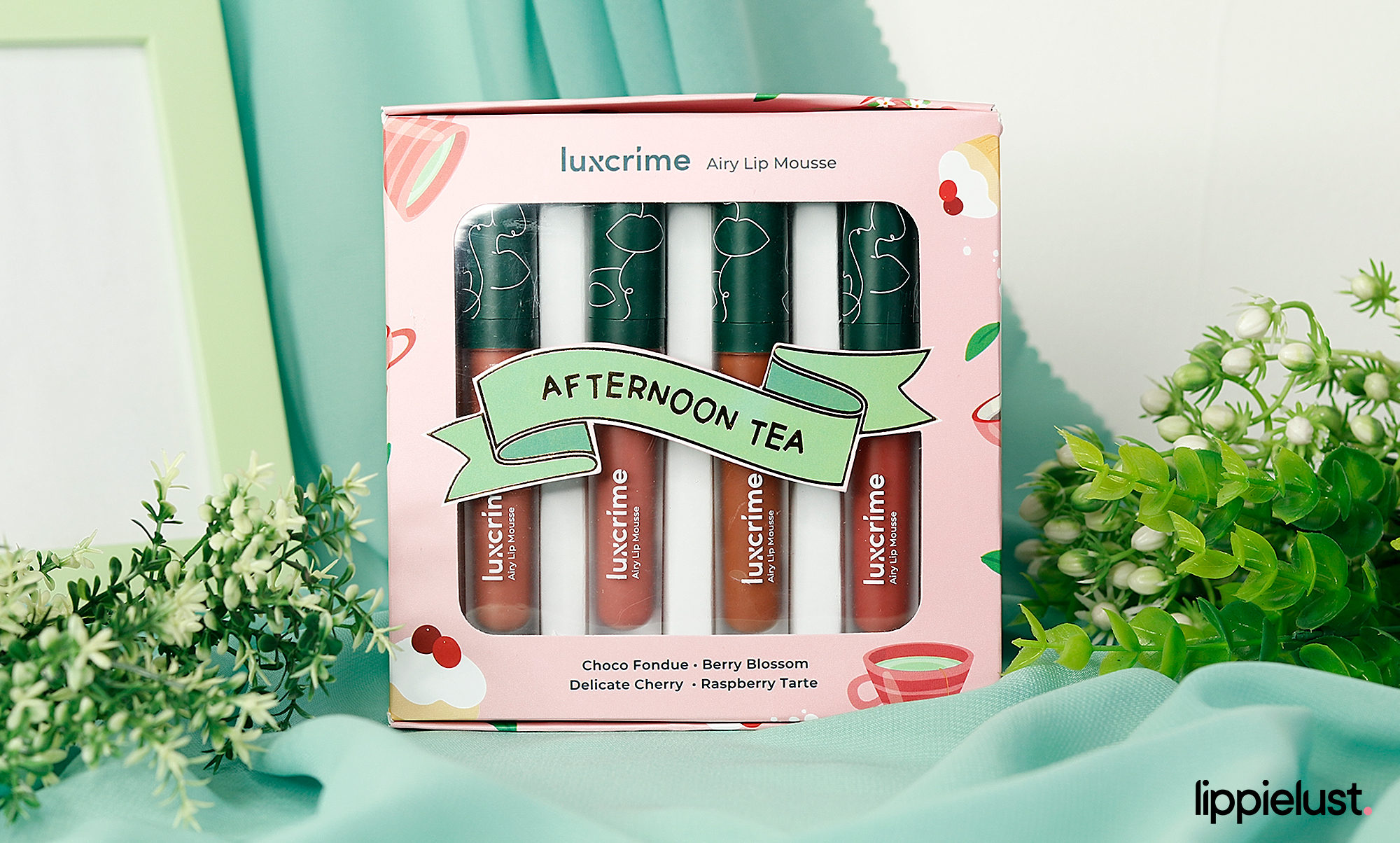 Jujur aja, agak sulit milih warna favorit produk ini hahaha.. Warna-warnanya cantik banget! But, here goes my favorites.

LIPPIELUST'S FAVORITE COLORS (
❤️

):

Black Cherry, Pumpkin Kisses, Raspberry Tarte, Mauvemellow
RECOMMENDED COLORS FOR FAIR-LIGHT MEDIUM SKINTONES:

Delicate Cherry, Almond Truffle, Choco Fondue, Berry Blossom, Mauvemellow
RECOMMENDED COLORS FOR MEDIUM-DARK SKINTONES:
Black Cherry, Pumpkin Kisses, Raspberry Tarte, Almond Truffle, Mauvemellow
RECOMMENDED COLORS FOR OMBRÉ COMBO:
Berry Blossom (outer/base) + Black Cherry (inner/top), Mauvemellow (outer/base) + Black Cherry (inner/top).
COLOR COMBO FOR FULLER LIPS APPLICATION:

Almond Truffle (inner) + Pumpkin Kisses (outer)! This one by far is my most favorite color combo.
✨

SWATCHES
✨

WHERE TO BUY
IDR 109,000 (single) – 5gr, IDR 436,000 (bundle). Udah tersedia di Official Luxcrime di Shopee dan Tokopedia.
✨

LIPPIERATING