Masih seputar produk-produk glossy-type-nya Romand, kali ini ada JUICY LASTING TINT, produk lip tint gloss pertama yang dimiliki oleh Romand – dan memiliki pilihan warna paling banyak! Mungkin ada yang bertanya-tanya, apa sih perbedaan GLASTING WATER TINT dan Juicy Lasting Tint? Kita akan bahas selengkapnya disini ya.
Dikutip dari yesstyle.com (authorized retailer of Romand Global):
Easily achieve sweet and delicious pouts with this vibrant lip tint available in 9 fruity shades. Highly pigmented, the color stays on all day long! Can be used for a gentle gradated look or eye-catching full lips.
Romand Juicy Lasting Tint awalnya memiliki 9 warna pilihan, lalu menambahkan 'Autumn Fruit Series' sebanyak 4 shades yang lebih terasa 'earthy'. Baru-baru ini, Romand menambahkan 4 warna tambahan dalam seri 'Sparkling Juicy Collection' sebanyak 4 shades. Sayangnya, karena 4 warna tambahan terakhir ini termasuk baru dan terlanjut sudah buat swatches, makanya total swatches Lippielust hanya ada 12 shades ya. Mungkin dalam waktu dekat ini kita akan swatch warna-warna terbarunya. ?
✨

About the Product

Romand Juicy Lasting Tint didesain dengan tema fruity, lengkap dengan bahan baku yang juga menggunakan buah-buahan di dalamnya seperti Kiwi Extract, Papaya Extract, Grapefruit Extract, Coconut Extract, Mango Extract, dan Guava Extract.
| | |
| --- | --- |
| Nama Produk | ROMAND JUICY LASTING TINT |
| Diproduksi oleh | Cosmax Inc, Korea for iFamilySC Co, Ltd. |
| Berat Bersih | 5,5 gr |
| Harga | Harga Normal: 13,000 WON. Indonesia retailers: 90,000-150,000 IDR |
| Jumlah Warna | 16 warna (+ Autumn Fruit Series & Sparkling Juicy Collection) |
| Pembelian | Produk ini bisa dibeli di: SHOPEE, TOKOPEDIA, LAZADA |

✨

Ingredients & Packaging

Berbeda dari Glasting Water Tint dan Glasting Water Gloss yang menggunakan plastik mika tebal sebagai packaging luar produk, Juicy Lasting Tint menggunakan karton tebal sebagai packaging box. Setiap shade memiliki warna box yang berbeda,  sesuai dengan warna produk di dalamnya. Oh ya, box juga dilengkapi dengan icon buah-buahan yang jadi karakter dan nama shade di bagian atas tulisan 'JUICY LASTING TINT', tepat di bagian tengah box.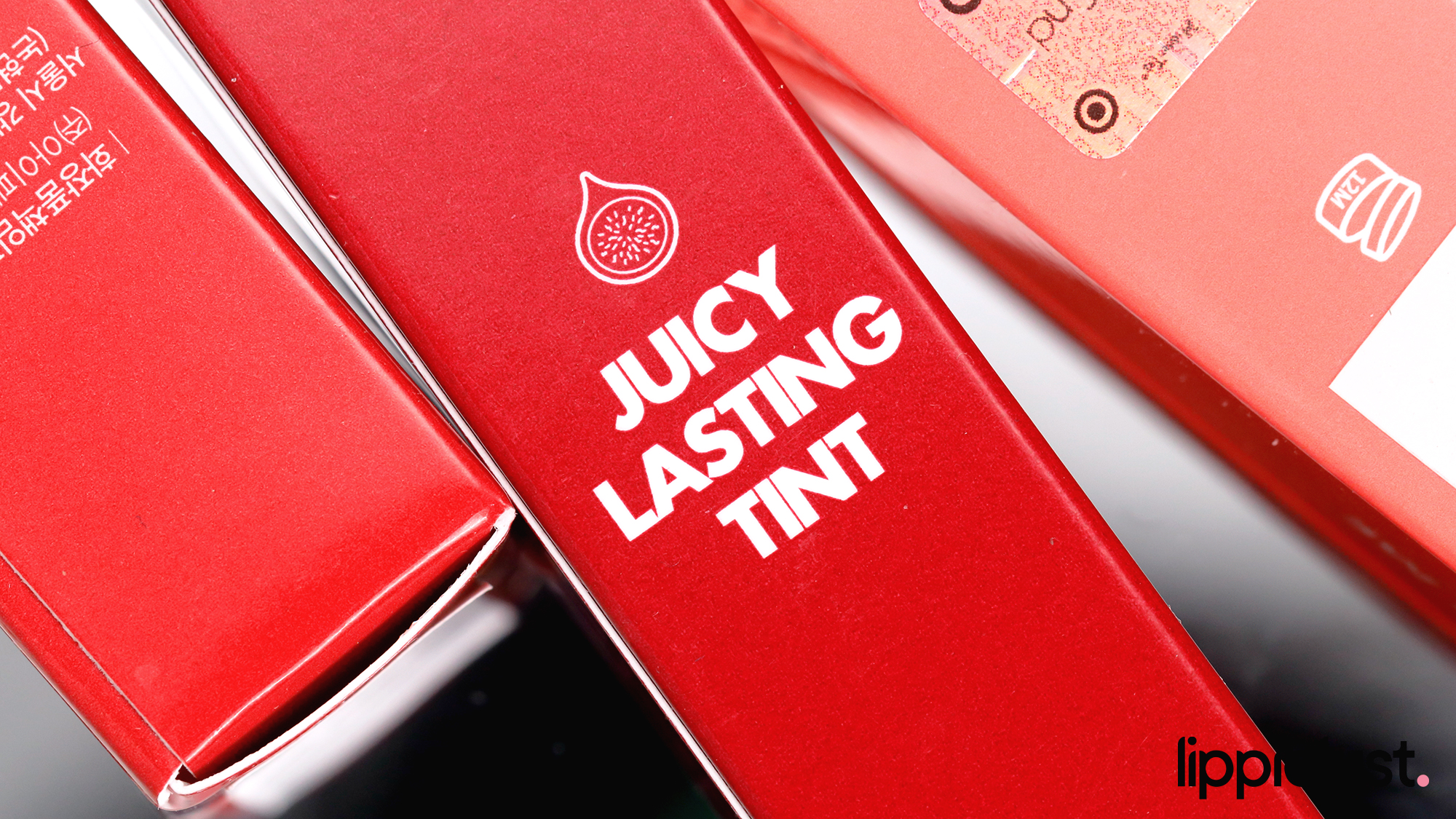 Untuk produk yang masuk secara resmi melalui Official Romand Indonesia, akan ada detail stiker tambahan berwarna putih yang berisi nama produk, berat bersih,daftar bahan baku, detail manufaktur, importir, nomor BPOM, dan juga QR Code.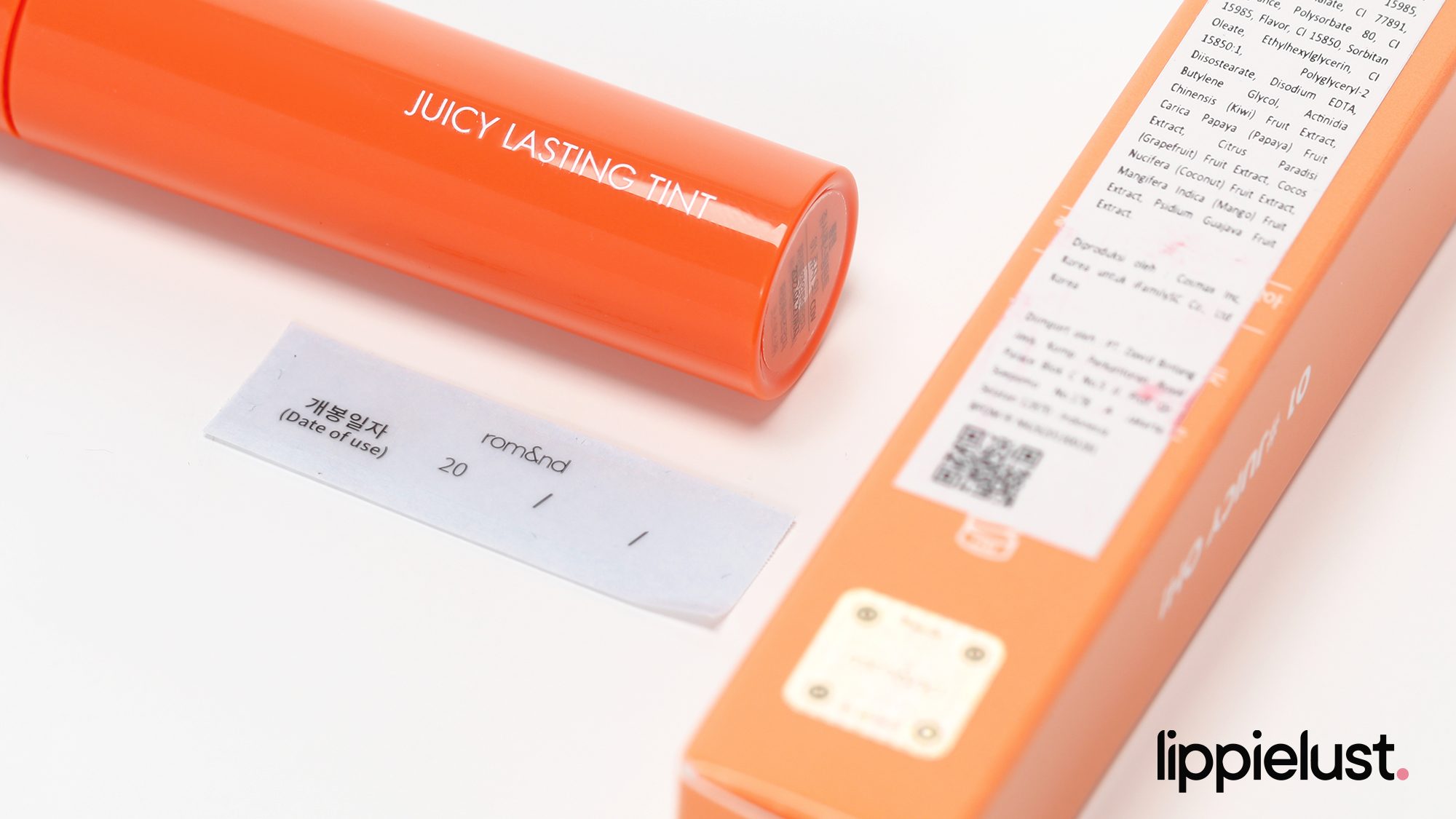 Sama seperti Glasting Water Tint dan Glasting Water Gloss, Juicy Lasting Tint juga dilengkapi dengan stiker yang bisa kamu tuliskan kapan pertama kali produk digunakan atau, aku pribadi sih lebih suka menuliskan tanggal kedaluwarsa yang memang tertulis di bagian bawah box sebagai caution kapan terakhir aku harus stop pakai produk ini. ?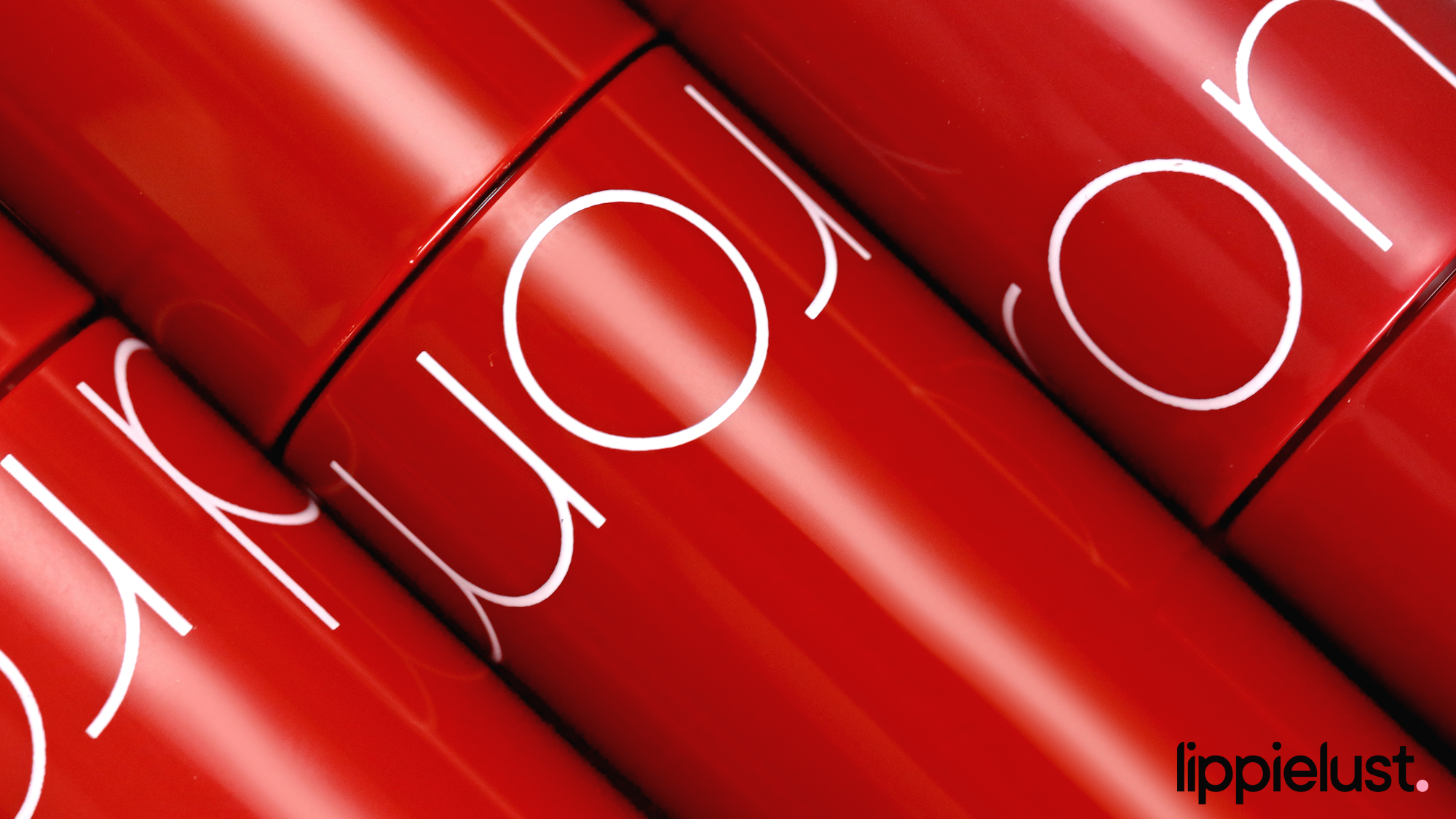 Romand Juicy Lasting Tint memiliki botol yang lebih pendek dan sedikit lebih gemuk dibandingkan Glasting Water Tint / Gloss. Maka dari itu, berat bersihnya pun lebih banyak: 5,5gr. Seperti biasa, ada detail logo "rom&nd" yang mengelilingi bagian tutup botol.
Aplikatornya, surprisingly, memiliki aplikator standar seperti kebanyakan liquid-based lipstick, yaitu aplikator berserabut berbentuk doe-foot yang miring di satu sisi.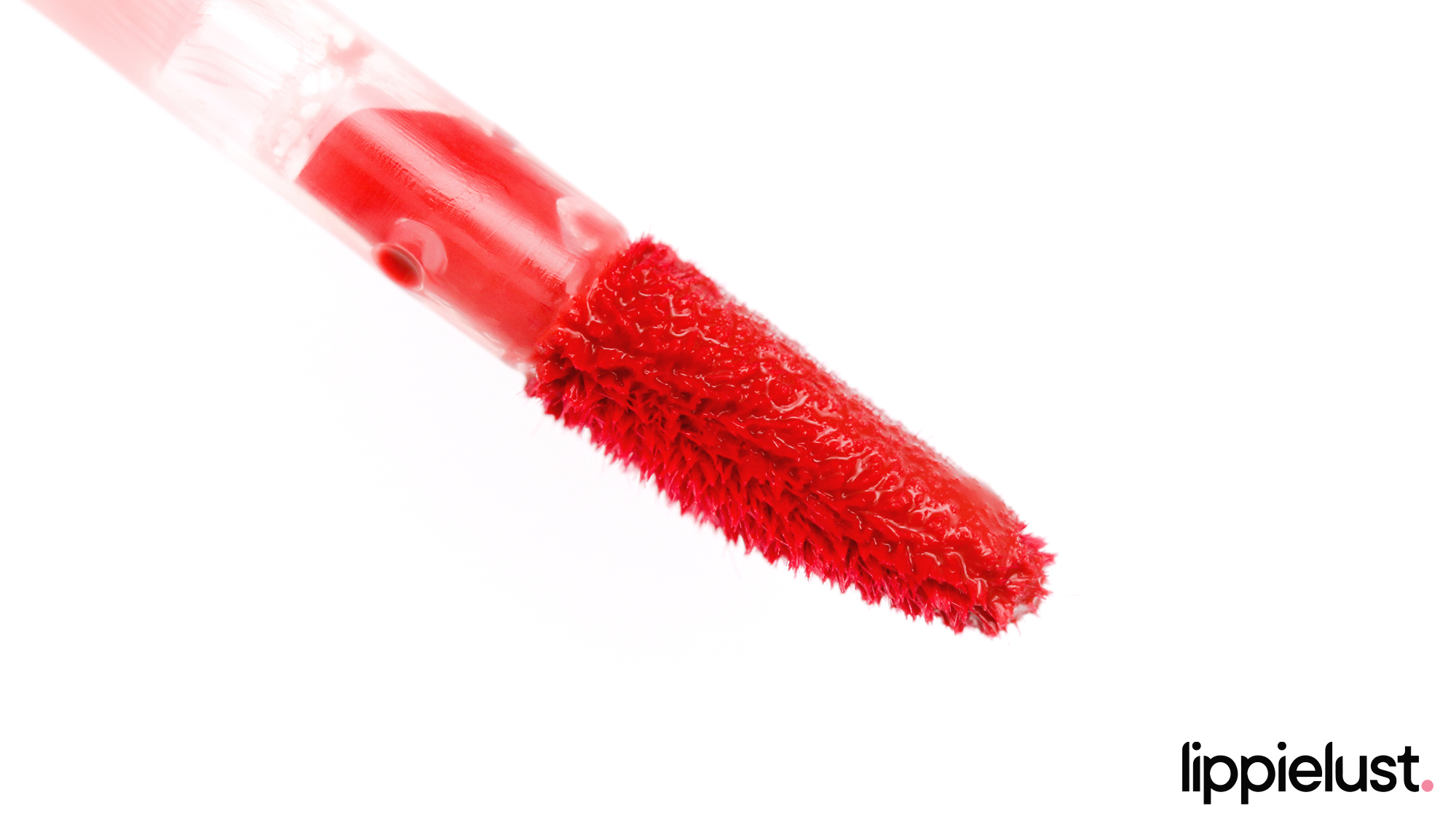 ✨ 

Formula, Texture, Finish

Romand Juicy Lasting Tint memiliki formula seperti gel, tidak seperti kebanyakan lip gloss biasa. Berbeda dari Glasting Water Tint, Juicy Lasting Tint terasa lebih thick dan agak lengket, tapi di sisi lain, produk ini memiliki pigmentasi warna yang lebih baik. Ada pengecualian: Warna nomor 01 Juicy Oh! dan 05 Peach Me memiliki pigmentasi yang kurang kuat, tapi menurutku karena warna aslinya benar-benar terang, warnanya bisa menyatu dengan warna kulit bibir sehingga hasilnya tidak akan opaque di bibir.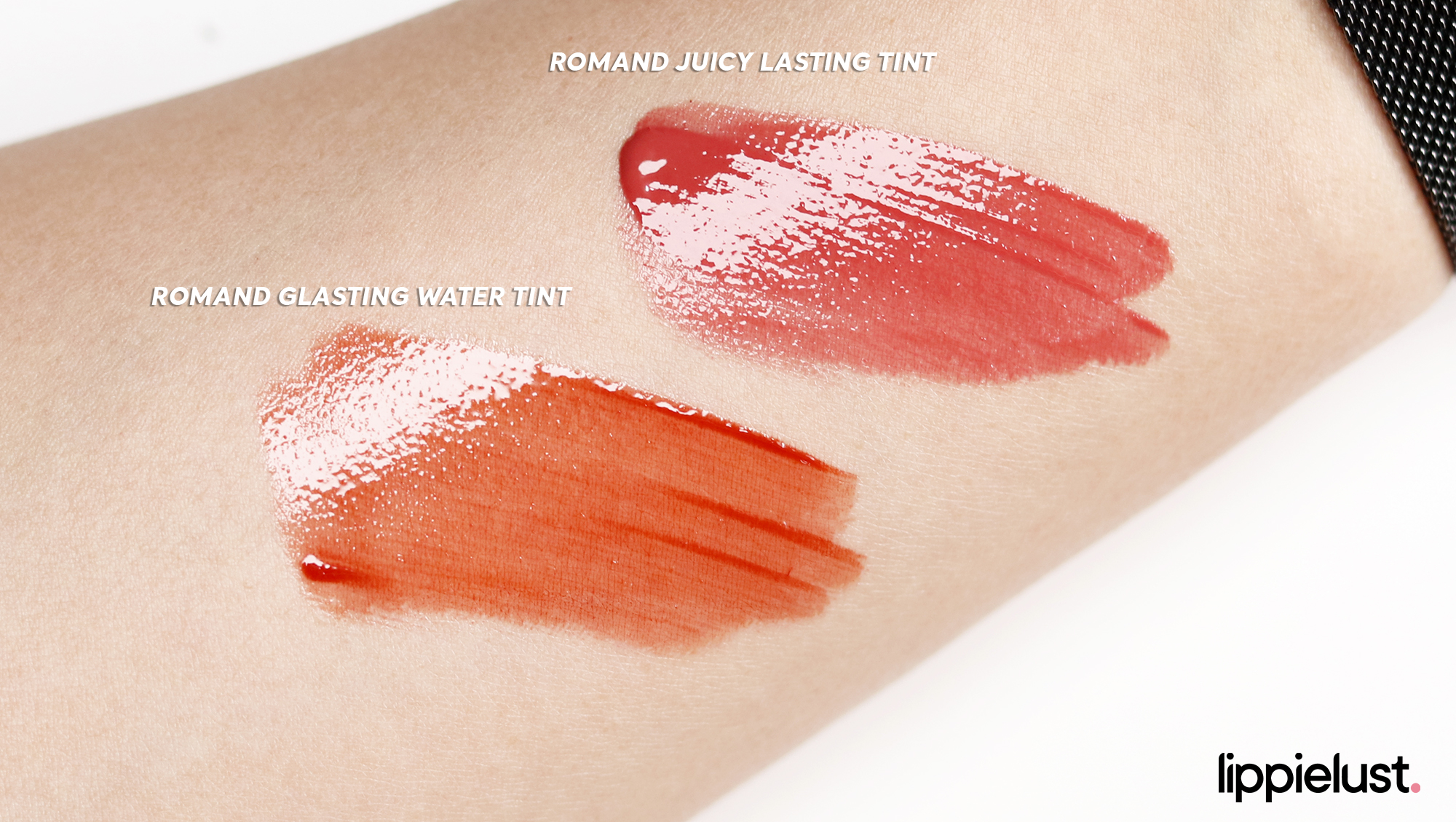 Ketika diratakan dengan menggunakan aplikator, warna Juicy Lasting Tint bisa merata dengan baik, baik warna dan lapisan glossy-nya akan terus menyatu. I mean, kalau kamu baca review-nya Glasting Water Tint, kamu akan tahu kalau produk ini punya teknologi dimana lapisan warna tint dan water film coat (yang nantinya akan berubah tampilan menjadi glass look) akan berpisah sesaat setelah produk settle di bibir.
Dari segi glossy-nya, Glasting Water Tint terlihat lebih glossy. Semakin banyak layer, maka tampilannya akan semakin terlihat seperti kaca. Walaupun sama-sama glossy, Juicy Lasting Tint terlihat seperti lip gloss biasa dengan tekstur lacquer yang mengaksentuasi garis-garis bibir. Semakin banyak layer, maka tampilannya akan semakin terlihat glossy, dengan warna yang akan semakin terlihat pigmented.
I also found that Glasting Water Tint meninggalkan stain yang lebih kuat dibandingkan Juicy Lasting Tint, dan lumayan tahan lama meskipun yang tersisa hanyalah stain, bukan lagi lapisan glossy-nya. Juicy Lasting Tint memang meninggalkan stain, tapi stain-nya terlihat sangat soft.
Dari segi wangi, Juicy Lasting Tint memiliki wangi buah yang sangat kuat, lebih kuat dari Glasting Water Tint. Menurutku wanginya terlalu kuat, sih. Aku pribadi lebih suka sama wangi Glasting Water Tint.
✨ 

Staying Power

Karena Juicy Lasting Tint memiliki pigmentasi yang lebih baik dari Glasting Water Tint, maka daya tahannya pun bisa dibilang lebih baik, terutama ketika teksturnya masih glossy. Jika lapisan glossy-nya sudah hilang dan tinggal stain-nya, maka menurutku Glasting Water Tint lebih baik. Lapisan gloss dalam Glasting Water Tint lama kelamaan akan hilang karena transfer, tanpa membawa warnanya karena warnanya akan menjadi stain yang bisa stay lama dan tinggal di bibir. Get what I mean?
✨ 

Shades
01 JUICY OH! (fresh orange shade)⁣
02 RUBY RED (scarlet red, inspired by grapefruit color)⁣
03 SUMMERSCENT (watermelon red)⁣
05 PEACH ME (soft peach)⁣
06 FIGFIG (fig – purple-pink)⁣
07 JUJUBE (jujube – muted red pink)⁣
08 APPLE BROWN (brick brown, inspired by cinnamon & apple color)⁣
09 LITCHI CORAL (pinkish-coral)⁣
10 NUDY PEANUT (nude brown-peach)⁣
11 PINK PUMPKIN (orange-ish brown pink)⁣
12 CHERRY BOMB (blood cherry red)⁣
13 EAT DOTORI (acorn – brick reddish brown)⁣
My favorite colors:⁣
❤️ 05 PEACH ME ❤️ 06 FIGFIG ❤️ 07 JUJUBE ❤️ 09 LITCHI CORAL ❤️ 11 PINK PUMPKIN ❤️ 13 EAT DOTORI⁣
✨ 

Swatches