Setelah di awal tahun ini meluncurkan cushion, sebagai pelengkap look kini Luxcrime merilis Ultra Light Lip Stain, a lip stain that truly stains. Luxcrime Ultra Light Lip Stain dengan mudah jadi lip stain favoritku. Penasaran seperti apa formulanya?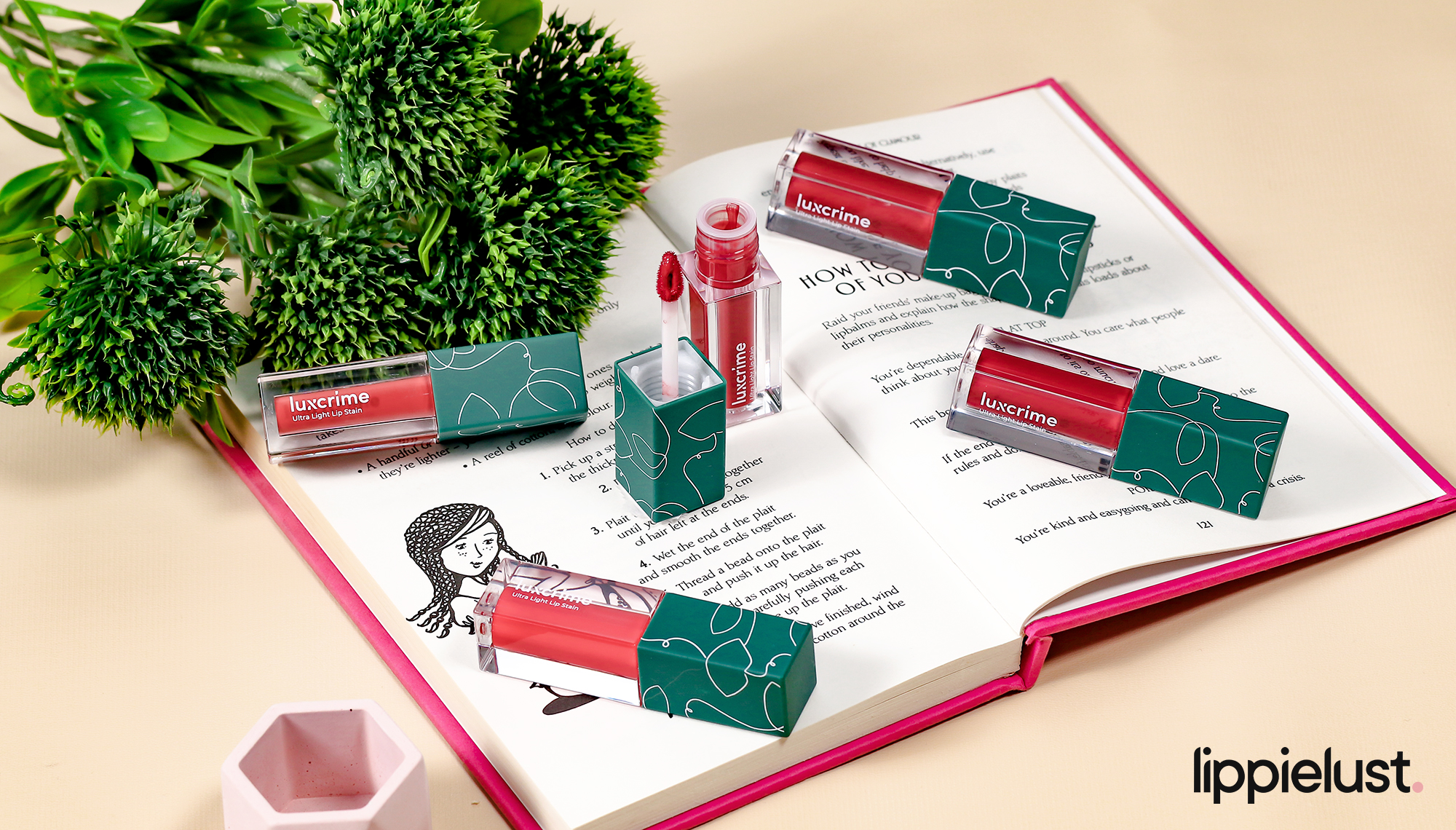 ✨ Claim
*as seen on the box
A revolutionary Lip Stain with high-impact color and a lightweight, naked-lip feel formula. coat your lips with Luxcrime Ultra Light Lip Stain that contains Vitamin E and Squalene, which nourishes your lips and leaves them looking supple and completely beautiful.
Product Name

Luxcrime Ultra Light Lip Stain

Produced By

Shanghai Ayara Cosmetics Co. Ltd China for Luxcrime

Weight & Price

3.5 ml

|

Rp 109.000

Shades
5 shades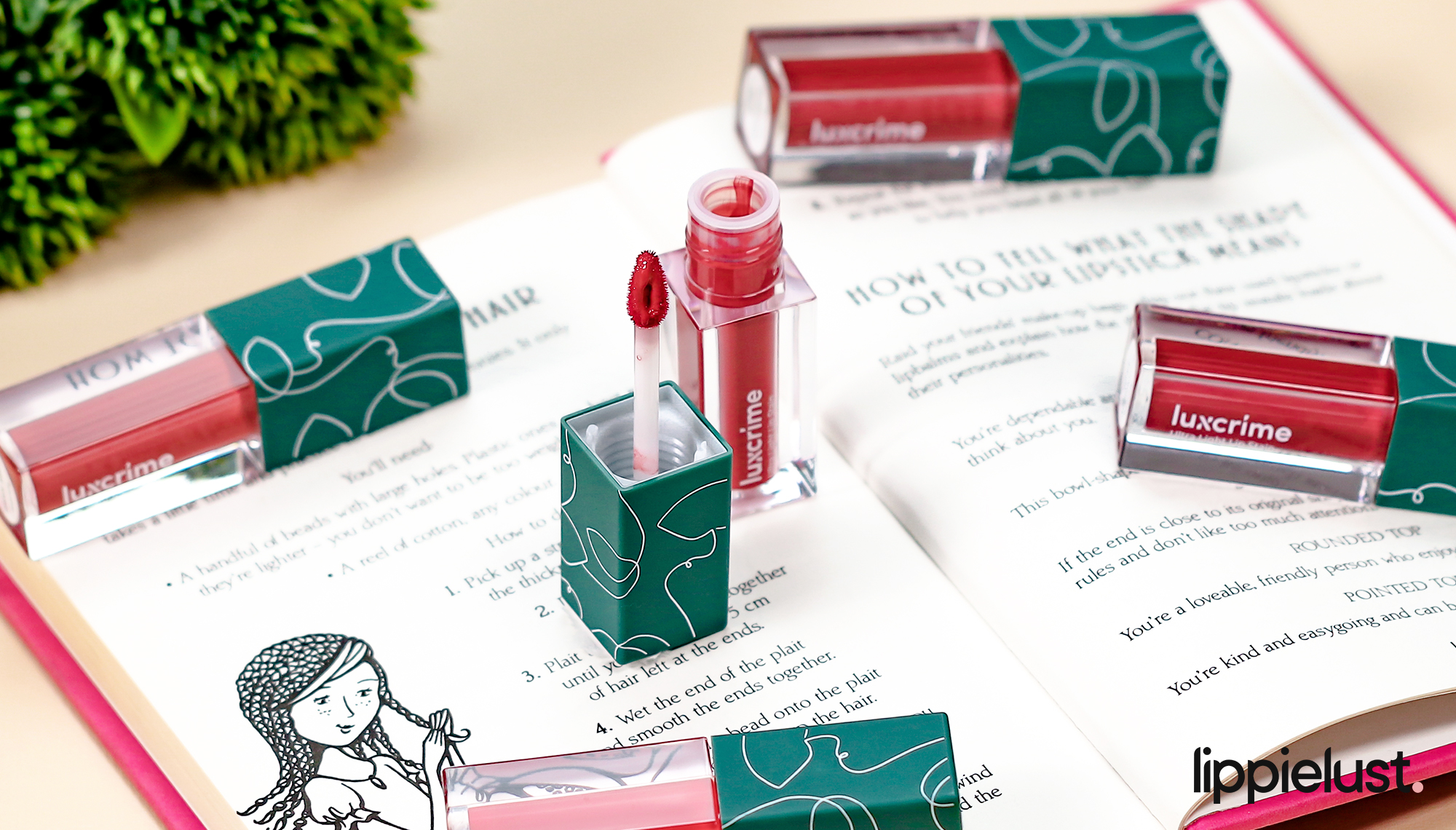 | | | |
| --- | --- | --- |
| | | |
| SHOPEE | TOKOPEDIA | OFFLINE (ASHTA DISTRICT 8) |
✨ Packaging
Memiliki box karton berwarna emerald green, kita bisa membaca klaim dari lip stain ini di bagian sisi box disertai dengan ingredients list dan BPOM barcode. Sama seperti boxnya, tutup botol lip stain ini memiliki warna yang sama dihiasi dengan doodle khas kepunyaan Luxcrime. Botolnya sendiri berwarna bening di bagian bawahnya, sehingga memudahkan kita untuk melihat warna dan isi dari produk ini. Aplikatornya berbentuk teardrop miring yang cukup fleksibel dengan bulu halus dan reservoir di bagian tengahnya.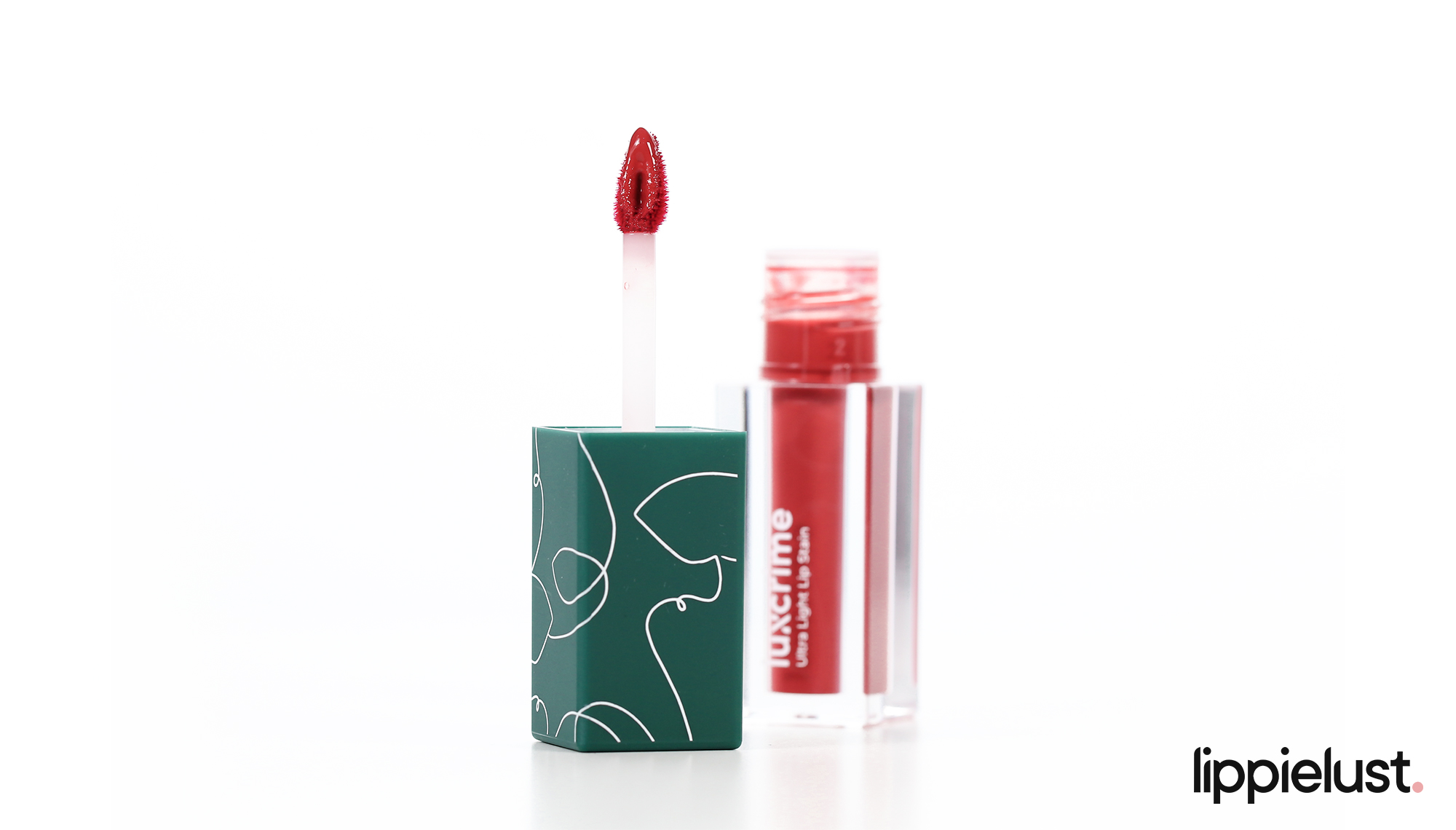 [columns size="1/2″ last="false"]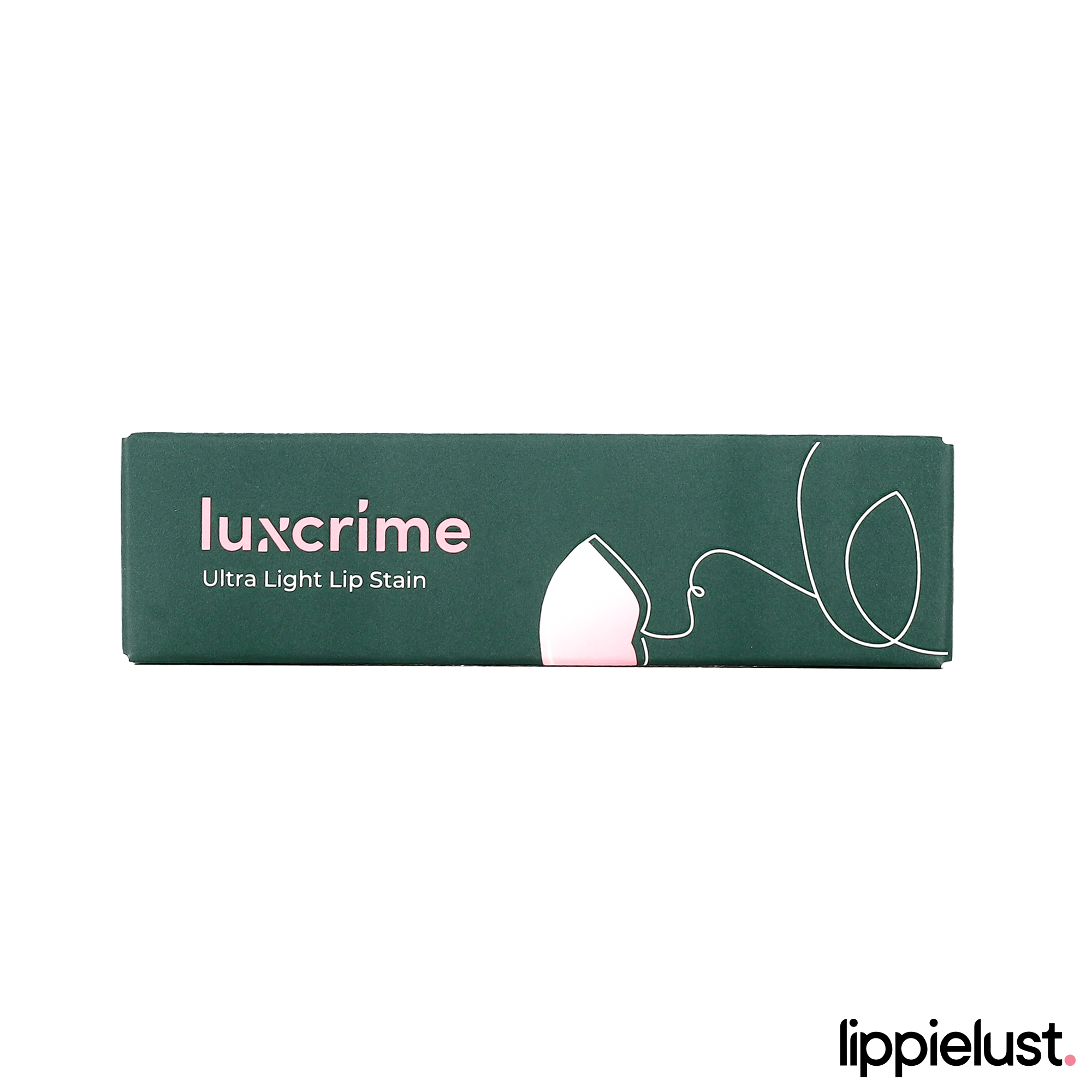 [/columns][columns size="1/2″ last="true"]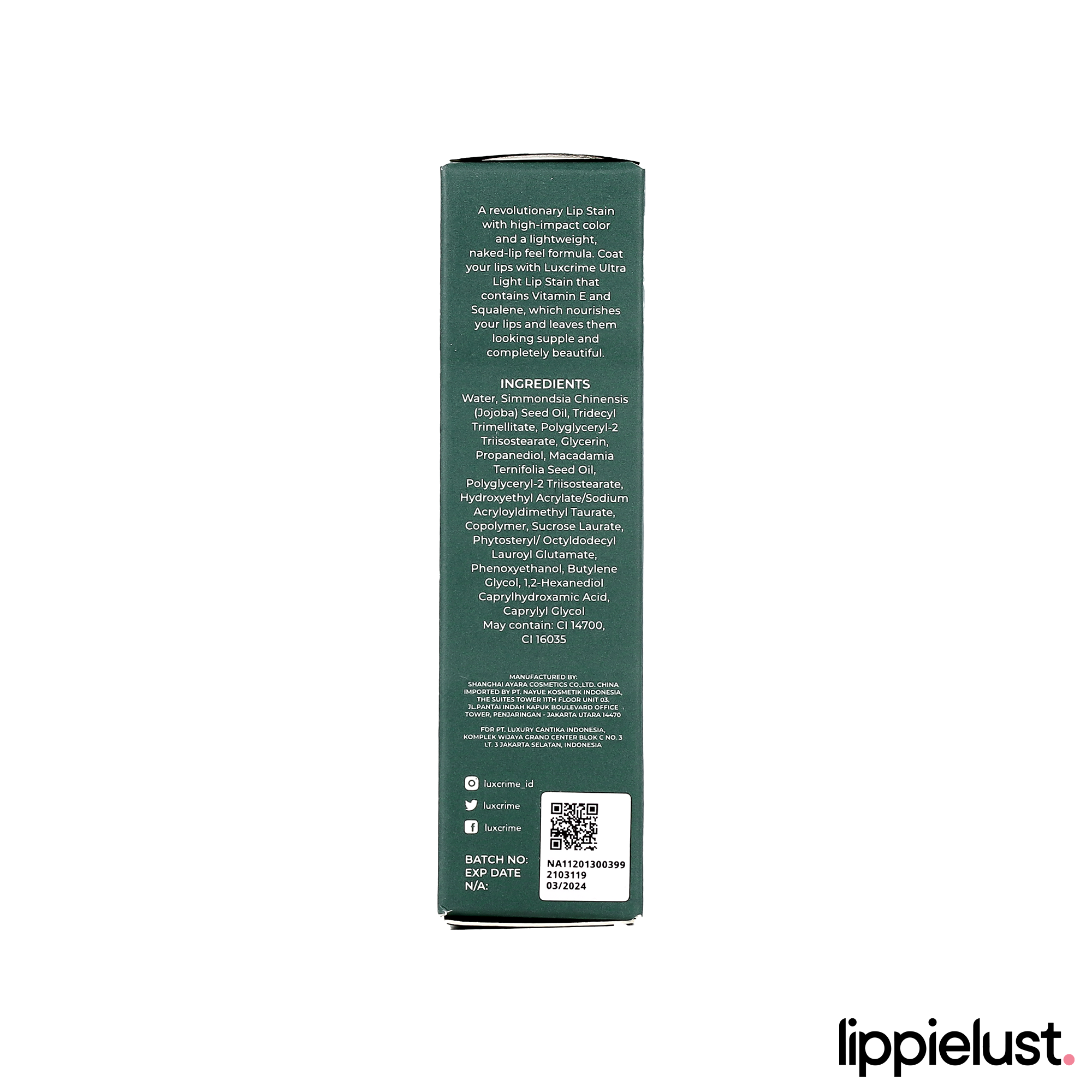 [/columns]
✨ The Review
So, let's start with the formula. Luxcrime Ultra Light Lip Stain memiliki formula hibrid antara gel dan cream, menjadikan teksturnya tidak terlalu terasa runny alias cair, dan tidak terlalu kental. Komposisi utamanya adalah the good ol' water a.k.a air, sehingga membuat teksturnya terasa sangat ringan.
Yang aku rasakan dari lip stain ini adalah pigmentasinya yang sangat baik tanpa memberikan efek kering pada bibir. One thing I noticed, warna ketika pertama kali diaplikasikan akan menjadi lebih muted setelah 1-2 menit di bibir so that's why I recommend this product for all skintones, karena enggak ada warna yang hasilnya benar-benar terang. In the end, inilah proses dimana stain akan menempel di kulit bibir jadi akupun enggak terlalu mempermasalahkan soal oksidasi warna ini.
Untuk kamu yang enggak terlalu suka lip stain dengan warna-warna bold, ada dua warna yang menurutku bisa jadi pilihan: Apricot dan Rose Sand. Meskipun ketika masih bertekstur glossy warnanya akan menggelap, tetapi ketika sudah staining warna stain-nya akan lebih cerah dibandingkan tiga warna lainnya.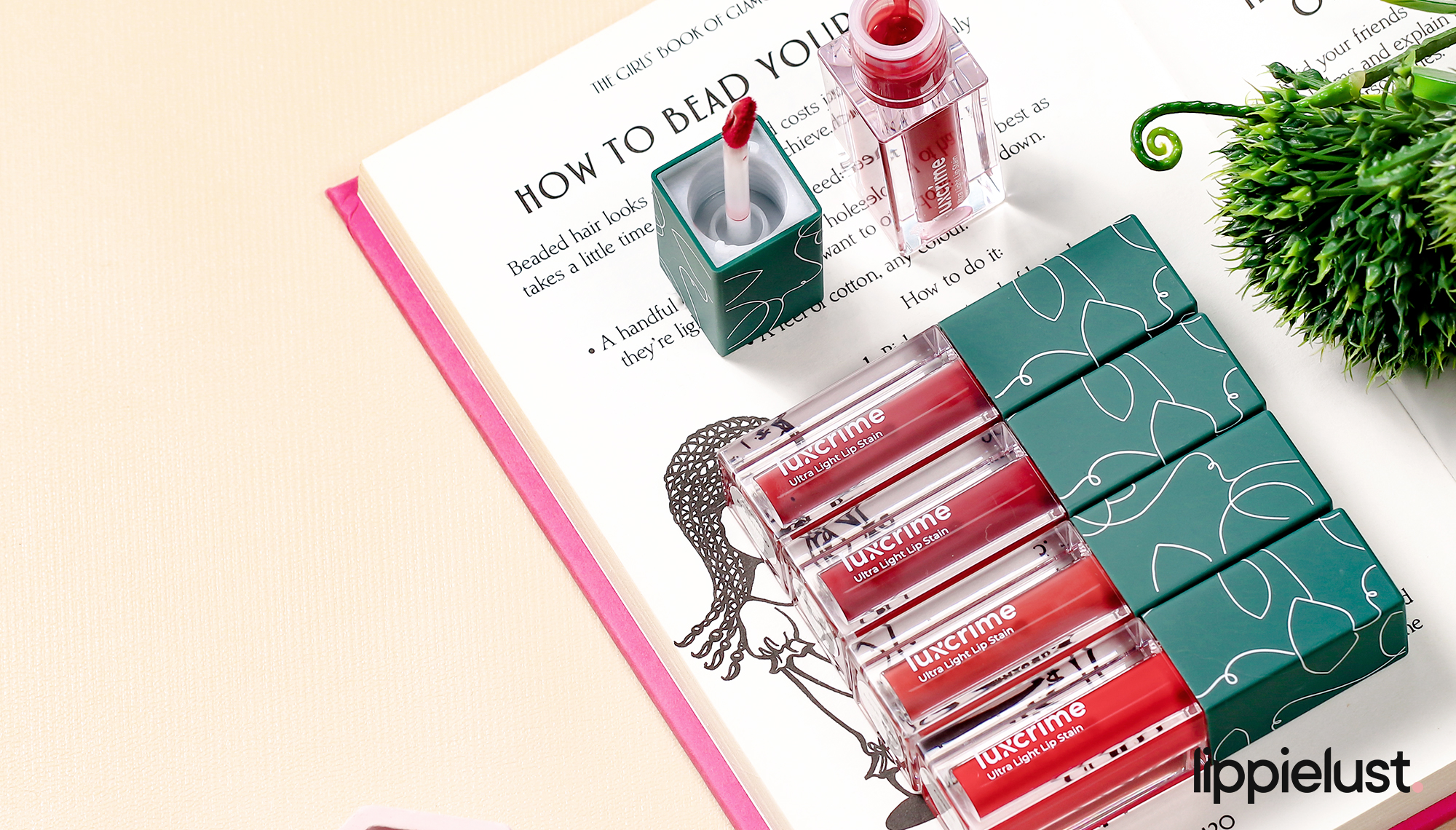 Produk ini memiliki tampilan natural glossy dan akan bertambah intensitas glossy-nya jika kamu mengaplikasikannya lebih dari 2 layer. Spesialnya, ia akan menjadi transferproof setelah beberapa lama stay di bibir. Disinilah stain-nya muncul. Layer-nya akan menjadi terasa tipis dan warnanya akan lebih menyatu dengan baik dengan warna asli bibir sehingga hasil akhirnya akan terlihat lebih natural.
Jika kamu coba bersihkan lapisan glossy-nya di bibir, maka under layer stain-nya akan muncul. Stain inilah yang bisa tahan lebih lama bahkan setelah kamu makan. Tentu aja intensitas stain-nya tergantung warna yang kamu pilih, dan setebal apa layer-nya. Semakin kuat pigmen warnanya, makan akan semakin kuat pula stain-nya.
Selain terdaftar di BPOM, produk ini juga enggak memiliki kandungan alkohol dan terdaftar juga di Halal MUI.
✨ Shades & Recommendation
Luxcrime Ultra Light Lip Stain tersedia dalam 5 shades:
Apricot: peachy brown with warm undertones
Flamingo: muted red with warm undertones
Rose Sand: rosy brown with warm undertones
Glasstonberry: deep red-berry with cool undertones – untuk yang suka sama strong-stained lips, ini warna yang paling aku rekomendasikan untuk kamu
Amber: red-coral with cool undertones
[columns size="1/2″ last="false"]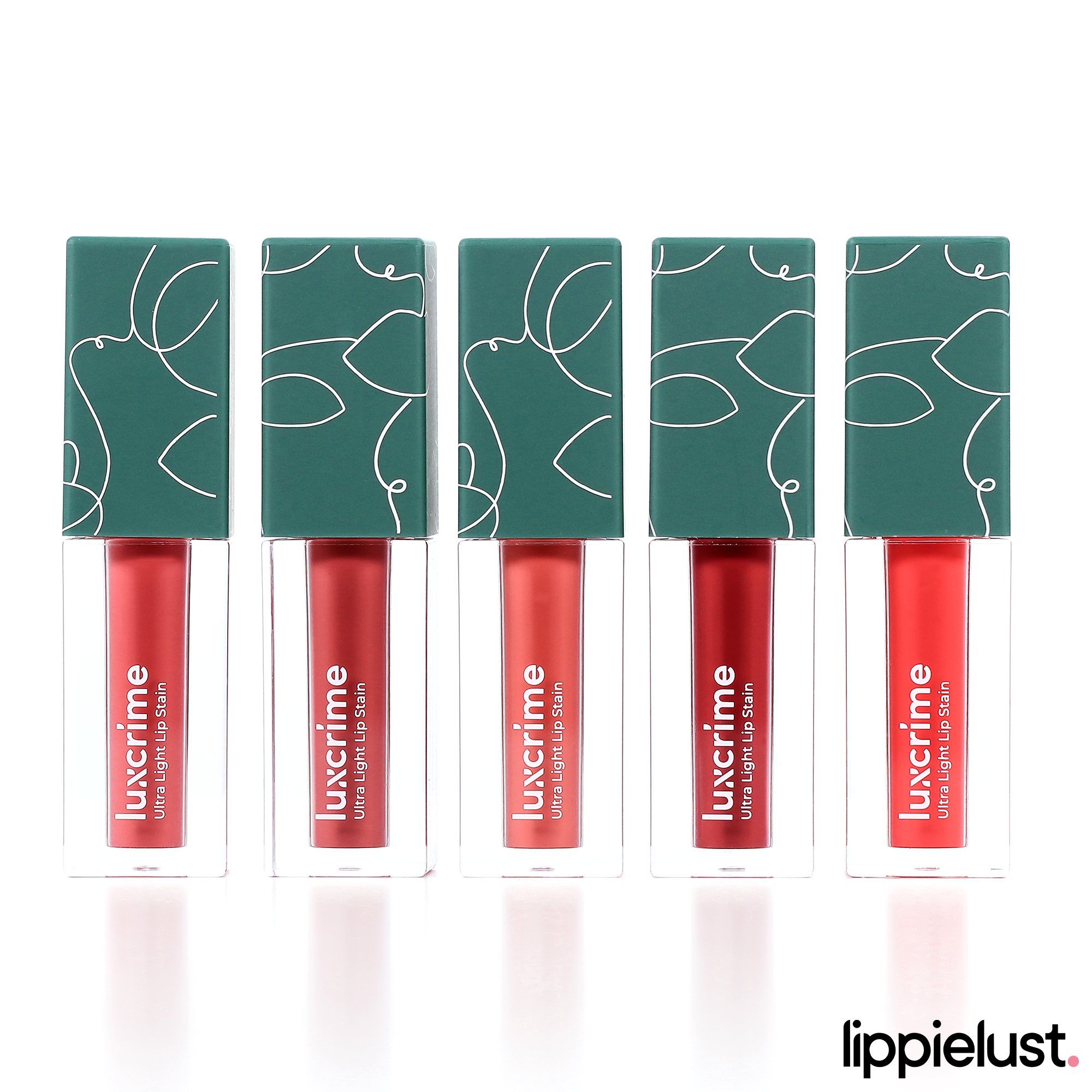 [/columns][columns size="1/2″ last="true"]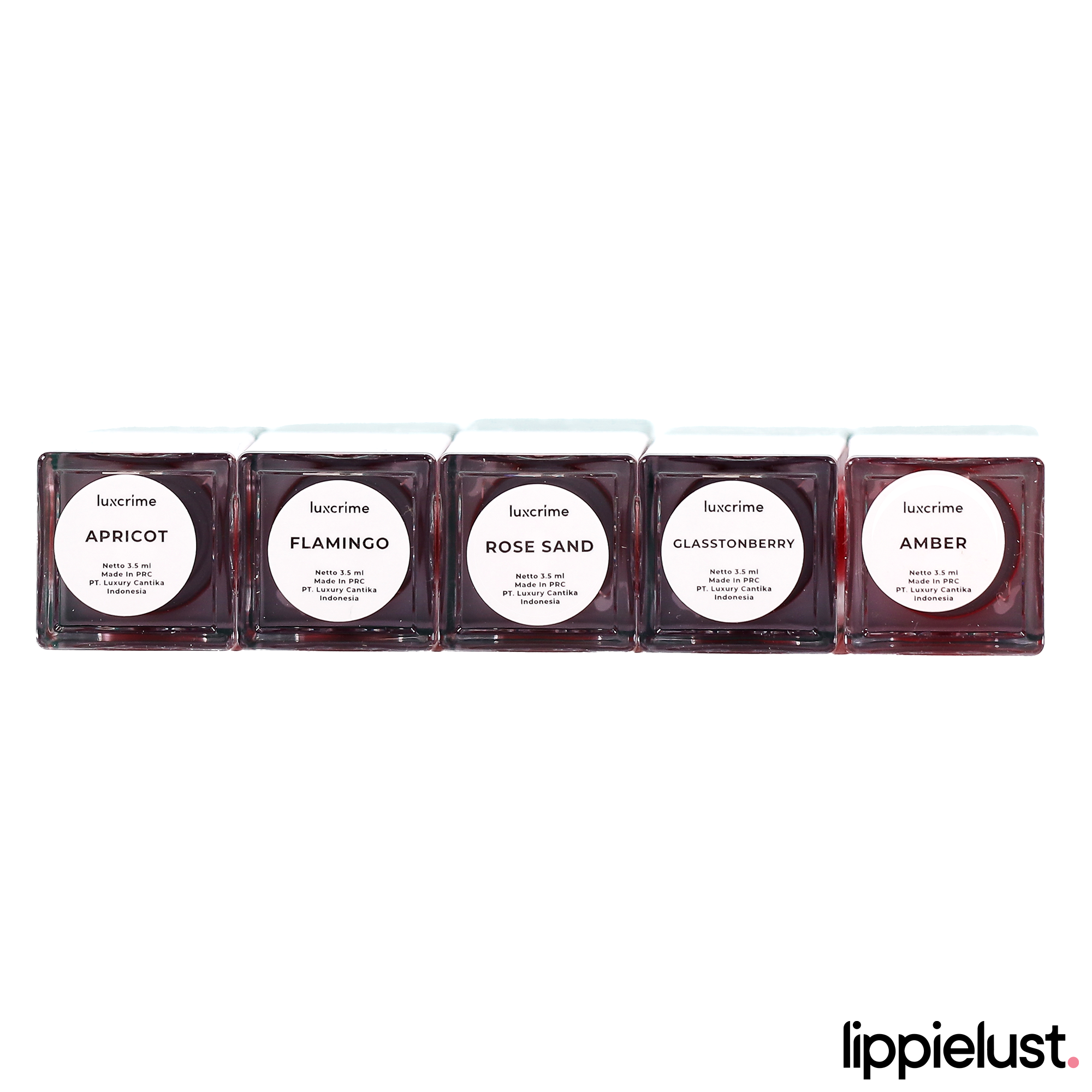 [/columns]
Recommended Colors for Stain Lovers:
Seperti yang aku bilang sebelumnya, intensitas stain ditentukan oleh intensitas pigmen warnanya. Meskipun semua warnanya akan menjadi lebih gelap dibandingkan warna ketika pertama kali diaplikasikan, aku rasa hasil stain setelah top layer-nya menghilang atau ketika produk dihapus akan berbeda untuk setiap warnanya. Rekomendasi lip stain setelah glossy top layer-nya menghilang:
For Strong-Stained Lips:
Glasstonberry, Flamingo, and Amber
For Natural-Stained Lips:
My Favorite Colors:
Apricot, Rose Sand, and Flamingo.
Meskipun bisa-bisa aja, aku tidak merekomendasikan lip stain untuk dijadikan ombré dengan kombinasi jenis lip product lainnya karena terasa enggak ada fungsinya, kecuali jika kamu hanya ingin mengejar stain sebagai topper di atas base warna lain dan tidak mengejar stain di atas bare lips. In the end of the day, lip stain akan lebih menunjukkan performanya jika diaplikasikan di atas bare lips.
✨ Ingredients Breakdown
✨ Swatches
Jika kamu penasaran sama produk ini ketika awal aplikasi serta warnanya ketika sudah staining di bibir, foto-foto Before-After swatches ada di Instagram. Cek di bawah ini:
[penci_review]