Hi Lippielusters!
We're back with another review. Kali ini ada Wardah Beauty yang merilis produk kolaborasi bareng Chatime, yaitu Wardah Lip Balm Picnic Edition! Well, sebenarnya Wardah Everyday Fruity Sheer Lip Balm bukanlah produk baru. Produk ini udah dirilis sekitar tahun 2018 (cmiiw) dengan pilihan warna yang sama (strawberry dan grape).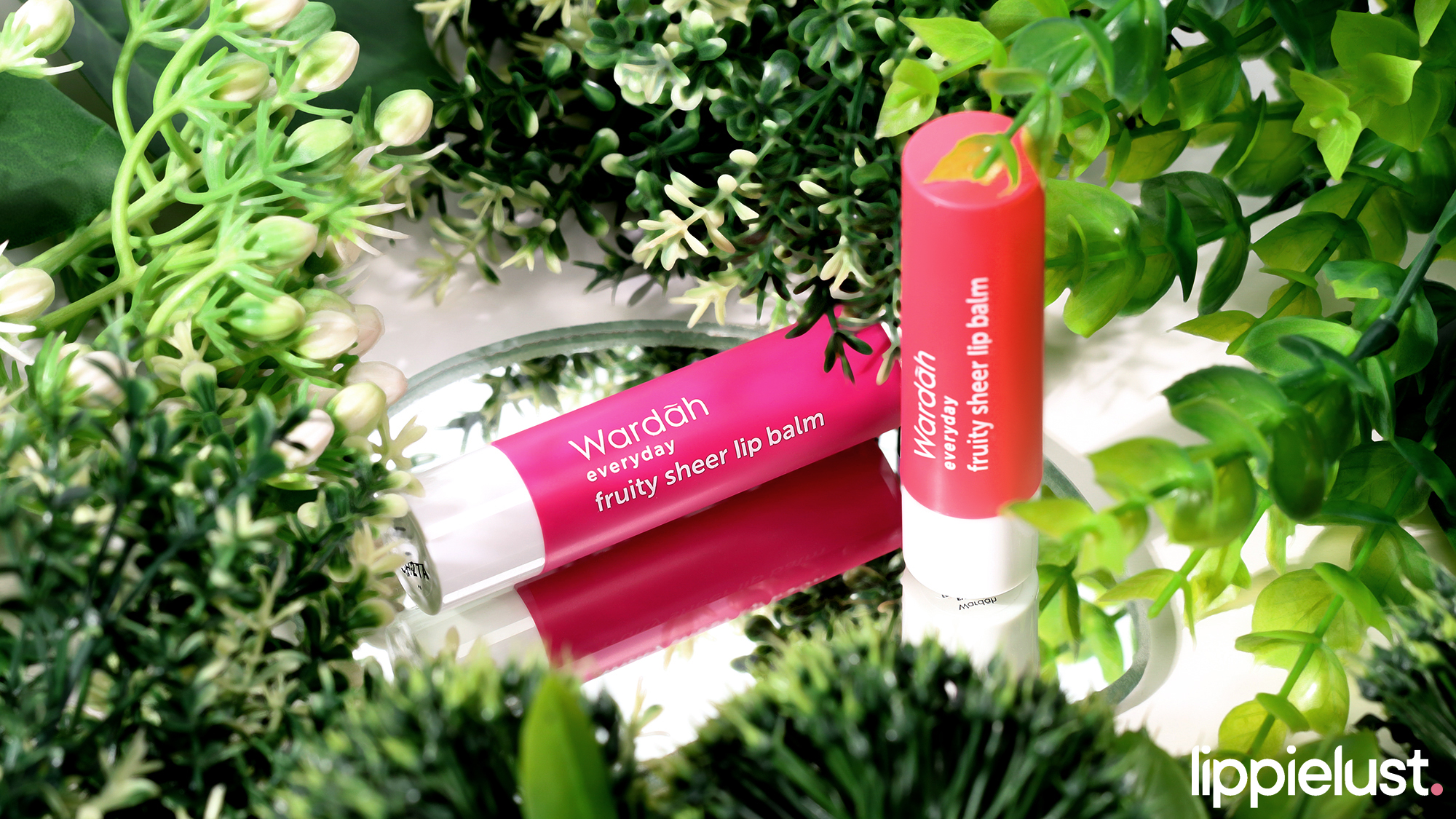 ✨ About the Product
Lip balm aroma buah dengan keunikan warna yang dapat berubah dan berbeda di setiap bibir dan kulit, membuat bibirmu tampak sehat cantik natural.
| | |
| --- | --- |
| Product Name | Wardah Everyday Fruity Sheer Lip Balm X Chatime "Picnic Edition" |
| Produced By | PT. Paragon Technology and Innovation |
| Distributed By | Wardah Beauty |
| Price / Net. Weight | Rp. 25,500 / 4gr atau Rp. 40,000-50,000 untuk Pop Your Picnic Package + Voucher Chatime! |
✨ Packaging & Design
Wardah Everyday Fruity Sheer Lip Balm memiliki packaging orisinil seperti gambar di bawah. Warnanya dibedakan sesuai dengan variannya, lengkap dengan gambar buah yang juga disesuaikan dengan variannya.  A bit outdated, menurutku.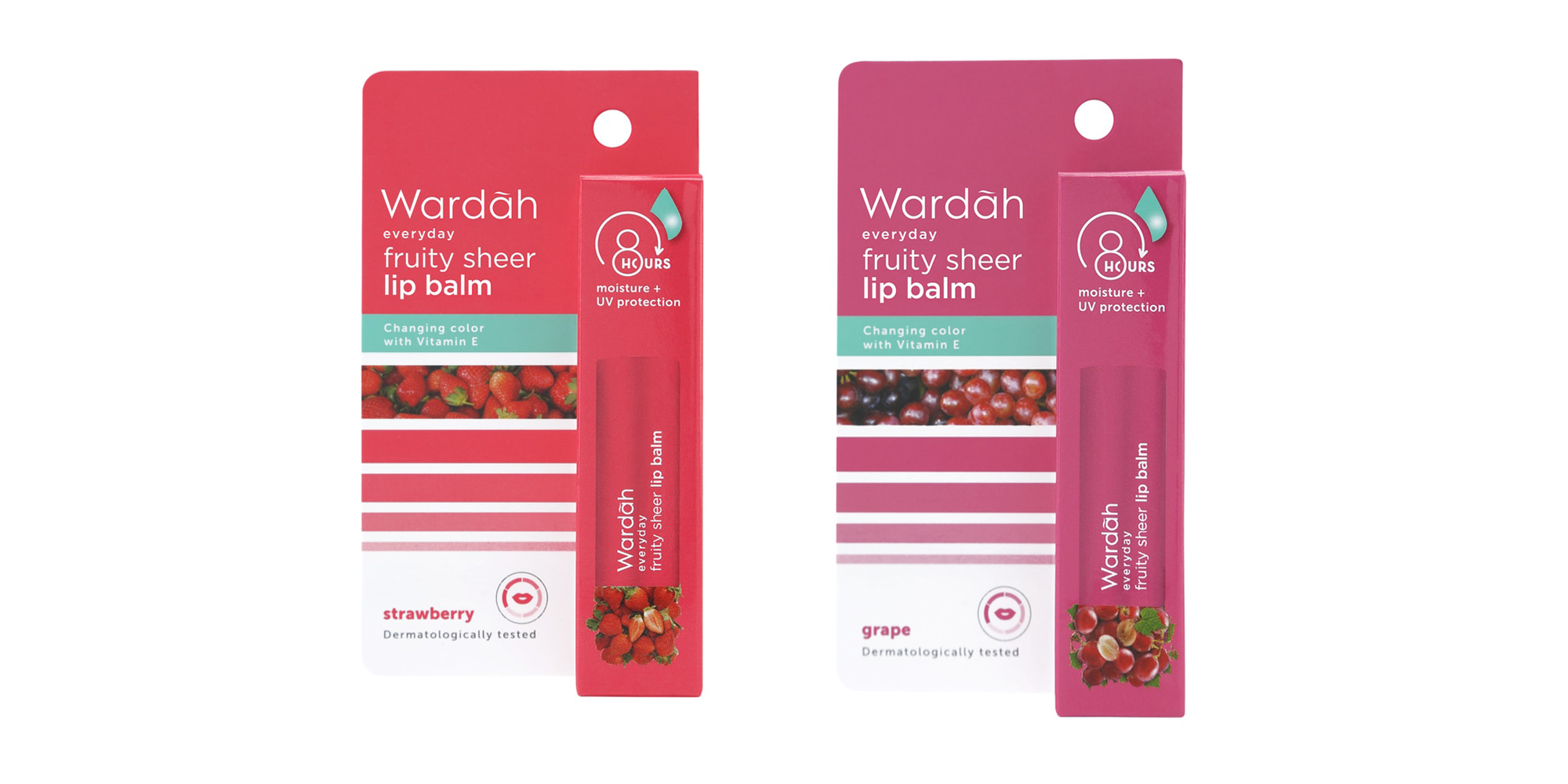 Nah melalui Wardah Everyday Fruity Sheer Lip Balm "Picnic Edition", Wardah memoles box-nya jadi lebih playful dan dalam bahasa sederhananya, lebih baik dari versi orisinilnya. Box-nya memiliki ilustrasi buah-buahan dengan grafis lainnya yang cute! Sepertinya box ini menggantikan secara resmi box sebelumnya.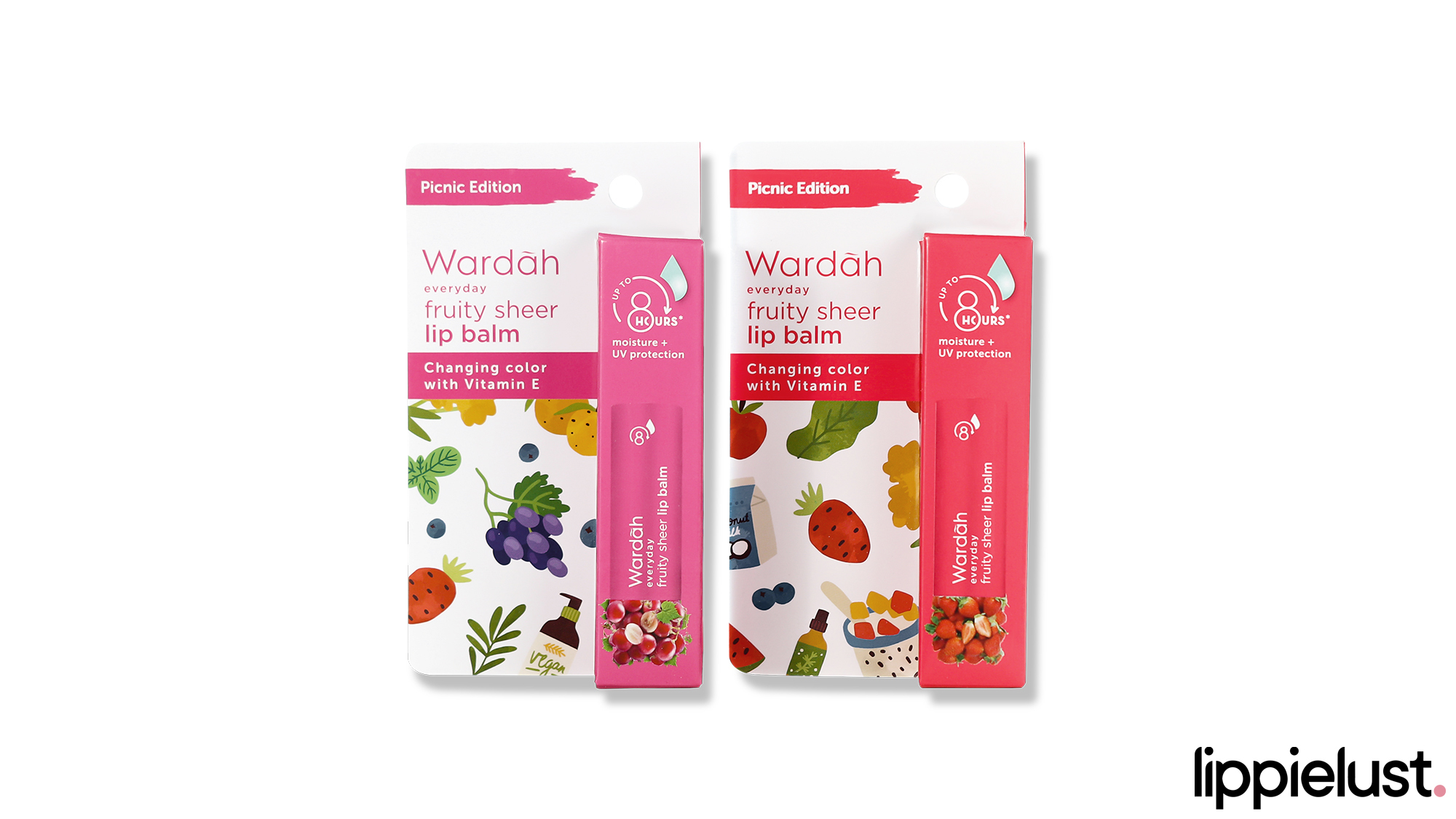 Di bagian belakang packaging terdapat semua informasi yang kamu butuhkan, termasuk kode produksi dan juga tanggal kedaluwarsa. Karena Wardah Everyday Fruity Sheer Lip Balm Picnic Edition ini termasuk baru, produk yang aku punya akan kedaluwarsa dalam waktu 3 tahun dari hari ini.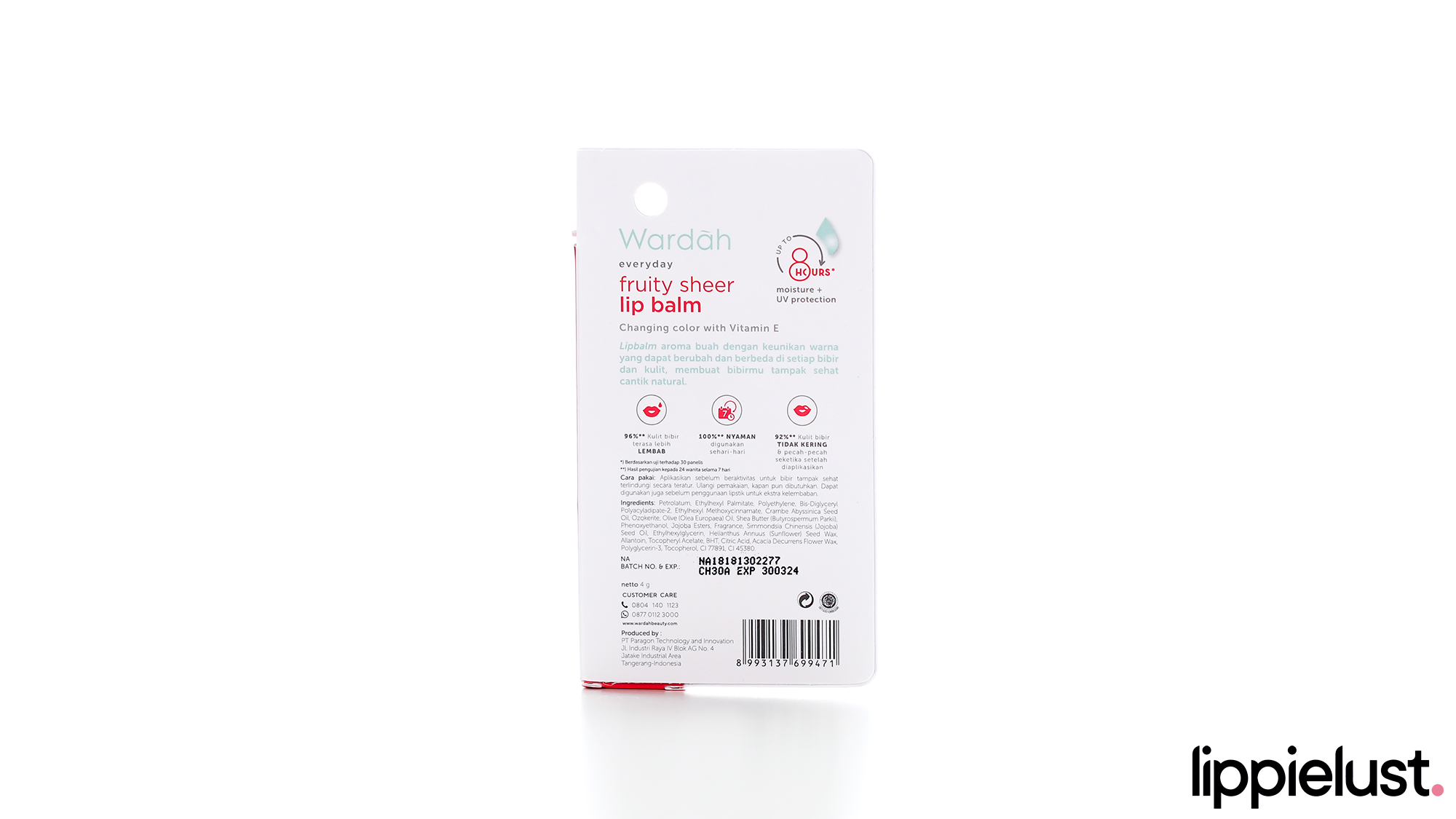 Nah kalau produknya sendiri sepertinya tidak ada perubahan sama sekali, desainnya masih sama seperti original tube-nya.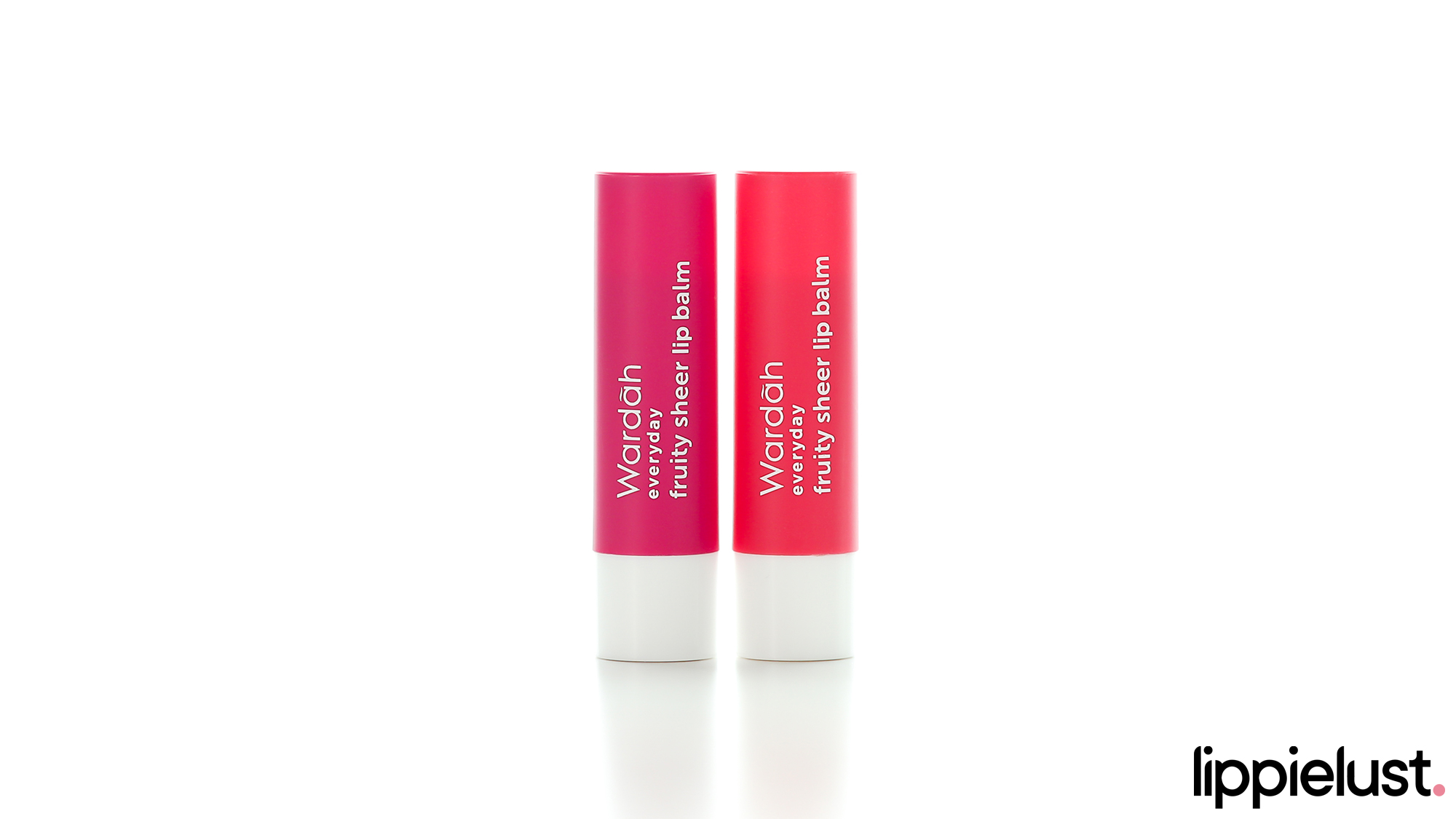 Yang belum pernah cobain produk ini, kamu perlu tahu kalau produknya berwarna putih susu yang akan berubah warnanya jika sudah diaplikasikan di bibir.  Makanya produk ini punya keterangan "changing color with Vitamin E". Antara varian Grape dan Strawberry, aku melihat varian Strawberry memiliki warna kuning gading, bukan putih susu. Hal ini termasuk normal karena perbedaan pigmen warna di dalam kedua varian ini berbeda.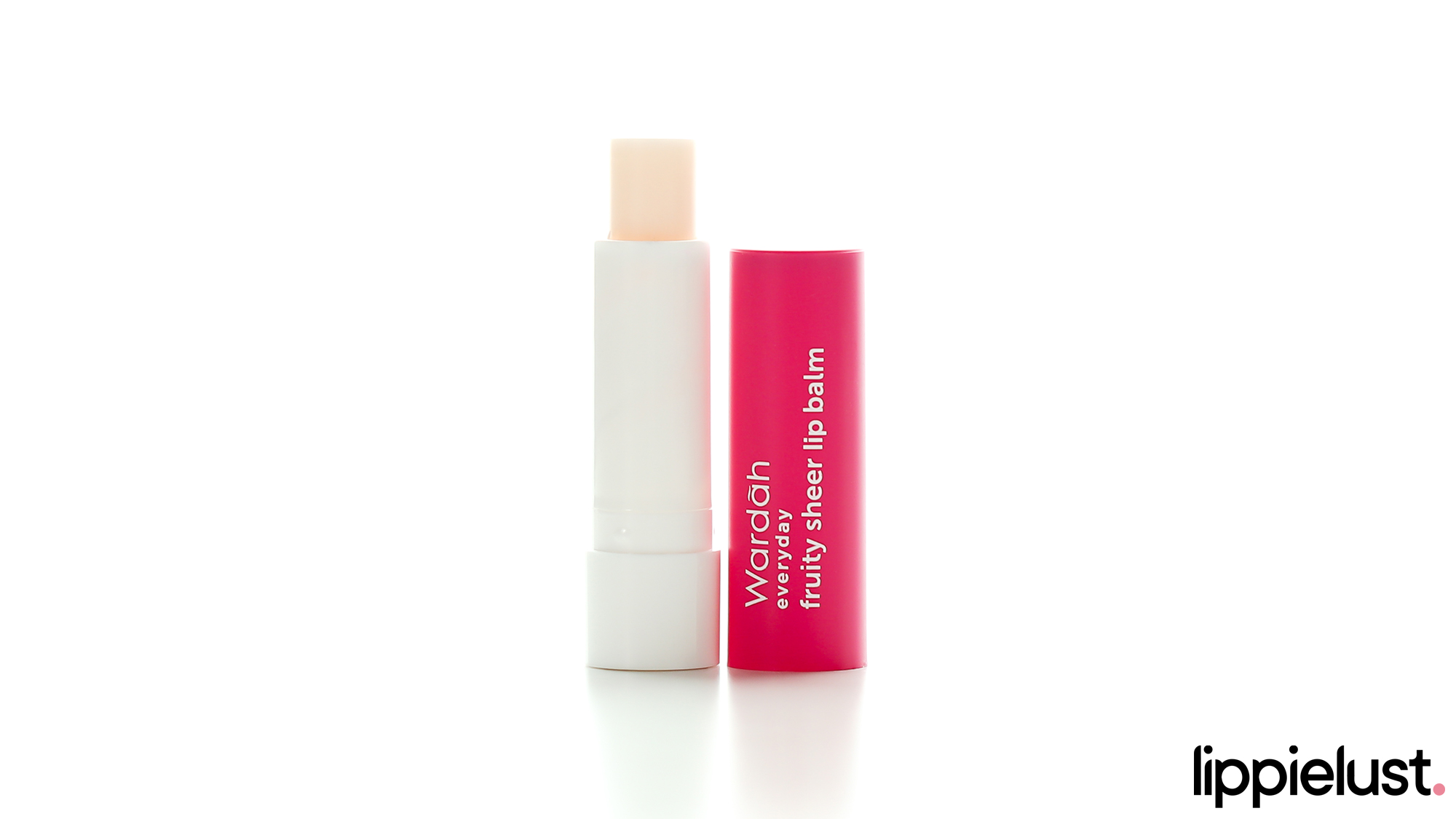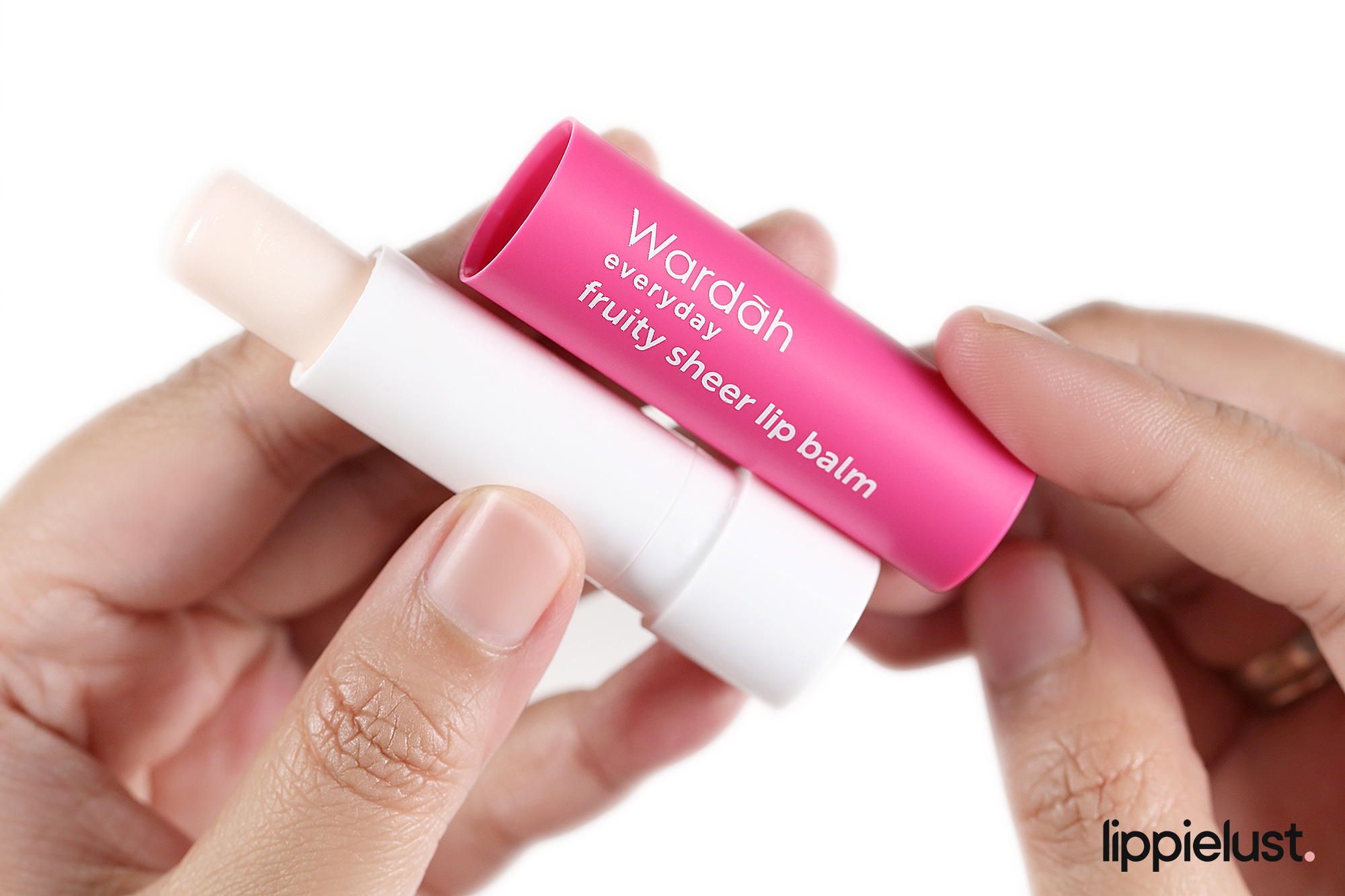 ✨ The Review
Honestly this is the first time I tried Wardah Everyday Fruity Sheer Lip Balm. Dari namanya kita akan langsung tahu kalau ini adalah tinted lip balm yang enggak cuma memberikan moisture tapi juga memiliki tint warna yang sheer / samar. Setelah mencobanya, ternyata produk ini staining juga.
Yang aku rasakan ketika swatch produknya pertama kali, walaupun sifatnya sheer, lip balm ini buildable sehingga warnanya bisa lebih kuat jika diaplikasikan berulang kali di bibir. Terlebih karena sifatnya yang staining yang menurutku cukup kuat, warna stain-nya juga bisa tahan lama walaupun lapisan balm-nya sudah hilang. Setelah lapisan balm-nya hilang, bibir tetap terasa kenyal dan lembut, plus warna stain-nya juga terlihat lebih natural seperti warna bibir asli.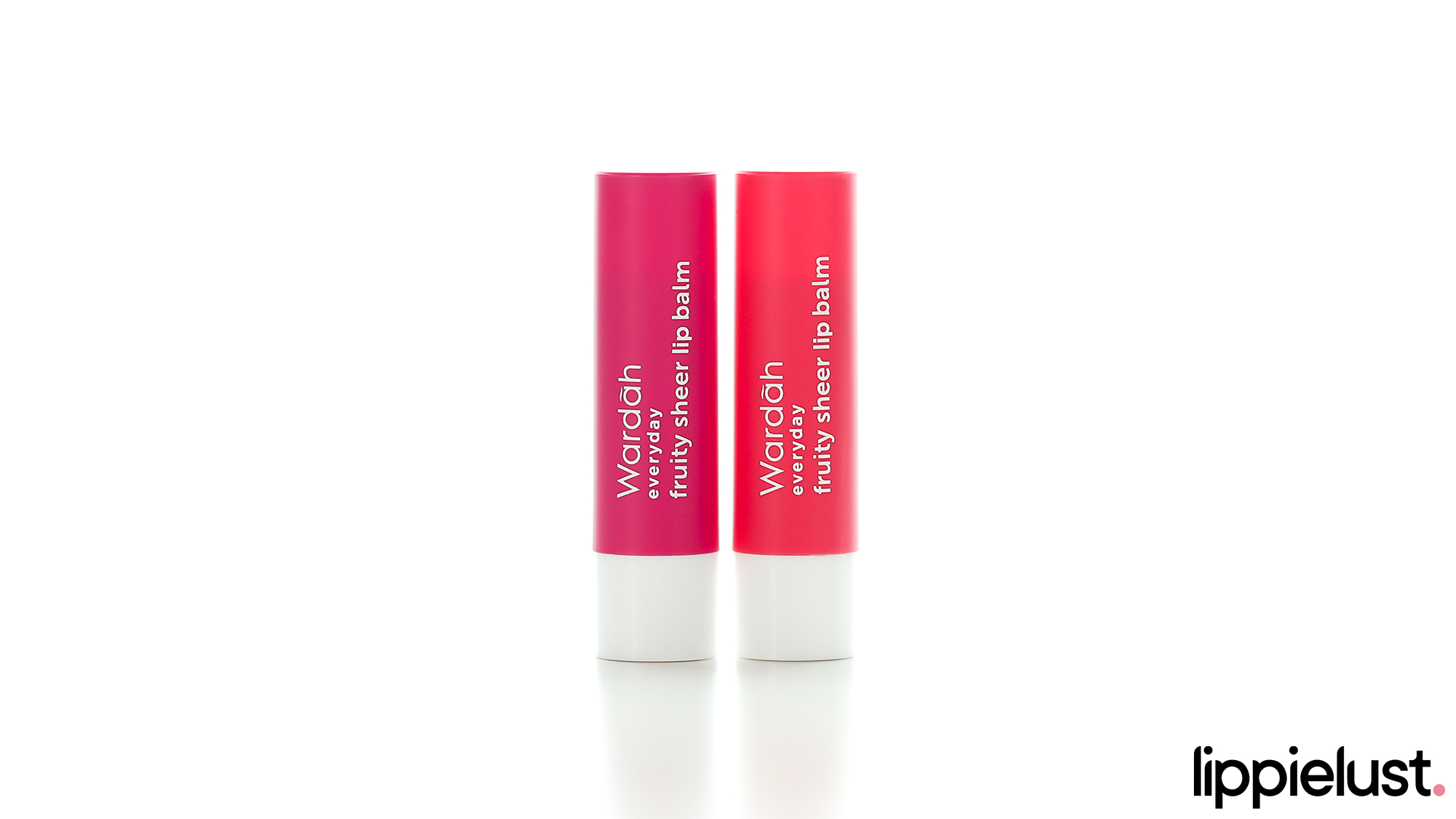 Teksturnya terasa ringan, tidak lengket, juga tidak terlalu terasa berminyak. Tentu jika kamu aplikasikan berkali-kali agar warnanya terlihat lebih kuat, teksturnya akan terasa lebih berminyak dan tampilannya juga akan terlihat lebih glossy di bibir.
Produk ini memiliki klaim moisturizing up to 8 hours. Mengingat dalam satu hari aku bisa aplikasikan lip balm sampai 3-4 kali sehingga aku rasa tidak terlalu banyak perbedaan yang berarti karena bibirku memang selalu terhidrasi sepanjang hari. Well, at least I try to. Hehehe.
Karena Wardah Everyday Fruity Sheer Lip Balm mengandung UV Protection (UVA & UVB), maka produk ini aman kamu pakai untuk outdoor activities tanpa harus menambahkan produk lain di atasnya. Tapi, karena konsistensi UV Protection-nya tidak setinggi sunscreen / face makeup dengan perlindungan UV, maka kita harus aplikasikan setidaknya 3-4 kali sehari agar bibir tetap terjaga sepanjang hari.
Fair warning: produk ini memiliki aroma fruity sesuai dengan variannya: Grape memiliki wangi anggur dengan Strawberry memiliki wangi stroberi. Jika dibandingkan, aku rasa Grape memiliki wangi yang 'tenang' dan enggak terlalu kuat, berbeda dari Strawberry yang menurutku memiliki wangi yang cukup kuat. If fragrance is something that concerns you but you want to try this product, aku menyarankan untuk memilih varian Grape karena wanginya yang enggak terlalu kuat dan masih bisa ditoleransi.
✨ Swatches
Varian Grape dan Strawberry memiliki hasil warna yang berbeda, dimana Grape menghasilkan warna pink yang lebih cool sedangkan Strawberry menghasilkan warna pink yang lebih warm.
[penci_review]