Di akhir tahun 2020 lalu, Make Over melakukan sebuah kolaborasi dengan Tities Sapoetra, seorang ex-actor dan fashion desainer lokal ternama. Siapa sangka, bahwa kalimat "history repeats itself" itu benar adanya, karena di akhir tahun 2021 ini, Make Over kembali berkolaborasi dengan fashion desainer lokal. Who is it this time? It's Hian Tjen.
Hian Tjen adalah seorang desainer bridal dan couture ternama. Doi pernah menjadi bagian dari Milan Fashion Week di tahun 2020. Prestasi inikah yang berhasil menarik perhatian Make Over? 
Penasaran enggak bagaimana hasil kolaborasi salah satu brand kosmetik terbesar Indonesia dengan salah satu desainer ternama Indonesia? Aku sih penasaran ya, so, langsung aja yuk,  let's jump into the review!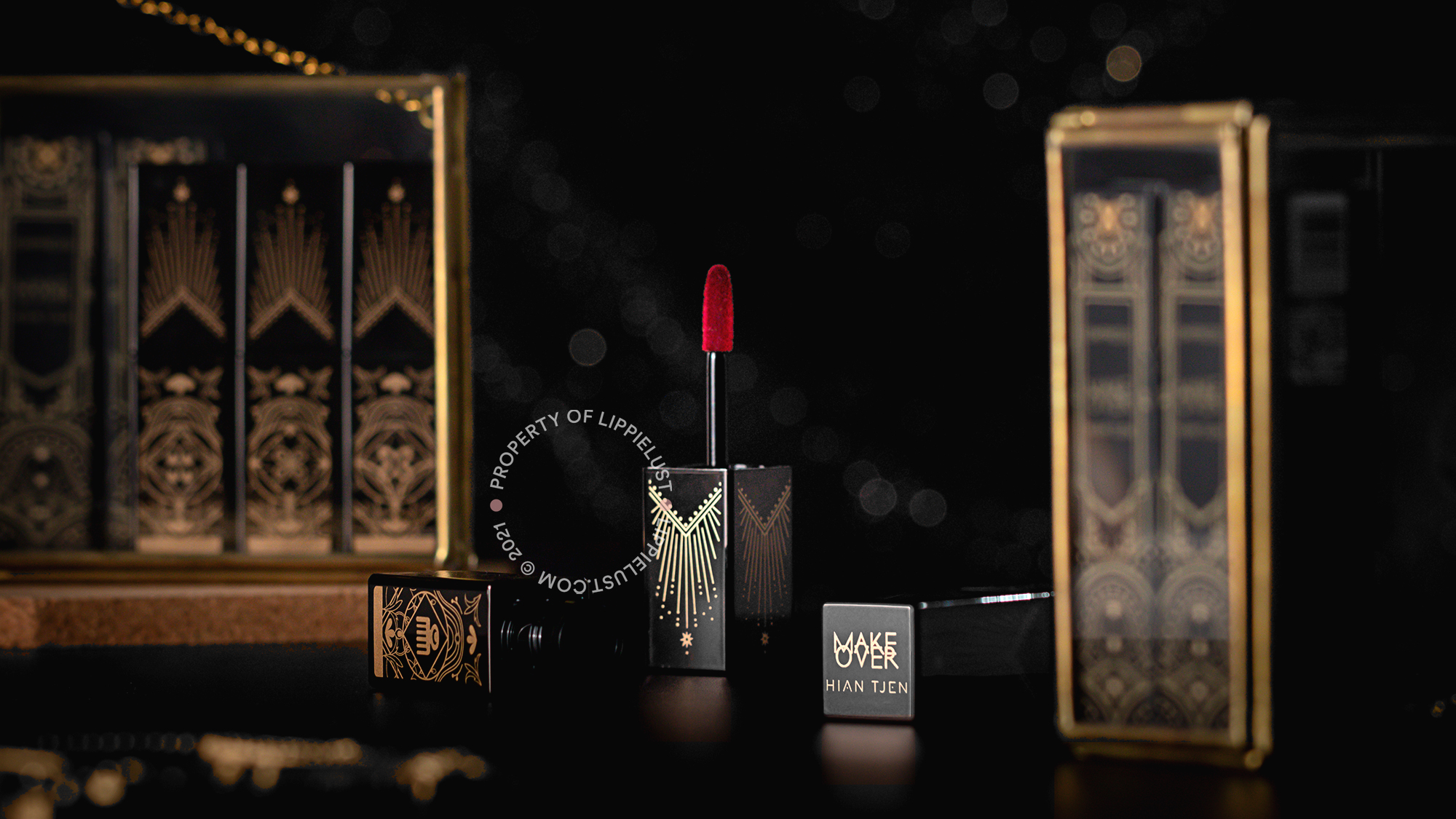 ✨Product Overview
| | |
| --- | --- |
| Product Name | Make Over X Hian Tjen Empress Glassy Lip Lacquer |
| Produced By | PT Paragon Technology and Innovation |
| Price / Net. Weight | Rp 149.000 / 4.5g |
✨Benefits and Claims
Intense non-transfer color 

High shine glassy finish

Lightweight non-sticky feel 

Easy to Apply

More swipe more shine

Instant Moist

Dermatologically tested
✨Packaging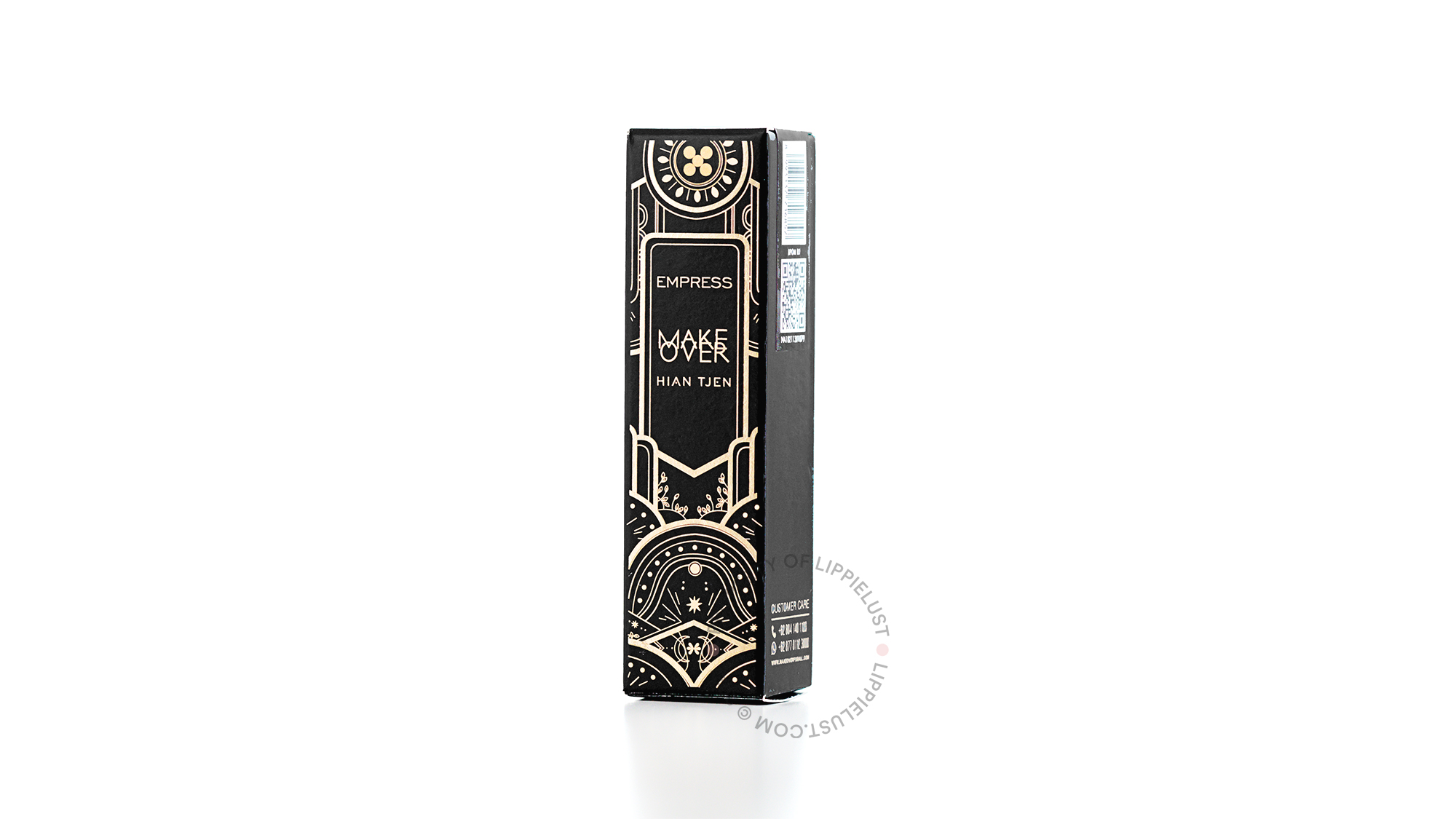 From the first glance, looking at the box, kita udah bisa lihat ciri khas-nya Hian Tjen: garis-garis simple dan modern tapi tetap dramatis. Kombinasi warna pada packaging ini juga adalah kombinasi yang perfect untuk merepresentasikan kolaborasi ini: black for the elegance of Make Over and gold for the luxury of Hian Tjen.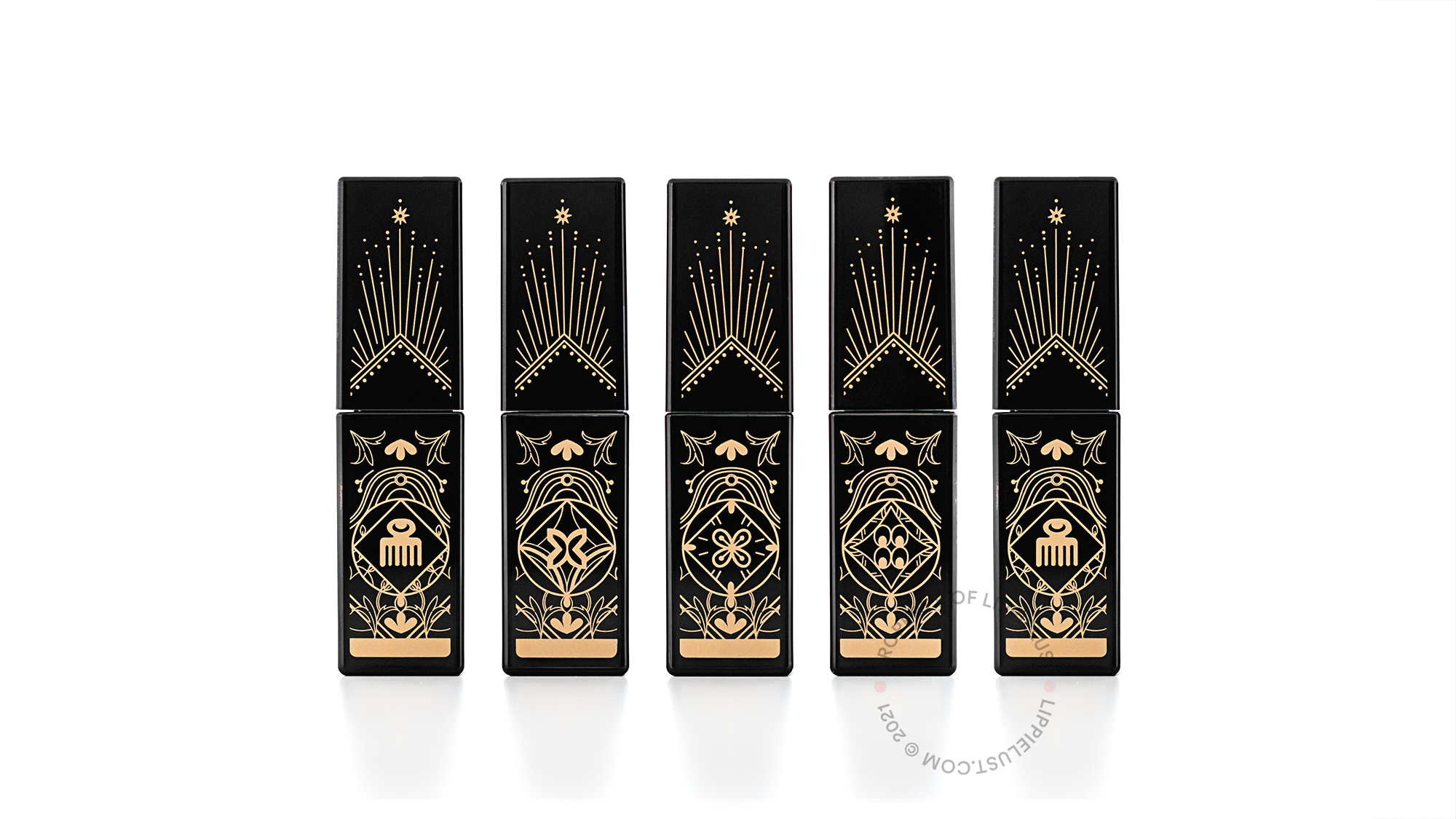 Tube lip lacquer ini mempunyai desain yang hampir sama dengan box-nya. Sama-sama didominasi warna hitam dan emas. Perbedaannya berada di desain grafis. According to Make Over, desain ini terinspirasi oleh koleksi SJUHAA milik Hian Tjen. 
Masing-masing sisi tube ini mempunyai simbol yang berbeda dan semuanya mempunyai makna tersendiri. 
| | | |
| --- | --- | --- |
| | Ingenuity | Sifat cerdas, orisinal, dan kreatif/inventive. |
| | Beauty | Kombinasi sifat-sifat yang menyenangkan terhadap indera-indera, terutama indera mata. |
| | Independence | Sifat yang mandiri, lepas dari kendali eksternal, bold. |
| | Power | Sifat tegas; mampu mempengaruhi perilaku orang lain dan/atau jalannya peristiwa. |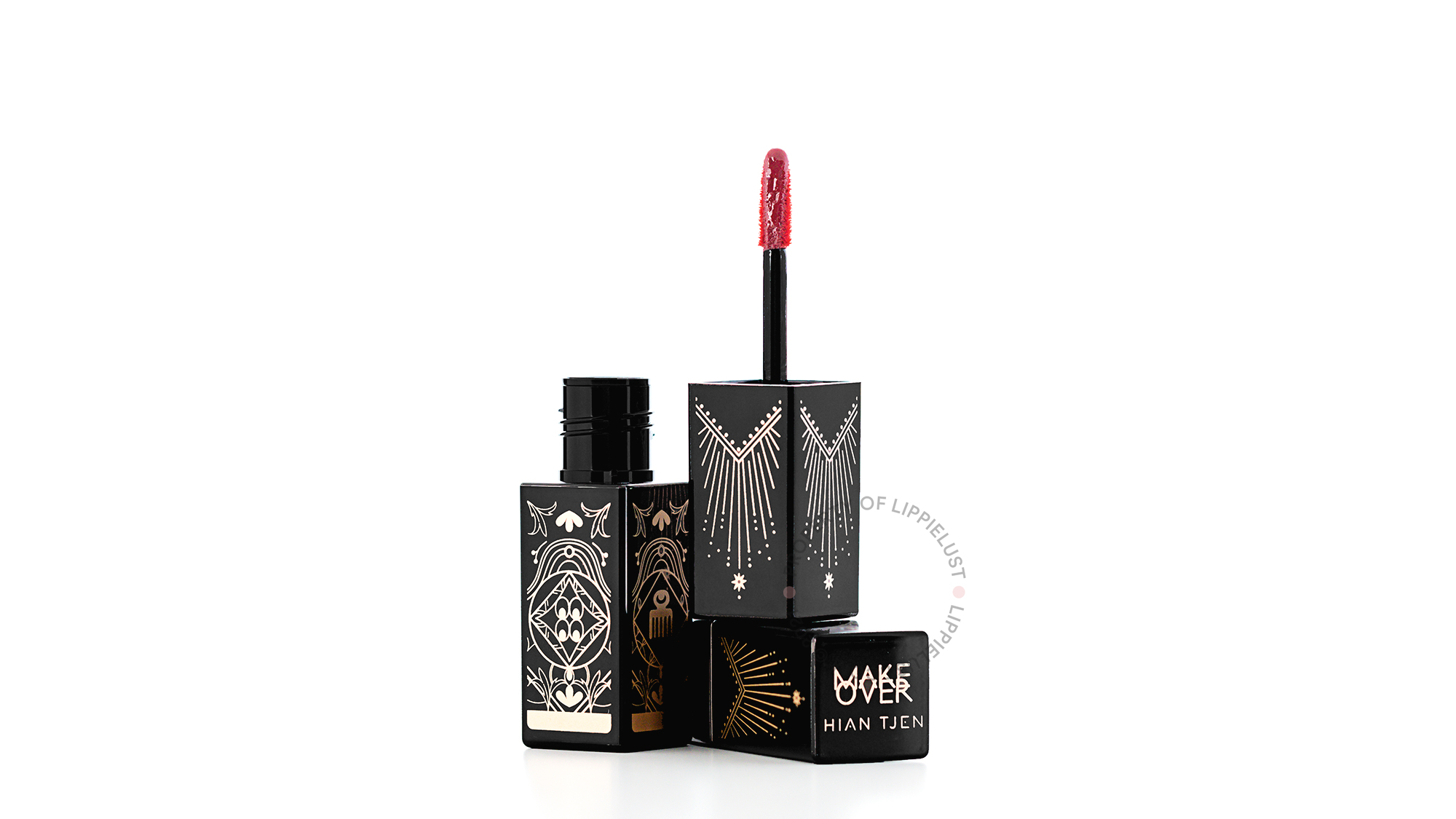 Oke, setelah aku buka screw cap-nya, ternyata bentuk ujung applicator wand-nya itu lurus tapi sedikit dikasih bend supaya dapat feel "angled", tapi walaupun di bend, tetap saja feel-nya enggak senyaman yang beneran bentuk angled. This is just my preferences though, mungkin saja kamu lebih suka ujung wand yang lurus.
Di bagian opening neck tube ini, ada area besar yang fungsinya itu untuk menghindari tumpah. This is very convenient. 
Walaupun bentuk tube ini cuboid, tangan aku enggak terasa sakit kok setiap aku buka cap-nya karena si sudut-sudutnya ini dibuat sedikit tumpul dan memang bahannya glossy, bukan bahan yang kasar (karena biasanya kalau bahannya kasar, walaupun sudutnya dibuat tumpul, tetap bakal sakit di tangan).
Overall, I enjoy this package, both the box and the tube.
✨The Product and The Formula Itself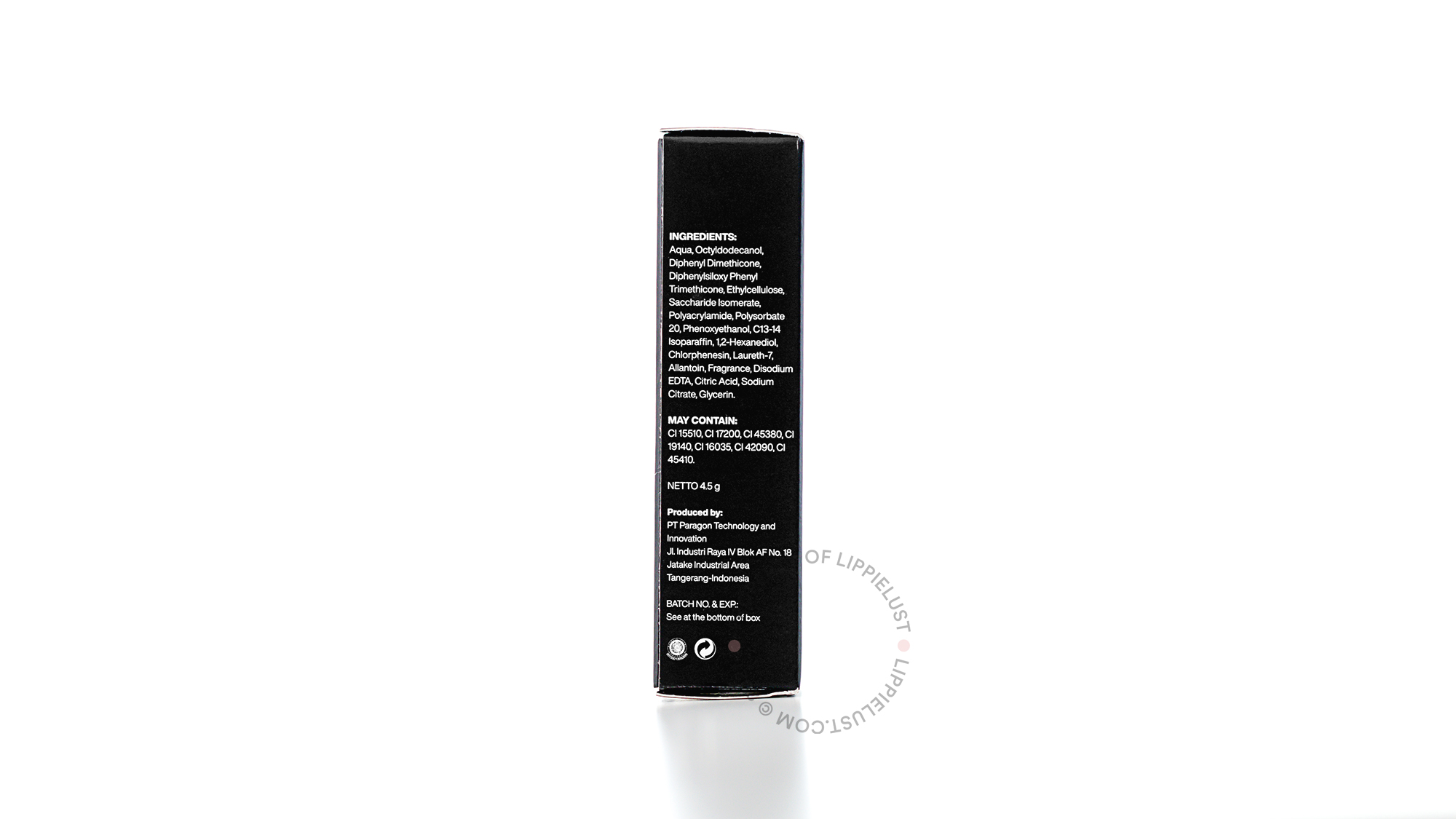 Selama ini kan kita kenalnya sama Lipstick, Lip Tint, Lip Cream, Lip Tattoo, dll. Jarang banget kita lihat produk Lip Lacquer di pasaran. So, what is it? Lip Lacquer adalah jenis lip gloss yang mempunyai pigmen tinggi dan enggak lengket. That's it. That's the only definition and that's what it basically is. 
So, karena ini sebenarnya adalah sebuah lip gloss, maksud dari klaim "intense color" itu ya enggak se-intense dan se-bold lip creams yang biasa kita lihat (formula lip creams sudah pasti lebih pekat, alhasil, warna juga lebih bold) so don't expect something as bold as high pigmented lip creams. Anyhow, menurutku warna dari produk ini memang intense untuk sebuah lacquer. Warnanya popping tanpa nutupin tekstur asli bibir aku.  I love it! This is thanks to 1,2-Hexanediol.
Formulanya cepet banget menyerap di bibir, so, kita harus buru-buru aplikasiinnya. No time for correcting the shape of the first swipe kalau sudah didiamkan lebih dari tujuh detik. Karena ini, warna-nya jadi transferproof. However, gloss di produk ini tetep transferable ya (don't worry, the color stays on your lips).
Feel di bibir itu lembab banget, licin, dan glossy tapi enggak lengket. Bibirku yang awalnya ada bagian yang kering dan sedikit terkelupas jadi kembali lembab. Ini pasti efek dari Glycerin dan Saccharide Isomerate.
Setelah beberapa saat, aku coba tap bibir aku dengan tissue untuk lihat apakah produk ini stain atau enggak, dan ternyata stain! Stain-nya strong (aku coba yang shade 404 A-List) dan lumayan susah untuk dihapus. Gloss-nya hilang di bagian bibir atas dan sisa sedikit banget di bagian bibir bawah. Kalau kamu nyari gloss, better di re-apply, kalau nyari warna, kamu enggak perlu re-apply for a long time (sampai kamu makan).
Overall, this product and formula is a big yes for me. 
✨Shades and Description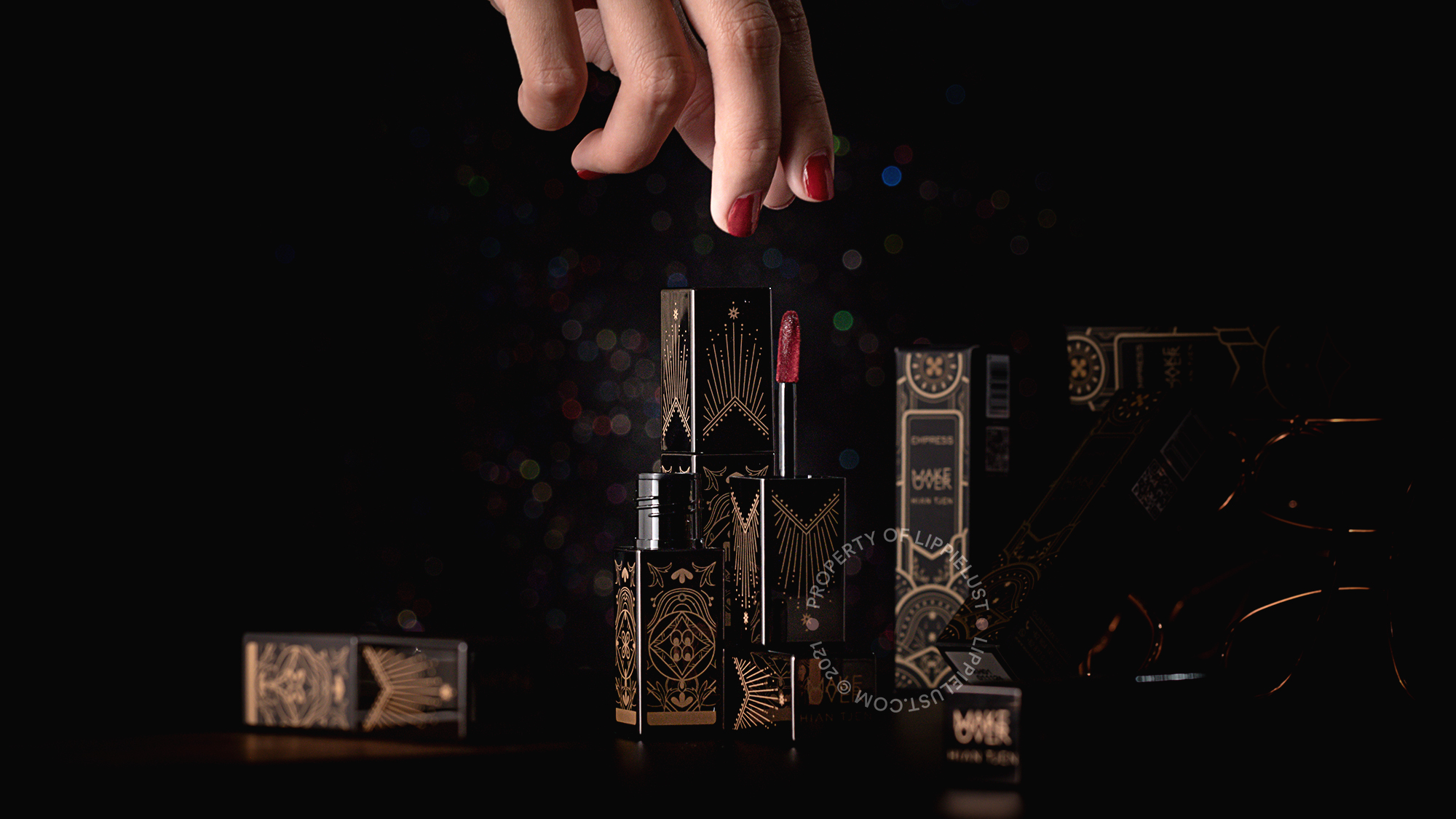 Make Over X Hian Tjen Empress Glassy Lip Lacquer ini terdiri dari 5 shades:
401 Edge (deep neutral pink)

402 Social (medium-to-dark pink)

403 Prime (medium-dark reddish peach)

404 A-List (medium-dark orange)

405 Glory (deep neutral red)