I am finally breathing fresh air karena produk-produk lippie udah mulai bertebaran lagi nih. Di Lust the List Vol. 9 lalu, kita explore produk-produk skincare baru yang mengangkat kandungan dari alam sebagai hero ingredientsnya (kalau kamu belum baca, yuk di cek blog-nya: Lust the List Vol.9). 
Kenapa terakhir kali enggak ada produk lippie-nya sama sekali? Because no one literally released any lippie. That was a little sad, but not anymore! Akhir-akhir ini, I stumbled upon so many brands yang ternyata mempunyai fresh lip products! Not many are super new (they're still fresh, though), but they definitely haven't been well discovered and are worth being discovered.
Di Lust the List Vol. 10 ini, ada 3 out of 4 products hasil kolaborasi. Brand apa sajakah itu dan dengan public figure siapa?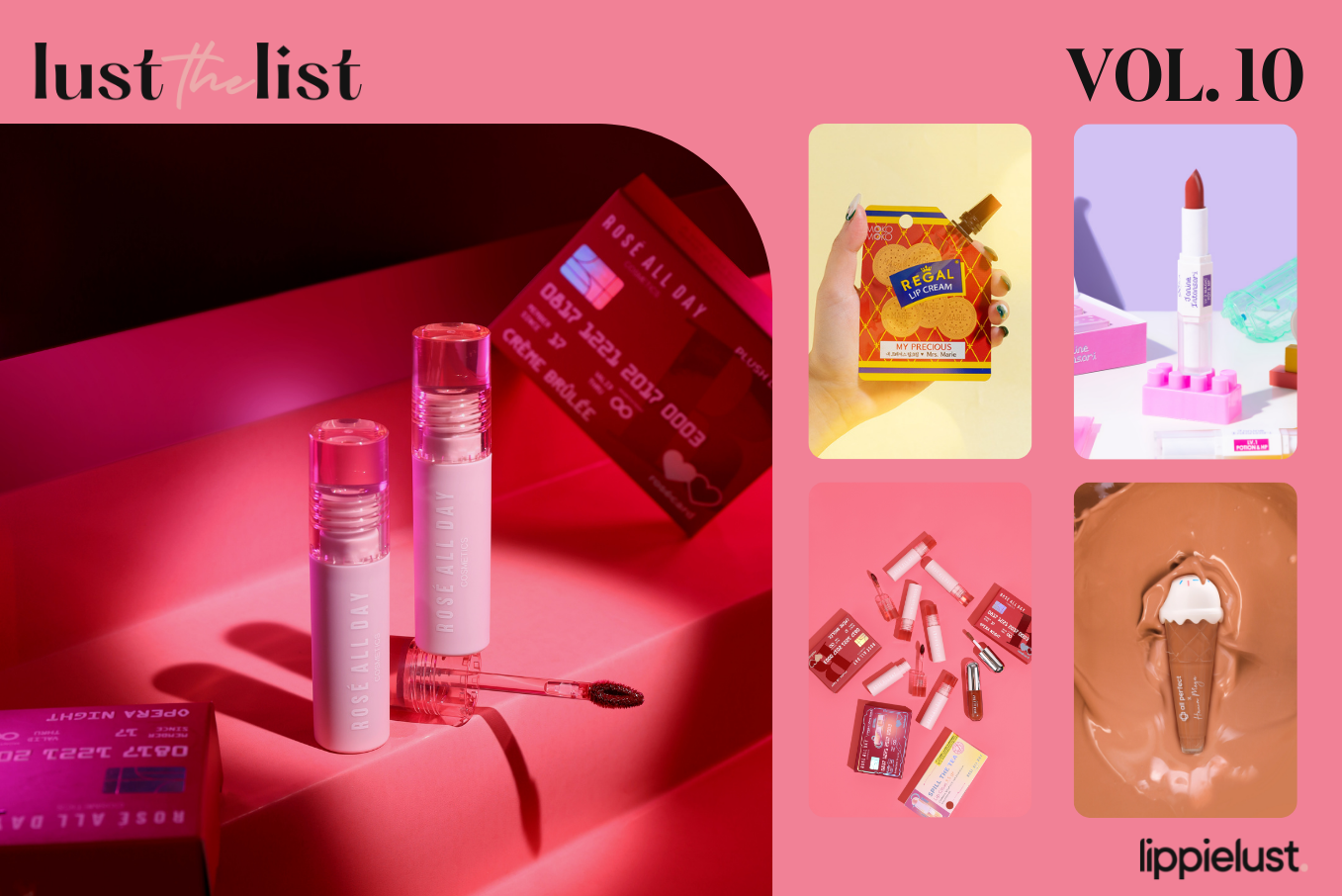 TL;DR
All Perfect X Hanum Mega – Lip Cream
Rosé All Day – Plush Lip Tint
Extica x Janine Intansari – RPG! Ready Pout Go
Moko Moko X Marie Regal – Lip Cream
✨All Perfect X Hanum Mega – Lip Cream
I literally squealed when I first saw the product pictures. Lucu banget! Kepikiran aja ya All Perfect ini untuk membuat produk lippie yang packaging-nya se-gemes mini ice creams. Bentuk ini mengingatkan aku kepada es krim Mini Cornetto. Ukurannya pas di genggaman; not too big, not too small, and definitely gorgeous.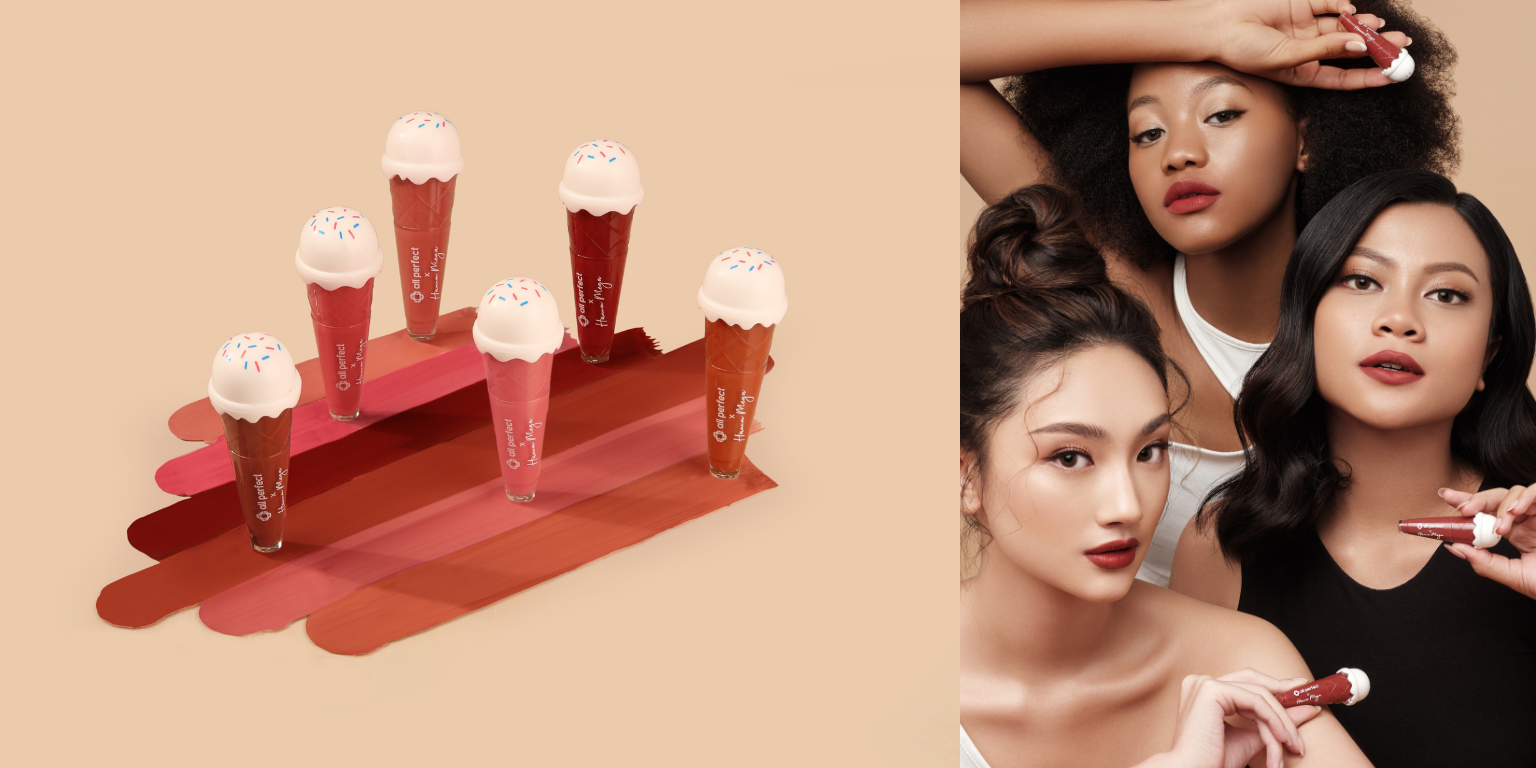 Who is Hanum Mega? Doi adalah beauty vlogger yang akhir-akhir ini lagi trending di Instagram dan Tik Tok. Make-Up Look yang doi create emang enggak pernah gagal, so I think enggak ada salahnya to trust whatever she's using and whoever she's collaborating with!
All Perfect X Hanum Mega Lip Cream ini lippie yang memberikan matte and smooth finished look dan diklaim quick set, tahan lama (up to 8 hours), dan mempunyai pigmen yang intens. Shades-nya ada 6 dan kebanyakan warm-toned; honestly, attractive shades.
✨Rosé All Day – Plush Lip Tint
I'm a big fan of lip products yang mampu membuat bibir lembab. Why? Because I will always trust in moisture to keep every part of my natural self healthy. Dari lipsticks hingga lip lacquers, lip tint adalah produk yang jujur saja paling enggak aku percaya untuk membuat bibirku lembab based on experience. Tapi, seiring berjalannya waktu, lip tint mulai berubah ya dan mulai berevolusi mengikuti kebutuhan bibir. Not just pretty in colors, but also pretty with a moisturizing formula. Rosé All Day proves it with their new Plush Lip Tint.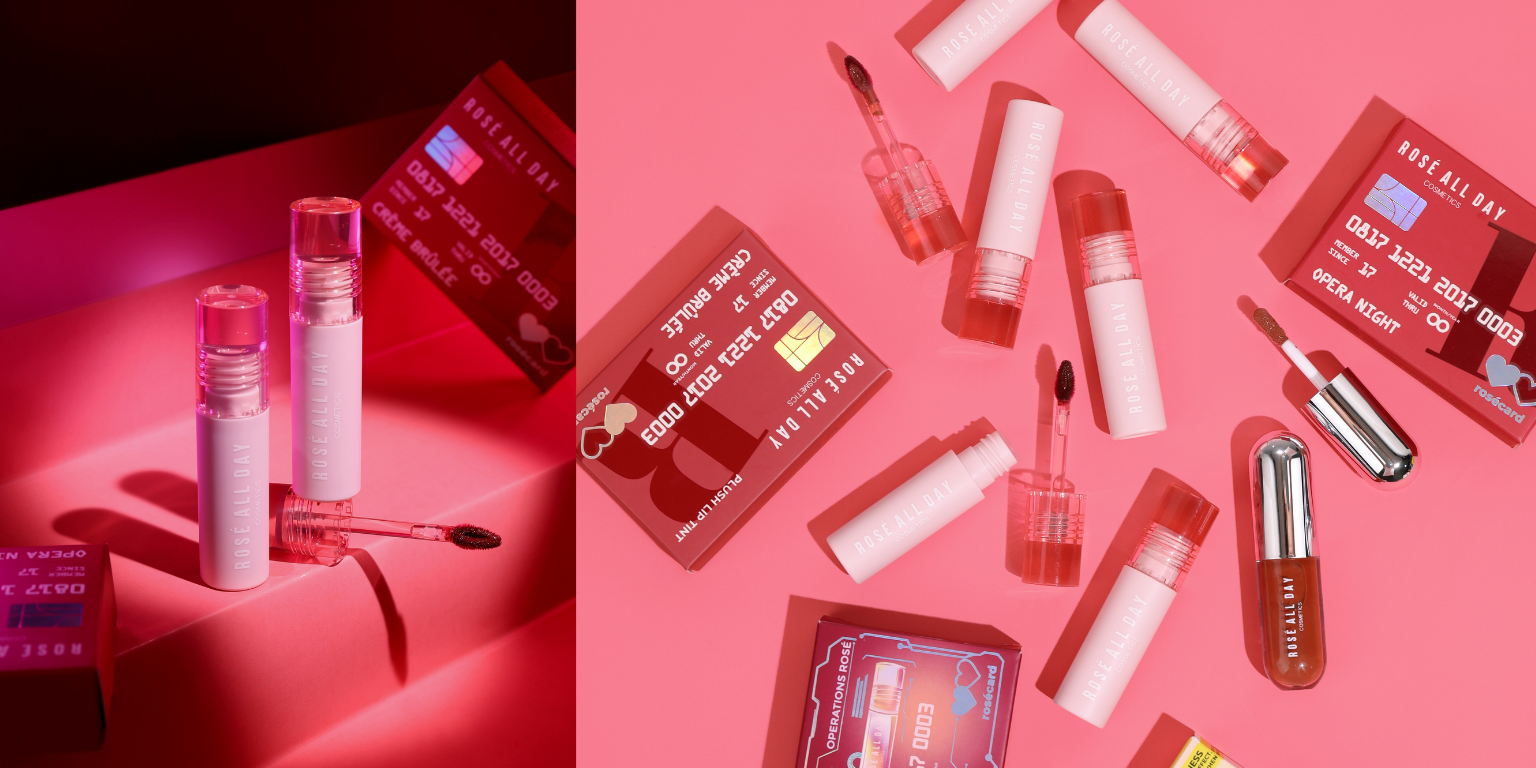 Gemes banget konsep packaging-nya. Team Lippielust baru-baru ini dikirimin Plush Lip Tint loh, dan memang kemasannya itu unik banget; bentuk credit card. Bener-bener ada nomor kartu, hologram, expiration date, dll. Whoever came up with this design idea, deserves a perfect cup of coffee. Other than the cute packaging design, Plush Lip Tint ini diklaim mengandung Squalane (pelembab), Vitamin E (antioksidan), dan Octinoxate (sunscreen). The perfect trio to keep your lips safe and healthy. Total shades-nya ada 3, but will there be more? Hopefully so!
✨Extica x Janine Intansari – RPG! Ready Pout Go
"Creativity comes in all forms and ideas". That is what I thought of the moment I saw the campaign of this product. Cocok dengan Janine Intansari, seorang selebgram, cosplayer, sekaligus beauty influencer, Ready Pout Go RPG! by Extica X Janine Intansari ini mengusung tema game.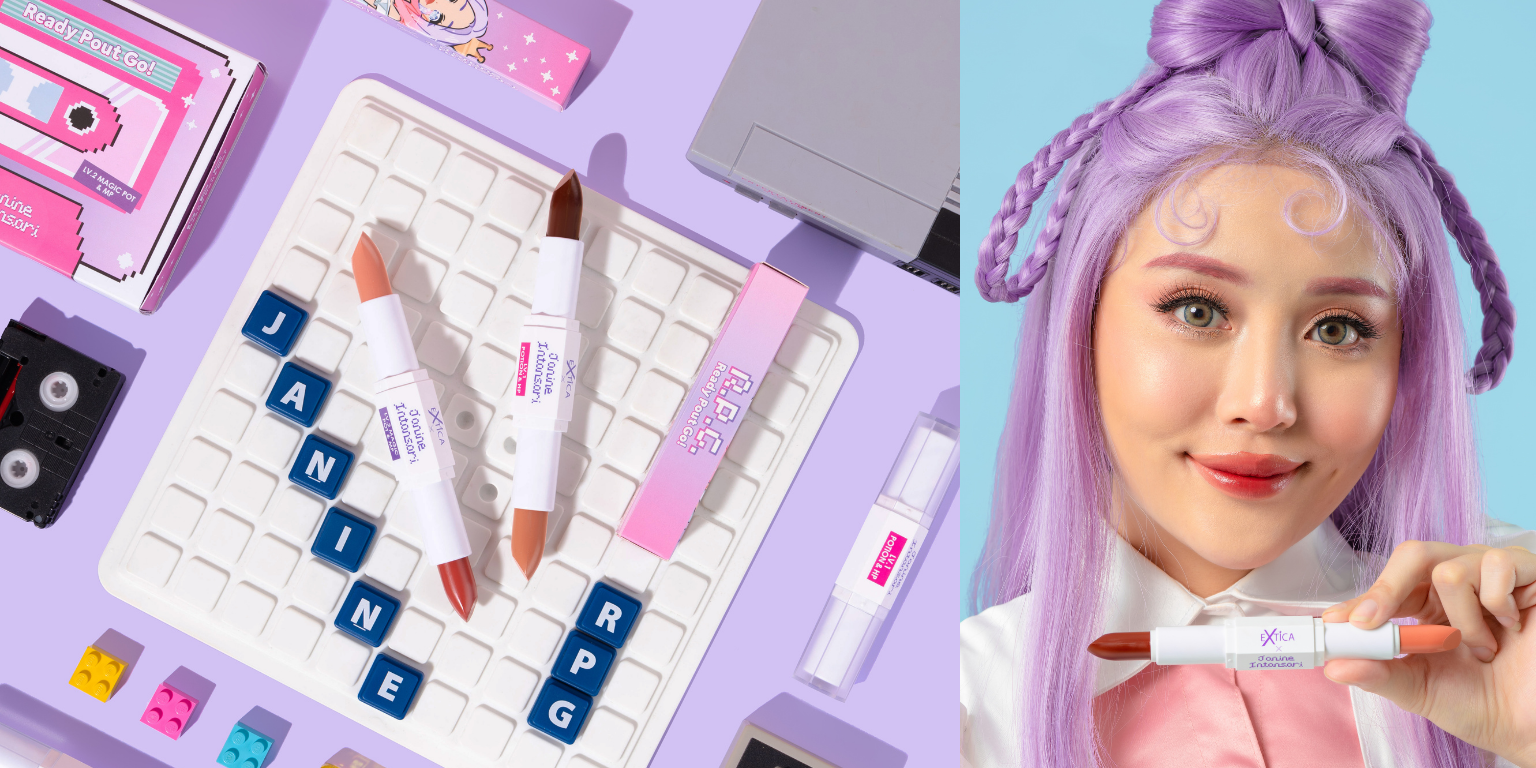 Kalau biasanya kita sebut warna lippie dengan nama "shade", untuk produk ini, Extica menyebutnya dengan nama "level". Untuk setiap level, kita bisa mendapatkan dua warna. Ini cocok banget untuk kamu yang suka ombre lips. Abis dengerin ini kamu pasti penasaran dong sama produknya? 
Untuk sekarang, level-nya hanya ada 2, dan jujur saja, aku berharap Extica bisa mengeluarkan lebih banyak level lagi karena produk ini bisa memperingan kita para ombre lovers, lho.
✨Moko Moko X Marie Regal – Lip Cream
We all love Marie Regal, right? Biskuit yang manis ini adalah cemilan go-to kita kalau lagi ingin cemal-cemil lucu. Tapi kepikiran enggak kalau produk cemilan ini bisa diajak kolaborasi dengan brand kosmetik? Enggak kepikiran kan? Aku juga surprised loh pertama kali melihat kemasan lip cream hasil kolaborasi Moko Moko X Marie Regal.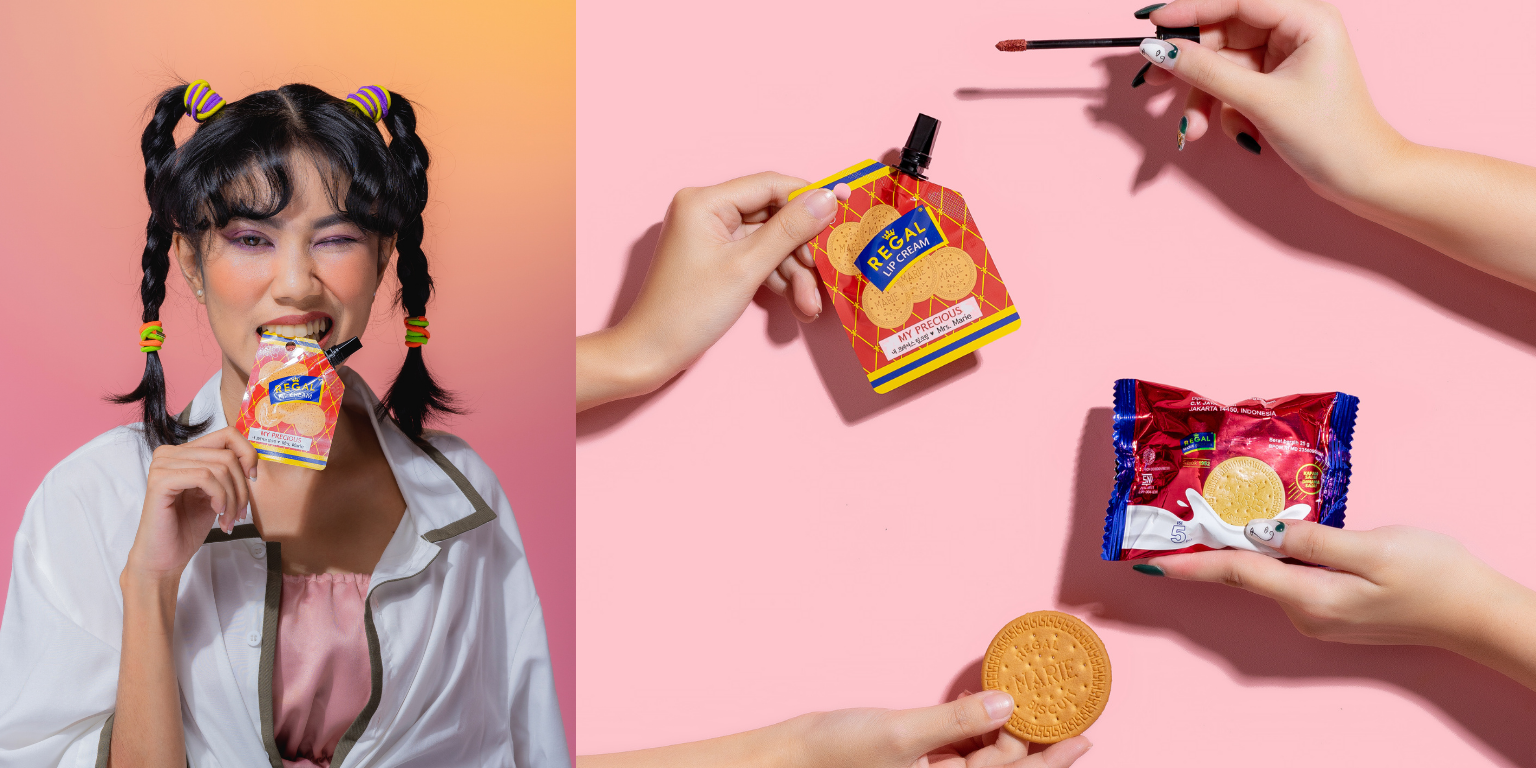 Packaging lip cream Moko Moko X Marie Regal ini menurutku unik. Di saat brand lain menggunakan tube, Moko Moko menggunakan semacam bag dengan desain yang beneran membuat packaging ini terlihat seperti produk makanan. Selain packaging yang terlihat berbeda, produk ini memiliki aroma biskuit Marie Regal yang begitu khas. Honestly, I love sweet smelling lippies and would love to try this product out. Lip cream ini tersedia hanya dalam satu shade yaitu Mrs. Marie dengan warna yang terlihat orange-brownish.
That's all for this month's Lust the List! Dari semua produk yang aku rekomendasikan tadi, mana nih yang berhasil menarik perhatian kamu? Kalau aku sih ingin mencoba semuanya yaa.
So, sampai bertemu di Lust the List Vol. 11! Akan ada produk apa sajakah nanti?