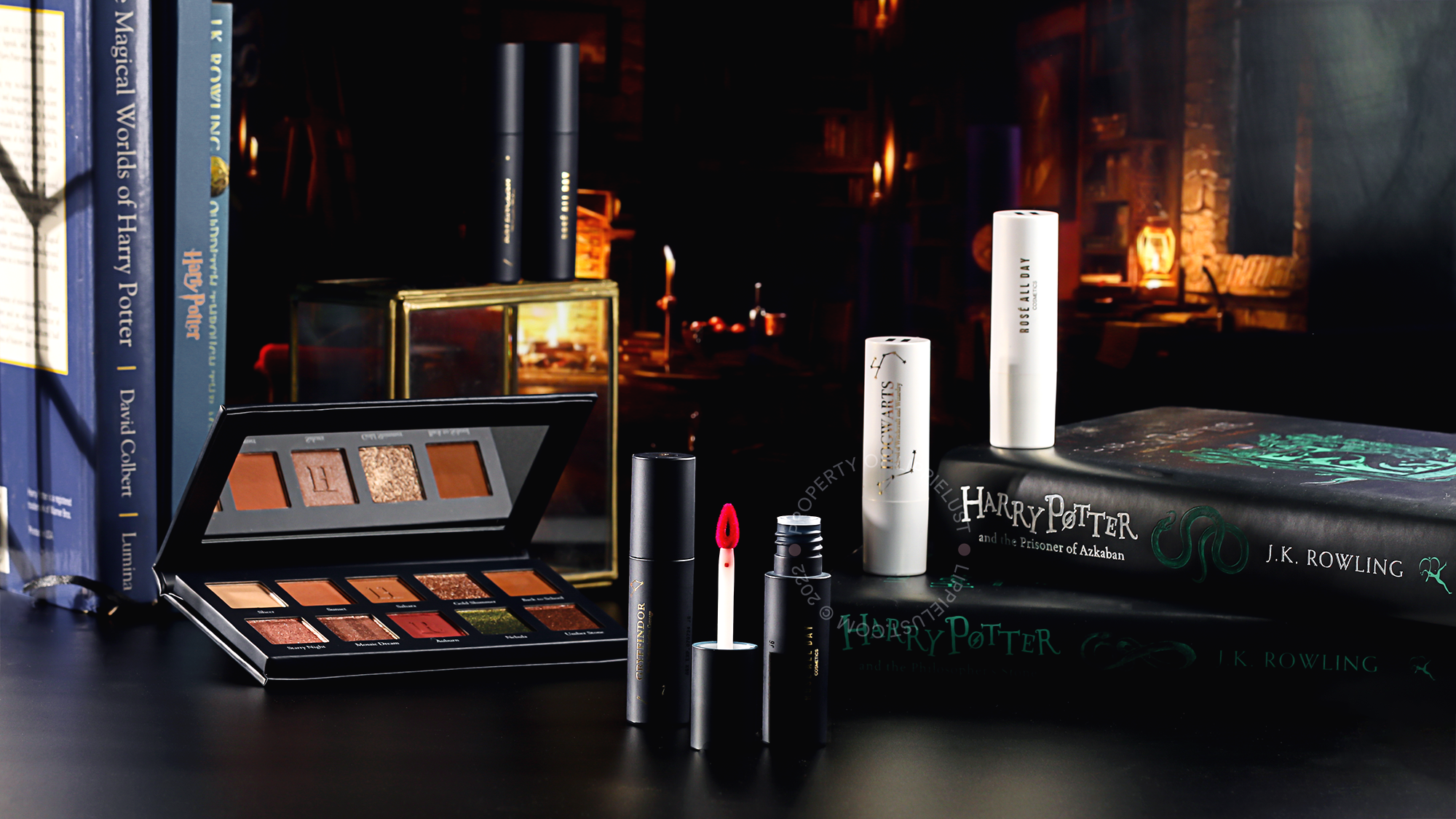 Lippielust just got the invitation letter from Hogwarts! Akhirnya, Team Lippielust bisa swatch dan review produk yang udah ditunggu-tunggu banget sama Potterheads. Gimana enggak ditunggu-tunggu deh, desain kemasannya beneran pakai tema Harry Potter! It's so magical and whimsical!
Nah biar enggak kelamaan, kita langsung aja review yuk! Ada Eyeshadow, Eyeliner, Lip Tint, dan Lip Balm. Let's get into it!
✨Eyeshadow Harry Potter Edition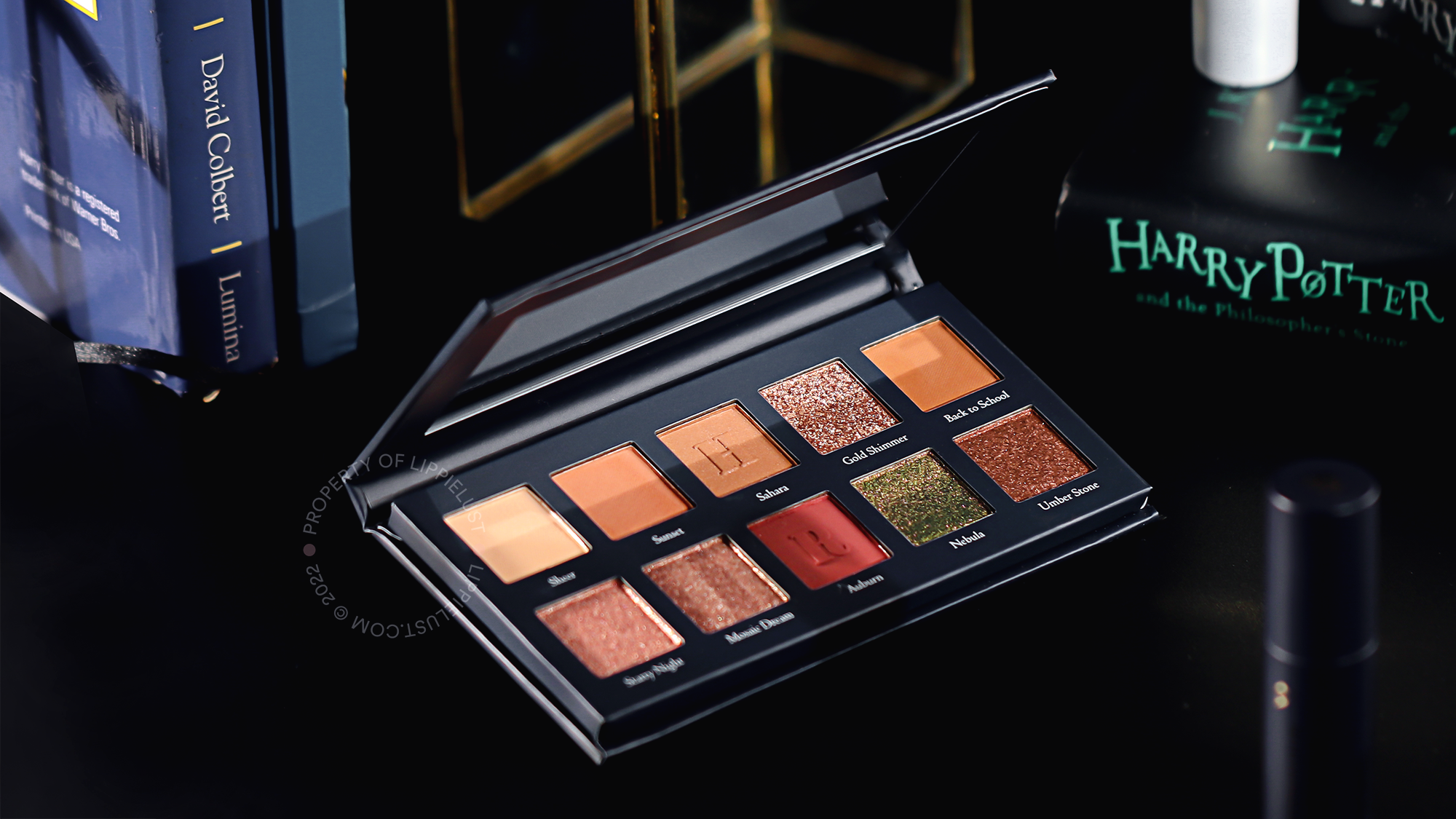 | | |
| --- | --- |
| Product Name | Rosé All Day Eyeshadow Harry Potter Edition |
| Manufactured By | Shanghai Ayara Cosmetics Co., China |
| Distributed By | PT Nayue Kosmetik Indonesia |
| Weight / Price | 8g / Rp 249.000 |
Packaging
Sama seperti warna kemasan Lip Tint dan Eyeliner, warna dark navy almost black ini memberikan kesan elegan dan magical dibantu oleh aksen-aksen yang berwarna emas dan putih. Di bagian depan, ada simbol-simbol Hogwarts houses lengkap dengan Hedwig-nya yang ada di ujung atas kanan. It's so cute! Vibe-nya magical banget. Di sini juga ada logo Wizarding World which is sebuah media franchise yang fokus pada novel-novel Harry Potter karya JK Rowling. This is how we know that this is 100% official and legit.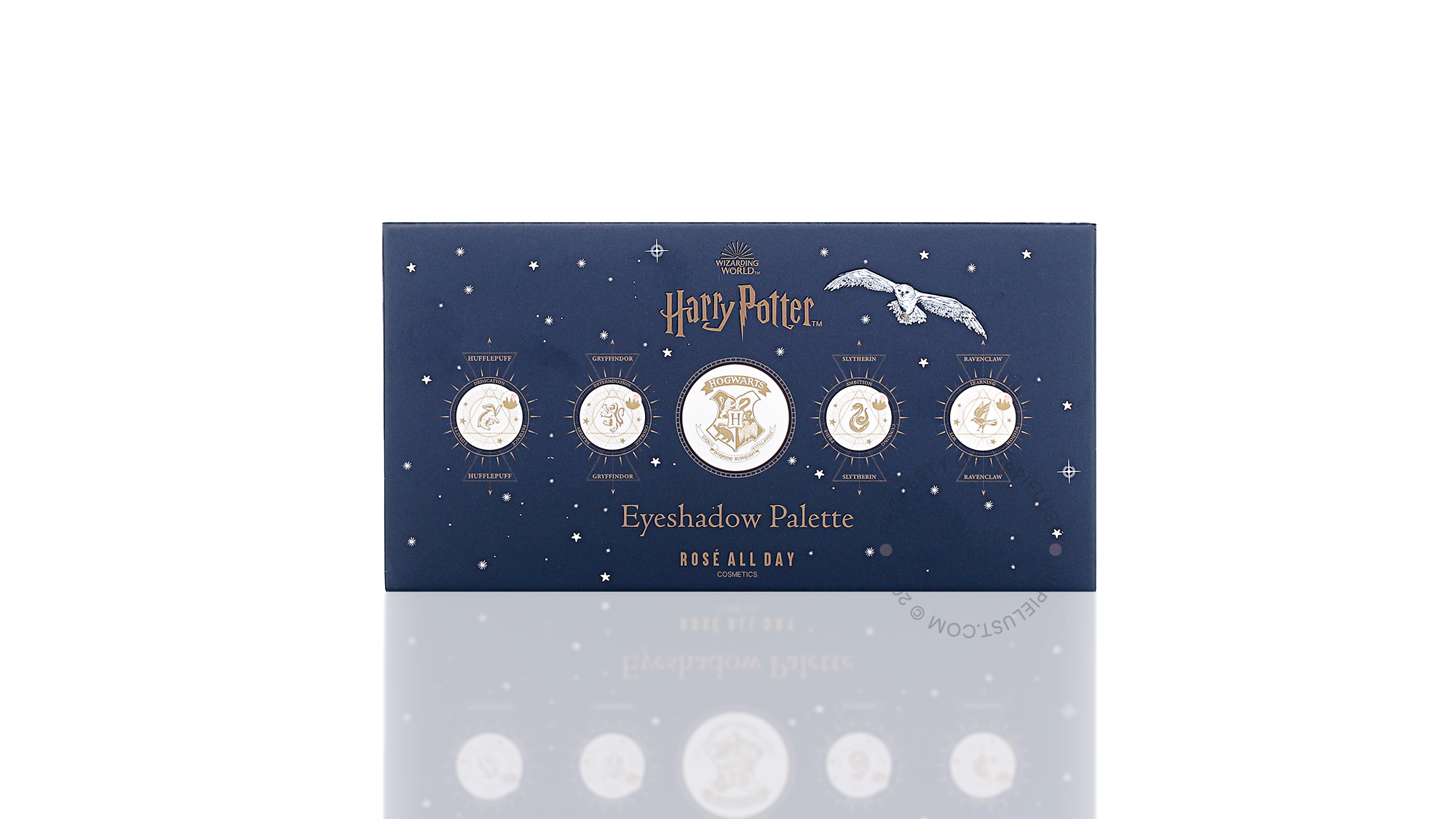 Di bagian dalam, ada cermin yang kualitasnya oke. Cerminnya rapi, lurus, enggak bergelombang, dan pantulannya jelas. Di bawahnya, ada 10 pan yang berbeda-beda isinya. Masing-masing pan eyeshadow berukuran sedang; it's reasonably sized. Di pan ke-3 dan 8, ada huruf "H" dan "R", masing-masing merepresentasikan nama "Harry" dan "Rosé".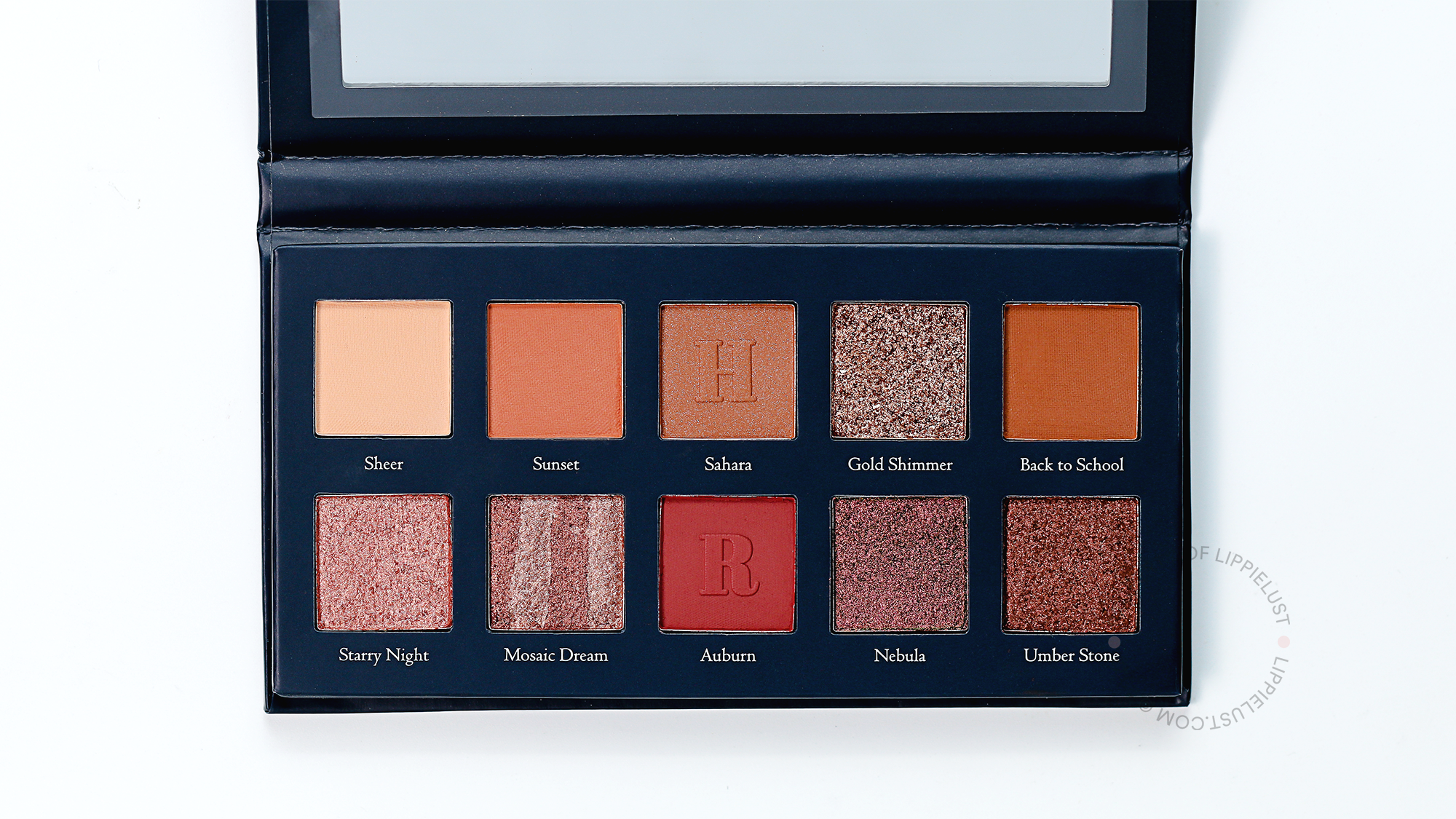 The Formula & My Experience
Yuhuu. Kamu tahu enggak kalau ini adalah Eyeshadow perdana dari Rosé All Day? Really…ini eyeshadow pertama mereka, lho. So, harapan aku tinggi nih!
Upon opening the product, aku super happy karena warna-warnanya sesuai dengan selera aku: warm toned dan orange/brick/brown hued. Ada yang matte, pearl, glitter, shimmer, dan triple-chrome. Aku jelasin sedikit deh ya tentang masing-masing finish:
Matte: enggak memantulkan cahaya sama sekali

Pearl: memiliki ukuran partikel pemantul cahaya yang lebih besar dibanding yang lainnya 

Glitter: memiliki jumlah partikel pemantul cahaya yang paling banyak

Shimmer: memiliki ukuran partikel pemantul cahaya yang paling kecil 

Triple-Chrome: memiliki 3 warna yang berbeda dari berbagai angle
Lanjut ya. Saat aku sentuh dan oles masing-masing pan dengan jari, I only have one comment: SO SOFT. Lembut dan empuk. Dengan feel yang seperti ini, biasanya pigmennya bagus ya. 
Aku coba oles beberapa warna ke atas kulit lengan aku dan semua warna berhasil nempel dengan erat! Alhasil, pigmen yang dikeluarkan juga pekat. This is a win! Sama halnya kalau aku pakai eyeshadow brush, it sticks properly on the skin. 
Semua warna mudah di-blend, tapi karena ini, jadi mudah ter-smudge juga. Jadi, harus rada hati-hati deh saat penggunaan eyeshadow ini. Overall based on the looks and feel, aku suka produk ini. Awesome!
✨Eyeliner Harry Potter Edition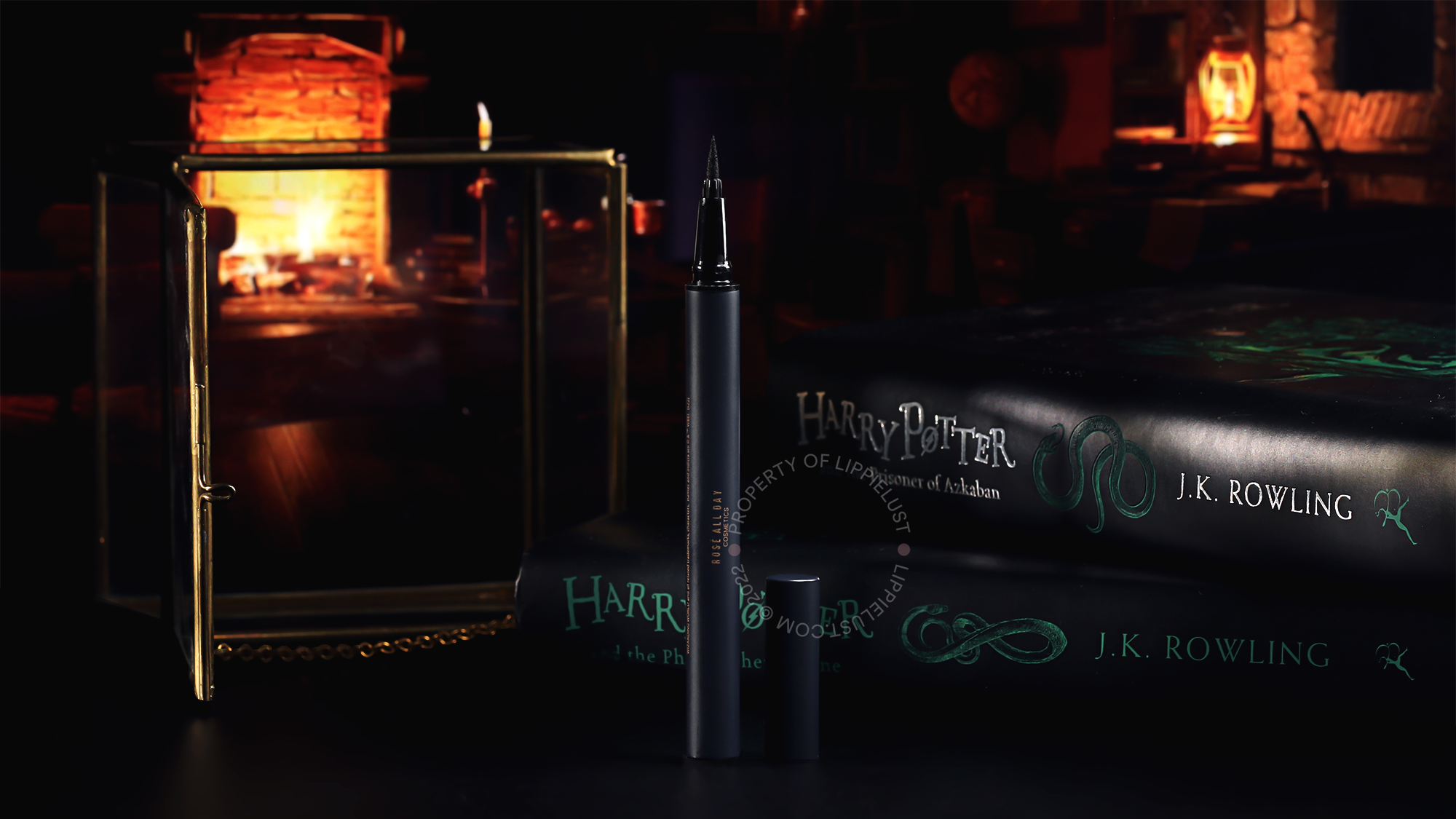 | | |
| --- | --- |
| Product Name | Rosé All Day Eyeliner Harry Potter Edition |
| Manufactured By | Shanghai Ayara Cosmetics Co., China |
| Distributed By | PT Nayue Kosmetik Indonesia |
| Weight / Price | 0.6ml / Rp 119.000 |
The Packaging, The Formula, My Experience
There's really nothing else about an eyeliner yang patut dikomen selain pigmen dan presisi, in which produk ini bisa berikan kepada kita dengan baik!
Ujung tip eyeliner ini memang berukuran kecil, tapi dia bersifat "lemah". Maksudnya, kalau ujungnya enggak ditekan ke kulit, tinta-nya enggak akan keluar, nah tapi, kalau ditekan, ujung wandnya jadi membelok (enggak kokoh). Hal ini bisa mengurangi presisi karena bagian ujung yang paling kecil jadi enggak bisa digunakan. 
However, pigmen dari tinta produk ini beneran pekat dan cover-nya bagus banget. Enggak ada bolong-bolong. Terus, produk ini cepet keringnya, lho, dan enggak smudge sama sekali, kalau kena sebum wajah, smudge hanya 5% (dikiiiit). What's more, dia tahan air BANGET. Aku coba oles-oles di kulit tangan, dan walaupun aku udah cuci tangan, mandi, dan segala macam, eyeliner-nya masih ada! Jadi, untuk menghapus produk ini, kamu harus menggunakan oil-based remover.
Packaging-wise, sedikit mengecewakan. Tapi, formula-wise, I love it!
✨Lip Tint Harry Potter Edition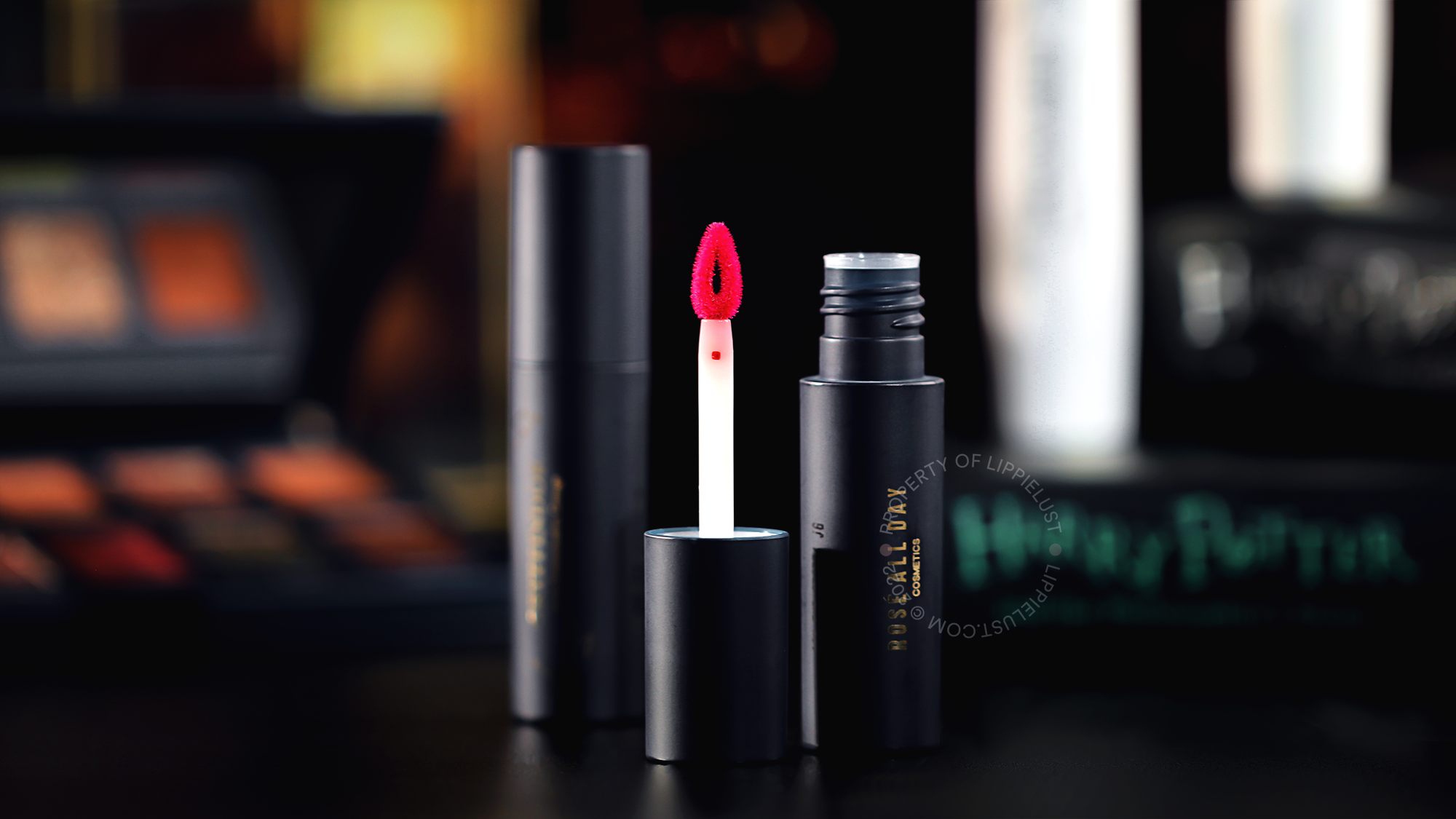 | | |
| --- | --- |
| Product Name | Rosé All Day Lip Tint Harry Potter Edition |
| Manufactured By | PT. COSMAX INDONESIA |
| Weight / Price | 3g / Rp 129.000 |
Packaging
Nah, ini nih. The main star of the series: Rosé All Day Lip Tint Harry Potter Edition. Produk ini adalah produk tambahan dari rangkaian Plush Lip Tint yang sebelumnya udah ada. Dengan tema Harry Potter, Rosé All Day menerapkan desain yang "dark" dan "wizard-like" sekaligus memperkenalkan 4 shades baru.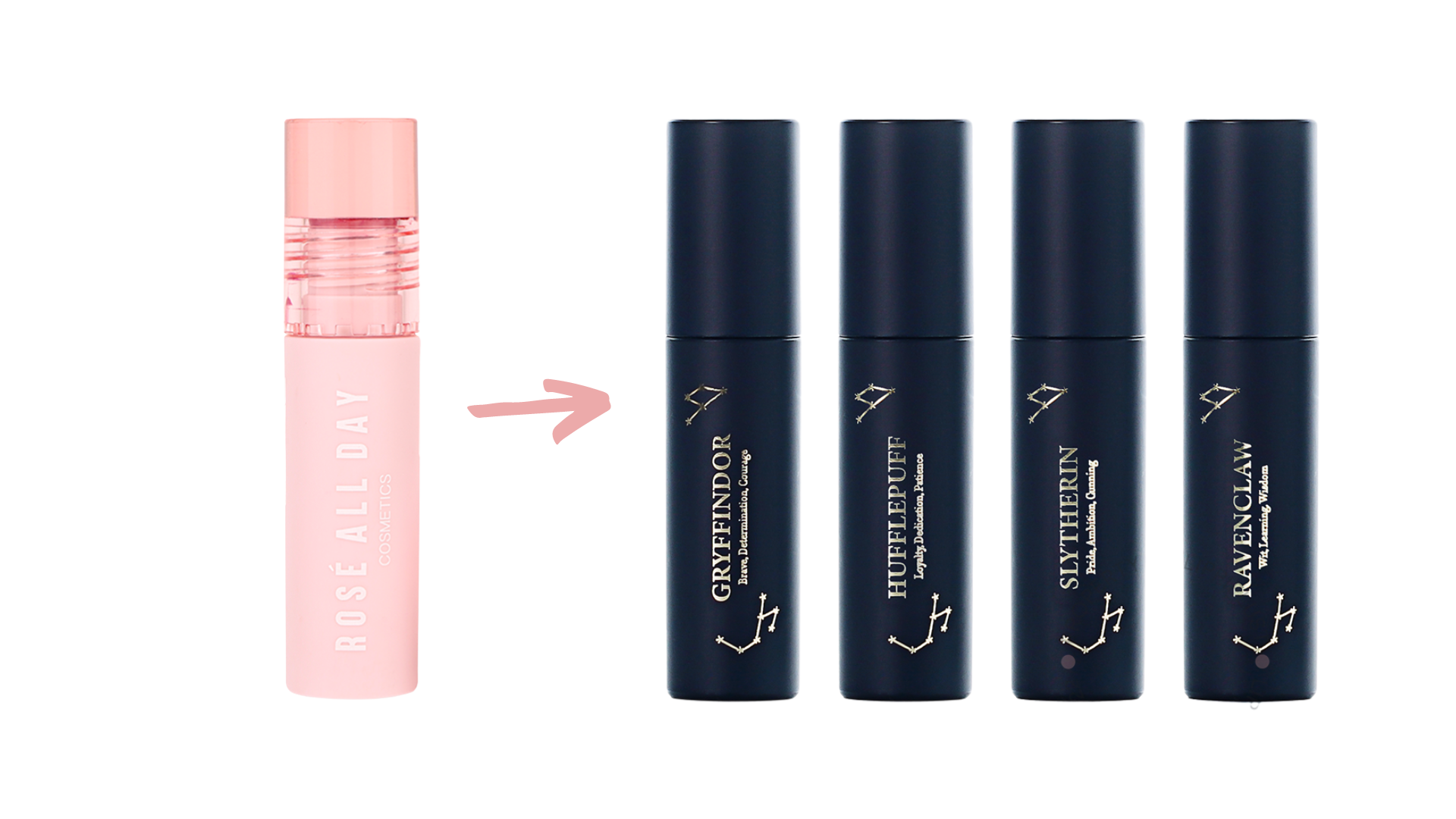 Dari tampak luar-nya, udah jelas ya perbedaannya apa aja. Bagian applicator wand-nya enggak ada perubahan: tetap pakai flat doe foot applicator. Gunanya bentuk dengan lubang ditengah ini adalah untuk mengangkat jumlah produk yang lebih banyak supaya produk bisa cover seluruh bibir hanya dengan satu olesan (expectedly). Personally, aku kurang suka bentuk reservoir ini karena bagian yang bisa menciptakan presisi itu ada di ujung, sedangkan bagian yang mengantongi banyak produk ada di tengah (di bagian lebarnya). I prefer bentuk flat doe foot yang ada di Plush Lip Tint desain awal banget (sebelum akhirnya secara permanen berubah betuk).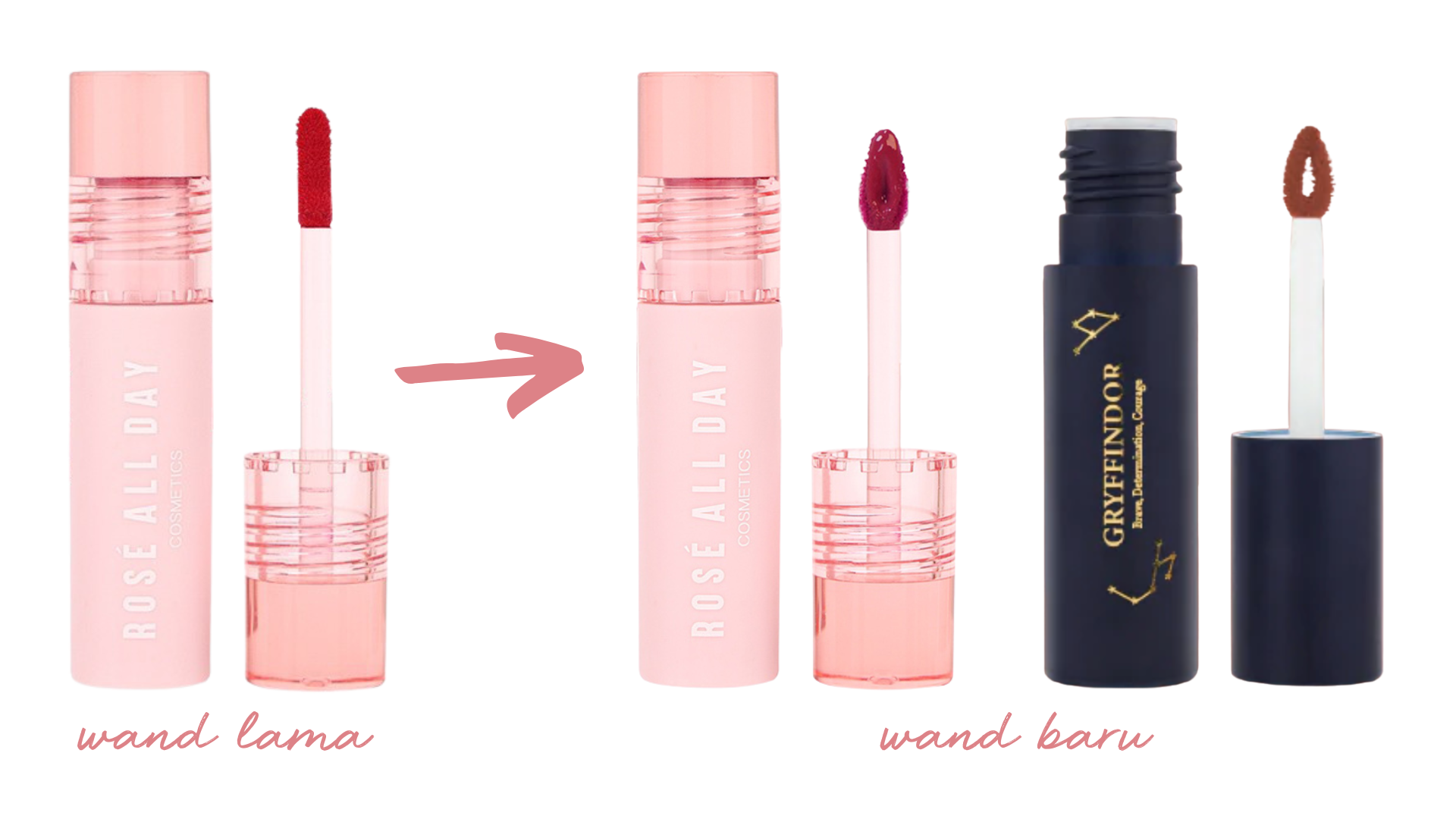 P.S I love nama-nama Hogwarts Houses yang terpampang dengan jelas lengkap dengan masing-masing simbol-nya di bagian atas cap. Ada Gryffindor, Hufflepuff, Slytherin, dan Ravenclaw.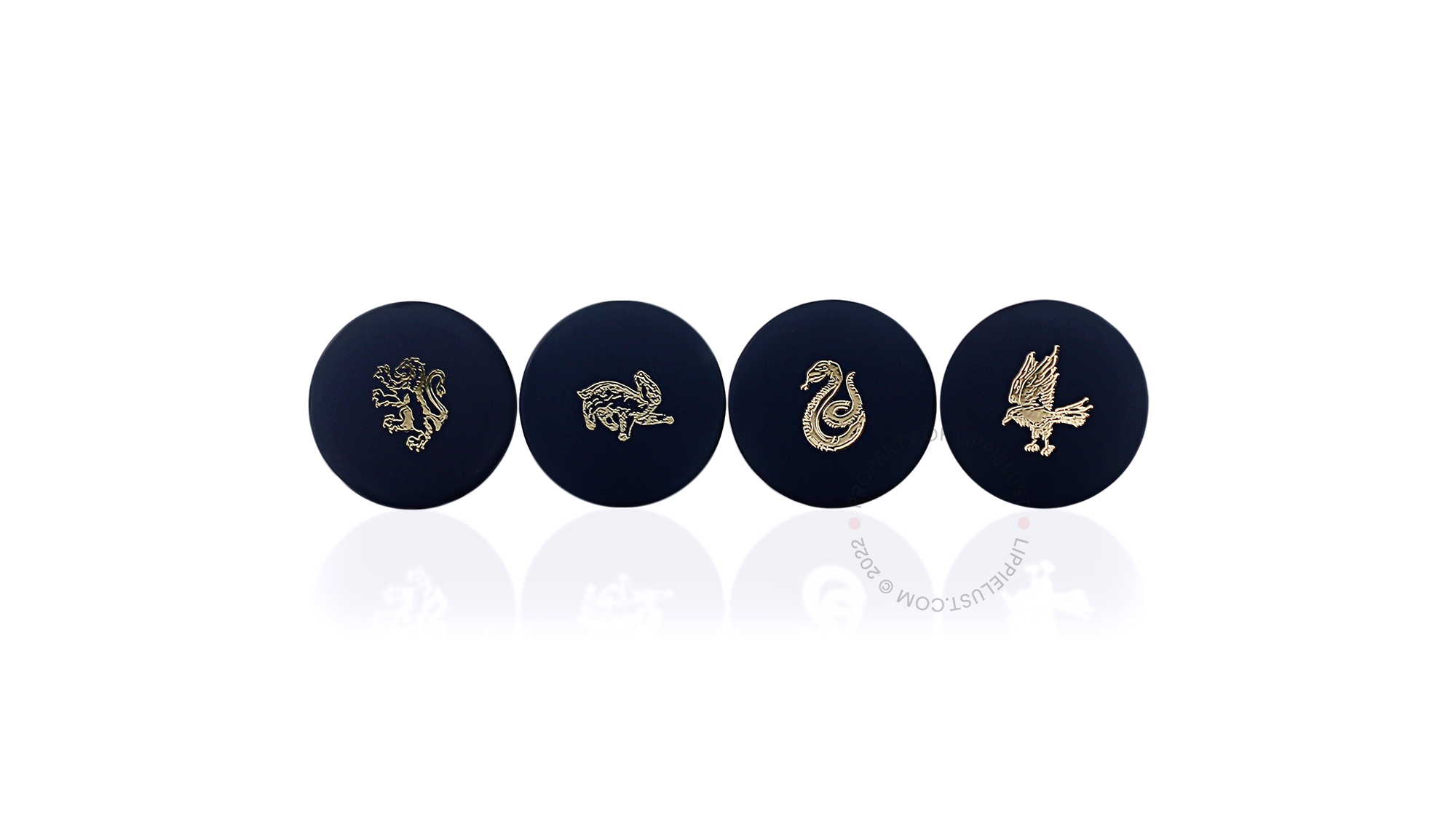 The Formula & My Experience
Begitu aku buka cap-nya, aku bisa mencium aroma wine yang pekat. Realistically, ini sebenernya enggak bagus, lho, karena fragrance bisa mengiritasi bibir. So, kalau kamu punya kulit bibir yang sensitif, be cautious yaa! Kalau kulit bibir kamu tahan banting dan kamu suka fragrance, this one's for you.
Next, saat aku oles produk di bibir, aku bisa merasakan sensasi dingin yang jujur aku belum nemu sumbernya. Setelah bolak-balik research ingredients, aku enggak menemukan bahan yang menimbulkan sensasi ini. However, ini cuma bisa kamu dapatkan di olesan pertama, setelah oles-mengolesnya selesai, dinginnya ikut hilang. 
Feel di bibir lumayan cepel karena ada Polyisobutene, but that's normal karena tujuan finished look-nya adalah "semi-glossy". However, feel ini enggak mengganggu sama sekali kok. Bibir aku jadi terasa lembut.
Warna yang aku dapatkan di bibir juga super menarik. Untuk kulitku yang medium neutral-to-warm dan bibirku yang enggak begitu pink, warna-warnanya terlihat lebih cool-toned dibanding dengan sample warna yang terdapat di kemasan box dan tube bagian bawah. Pigmennya enggak lebay untuk sebuah lip tint dan dia rata banget (enggak meninggalkan spot-spot bolong). Coverage-nya 70% kalau diaplikasikan dengan 1 layer; bagian discolored yang ada di pinggiran bibir aku masih bisa terlihat dengan jelas. Kalau diaplikasikan lebih dari 1 layer, coverage-nya jadi lebih terlihat oke. Kamu bisa sesuaikan dengan selera kamu sendiri. Sheer or bold, it's your choice. 
Tingkat transfer ke tissue adalah 20%, lumayan terlihat dengan jelas si bekas transferannya. Kalau tingkat transfer di kulit tangan, hanya 5%; sangat tipis.
Packaging-wise, I love it. Colour-wise, I love it, too. Terus, formula-wise, I really like it!
✨Lip Balm Harry Potter Edition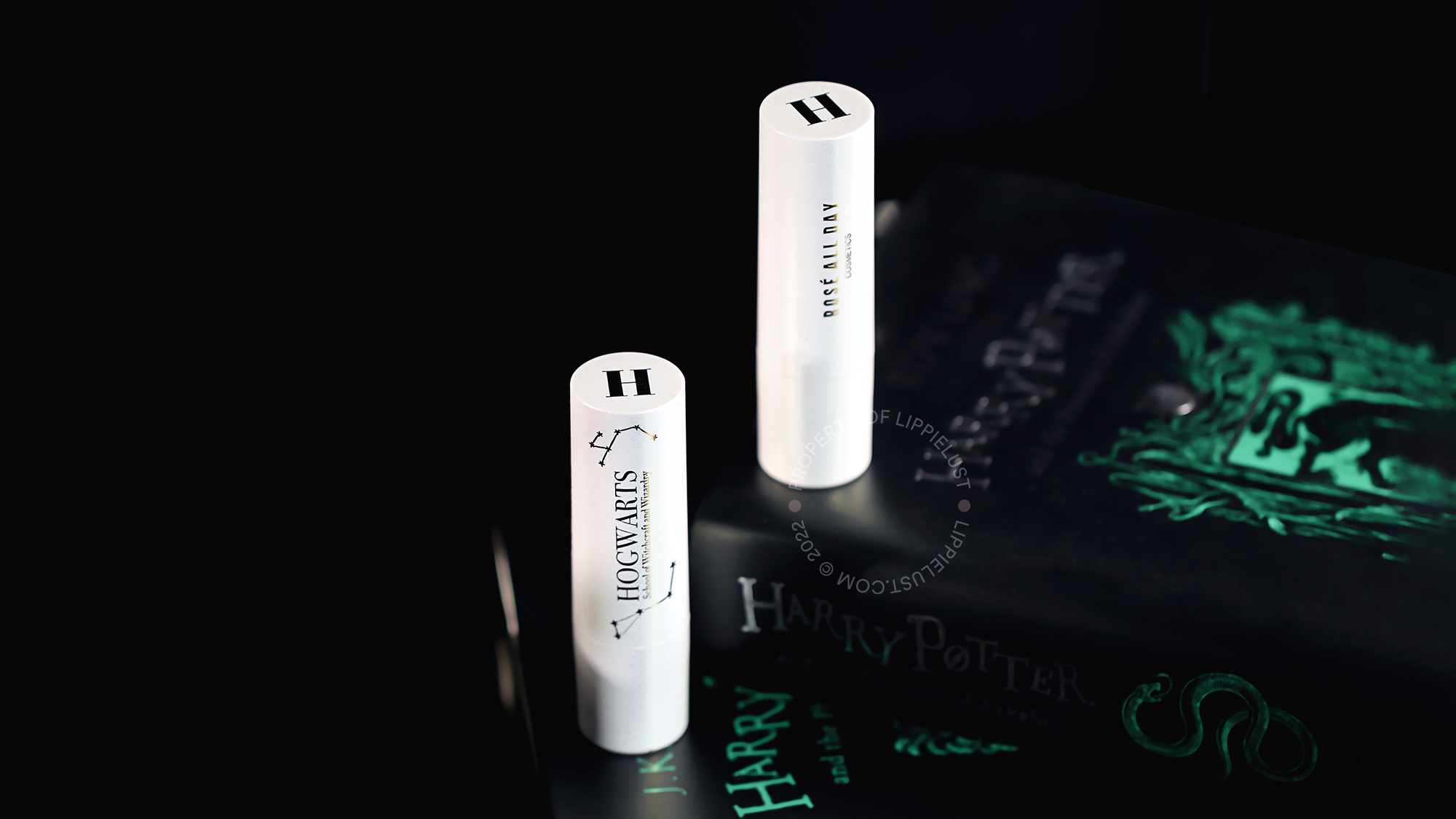 | | |
| --- | --- |
| Product Name | Rosé All Day Lip Balm Harry Potter Edition |
| Manufactured By | PT. COSMAX INDONESIA |
| Weight / Price | 3.5g / Rp 139.000 |
Packaging
Berbeda dengan kemasan yang lainnya, kemasan dari produk Lip Balm ini terlihat clean dan fresh. Warna putih-nya memberikan kesan "good magic". 
Bentuknya biasa aja sih, layaknya produk lip balm/lipstick pada umumnya, juga sama dengan versi reguler-nya which is Juicy Lip Balm. Adjustable knob di bagian bawahnya terasa berat saat diputar; bagian ini terasa "premium" and I like it! Sayangnya, bahan kemasan ini feels kind of plastic-y dan airy which I do not really prefer. Tapi it's okay, ini hal yang super minor yang enggak perlu dikhawatirkan. You know, selera masing-masing ya. Bagian yang paling aku suka adalah huruf "H" berwarna emas yang di-engrave di bagian atas cap. It's so elegant and so Harry Potter!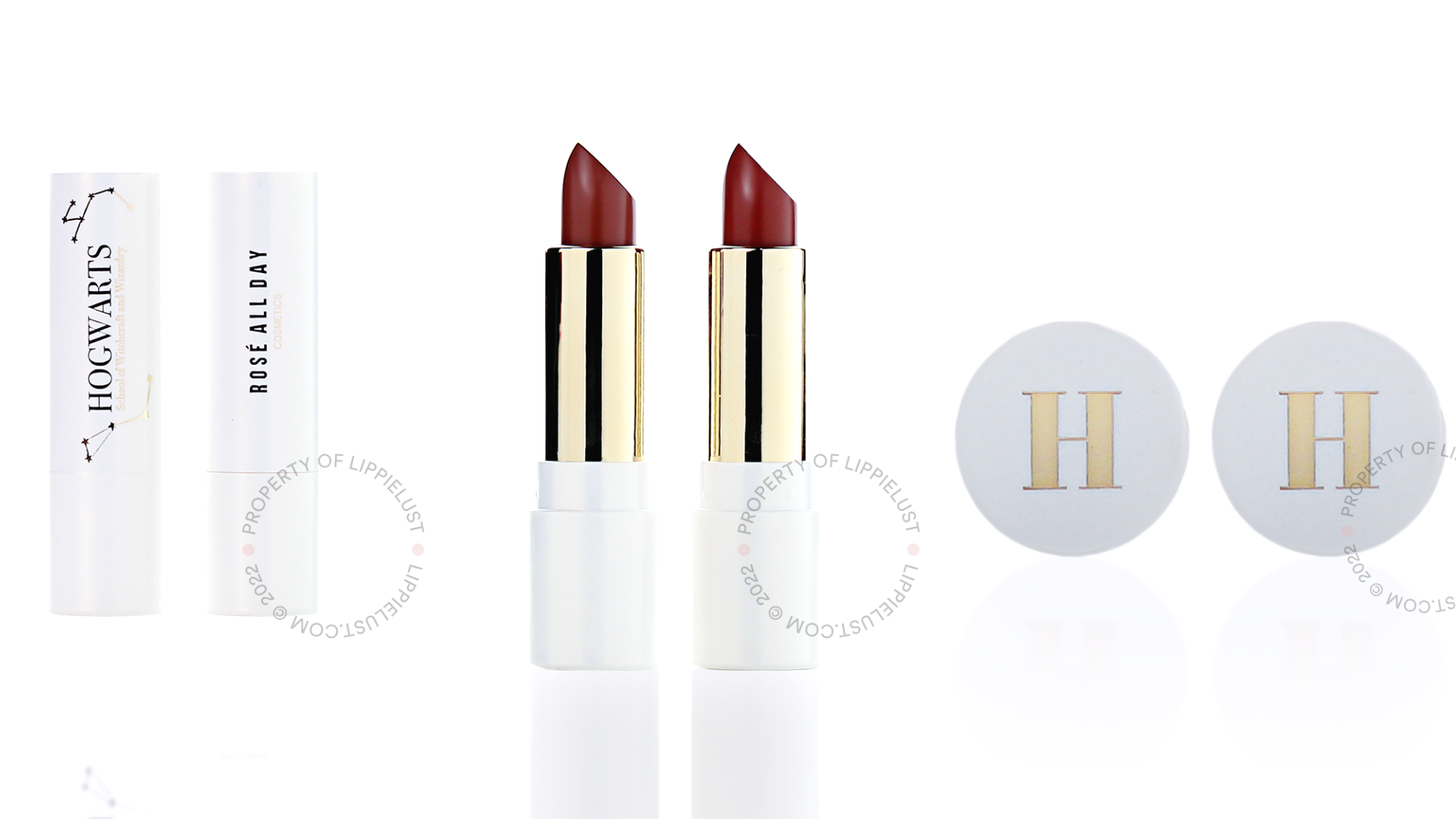 The Formula & My Experience
I have a confusing relationship with this product. Let me tell you why.
Produk ini adalah sebuah lip balm, tapi, menurutku, lip balm yang satu ini sedikit lebih kering dan padat dibanding lip balm pada umumnya yang biasanya itu lebih "melting" kalau dioles di bibir dan lebih ada feel "gliding seamlessly"-nya gitu. Lip Balm Harry Potter Edition ini justru lebih terasa seperti lipstick, TAPI, pigmen yang diberikan produk ini enggak cukup padat untuk dikatakan sebuah lipstick. Bingung kan?!
Dilihat berdasarkan kandungannya, memang banyak khasiatnya, sih, like a true and good lip balm…but not the lip balm we usually know. But that's alright! Pada akhirnya, kita tetap akan appreciate kandungan produk ini yang menurutku udah lumayan untuk menjaga kesehatan bibir; ada Vitamin E, C, Ester Oil, dan Sun Protection (could have something more, though. It's a lip balm, so I was expecting a "health-packed bundle of joy"). Produk ini mampu kok untuk memperbaiki bagian-bagian kering di bibir aku. 
Kalau kamu kurang suka produk-produk yang transferable, don't use this one, karena enggak ada agent yang membuat formula produk ini menjadi transferproof. Di tissue, tingkat transfer-nya adalah 30% dan di tangan 15%. 
Mempertimbangkan feel dan look dari produk ini, aku bisa konklusikan kalau ini cocok banget untuk kamu yang suka "sheer lipstick". Lipstick dengan pigmen yang enggak lebay dan masih bisa memberikan look yang natural dan menjaga bibir agar terhindar dari kering-kering.
Fiuhh…that's all for this time's review! Gimana nih, Potterheads? Tertarik untuk nyobain enggaaak?