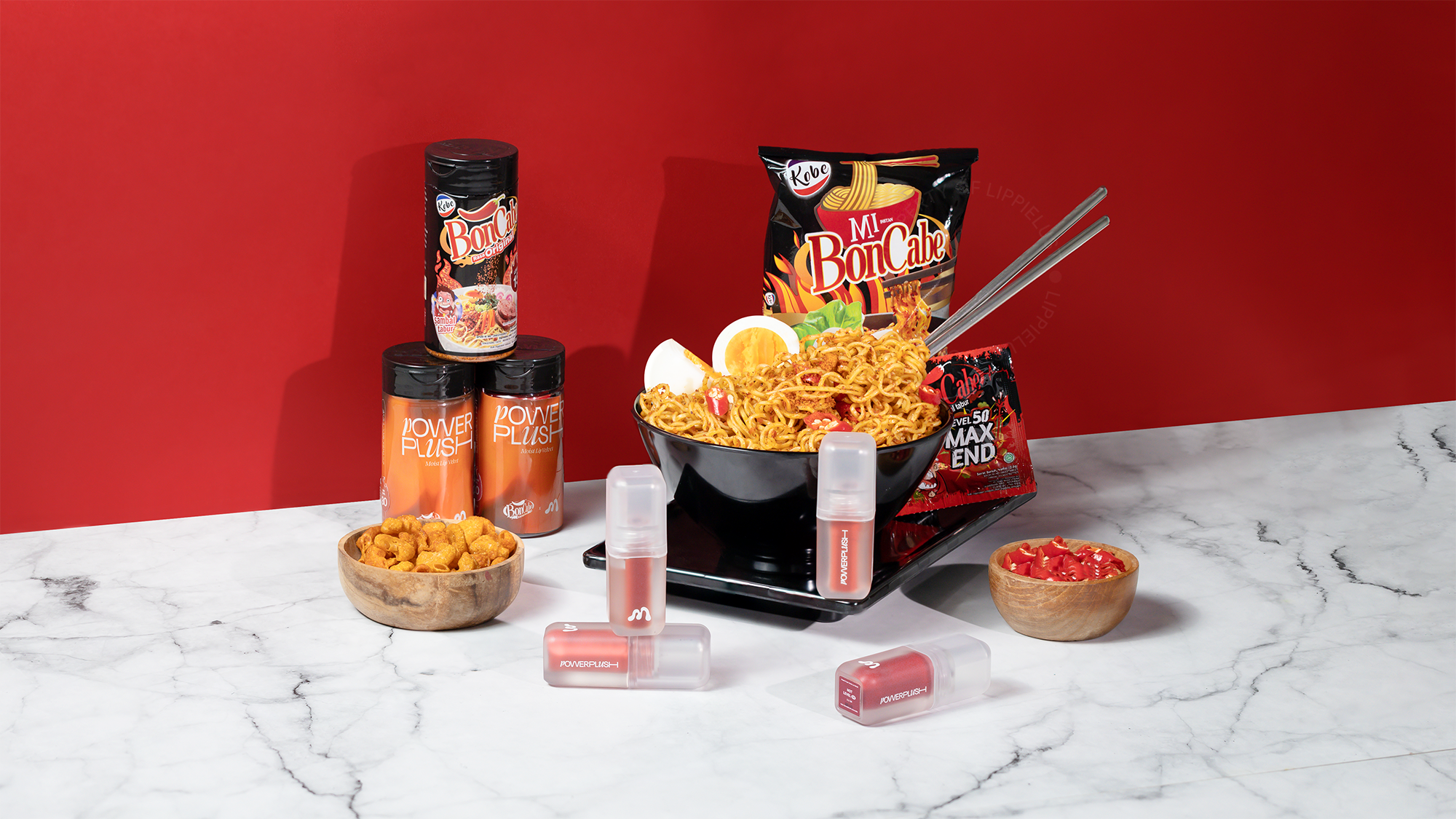 Produk yang pedas membara akhirnya mampir lippielust.com ! Banyak yang nanyain nih: MAD X Bon Cabe ini ada sensasi pedasnya enggak yaa? Semacam plumping effect gituu? Atau mungkin ada aroma-aroma chili kali yaa? Ya daripada penasaran, mending langsung aja kita cobain deh.
| | |
| --- | --- |
| Product Name | MAD X Bon Cabe Power Plush Moist Lip Velvet |
| Manufactured By | PT Astoria Prima |
| Distributed By | CV Mad For Makeup Indonesia |
| Price / Weight | Rp 139.000 / 3.5g |
Packaging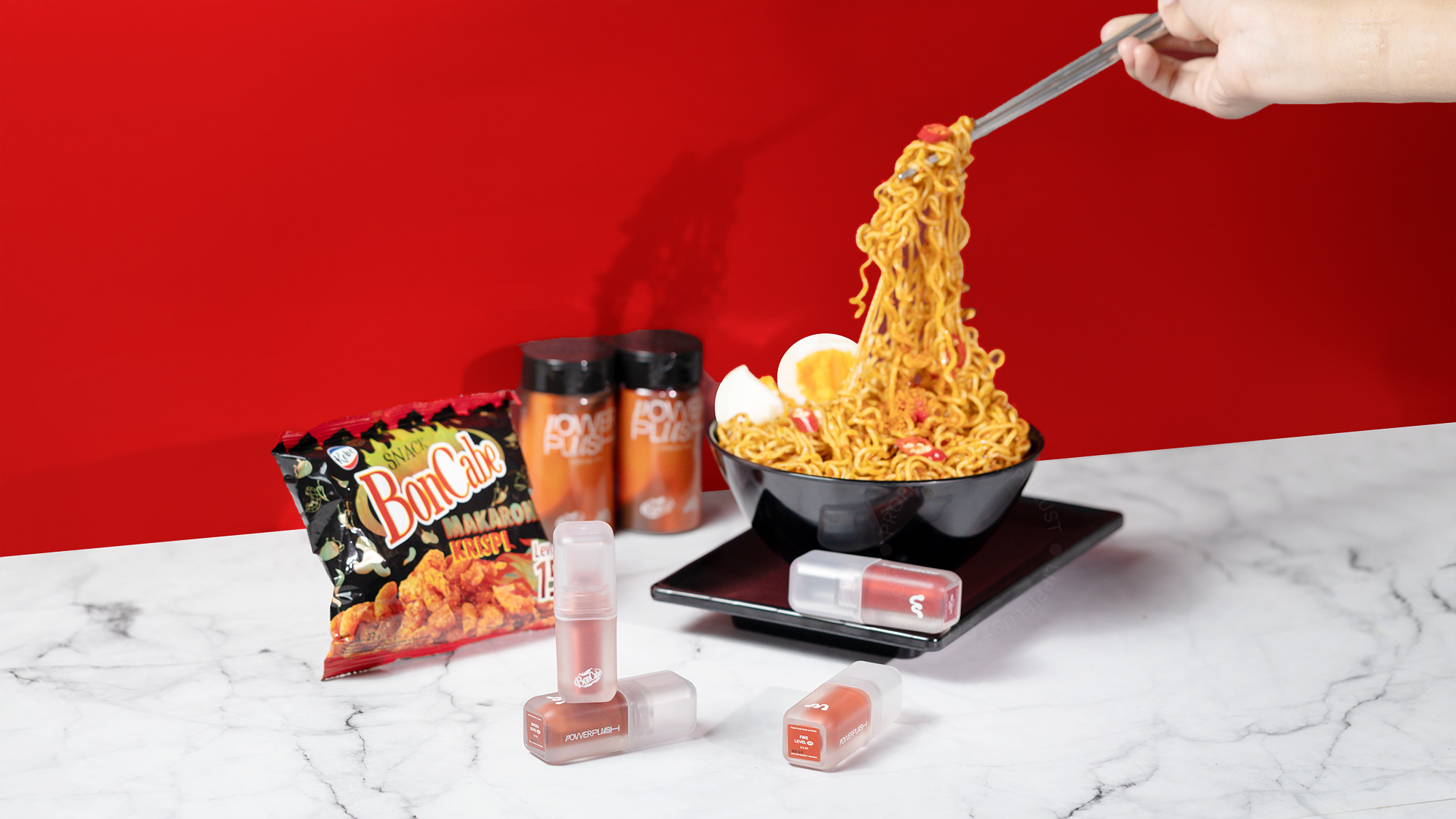 Bener-bener ya, they're going a little mad with this one: packaging luarnya beneran pakai botol Bon Cabe, guys, lengkap dengan simbol "Kobe" di bagian penutupnya. It's so cute, funny, and creative! Desain grafisnya juga bisa saingan nih sama Bon Cabe. Kudos to a creative design team!
Kalau tube lippie-nya sendiri sih…estetika kemasannya belum berubah, guys. It's still Mad for Makeup! Mayoritas warna yang digunakan adalah…nothing. Ya, kemasan bening transparan sudah menjadi sesuatu yang mengakar pada rangkaian produk Mad, at least half of the package has got to be transparent; it's their aesthetics. Kali ini, seluruh botol lippie hanya mengandalkan warna yang ada pada isi produk; it's minimalist and modern. I honestly am loving how it looks!
Feel pemutaran cap-nya memang rada kasar sih, it's not as smooth as the caps from some of the more well-known brands, tapi ini sudah terbilang upaya bagus untuk menciptakan packaging yang 'hampir' sempurna. 
Applicator wand-nya berukuran pendek tapi enggak mengganggu kok. Ujungnya berbentuk angled dengan reservoir di tengahnya; cocok untuk penggunaan sekali oles dengan presisi yang oke.
The overall design? It's minimalistic, kinda futuristic, and very chic. 
The Product and My Experience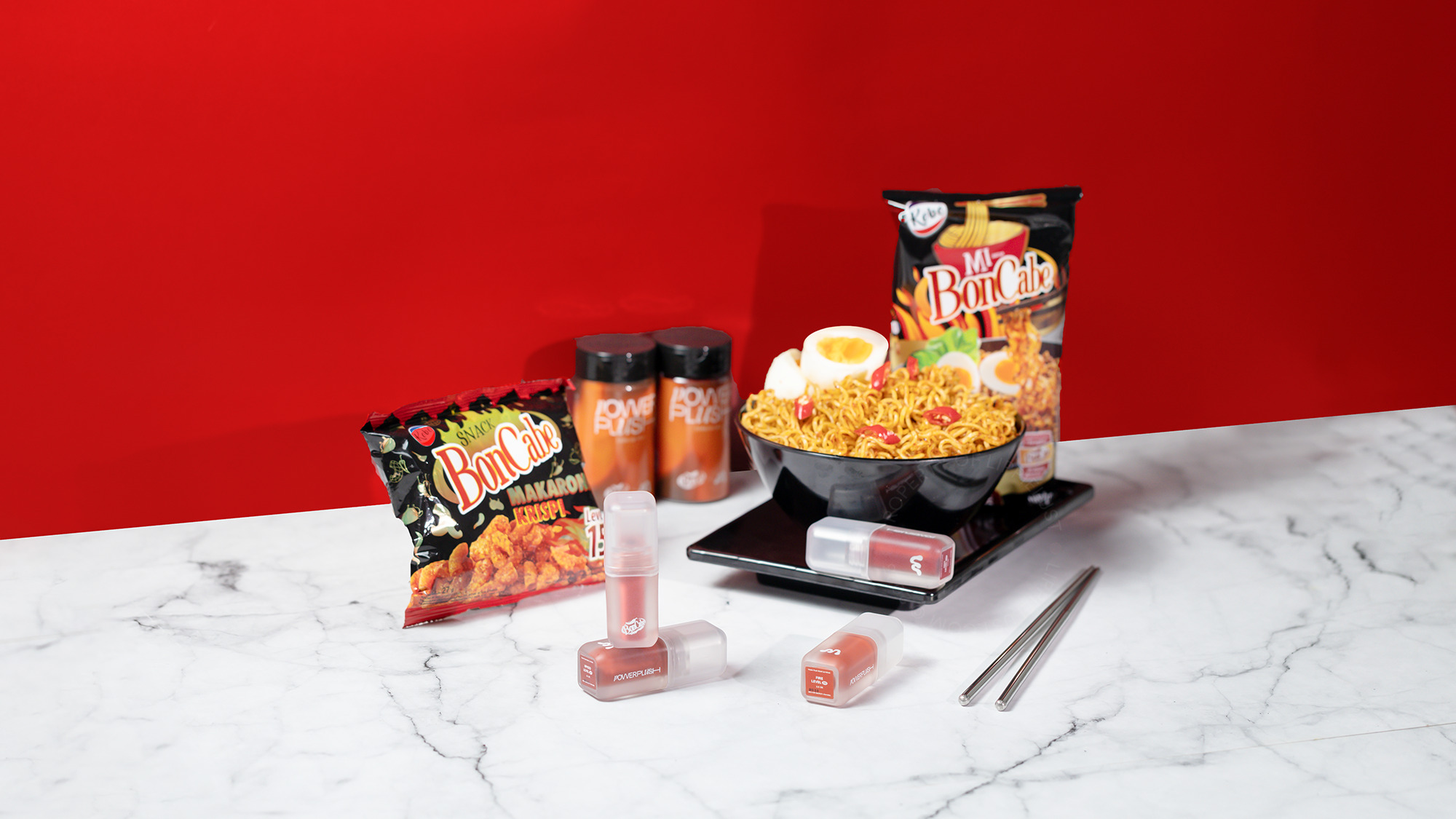 Produk ini memiliki aroma mint yang dicampur jambu; ini sedikit membingungkan tapi lama-kelamaan aku mendapatkan kesan "fresh". Menyenangkan sih, tapi kalau kamu lebih suka lippie yang mengandung zero fragrance, maybe you should turn the other way.
Tekstur lippie ini menyerupai mousse yang creamy dan lembut. Glidability-nya tinggi banget; terasa 'licin' saat dioles seperti mentega seperempat leleh.
Produk ini memberikan feel yang dingin di bibir, enggak lebay sih, cuma ada beberapa hit of coldness di beberapa spot (paling terasa di bagian pinggir bibir). Sesuai dengan aromanya yaa.
Pigmennya tebal; semua area bibir aku terwarnai dengan baik. Spot-spot kering juga lumayan tertutup dan berubah menjadi tampak mulus, hanya saja produk ini enggak mampu menutupi bagian-bagian bibir yang terkelupas; spot tersebut akan terlihat menggumpal. So, aku merekomendasikan kamu untuk melakukan lip scrubbing terlebih dahulu sebelum menggunakan produk untuk menghasilkan look yang lebih mulus.
Finish yang aku dapatkan itu Satin. It's the perfect look between creamy and matte. Produk ini juga enggak akan menyebabkan crack yang biasanya terbentuk kalau di-stretch (usually saat tersenyum). 
If you're looking for a transferproof product, maybe this is not the one for you karena lumayan transfer nih (walaupun udah set dengan sempurna di bibir yaa kurleb 5 menitan). But alas, produk-produk satin memang biasanya enggak terbuat untuk jadi transferproof, so, this is not really a big deal for me. Nah, kalau kamu rajin pakai masker, siap-siap aja untuk melihat dalaman masker yang merah-merah.
Setelah digunakan selama kurleb 2 jam (juga melalui sesi makan siang yang minim minyak), produk ini tampak memudar. Bagian dalam bibirku terlihat jelas dibandingkan pinggirannya yang masih tertutup produk. A touch up is needed, jadi aku bisa bilang kalau ketahanan produk ini…lumayan, but it's not the best.
Last but not least, produk ini mudah untuk dijadikan ombre satu warna atau ombre dua warna karena blendability-nya yang tinggi dan seamless.
SHADES
10 Crushed (warm light pink)

15 Spiced (neutral medium brownish orange)

30 Fire (warm medium orange)

50 Hot (neutral deep brownish red)