After more than a year we have finally come to this. Phew! Don't worry, I've bottled up all my thoughts about Girlactik so I know what I'm going to say.
✨

OVERVIEW

I firstly knew Girlactik about 1,5 years ago, along with LA Girl Matte Pigment Gloss (not sure which came first), and because of Girlactik I fall in love with liquid lipsticks until today. At that time, Girlactik was sold about 360,000-380,000 IDR, which is very expensive (now you know I am not really into ABH's liquid lipsticks). Starlet, Allure, and Demure was my first pick of Girlactik, and I DID NOT REGRET buying them. Why?

💄 Girlactik Matte Lip Paint weight is more than double of most liquid lipsticks in your drawer, 7,5ml. As comparison: Anastasia Beverly Hills' liquid lipsticks: 3,2ml, Kylie Matte Liquid Lipsticks: 3,25ml. KVD: 6,6ml, JSC: 5,6ml, OFRA: 6ml.

💄 Girlactik Matte Lip Paint has creamy formula, when it sets to matte within seconds, it has minimal transfer. It's easy to remove effortlessly by oil-based makeup remover.

💄 Girlactik has sophisticated yet simple tube without any frivolous writings on the tube (yes I am referring to NYX's lipstick products).

💄 Girlactik has so many warmskinned-friendly shades. Not to mention it has wide range of nude colors. Probably I'll just say they are all nudes except 4 shades: iconic, flirtatious, seductive, stellar. Nude liquid lipsticks are very popular here in Indonesia.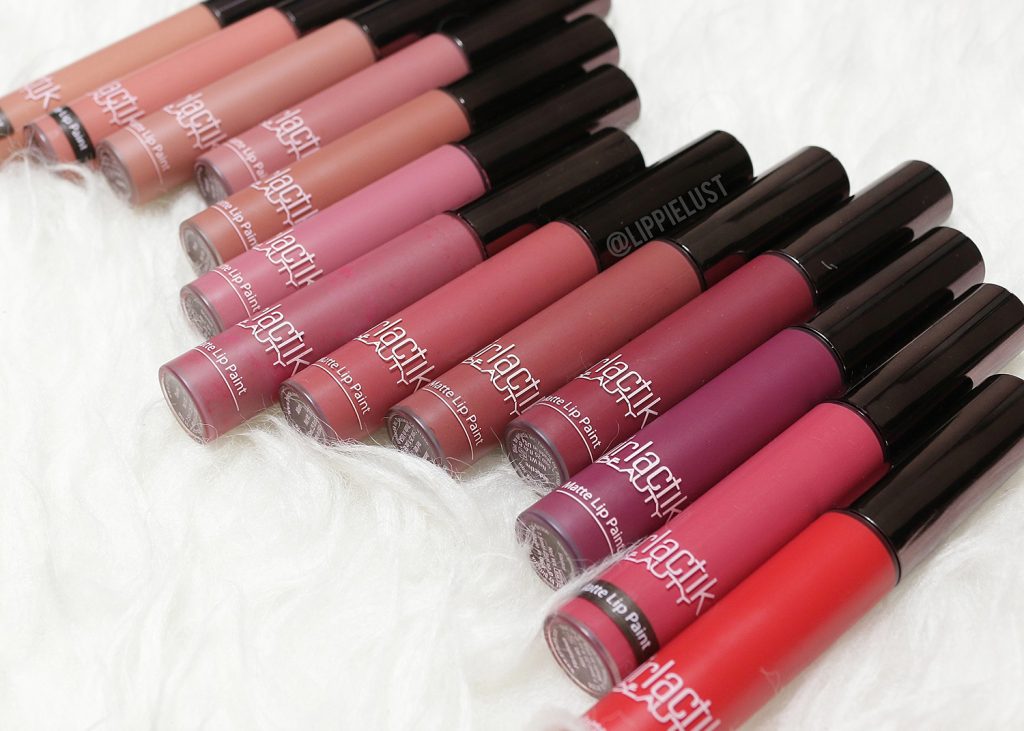 [one_half_col_first]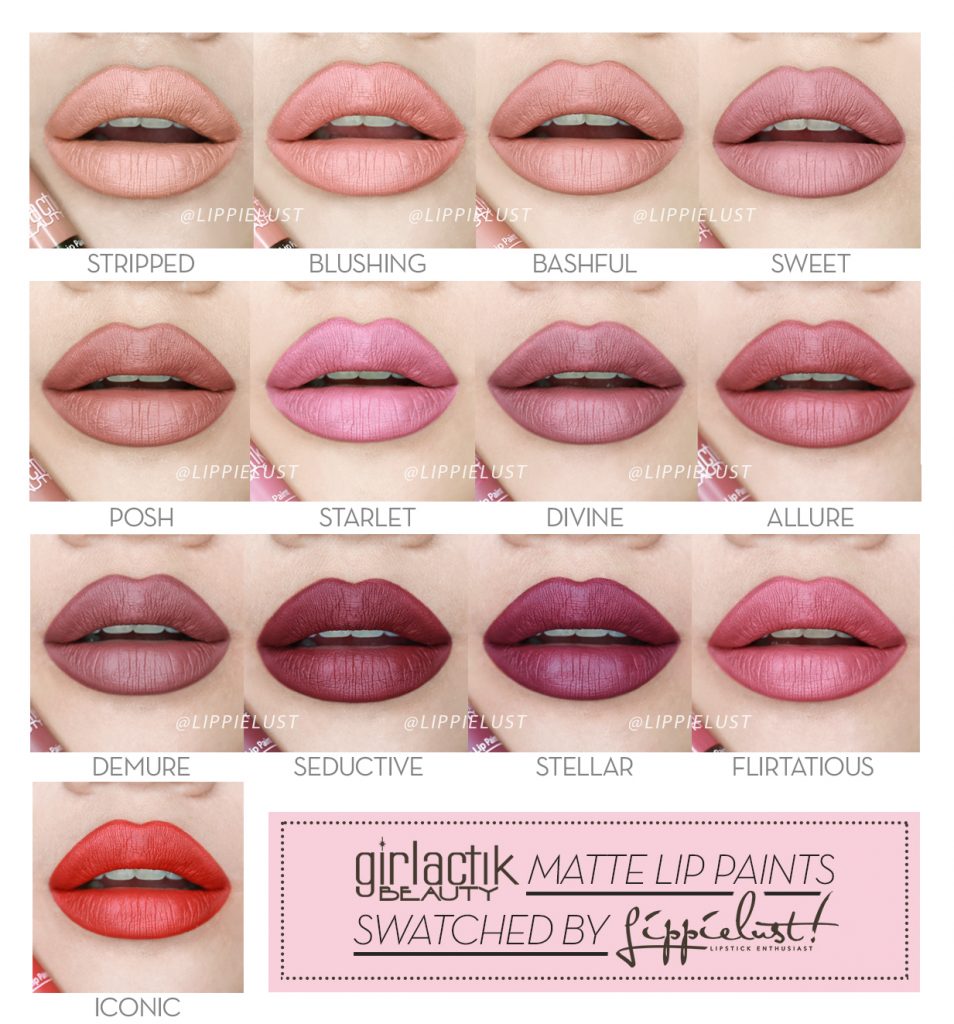 [/one_half_col_first] [one_half_col_last]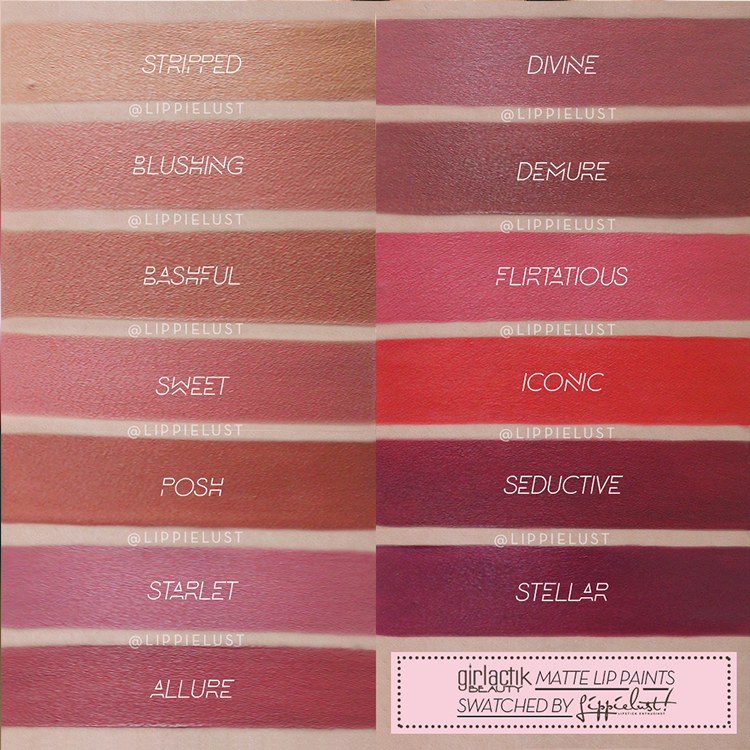 [/one_half_col_last]
✨

FORMULA + PIGMENTATION + COLOR

The formula is so creamy and the scent is like you favorite red velvet cake. Color consistency and pigmentation is also amazing, except Stellar. Stellar is a bit patchy and uneven in the first layer but as a matter of fact, buildable. You can layer it up when it's still wet or dry. The color range is, in my opinion, 'too safe' and very everyday-colors. Well that was before Girlactik launched Seductive and Stellar, though. Now I really think that Girlactik can once again can be such a tough contender to other high-end liquid lipstick products by creating bolder and more unique colors. Way to go, Girlactik!
✨

MOISTURIZING

Yes, yes, yes. But as usual, well-moisturized lips are better for ANY liquid lipsticks.
✨

LONGEVITY

You can expect these Girlactik Matte Lip Paints to stay for 4-5 hours, with full touch up after eating greasy foods. Again, I am more comfortable with liquid lipsticks that don't last too long on my lips or worse, so hard to clean. And also, I have no problem with touching up! 😉
✨

BUY THEM AT

Indonesia: [button title="@flameparadise" url="https://www.instagram.com/flameparadise/" color="readmore" size="" icon="" icon_align="left" rotate=" " target="_blank"/] (Instagram)
✨

SWATCHES