Hi Loves!
On this month only, we Indonesians have two long weekends! Three days of days off is a good deal to do a short getaway. My city, Bandung, is always a popular destination for Jakartans to spend their getaway. Bandung is always busy when it comes to weekend, now can you imagine how could it be when we added one more day off? Yes, traffic and stuff. So I decided to stay at home and do what housewife always do – yes, cleaning, cooking, and stuff.
If you're curious why I rarely post on my Instagram and also do review on my blog nowadays, that's because I couldn't get a proper, natural lighting. We literally only have 4 hours of sunlight, and the rest of our days are cloudy (and continued with non-stop rain until midnight). I prefer my product photographs look natural as it can, so it's quite challenging for me to catch up with the clouds.
Anyhoo! Back to the topic… Breena Beauty was the first brand from Malaysia that came to me and asked me to be their lip model for Velvetcreme. After took a time looking at their Instagram page, I immediately fell in love with their brushes! Yep, before Velvetcreme, Breena already sells their signature brushes: Eye Essential Kit & Face Luxe Brushes. We'll get to this product first before talking about the Velvetcreme, 'kay?
FYI, this will be a super long, pain in the *ss review so you better grab a bucketful of popcorn and coke. Lol.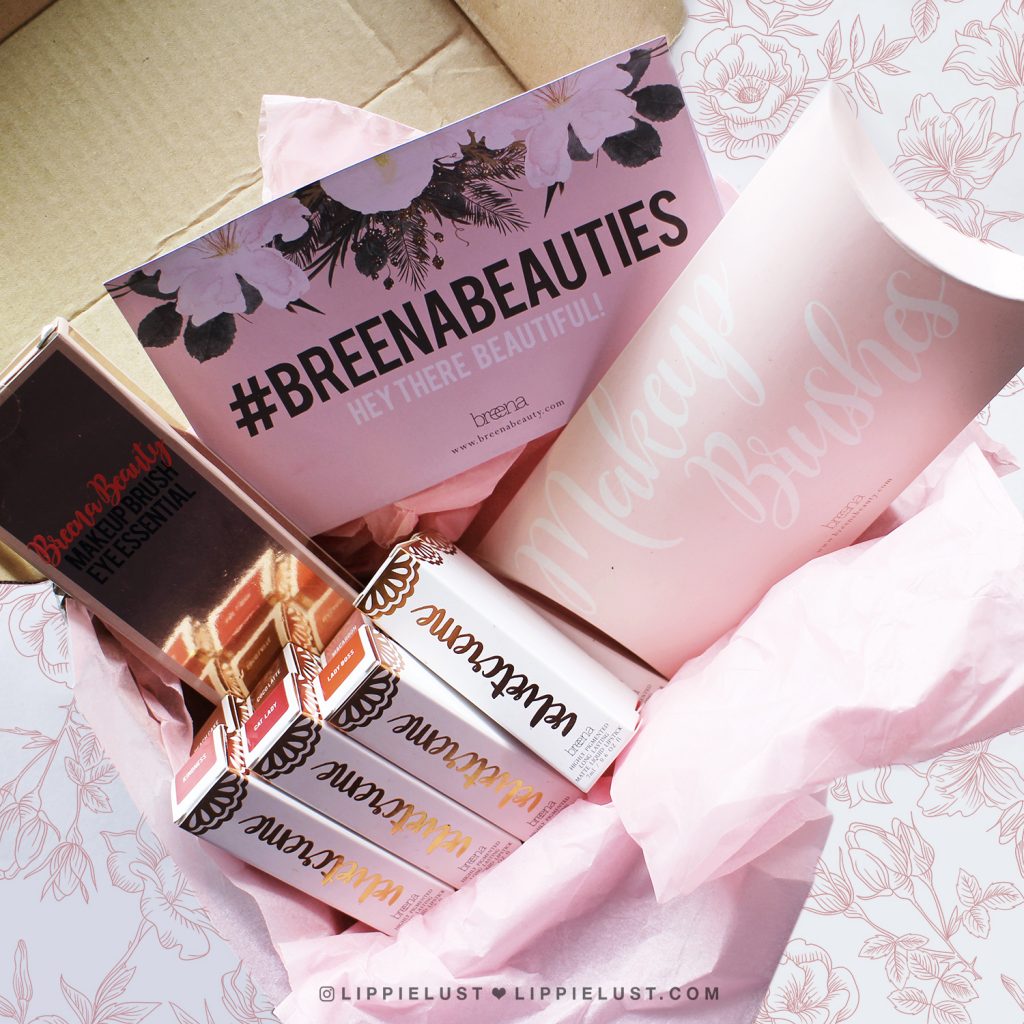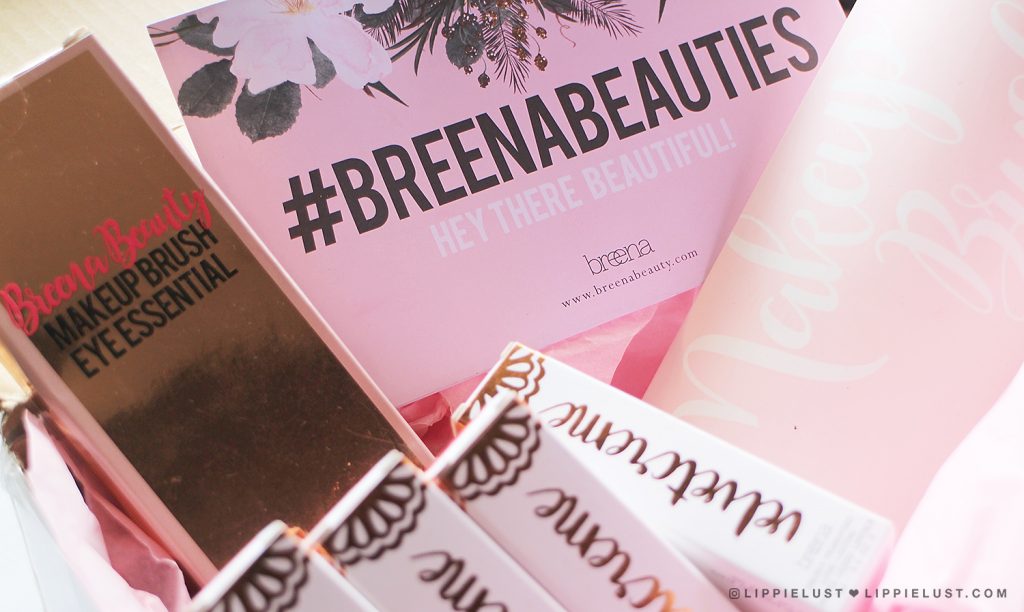 A package you wouldn't say NO.
As I said, the Breena Beauty's brushes was the first thing my eyes caught. It looks like the usual brushes you use, but these brushes are way better to stare at — thanks to the photogenic boxes — which I also really enjoyed taking photos of it.
✨

ABOUT THE BRAND

Breena Beauty comes to life because of the beauty and brain behind it: a beauty and lifestyle blogger from Malaysia, Sabrina Tajudin. Her name is so familiar to me but I had no clue where exactly I knew her from so I googled her. Hahaha (this is embarrasing I know). So long story short, Breena Beauty is Sabrina's dream — which successfully came true. Founded in 2014, Breena Beauty focuses on making every beauty lovers around the world experience high quality products at affordable prices.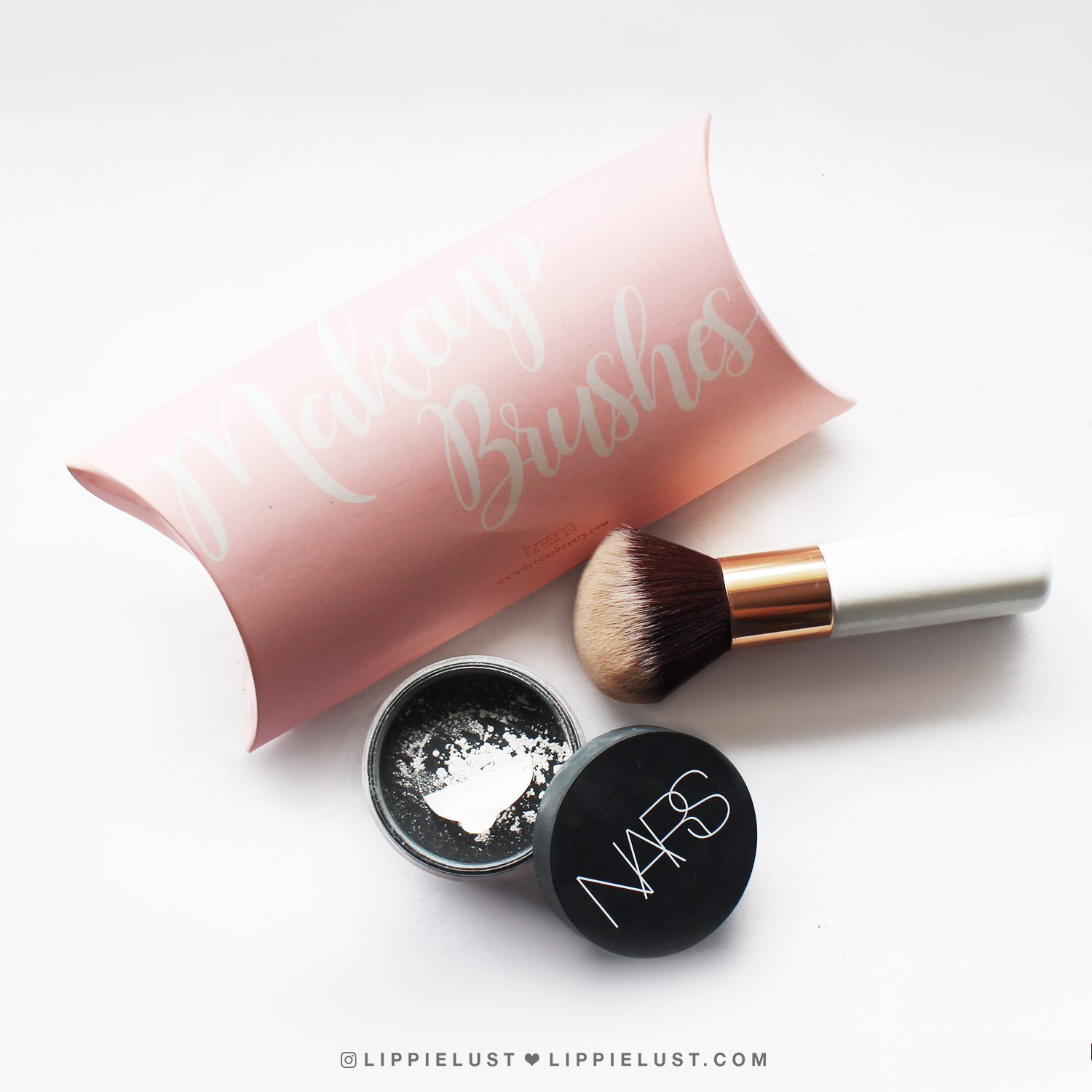 First world problem for a packaging wh*re like me: taking bunch of pictures of it and taking hours just to pick the best picture out of many.
✨

BREENA BEAUTY FACE LUXE BRUSH

Product details (taken from breenabeauty.com):
Our best seller multi tasker brush! Works great with both powder & liquid formula products. It creates a soft focus airbrushed effect on your skin. Best used in buffing & stamping motion. Its bristles are made of ultra-soft luxury synthetic hair that is gentle on the skin. Experience effortless, seamless & natural effect makeup application with this brush!

BRUSH CARE :
1.Wash with lukewarm water and baby shampoo or proper makeup brush cleanser. Then gently rinse out all makeup residual using your fingers.
2.Use a cloth to wipe your brush clean & reshape the brush.
3.In room temperature, lay your brushes flat on a cloth to dry.

INGREDIENTS:

ferrule are made from metal & handles are made from white painted wood with gold engraved detail.
Well I never tried this brush for makeup in liquid form but I agree that this works really good for setting powder application. Although the bristles are made from synthetic hair, but I gotta say this: I wouldn't know if Breena don't state it on their site. Also, the bristles are so soft and dense and they don't fall out at all! I use this Face Luxe Brush since the first time I got the package from Breena, and it still looks as good as new.
All Breena Beauty's brushes have their name on the handle, neatly engraved with gold foil to add more luxurious touch.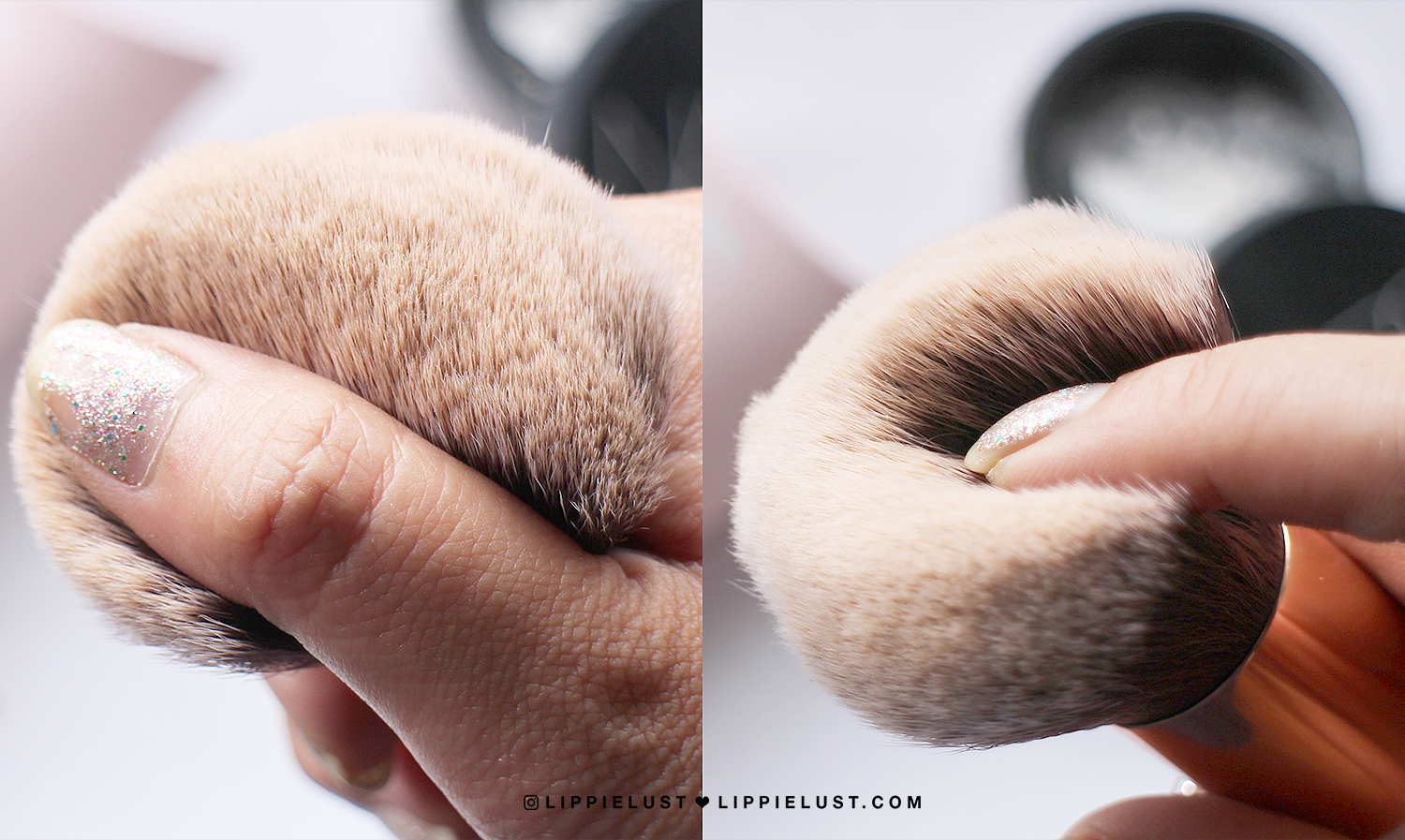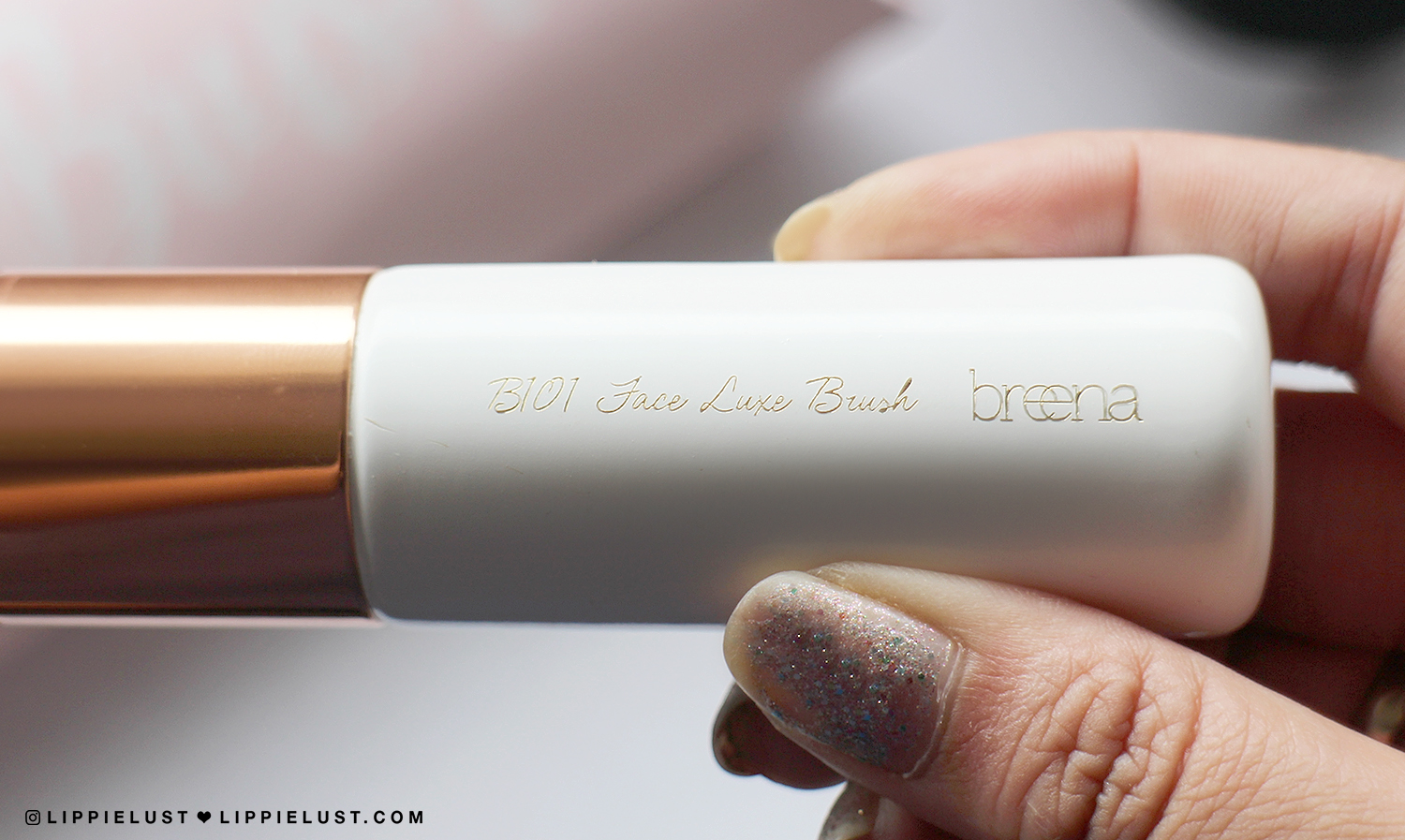 Don't worry, I washed my fingers beforehand.
PRICE ON WEBSITE: 45 RM (around 150,000 IDR / 10 USD) You can get it here.
✨

BREENA BEAUTY EYE ESSENTIAL KIT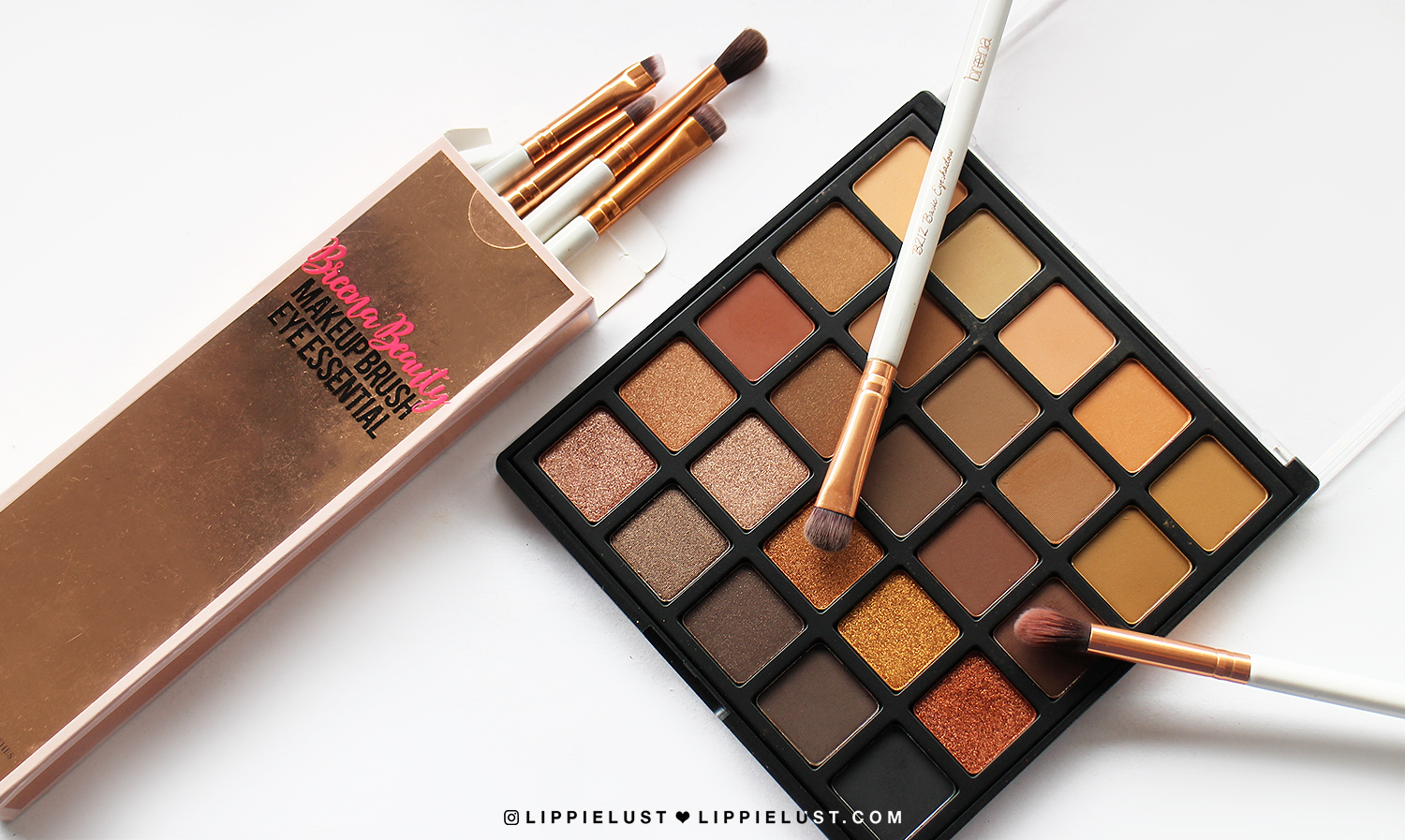 A must have eye brush set that you'll need to achieve professional eye makeup application. 6 essential must have eye brushes helps you to blend, pack, smoke out, draw and fill in your eye shadow and eye brows. All brushes are made from high quality synthetic fibers that are soft and gentle on your skin. Can be used on both wet and dry products. Easy to wash and clean. Use baby shampoo or proper makeup brush cleanser and dry in room temperature. Get this set and save RM11.00 from actual total of individual eye brushes!

THIS KIT INCLUDES 6 BRUSHES:
B211 Fluffy Blending
B212 Basic Eyeshadow
B213 Crease Blending
B214 Shadow Smudger
B215 Pencil Brush
B216 Brow Definer

BRUSH CARE :
1.Wash with lukewarm water and baby shampoo or proper makeup brush cleanser. Then gently rinse out all makeup residual using your fingers.
2.Use a cloth to wipe your brush clean & reshape the brush.
3.In room temperature, lay your brushes flat on a cloth to dry.

INGREDIENTS:

Hair brushes are made from synthetic fibers, ferrule are made from metal & handles are made from white painted wood with rose gold engraved detail.
When it comes to Eye makeup essential, Breena Beauty Eye Essential Kit is newbie-friendly. Each brushes has their own name engraved on the handle, so you won't take times to wild-guessing which one for what. I find this kit is easy to use and these six brushes are all I need to use for my eyeshadow application everywhere. So if you're either love to wear non-complex eye makeup or still learning how to do it: this kit is for you. 😉
The brushes, like the face brush, are so soft and dense.
PRICE ON WEBSITE: 139 RM (around 430,000 IDR / 32 USD) You can get it here (Essential Kit), RM 25 (around 77,000 IDR / 5,8 USD) for single brushes.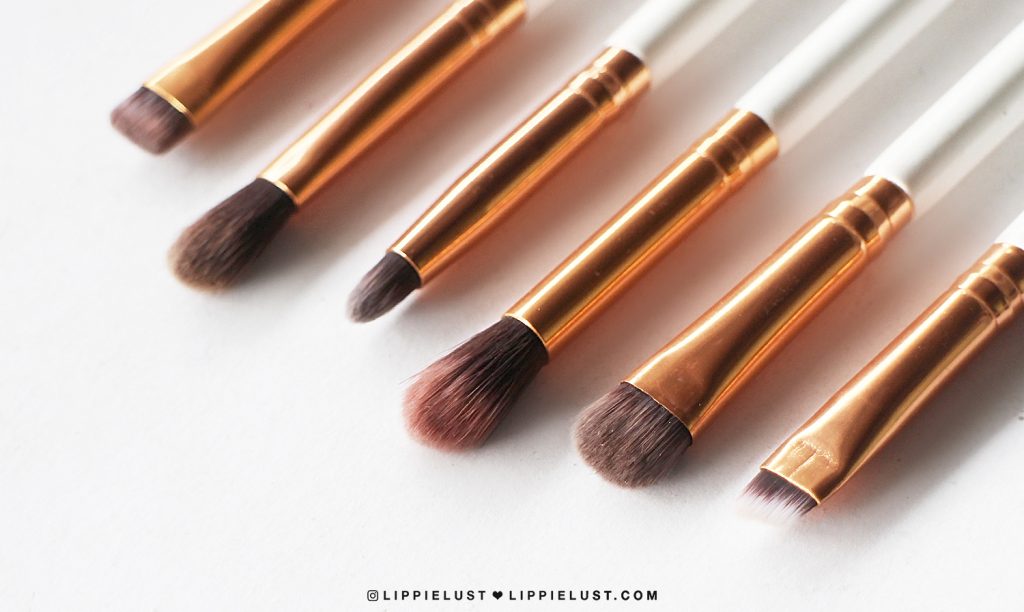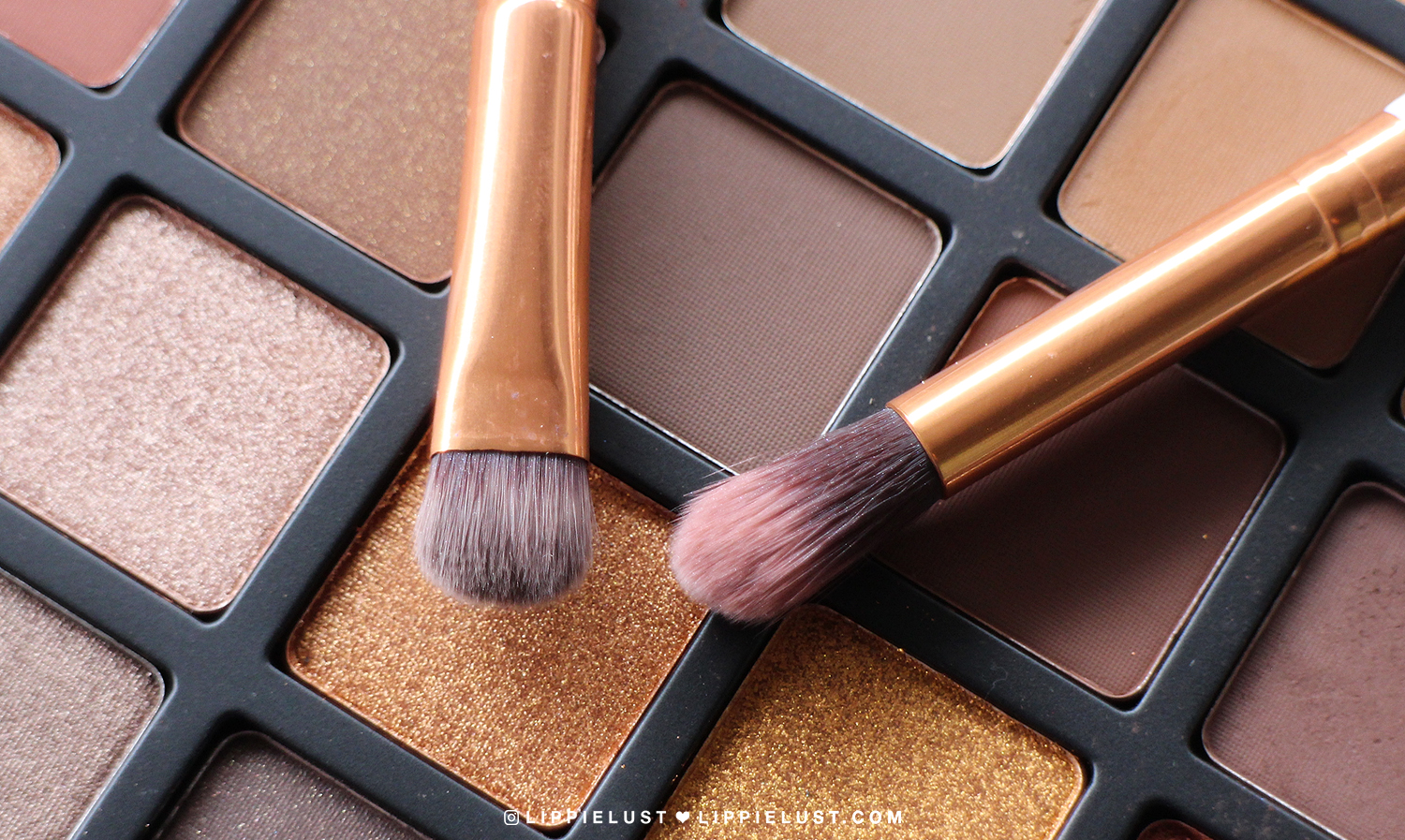 Special Shoutout to my new Morphe Palette as a birthday present from @ca2ca2 :*
If you think that the review is done, easy…. the Velvetcreme is on the spotlight right now! I am so thrilled because Breena Beauty Velvetcreme has been on my daily essentials since about 4 months ago (I got them earlier for the swatches). At that time I couldn't show you guys just yet, I needed to wait up until Breena officially launched the product, which is about 2 months ago.
So guys, here we go…
✨

VELVETCREME LIQUID LIPSTICK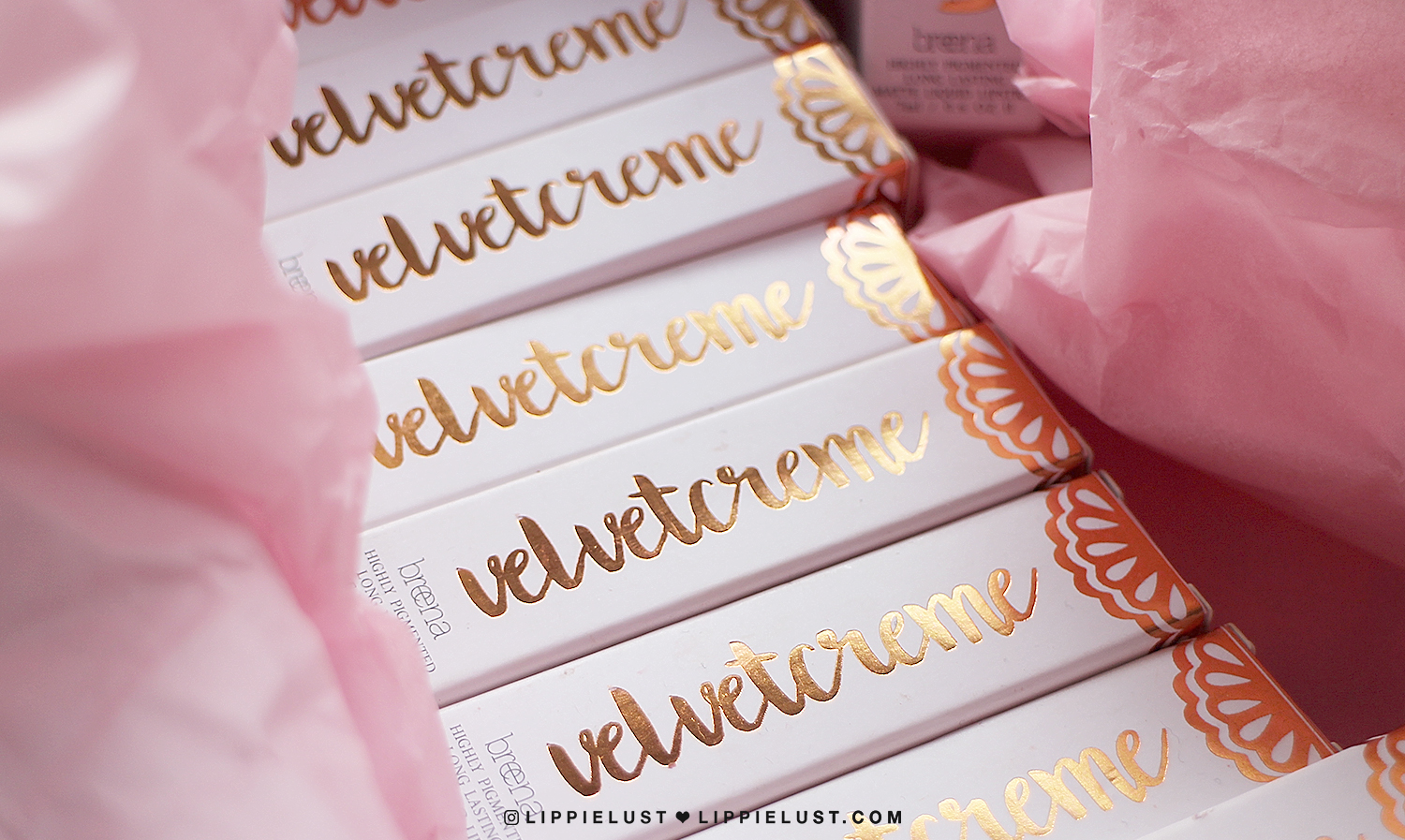 Breena Beauty identity is as good as their products.
First thing first, let's talk about the Velvetcreme's packaging which I think it needs to get a 'special mention'. The box is thick, it won't crush easily because it. is. so. thick. I love it, of course, because I am those people who never throw away ANY makeup boxes. Some makeup boxes will be just crushed in any second no thanks to my messy life 🙁
So the box is made from hard carton, the exterior is painted white with rose gold foil as the accent while the inside? it's more exciting: Breena paint it pink with white melt graphic. Looking luxe, indeed 😉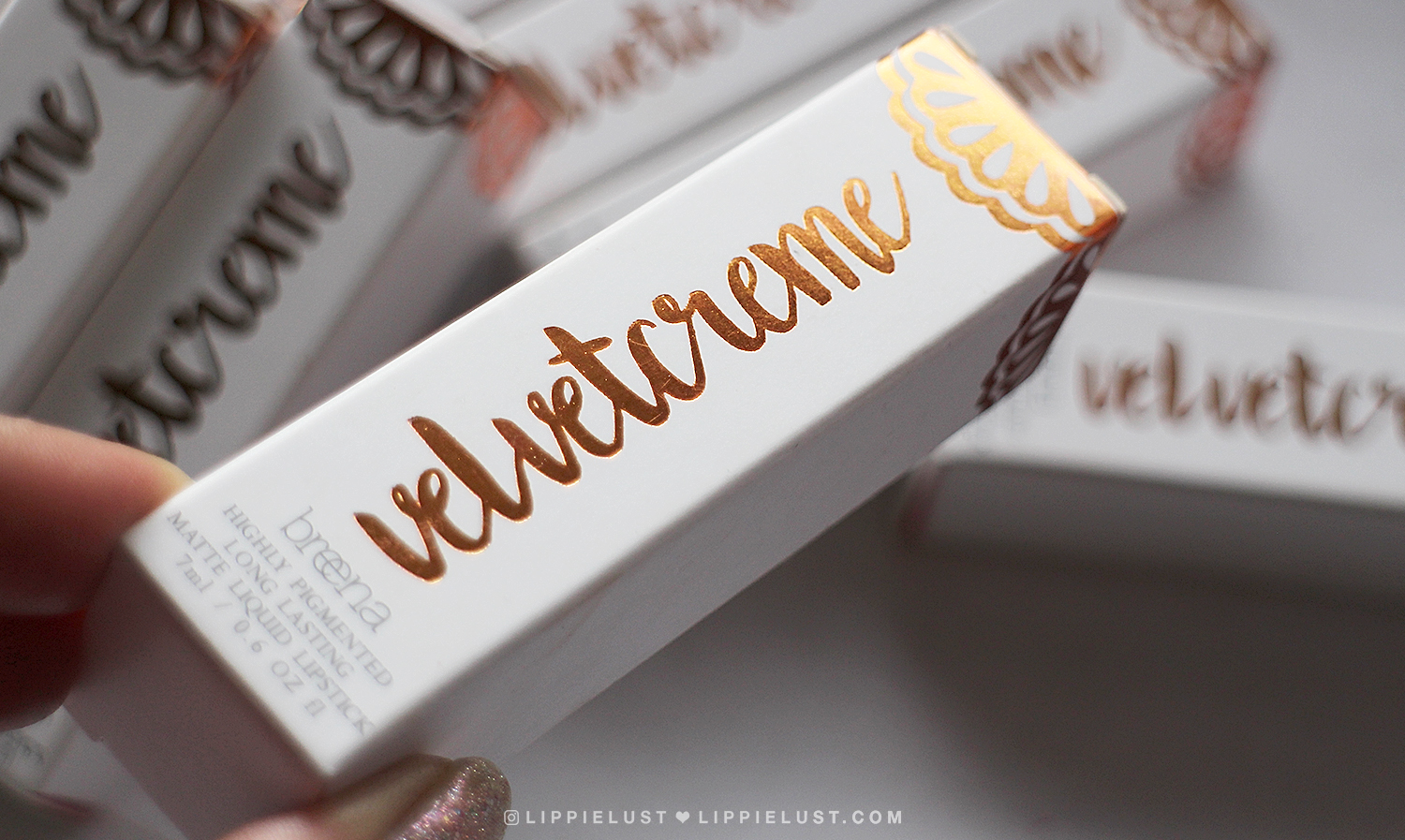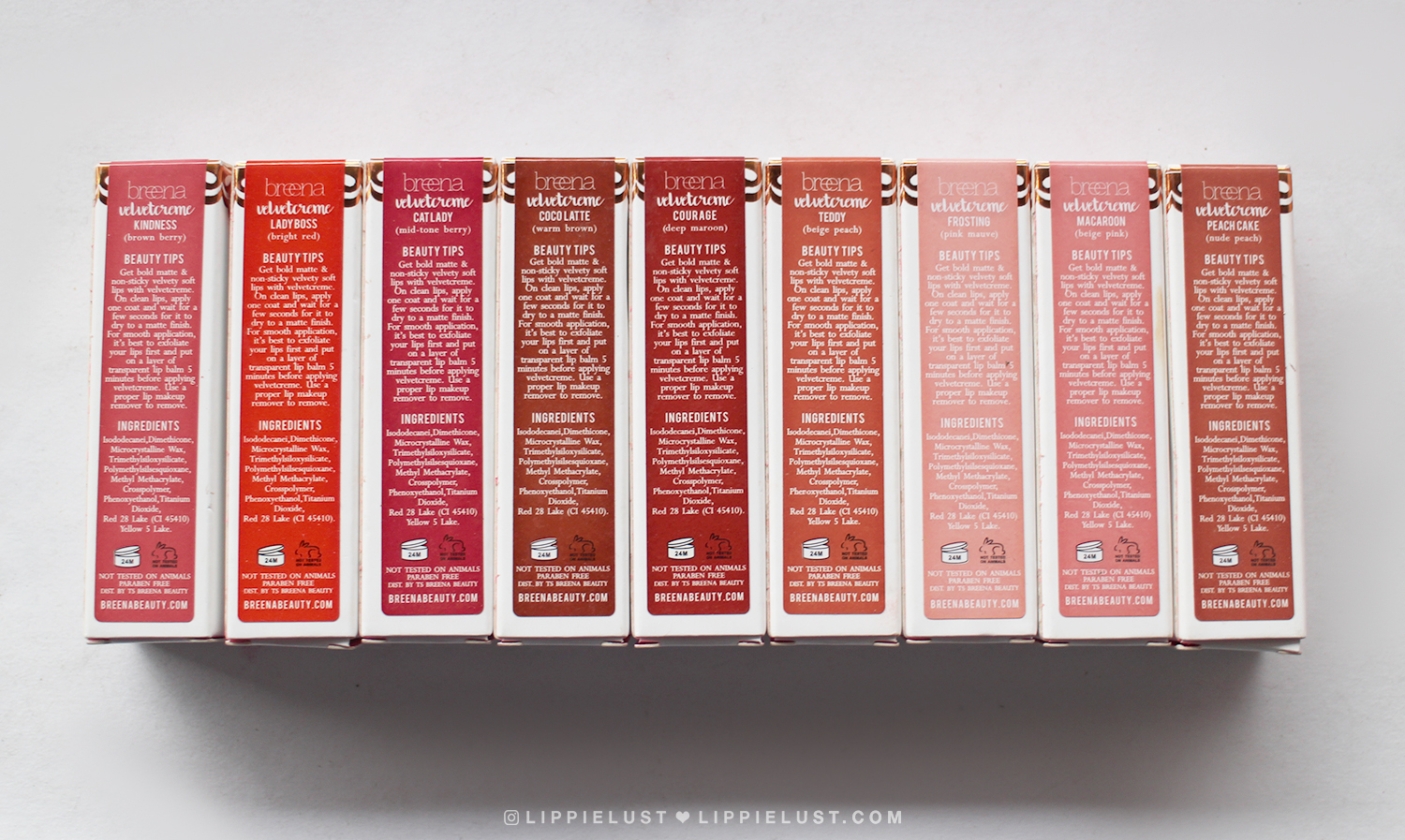 On the back side, there's shade name, 'beauty tips', 'ingredients', and POA (Period After Opening, which is 24 months), also the bunny logo which means that the product is cruelty free. Also, for those who are allergic to Paraben, this product doesn't use it. 😀
The ingredients is different one to another (some use Yellow 5 Lake, some don't), if you want to take a look, just zoom out the picture above to see the differences.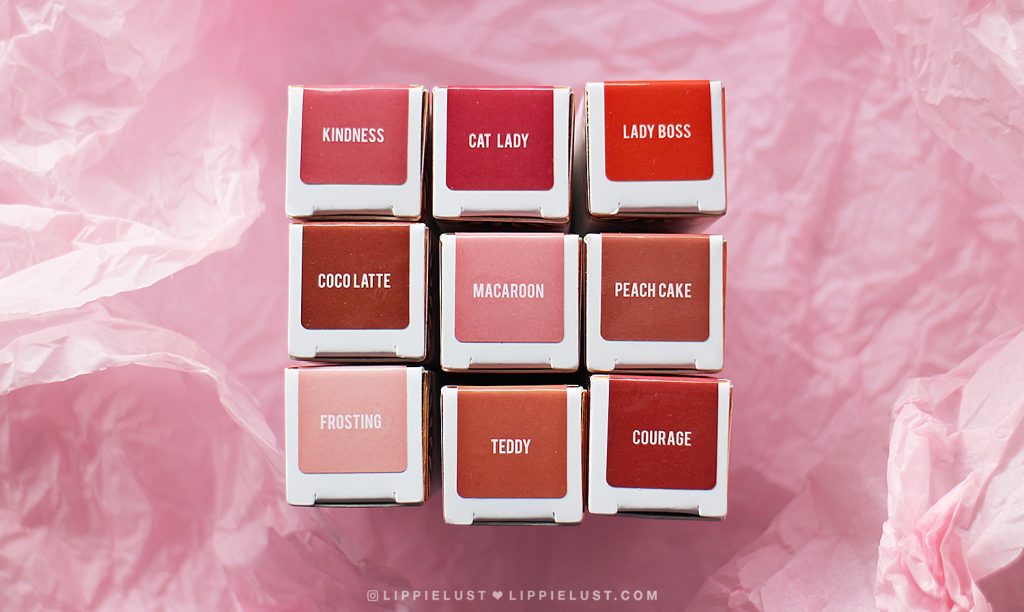 On the upper side, you can see the shade's name. It's a sticker that is connected with a description on the back of the box.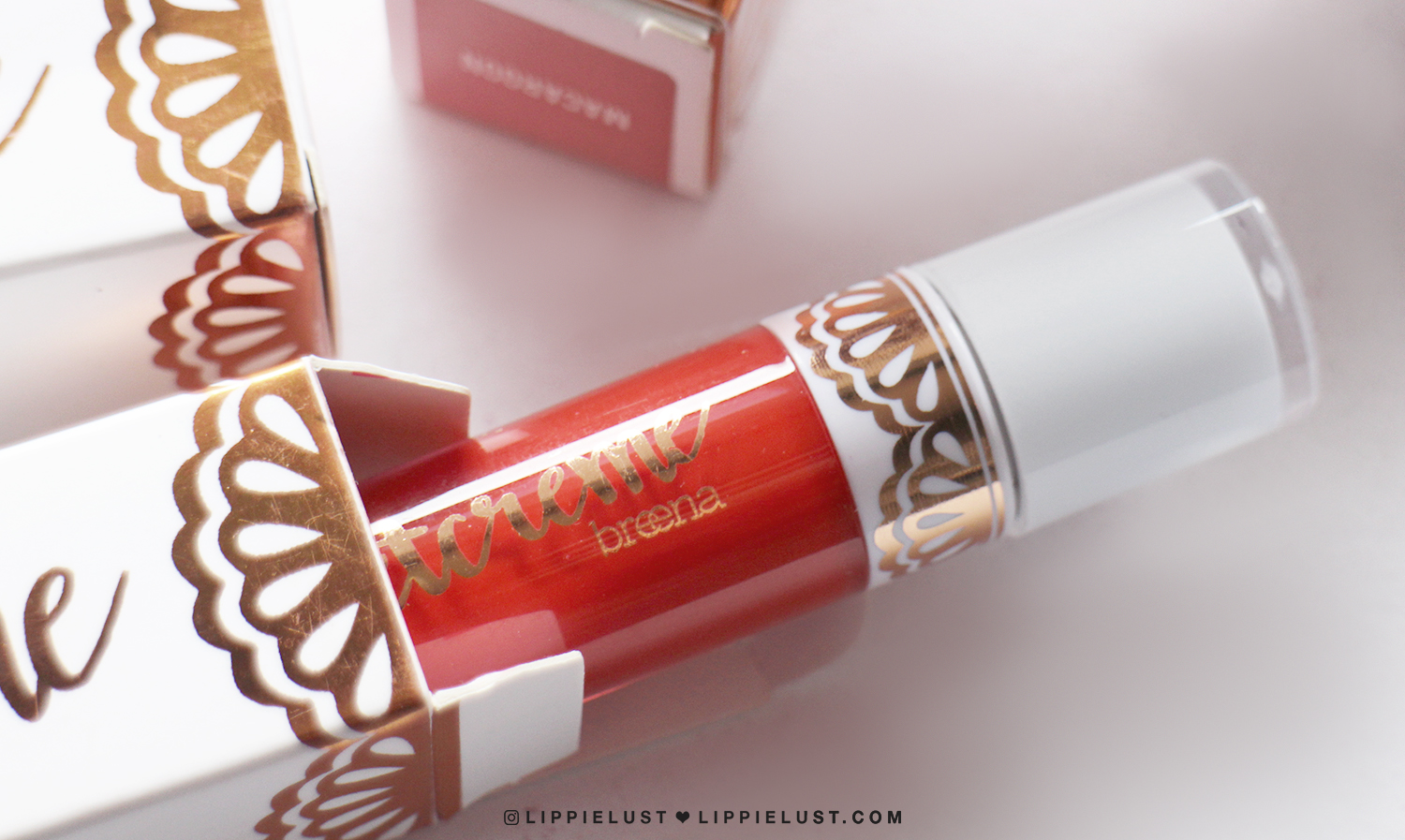 Oh, hello 'Boss Lady'!
Moving on to the tube. The tube's neck has similar lace-y pattern with the box, also in the same color – including the cap. The shape of the tube looks like Jeffree Star's Velour Liquid Lipstick and many many others, fyi, but it has different shape of applicator (I like Breena's more).
On the body, well this is what I dislike from this product, there's gold-colored 'velvetcreme' writing and breena logo. BUT this fade really easily. *insert any gloomy emoticons here* Well in my case, it's because I don't want to mess with the box so I just take the lipstick anywhere along with my other makeup stuffs. The worst thing happened to my most favorite shade from Breena, 'Kindness'. This shade now has the ugliest bottle compared to the others. The writing is almost gone completely. 🙁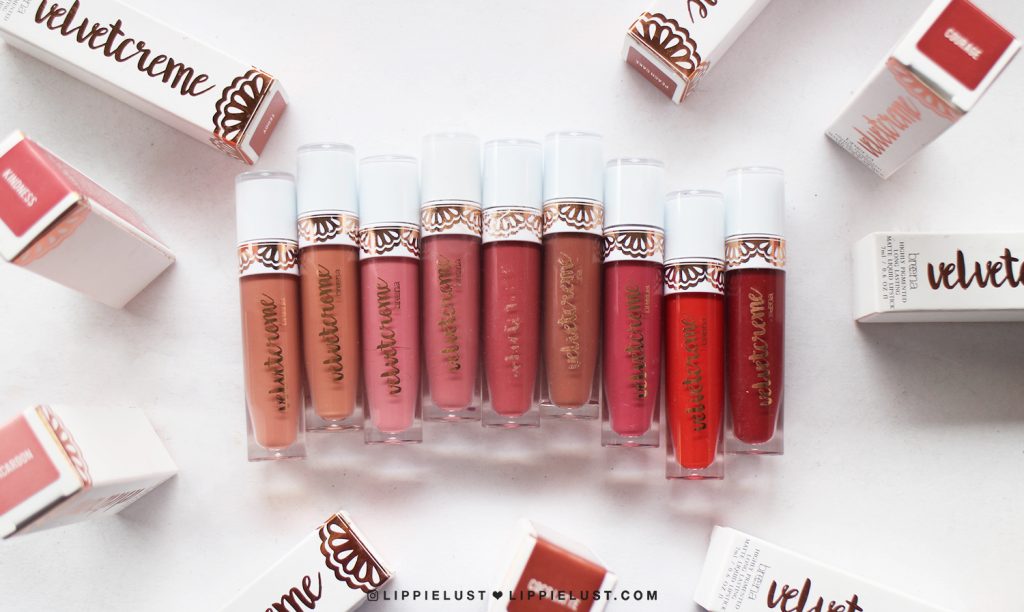 So guys, lesson learned. You NEED to take your Breena Velvetcremes with their original box wherever you go.
✨

FORMULA, TEXTURE, LONGEVITY, SCENT

Usually, dead-matte, heavy-duty matte liquid lipsticks hardly steal my attention because I don't like my lips being so dry. So that's why, I prefer to choose matte liquid lipstick with creamy formula that transform slowly into matte like Breena Velvetcreme. The formula to me is similar with Velvet Vanity Liquid Lipsticks, another brand from Malaysia who released liquid lipstick long before Breena. The differences: Velvet Vanity Liquid Lipstick becomes fully transfer-proof. Although it needs few minutes to fully dry down, but I think it's worth it. The texture after dry is thinner than when it firstly applied. So lightweight.

On the other side, I noticed that there's an inconsistency of the formula. Some shades: Lady Boss, Courage, and Coco Latte (which don't have Yellow 5 Lake on the ingredients list) are less creamy than the others. I feel that these three shades are runnier, but dry to matte faster than the others. I personally don't know that this is associated with Yellow 5 Lake (because I am no chemist of course).

While the other six has very good pigmentation (you won't need second coat for a full coverage application), the three I aforementioned shades need a little bit extra layer due to the runnier formula. I also feel that these three shades have stronger lip tightening effect than the others, but not in the way making your lips feel so stiff. The other 6 shades work flawlessly and beautifully, at least that's what I need.

Another good thing to love from these liquid lipsticks? They are so flexible. No cracking at all. I can wear them all day long without having to retouch, excluding my meal time of course. The pigment on this product is so rich, just a little transfer until it finally fades along 6-8 hours of wear. Even if you have to retouch, it won't be a hassle since it won't pile up on top of your lips. Your lipstick will look as good as new.

The scent is as sweet as vanilla! I usually don't like scented lipstick especially when it's too much, but Breena is an exception. It's not so strong, so my tiny sensitive nose can agree to what my heart loves.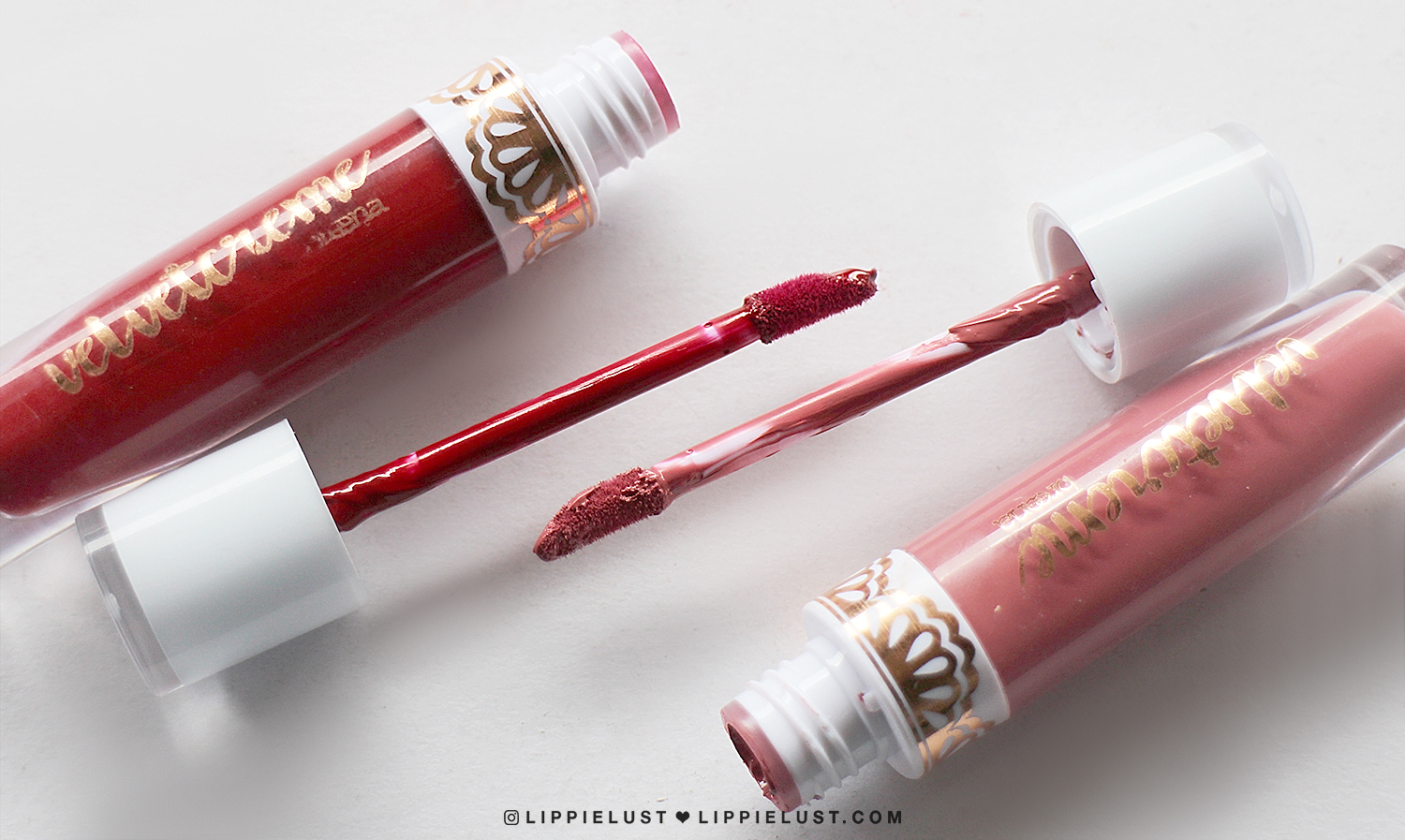 Talking about the applicator: Unlike Velvet Vanity or Jeffree Star's, Breena has this kind of doe-foot applicator. It's not too long nor too curvy, but it holds product as much as I need it. The application is also flawless because of this. No need an extra effort to even up the product on my lips.
PRICE ON WEBSITE: 39 RM (around 120,000 IDR / 9 USD) You can get it here.
Phew! What a long run. Hahaha.. I hope you guys enjoy my review as I enjoyed writing it. :') If you find my review is helpful, please don't forget to click a little heart down below and comment if you have anything in mind. Will see you guys soon on the other posts! Cheers!
✨

SWATCHES

All photos belong to Breena Beauty. Do not redistribute. Please be considerate before saving / copying the files.