Kalau kalian tau pertama kali THIS IS APRIL karena mereka 'jual' pakaian, kalian gak salah. 😉 This Is April adalah brand lokal yang bergerak di bidang fashion, mengawali bisnis mereka secara online di tahun 2012 dan saat ini udah punya 45 stores di seluruh Indonesia. Also a good news for friends in Malaysia, This is April will spread its wing to South East Asia, starting from Kuala Lumpur, Malaysia this month!
Belum lagi di bulan April ini This is April mengembangkan bisnisnya ke industri kecantikan, dimulai dari merilis Satin Lip Stocking, a liquid to matte and metallic lipstick. Produknya sendiri terinspirasi dari kualitas para wanita Millenial.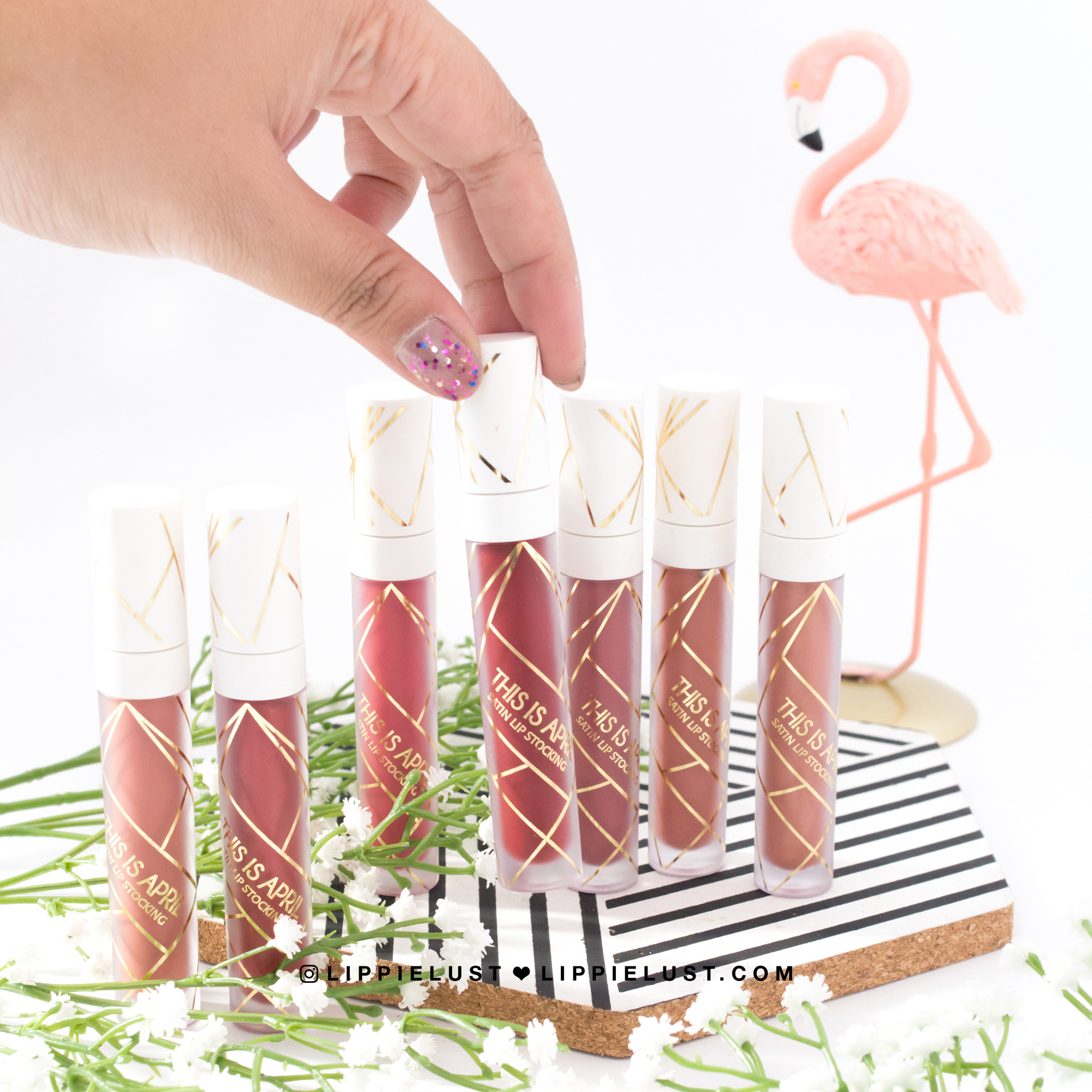 This is April sendiri memilih 7 wanita yang merepresentasikan setiap shades-nya:
01 – INDEPENDENT (Shahnaz Soehartono) #IAMINDEPENDENT — warm nude
02 – COMPASSIONATE (Gwen Winarno) #IAMCOMPASSIONATE — warm nude (a tad darker than Independent)
03 – CONFIDENT (Lala Karmela) #IAMCONFIDENT — medium-toned warm pink
04 – CREATIVE (Martha Puri) #IAMCREATIVE — mauve pink
05 – FIERCE (Nicoline P. Marlina) #IAMFIERCE — deep red
06 – GOOD VIBE (Karen Carlotta) #IBRINGGOOD VIBE — nude brown with a touch of gold glitter
07 – FEARLESS (MARISCHKA PRUE) #IAMFEARLESS — bright red with a sheen of gold
Shades 1-5 merupakan liquid to matte lipstick dan shade 6-7 adalah liquid to metallic matte lipstick. Kenapa namanya 'metallic matte'? Karena warna dasarnya matte namun ditambahkan glitter pigments untuk efek metalik yang cantik.
Kalau memang produknya sendiri punya hasil akhir Matte, kenapa namanya 'Satin Lip Stocking'? Kalau menurut penerawangan 'mbah Lippie sih, karena feel yang didapatkan ketika lip cream ini mengering di bibir. Rasanya ringan, lembut, dan tipis seperti kain satin. Dan kenapa harus 'Lip Stocking'? Ya perumpamaannya seperti stocking yang terasa ringan tapi tetap ngasih coverage. At least, ini hasil pemikiran dan semedi mbah Lippie, ya. Belum tentu bener! Hehehe..

✨ FORMULA REVIEW

Ada satu hal yang aku suka dari This is April Satin Lip Stocking ini: kandungan Rice Bran Oil didalamnya! Entah kenapa aku cocok banget sama satu kandungan ini. Masih inget kan sama reviewku tentang GLOU Liptreat? Disitu aku jelaskan soal Rice Bran Oil dan memang kandungan ini bikin bibirku gak rewel apalagi kering pas pakai lipstik matte.
This Is April (TIA) Satin Lip Stocking punya formula creamy dengan tingkat pigmentasi full coverage, namun ada 1 shade yang agak sulit untuk dibuat rata: 07 GOOD VIBE. Mungkin hal ini disebabkan karena intensitas pigmen metaliknya yang lebih banyak dari warna metallic yang lain: '07 FEARLESS' sehingga ketika proses mengering, produk belum 'sempat' merata. Jadi hal ini akan berpengaruh jika kalian punya hyperpigmented lips atau warna bibir yang gelap.
Terlepas dari itu, Satin Lip Stocking ini terasa sangat ringan, lembut, dan sangat nyaman ketika dipakai. Belum lagi warna-warna yang ditawarkan cantik dan nge-cover semua jenis warna kulit. Gak ada kecenderungan cracking sama sekali. Oh ya, produk ini punya wangi caramel yang lembut, gak terasa berlebihan sama sekali. Wanginya sendiri akan hilang setelah produk mengering di bibir.
This is April Satin Lip Stocking ini transferproof, hanya kalau digosok-gosok tetap akan nempel di jari. It is not a wall paint so this is good, right? Istilahnya sih, This is April Satin Lip Stocking ini menawarkan produk liquid to transferproof matte / metallic lipstick yang enggak menyakiti bibir, seolah-olah bibir dibiarkan 'bernapas' seharian.

✨ LONGEVITY

Untuk ketahanan produknya sendiri, This is April Satin Lip Stocking ini bisa tahan sampai 8 jam tanpa makan makanan berminyak. Produknya sendiri gak susah buat dihapus dan gak meninggalkan stain di bibir kalau kamu pakai lama-lama, so it's totally recommended for those who are not into stained lips after wearing lipsticks.

✨ PACKAGING
Oke lanjut ke review soal packaging-nya. Menurutku packaging This is April Satin Lip Stocking ini punya vibe modern dengan grafis abstrak geometrik berwarna emas di bagian box dan juga botol produknya sendiri. Fotogenik banget! Yang membedakan dari jenis matte dan metallic ada di bagian box dimana matte memakai warna pink brown di sisi kanan dan kiri boxnya juga tulisan logo, tulisan nama produk, dan nama shades berwarna gold, sedangkan metallic memakai warna biru di sisi kanan dan kiri botolnya juga tulisan logo, tulisan nama produk, dan nama shades berwarna biru.
[columns size="1/2″ last="false"]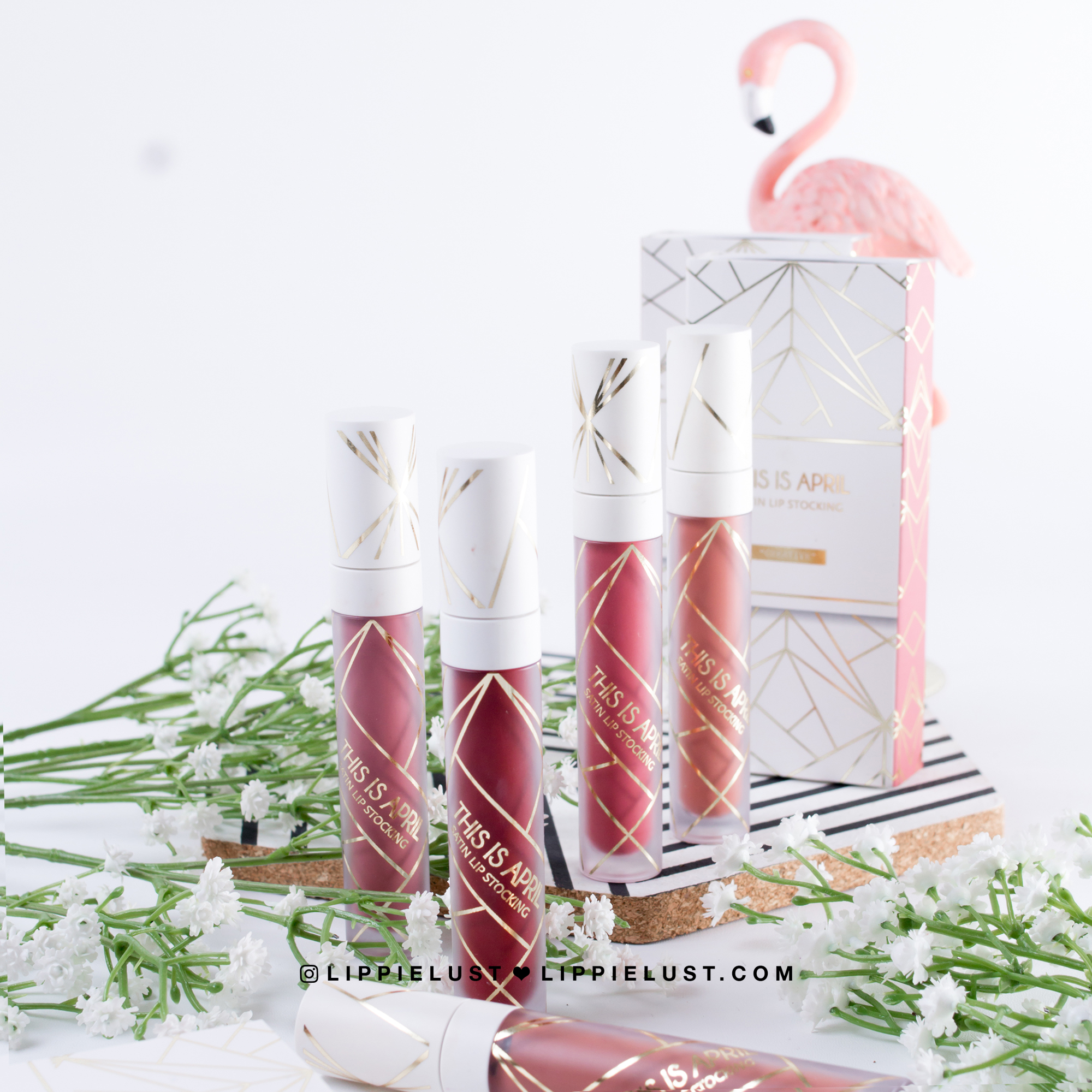 [/columns]
[columns size="1/2″ last="true"]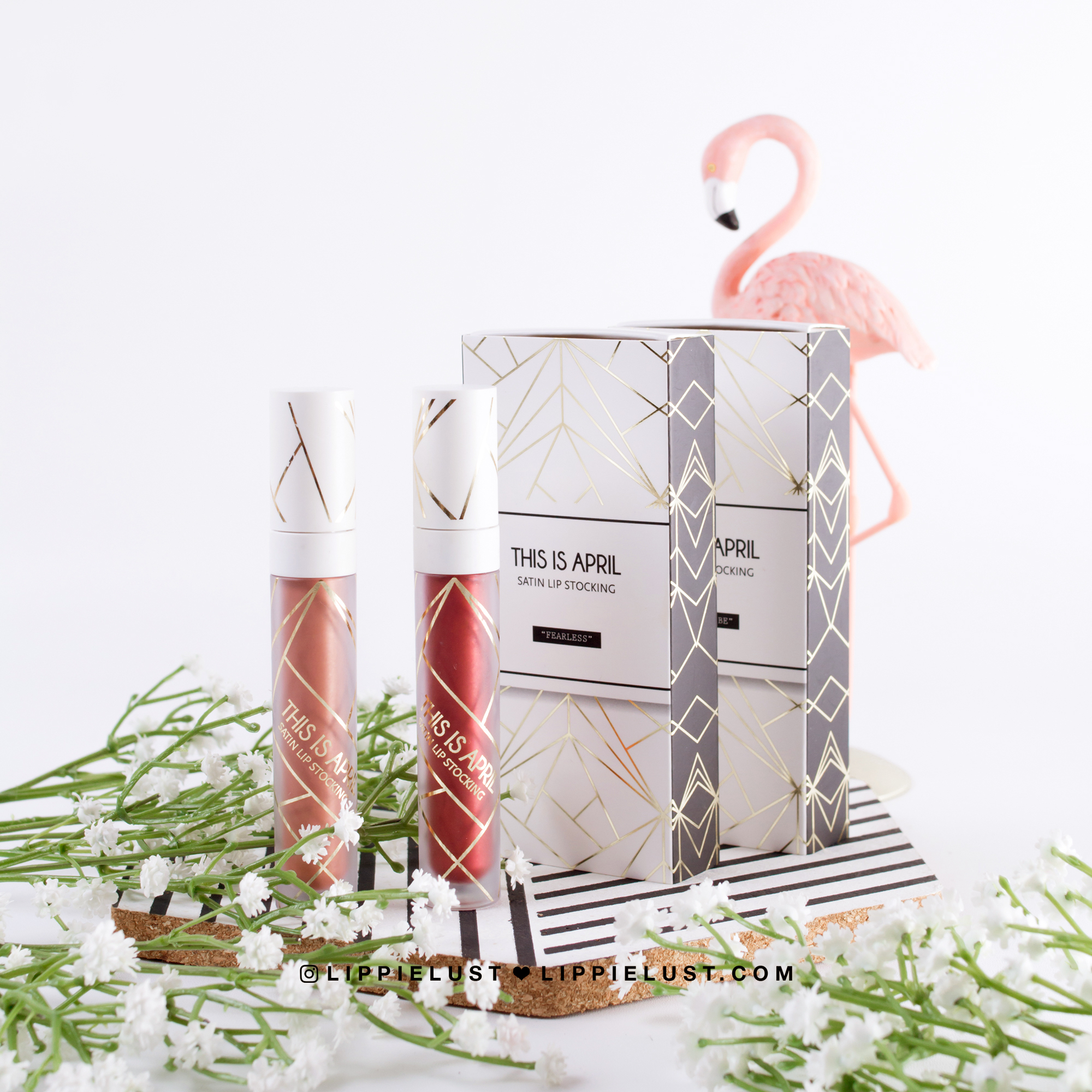 [/columns]
✨ INGREDIENTS BREAKDOWN

Seperti biasa aku melakukan ingredients breakdown melalui website skincarisma.com. Skin Carisma mengikuti standar EWG dalam penilaian setiap bahan baku. Bahan baku dinilai sesuai tingkat keamanannya.
[columns size="1/2″ last="false"]
MATTE SHADES:

[/columns]
[columns size="1/2″ last="true"]
METALLIC SHADES

[/columns]
Kedua jenis This is April Satin Lip Stocking ini udah punya UV Protection, Paraben Free, Sulfate Free, dan Alcohol Free.
✨ PRICE & WHERE TO SHOP?

Harga: 119,000 satuannya. Produk ini bisa didapat melalui website This Is April di kategori 'Cosmetics' atau di store-nya This is April: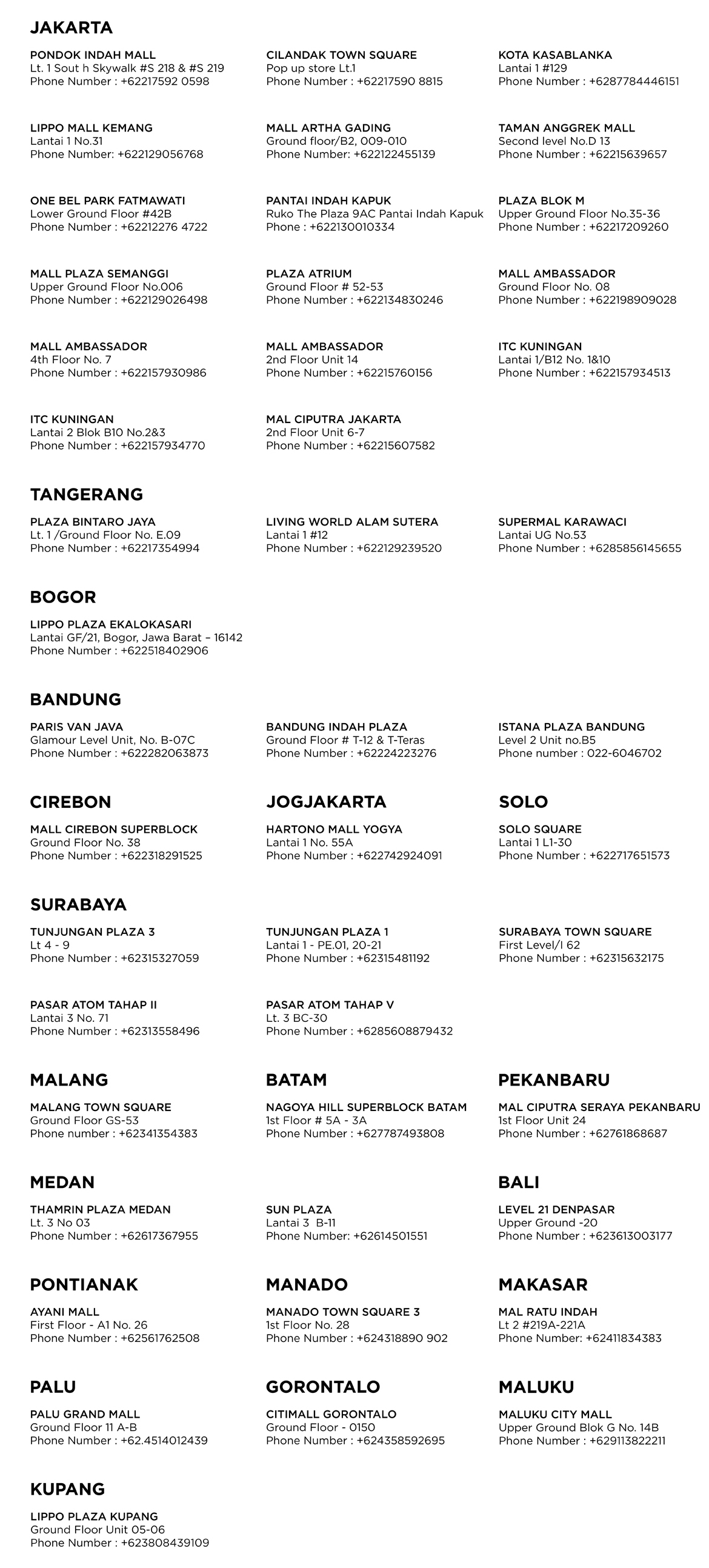 ✨ FINAL VERDICTS

[penci_review]
✨ SWATCHES