Brand new year, brand new product from Maybelline! Setelah selama dua tahun Super Stay Matte Ink viral dan jadi favorit para pecinta lipstik Indonesia karena kualitas dan ketahanannya, kali ini Maybelline Indonesia merilis produk untuk seri Super Stay lainnya yang gak kalah menarik untuk dicoba karena alasan yang sama, namun dalam bentuk yang berbeda: Super Stay Ink Crayon!
Aku udah cobain produk ini selama kurang lebih satu bulan dan gak ada satupun warna yang aku lewati untuk dicoba setiap harinya. Alasannya? Judging from the colors, semua warnanya cocok di skintone-ku dan aku rasa warna-warnanya ini akan cocok di skintone Asian khususnya Indonesian seperti kita.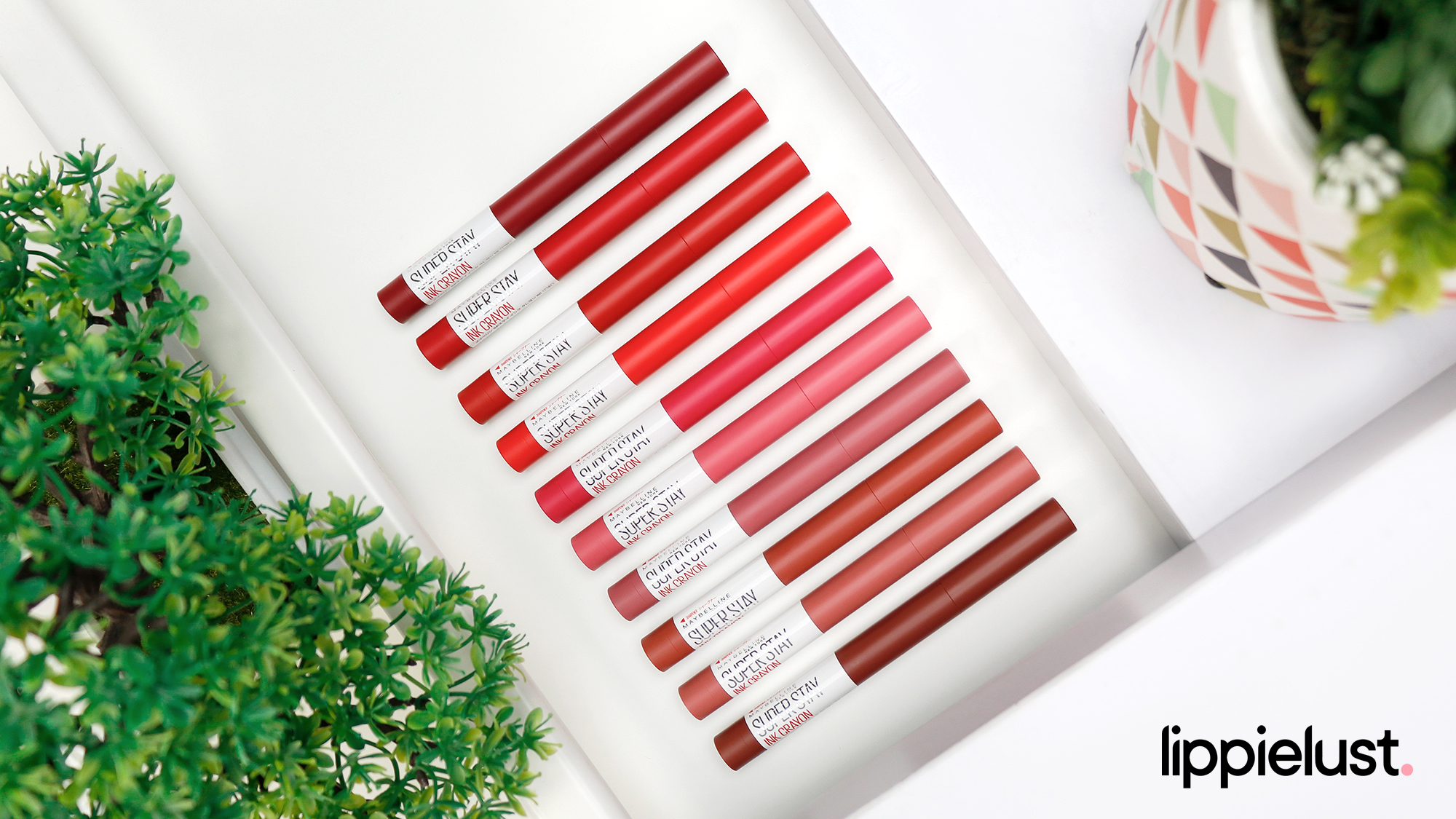 ✨

Learn More About Maybelline Super Stay Ink Crayon

Maybelline Super Stay Ink Crayon adalah produk berjenis twist-up, retractable crayon. Produk ini memiliki precise tip atau ujung lipstik yang lumayan lancip, tapi tidak seruncing lip pencil. Precise tip ini berguna banget untuk membentuk frame / garis di sekitar bibir dan juga fill in lipstik di bibir bahkan bisa menjangkau sampai ke ujung-ujung sempit bibir.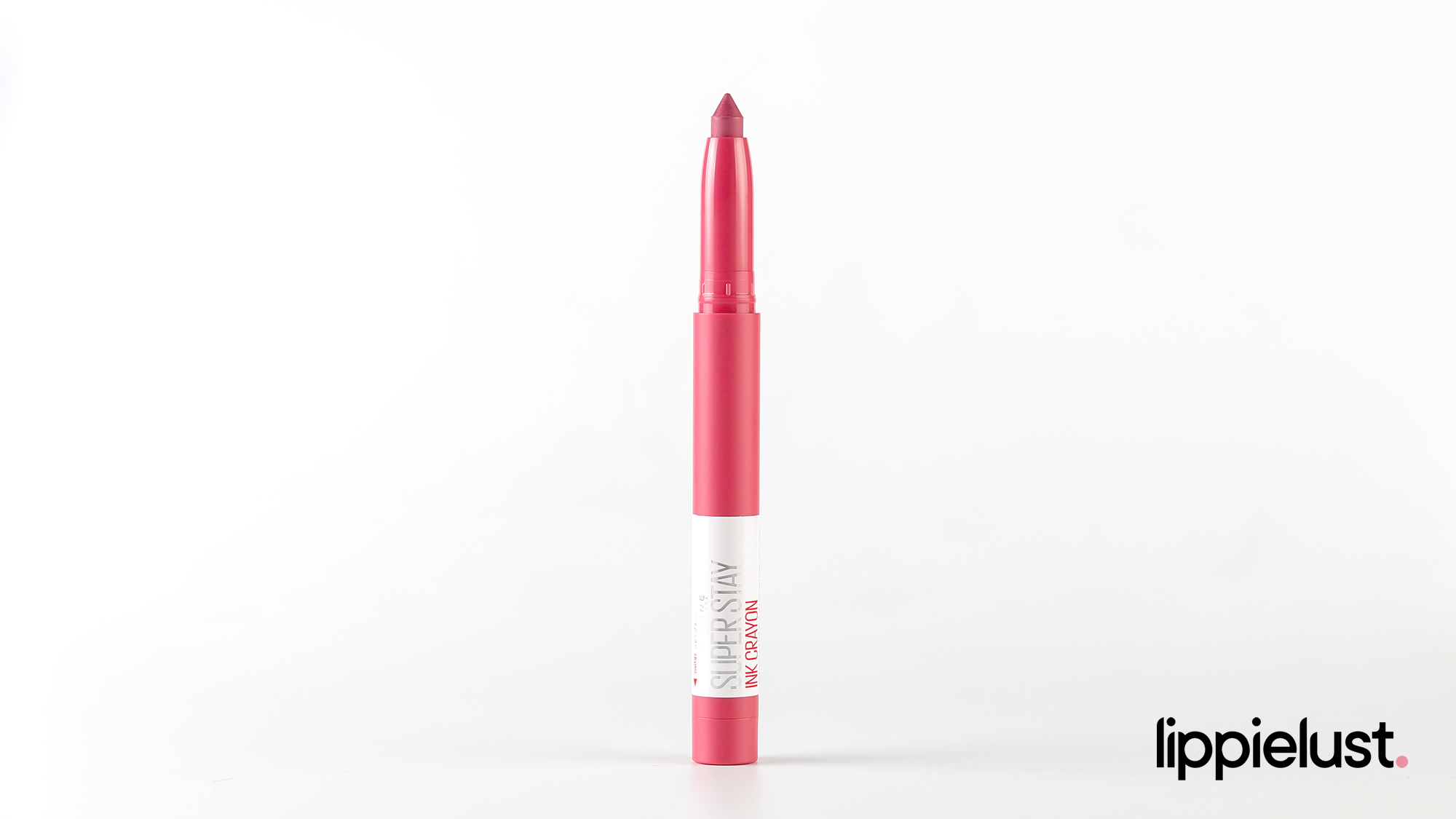 Bahan container Maybelline Super Stay Ink Crayon ini terbuat dari plastik dengan warna-warna yang menyesuaikan dengan warna lipstik di dalamnya. Di bagian bawah ada semacam stiker putih dengan logo Maybelline New York dan tulisan 'Super Stay Ink Crayon', juga tulisan-tulisan yang berisi keterangan produk dalam bahasa Jepang.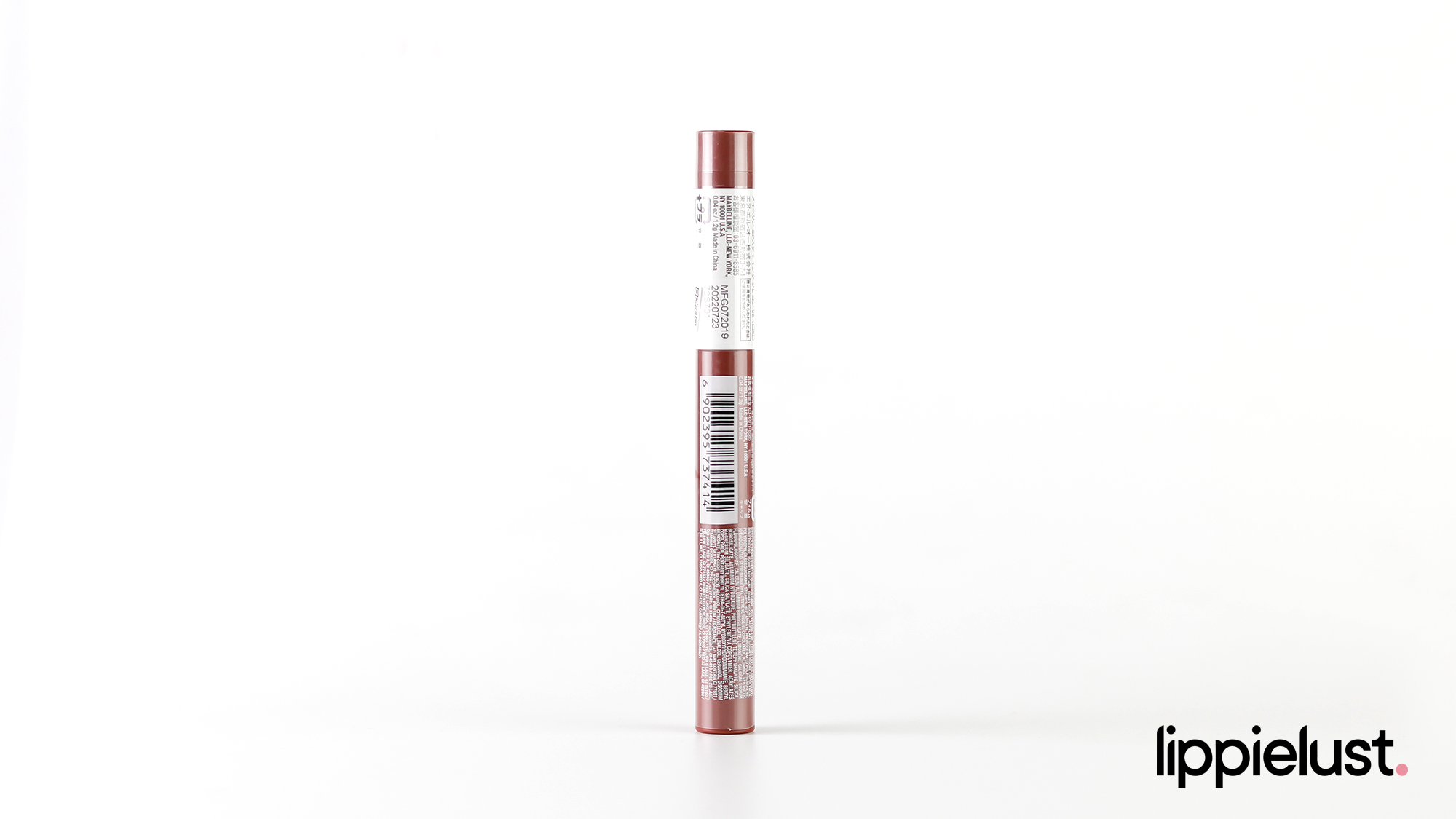 Untuk packaging luarnya, Maybelline Super Stay Ink Crayon ini hanya dibungkus dengan plastik bening yang dipenuhi dengan berbagai macam informasi mengenai produk ini.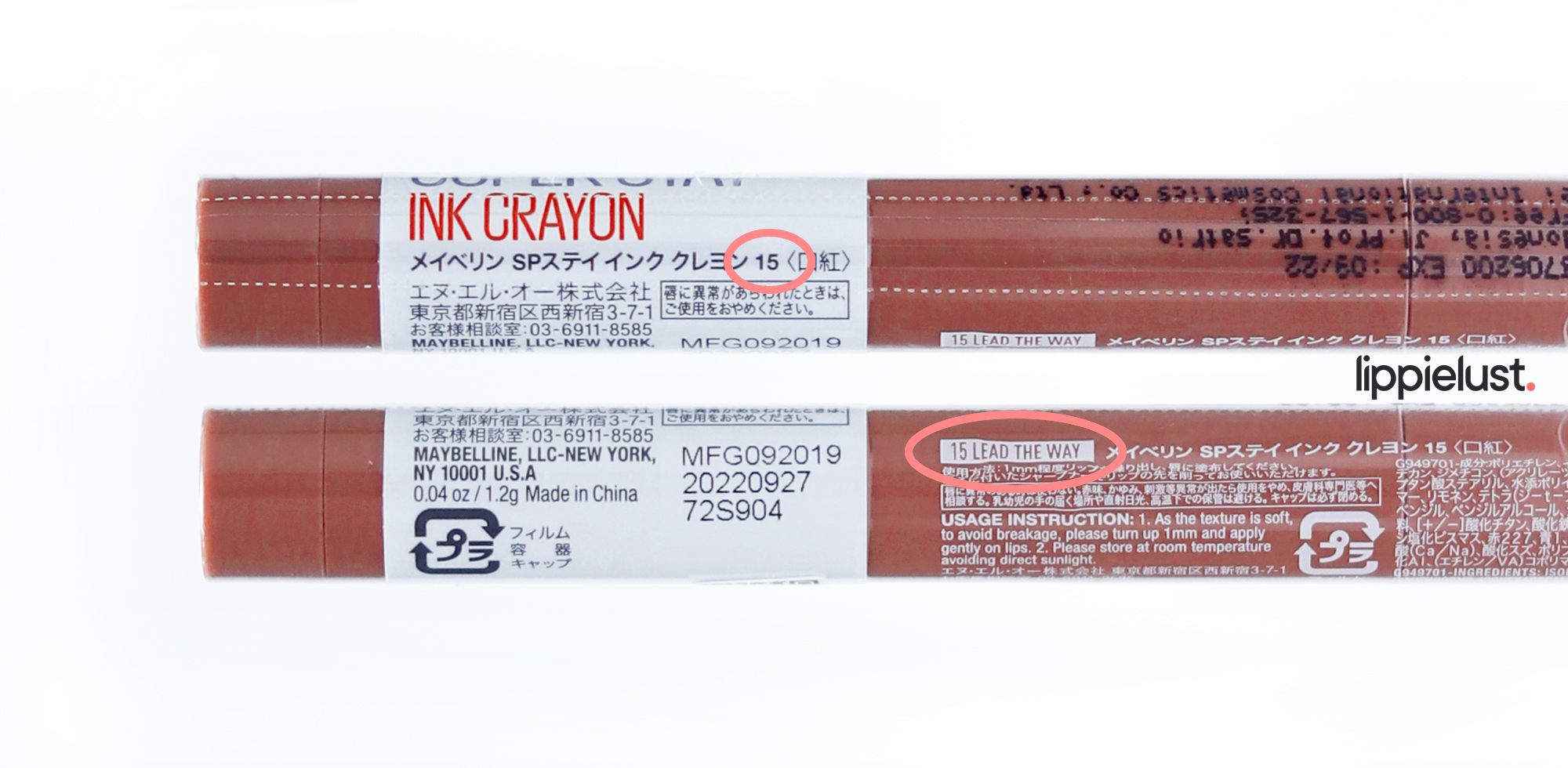 Nah, untuk membantu agar ujungnya tetap lancip, Maybelline Super Stay Ink Crayon juga memiliki build in sharpener / peruncing tersembunyi di bagian bawahnya, yang bisa dilepas-pasang kalau ujung lipstiknya udah mulai tumpul. Good product design has to come in handy, right?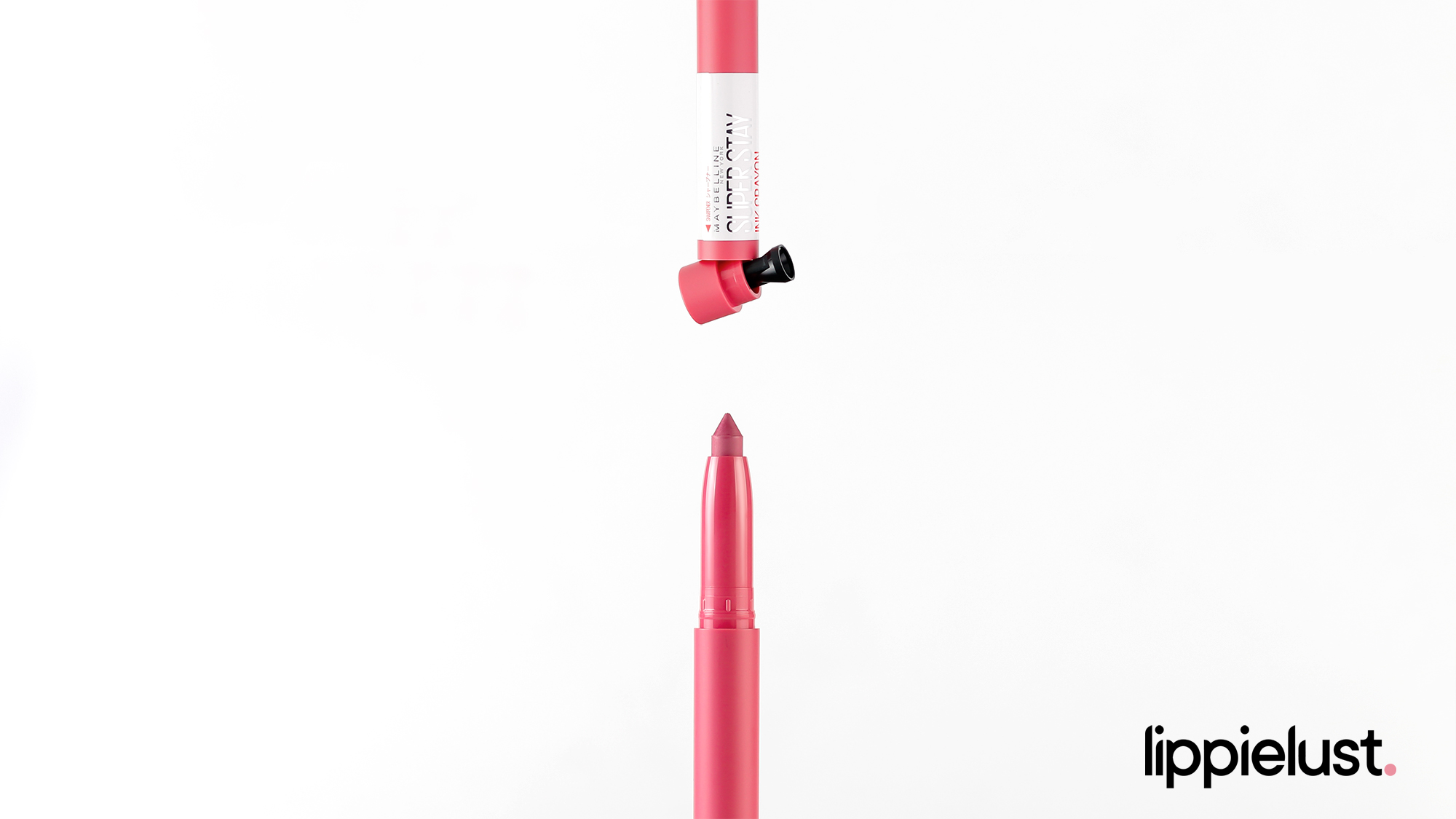 ✨

Formula, Finish, Staying Power

Maybelline Super Stay Ink Crayon memiliki formula creamy dengan pigmentasi warna yang sangat baik untuk sebagian besar warnanya.
Ketika pertama kali dibuka dan diaplikasikan, produk bisa langsung diratakan tanpa ada kesulitan. Lipstik ini cenderung bisa mengeluarkan warna yang cukup opaque di bibir tanpa membuat ujung lipstiknya cepat tumpul. At least perlu beberapa kali aplikasi sampai akhirnya ujungnya tumpul.
One thing I notice, dalam beberapa menit produk ini bisa nge-set jadi smudgeproof matte dan formulanya akan terus menempel di bibir setelah semakin lama dipakai. It's quite a surprise for me karena ya baru kali ini aku coba lip crayon yang punya formula seperti ini.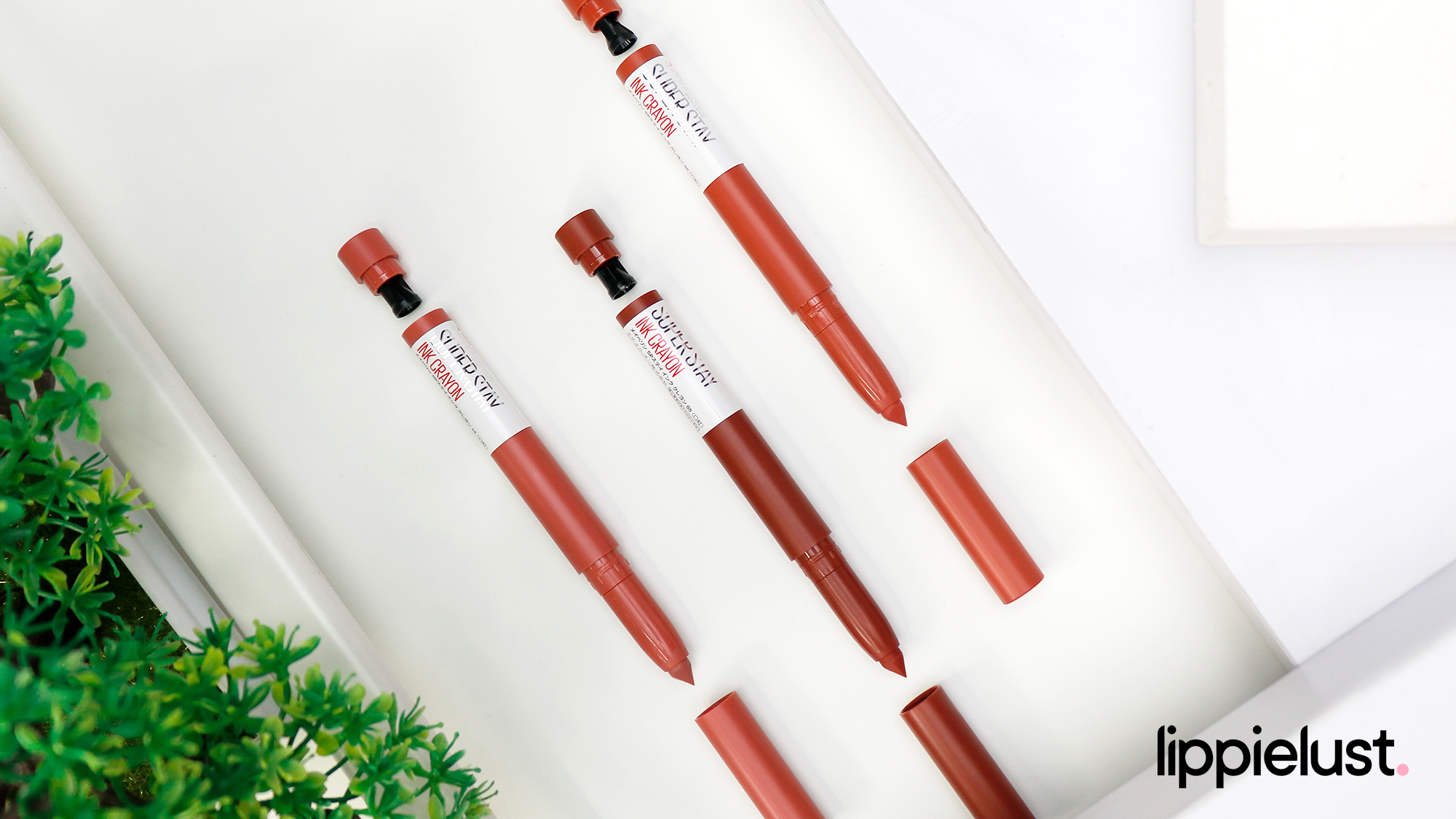 Dengan formula yang hampir 100% transferproof ini, gak salah sih kenapa produk yang punya wangi vanilla ini ada di seri Super Stay-nya Maybelline. Kalau kamu mau cari versi regular lipstick-nya Super Stay Matte Ink, menurutku produk ini cocok untuk kamu.
Nah, gimana kalau dibandingkan dengan Maybelline Super Stay Matte Ink? Super Stay Ink Crayon ini memiliki formula yang terasa lebih breathable, jauh terasa lebih ringan dan tipis di bibir. Ugh, kayaknya perlu satu blog post baru deh untuk bahas tentang perbedaan dua produk ini. Bener gak sih? ?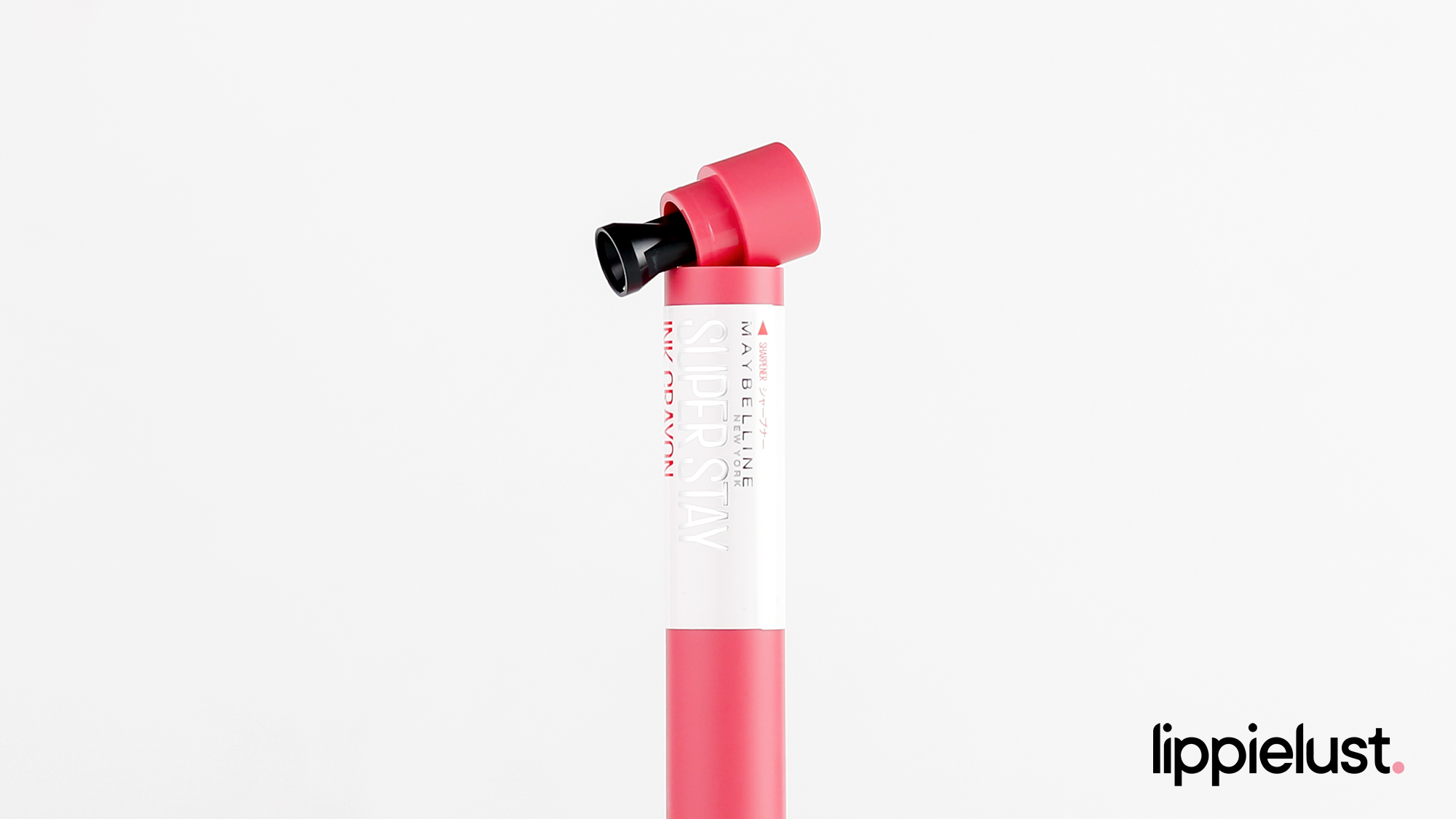 ✨

Shades
Saat ini ada 10 warna pilihan:
05 LIVE ON THE EDGE (deep brownish red) ❤️
15 LEAD THE WAY (light mauve pink nude)
20 ENJOY THE VIEW (medium peachy brown) ❤️
25 STAY EXCEPTIONAL (medium mauve pink) ❤️
30 SEEK ADVENTURE (light cool pink)
35 TREAT YOURSELF (bright neon pink)
40 LAUGH LOUDER (orange red)
45 HUSTLE IN HEELS (cool-toned red)
50 OWN YOUR EMPIRE (true red, warna lebih tua dibandingkan Laugh Louder dan Hustle in Heels) ❤️
55 MAKE IT HAPPEN (deep wine red)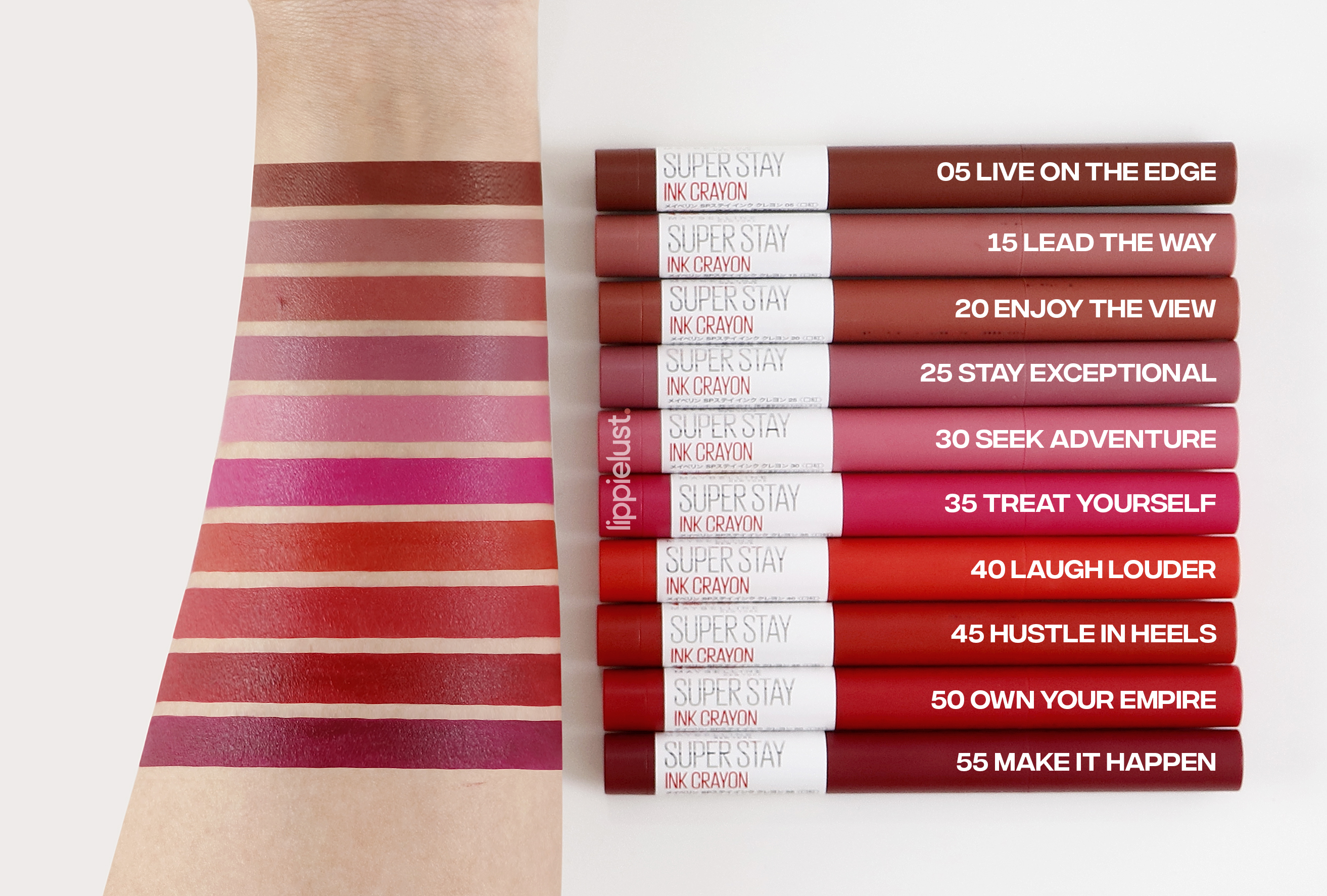 ► LIGHT SHADES:
15 Lead The Way
30 Seek Adventure
40 Laugh Louder (warna ini punya pigmentasi yang kurang baik dibandingkan sembilan warna lainnya, sehingga warna yang dihasilkan pun kurang opaque)
►  MEDIUM SHADES:
20 Enjoy The View
25 Stay Exceptional
35 Treat Yourself (warna ini lebih ke arah neon pink tapi masih wearable di skintone-ku)
45 Hustle In Heels
►  DEEP SHADES:
05 Live On The Edge
50 Own Your Empire
55 make It Happen
❤️ LIPPIELUST'S FAVORITE AND RECOMMENDATION:
05 Live On The Edge
20 Enjoy The View
25 Stay Exceptional
50 Own Your Empire
Seperti yang bisa kamu lihat dari list, ada 4 warna favoritku dan aku yakin sih bakalan jadi warna favorit banyak pecinta lipstik lainnya (termasuk kamu): 05 Live On The Edge, 20 Enjoy The View, 25 Stay Exceptional, dan 50 Own Your Empire. Keempat warna ini menurutku adalah warna-warna yang paling flattering di light-medium skintone-ku. Dan tentu aja, warna keempat shades ini cantik banget! ?
Now, are you ready to see what they look like on lips? Check out the swatches below.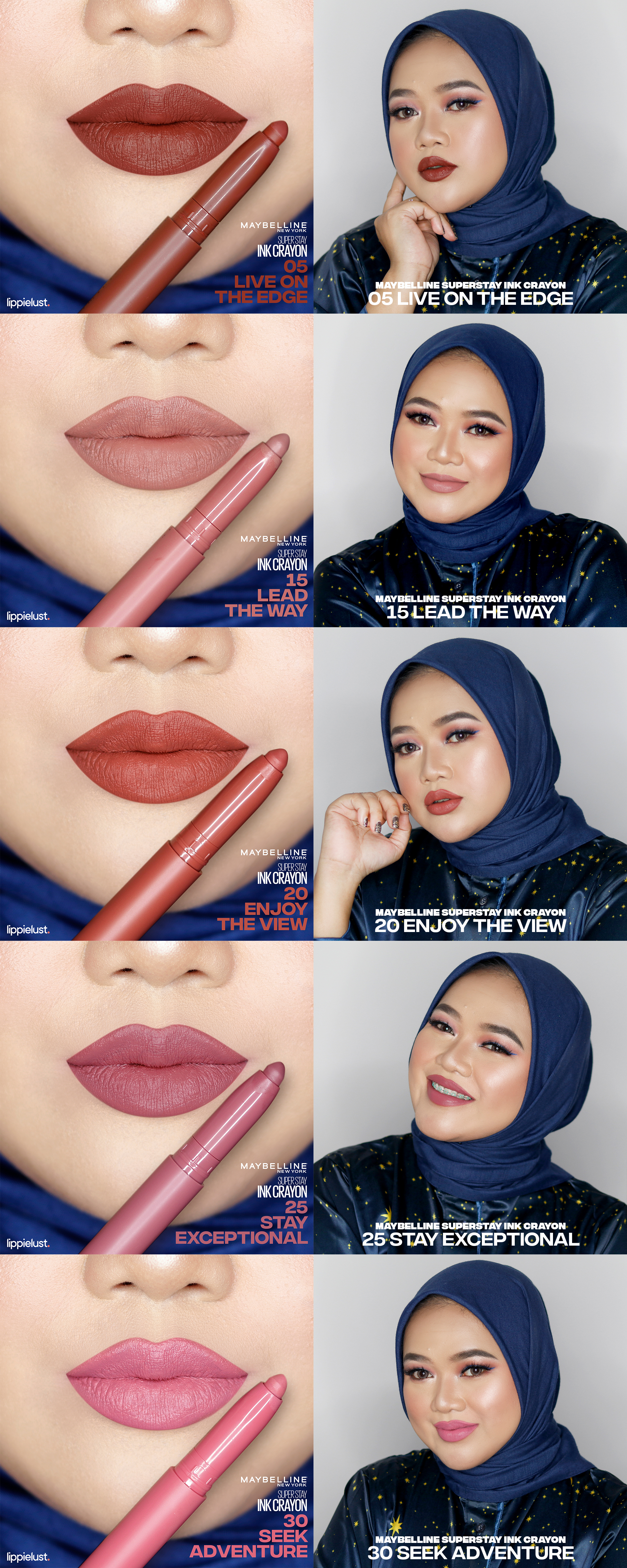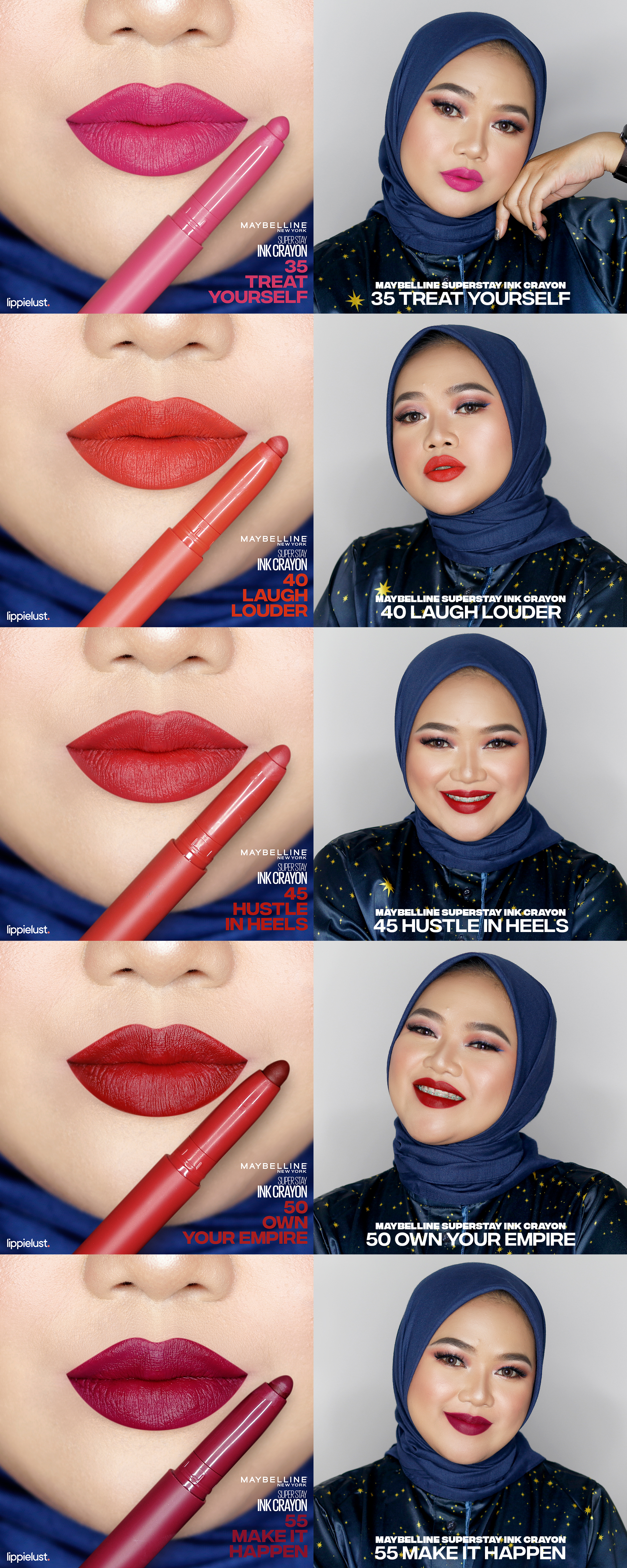 ✨

Price & Where To Buy
Harga official Maybelline Super Stay Ink Matte adalah Rp. 99,000. Produk ini sudah tersedia di drugstore, cosmetics store, dan department store di seluruh Indonesia jika kamu ingin beli secara langsung. Untuk pembelian Online, ada Maybelline Official Stores di banyak e-commerce seperti Shopee, Lazada dan Tokopedia.
Untuk info lebih lanjut, kamu bisa mengunjungi Official Website Maybelline Indonesia disini.