ESQA Cosmetics kembali berkolaborasi dengan influencer kesayangan Team Lippielust: Paola Serena! Kali ini, ESQA dan Paola menghadirkan koleksi Midnight Affair yang berisi satu eyeshadow palette dengan nama yang sama, juga liquid eyeshadow bernama White Lies dan Lucid Dream. Penasaran seperti apa produk-produknya?
Selain itu, Team Lippielust juga mendapatkan beberapa produk rilisan terbaru ESQA termasuk Moonlight dan Starlight Liquid Eyeshadow, Flawless Liquid Corrector, Flawless Liquid Concealer, Flawless Powder Foundation, dan Flawless Micro Setting Powder.
✨ ESQA X Paola Serena Collaboration
MIDNIGHT AFFAIR PALETTE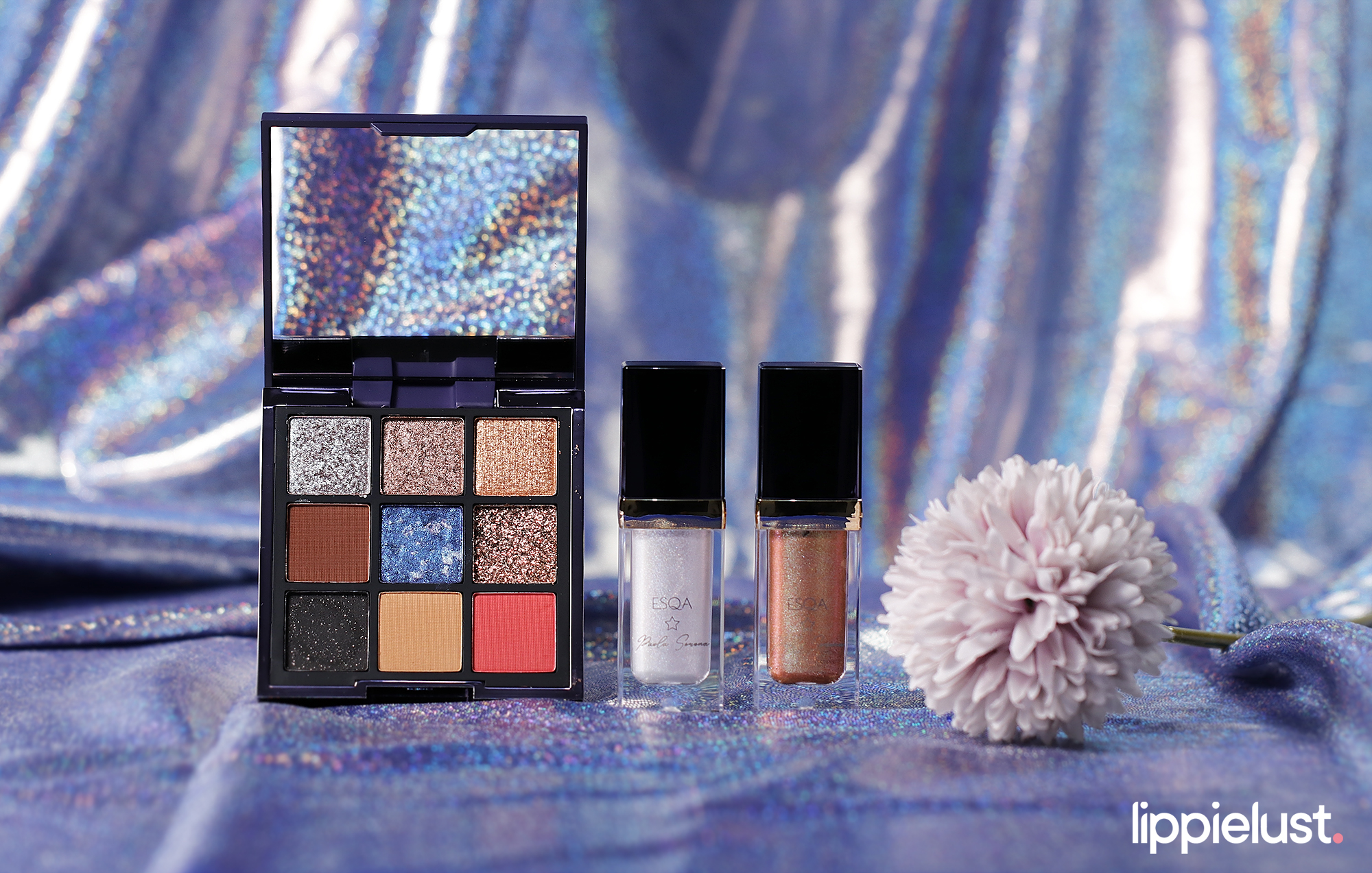 Midnight Affair Eyeshadow Palette is a perfect palette for your AM to PM looks with insane color payout, sparkle that stays on your lids, and sueded-like smoothness and blendability. It comes with 9 ultra pigmented colors featuring 6 textures and finishes.
| | |
| --- | --- |
| Nama Produk | ESQA X PAOLA Midnight Affair |
| Produsen / Distributor | Shanghai Ayara Cosmetics, China for PT. Keva Cosmetics Internasional |
| Berat Bersih | 9gr (masing-masing pan: 1 gram) |
| Jumlah Warna | 9 pan eyeshadow |
| Harga | Rp245,000 |
| Pembelian | Official ESQA Cosmetics Stores at Shopee, Tokopedia |
ESQA X Paola Midnight Affair is formulated without Parabens, Phtalates, Triclosan, Sodium, Lauryl Sulfate, Gluten. This product is also VEGAN-Friendly, No-Cruelty Free, HALAL, and BPOM Certified.
There's no word can describe how talented Paola Serena is. Makanya, aku begitu excited ketika tau ESQA kembali berkolaborasi dengan Paola untuk menghadirkan produk dekoratif mata karena kita semua tahu, Paola pandai bermain dengan produk satu ini. Produk kolaborasinya terdiri dari 9-pan eyeshadow palette bernama Midnight Affair dan liquid eyeshadow bernama White Lies dan Lucid Dream.
Bernuansa tengah malam, ESQA X Paola gak tanggung-tanggung menghadirkan warna-warna eksotis seperti biru, hitam, dan merah dalam satu palette. This palette is probably not everybody's cup of tea, definitely not the one that I needed but I know, I wanted.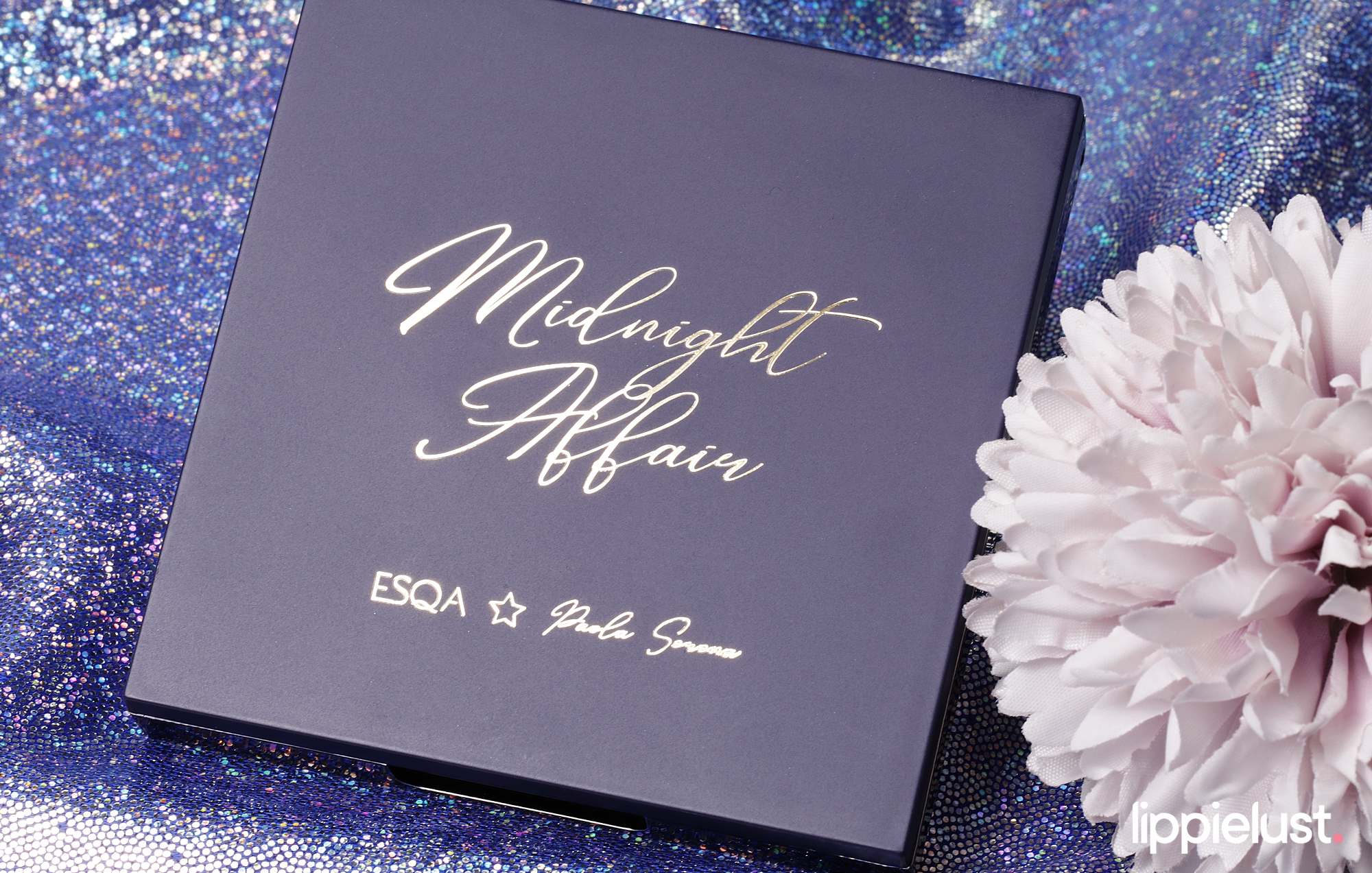 Too bad, gak ada penjelasan lebih lanjut tentang produknya di website ESQA. Ada beberapa informasi yang perlu kamu tahu tentang Midnight Affair eyeshadow palette ini jadi kita enggak bisa mempelajari produk ini di website-nya. Tapi, kamu bisa cek instagram-nya ESQA dan baca-baca tentang produk ini disana. Ada beberapa tekstur dan finish yang ditawarkan di dalam satu palet ini:
✨matte: sultry rich and velvety-creamy matte shadows provide true color payoff for all over color, shading and lining the eyes
✨satin: smooth, velvety, sueded-like shadows with maximum pigment payoff and supreme staying power
✨pressed pearl: high quality and smooth pearl for ultra-shimmer finish
✨glitter: made using special pressed gel-system for creamy and long lasting sparkle that glides effortlessly onto your lids
✨sequin: contains extremely rich pigments with shiny pearls that provide smooth and ultra pigmented color payoff
✨duo chrome: sparkly and glowy shadows with pearlescent pigments that provide ultrafine metallic finish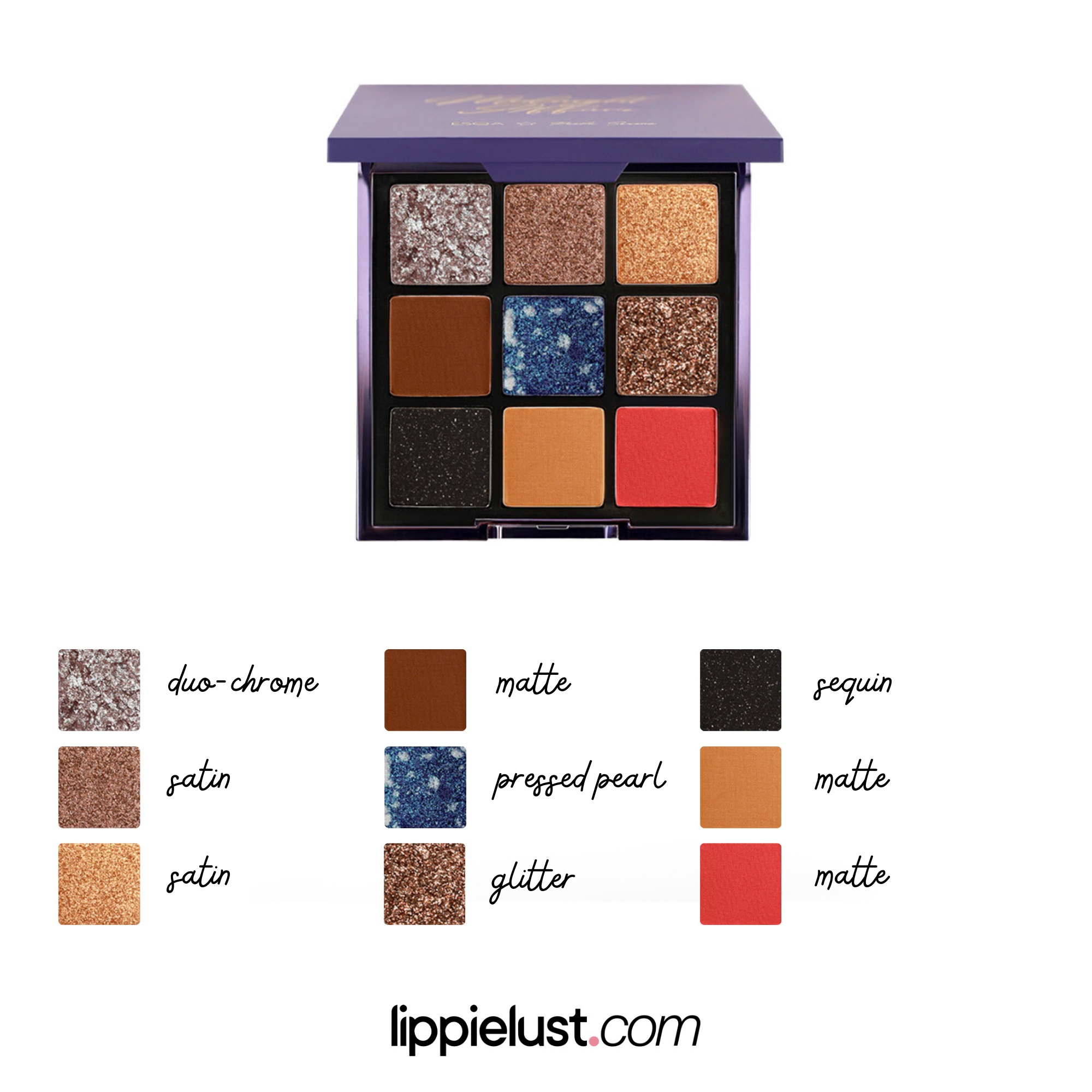 Dari sembilan pan warna, 3 diantaranya memiliki warna matte: reddish brown, tawny brown, dan watermelon red. Ada dua warna satin: bronze dan orange gold. 1 warnaduo-chrome: lilac purple dengan multicolored chromatic glitter, 1 warna sequin yaitu matte jet black dengan taburan silver glitter, dan 1 pressed pearl yang memiliki dua warna didalamnya: biru dan silver yang ketika diaplikasikan akan menghasilkan warna biru dengan shine yang cantik.
Sebagai 'aktivis' warna, kesembilan warna dari eyeshadow palette ESQA X Paola ini benar-benar menyegarkan mata. Selain finish-nya yang unik, kesembilan warna ini bisa dikreasikan sesuai dengan eye look favorit kita semua: mau peachy korean look, fresh & natural look, sampai full, dramatic & seductive eye look!
Here I played with the colors I loved the most: biru, hitam, dan duo-chrome: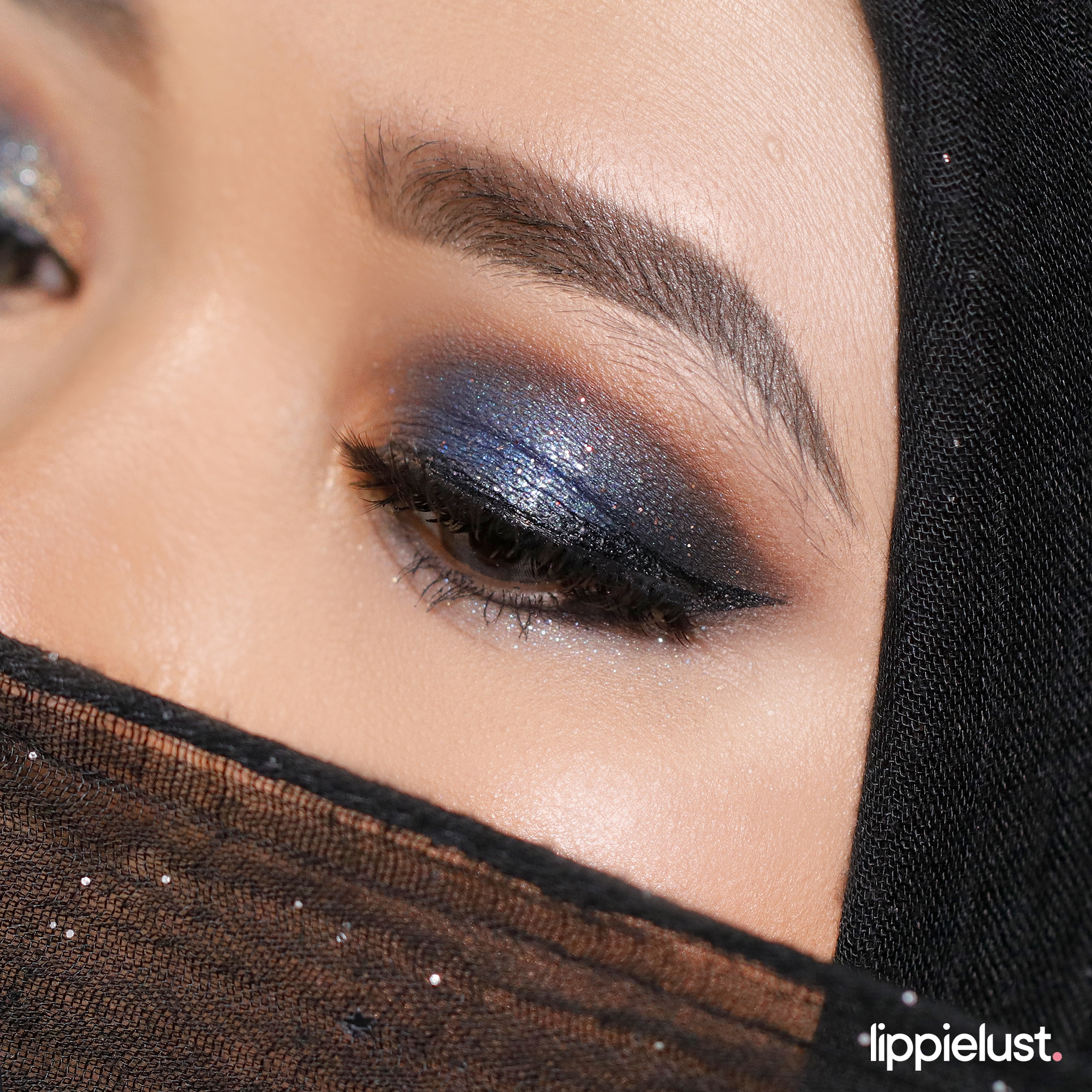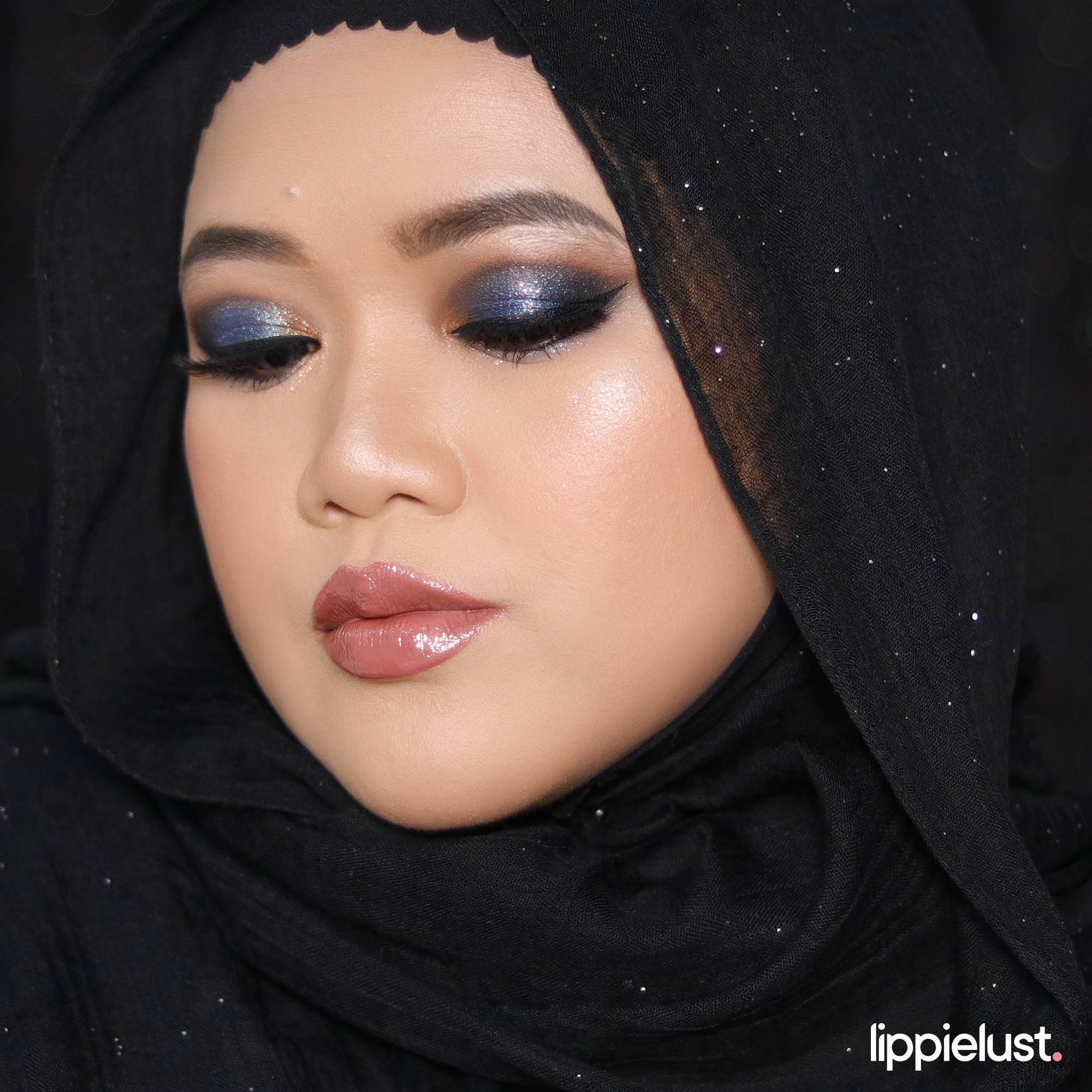 Lalu, apa sih bagusnya palette ini selain warna-warnanya? Menurutku eyeshadow palette ini memiliki pigmentasi warna yang sangat baik. Selain itu produk ini terasa begitu creamy bahkan untuk warna-warna matte-nya. Pun minimal fallout, alias warnanya gak 'rontok' ketika diaplikasikan di mata sehingga kamu pakai setelah complexion-pun masih tetap aman karena warnanya enggak akan mengotori pipimu.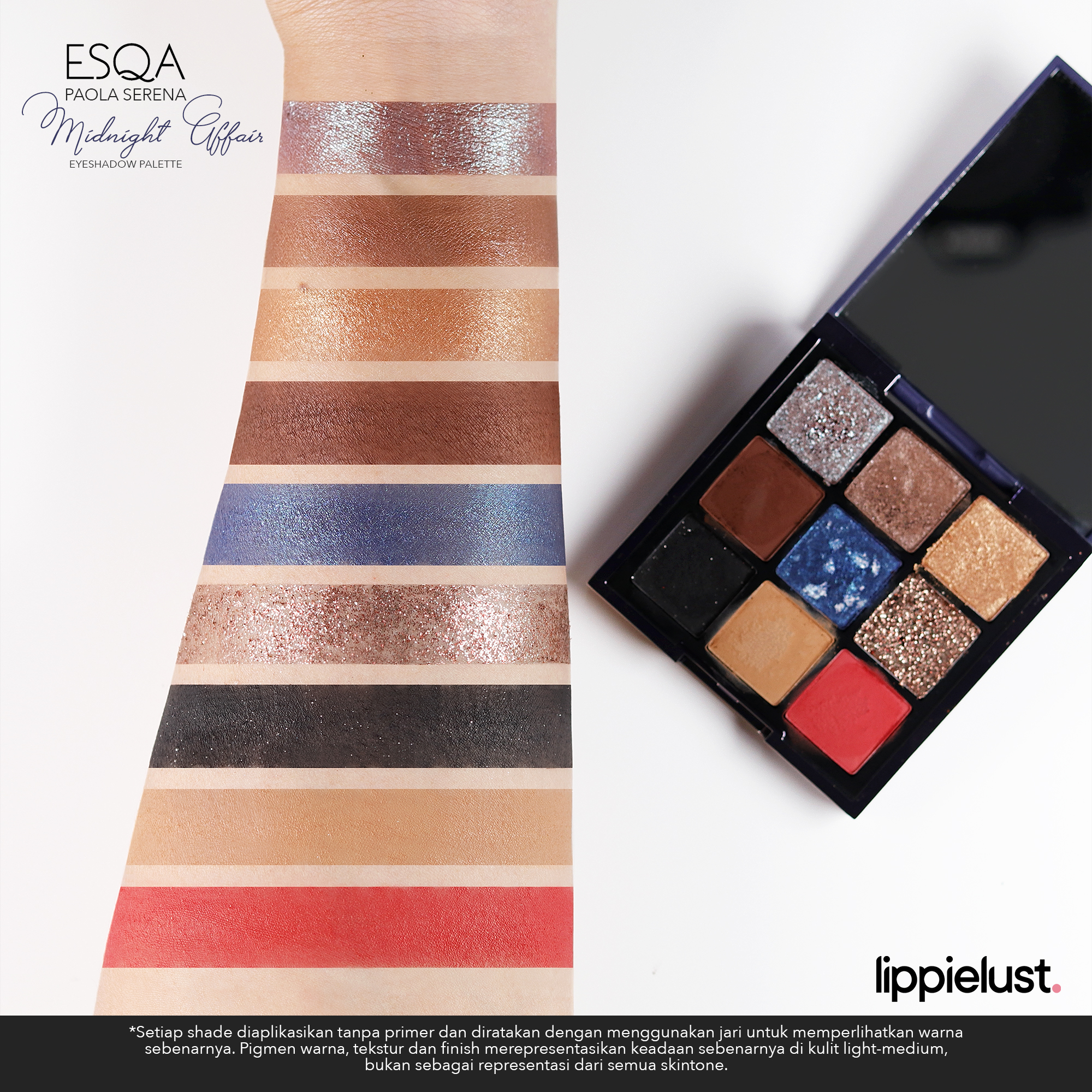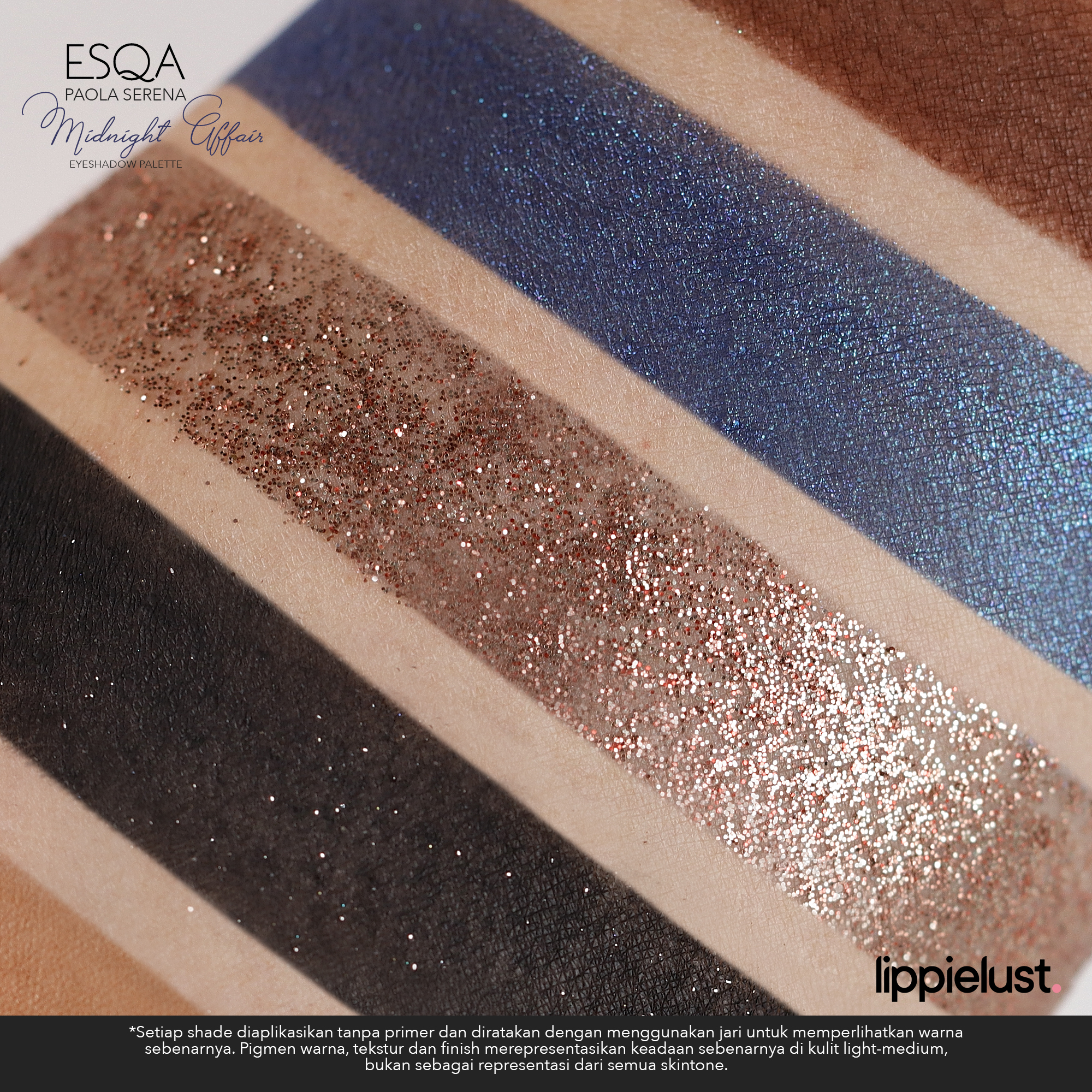 ESQA X PAOLA LIQUID EYESHADOW
Selain Midnight Affair Palette, ESQA X PAOLA juga merilis dua warna liquid eyeshadow yang enggak kalah cantik. White Lies adalah silver glitter with transparent base liquid eyeshadow dan Lucid Dreams adalah reddish brown with greenish teal shimmer liquid eyeshadow.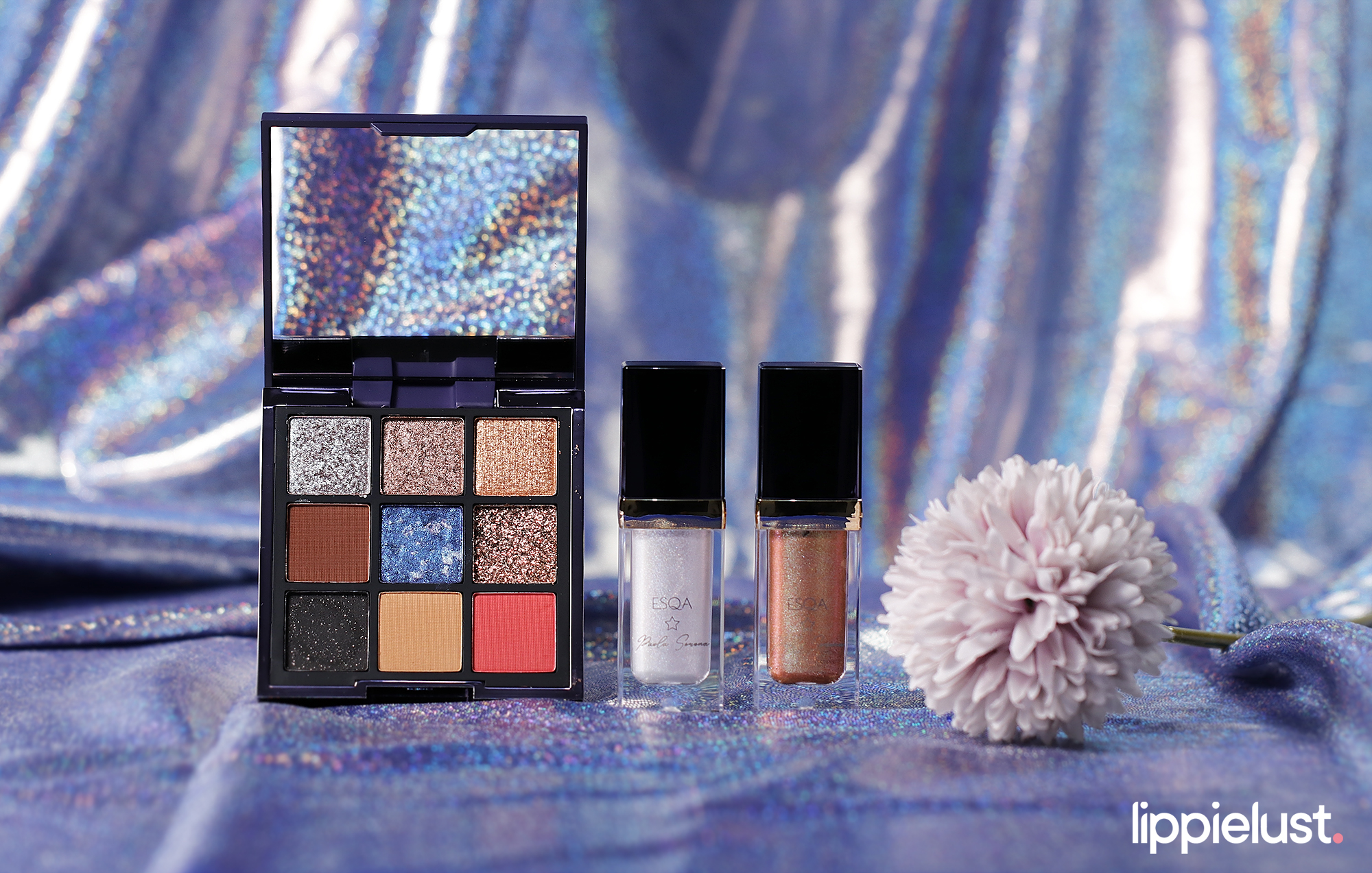 | | |
| --- | --- |
| Nama Produk | ESQA X PAOLA Liquid Eyeshadow |
| Produsen / Distributor | Shanghai Ayara Cosmetics, China for PT. Keva Cosmetics Internasional |
| Berat Bersih | 4,8gr |
| Jumlah Warna | 2 warna |
| Harga | Rp165,000 / warna |
| Pembelian | Official ESQA Cosmetics Stores at Shopee, Tokopedia |
ESQA X PAOLA Liquid Eyeshadow is formulated without parabens, Phtalates, Triclosan, Sodium, Lauryl Sulfate, Gluten. This product is also VEGAN-Friendly, No-Cruelty Free, HALAL, and BPOM Certified.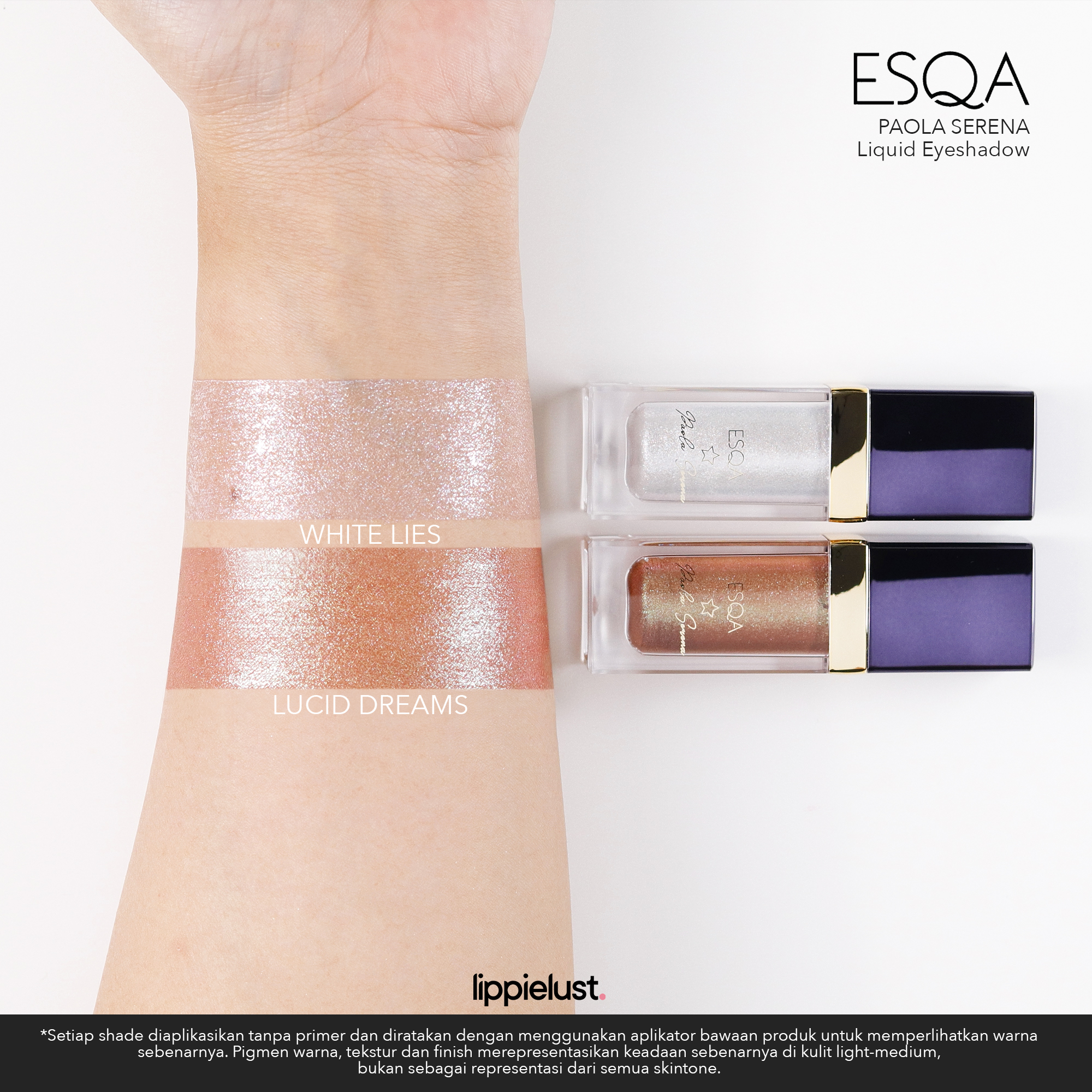 Menurutku, kedua liquid eyeshadow ini bakalan cocok di kamu yang lebih suka pakai minimal / mono eyeshadow, atau sebagai topper di atas matte eye shadow. Keduanya smudgeproof dan transferproof!
White Lies bernuansa frosty white yang menurutku bakal terlihat cantik diaplikasikan di atas bare lids sebagai extra shine di no-makeup look kamu. Lucid Dreams dengan warna coklatnya bisa diaplikasikan di bare lids sebagai hiasan mata untuk yang ingin menambahkan sentuhan warna warm di tampilan no-makeup.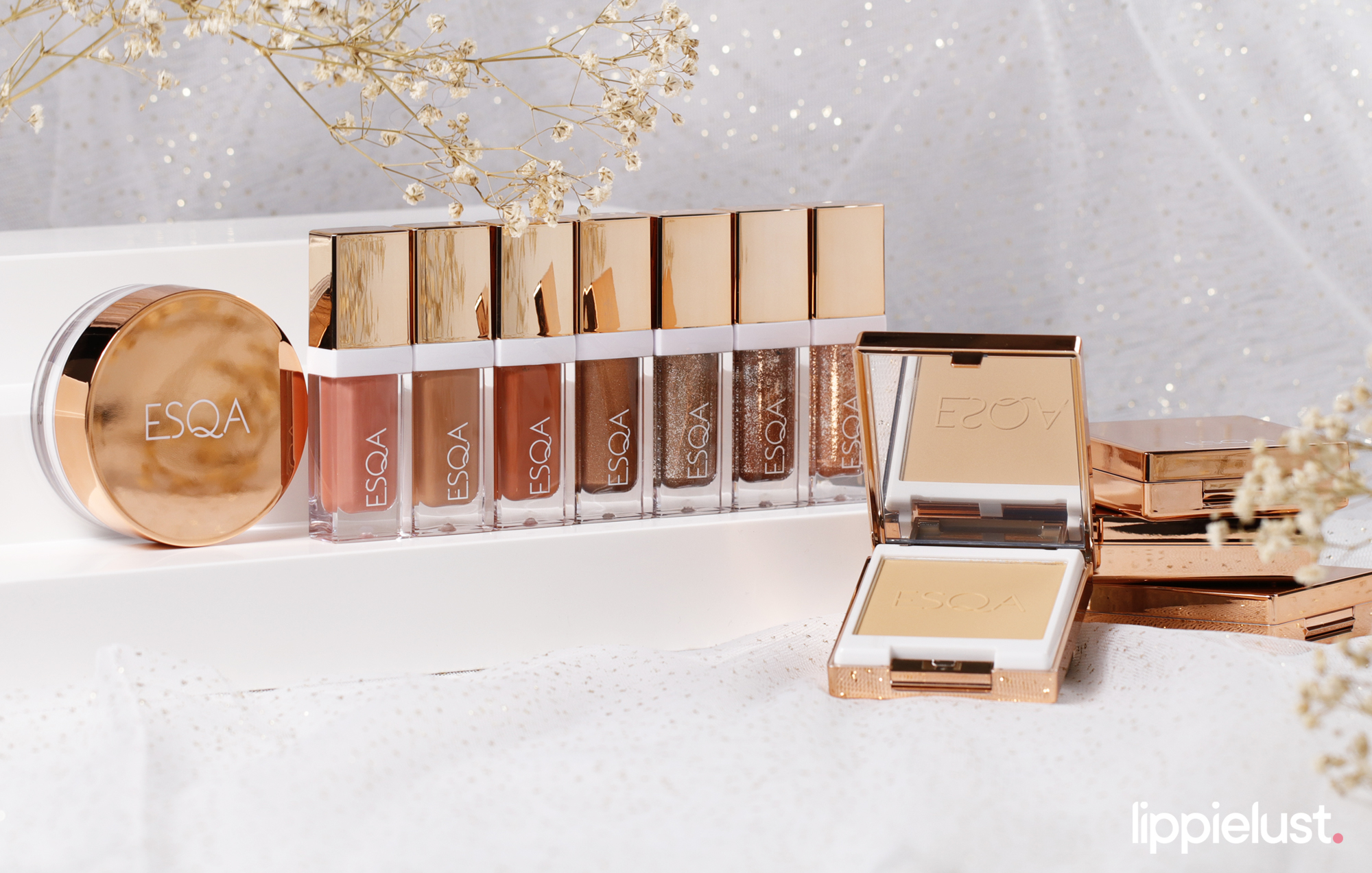 ESQA MOONLIGHT & STARLIGHT LIQUID EYESHADOW
Sebelum merilis produk kolaborasi dengan Paola, ESQA juga memiliki matte dan sparkle liquid eyeshadow.
MOONLIGHT liquid eyeshadow merupakan eyeshadow cair yang berpigmentasi tinggi dan juga blendable. Yep, pigmentasinya juara! Jadi, hati-hati ketika mengaplikasikannya. A little goes a long way. Hasil akhirnya adalah velvety-soft matte, produk ini bisa diaplikasikan di atas bare lids atau di layer di atas eyeshadow favoritmu. Produk ini akan menjadi smudgeproof tanpa ada creasing dan juga fading.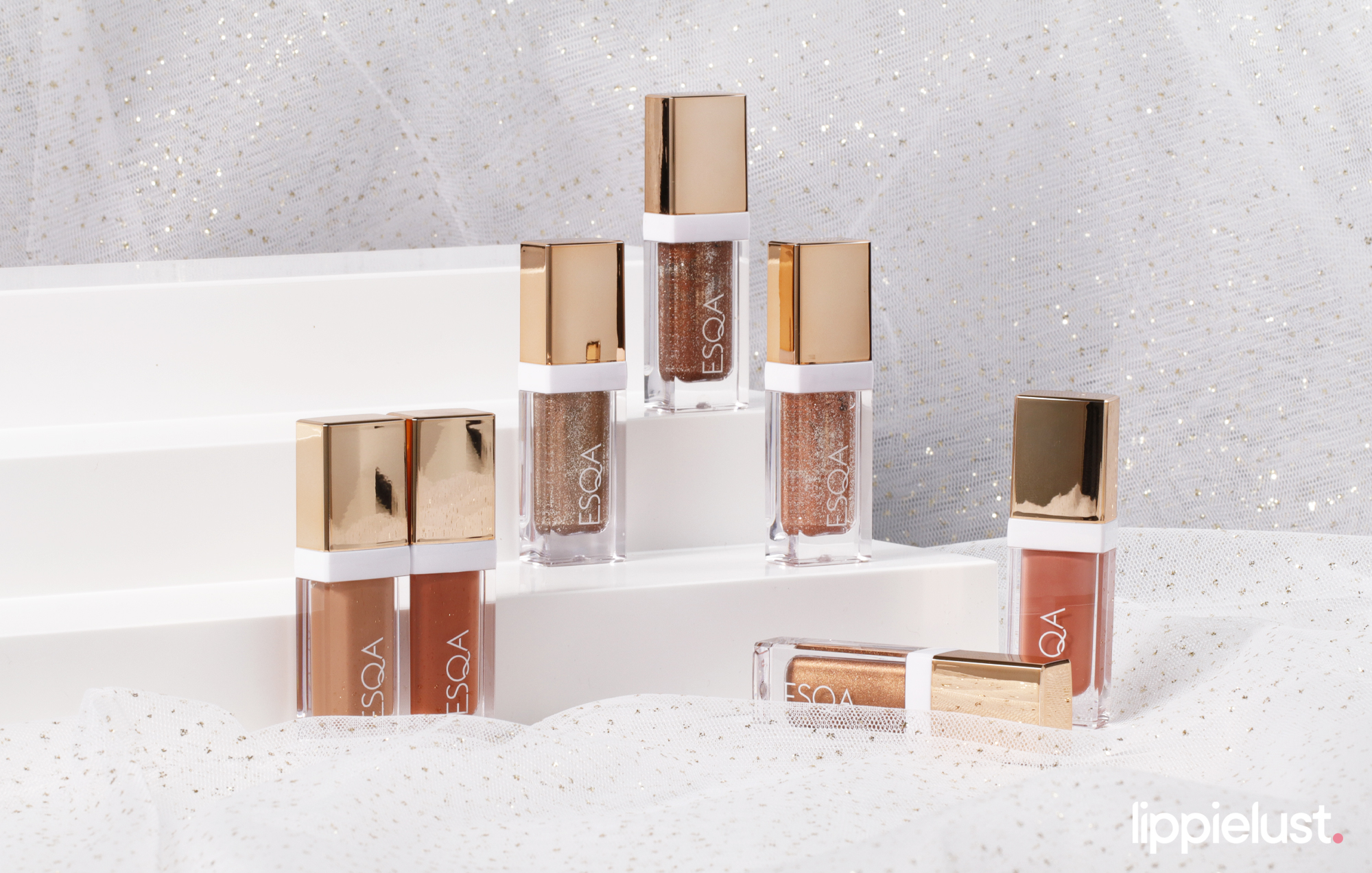 MOONLIGHT memiliki 3 pilihan warna: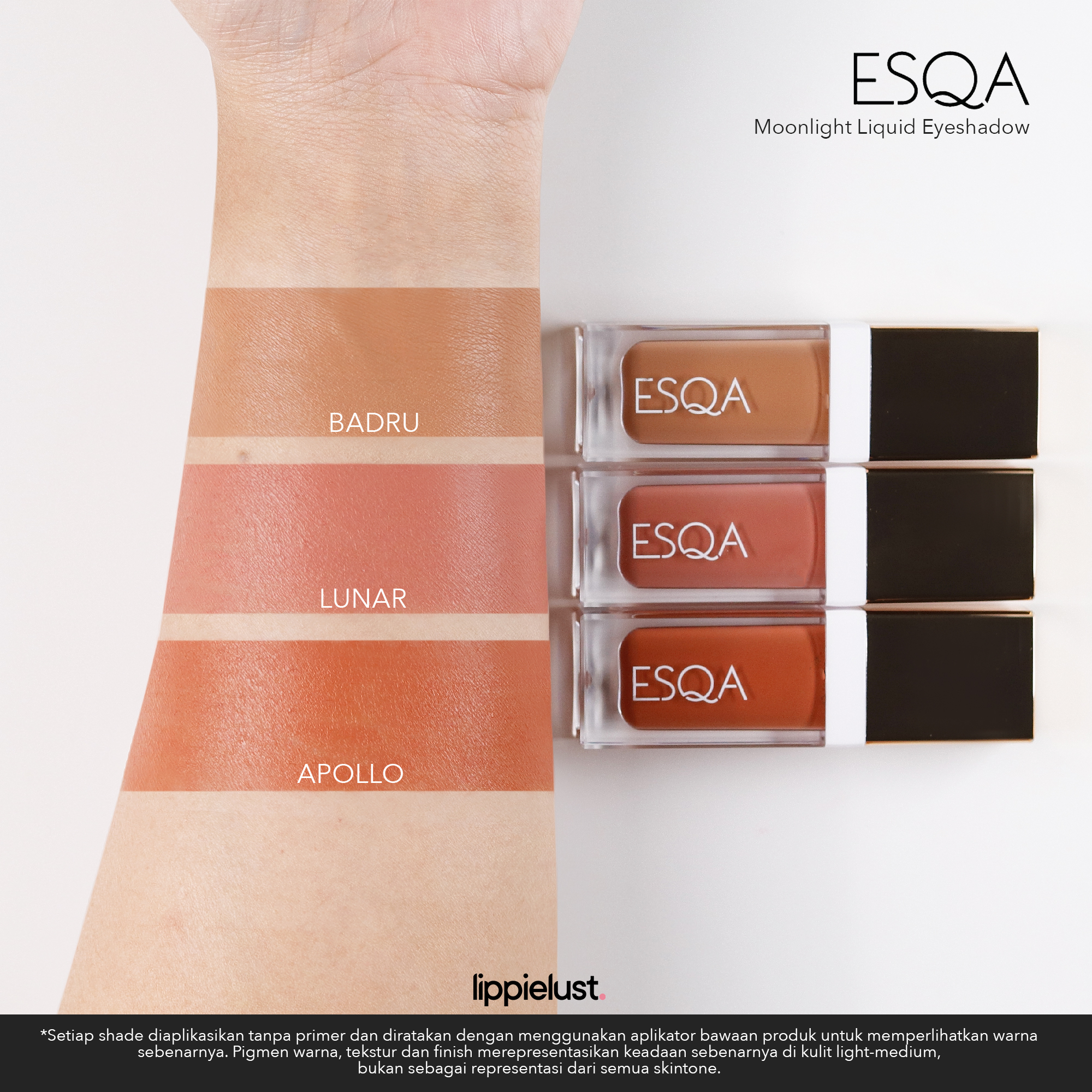 STARLIGHT liquid eyeshadow adalah eyeshadow cair yang berpigmentasi tinggi, ringan, dan juga memiliki sparkle yang intens. Didalamnya terdapat shimmery-glitter dengan warna-warna pilihan:
VENUS
MARS
MERCURY
SATURN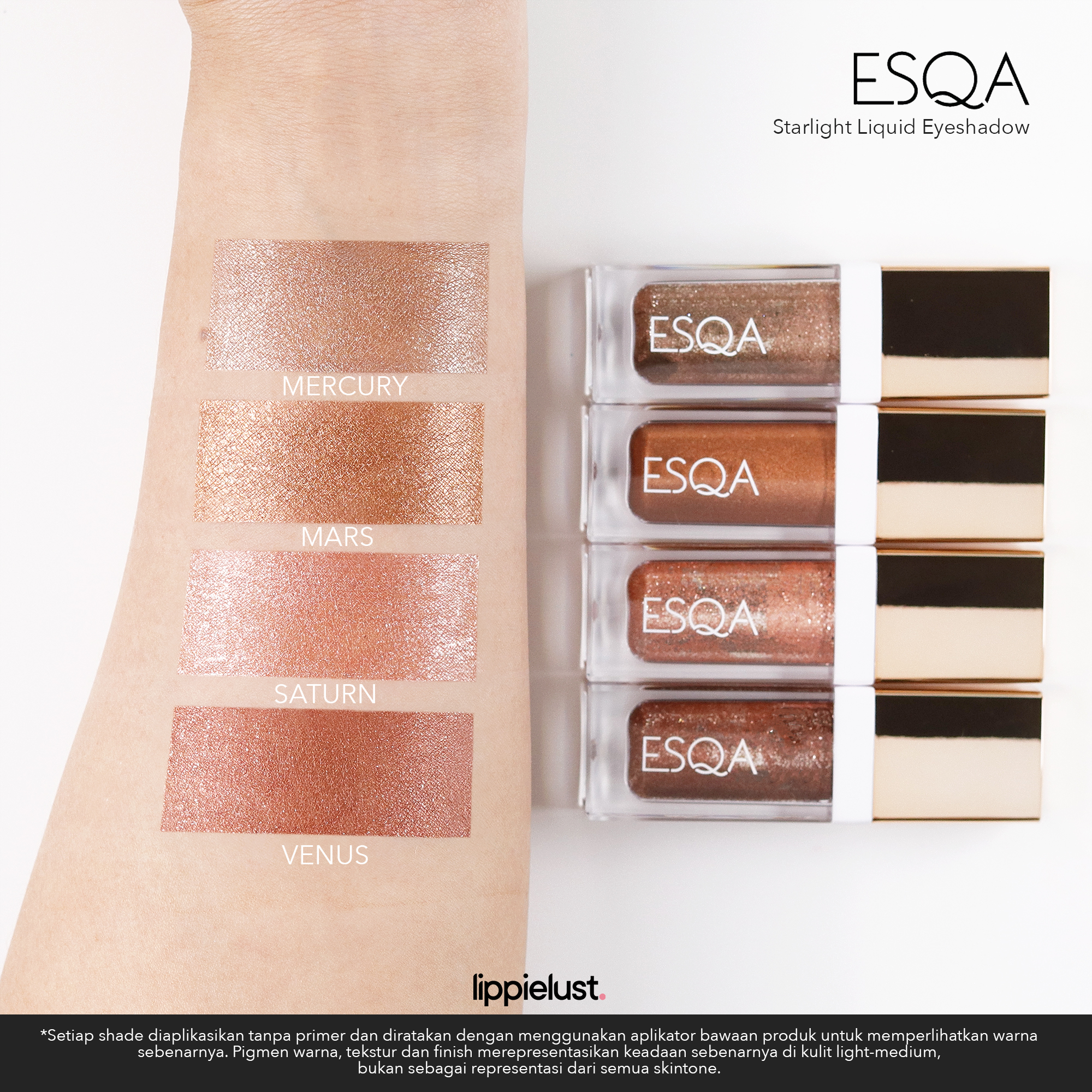 ESQA FLAWLESS LIQUID CONCEALER & CORRECTOR
Selain produk-produk dekoratif mata, ESQA juga mengirimkan produk-produk terbarunya termasuk ESQA Flawless Liquid Concealer dan Corrector. Selain itu ESQA juga mengirimkan Flawless Micro Setting Powder dan Flawless Powder Foundation, tetapi aku hanya menggunakan ESQA Flawless Micro Setting Powder untuk look di blog post ini dan enggak buat swatch-nya.
Yang menarik, ESQA enggak cuma mengeluarkan concealer tapi juga mengeluarkan 2 warna corrector yang bisa digunakan untuk memperbaiki imperfection di complexion kita. Flawless Liquid Concealer memiliki formula creamy yang kental, pigmentasi tinggi, high coverage, dan mudah dibaurkan tanpa meninggalkan crease di kulit. Fungsinya adalah untuk menutupi dan mencerahkan lingkaran gelap di bawah mata, dan membuatnya tampak lebih halus. Selain itu, concealer ini juga berfungsi untuk menyembunyikan noda, flek hitam, dan mengurangi kemerahan di kulit wajah.
Keenam warna Flawless Liquid Concealer:
MILKSHAKE
VANILLA
CUSTARD
CARAMEL
TRUFFLE
LATTE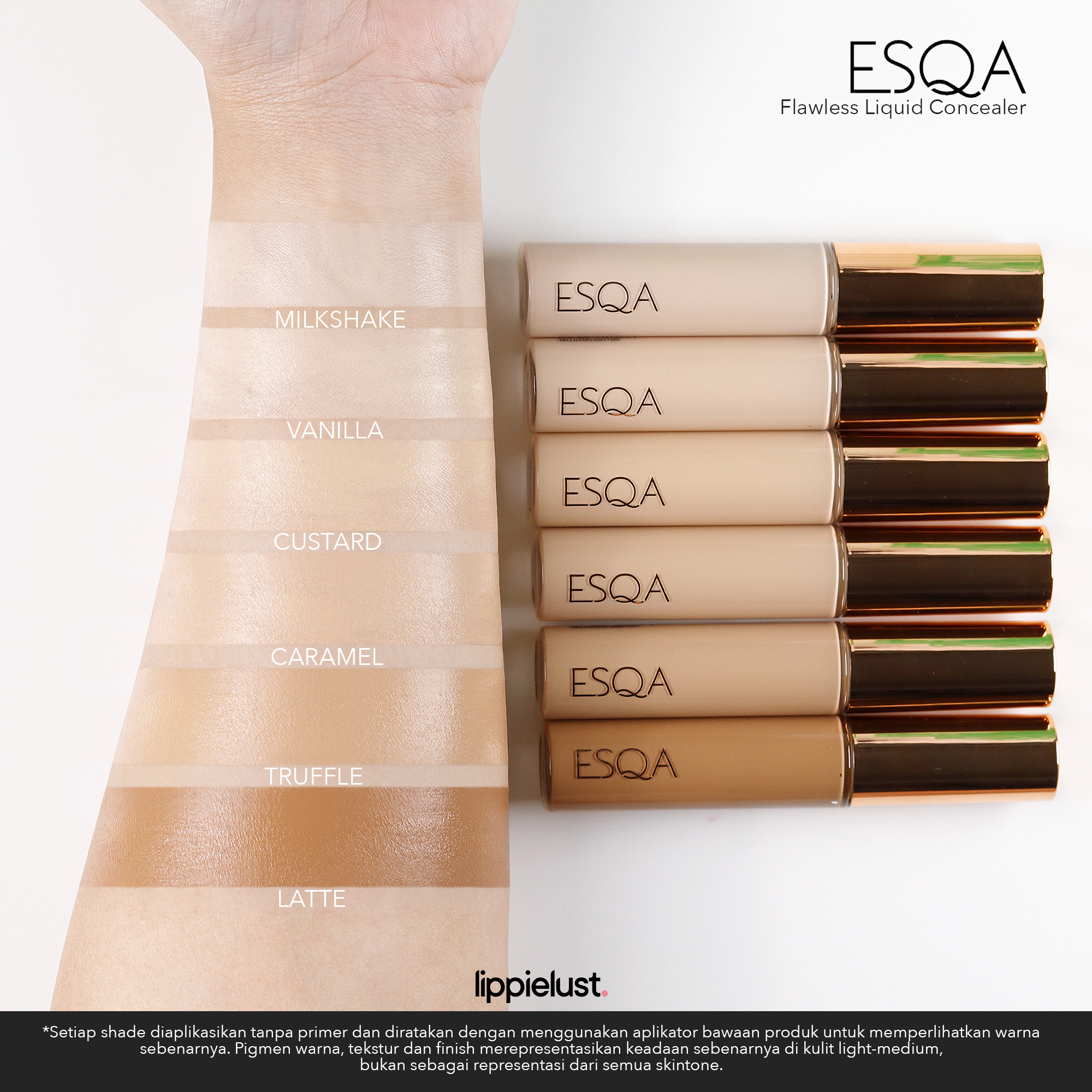 Flawless Liquid Corrector memiliki formula full coverage dan blendable, yang bisa mencerahkan kulit wajah yang bisa membantu memperbaikin tampilan dark circles dan menetralkan perubahan warna agar warna kulit terlihat lebih merata. Biasanya, Flawless Liquid Corrector diaplikasikan sebelum Flawless Liquid Concealer.
Dua warna Flawless Liquid Corrector: