TL;DR
Box: Muda, comical.
Tube: Cuboid, ringan (terasa seperti plastik), dan mempiliki sudut-sudut tajam yang kurang nyaman di tangan saat membuka cap.
Applicator Wand: Pendek (membuat produk nempel di cap — cap menjadi kotor).
Ujung Applicator: Angled, nyaman.
Aroma: Manis seperti permen.
Rasa: Sedikit manis (tapi bukan untuk dikonsumsi ya).
First-Swipe Feel: Ringan tapi lembut. Moisturizernya terasa.
Shade: Warna yang terlihat di applicator wand benar-benar sama setelah diaplikasikan ke bibir.
Stain: Warna-nya cepat meresap di bibir maupun kulit, jadi harus cepat-cepat diratakan sebelum kering (kalau enggak, bisa jadi botchy).
01 Cherry

02 Peachy

03 Ruby

04 Sweet

05 Coral

06 Bloody
Welcome back to Review & Swatches! Kali ini aku mau review produk terbaru dari Hanasui, brand yang udah berhasil membuat kita para beauty enthusiast tertarik dengan lip cream Mattedorable-nya. Setelah lip cream yang sukses di pasaran, what does Hanasui have to offer now?
Yuk kenalan dulu sama Hanasui Tintdorable Lip Stain! Semakin lengkap nih koleksi lippienya Hanasui. Udah ada lip cream, dan sekarang ada lip stain! Penasaran enggak sama produk yang baru ini? Apakah bakal se-oke pendahulunya si Mattedorable Lip Cream? Langsung aja yuk kita cari tahu bareng-bareng.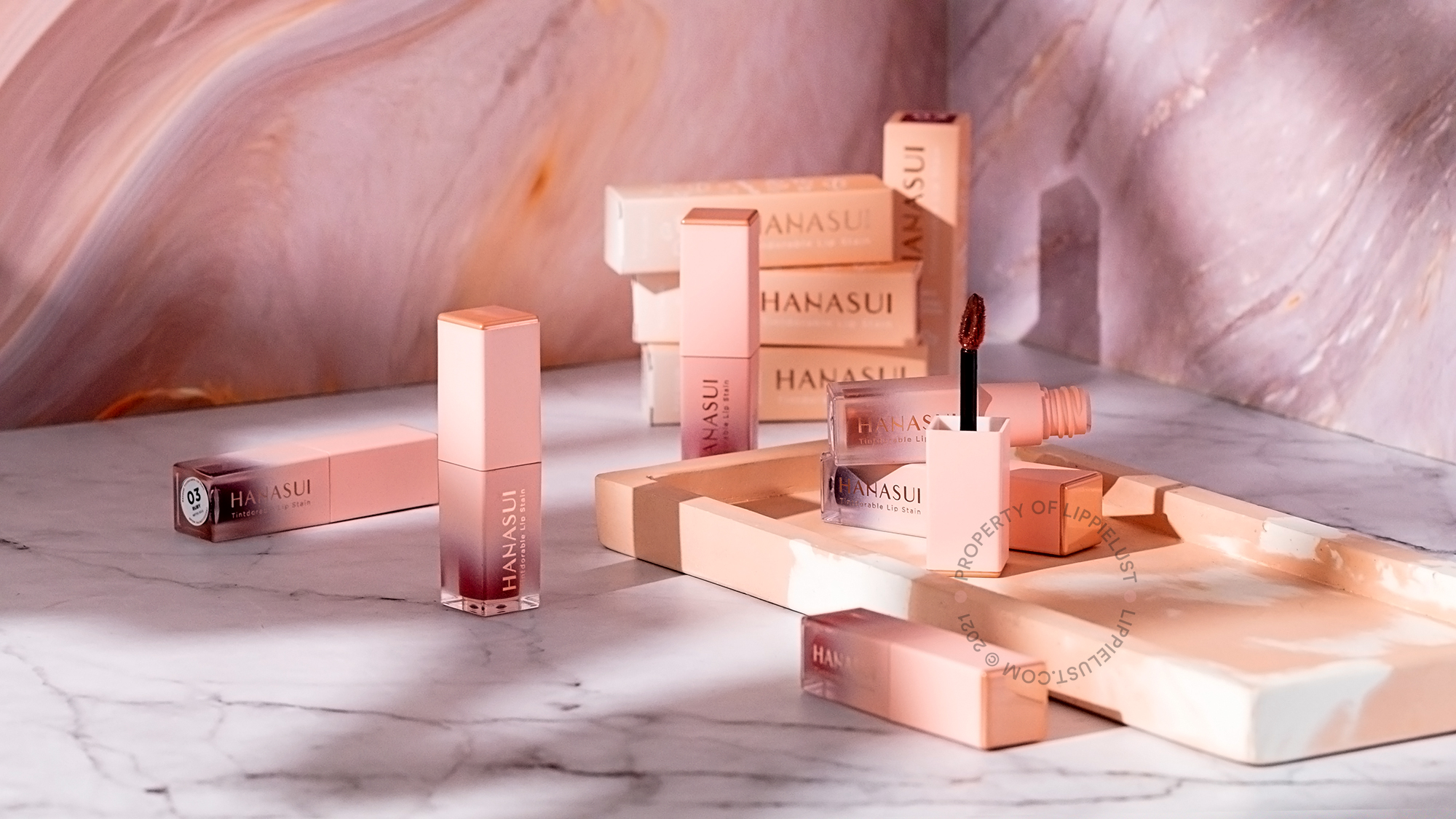 | | |
| --- | --- |
| Product Name | Hanasui Tintdorable Lip Stain |
| Produced By | PT Eka Jaya Internasional |
| Weight/Price | 3.5g / Rp 20.000 |
✨Packaging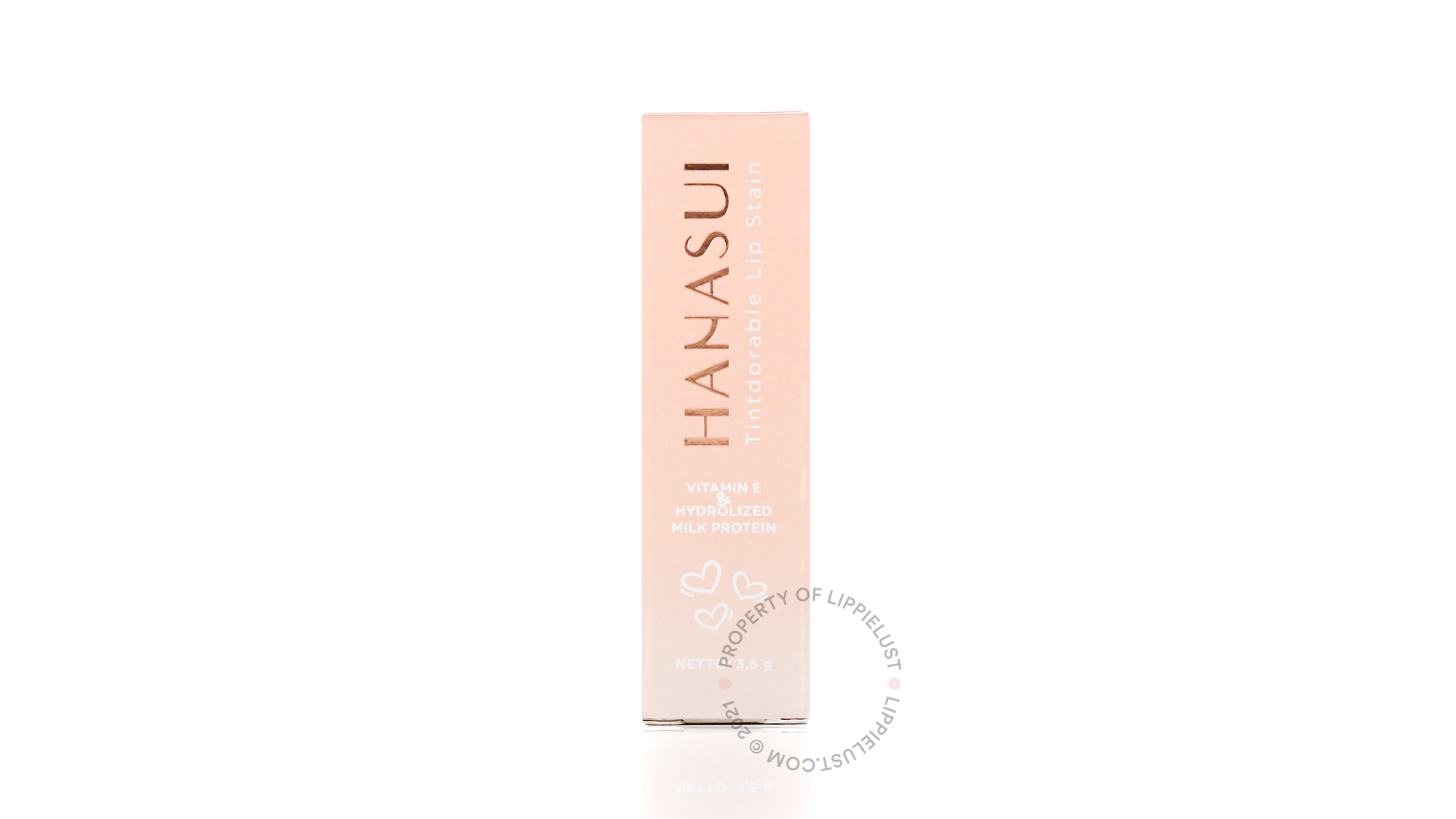 Dilihat dari box-nya, sepertinya Hanasui mulai nyaman dengan desain yang bernuansa "muda" dan sedikit "comical". Mirip dengan Hanasui Mattedorable Bobba Edition, kemasannya mengandung ilustrasi-ilustrasi yang lucu dan dilengkapi dengan font Jolly Good Sans Black (untuk tulisan nama produk) yang memberikan kesan cute.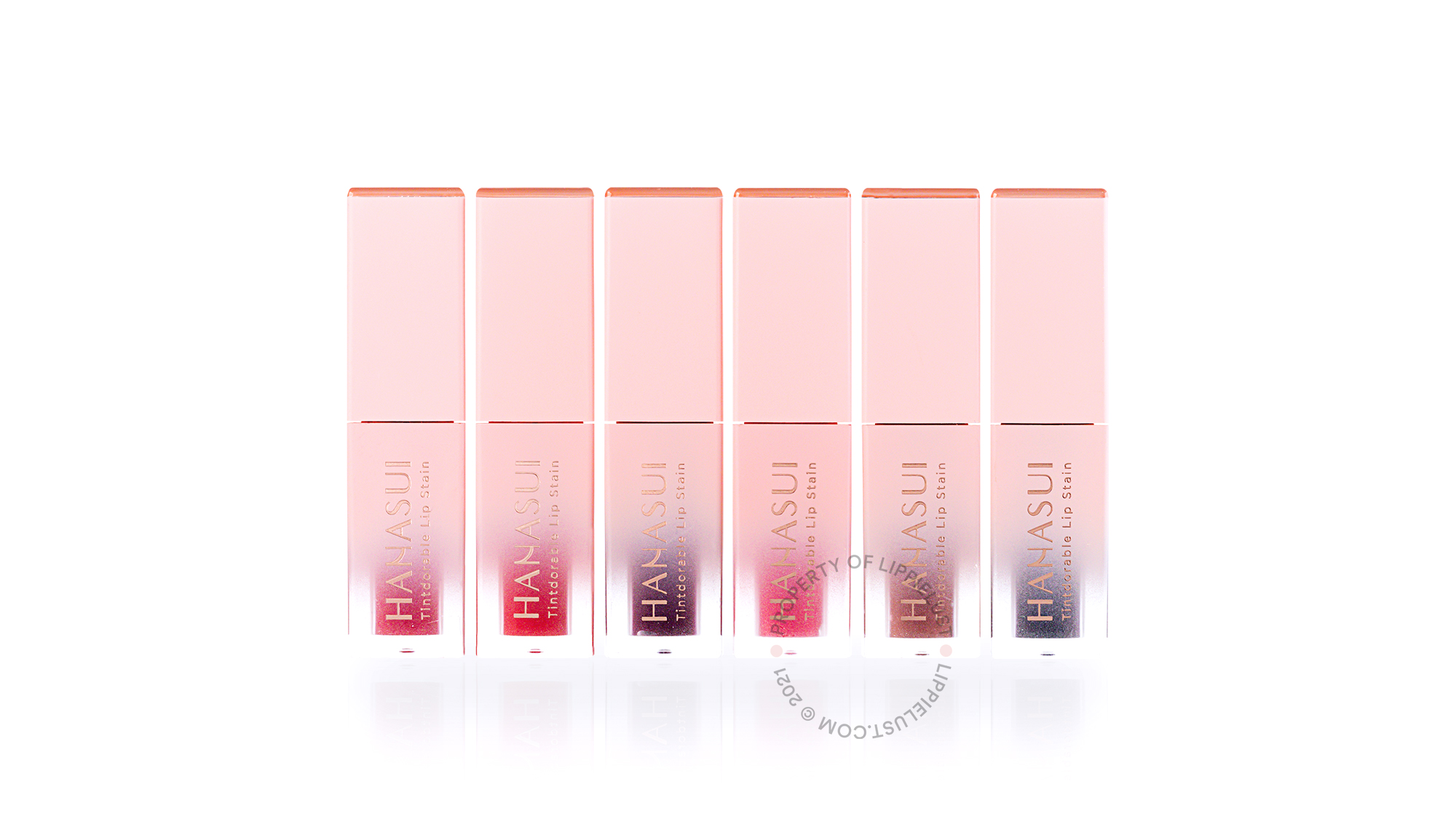 Next, tube lip stain ini berbentuk kuboid dan sebenarnya enggak ada yang salah disini; hanya saja tube ini terasa begitu ringan dan benar-benar terasa seperti plastik. Buat aku, material seperti ini kurang begitu nyaman di tangan, apalagi di bagian penutupnya. 
Karena bentuk dari tube ini menghasilkan beberapa sudut tajam, setiap aku putar penutupnya untuk aku buka, tanganku terasa sakit tertekan sudut-sudut tajam itu. Ini hal kecil sih tapi lumayan inconvenient.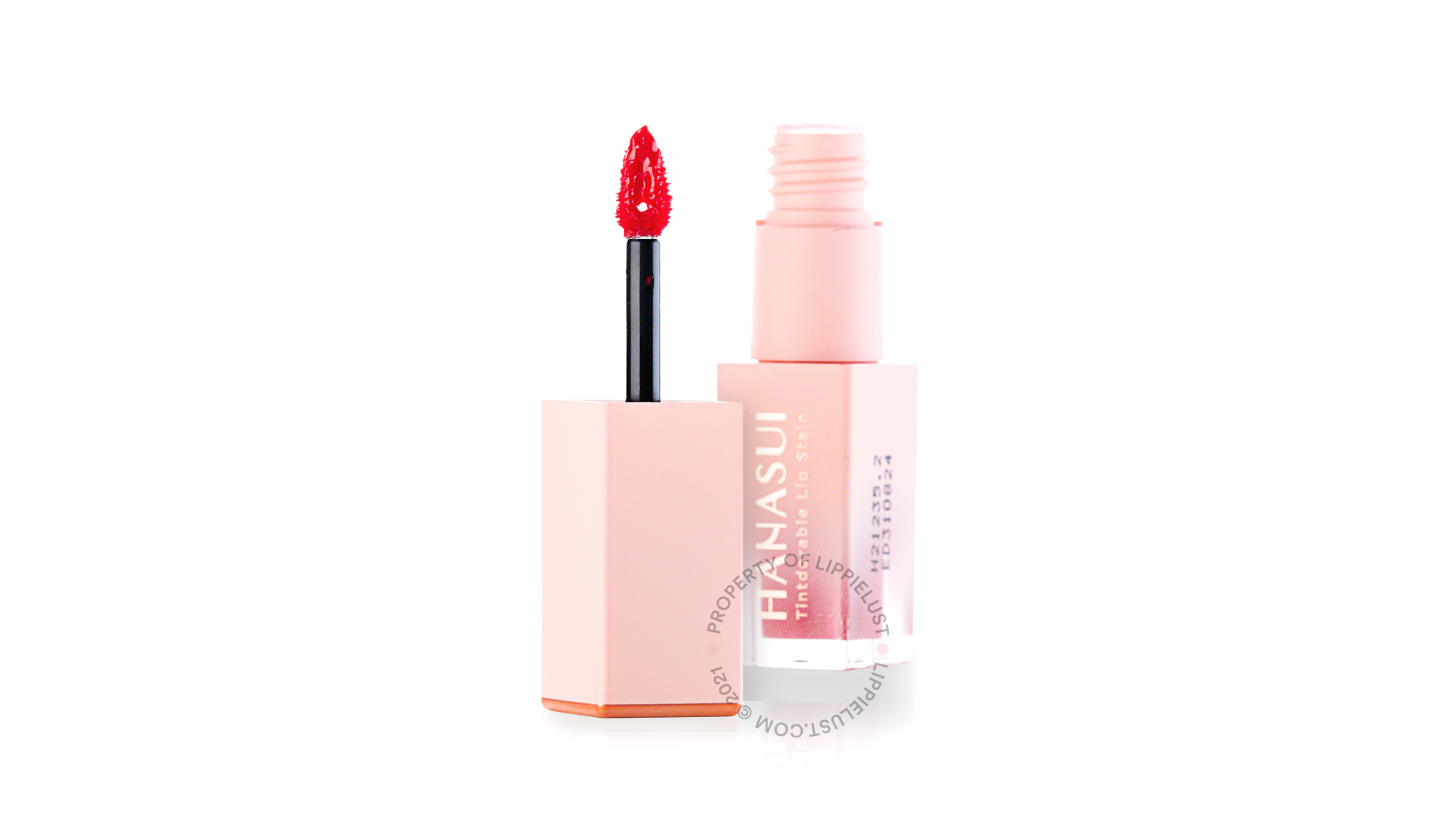 Next, jarak antara batang aplikator ke tutupnya itu terlalu dekat sehingga shade yang lagi diaplikasikan ke bibir itu kadang nempel ke bagian pinggir tutupnya. Hal ini menyebabkan tutup menjadi kotor. 
Desain dan warna dari tube ini mendekati desain dan warna dari Mattedorable Lip Cream (bukan yang Boba ya karena itu limited edition).Anyway, ujung applicator wand-nya berbentuk angled supaya pengaplikasian di bibirnya menjadi mudah.
✨The Formula and My Experience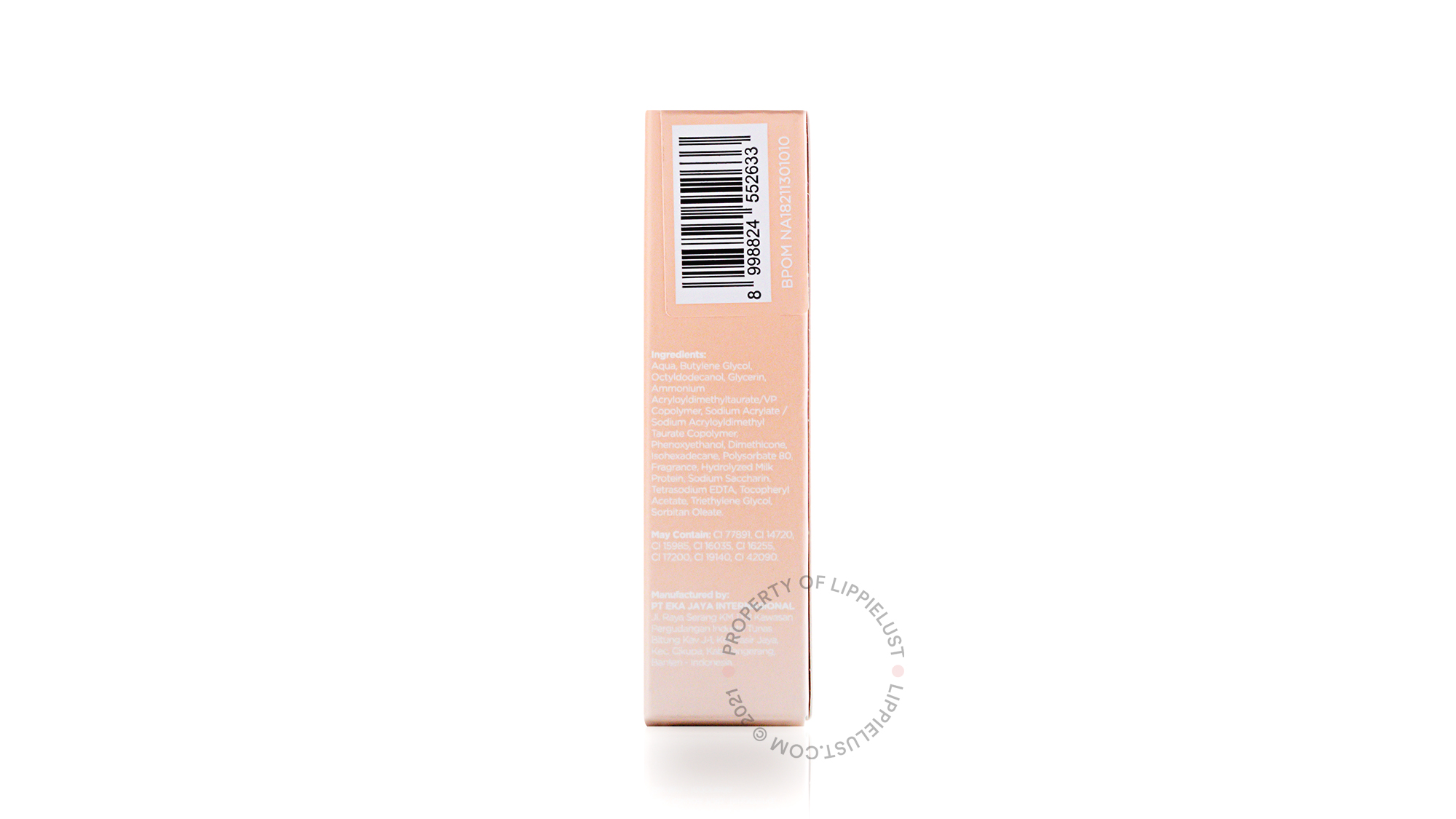 Produk ini memiliki aroma yang manis seperti permen; hal ini tentunya menyenangkan. Selain aroma yang manis, pas enggak sengaja kena lidah aku, ternyata beneran rasanya manis, jadi enggak cuma aroma-nya doang. Tapi kamu harus hati-hati ya; manis di lidah bukan berarti boleh dikonsumsi. Produk ini mengandung Sodium Acrylate, Phenoxyethanol, Fragrance, dan Tetrasodium EDTA yang akan bahaya kalau kamu telan. So, manis-manisnya di bibir dan lidah aja ya, jangan kamu konsumsi/minum.
Lanjut, saat aku aplikasikan ke bibir, formulanya terasa ringan tapi lembut. Biasanya tuh yang ringan-ringan itu bikin bibir kering ya, tapi ini enggak. Moisturizer-nya itu kerasa di bibir. 
Dari segi warna, ini cepet banget meresapnya sih both on my hands and my lips. Jadi, kalau mau aplikasi, harus buru-buru diratakan supaya enggak terlihat botchy. Other than that, warna yang ditampilkan di kemasan box dan yang terlihat di aplicator wand itu enggak berubah pas udah di bibir. Ya udah warnanya seperti itu.
✨Shades and Description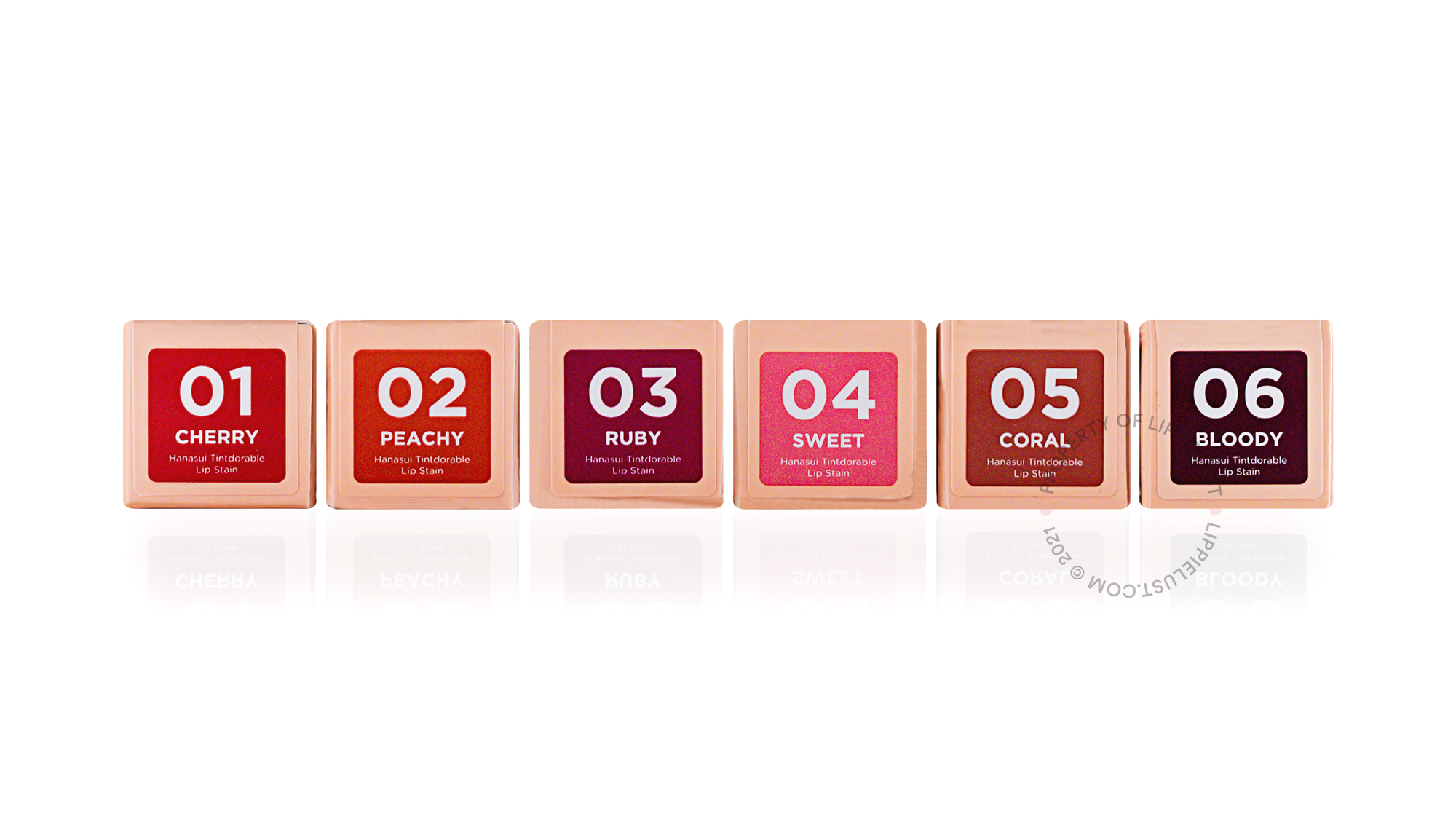 Hanasui Tintdorable Lip Stain ini tersedia dalam 6 shades:
01 Cherry

02 Peachy

03 Ruby

04 Sweet

05 Coral

06 Bloody