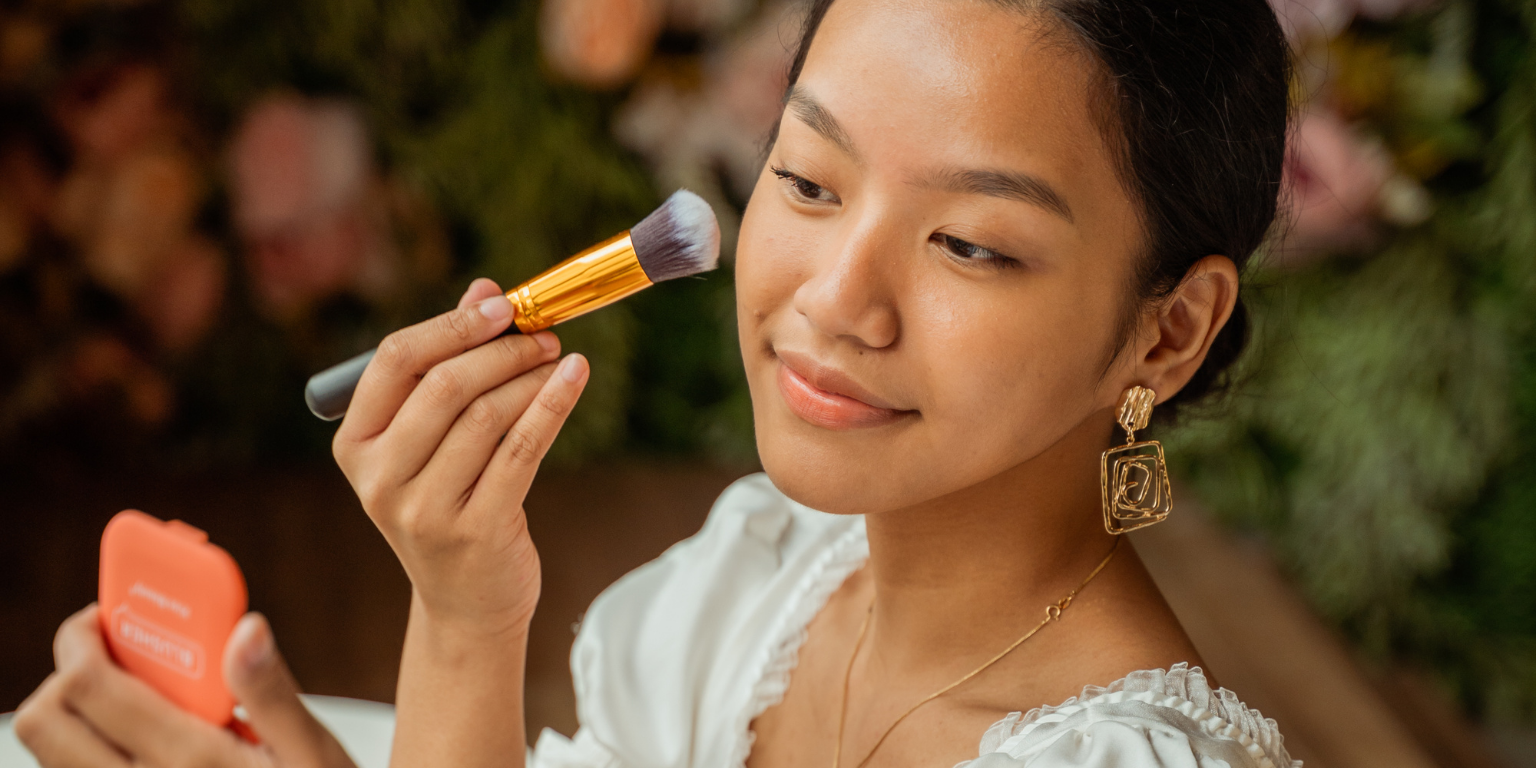 Lambat laun, pasar di Indonesia dirajai oleh produk-produk lokal. Aku sedang secara spesifik membicarakan tentang pasar beauty; mau itu fashion, kosmetik, ataupun skincare.
SDM lokal sekarang udah mampu memproduksi produk yang enggak kalah saing dengan produk luar negeri (dan jujur, seringkali justru lebih bagus daripada produk LN tersebut). Dari segi kualitas dan estetika visual, we are thriving…like…literally thriving.
Aku coba ingat-ingat terakhir kalinya aku menggunakan produk LN, and I swear that I can track it back to almost two years ago. It was a mascara by Maybelline (an American product). Maskara tersebut sekarang sudah tergantikan oleh EyeXpert Volume Expert Mascara by Wardah. Semenjak itu, aku jadi terdorong dan termotivasi untuk selalu go local. Enggak cuma karena pride, tapi juga karena ingin membantu brand lokal untuk soar as high as they can dari segi popularitas ataupun ekonomi.
"Emangnya produk lokal sekarang udah lengkap yaa?" 
Cushion? I use one from Rollover Reaction. Concealer? One from ESQA. Eyeliner? Goban has my heart. Eyeshadow? ESQA and Dear Me Beauty own the game. Skincare? There's Somethinc the giant. Cosmetic tools? Kenalan dulu sama Aeris dong.
Give me a couple of minutes untuk ngeracunin kamu supaya mulai menggunakan produk lokal.
The Quality
Udah enggak perlu dipertanyakan lagi sih sebenernya ya masalah kualitas produk lokal. Udah cocok digunakan untuk everyday wear, photoshoot, dan banyak hal lainnya. Untuk kosmetik, aku udah pernah nyobain so many local products yang tahan lama dan terlihat flawless dari bangun sampai tidur. Untuk skincare, I swear I HAD prominent wrinkles and spots on my face.

The Aesthetics
Inget enggak produk lokal jaman dulu tuh desainnya masih terbilang "meh" dan "tua", tapi sekarang, with the rise of design talents, kemasan-kemasan yang bisa kita dapatkan jarang banget mengecewakan mata. Meja rias kita jadi terlihat super pretty and chic. 

Diverse Choice
Mulai dari pilihan varian, shade, sampai kandungan, produk lokal mampu cover semua kebutuhan wanita Indonesia. Kamu juga sekarang udah bisa memilih produk yang reguler atau yang vegan, lho. Beberapa brand lokal vegan ada: Sensatia Botanicals, Isha Naturals, ESQA, Goban, dll. So exciting!

Connection with Customer
Karena para penggerak brand lokal adalah orang Indonesia, mereka sama-sama tahu kebutuhan dan keluhan kita para wanita Indonesia. Mulai dari pengaruh cuaca, suasana kota, sosial, atau event, they know and they will create something to help us overcome. Selain itu, kita bisa dengan mudah menyampaikan sebuah opini atau komplain terhadap suatu brand karena jangkauannya yang lebih mudah (sama-sama di dalam Indonesia dan sama-sama berbahasa Indonesia).

The Pricing
Produk lokal udah pasti lebih affordable dibandingkan dengan produk LN dengan kualitas yang enggak jauh berbeda atau malah lebih baik. Seringkali, produk LN memang dasarnya lebih mahal (karena hasil konversi dari dolar ke rupiah atau mata uang manapun), dan biaya shipping. 

The Pride
Sebuah kebanggaan tersendiri, lho, pakai produk-produk lokal. It's like wearing our flag on our face and body. 

So, kamu udah keracunan untuk mulai The Local Lifestyle belum?