Siapa yang sering main Tiktok atau pantengin Reels? Sadar enggak sih, semenjak lockdown pandemi sampai sekarang, banyak banget beauty creator yang hobi makeup dan bergaya ala 90s? Mulai dari eyebrows, lipstick, hairstyle, sampai fashion pun semuanya terinspirasi dari trend 90s. Kita lihat yuk ada apa aja yang dilahirkan kembali di tahun 2022 ini.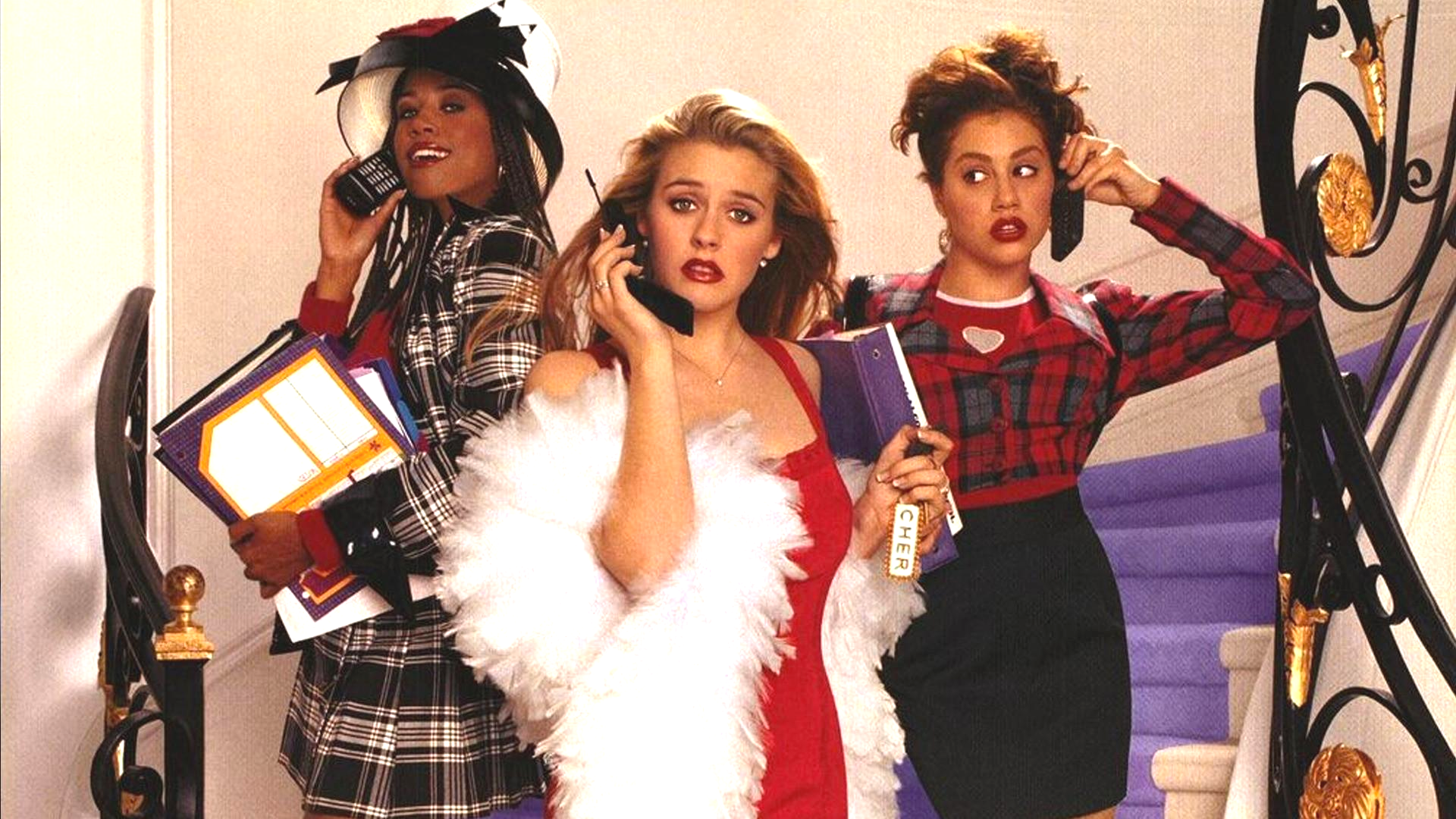 Lip Liners
Penggunaan lip liner gempar-gemparnya di awal tahun 90an. Walaupun sering terlihat di bibir para pop stars (Spice Girls, Gwen Stefani, dll), trend ini at that time sebenarnya dikuasai oleh para supermodel. Gaya bibir ini mencerminkan sexiness, kedewasaan, dan sultriness.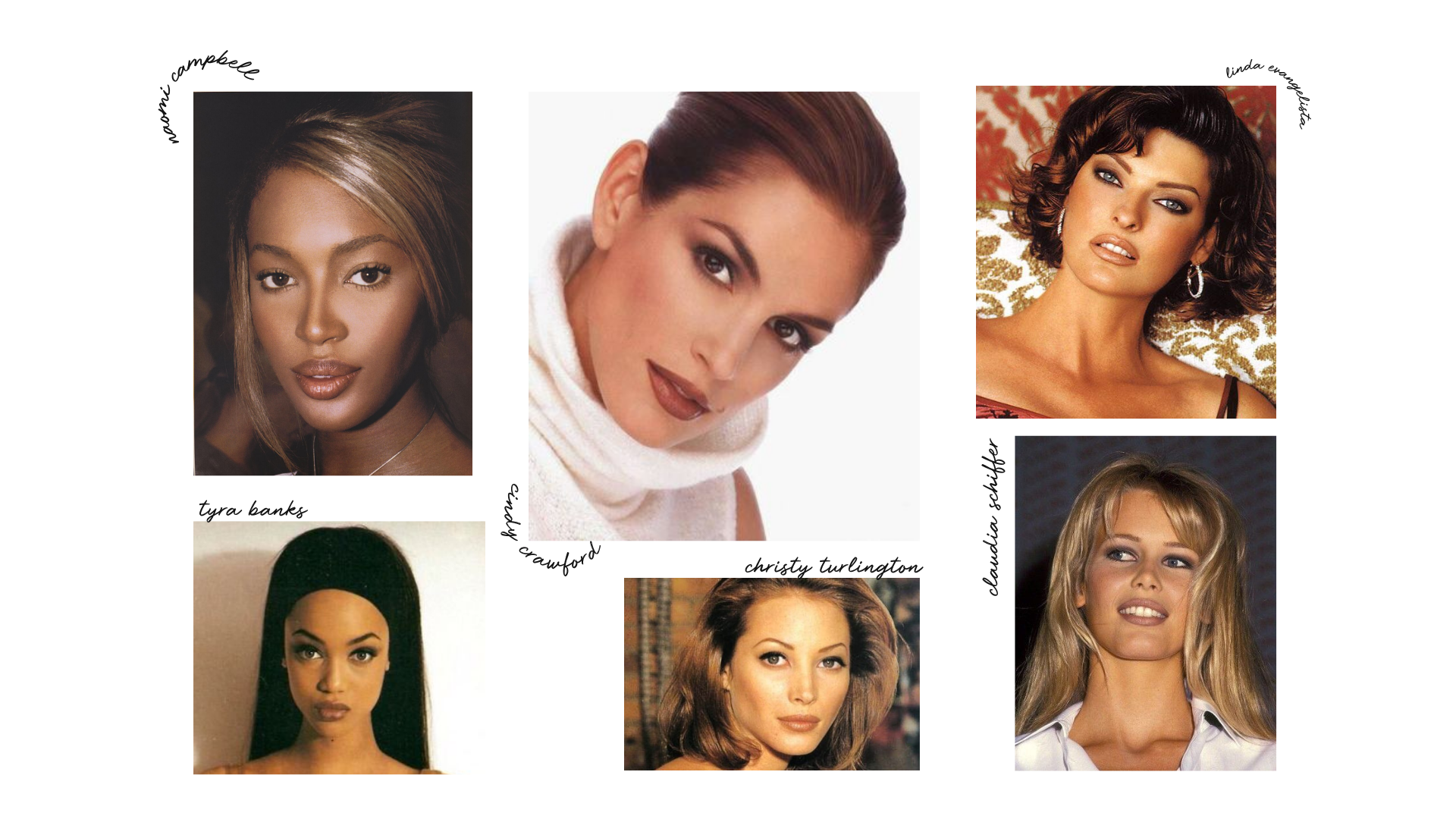 Sebenarnya, gaya lip liner ini enggak pernah hilang; It has always been there tapi hanya sedikit orang yang pakai. Gaya ini kembali booming setelah series "Euphoria" rilis di HBO, dimana ada seorang karakter bernama Maddy yang menggunakan gaya lip liner ala 90s ini sebagai ciri khas-nya. After that, everyone started using this style and we all love it.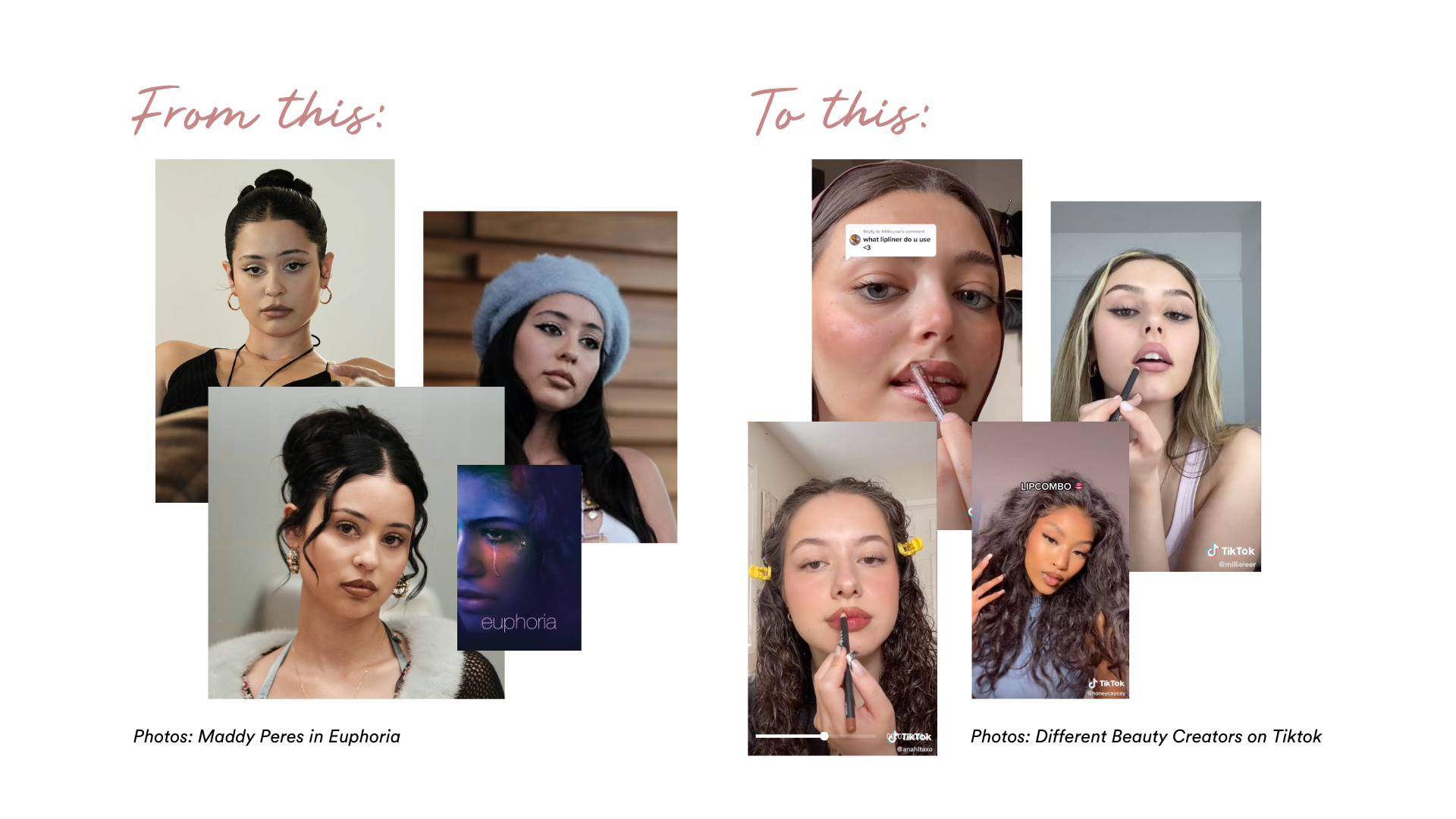 Deep Shaded Lips
The 90s were the years deep shaded lipsticks sold out. Hampir semua selebriti pada waktu itu memilih lipstick yang berwarna tua dengan undertone cokelat. Biasanya, look ini disatukan dengan gaya lip liner yang udah aku bahas tadi. Seleb-seleb muda seperti Britney Spears aja sampai ikutan trend ini, lho.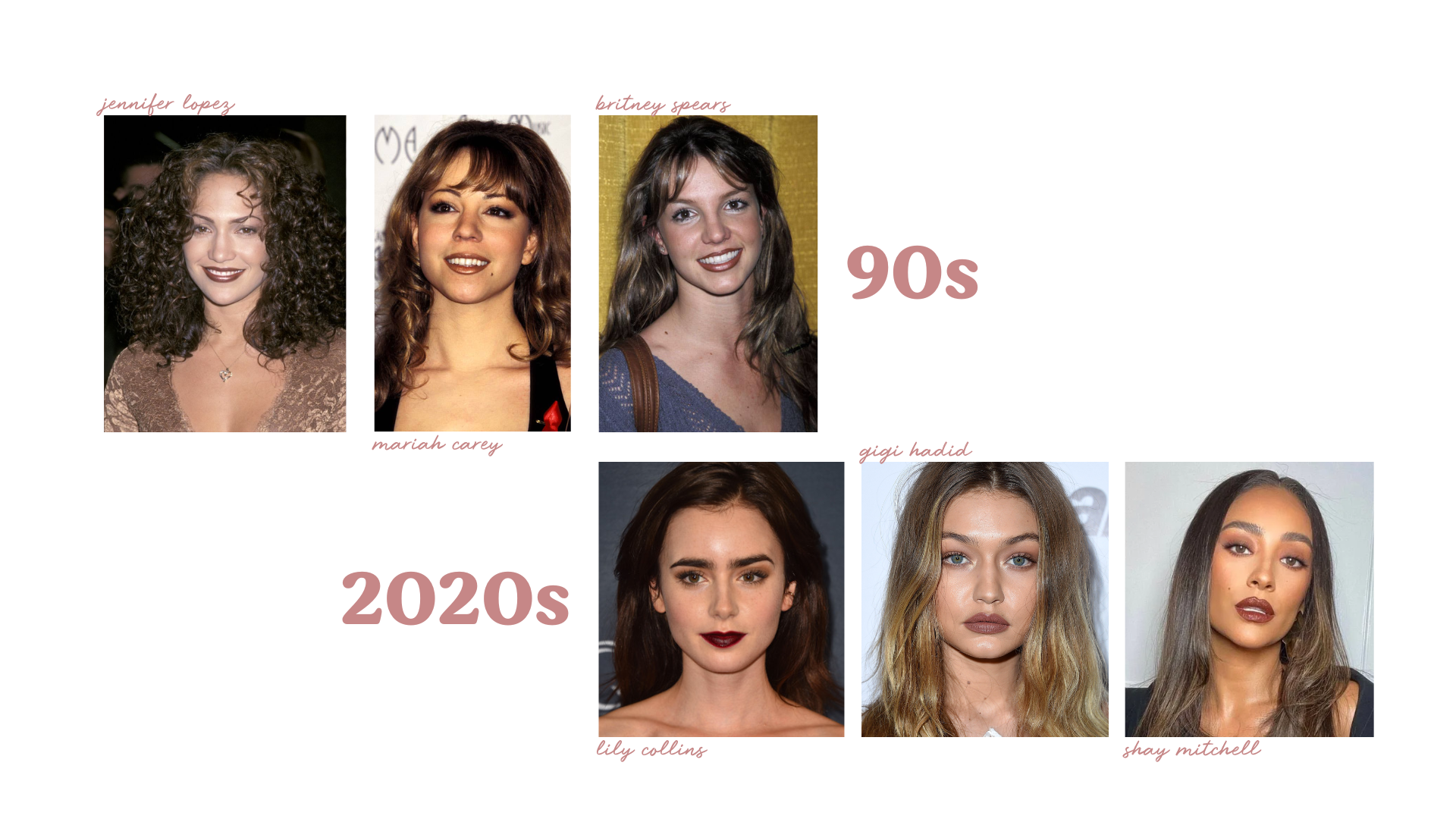 No Makeup Makeup
Selain lip liner yang super attractive, ternyata dulu in the 90s, ada yang namanya the magic of "barely there makeup" atau yang sekarang biasanya kita sebut "no makeup makeup"; cuma butuh modal moisturizer + sunscreen yang bagus, sedikit blush, alis rapi, dan liptint/lip gloss yang sheer. Seleb yang dulu terkenal dengan makeup tipisnya adalah Kate Moss, Liv Tyler, dan Julia Roberts.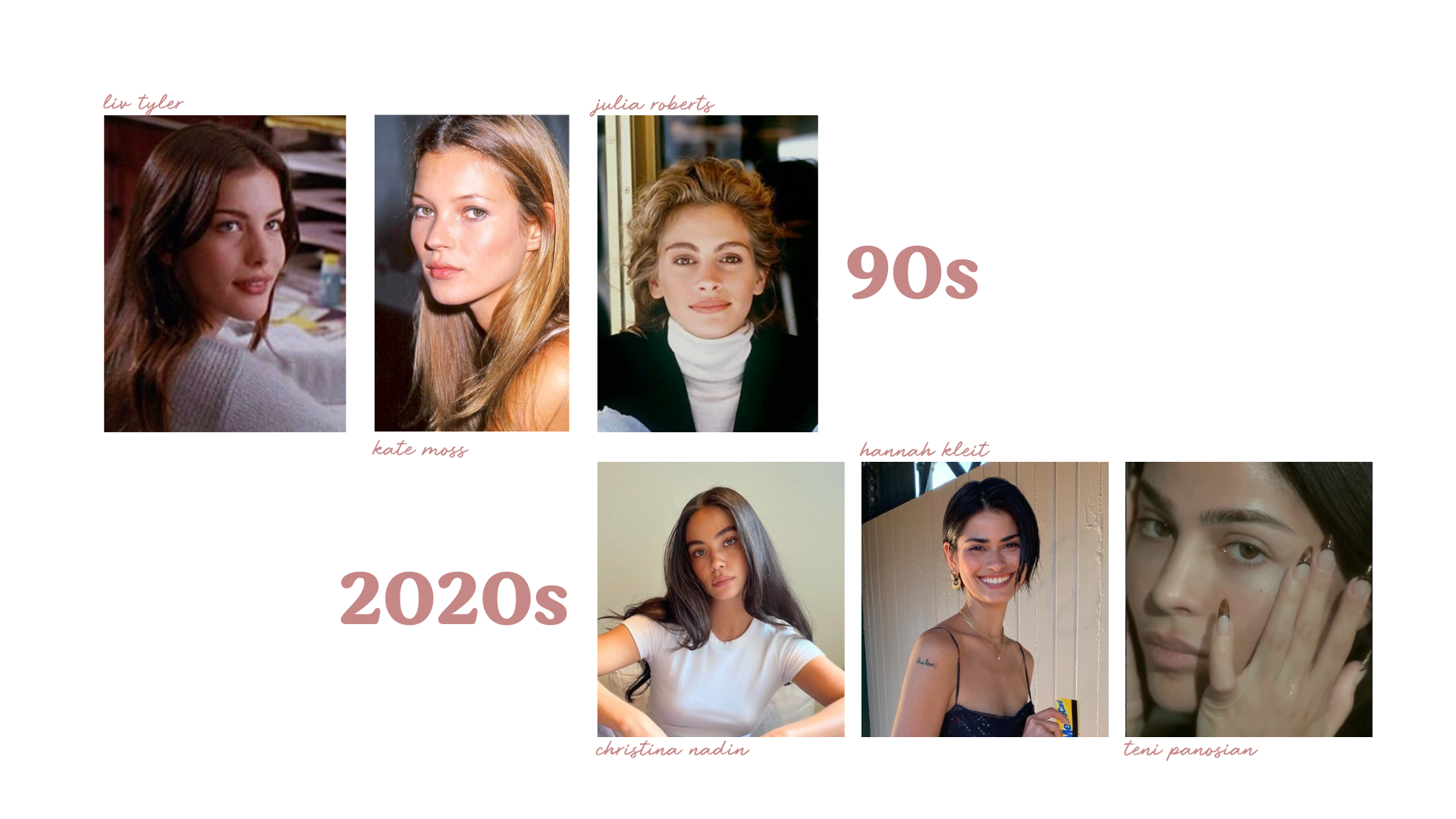 In 2022, selebgram-selebgram yang super in love dengan No Makeup Makeup ini antara lainnya ada: Christina Nadin, Hannah Kleit, dan Teni Panosian. Kamu bisa visit IG mereka untuk cari-cari inspirasi makeup minimalis ini.
Butterfly Hair + Curtain Bangs
Siapa sih yang enggak tau gaya rambut yang satu ini? Yang pasti otomatis membuat kita terlihat lebih cantik? Everywhere we go in public, pasti ada at least 3 orang dengan hairstyle ini. Di Tiktok atau Instagram, mulai bermunculan creator-creator dengan rambutnya yang mengingatkan aku akan seleb-seleb 90s seperti Denise Richards, Stephanie Seymour, dan Penelope Cruz. Check out today's selebgram with the Butterfly Haircut + Curtain Bangs; ada Millane Friesen, Shay Sullivan, dan Matilda Djerf. Heart eyes banget, lho, rambut mereka.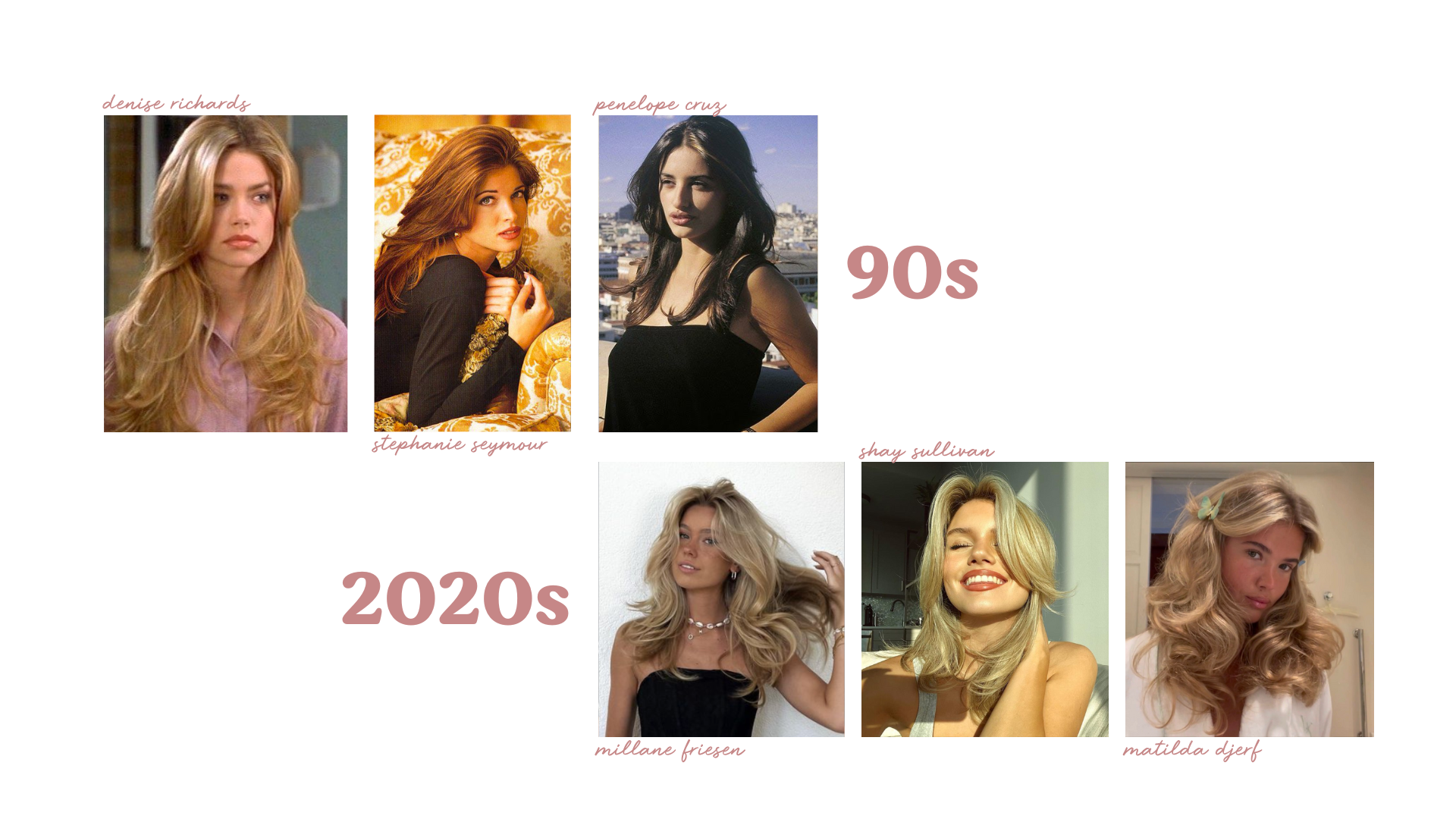 Trend 90s mana nih yang paling kamu suka? Kalau aku sih suka Butterfly Haircut karena terlihat super bervolume dan lushious; it'll definitely elevate my look. Beneran bikin aku ingin cepet-cepet otw ke salon.