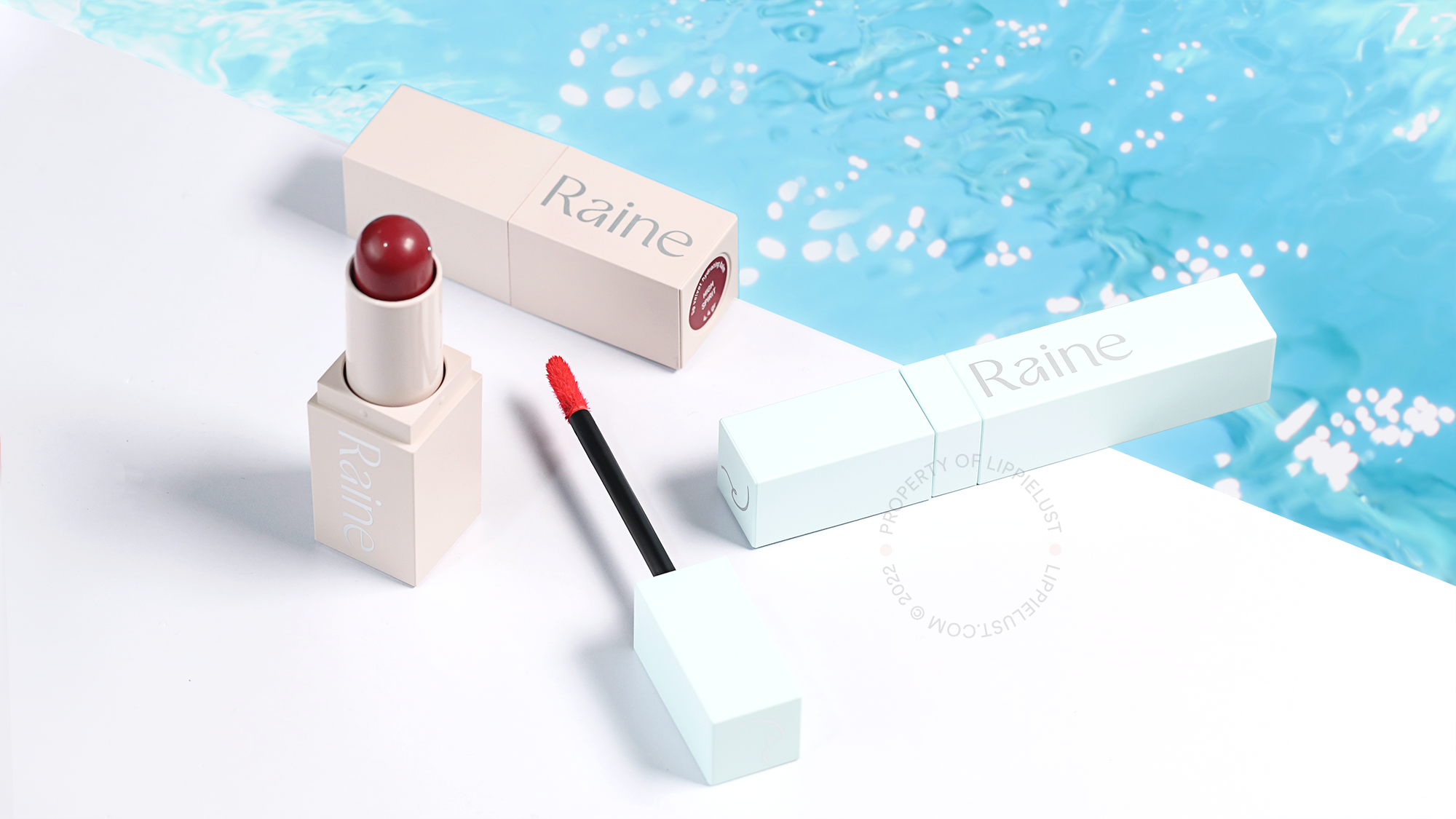 It's a good day to review something new and something fresh. Kali ini, produknya datang enggak dari brand yang biasa-biasa aja; It's from Raine Beauty, sebuah brand super new hasil karya penyanyi kesayangan sejuta umat: Raisa! Langsung aja kita bahas deh ya, menarik lho.
Lip Velvet Hydrating Balm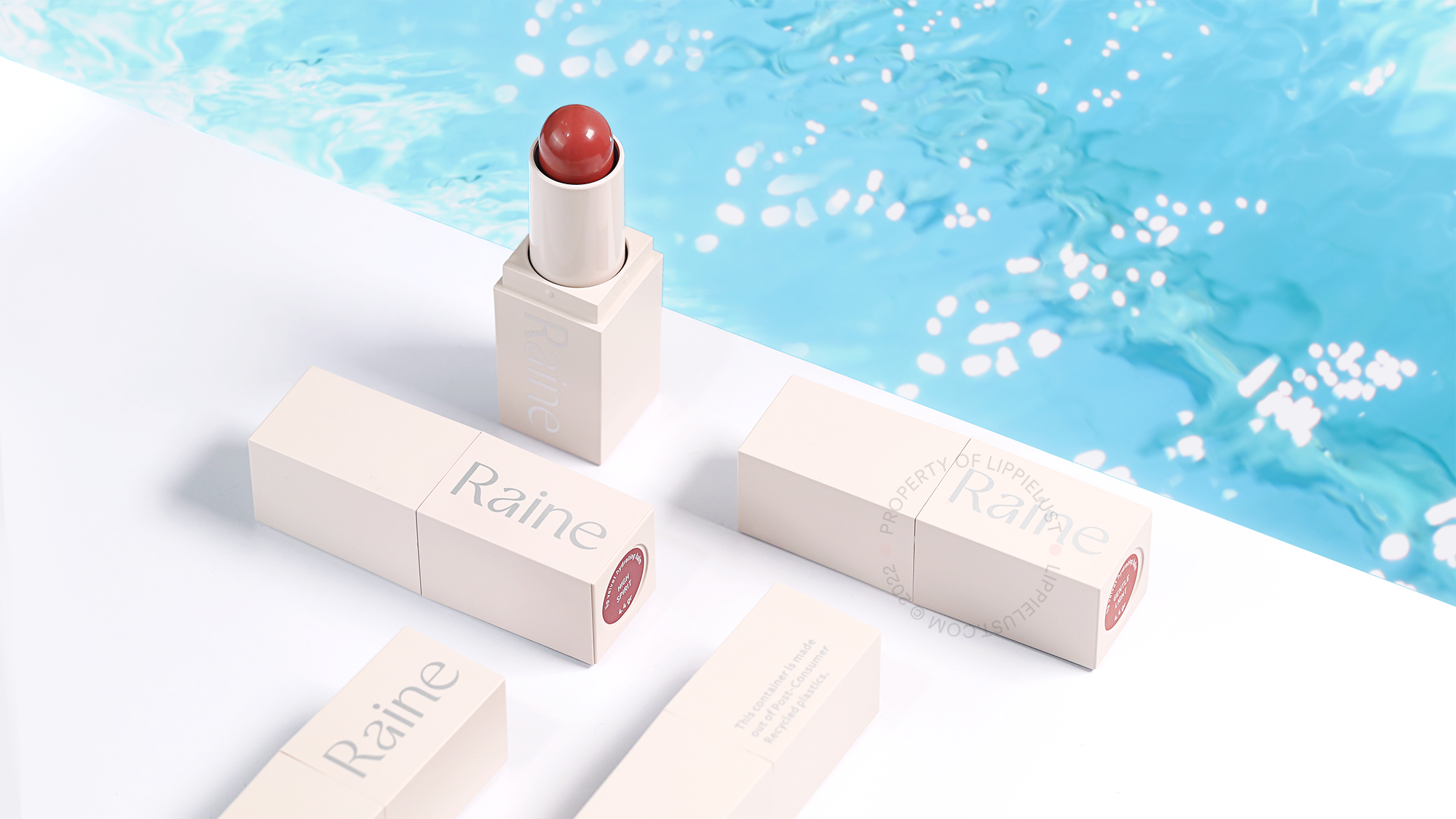 | | |
| --- | --- |
| Product Name | Lip Velvet Hydrating Balm |
| Manufactured By | PT CEDEFINDO |
| Distributed By | PT KREASI MULTICAHAYA ESTETIK |
| Weight / Price | 4.4g / Rp 139.000 |
Packaging
Kita udah bisa lihat dari bio Instagram-nya Raine kalau mereka itu mengusung tema "clean" untuk estetika visual-nya. Melihat kemasannya, Raine really lives up to what they claim.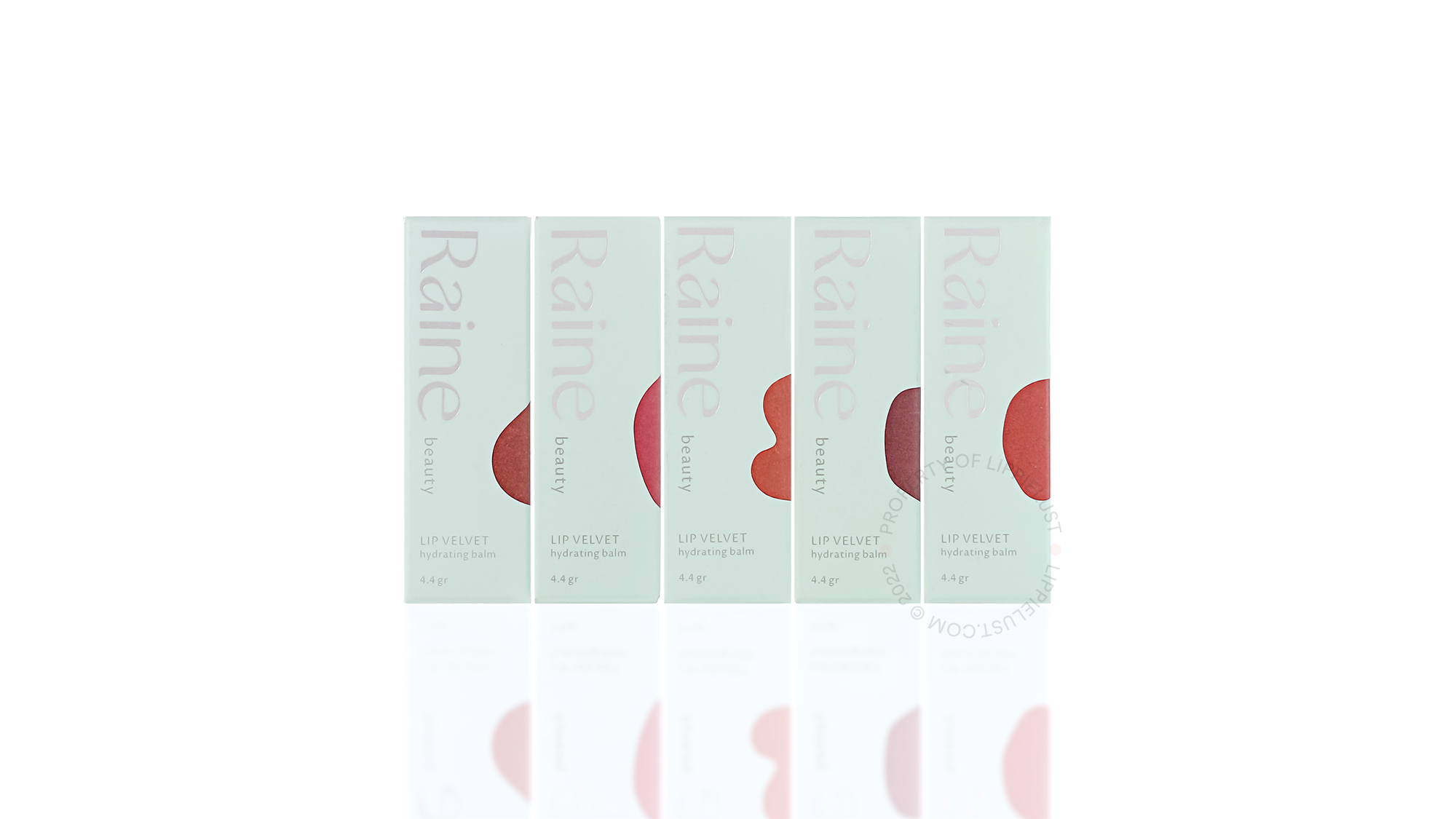 Warna statement yang Raine gunakan adalah soft sage green yang secara visual memberikan kita feel yang "sejuk" dan "ringan". Nah, berdasarkan klaim, katanya kemasan box ini terbuat dari karton yang biodegradable a.k.a bisa dihancurkan oleh bakteri atau organisme hidup lainnya sehingga enggak membahayakan lingkungan. The packaging is said to be FSC Certified yang berarti bahan dasar kayu yang digunakan kemasan ini diambil dari hutan yang memang sudah dikelola dengan baik untuk produksi (say no to bald forests).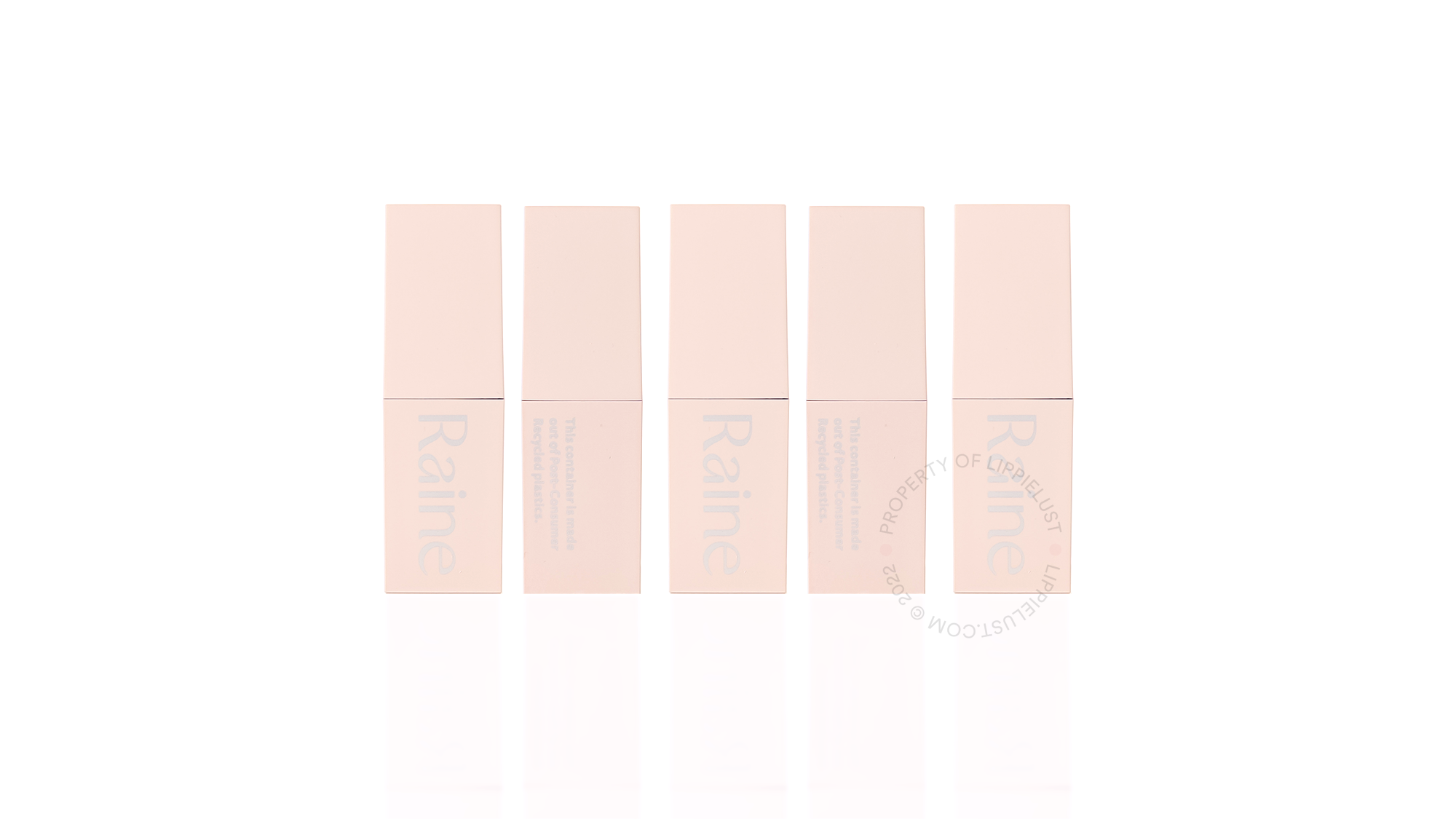 Moving on, kontainer lip balm ini juga didesain untuk menjadi eco-friendly. Katanya, 50% bahan kontainer ini terbuat dari PCR (Post-Consumer Recycled Plastic). Jadi, plastik yang digunakan adalah plastik hasil daur ulang. It's a small step to reducing plastic waste! Berdasarkan packaging, kita bisa tahu kalau Raine ternyata enggak hanya "clean" dari segi visual tapi dari segi value juga. They deserve an applause for this! 
Warna dari kontainer ini (nude linen) mengingatkan aku dengan kontaine milik Rose Inc (brand-nya Rosie Huntington Whiteley). It looks super chic.
The Product and My Experience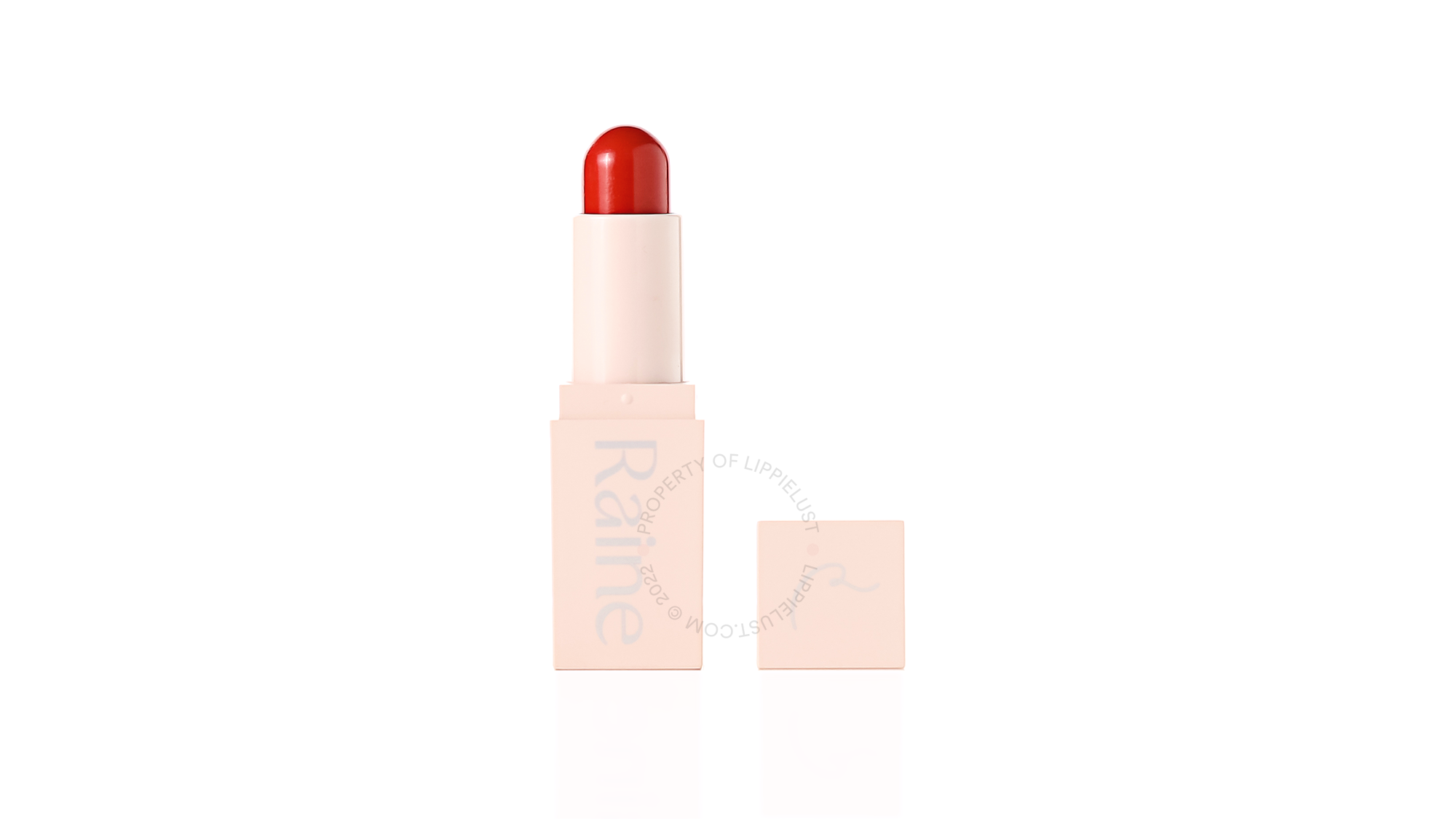 Bisa kita lihat bentuk ujung lip balm yang unik: bulat. Desain seperti ini mengingatkan aku dengan desain Bronzer Stick milik Rare Beauty. I do think that it's going to be a new design trend. 
Aroma produk ini enggak aneh-aneh sih, it just smells like cream; health-wise, ini bagus karena artinya enggak ada kandungan fragrance yang berpotensi mengiritasi bibir kita. 
Saat aku aplikasikan ke bibir, aku kira bakal belepotan karena bentuk ujungnya yang bulat, tapi ternyata, aku merasa nyaman-nyaman aja; enggak messy. Ini sih untuk penggunaan yang santai ya, kalau kamu suka yang super precise sampai harus nge-fill ke bagian sisi-sisi bibir untuk menciptakan sebuah "bentuk bibir" yang sempurna, jujur bentuk bulat ini kurang oke.
Untuk tekstur, ini enggak seperti lip balm seperti umumnya. It's not oily and not "melt-y". Lip balm ini padat dari segi tekstur dan feel. Honestly, I kinda like it. Bibir aku terasa lembab tanpa harus merasakan minyak yang berlebih. Warna yang didapatkan juga cantik, lho. Enggak terlalu pekat tapi enggak terlalu faded juga. It's the right amount to give you the "fresh" and "natural chic" look. Sempet kaget sih karena di swipe pertama aku merasa kalau pigmennya enggak keluar sama sekali, tapi setelah beberapa swipe, akhirnya aku bisa melihat warna, sadly, ini bakal jadi faktor produk cepat habis.
Ada sesuatu yang menurutku lumayan mengganggu: adjustable knob yang lemah. Maksud aku, setiap aku melakukan aplikasi, aku tekan produknya ke bibir kan, nah disini si produk ini masuk kembali ke dalam tube-nya karena adjustable knob yang enggak bisa nge-hold pressure dengan baik. Karena ini, setiap aku aplikasikan balm, aku harus sambil megangin si leher tube-nya supaya produk enggak masuk. Maybe Raine can fix this problem with their next products.
Untuk transfer level, produk ini enggak ada klaim transferproof-nya, jadi aku enggak keberatan dengan kondisi produk ini yang transferable.
Overall, this product gets a pass from me. It's not spectacular other than kandungan bagusnya yang melimpah. It's "just" good.
Shades
My Serenity

High Spirit

Gentle Light

Deep Sense

Coming Home
Lipslick Tinted Oil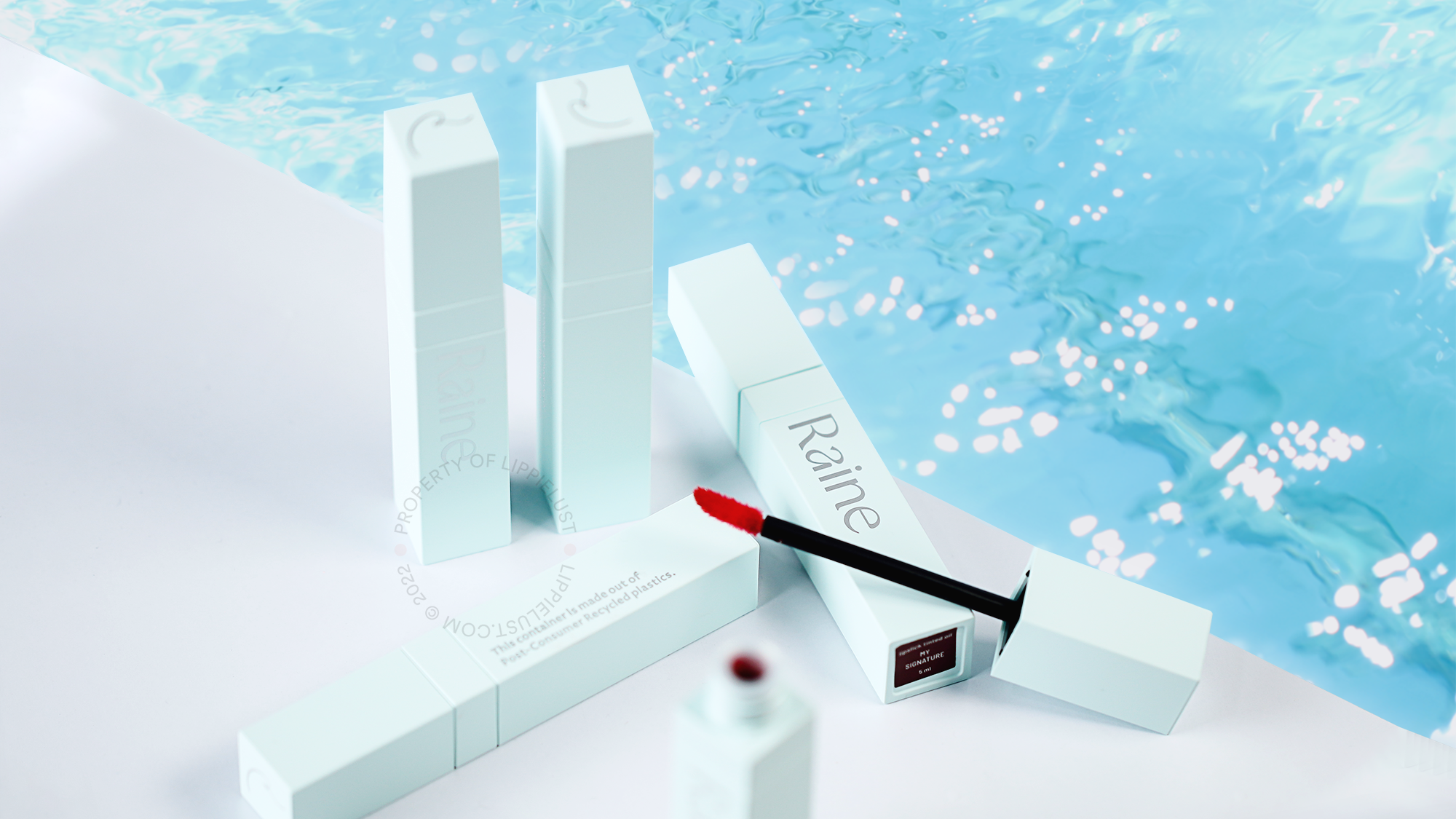 | | |
| --- | --- |
| Product Name | Lip Velvet Hydrating Balm |
| Manufactured By | PT CEDEFINDO |
| Distributed By | PT KREASI MULTICAHAYA ESTETIK |
| Weight / Price | 5ml / Rp 139.000 |
Packaging
It has the exact same box as the Lip Velvet Hydrating Balm, so, kita akan langsung dikskusi kontainernya yaa.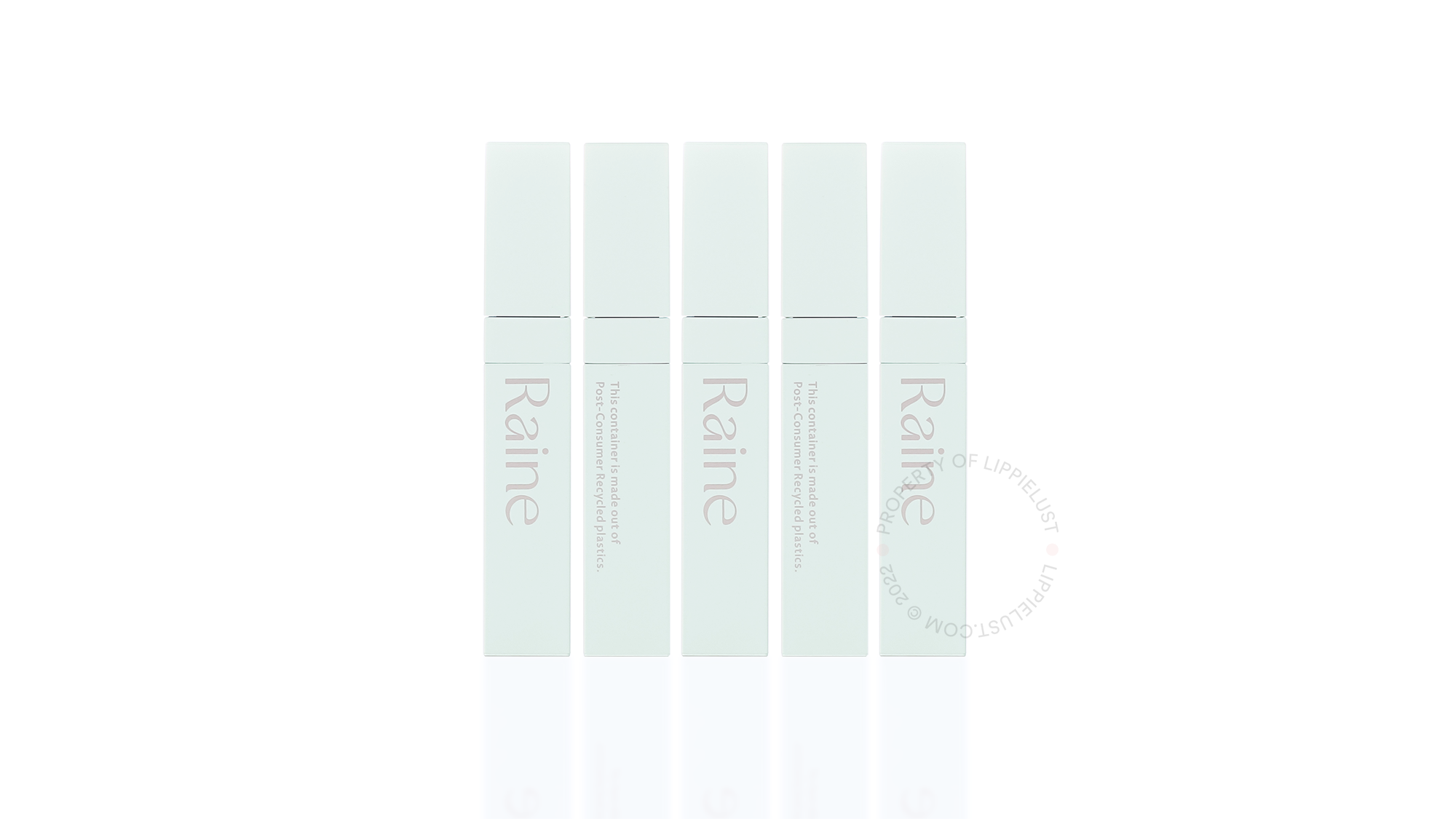 Lipstick mempunyai kontainer produk berwarna soft sage green, sama seperti packaging box-nya. Terus, terpampang jelas di wadahnya: "This Container is made out of Post-Consumer Recycled plastics". Sama dengan kontainer Lip Velvet Hydrating Balm, kontainer ini terbuat dari plastik daur ulang.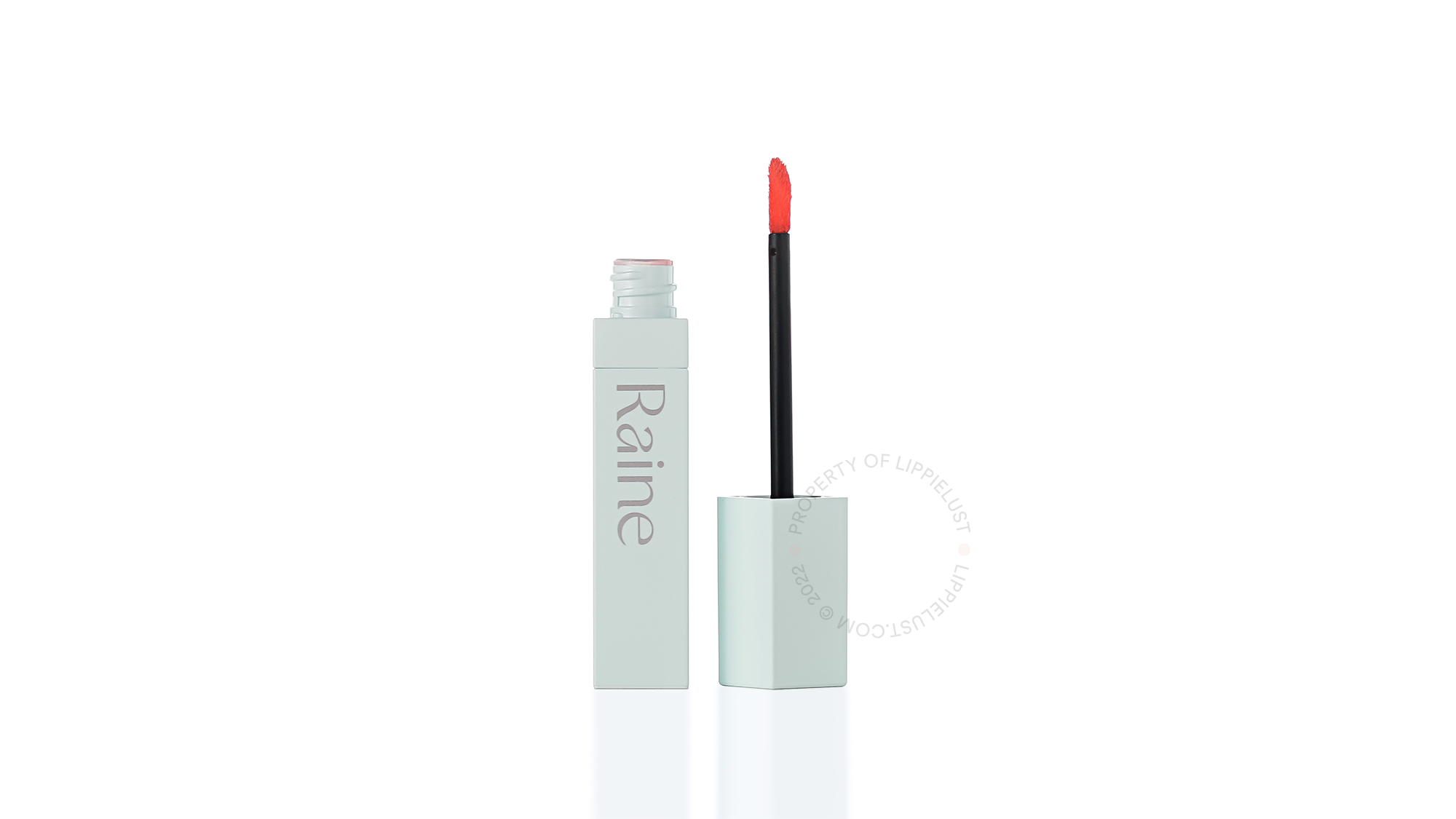 Applicator wand yang kita dapatkan berbentuk Doe Foot. Ini adalah bentuk yang menurutku adalah paling "tradisional" dan nyaman. They're going really safe with this.
The Product and My Experience
Upon opening the product, aku bisa mencium sedikit aroma permen, padahal di ingredients list-nya itu enggak ada Fragrance, lho. Honestly, I don't know where the smell comes from, tapi semoga aja bukan dari "hidden fragrance" ya, a.k.a parfum yang enggak dicantum di dalam list kandungan.
Teksturnya menurutku bukan oily yang seperti mentega gitu, justru lebih seperti jelly. Rasanya empuk dan lembut di bibir. Of course, karena ini sifatnya glossy dan super moisturizing, feel di bibir yang aku dapat adalah lengket, tapi enggak lebay sampai membuat aku enggak nyaman kok.
Sesuai dengan klaimnya, aku bisa merasakan sedikit sensasi dingin, tapi sensasi ini bertahan hanya sekitar 10 menit. Setelah itu, it's gone. 
Warna-nya menurutku pekat untuk sebuah lip oil, dan uniknya, oil ini bisa ninggalin stain yang cukup prominent di bibir. However, stain ini gampang hilang dan enggak bertahan terlalu lama. Kalau kamu coba hapus dengan tissue (without any remover), stain bisa langsung terlihat lebih faded. Untuk yang ngejar stain-nya, this product might not be for you. 
Ada sesuatu yang perlu kamu tahu juga nih: produknya gampang tumpah. Jadi saat aku enggak sengaja memegang produk ini secara terbalik, produknya langsung keluar. In my experience, banyak produk-produk lain yang kalau terpegang secara terbalik itu enggak tumpah atau butuh "waktu" sampai akhirnya tube enggak bisa menahan produk di dalam, however this one spilled almost instantly. Ini bisa saja karena teksturnya yang cair (harusnya enggak sih) tapi juga bisa karena kesalahan desain tube. Raine should really look more into this.
Is it transferproof? Of course not, and it's not meant to be. Produk ini kurang cocok untuk kamu yang enggak suka transferable products, dan enggak cocok untuk kamu yang rajin menggunakan masker.
Anyhow, secara overal aku okay dengan produk ini. Seperti produk sebelumnya: it's not spectacular but it's good.
Shades
Secret Weapon

My Signature

Morning Aura

Love Language

Mostly Me