Siapa nih yang hobi dinner di restoran? Atau kamu yang sering ikutan event-event formal apapun itu, maybe? As women, kalau lagi nyari-nyari OOTD untuk acara formal, keyword yang kita gunakan untuk search engine biasanya adalah "dinner dress", "dinner outfit", atau "evening dress". Keluarnya pasti gaun-gaun elegan gitu kaan? Nah, have you ever thought of maybe…wearing a suit? 
Yes, a suit like how the big boys do it. Kamu masih bisa terlihat elegan dan anggun dengan sebuah setelan jas, dan justru, seringkali outfit ini jadi "spotlight of the evening" karena memang se-kece itu! Enggak percaya? Ayo kita intip beberapa selebriti yang berhasil menaklukan setelan yang dikenal "maskulin".
Selena Gomez – Academy Museum Gala 2022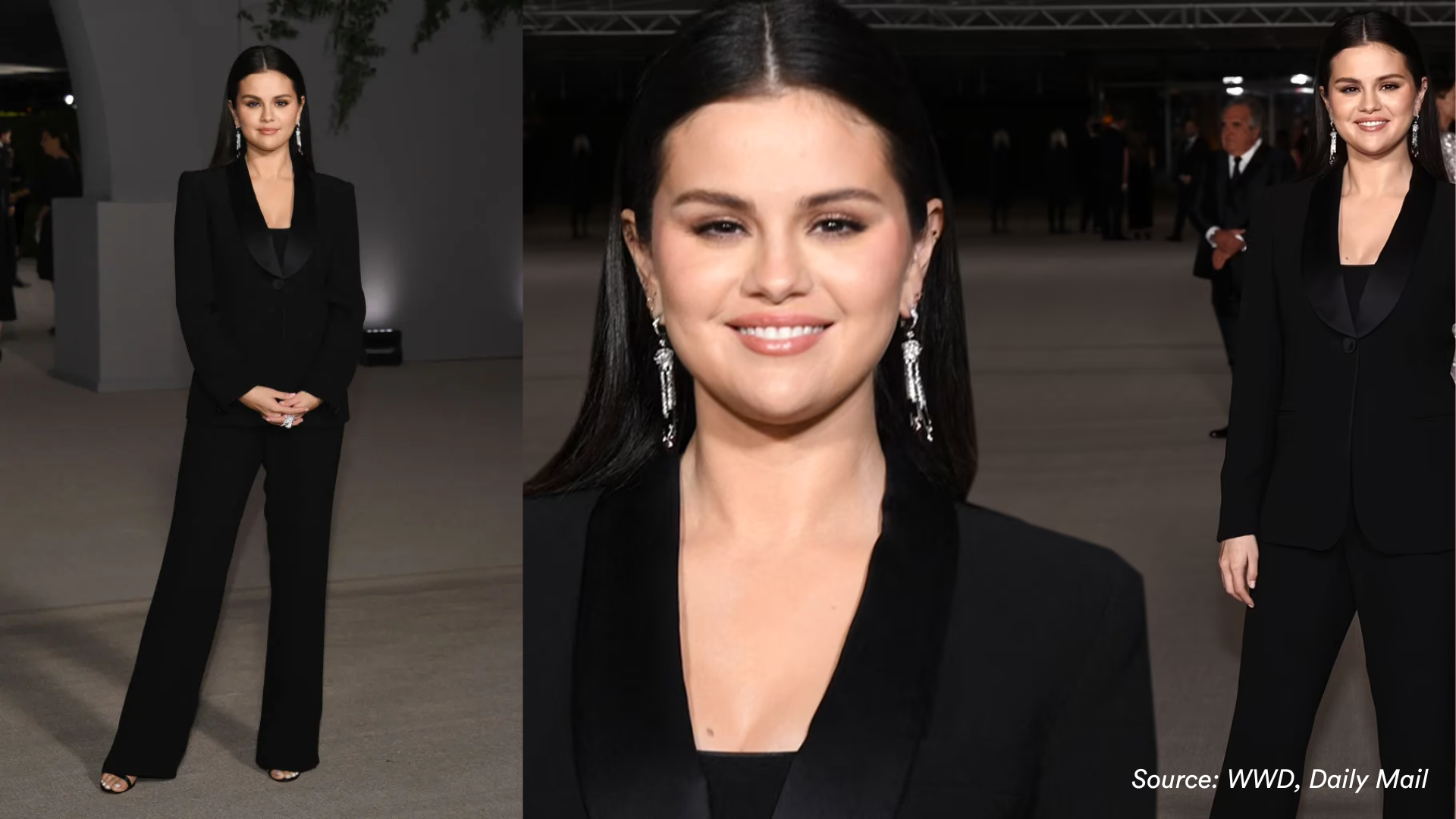 She's an icon. She's the "it" girl. Selena Gomez mengenakan Tuxedo dari Giorgio Armani di acara Academy Museum Gala 2022. Di antara seleb-seleb lain, she definitely stole the spotlight and she really shone.
Hitam adalah warna paling aman dan netral untuk digunakan ke berbagai macam acara (like…black is never wrong) dan Ms. Gomez memanfaatkan hal ini dengan sangat baik. Tuxedo full black yang ia kenakan dipadukan secara elegan dengan makeup nude untuk memberi balance terhadap outfitnya yang penuh kontras dan kepekatan. Minimum accessories is her way; cukup dengan cincin dan anting-anting, Ms. Gomez memberikan sentuhan glam yang berbinar.
Rosie Huntington Whiteley – Versace Spring 2019 Show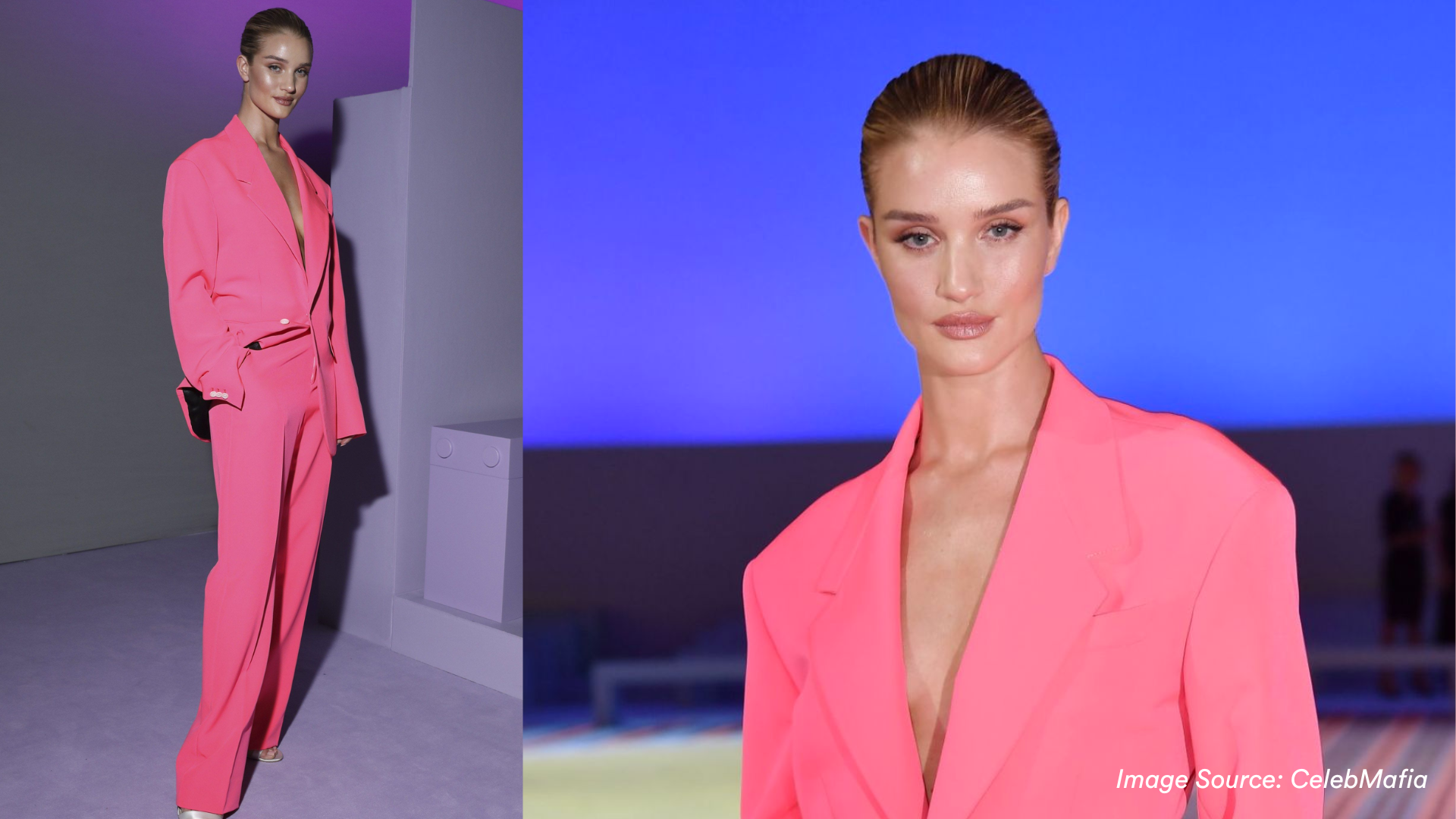 Setelan jas harus pakai warna-warna tua? Siapa bilang? Rosie Huntington Whiteley menggunakan setelan berwarna Hot Pink tanpa memberikan kesan overly-barbie-like. 
The absence of accessories dan makeup yang minimalis memberikan balance yang baik terhadap setelannya yang sudah begitu bold dan kuat. Hal ini menghasilkan look yang elegan dan chic at the same time. So, kamu enggak perlu takut terlihat terlalu "terang" dengan setelan hot pink; just copy Ms. Whiteley's style!
Victoria Beckham – Mayfair 2018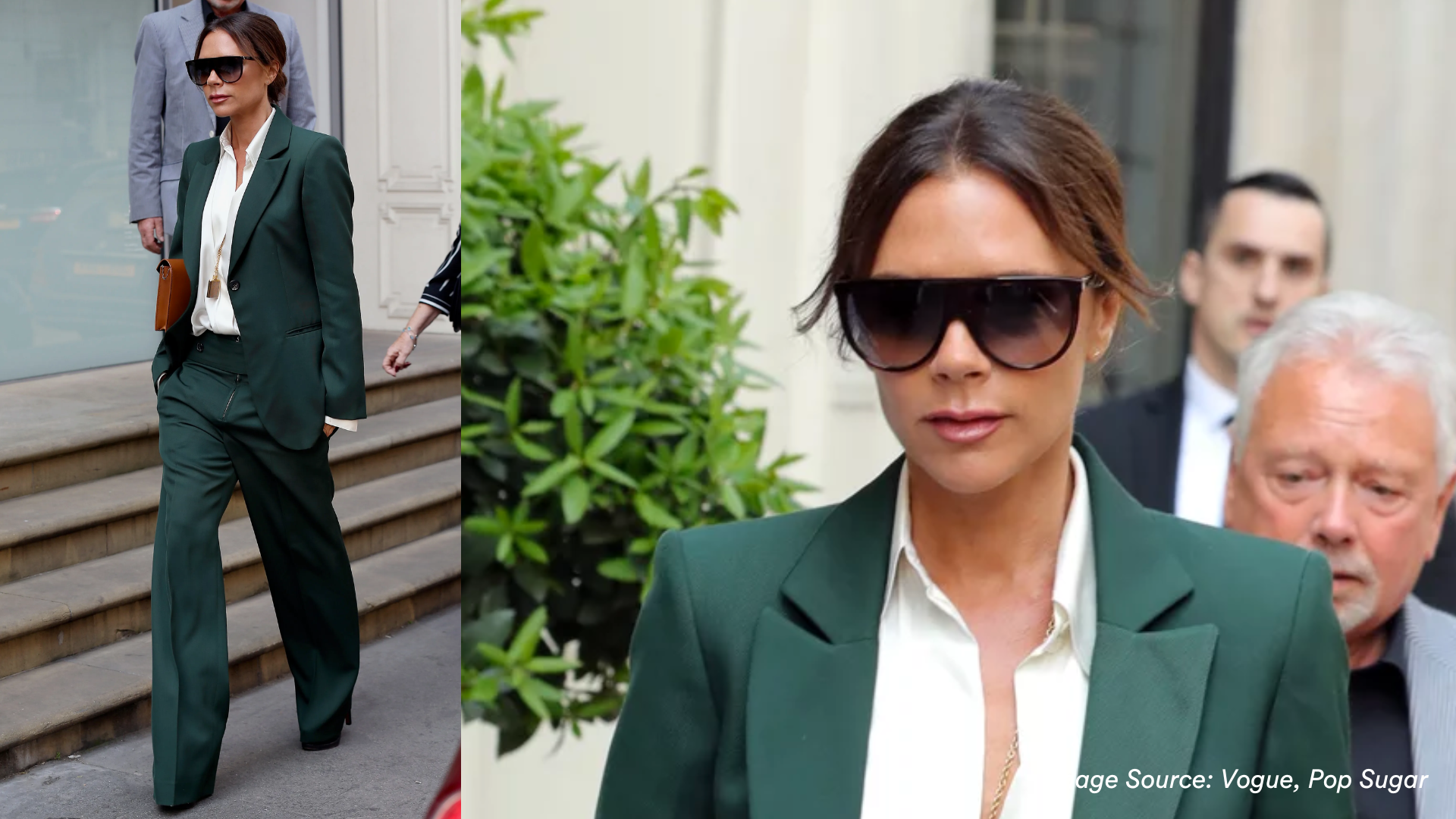 This woman has perfected the art of suits. Dari sekian banyak setelan jas yang pernah ia gunakan, I chose this green one because it looks strikingly sophisticated. Kemeja broken white dibalik setelan hijau memberikan kesan "kantoran" yang however enggak membosankan dan enggak kaku. Outfit ini cocok untuk digunakan siang maupun malam. 
Karena overall warna-nya yang lumayan "muted" dan low-saturated, aksesoris sangatlah dianjurkan untuk digunakan untuk menghindari kesan yang "kusam". In this case, Mrs. Beckham menggunakan kalung emas panjang yang menggantung dengan cantik di atas kemeja. Ini menarik untuk ditiru siiih.
Raisa – Press Conference 2022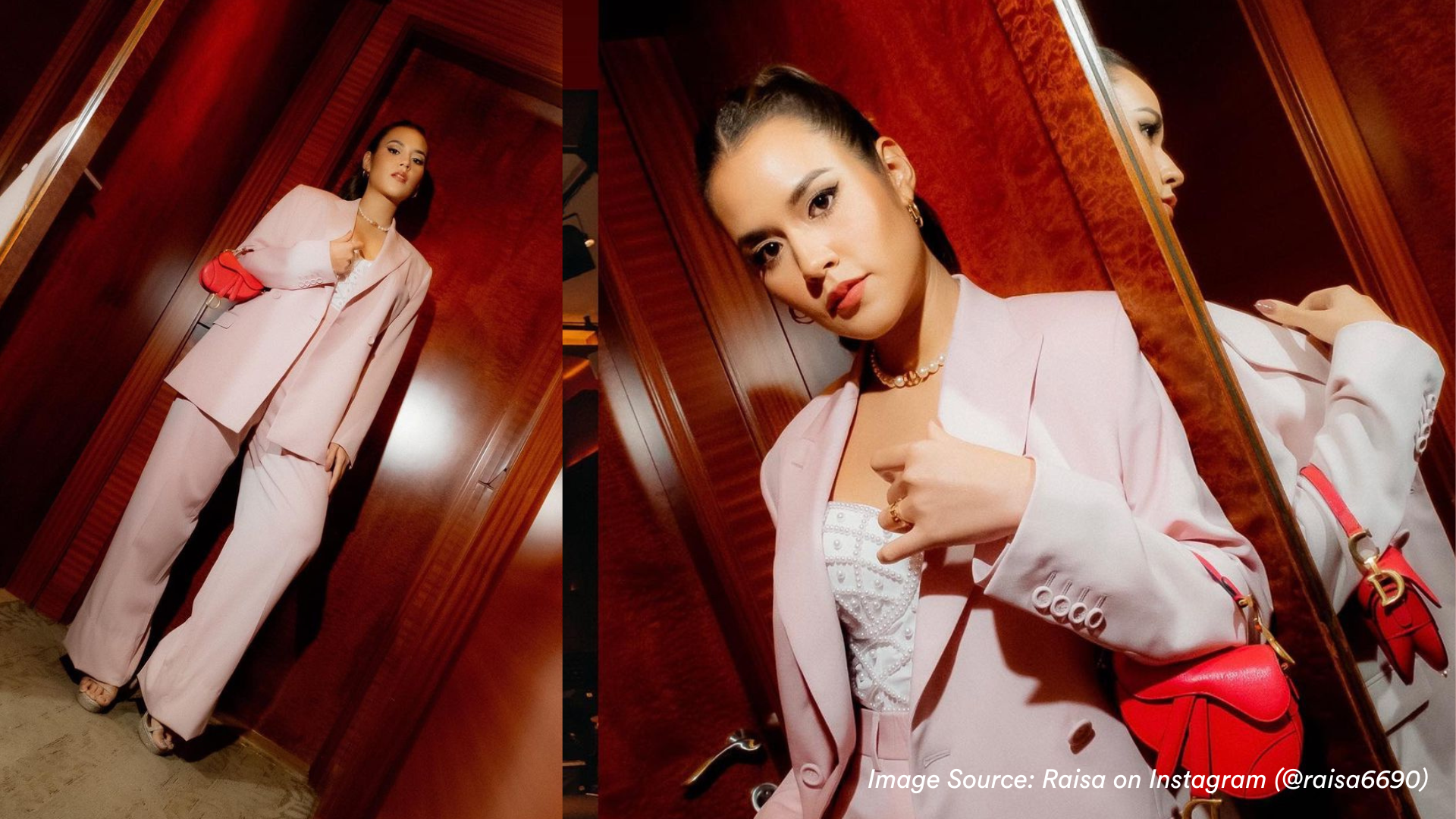 Now let's go local dan kita lihat bagaimana wanita Indonesia mengenakan setelan jas. 
Penyanyi kesayangan para YourRaisa adalah salah satu seleb lokal yang sering memamerkan style-nya yang begitu fashionably soigné, dan kita harus sering nyatet nih.
Setelan jas berwarna soft pink dipadukan dengan atasan bustier putih? It's a brilliant idea! Palette warna yang begitu lembut ini diberi sentuhan yang sedikit "popping" dengan tas yang berwarna merah (notice warna lipstik yang mirip dengan warna tas-nya? stunning).
Luna Maya – Tory Burch FW 2021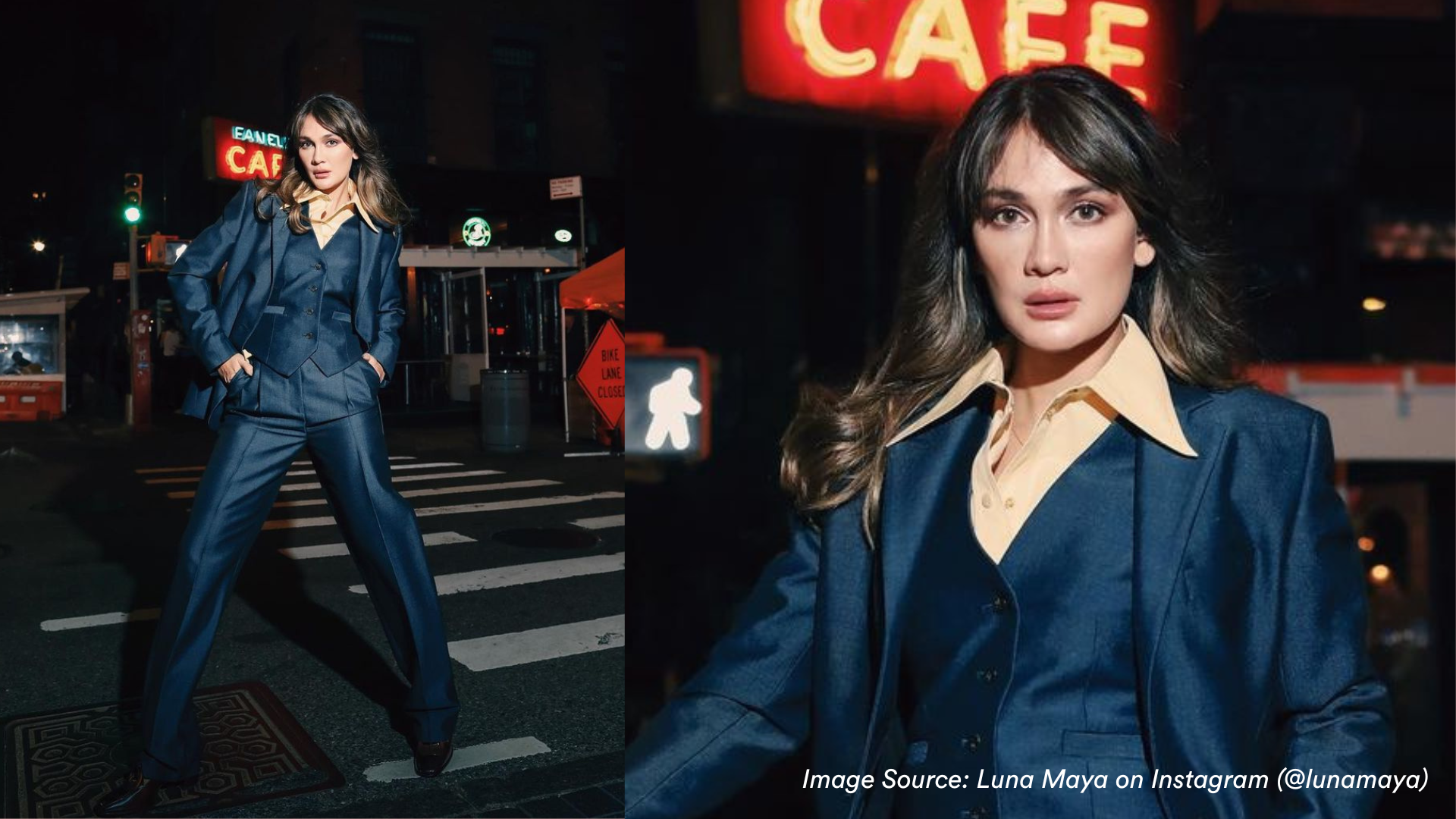 Nah, ini nih outfit yang jarang banget dikenakan ladies yang ternyata terlihat fashionable dan unik. Luna Maya membuktikan kalau kamu bisa menggunakan vest di dalam setelan jas lengkap dengan kemeja tanpa terlihat "ribet"; udah enggak perlu pakai aksesoris yang rupa-rupa, makeup pun bisa kamu gunakan dengan super sederhana. Asalkan kamu bisa memilih color palette yang pas dan cocok (also not too festive-y), outfit ini cocok banget untuk kamu gunakan ke berbagai macam event formal.
So, udah termotivasi untuk mulai menggunakan setelan jas belum nih? Be brave and different!