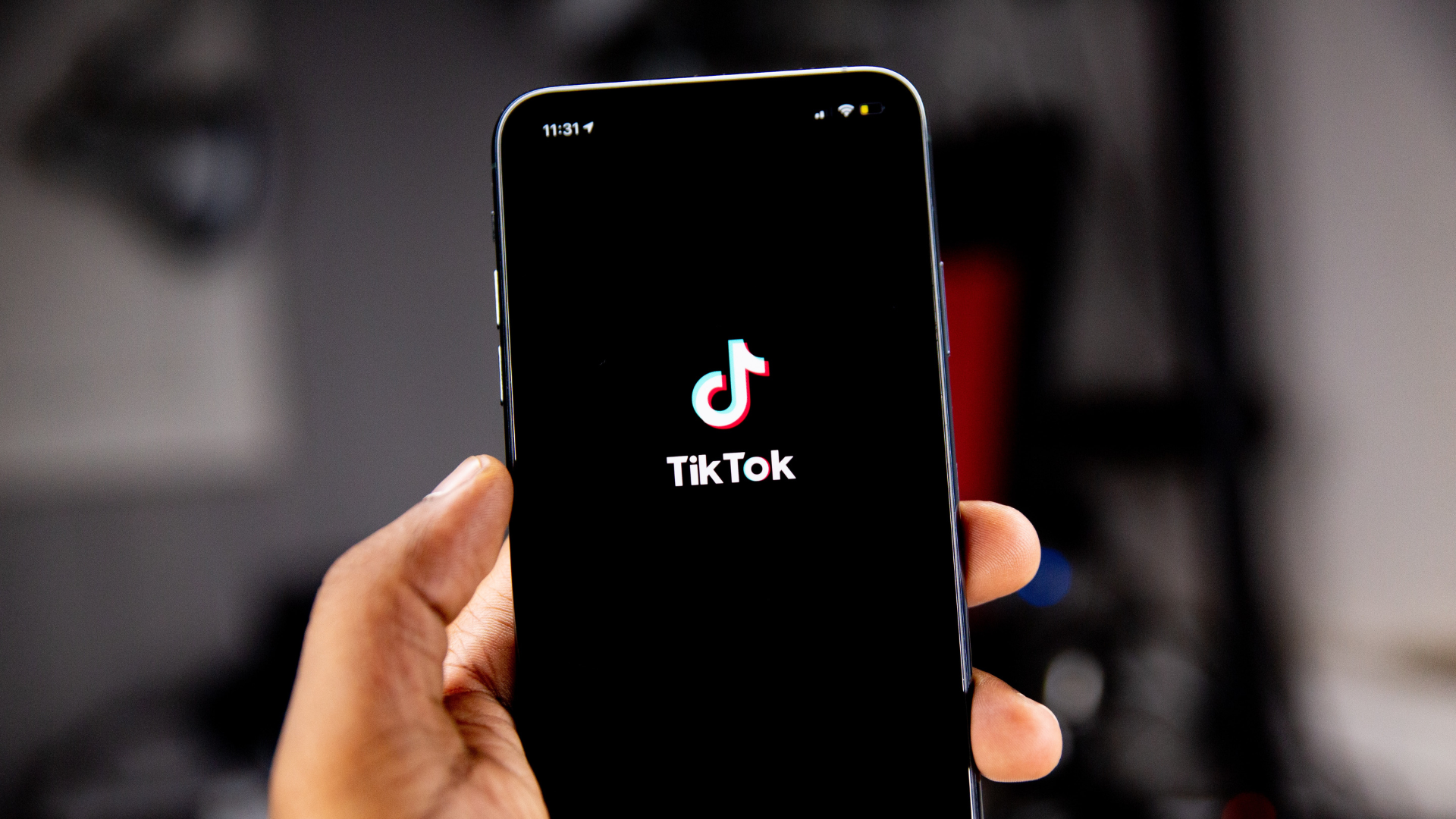 Siapa yang enggak tahu aplikasi TikTok di tahun 2023 ini? Sepertinya enggak ada ya. Almost everyone knows it, dari anak SD sampai mereka yang sudah punya cucu. It seems almost friendly, tapi tanpa kita sadari, dibalik semua konten menyenangkan yang ada pada platform tersebut, banyak sekali konten-konten yang memperkenalkan dan menjejalkan insecurity baru; mulai dari bentuk bibir, bentuk hidung, sampai warna mata. Hal-hal terkecil yang sehari-hari enggak kita sadari bisa saja dipermasalahkan oleh beberapa kelompok. This is "Nonsensical Insecurity" atau "insecurity yang enggak masuk akal".
Tentunya, untuk beberapa dari pengguna Tiktok yang sudah ada pada umur dewasa, fenomena ini sepertinya enggak bakal menembus kulit yaa. Kebanyakan dari mereka sudah merasa puas atau berada pada tahap menerima diri sendiri apa adanya. Mereka lumayan sulit terpengaruhi, guys. Sayangnya, mayoritas pengguna TikTok berada pada rentan umur 18-24, terbilang muda-muda. We all know that the brain is only fully developed between mid to late 20s, atau dalam kata lain, kemampuan otak untuk berpikir secara tenang dan "dewasa" pada umumnya baru bisa dicapai di umur 25-29.
So, TikTok is basically filled with young peeps who cannot (yet) properly distinguish between what's a genuine problem and what's not. Nonsensical insecurities, for them, can be an actual insecurity, dan itu adalah sesuatu yang berbahaya bagi kesehatan mental mereka.
Ayo kita simak bareng-bareng, nonsensical insecurity apa saja yang lahir dari TikTok dan konten apa saja yang menyebabkannya. Let's see how bizarre this platform can be:
Hidung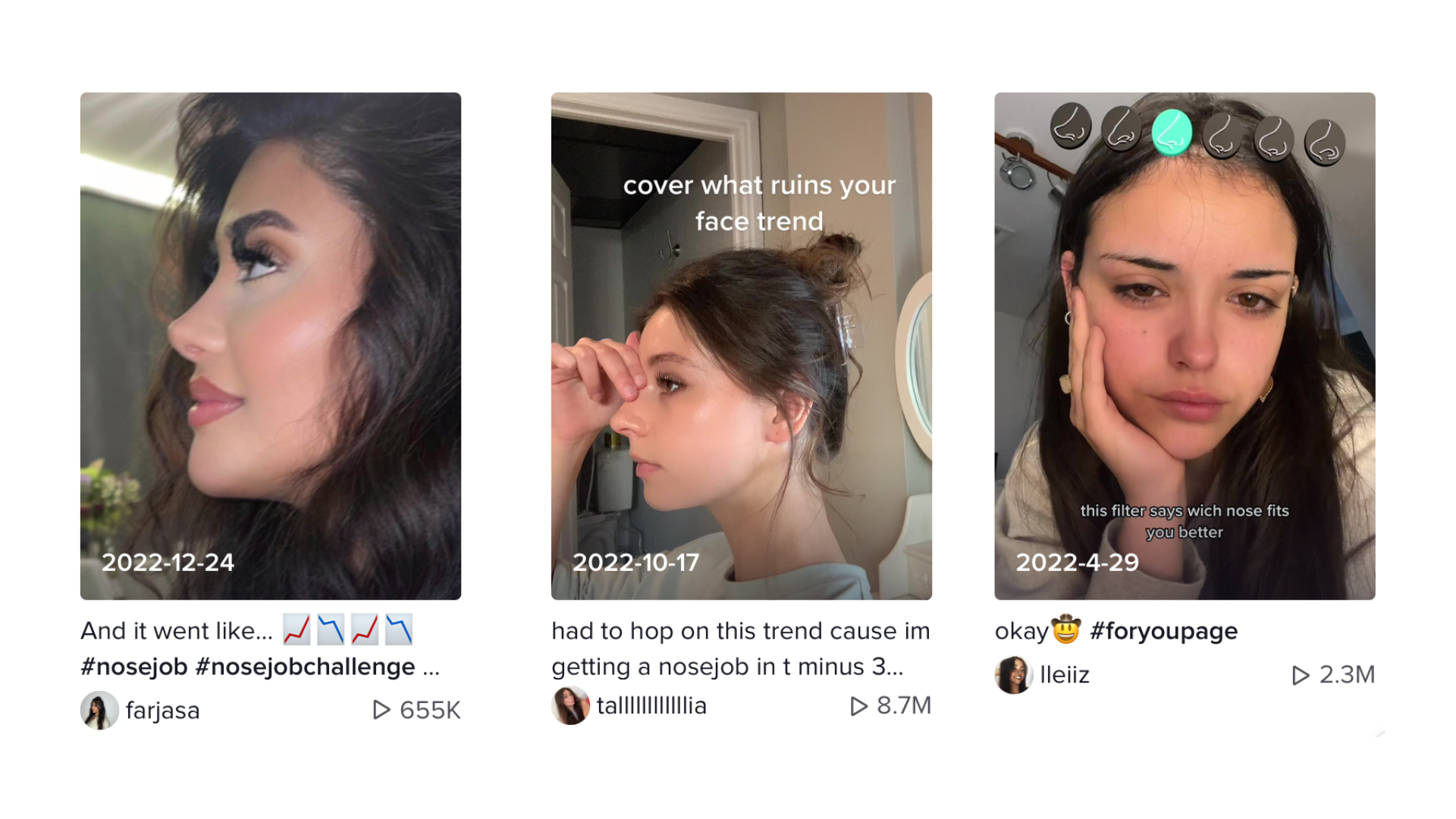 Kita semua dilahirkan dengan bentuk hidung yang unik dan yang sebenarnya sudah cocok dengan keseluruhan bentuk wajah kita. Sayangnya, rasa enggak pede terhadap bentuk hidung mulai menyerang kaum muda semenjak TikTok mempertunjukkan konten before-after Rhinoplasty (operasi hidung), tren "tutup bagian yang merusak wajah kamu", dan juga semenjak TikTok meluncurkan filter pengubah bentuk hidung.
Cara Bicara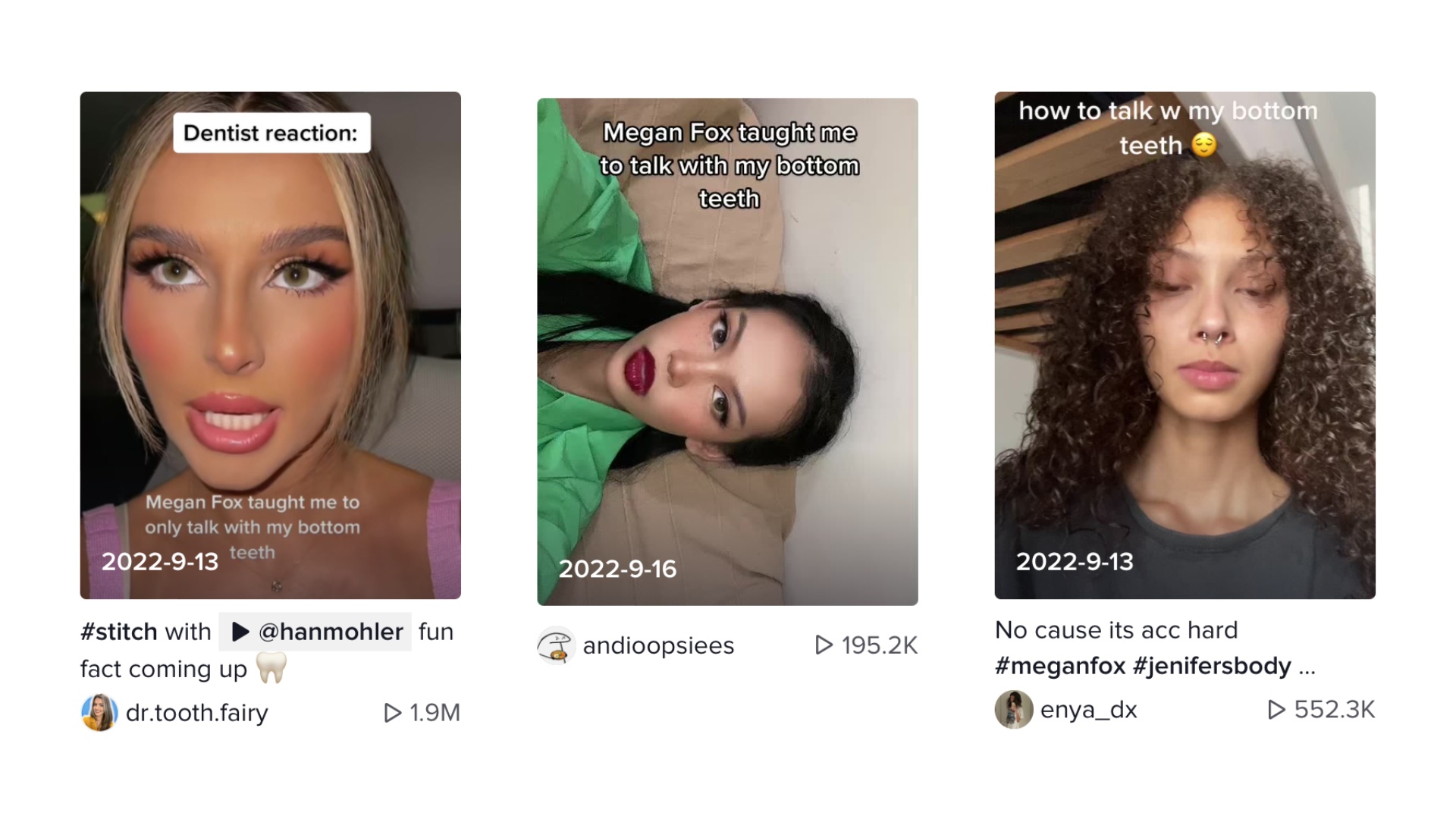 Hanya karena seorang Megan Fox yang membeberkan dirinya selalu berbicara dengan gigi bawah yang tampak, hampir semua wanita pada platform TikTok mencobanya dan menjadikan hal tersebut sebuah trend. Adanya beberapa konten tutorial cara berbicara seperti Megan Fox menandakan "a new desire" to talk with the bottom teeth dan menjadikannya standar baru. Hal ini tentunya melukai mereka yang secara natural berbicara dengan gigi atas.
Warna Mata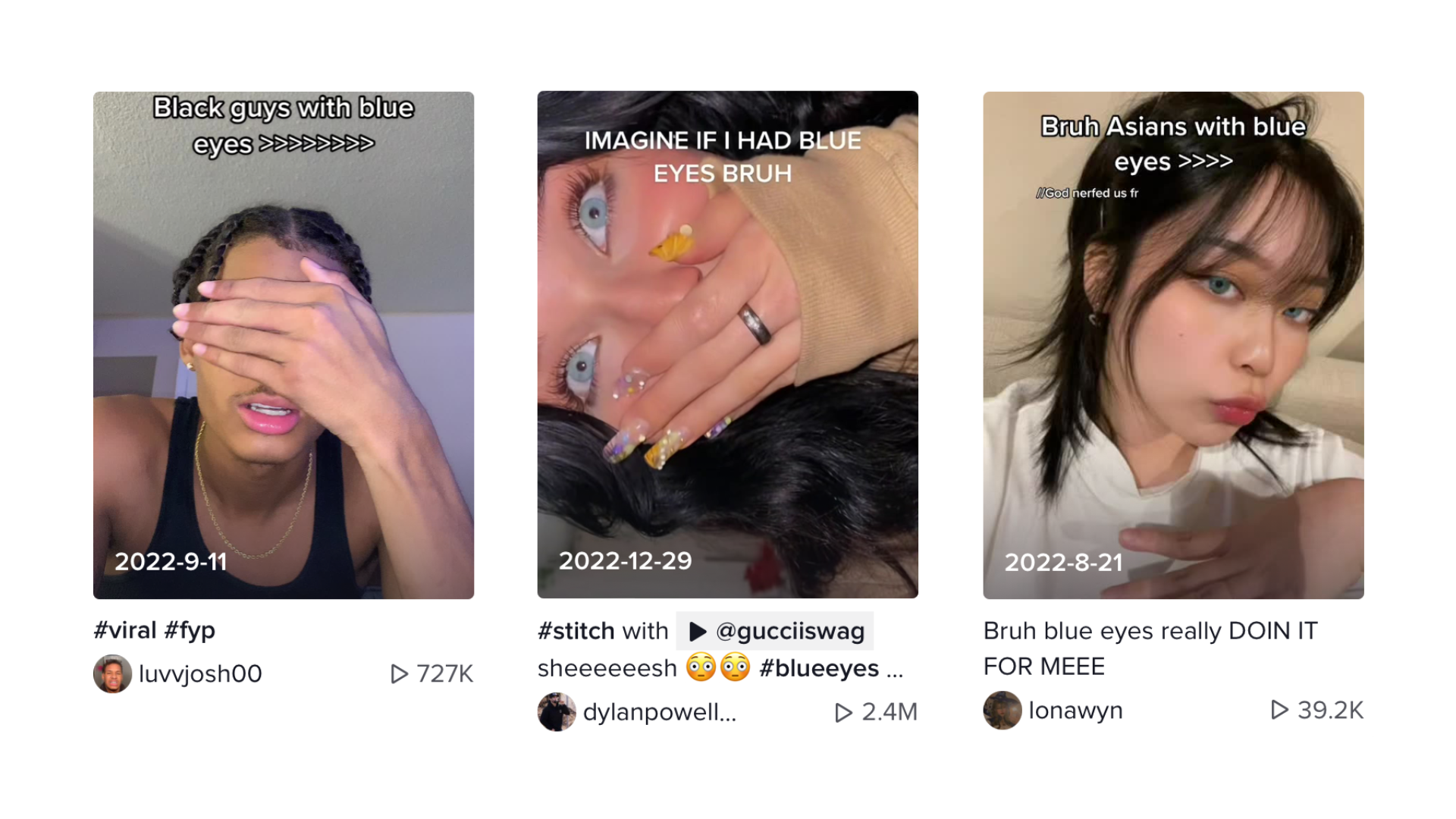 Siapa sangka kalau warna mata bisa menjadi faktor "attractive or not attractive"? TikTok made it this way. Secara umum, mata biru memang menjadi warna mata yang lebih disanjung ketimbang warna mata lain. 
Dengan hadirnya filter mata biru di TikTok, banyak kreator yang menciptakan konten "blue eyes supremacy" dimana mereka akan secara blak-blakan mengatakan "I wish I had blue eyes" or at least convey that message. Hal ini menciptakan keinginan terhadap mata biru dan menjadikan warna mata lainnya sebagai warna mata yang kurang diinginkan (kasarnya: dicap jelek).
Nose Gap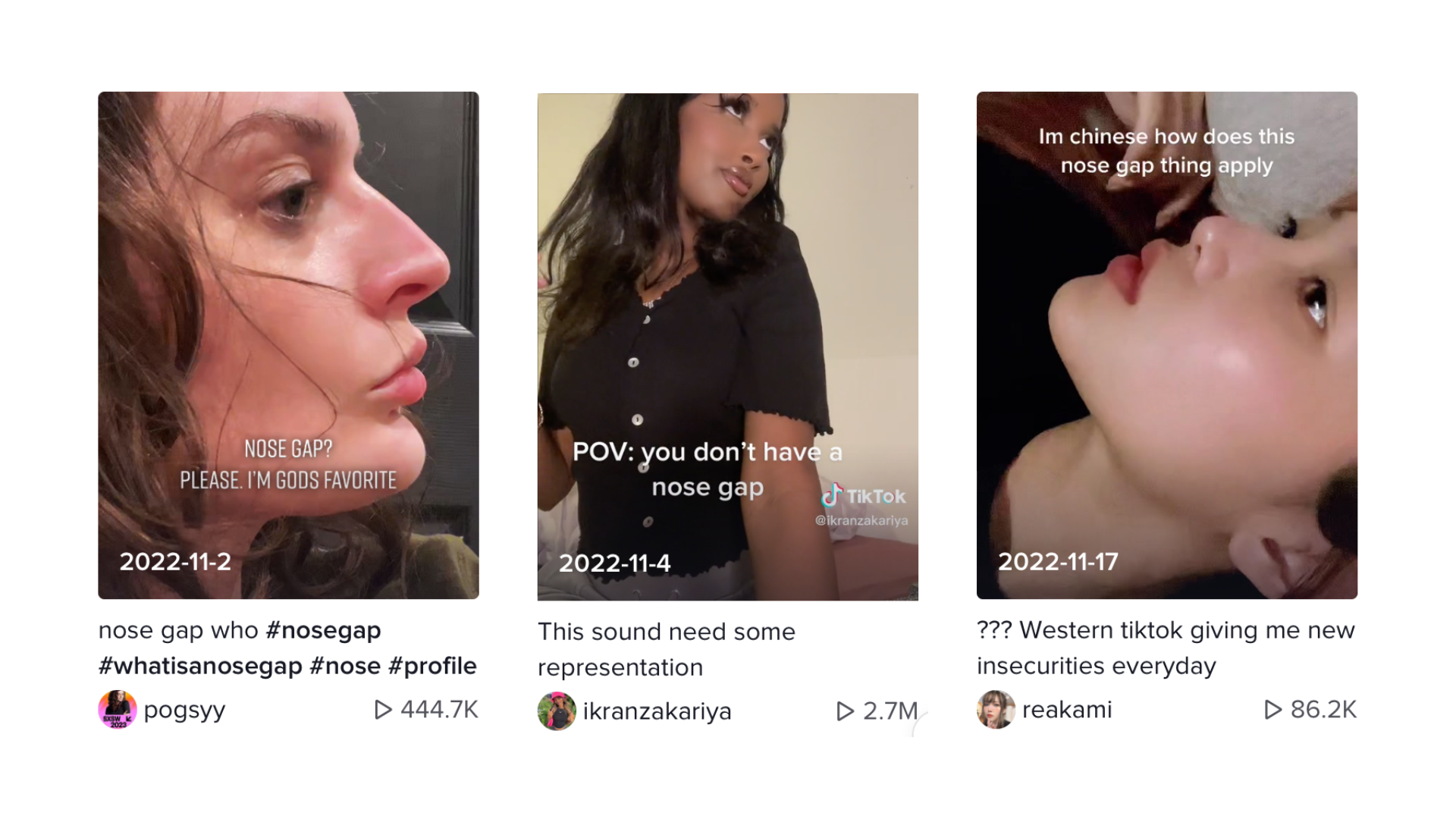 Perhatikan area antara hidung dan bibir atas kamu. Ya, sebagian orang di TikTok menjadikan ini sebuah standar kecantikan. Hal ini dimulai dari sebuah candaan, tapi lama kelamaan dijadikan sesuatu yang serius oleh mereka yang belum bisa membedakan antara satire dan sesuatu yang serius. This is a perfect example of what I'm talking about regarding younger people not (yet) being able to think critically, and this is the consequence.
We cannot count the exact number of nonsensical insecurities yang sudah konten-konten TikTok ciptakan, but it's definitely A LOT.
Untuk yang mampu menilai sebuah trend dengan baik, hal ini enggak akan mempengaruhinya; alih-alih, ia akan ikut serta dengan niat bersenang-senang tanpa tekanan apapun. Sayangnya, untuk mereka yang belum mampu menilai sebuah trend dengan baik, hal ini bisa saja menciptakan problema baru di kehidupannya yang tentu saja dapat berakibat negatif terhadap kesehatan mentalnya. 
Be cautious and mindful of everything you see on any platform. Ingatlah selalu bahwa kecantikan enggak bisa diukur dengan bentuk atau warna fisik belaka.
References
Aslam, S. (n.d.). • TikTok by the Numbers (2023): Stats, Demographics & Fun Facts. Omnicore Agency. Retrieved February 7, 2023, from https://www.omnicoreagency.com/tiktok-statistics/
Doyle, B. (2023, January 20). TikTok Statistics – Everything You Need to Know [Jan 2023 Update]. Wallaroo Media. Retrieved February 7, 2023, from https://wallaroomedia.com/blog/social-media/tiktok-statistics/
Jacobson, A., Sinha, S., & Brewer, A. (2022, August 1). At What Age Is the Brain Fully Developed? GoodRx. Retrieved February 7, 2023, from https://www.goodrx.com/health-topic/neurological/when-is-the-brain-fully-developed
NIMH » The Teen Brain: 7 Things to Know. (n.d.). NIMH. Retrieved February 7, 2023, from https://www.nimh.nih.gov/health/publications/the-teen-brain-7-things-to-know
TikTok Age Demographics – Statistics. (n.d.). Oberlo. Retrieved February 7, 2023, from https://id.oberlo.com/statistics/tiktok-age-demographics
Understanding the Teen Brain – Health Encyclopedia – University of Rochester Medical Center. (n.d.). URMC. Retrieved February 7, 2023, from https://www.urmc.rochester.edu/encyclopedia/content.aspx?ContentTypeID=1&ContentID=3051