Dari desas-desus yang beredar di sosial media, produk terbaru Haus Lab Atomic Shake Lip Lacquer, diiming-iming sangat mirip dengan Maybelline Superstay Lip Vinyl Ink. Bener enggak yaa? Kalau dilihat dari nama produk, sudah jelas berbeda; Lacquer dan Vinyl, but what does that actually mean?
Lacquer adalah produk lippie yang mampu memberikan finish glossy tanpa mengorbankan pigmen. Sounds familiar? It does, karena memang hampir sama dengan Vinyl. Bedanya adalah, Vinyl mampu memberikan pigmen yang lebih tebal, sehingga memberikan ilusi yang menyerupai an actual vinyl-like layer on the lips, unlike Lacquer that looks just like color melted into the lips.
Yah, daripada menebak-nebak based on nama produk, mending langsung aja kita bandingkan. 
Di percobaan kali ini, aku menggunakan Haus Lab Atomic Shake Lip Lacquer in shade Sepia Shine dan Maybelline Superstay Lip Vinyl Ink in shade 63 Intriguing.
Kemasan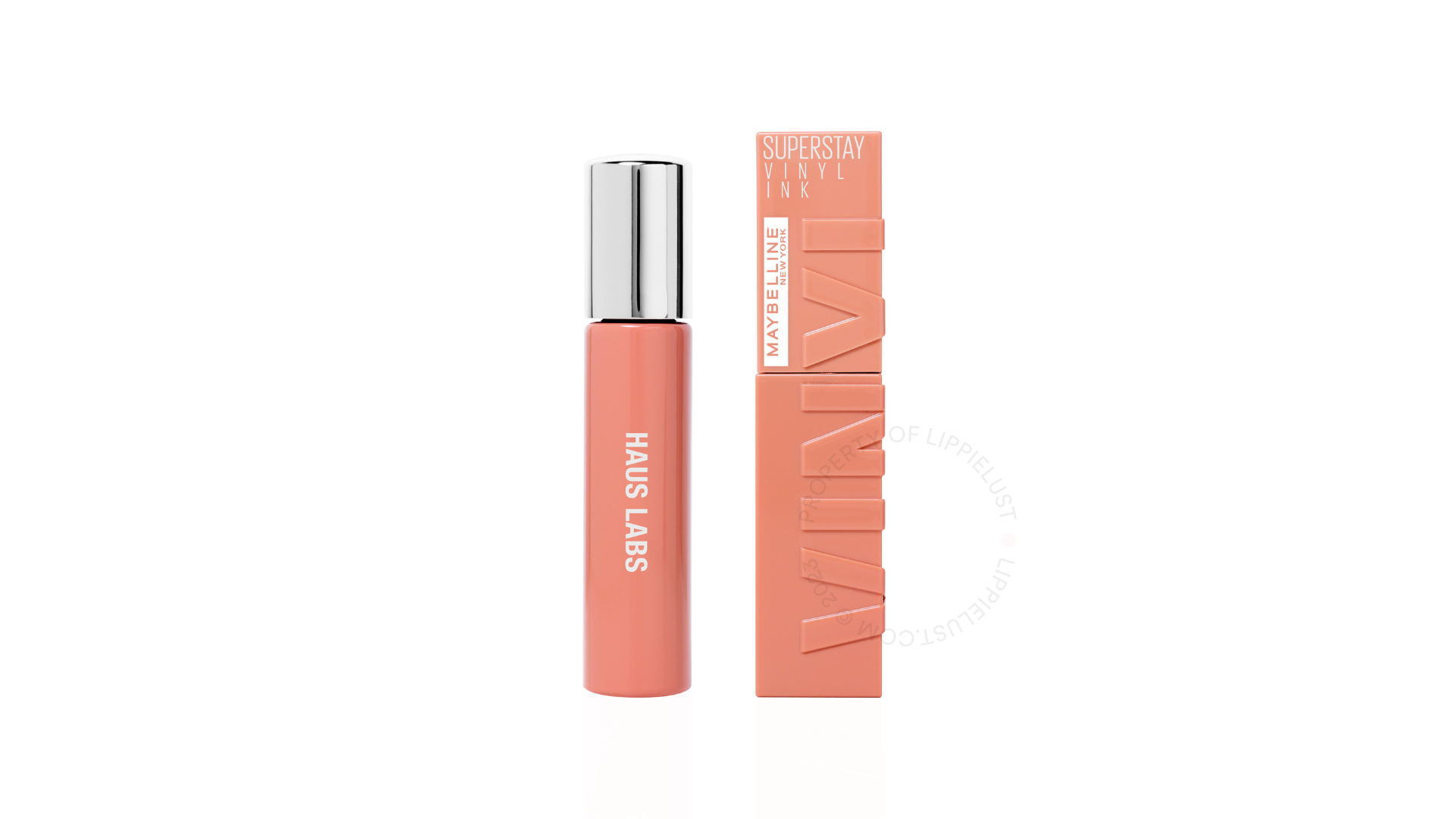 Kalau dilihat secara kasat mata, enggak terlalu berbeda ya; it seems like they're both made mainly out of plastic, tapi sebenarnya beda, lho.
Dilengkapi dengan cap yang terbuat dari alumunium tebal, Haus Lab terasa jauh lebih berat dibandingkan Maybelline yang mempunyai cap dari bahan plastik sama seperti badan bagian bawahnya. 
Kedua produk ini sama-sama memiliki shaker di dalam botol, bedanya, milik Maybelline terasa berat dan cenderung cylinder-like di mana milik Haus Lab itu sangat ringan dan kecil. Fortunately, hal ini enggak begitu mempengaruhi kualitas formula.
Packaging-wise, aku lebih suka Haus Lab.
Applicator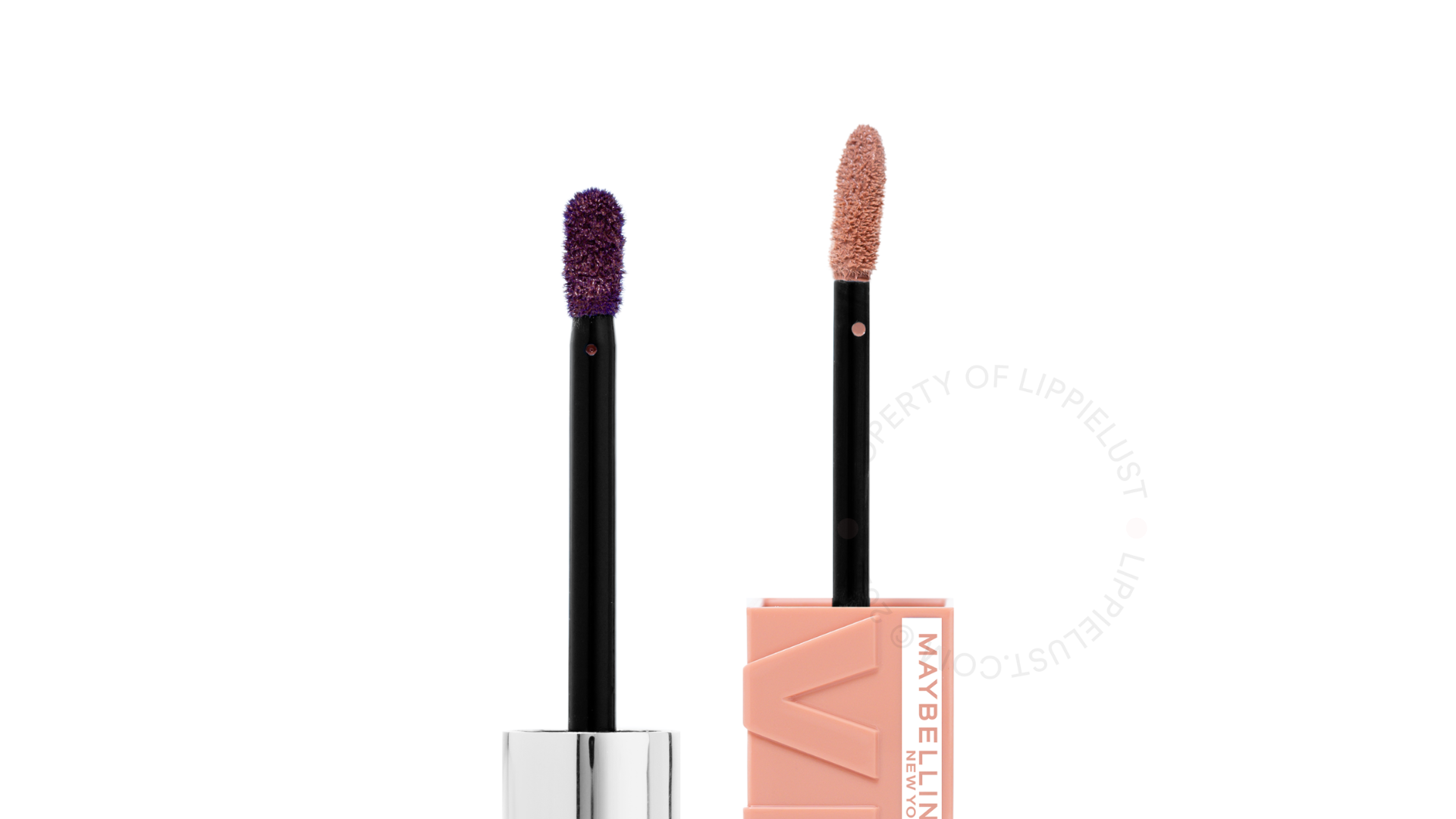 Ternyata, perbedaan pentingnya enggak hanya ada pada formula, lho, tapi juga dari bentuk applicator. Applicator milik Haus Lab memiliki bentuk yang lebih curved dan berukuran lebih kecil sehingga feel aplikasi-nya terasa jauh lebih nyaman dan "pas" di bibir. Applicator milik Maybelline terasa lebih besar sehingga mempersulit hasil yang presisi. For this, I'd choose the Haus Lab applicator over Maybelline any day. 
Aroma
Haus Lab memiliki aroma seperti bahan kimia yang lumayan mengganggu. Untungnya, aroma ini enggak bertahan dengan lama, kok.
Beda dengan doppelganger-nya, Maybelline memiliki aroma vanilla yang semerbak dan kuat. Jujur, kalau dihirup, lumayan bikin pusing kepala. Aroma ini bertahan lebih lama dibandingkan produk Haus Lab. 
Kalau harus memilih, aku prefer aroma produk dari Haus Lab yang hanya mengganggu selama sepersekian detik.
Tekstur
Ada perbedaan yang jelas terlihat pada tekstur, dan perbedaan itu terletak pada tingkat viskositas. Haus Lab terlihat dan terasa jauh lebih ringan dibandingkan Maybelline. 
Considering that Haus Lab's texture feels lighter on the lips, I'd have to go with that one.
Feel
Pada saat diaplikasikan di bibir, aku merasakan sensasi dingin yang sangat jelas dari Haus Lab, formula-nya pun mampu memberikan feel yang enggak begitu lengket dan terasa super glide-able; ini membuat bibir aku jadi terasa oily dan melted. It's comfy at first, but gets a little too much over time. On the other hand, Maybelline enggak memberikan sensasi awal apapun, formula-nya juga terasa lebih lengket tapi lebih firm. Produk ini benar-benar terasa glide-able di awal, tapi karena setting time-nya itu cenderung cepat (±1.5 menit dibandingkan Haus Lab di waktu ±3 menit), produk jadi lengket dalam sekejap.
If only I had one choice, I would choose Maybelline in this one because it doesn't feel as smothered.
Pigmen
Sesuai dengan nama produknya, Haus Lab memiliki tingkat pigmen lebih rendah dibandingkan Maybelline yang begitu pekat dan nyata. This is not a plus or a minus; bisa disesuaikan dengan preferensi personal kamu. 
Finish
Setelah produk set di bibir, aku melihat adanya sedikit oksidasi pada produk Haus Lab. Warna yang awalnya terlihat cerah ternyata sedikit meredup. Don't worry though, sedikit banget kok. Untuk yang enggak terlalu memperhatikan tampilan bibir, hal ini enggak akan begitu tampak. So, this won't really be a huge problem. 
Kembarannya, Maybelline, enggak mengalami oksidasi sama sekali, so, that's a plus point for them. 
Transfer Test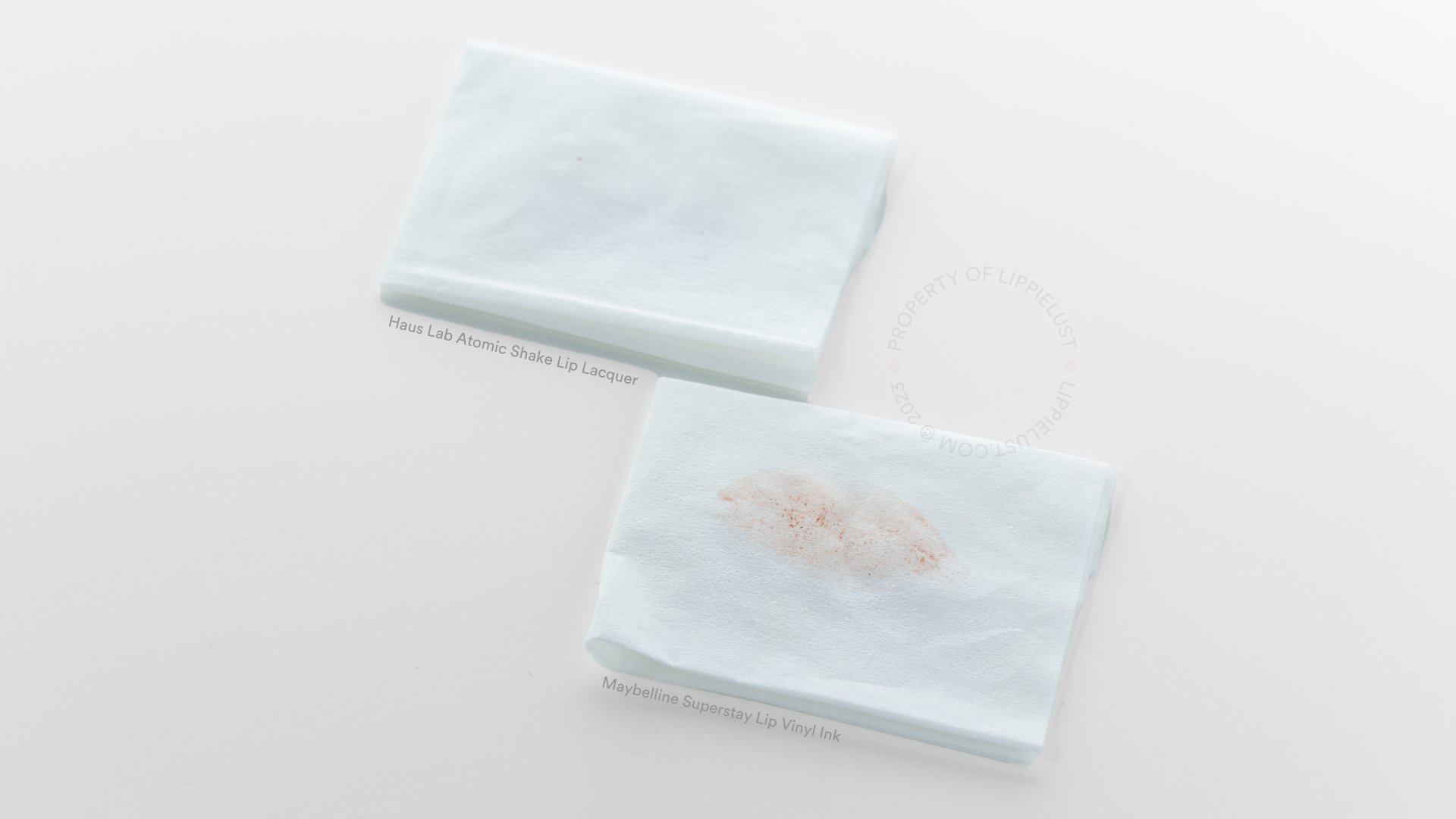 This is what I love about Haus Lab, produk ini benar-benar transferproof setelah set selama 3 menit. Sudah aku coba dab dan swipe dengan tissue, tetap enggak ada pigmen yang transfer, jadi hanya gloss-nya saja yang menempel di tissue. Very cool!
Di sisi lain, walaupun produk Maybelline sudah set, aku tetap melihat tiny specks of transfer pada tissue. Let's say that Haus Lab is 100% transferproof and Maybelline is only 85%.
Ingredients
Haus Labs Atomic Shake Lip Lacquer
ISODODECANE, DIPHENYL DIMETHICONE, TRIOCTYLDODECYL CITRATE, POLYURETHANE-1, DISILOXANE, DI-C12-13 ALKYL TARTRATE, BIS-HYDROXYETHOXYPROPYL DIMETHICONE/IPDI COPOLYMER ETHYLCARBAMATE, ALCOHOL, DIPENTAERYTHRITYL PENTAISONONANOATE, SODIUM HYALURONATE, UNDARIA PINNATIFIDA EXTRACT, ETHYLHEXYL PALMITATE, CAPRYLIC/CAPRIC TRIGLYCERIDE, GLUCOMANNAN, TRIHYDROXYSTEARIN, DICALCIUM PHOSPHATE
Maybelline Superstay Lip Vinyl Ink
Isododecane, Dimethicone, Trimethylsiloxysilicate, Polymethylsilsesquioxane/​Trimethylsiloxysilicate, Polypropylsilsesquioxane, C30-45 Alkyldimethylsilyl Polypropylsilsesquioxane, Trimethylsiloxyphenyl Dimethicone, Trimethyl Pentaphenyl Trisiloxane, Bis-Stearyl Dimethicone, Dimethiconol, Trihydroxystearin, Phenoxyethanol, Alumina, Ethylhexylglycerin, Tocopheryl Acetate, Triethoxycaprylylsilane, Limonene, Isopropyl Palmitate, Isopropyl Myristate, Silica, Benzyl Benzoate, Benzyl Alcohol, Citronellol, Linalool, Aloe Barbadensis Leaf Extract, Tocopherol, Parfum/​Fragrance
Kalau dari segi kandungan, ada perbedaan yang lumayan signifikan: Haus Lab dengan kandungannya yang sedikit dan Maybelline dengan kandungannya yang melimpah (melimpah not quite in a good way). Secara logika, kita pasti ingin memilih produk dengan kandungan yang lebih sedikit karena dianggap lebih aman; maybe this is true in some ways, tapi sejauh ini, produk Maybelline enggak menyebabkan hal-hal negatif apapun di bibir aku, so I can assume that it's safe. 
Kalau kamu extra kepo, di bawah ini sudah aku cantumkan 3 ingredients yang ada pada kedua produk:
Isododecane –

emollient

Alcohol –

preservative, antimicrobial

Trihydroxystearin –

thickener
Setelah comparison review di atas ini, kamu lebih memilih untuk beli yang mana?