Another new product, another new review! Kali ini, aku mempersembahkan kamu produk favorit dari Emina! 
Ever heard of Poppin' Matte? Sebuah produk lippie yang launch back in October of 2021 dan berhasil memikat hati para pecinta kosmetik. Dengan pigmen yang begitu pekat dan ketahanan yang terbilang above average, aku harus katakan kalau aku suka dengan produk ini! Kalau kamu belum baca review-ku mengenai Emina Poppin' Matte Edisi 80s, boleh dibaca di link ini yaa: Emina Cosmetics Poppin' Matte Review .
Nah, kalau Poppin' Matte pernah dirilis tahun lalu, terus apa bedanya dong dengan Poppin' Matte versi sekarang? 
Poppin' Matte yang rilis back in 2021 mengusung tema 80s dan datang dengan 5 shades yaitu: 01 Lowkey, 02 To Be Honest, 03 Game On, 04 Snatched, dan 05 Easy Peasy. Di Poppin' Matte baru tahun 2022 ini, tema sudah "naik era" menjadi 90s dan hadir dengan 5 shades baru! Shades apa sajakah itu? Boleh kamu cek di bagian "Shades and Description" di bawah "The Formula and my Experience" yaa.So, biar enggak terlalu lama, ayo kita langsung bedah produk ini. Apa saja yang baru nih?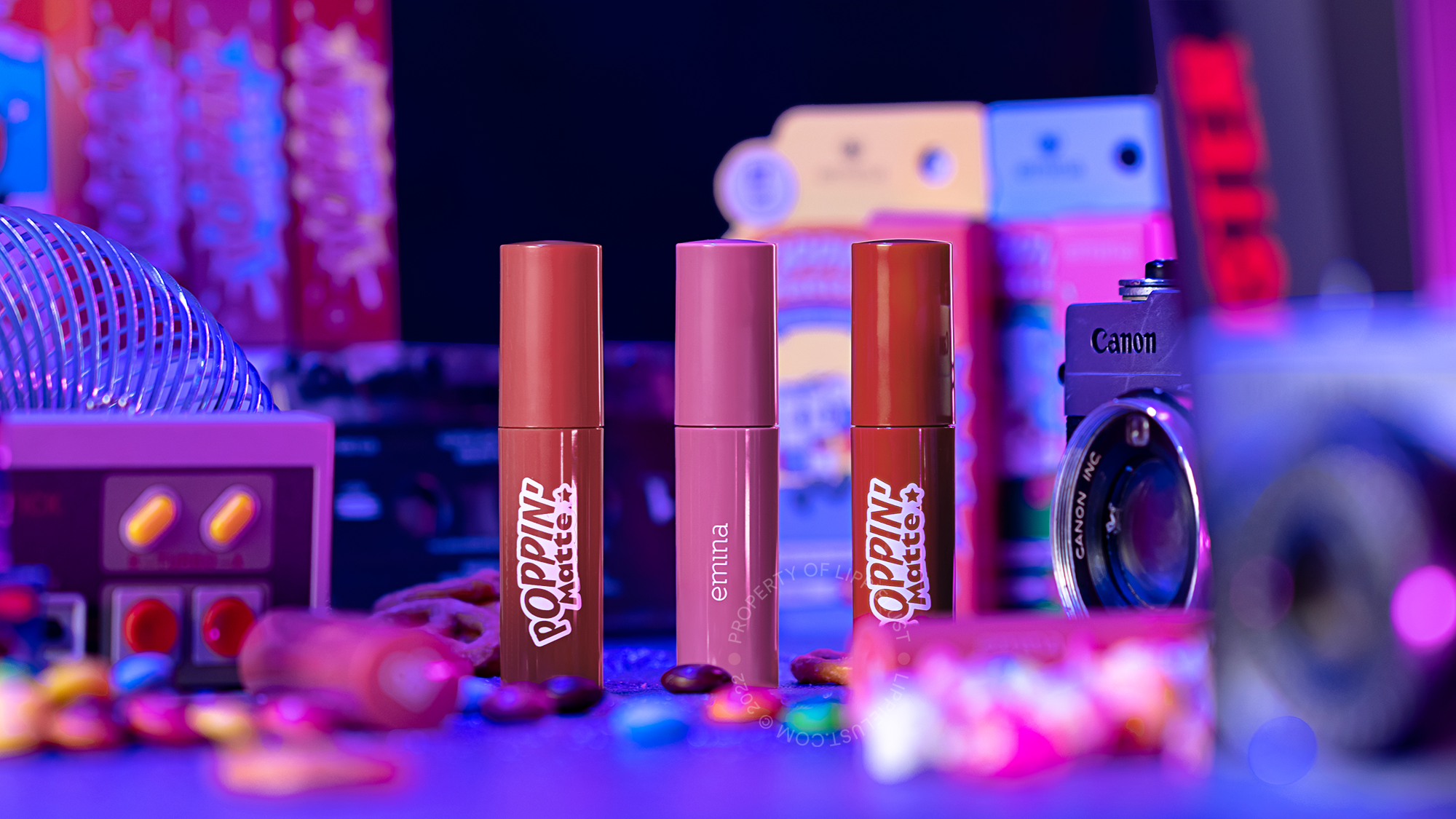 | | |
| --- | --- |
| Product Name | Emina Poppin' Matte |
| Produced By | PT Paragon Technology and Innovation |
| Price / Net. Weight | 4.5g / Rp 49.000 |
✨Packaging
It's so much more unique, so much more festive, and so much cuter! Dari segi box packaging-nya, kita sudah bisa langsung lihat perbedaannya. Yang awalnya hanya kotak biasa dengan desain grafis yang sama antara satu shade dengan yang lainnya, kini box dilengkapi dengan "wing" yang lebar supaya bisa menampung lebih banyak informasi dan desain yang lebih meriah. Ngomong-ngomong desain nih; ke-lima shade baru ini masing-masing mempunyai desain unik. Shade 6 menggunakan roller skates sebagai tema utamanya, shade 7 dengan rubic cube, shade 8 dengan tamagochi, shade 9 dengan tazos, dan shade 10 dengan yo-yo. Semua objek yang digunakan merupakan objek yang trendy pada era 90an; sesuai dengan tema dan nama shades-nya.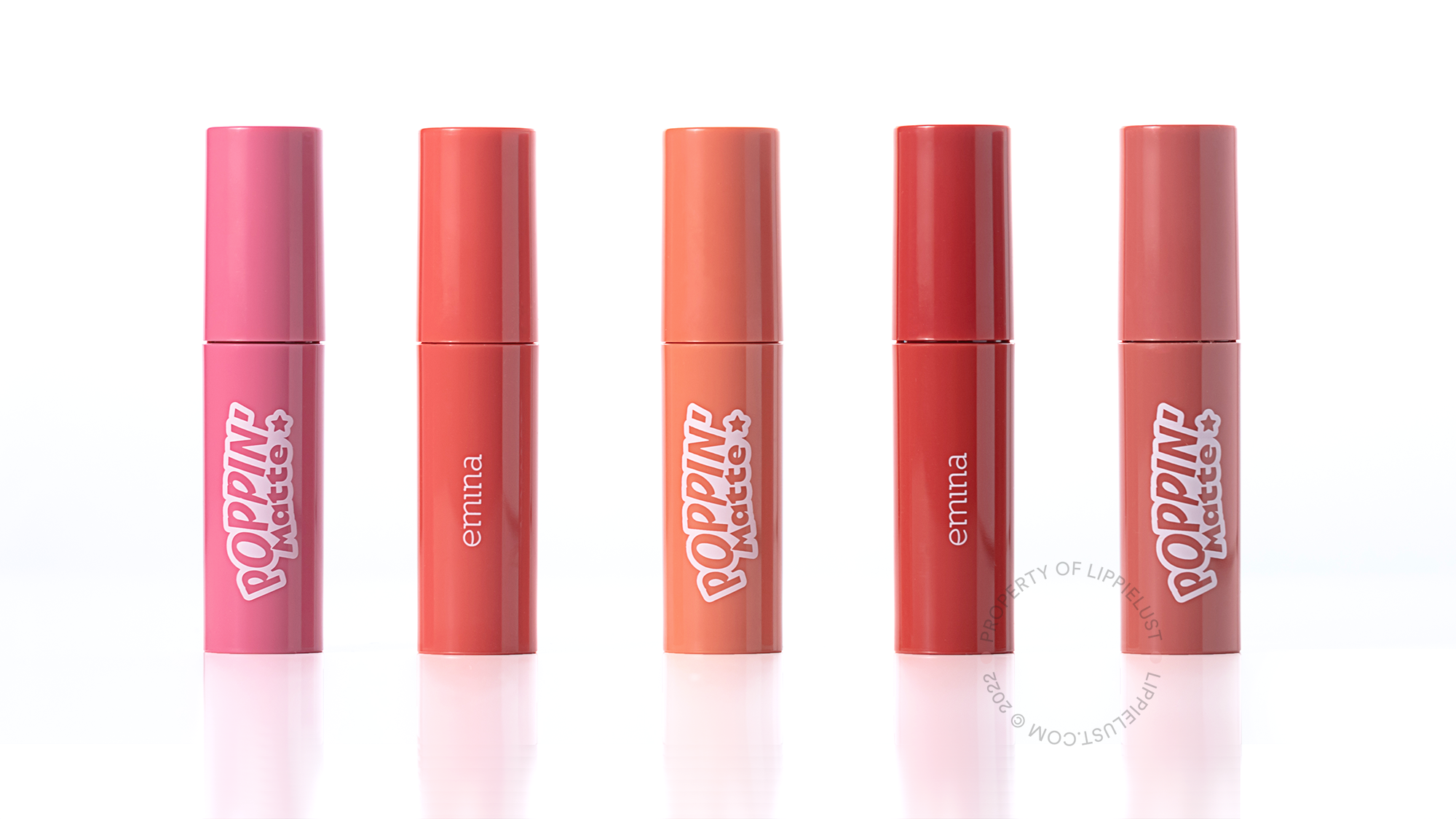 Untuk tube lippie-nya sendiri, enggak ada yang berubah dari versi yang rilis pada tahun 2021. Warna tube mengikuti warna shade dan dilengkapi dengan nama "Poppin' Matte" berwarna putih mencolok.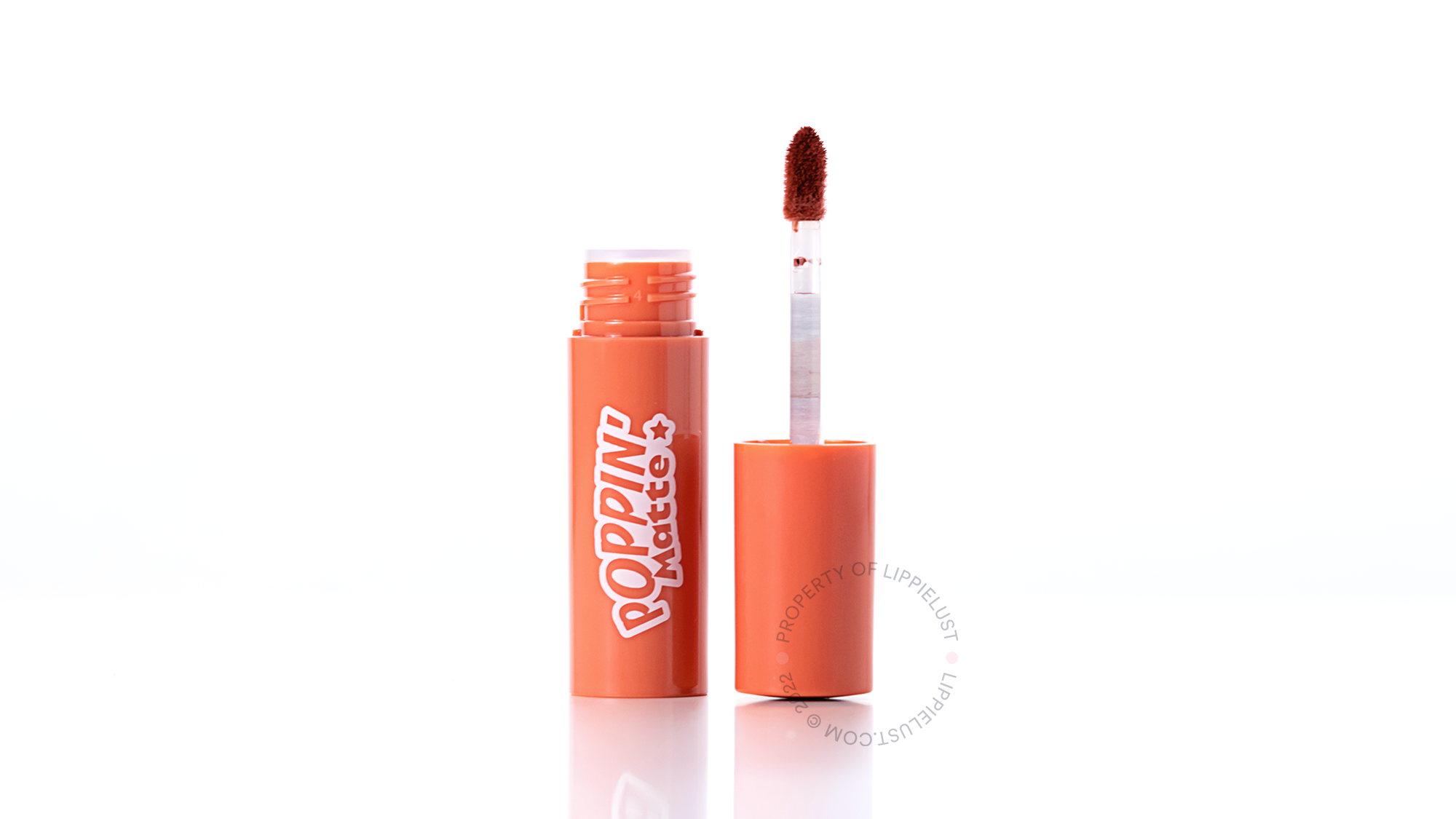 Applicator wand-nya juga sama persis dengan applicator wand yang ada pada Poppin' Matte versi 2021. Bentuknya lurus dan pipih. Kalau kamu pernah baca review yang ku tulis tentang Poppin' Matte versi 2021, kamu tahu kalau aku kurang suka dengan wand yang lurus; aku prefer yang bentuk permukaannya itu angled karena lebih nyaman untuk pengaplikasian dan bisa lebih presisi. 
✨The Formula and My Experience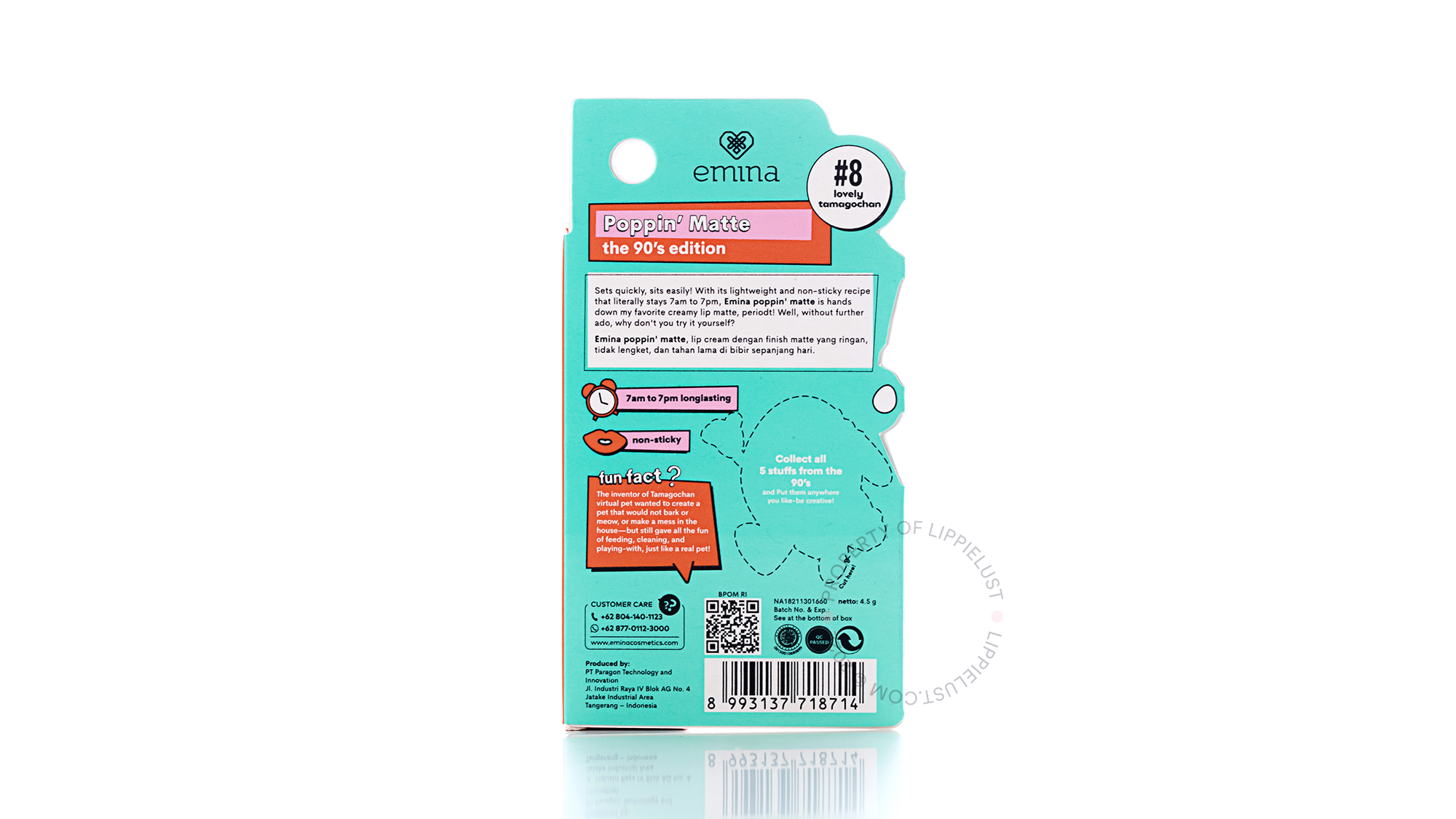 Kalau kita bandingkan Ingredients List Poppin' yang 80s dengan yang 90s, kita bisa lihat kalau ada satu kandungan yang hilang: Ethylhexylglycerin. Kandungan ini berfungsi sebagai pengawet dan penghilang bau enggak sedap. Bukan sesuatu yang bisa menyebabkan perubahan besar ya kalau dihilangkan.
Other than that, di formula Poppin' Matte 90s ini, ada dua kandungan baru, yaitu Cyclopentasiloxane dan Cyclotetrasiloxane. Kedua kandungan ini memiliki fungsi yang sama, yaitu untuk meninggalkan feel yang silky smooth di bibir. Dengan tambahan kandungan ini, harusnya, formula Poppin' Matte 90s ini bisa membuat bibir menjadi lebih lembut dibandingkan versi 80s.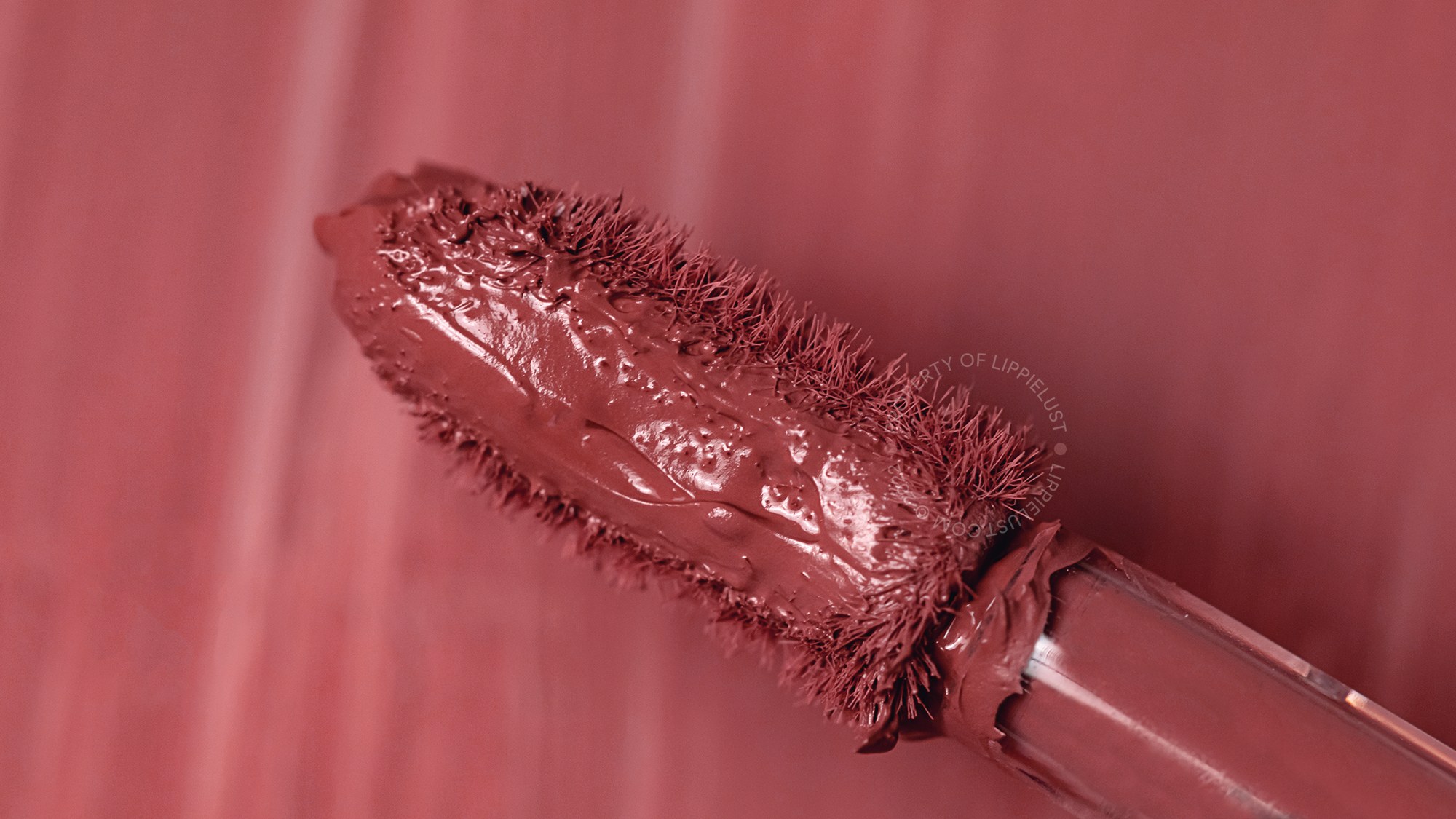 So, pertama kali aku buka tube-nya, aku langsung mencium adanya sedikit aroma manis which I personally like. Wanginya seperti creamy vanilla tapi enggak heboh kok. 
Produk terasa sangat buttery tapi enggak oily; rasanya padat tapi lembut. Warna-nya intense, sesuai dengan nama "Poppin'". Enggak sampai 30 detik, produk sudah set dengan sangat baik di bibir. I love how fast it dried! Finished look di bibir terlihat sangat matte tapi nyatanya enggak membuat bibir terasa kering atau terlihat cracked. Hasilnya terlihat super smooth dan kalau kita lihat di low-light itu ada efek "blur"-nya. Finished look dan feel akhir Emina Poppin' Matte 90s Edition ini menurutku terasa so much better daripada yang versi 80s back in 2021. This might be because of the new ingredients, but whatever it is, Emina is doing some magic.
Seperti biasa, aku coba transfer-test ke kulit tangan dan hasilnya ZERO transfer. Setelah aku coba di atas permukaan tissue, ternyata, enggak transfer sama sekali walaupun tissue-nya aku geser-geser layaknya masker yang suka bergeser saat kita gunakan. I can say that this product is 100% transferproof.
What else can I say about this product? This is honestly one of my favorites!
✨Shades and Descriptions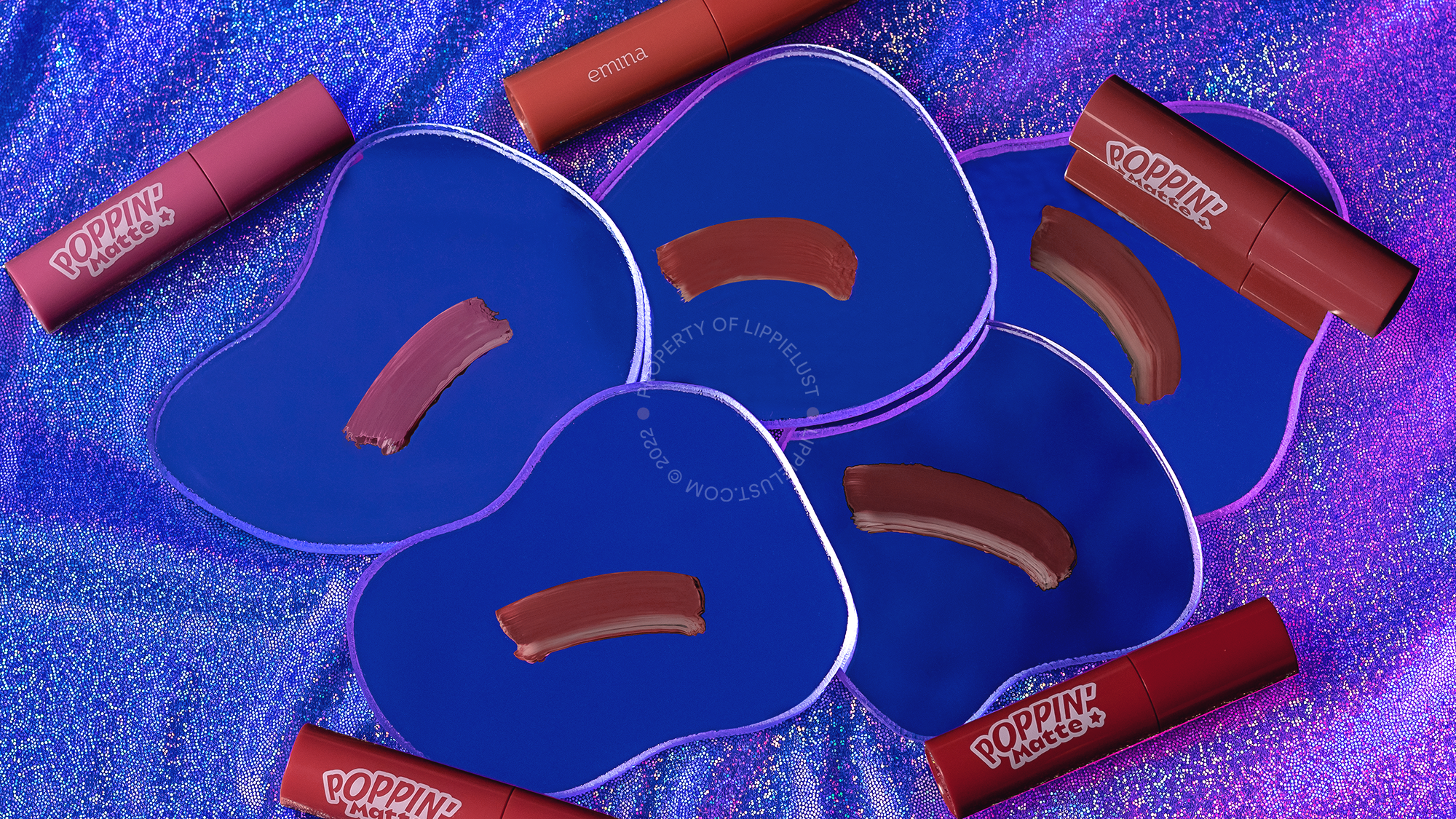 Finally, aku bocorin nama-nama shades-nya! Let's take a look:
#6 roller skate – fresh pink dengan hint ungu

#7 rubic cubic – terracotta/brick red, hint kuning

#8 lovely tamagochan – bright orange dengan hint peach

#9 tossin' tazos – dark red, hint coklat

#10 spin it yo-yo – bright nude choco