Hi Lovelies!
Hampir dua tahun berlalu sejak kolaborasi pertamanya, baru-baru ini Dear Me Beauty berkolaborasi lagi dengan Yupi Gummy Candies! Kali ini, kedua brand ini merilis eyeshadow palette limited edition bertema gummy bears, mengadopsi konsep gummy bear-nya Yupi Baby Bears. Seperti halnya Yupi Baby Bears, eyeshadow palette ini memiliki varian warna yang sangat banyak, sampai 25 eyeshadow pans! Gimana kualitasnya? Baca terus ya reviewnya!
Baca Juga: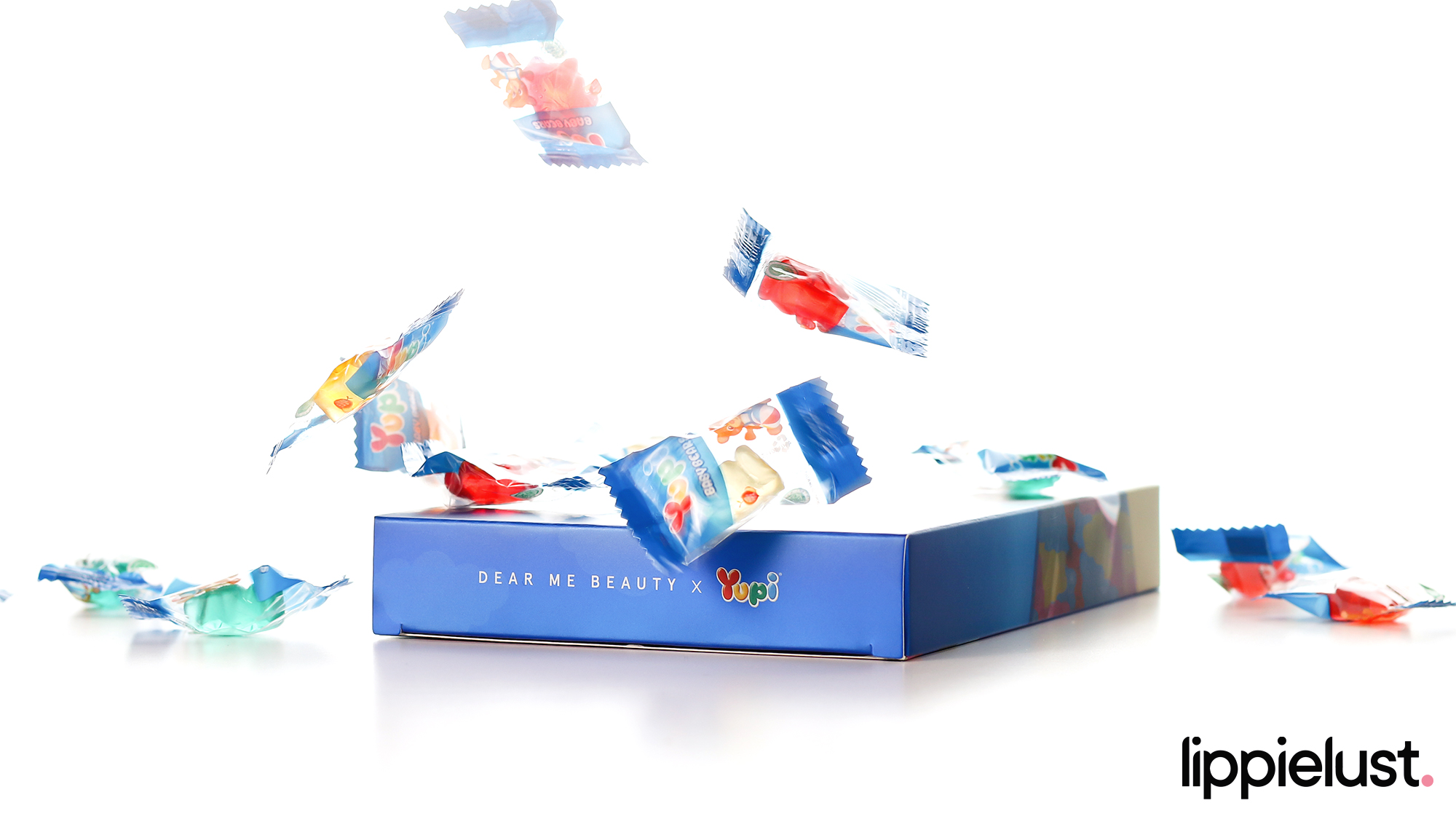 ✨ About Dear Me X Yupi Baby Bears Palette
Special Collaboration, Brought To You By The Locals.

Express your unique beauty and channel your inner creativity with our special collection of Baby Bears Eyeshadow Palette, an exquisite eye makeup packed with 25 hues of lively colors from Dear Me Beauty and YUPI Gummy, made to highlight your eyes and complement your everyday look, from AM to PM.

This Special collaboration marks a movement towards our appreciation and support of homegrown Indonesian brands, encouraging local unity and the creative scenery within the beauty industry to produce quality product that goes global and beyond.

Let us together continue to support and foster the creativity of local industries. Proud to be Indonesian!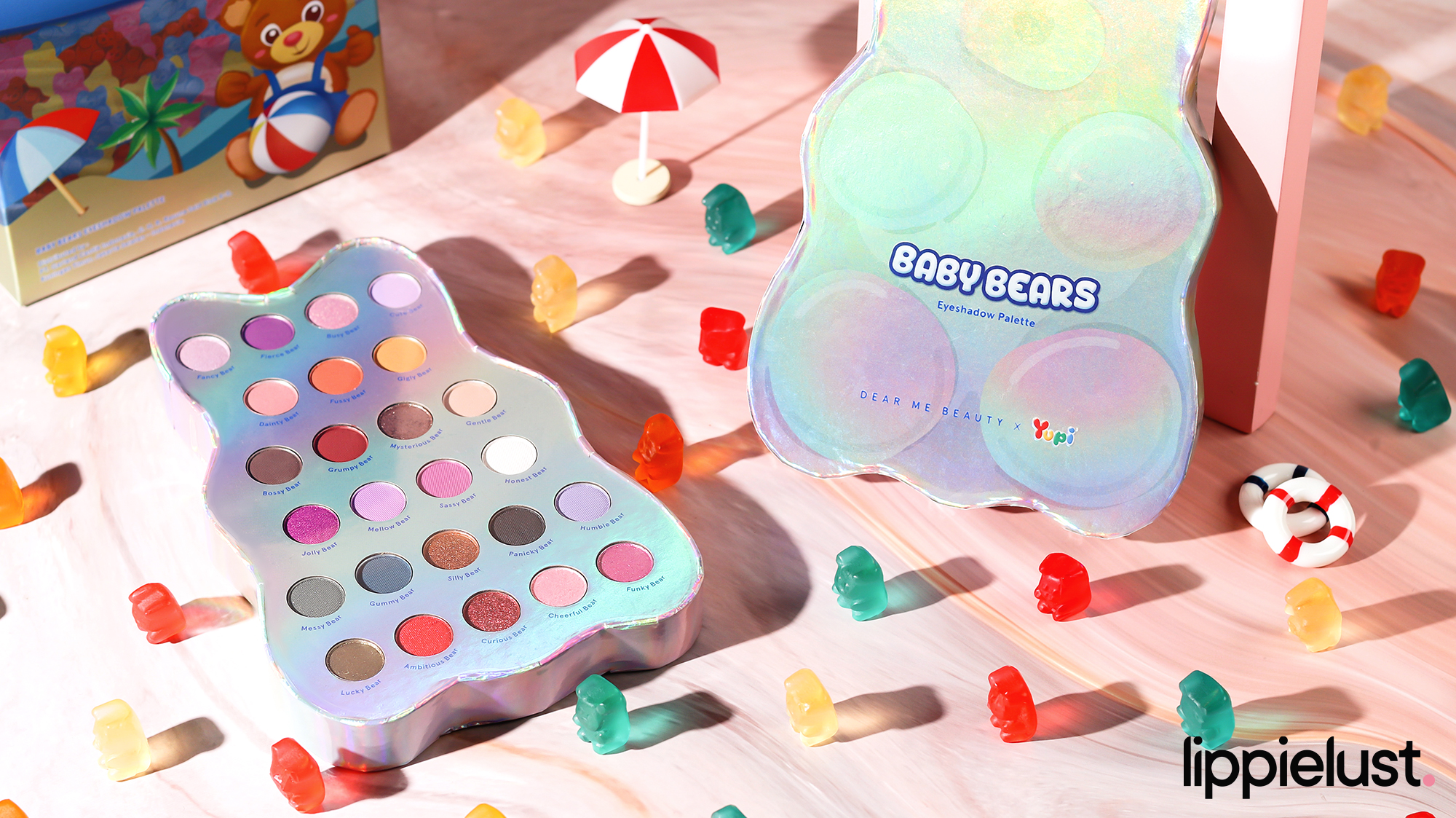 | | |
| --- | --- |
| Product Name | Dear Me Beauty X Yupi Gummy "Baby Bears" Eyeshadow Palette |
| Produced By | Shanghai Ayara Cosmetics Co. Ltd., for PT. Nayue Cosmetics Indonesia |
| Distributed By | PT. Garland Cantik Indonesia (Dear Me Beauty) |
| Price / Net. Weight | 249.000 IDR for 17gr of total Netto Weight (0,68 gr for each pan) |
As I said before, produk ini adalah produk kolaborasi limited edition kedua Dear Me Beauty X Yupi Gummy. Dan ini adalah produk eyeshadow palette kedua yang Dear Me punya dimana eyeshadow palette pertamanya merupakan limited edition product hasil kolaborasi dengan Sasa Penyedap. Sayangnya sampai saat ini aku belum pernah coba palette-nya.
Di palette Baby Bears ini Dear Me Beauty lebih mengeksplorasi warna dimana warna-warnanya terlihat lebih memiliki colorful hues dan enggak terbatas pada tema warna tertentu, menyesuaikan varian rasa dan warna yang ada di dalam Yupi Baby Bears. Serunya, dalam satu eyeshadow palette kamu bisa mendapatkan warna-warna yang enggak cuma warm, tapi juga cool-toned. We'll get to that in a second.
✨ Packaging & Design
Dibungkus dengan packaging box senada dengan Yupi Baby Bears, Dear Me X Yupi Baby Bears Eyeshadow Palette memiliki warna utama biru, bernuansa holiday dengan ikon Teddy Bear dan detail grafis ala pantai.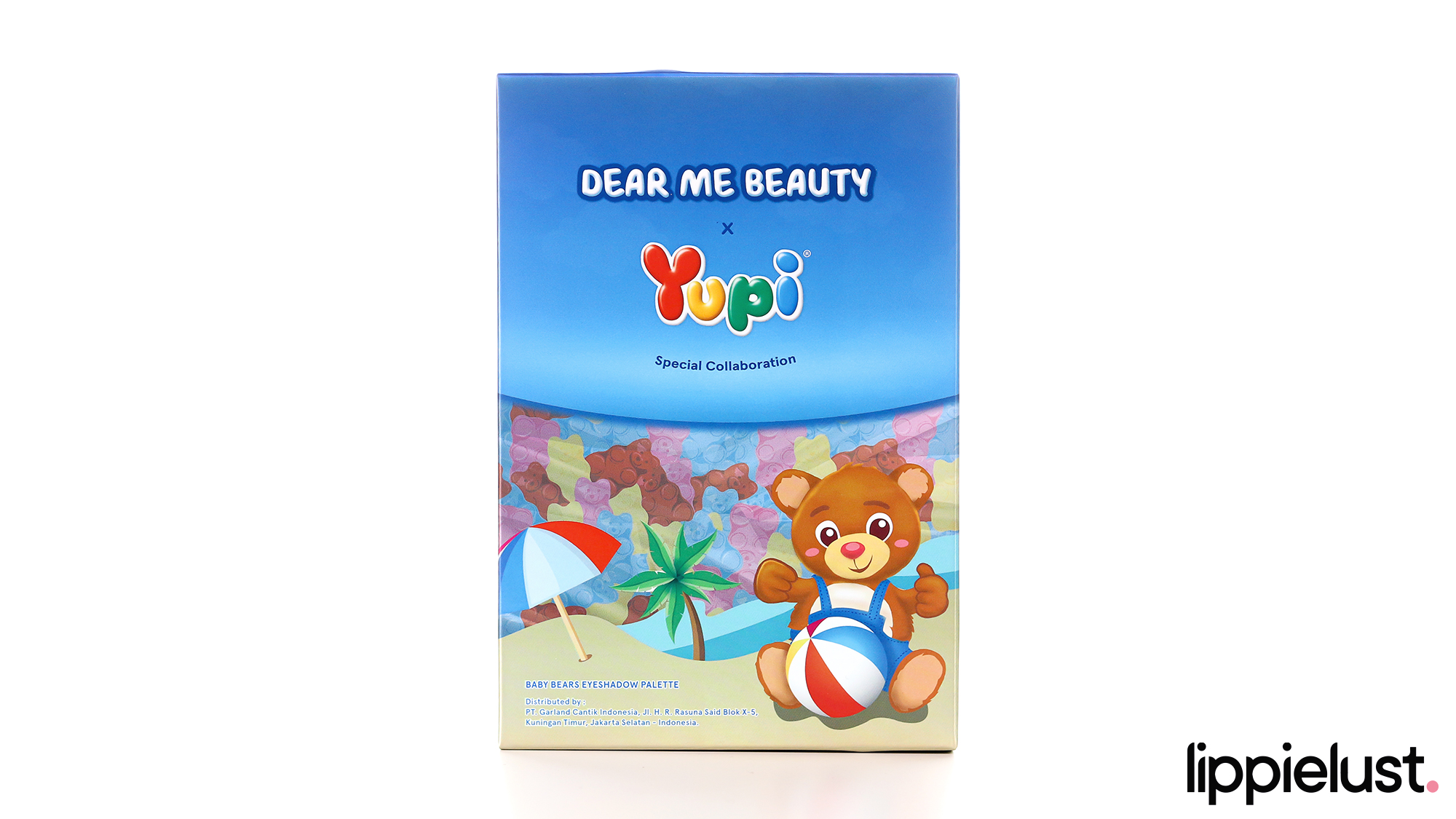 Di bagian belakang box terdapat semua informasi produk yang kita butuhkan, termasuk penjelasan kolaborasi Dear Me X Yupi, varian warna, klaim, ingredients list, nomor produksi, nomor BPOM, dan tanggal kedaluwarsa.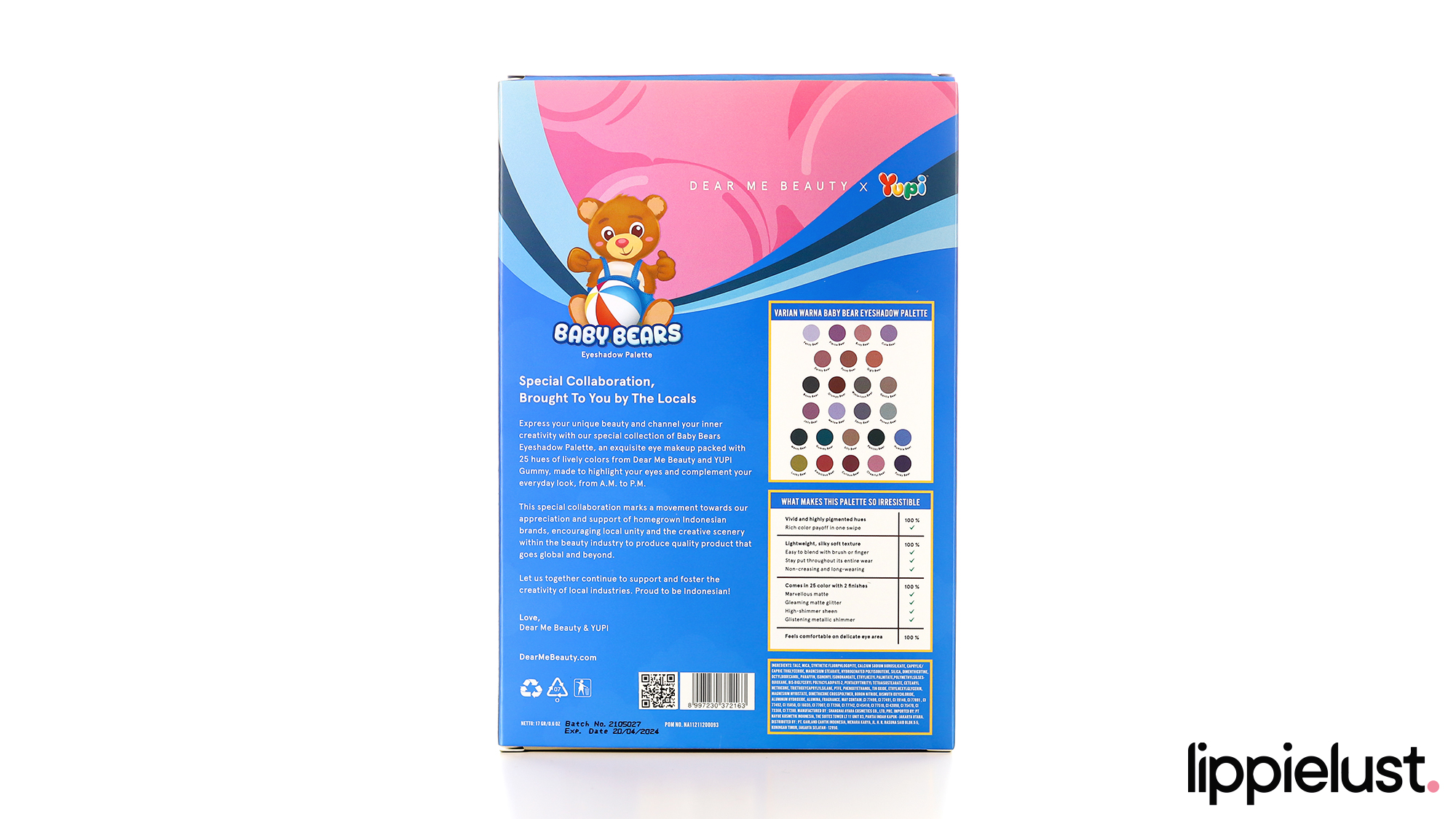 Container-nya berbentuk baby bear ala Yupi Baby Bears yang unik! Eksteriornya dilapisi holographic art paper dengan busa tebal yang dilapisi hard carton di bagian atas dan bawahnya. Di bagian dalam tutupnya terdapat kaca bulat yang cukup besar untuk memudahkan aplikasi.
Terlepas dari kegemasan konsep palette-nya, aku pribadi enggak terlalu menyukai bentuknya yang bulky. Aku lebih memilih eyeshadow palette dengan container klasik berbentuk kotak atau persegi panjang, sehingga bisa mudah disimpan. Well that's totally personal, I'm sure a lot of you guys love the gummy bear shape!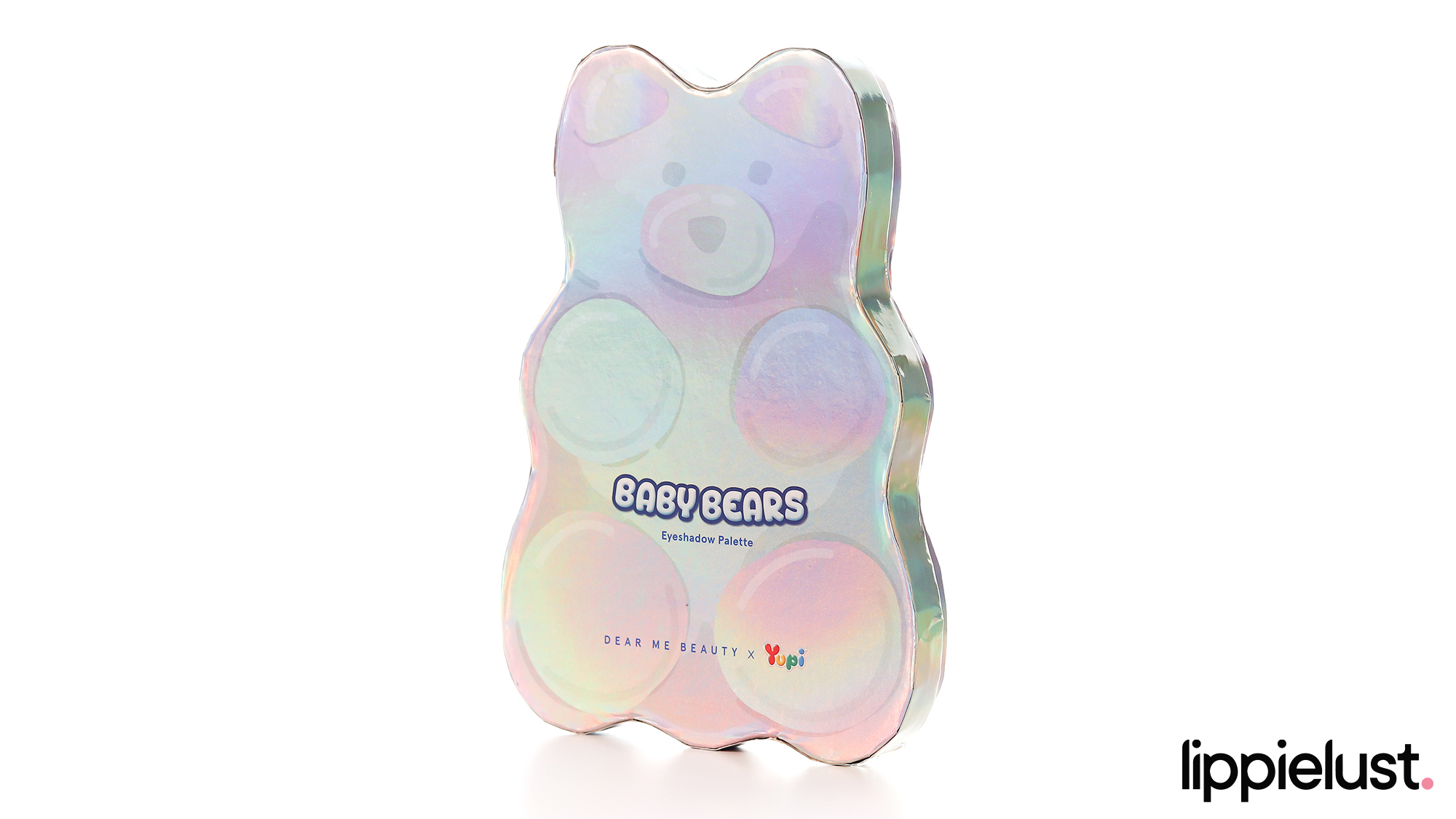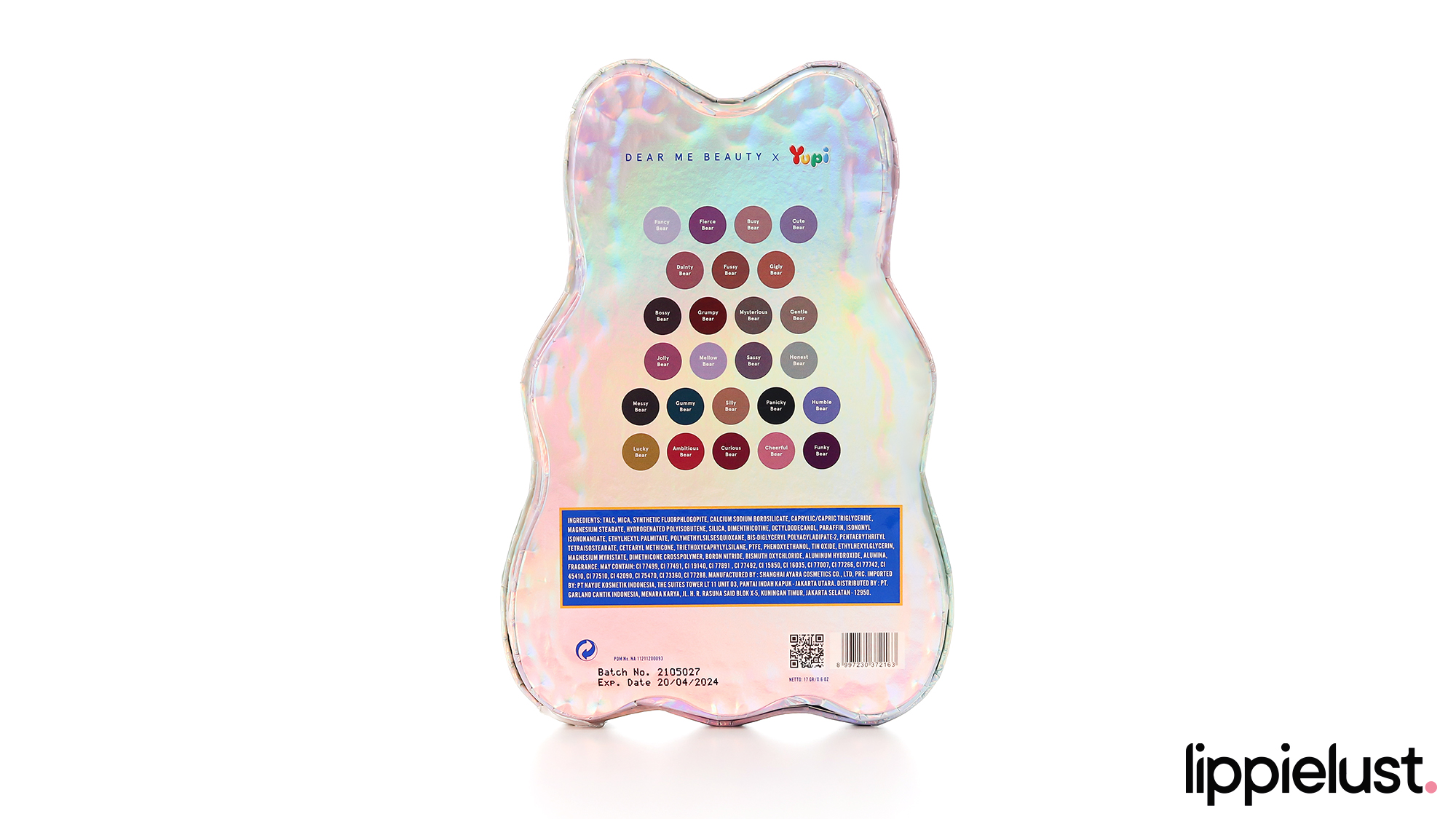 Selain itu ada banyak bagian-bagian di pinggiran container maupun tutupnya yang kurang menempel, bahkan di beberapa bagian ada sambungan kertas. Hal ini disebabkan karena container-nya basically berbahan kertas dan memang dibuat menyesuaikan bentuk baby bear. Meskipun kualitas container-nya punya DIY vibe yang lumayan kuat, dia lumayan heavy duty dan kokoh karena punya bantalan busa di bawahnya untuk menjaga agar ke-25 warnanya aman dan enggak rawan pecah.
Jika dilihat dari price point yang lumayan terjangkau, well, I think this is the best material for this unique packaging shape. Don't you agree?
✨ The Colors
Nah, sekarang masuk ke kualitas warna-warnanya. At first glance, aku ngerasa varian warna eyeshadow palette ini terlalu random karena penempatan warna-warnanya. Setelah berkali-kali pakai baru deh terbiasa dan jujur aja, rasanya pengen eksplor terus karena ada beberapa warna yang belum sempat aku coba di mata.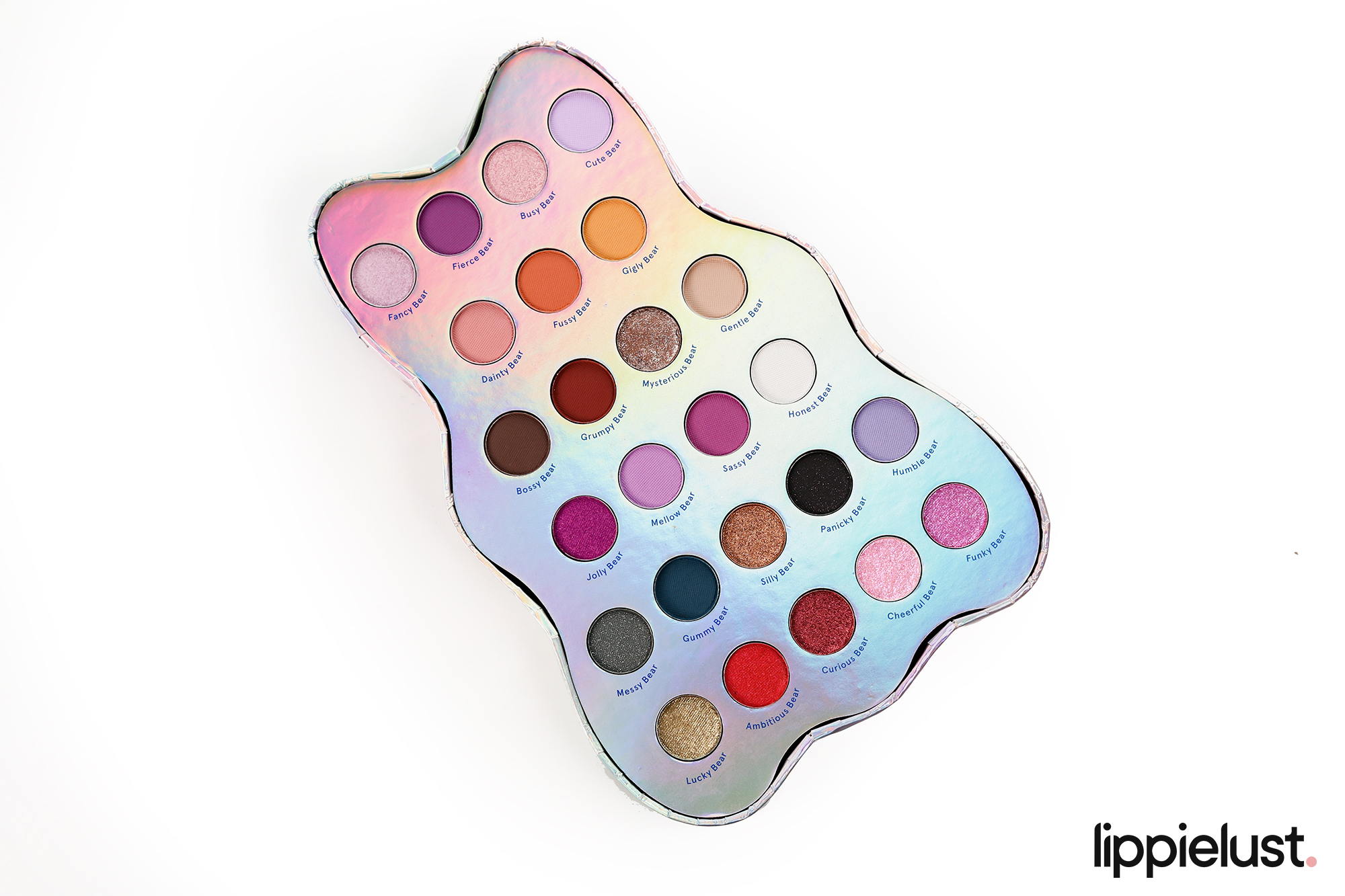 Jika dihitung-hitung, berat bersih keseluruhan produk adalah 17gr /0,6Oz. Maka berat bersih setiap pan di dalamnya adalah sekitar 0,68 gram per warna. Setiap pan punya karakter dan konsistensi yang berbeda sehingga beberapa pan warna (terutama glitter, metallic, shimmer)  akan terlihat lebih cepat 'cekung' dibandingkan warna-warna matte. Sesuai pengalamanku, hal ini juga dipengaruhi oleh formulanya: yang creamy terasa lebih cepat habis dibandingkan yang powdery.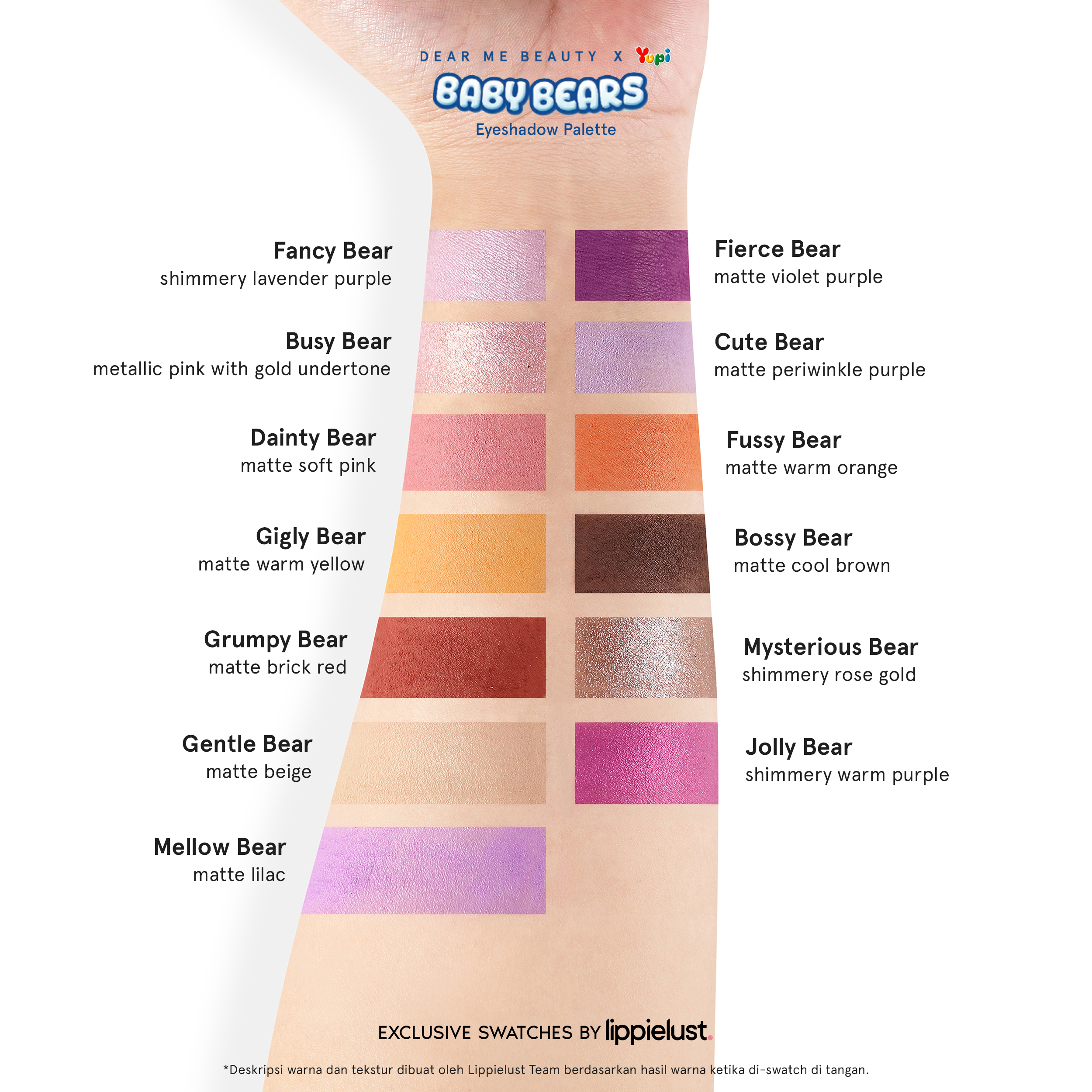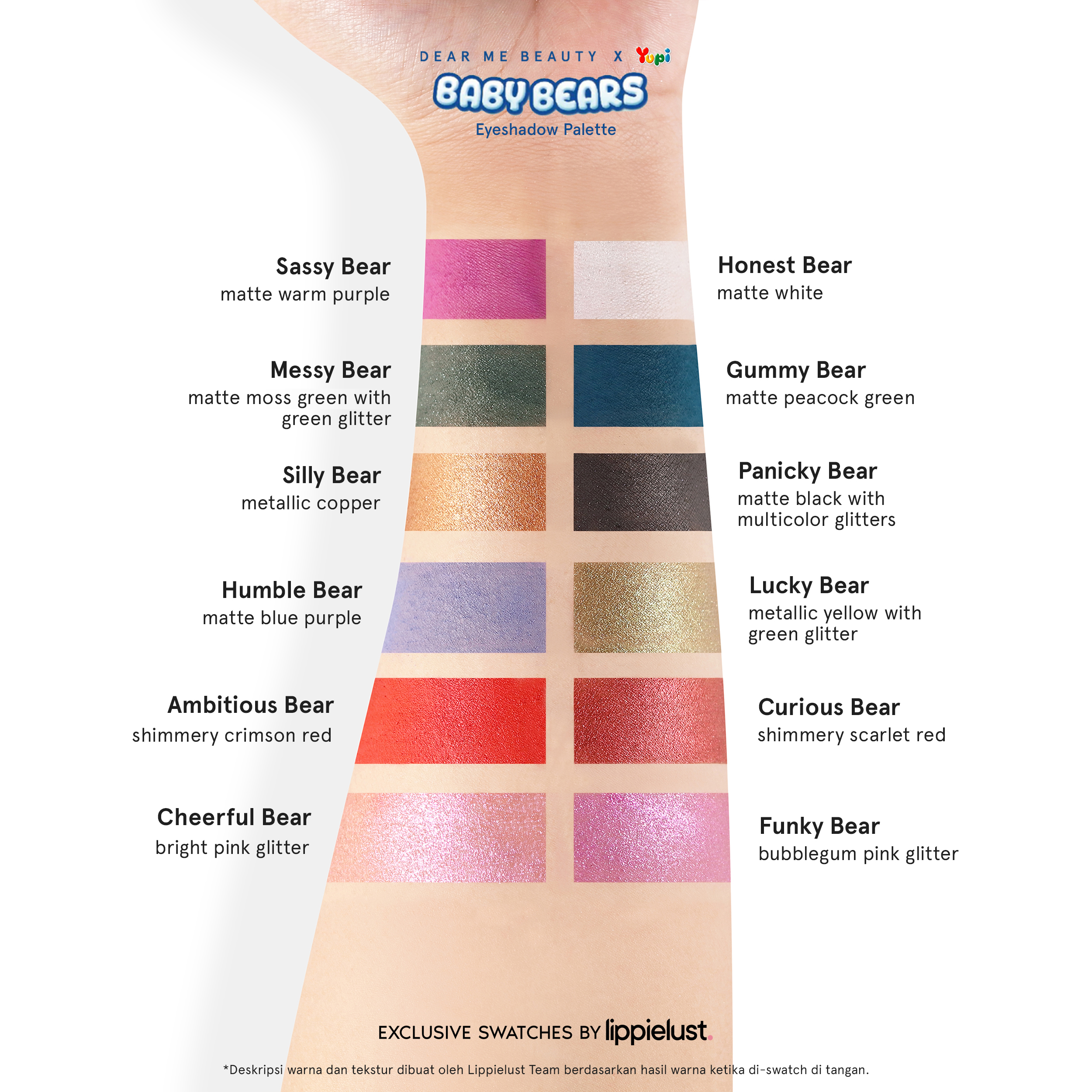 Di dalamnya terdapat cool maupun warm color hues dengan 4 jenis tekstur yang bisa dipadupadankan sesuai selera.
| Color | Tone | Formula | Finish | Pigmentation* |
| --- | --- | --- | --- | --- |
| Fancy Bear | cool | creamy | shimmer | 4 |
| Fierce Bear | cool | powdery | matte | 5 |
| Busy Bear | neutral | powdery | metallic | 5 |
| Cute Bear | cool | powdery | matte | 4 |
| Dainty Bear | warm | powdery | matte | 5 |
| Fussy Bear | warm | powdery | matte | 5 |
| Giggly Bear | warm | powdery | matte | 3 |
| Bossy Bear | cool | powdery | matte | 5 |
| Grumpy Bear | warm | powdery | matte | 5 |
| Mysterious Bear | neutral | creamy | shimmer | 5 |
| Gentle Bear | neutral | powdery | matte | 5 |
| Jolly Bear | warm | creamy | shimmer | 4 |
| Mellow Bear | cool | powdery | matte | 5 |
| Sassy Bear | warm | powdery | matte | 4 |
| Honest Bear | neutral | powdery | matte | 4 |
| Messy Bear | cool | powdery | matte + glitter | 4 |
| Gummy Bear | cool | powdery | matte | 5 |
| Silly Bear | warm | creamy | metallic | 5 |
| Panicky Bear | cool | powdery | matte + glitter | 3 |
| Humble Bear | cool | powdery | matte | 5 |
| Lucky Bear | cool | creamy | metallic | 4 |
| Ambitious Bear | warm | creamy | shimmer | 5 |
| Curious Bear | warm | creamy | shimmer | 5 |
| Cheerful Bear | warm | creamy | glitter | 3 |
| Funky Bear | neutral | creamy | glitter | 4 |
*Pigmentasi dengan rating 1-5 (1 = buruk dan 5 = sangat baik)
Warna-warna matte dengan tekstur powdery cenderung mudah fallout tetapi sangat bisa diakali dengan pengaplikasian bertahap, one thin stroke at a time! Semua warnanya, termasuk warna-warna matte buildable dan true to color. Warna yang kamu lihat di pan sama dengan warna ketika diaplikasikan di mata.
✨ Does The Quality Match The Hype?
Untuk yang enggak tau, produk ini berhasil sold out di hari pertama rilis. Hal ini menunjukkan bagaimana antusiasme beauty lover Indonesia terhadap kolaborasi dua produk lokal begitu besar! Beberapa tahun ke belakang kita masih dibanjiri oleh eyeshadow palette impor yang berkualitas tinggi, dan sekarang dengan kualitas yang sama kita bisa dapatkan dengan mudah melalui brand lokal, tentu dengan harga yang jauh lebih terjangkau. Rasanya udah lebih dari 3 tahun aku gak pernah beli eyeshadow palette dengan harga di atas 500ribu, let alone yang dibanderol sampai jutaan.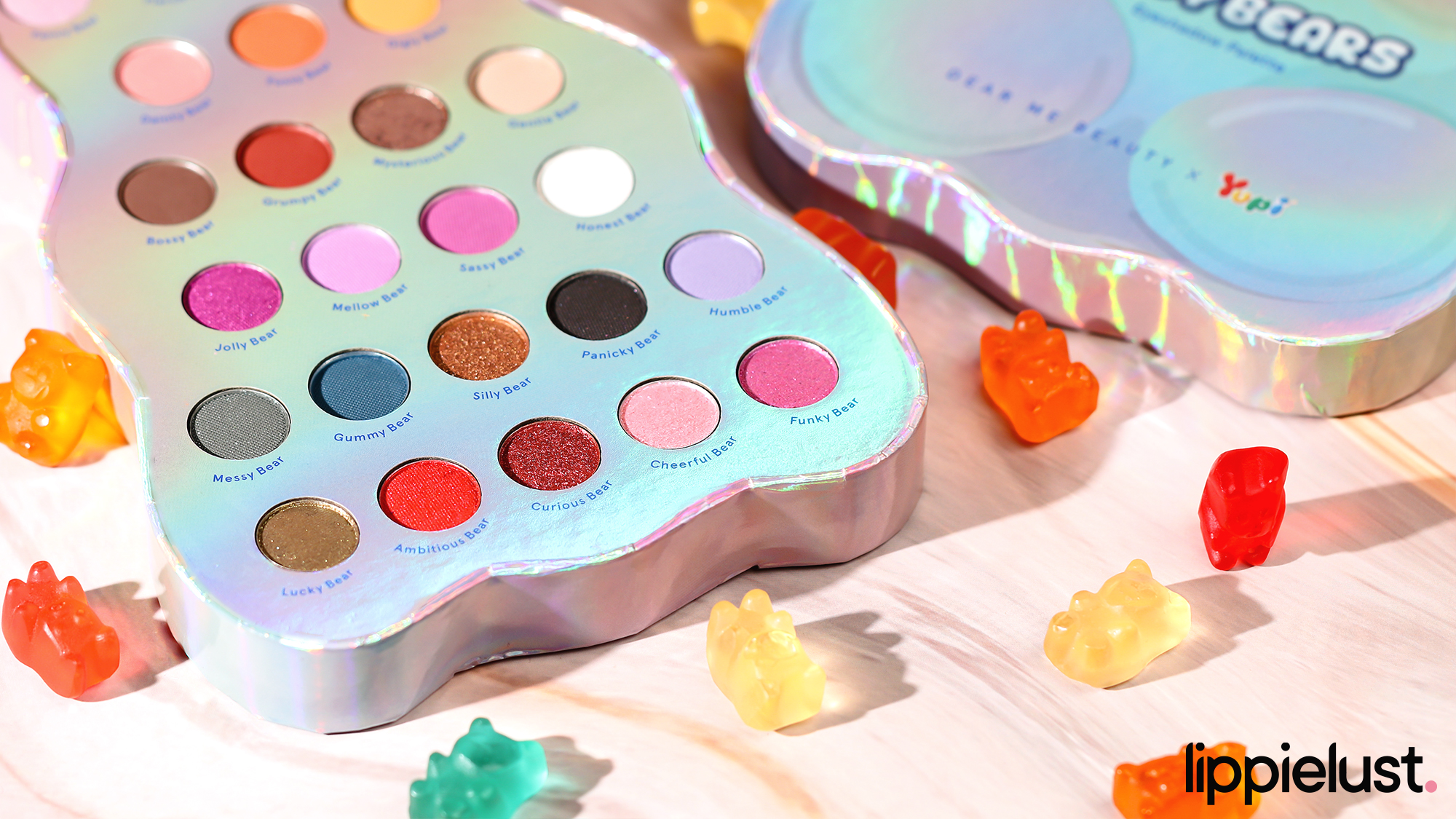 Memang produk ini diproduksi di China yang menurutku 100% worth it karena kualitas produksi dan teknologi mereka yang sudah jauh lebih advance, tapi jangan lupakan kalau produk ini dikurasi oleh Dear Me dan Yupi yang merupakan brand lokal terbaik di kelasnya.
Pertanyaanku tentang kualitasnya terjawab sesaat setelah mencoba, of course. Kadang penampilan bisa sangat deceiving apalagi dengan konsep yang unik dan menggemaskan seperti ini. Luckily, Dear Me Beauty X Yupi Baby Bears eyeshadow palette berhasil menyajikan kualitas tinggi ke dalam konsep maupun produknya.
Di awal ketika pertama kali aku buka eyeshadow palette ini memang terasa membingungkan. Saking banyaknya warna, penempatannya yang cukup random, juga tidak adanya deskripsi warna / finish bikin bingung mau coba yang mana dulu. But when you're used to it, you want to explore more — at least that's what I feel! Banyak hal yang aku kurang suka dan hal-hal itu hanya berhubungan dengan packaging-nya which is very personal.
Congratulations Dear Me Beauty & Yupi for this amazing eyeshadow palette!
✨ The Look I Made
So, this is one of the looks I tried! Aku mencoba untuk agak keluar dari zona nyamanku dengan pakai kuning and fortunately that worked! Disini aku mencoba untuk bikin fake lids pakai Panicky Bear, a little of this color goes a long way!  Kalau kamu, kira-kira pengen cobain look seperti apa dari Dear Me Beauty X Yupi Baby Bears eyeshadow palette ini?